The majority of the time, heading to the wilds for a few days means having to do without a few creature comforts and luxuries until returning back to civilization. The folks here at My Open Country, however, consider giving up fresh, tasty evening meals a sacrifice too far, and forgoing our ice-cold, post-hike beer bordering on sacrilegious.
Feel the same? If so, a simple solution to the problem is to kit yourself out with one of the best coolers out there.
The camping market is blessed with such a wide array of kickass coolers that choosing between them can be a time-consuming and tricky affair. To save you the hassle, and your time, we've put together a list of the best quality options on the market this year.
Our list of 9 top-rated coolers has something for everyone, from oversized hard-sided options for family camping trips to portable soft-sided models for backcountry adventures.
Top Choices by Category
Soft-sided: REI Co-Op Haul 12, Pelican Dayventure, and Hydro Flask 22L Unbound
Hard-sided: Yeti Tundra 65, Yeti Roadie 24, Coleman Cooler Xtreme, RovR RollR 60, Dometic CFX3, and RTIC 45
Electric: Dometic CFX3
Bear Resistant: Yeti Tundra 65, RTIC 45, RovR RollR 60, and Yeti Roadie 24
Editor's Choice
Yeti Tundra 65
The Yeti Tundra has been considered the crème de la crème of camping coolers for the best part of two decades. Until they start making coolers that also do the cooking for you, take care of the kids, or massage your feet while you sip on your post-hike beer, it's likely to remain so.
The Tundra is a bit of a beast, but it also has a wealth of uber-convenient, user-friendly features that make it a little more practical than the best of the rest.
It's made with a combo of rotomolded polyethylene and 3 inches of Yeti's proprietary, pressure-injected PermaFrost insulation. These materials make it one of the most rugged and durable coolers on the market and capable of keeping its contents cool for 4 days.
Features-wise, the Tundra hits the spot. It has heavy-duty rubber latches, freezer-quality gaskets, non-slip feet, military-grade rope handles, interlocking hinges that provide an air-tight seal, and a pair of tie-down points that allow you to strap it to your vehicle or boat.
The Tundra's not going to win any prizes for affordability, granted, but its huge capacity, awesome cooling power, and user-friendly design make it good value for money nonetheless. Moreover, the build is of such high quality that you'd have to subject it to some serious abuse to do any damage.
65 quarts too much/little? Check out other sizes in the Tundra line, which range from 28 to 329 quarts!
Bottom Line: A tough, high-capacity, and bear-resistant camping ice chest that's perfect for trips of up to five days.
The Best Coolers for Camping: Our Top 9 Picks
Yeti Tundra 65
Editor's Choice
Capacity: 61 qt. ⸱ Weight: 27 lbs. ⸱ Ice retention: I4 days ⸱ Other sizes: 28 to 329 qt.
The Tundra's 65-quart capacity, combined with its ability to keep ice frozen for 4 days, makes it the perfect choice for extended trips for larger groups.
Yet its capacity and ice retention aren't the only things that make this the best ice chest for camping.
The Tundra is also one of the toughest coolers on the market. It's made with 3 inches of pressure-injected insulation and nigh-on indestructible, rotomolded walls.
The sheer size of the Tundra means it isn't the easiest to transport, but it's convenient and user-friendly in every other way. The military-grade polyester rope handles are wrapped in easy-grip rubber, a dry storage basket lets you separate beers from burgers, and the "Vortex" drainage system makes emptying melted water a breeze.
Compared to cheaper large camping coolers, the Tundra boasts a few non-standard features that make it a true standout in terms of both performance and practicality. The most notable are the interlocking hinges and "ColdLock" gasket that together provide an air-tight seal, as well as burly locking lid latches, non-slip feet, and molded tie-down points.
PROs

High capacity
Rotomolded construction
Compatible with dry ice
Certified bear-resistant
5-year warranty

CONs
Bottom-Line: The gold standard of camping coolers. Period.
RTIC 45
Runner Up
Capacity: 45 qt. ⸱ Weight: 29 lbs. ⸱ Ice retention: 10 days ⸱ Other sizes: 20 to 145 qt.
If you want outstanding cooling power but don't want the bulk (or price!) of an extra-large cooler, the RTIC 45 is well worth a place on your shortlist.
The RTIC 45 has the second-best cooling time of all the non-electric models on our list, keeping ice frozen up to a hugely impressive ten days – 6 days more than our review's winner, the Tundra.
This is mainly thanks to its rotomolded construction and 3" insulated walls, but the interlocking hinges, high-quality gasket, and thick rubber latches all play their part in making it an awesome insulator.
While the ideal cooler capacity depends on your group size and trip duration, we're big fans of the RTIC's 45-quart volume. This makes it a little more portable than the giants on our list (the Tundra and Dometic CFX3) and suitable for both weekend trips for larger groups or longer trips for couples and small families.
The RTIC doesn't have any dividers or dry goods trays, but its other features hit the spot. There's a pair of molded tie-down slots, non-slip feet, heavy-duty rope handles with a rubber grip, an easy-lift drain handle, a freezer-style lid gasket, and a "Rapid V-Drain System" that takes care of drainage just a little more efficiently than any other we've used.
PROs

Awesome ice retention
Can be carried by one person
Bear-resistant
Rotomolded construction and thick insulation
Nice features

CONs

Only a 1-year warranty
Very heavy for the size
Bottom-Line: An affordable, durable, and versatile camp cooler that offers virtually unrivaled cooling power.
Coleman Xtreme 5-Day
Best Budget
Capacity: 70 qt. ⸱ Weight: 7.1 lbs. ⸱ Ice retention: Up to 5 days (at temps below 90 degrees) ⸱ Other sizes: 28-120 qt.
Over the years, the name "Coleman" has become virtually synonymous with low-cost camping gear and gives its pricier competitors a serious run for their money. The Coleman Xtreme 5-Day is no exception.
This 70-quart camping cooler has the second largest capacity on our list, after the Dometic CFX3. For such a cheap product, moreover, it also boasts respectable ice retention. While we found the "5-day" claim a bit of a stretch, there's no doubt it will keep your eats/drinks cold over a long weekend with careful use.
The Xtreme also has a few kinda cool features. First up, there's the Have-A-Seat lid, which, as the name suggests, is capable of moonlighting as a chair whilst fulfilling its standard role as a closure for the cooling chamber. In that lid you'll also find four cup holders – a feature that's not likely to seal any deals, but surprisingly handy nonetheless.
PROs

Affordable
Sit-on lid with 4 cup holders
Good cooling power
Can be used as a chair
Drain plug

CONs

Doesn't maintain ice as well as top-end models
Not as durable as other coolers
No locking latches in lid
Bottom-Line: A low-cost option that comes up a little short in the ice-retention stakes when compared with its pricier competitors but is good enough for weekend trips with friends and family.
RovR RollR 60
Best Wheeled Cooler
Capacity: 60 qt. ⸱ Weight: 49 lbs. ⸱ Ice retention: Up to 10 days ⸱ Other sizes: 45 & 80 qt.
Unenthused by the idea of schlepping 50+ pounds of plastic, ice, and edibles from your car to your camping site? If so, then the RovR RollR 60 is the perfect solution.
This cooler performs well in every metric, but its undoubted USP is the duo of 9-inch, all-terrain rubber wheels and burly pull handle that allows you to transport even the heaviest of loads over rough terrain with absolute ease. Needless to say, this feature makes the RollR the most portable model on our list.
Wheels aside, the RollR is one of the best coolers we've ever used. It uses a similar rotomolded construction to the Tundra and high-density LLDPE plastic/polyurethane foam insulation. While this may imply little to the average buyer, in layman's terms this simply means it's tough as hell and one of the best insulators in the game.
PROs

Burly all-terrain wheels
Side-prepping board
Optional cup holders and bike mount (yep, you read that right!)
Excellent cooling power

CONs
Bottom-Line: A pricey but highly portable and robust camping cooler that's ideal for anyone who plans on covering a bit of distance between their car and their campsite.
Yeti Coolers Roadie 24
Best Small Cooler
Capacity: 24 qt. ⸱ Weight: 13 lbs. ⸱ Ice retention: N/A ⸱ Other sizes: N/A
If you're planning on taking shorter trips, have fewer mouths to feed, or just want a top-tier camping cooler that's a more manageable size than a large cooler like the Tundra 65, look no further than the Roadie 24.
The Roadie, in short, is the Tundra in miniature. It has the same rotomolded construction, similarly superb ice retention capacity, and the same high-quality gasket, latches, and hinges.
While the Roadie's 24-quart capacity means it's a little too small for groups or multi-day trips, it weighs a mere 13 lbs and is small enough to squeeze in behind the driver's seat in your car. The Roadie was also given a makeover in 2020 and the latest version is tall enough to accommodate wine bottles and also has a burly shoulder strap to help with transportation.
PROs

Lightweight
Great cooling capacity
Tall enough for wine bottles
Bear-resistant
Rotomolded construction

CONs

Low capacity
Pricey for the size
Bottom-Line: This Yeti cooler is one of the best out there for camping couples, small families, and day trips.
Dometic CFX3 75
Best Electric Cooler
Capacity: 66 qt. ⸱ Weight: 61 lbs. ⸱ Ice retention: Infinite! ⸱ Other sizes: N/A
If you are looking for a camping portable mini fridge that performs just as well as your fridge-freezer at home then look no further than the Dometic CFX3.
The CFX3 electric-powered cooler weighs a whopping 61 lbs. and costs a small fortune. If you plan on having multi-day car camping trips at sites with electric hookups, are serious about keeping your drinks and food cold – and have $ to burn – this is the cooler for you.
The CFX3's build is very nearly as rugged as the top-end, non-electric hard-siders on our list, and to make up the difference it has burly fender frames for added protection.
Compared to those other models, however, it is a hands-down winner for long-term outdoor adventures. Why? Firstly, it has dual storage compartments with independent temperature control that allow for simultaneous cooling and freezing, and it can deep-freeze contents down to -7 degrees. And secondly, because it runs on electricity its ice-retention time is infinite!
The CFX3 also has a few endearing add-ons that make it a better pick than other electric coolers, most notably a high-resolution color display and app-based performance monitoring and temperature control.
PROs

Awesome ice retention (of course…!)
Large capacity
Dual storage compartments with independent temperature control
Heavy-duty construction
5-year warranty

CONs
Bottom-Line: One of the best coolers out there for multi-day trips and undoubtedly the best car-camping cooler for trips to sites with a power source.
Hydro Flask 22L Unbound
Best Soft Cooler
Capacity: 19.35 qt. ⸱ Weight: 3 lbs. ⸱ Ice retention: Keeps contents cold for up to 48 hours ⸱ Other sizes: 15L (13.2 qt.)
Plan on venturing a little further from the roadside before bedding down for the night? If so, then the Hydro Flask Unbound is well worth considering.
What we love most about this portable cooler is that it is very nearly as comfortable to carry as some of our favorite backpacks and daypacks and yet can keep our drinks and food cold for up to a respectable 24 hours.
Cooling power and carrying capacity aside, there's a lot more to love.
The Unbound weighs just 3 lbs., making it a whole 6 lbs. lighter than our list's other backpack cooler, the Pelican Coolers Dayventure. It also has a durable waterproof shell, leak-proof zippers and sealed seams that make it watertight, and a food-grade BPA-free liner.
As if that wasn't enough, there's also a "True Access" hinged lid for easy access and cleaning, and multiple gear pockets for non-edible/drinkable gear.
The only complaint we have with the Unbound is the price. If you can stomach that, you'll be getting a product that's built to last, capable of keeping your food fresh over a weekend camping trip, and more suitable for far-flung adventures than almost any other option out there.
PROs

Lightweight
Comfortable to carry
5-year warranty
Good cooling time

CONs
Bottom-Line: A sleek and stylish backpack that's a comfortable carry and capable of keeping your food fresh on weekend trips. One of the best coolers out there for backcountry adventuring.
Pelican Dayventure 22L
Best Backpack Cooler
Capacity: 16.19 qt. ⸱ Weight: 9.3 lbs. ⸱ Ice retention: 12 hours ⸱ Other sizes: 13L (11.4 qt.)
The Pelican Dayventure backpack is our favorite camping cooler for single-day trips. It's robust, leak-proof, easy to carry, and can keep ice frozen for a modest but sufficient 12 hours.
This pack is made with 840-denier, double-coated TPU and has a compression-molded base for added durability. These materials make it among the most rugged soft-sided packs on the market and far more likely to survive frequent use and abuse than either the Hydro Flask Outbound or REI Cool Haul.
The Dayventure also has a wealth of value-adding features, most notably leak-resistant zippers, a wide roll-top opening, a daisy chain that allows you to lash gear to the pack's exterior, adjustable chest straps, and nicely padded shoulder straps.
The compartmentalized design also allows you to separate different foodstuffs and keep things organized. The bottom compartment is big enough to host a 6 pack of beer and the upper compartment is large enough for a feast for a family of four.
PROs

Comfortable shoulder straps
Puncture-resistant materials
3-year warranty
Compression-molded base
Leak-resistant zippers

CONs

Pricey
Heavy for the size
Bottom-Line: An incredibly well-made backpack that's slightly heavy but otherwise a great option for backcountry camping adventures.
REI Co-Op Cool Haul 12
Best Value Soft-Sided Cooler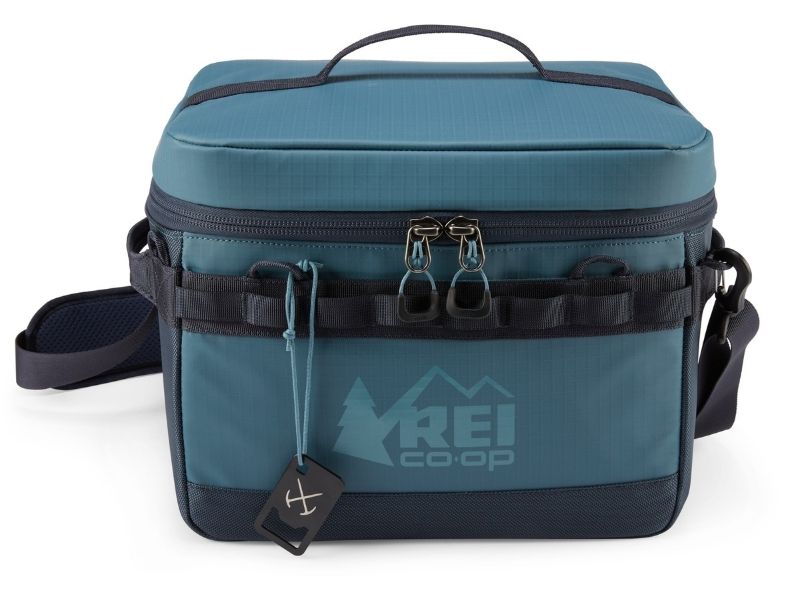 Capacity: 15.8 qt. ⸱ Weight: 3 lbs. 6 oz. ⸱ Ice retention: Keeps drinks chilled for up to 65 hours ⸱ Other sizes: 18 & 24 qt.
Looking for a simple, effective soft-walled cooler that won't break the bank? If so, the REI Co-Op Cool Haul might well be your "bag."
This tote-style cooler bag is one of the cheapest options on our list but offers performance on a par with many far pricier soft coolers. This, in our opinion, makes it our top pick for value buyers.
The Cool Haul consists of an insulated, leakproof inner box, a tough ripstop nylon shell, and an adjustable shoulder strap for easy transportation. There's also daisy-chain webbing that can be used to lash other outdoor gear to the outside of the bag and an external pocket for small essentials.
In terms of cooling capacity, the Cool Haul lags far behind the hard-sided coolers on our list, and the Dayventure and Hydro Flask Unbound are both better options if you plan on carrying ice. Nevertheless, it's still a good option if you're traveling without frozen goods that have to be packed in with plenty of ice.
PROs

Affordable
Lightweight
Sustainable materials
Bottle opener included

CONs

Exterior isn't waterproof
Only big enough for a one-night camping excursion
Bottom-Line: A budget portable cooler that performs just as well as many models that cost twice as much.
Buying Advice: How To Choose The Best Cooler For Camping
Cooler Types
Hard, soft, or electric? Below, we offer a brief overview of the advantages and disadvantages of each type.
Soft Coolers
Lightweight
Easier to transport – many models have backpack/messenger-bag-style shoulder straps
Extra "give" in fabric lets you squeeze more items in and make the most of the usable space
(Mostly) cheaper than hard-sided coolers
Poorer ice retention than hard-sided coolers
Less durable
Our list has 3 soft-sided coolers, the REI Co-Op Haul 12, the Pelican Dayventure, and the Hydro Flask 22L Unbound. Of the three, the Unbound offers the best ice retention and the Dayventure the best organization, but both cost more than twice as much as the Haul 12, which is a perfectly good option for day trips.
Hard Coolers
Superior ice retention
Durable
Often certified bear-resistant
High capacity models available
Pricey, for the most part (the Coleman Xtreme is a notable exception)
Heavy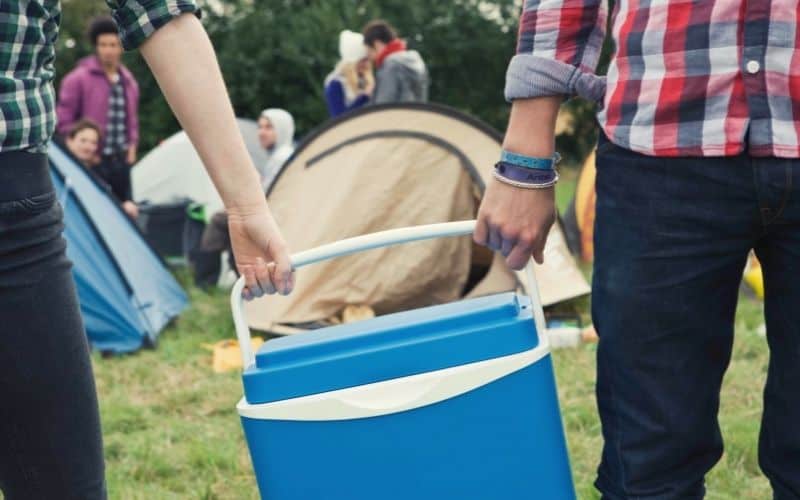 Our list has 6 hard-sided coolers: the Tundra 65, Roadie 24, the Coleman Cooler Xtreme, RovR RollR 60, Dometic CFX3, and the RTIC 45.
Electric Coolers
Awesome ice retention (just like your freezer at home!)
Require a power source
(Darned) pricey!
Heavy
Our list's lone electric cooler is the Dometic CFX3.
Hard, Soft, or Electric?
Which particular model is going to be best for your camping trips?
This depends on three things: the duration of your camping trip, where you plan on doing your camping, and the size of your camping crew.
For long-stay trips when you have access to an electrical hook-up, then an electric cooler is hands-down the winner due to its infinite (barring a power outage!) cooling power and high capacities. The downside? They cost so much you may have to rob a bank or remortgage your home to buy one…
The next best thing for multi-day trips are rotomolded coolers like the Tundra, Roadie, and RovR RollR 60, all of which can keep your eats and drinks icy cold for multiple days. These coolers, however, are also unlikely to win any prizes for affordability, are far heavier than soft-sided models, and are awkward to carry.
Soft-siders are the most portable of the bunch. They're light, malleable, and come with handy shoulder straps that let you carry them like a regular backpack or tote. Most models are also far cheaper than similarly sized hard-siders.
On the downside, soft-walled coolers have poorer ice retention than their hard-sided siblings, so they're usually only good for day trips or overnight stays.
Cooling Performance & Ice Retention
This refers to how well (and how long) any cooler can keep your edibles and drinkables cool or frozen, and is mainly determined by the type of insulation used and its seal.
Manufacturers typically indicate how long their coolers can keep their contents cold. The time frames they suggest, however, are best taken with a pinch of salt. Why? First, the marketing peeps at the big brands aren't shy about inflating ice-retention times to boost sales. Secondly, several variables can impact a cooler's ability to keep your stuff cold.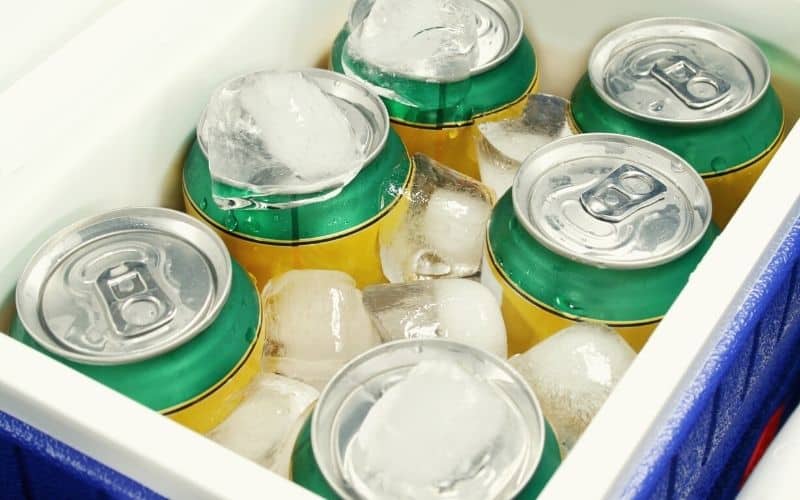 The most important of these variables are:
Ambient temperature (the "maximum ice retention" of some models only applies in cool temperatures)
Sunlight exposure
The ice-to-contents ratio (i.e. how much ice you pack compared to food)
Whether or not you pre-chilled the cooler and/or its contents (pre-chilling the cooler can add hours to its cooling capacity)
How often you open the lid
The size of your ice cubes/blocks (larger cubes of ice melt more slowly)
The type of ice you use (regular or dry – dry ice aids with cooling power but isn't compatible with all coolers)*
Of all the non-electric models on our list, the RTIC 45, which can keep ice frozen for a whopping 10 days, offers the best cooling capacity.
*The Tundra is the only model on our list that is compatible with dry ice.
Insulation
What makes one cooler a better insulator than another?
While a handful of factors come into play, none is more important than the thickness of the insulation. Simply put, better, thicker insulation means a cooler cooler.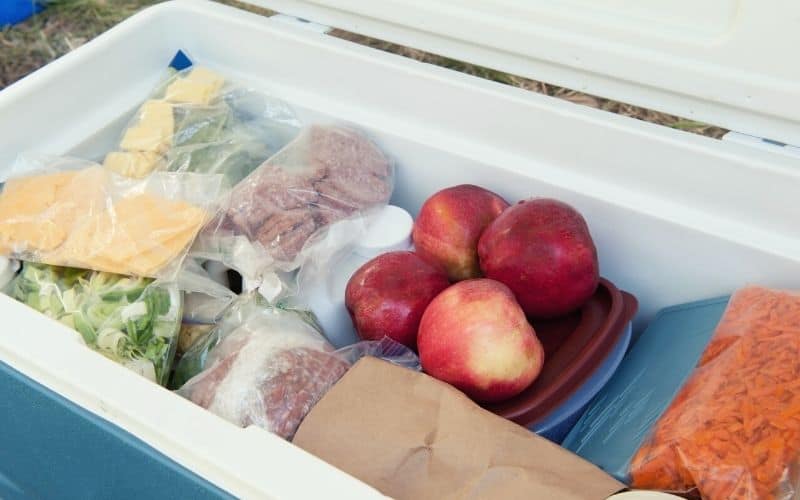 All of the top models we've carted on our trips in the sticks have had one thing in common: around 3-inches of high-density polyurethane foam sandwiched between a pair of burly, rotomolded, compound resin or polypropylene walls, as seen on the RTIC 45, Tundra, and RollR 60.
For proof of this, we need only cast an eye toward the less impressive ice-retention times of coolers with less insulation, like the Coleman 5-Day and the 3 soft-walled coolers in our review.
Seal
A cooler's cooling capacity depends on its ability to keep cool air in and ambient air out. This being so, the quality of the seal is of the utmost importance.
While the seals used on all the models in our review are effective and well-made, they are constructed of less durable materials (silicone) than the body of the cooler and so it's worth noting that these will degrade over time. When this happens, the cooling capacity will drop drastically, so be prepared to purchase a new one a few years down the line.
Cooler Capacity – What Size Cooler Do I Need?
The answer to the above question depends on the following: how many peeps you're camping with, how big your appetites are, and the duration of your camping trip.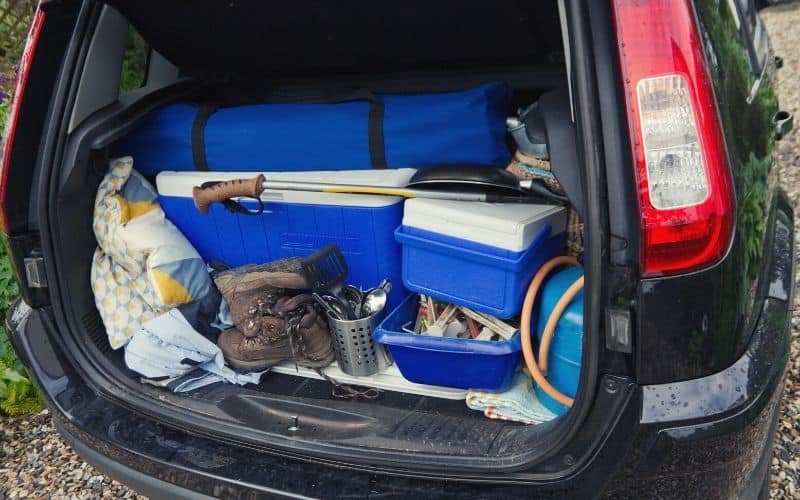 Below, we've added an at-a-glance overview of cooler capacities and their suitability for different group sizes and trip durations. Because so many variables come into play (food type, ice-to-contents ratio, the size of your appetites), these are best viewed as "ballpark" estimates.
Small (10-35 quarts) – good for a day trip for 2-4 people or an overnight camping trip for 1-3 people
Medium (35-55 quarts) – these are compact enough to be loaded into a car trunk and can be carried by one person
Large (55-75 quarts) – good for two or more people traveling for multiple days, or weekend trips for groups of 5 or 6
Extra Large (75+ quarts) – ideal for large groups for a 3 to 4-day camping trip or smaller groups on longer trips
Weight And Portability
Depending on whether you are car camping or have miles to cover on foot before setting up camp, the weight of your cooler may be a critical concern.
Once you've loaded it with all your eats, drinks, and the ice that keeps them cool you could be looking at a 60-pound load, which ain't ideal unless you happen to bench press small vehicles on your lunch break or have a personal Sherpa to do the carrying.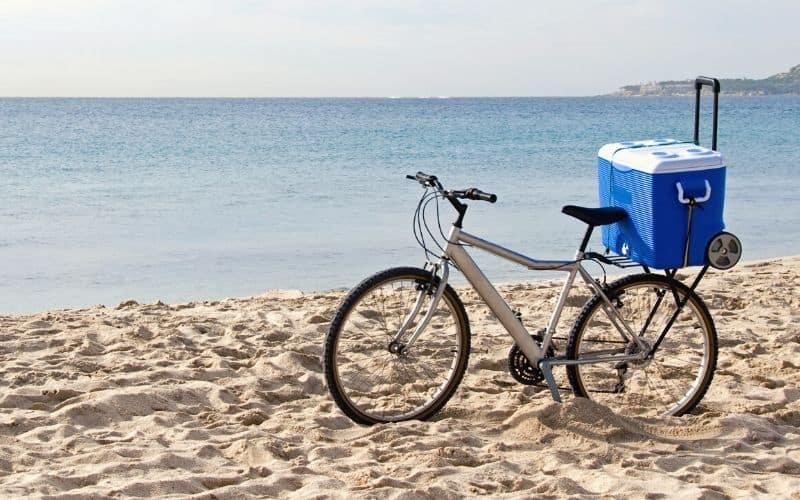 If you don't have a Sherpa or daily vehicle-hoisting muscle enhancing routine then you have 3 options:
1) Choose a soft-sider – models like the REI Cool Haul and Hydro Flask Unbound weigh in the region of three pounds, a whole 24 lbs lighter than the winner of our review, the Tundra.
2) Choose a cooler with wheels, like the RovR RollR rolling cooler.
3) Compromise by opting for a model with a lower capacity or poorer cooling power.
As you'll have gathered from the above, wheeled coolers and soft-siders are the most portable options. Soft-siders are not only lighter, but almost always have backpack-style shoulder straps, chest straps, and/or hip belts to aid carrying, which makes them the best coolers for backcountry trips.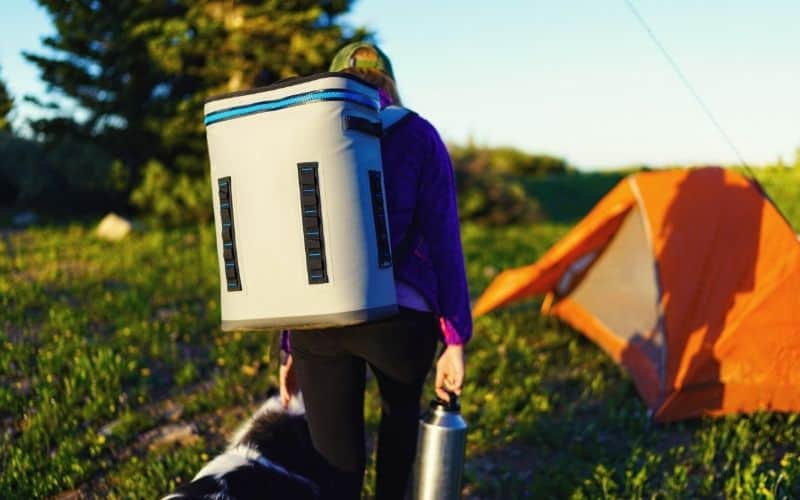 Wheeless hard-sided coolers are the least portable due to their weight, rigid construction, and unwieldy dimensions. The Tundra, for example, weighs 27 pounds and measures 30.5 x 17.4 x 16 inches, making it an uncomfortable carry and suitable for car camping only.
Internal Organization
Most coolers are mere empty boxes, but some have storage trays, shelves, or compartments that divide the overall capacity into two or three parts. This may seem like a fairly rudimentary and unnecessary add-on, but it has two main benefits.
Firstly, it allows you to keep your food separate from your beverages, or keep certain foodstuffs like meat, poultry, and fish away from others that don't need to be cooked before eating. Secondly, keeping things organized means you'll spend less time fishing around inside trying to locate what you need, which improves cooling capacity by reducing exposure to warmer air.
Latch And Closure Systems
Premium cooler models mostly have integrated hinges and rubber latches that create an air-tight seal between the lid and the storage chamber. These enhance cooling capacity by locking cool air in and keeping ambient air out, and also prevent spillage during transportation.
Cheaper coolers, like the Coleman Xtreme, have no latch. This means you have to take care while you're on the road to ensure the lid doesn't pop open and then weigh the lid down with a rock/human/other objects when at camp.
Bear-Resistant Ratings
Some coolers on our list are certified as bear-resistant by the Interagency Grizzly Bear Committee. While no 100% guarantee can be made that the product cannot be opened or destroyed by a bear, it certainly means it's less likely and, just as importantly, tells you that the cooler is also less likely to leak any scents that might attract bears to your campsite.
Need a bear-resistant cooler? Check out the Yeti Tundra 65, RTIC 45, RollR 60, and Yeti Roadie 24.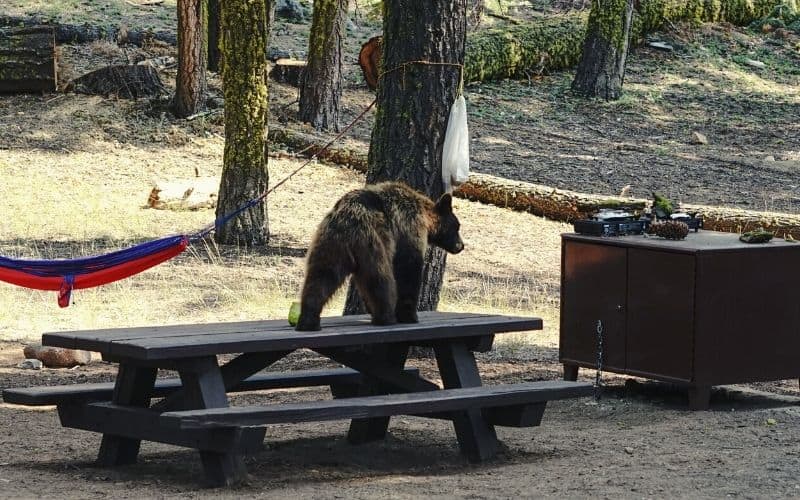 Cooler Drain Systems
Drainage systems are one of those features that most buyers don't think they need at the time of purchase. However, when it's time to empty your cooler post-trip or drain melted ice to make room for fresh ice you'll be mightily glad it's there!
The reason for this is simple: a cooler plus ice plus meltwater plus frozen food equals a lot of weight, which means a lot of effort if you have to repeatedly tip the cooler up to make room for fresh ice and/or clean it.
All of the hard coolers on our list have drainage holes/spigots, though we're particularly big fans of the RTIC 45's "Rapid V-Drain" system, which is just a little easier to use than the rest.
Most soft coolers aren't blessed with drainage systems but do have removable inners (REI Cool Haul) or wide-mouth, hinged openings (Hydro Flask Unbound) that simplify post-trip cleaning.
Accessories And Add-Ons
A couple of non-standard add-ons can enhance the overall convenience and user-friendliness of a cooler. With hard coolers, things like drink holders, integrated handles (as opposed to rope handles), a built-in bottle opener, and anti-slip rubber feet are well worth having. With soft coolers, look for exterior pockets, daisy chains, attached bottle openers, and carabiner clips.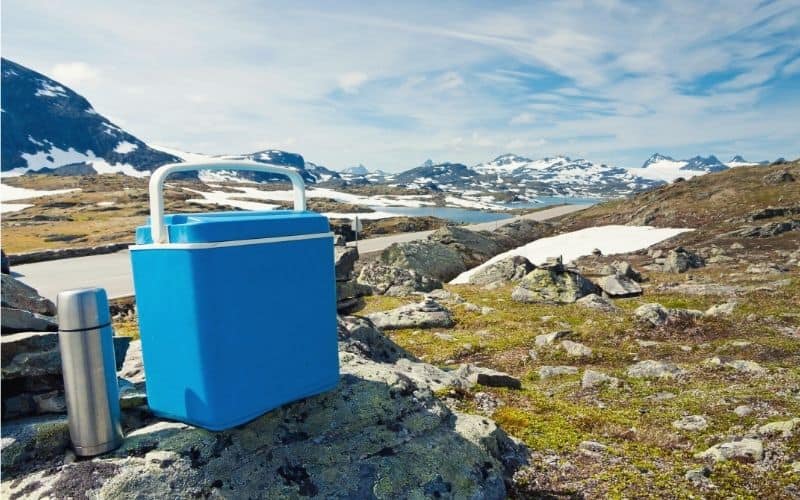 Cooler Warranties
Warranties do two things.
First, they give you added peace of mind in knowing that your pricey purchase will be replaced or repaired if it breaks. Secondly, they demonstrate that the manufacturer has so much faith in their product's durability that this shouldn't be necessary in the first place. A lengthy warranty should inspire more confidence than any of the gushing praise they might lace their product descriptions with.
The Top Insulated Cooler: The Final Verdict
Ready for a quick roundup of our top picks?
Our favorite cooler on the market is the Yeti Tundra 65. This robust hard-sided model has too many practical and performance-enhancing features to repeat again! This is reflected in the price tag though so if you are on a tight budget you can't go wrong with the Coleman Xtreme 5-day. It has a good cooling power for its price and even has a cooling drain, it is, however, lacking a latch so you do need to be more careful with it.
Want to go electric? Then our top pick is the Dometic CFX3. This is very much at the top end of the price spectrum but with its rugged build, dual compartments with independent temperature control, and infinite ice-retention time it is worth the money if you do long-term camping with an electrical supply.
If you liked our article, let us know in the comments box below. And if you'd like to share it with your friends, share away!
Related Camping Food Related Articles
If you enjoyed this article, then check out some of our other posts on camping food: