Boasting lush forests, beautiful views of the Long Island Sound, and fantastic opportunities for hiking, Connecticut is an adventurer's paradise in southern New England.
In fact, the Constitution State has a whole lot to offer when it comes to hiking, so pre-planning is essential for any trip. If you're looking for the best hikes in CT, have no fear, we're here to help.
Up next, we'll introduce you to 10 of our favorite hikes in the state, from easy, family-friendly strolls to all-day epics.
The 10 Top Hiking Trips In Connecticut
1. Castle Craig, Hubbard Park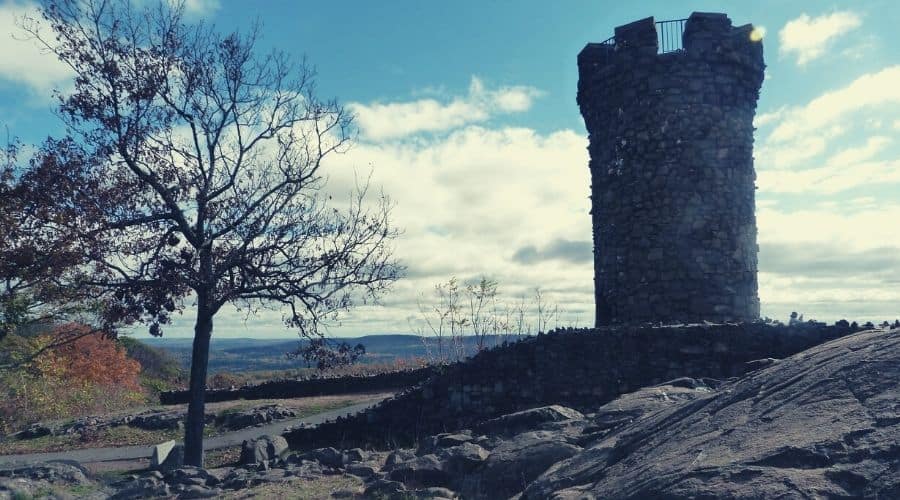 Trail type: Out-and-back
Length: 2.8 miles (644ft ascent)
Difficulty: Easy/Moderate
Access: From White Trail Trailhead near Mirror Lake in Meriden
A popular outing for families and solo hikers alike, Castle Craig is one of the top CT hiking trails. This is especially true for anyone that appreciates excellent mountaintop views. Plus, with a total length of a mere 2.8 miles round trip, this trip is a solid option if you're short on time.
Starting out at the White Trail Trailhead near Mirror Lake, this trek begins in the forest, where you'll start to make your way uphill. Since the start of this walk parallels the highway, you'll hear road traffic for the first part of your journey. However, after crossing a pedestrian bridge over the highway, you'll soon leave the traffic noise behind.
With the highway in your rear-view mirror, you'll continue down the White Trail for a short distance before branching off to a spur trail. This spur, known as the Metacomet Trail, takes you up toward a parking area near a high point called East Peak.
From here, you can stroll over to the stunning Castle Craig observation tower at the far end of the parking area and climb to the top. Once at the top, you can sit back, relax, and take in the view over New England as a reward for your hard work.
RELATED READING: Check out our main page for more outdoor adventures in Connecticut.
2. Bear Mountain Trail, Mount Riga State Park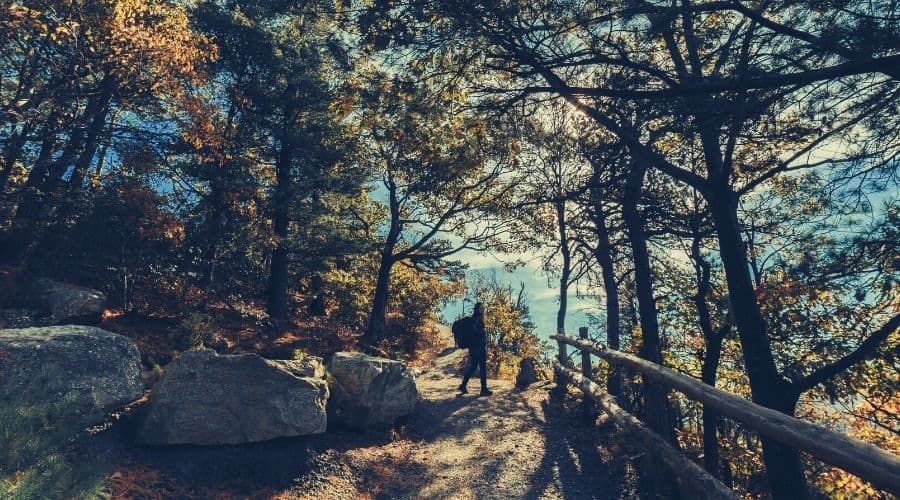 Trail type: Out-and-back
Length: 5.4 miles (1,549ft ascent)
Difficulty: Moderate/Strenuous
Access: From Under Mountain Trailhead, Mount Riga State Park in Salisbury
If you dream of standing atop Connecticut's highest peak and casting your eyes out over beautiful New England, then this is the trek for you. One of the best hiking trails in CT for adventurers of all ages, the path to Bear Mountain is a must if you love a good summit attempt.
After parking your car at the Under Mountain Trailhead, you'll start your journey in a beautiful forest. The trail begins with a steady climb and a number of stream crossings, so be sure to wear your waterproof boots.
Eventually, you'll pass by a campground and reach a junction with the Appalachian Trail. Beyond this point, the trail gets a bit rougher as you climb upward to the state's highest peak.
After a total of 1,549 feet of elevation gain, you'll pop out above the trees and reach a rocky outcropping. One final scramble to the summit later, and you'll stand on the peak of Bear Mountain, where impeccable views await!
Oh, and if good weather is in the forecast, don't forget to pack a small picnic. The flat summit of Bear Mountain makes for a marvelous lunch spot after a long morning of hiking.
3. Pine Knob Loop, Housatonic Meadows State Park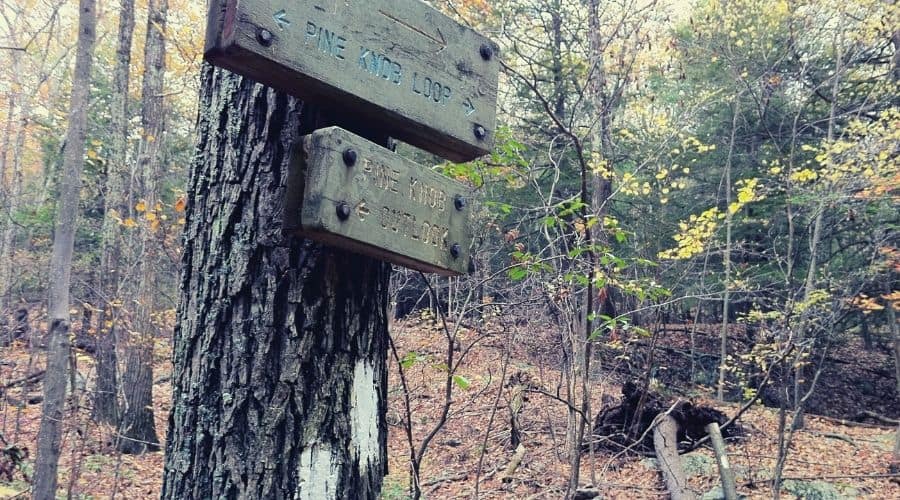 Trail type: Loop
Length: 2.5 miles (1,150ft ascent)
Difficulty: Moderate
Access: From Pine Knob Loop Trailhead on Highway 7 near Sharon
If stunning mountain views are your top priority, the Pine Knob Loop Trail should be high on your list of the best hikes in Connecticut. This short but sweet 2.5-mile loop begins right off of Highway 7 and climbs steadily upward to a small high point.
Once you depart the parking area, you'll follow a blue-blazed path through the trees until you meet up with the Appalachian Trail. Right from the get-go, the path begins to climb steadily uphill toward your destination.
Indeed, although this hike is fairly short, the 1,150 feet of elevation gain is nothing to scoff at. Thankfully, you'll be well rewarded for your efforts with small viewpoints as you make your way to Pine Knob.
Eventually, you'll turn off the blue-blazed path onto the Appalachian Trail, which boasts its characteristic white blazes. These blazes will lead you to the summit of Pine Knob, where you can grab a seat and look out over the forest below.
After leaving Pine Knob behind, you'll head steadily downhill. However, toward the end of your adventure, you'll also get a chance to see some beautiful waterfalls along Hatch Brook. The trail then veers toward the car park where you can access other amazing outdoor activities in Housatonic Meadows State Park.
4. Macedonia Ridge Trail, Macedonia Brook State Park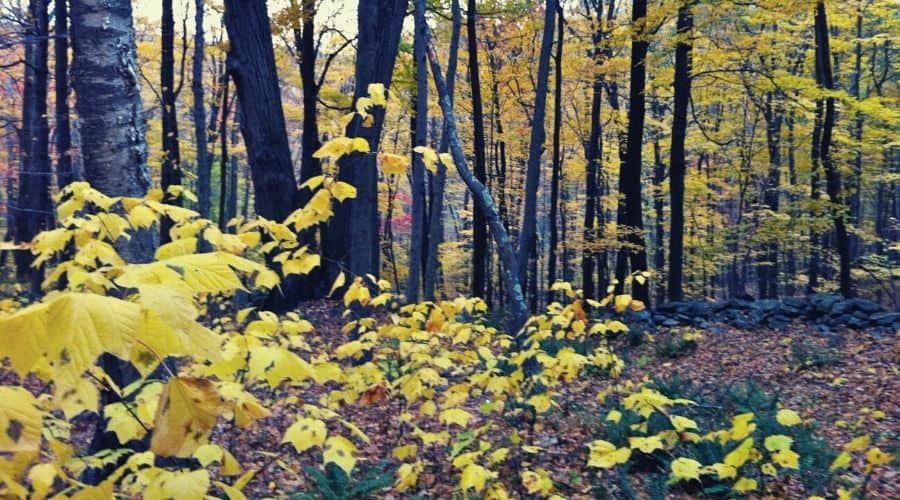 Trail type: Loop
Length: 6.4 miles (1,592ft ascent)
Difficulty: Moderate/Strenuous
Access: From Macedonia Brook Road near Kent
A lovely peak ascent for the more adventurous among us, the Macedonia Ridge Trail is one of the most popular outdoor activities in western Connecticut. Along this 6.4-mile round-trip trek, you'll get a chance to summit a small peak with excellent 360º vistas.
As you leave the parking area on Macedonia Brook Road, you'll make your way down a path with blue blazes. The walk takes you over a series of hills, however, so be prepared for a workout during your travels. Moreover, some parts of the trail are particularly rocky, which makes trekking poles and proper hiking boots a must.
Throughout this hike, you'll get glimpses of the undulating terrain of the gorgeous Hudson River Valley to your west. As a result, the Macedonia Ridge Trail is a fine option during peak fall foliage.
After a solid amount of elevation gain, this path will eventually top out at its highest point, where you get great views of the surrounding region.
But, your journey doesn't end at the summit. That's because this loop offers a chance to check out other notable nearby features, like Hilltop Pond, before you stroll back to the parking lot after a long day of hiking.
5. Cobble Mountain Trail, Macedonia Brook State Park
Trail type: Out-and-back
Length: 2.2 miles (695ft ascent)
Difficulty: Easy/Moderate
Access: From Macedonia Brook Road Parking Lot in Macedonia Brook State Park near Kent
Short and steep, this hike to the summit of Cobble Mountain is perfect for year-round views of the nearby Taconic and Catskill Mountains.
One of the more difficult parts of this hike is finding the parking area, which is located toward the back of the park's paved welcome center. From here, you'll make your way down a path that's marked with white blazes past a handful of campsites.
The trail then merges with an old road for a short section before continuing its upward climb. From here on out, you can expect to work fairly hard until you reach the first viewpoint.
However, don't stop at the first viewpoint if you still have energy left to burn as the vistas from the summit are well worth the effort. Just a little further down the trail, you'll come across a large rocky outcropping where you can enjoy a snack and take in the scenery.
For a longer adventure, you can also continue down the backside of the mountain. However, this path is rocky and involves some scrambling, so it's not recommended for newer hikers.
6. Mohegan Park Loop, Mohegan Park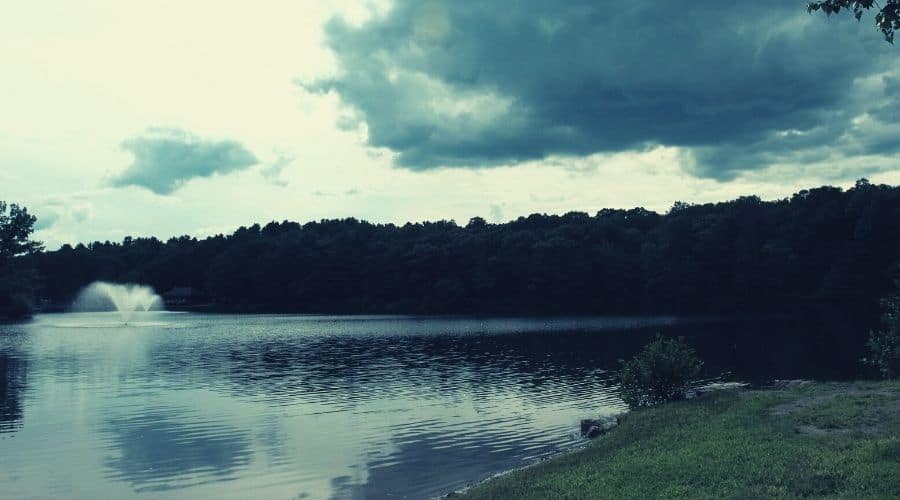 Trail type: Loop
Length: 1.9 miles (160ft ascent)
Difficulty: Easy
Access: From Center Parking Lot in Mohegan Park near Norwich
Your go-to trek for a free afternoon, the Mohegan Park Loop helps you escape the city all year long. Since it has minimal elevation gain and a relatively casual atmosphere, this trek is perfect for families and hikers of all ability levels.
At just 1.9 miles long, this loop offers a quick venture into the beautiful Mohegan Park forest. Starting at the southern part of the park's central parking area, you begin your journey by picking up the bath with the blue blazes.
The path will head due south from the get-go, veering toward Lower Pond, where you can stop to enjoy a short break. Then, the blazes will change from blue to green right as you leave the pond behind.
With the pond in the background, you'll then cross a rustic footbridge and make your way through a dense forest. Yet another trail junction (this time with the Red Trail) marks the start of the final leg of your journey as you leave the forest behind.
Soon enough, you'll find yourself back on a paved path that brings you close to Spaulding Pond. As you round the final corner back toward your vehicle, however, keep an eye out for wildlife, as white-tailed deer are known to roam near the pond.
7. Zoar Trail, Paugussett State Forest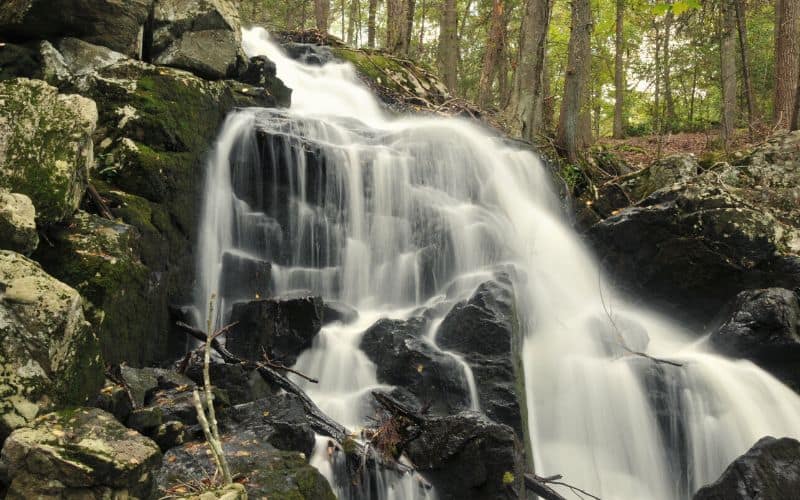 Trail type: Loop
Length: 6.4 miles (1,100 feet)
Difficulty: Moderate
Access: From the parking lot on Great Quarter Road near Oxford
A solid choice for anyone that likes a challenge, the Zoar Trail is a fan-favorite hike in Paugussett State Forest. This hike mostly stays within the forest, though it offers plenty of opportunities to get some views over the surrounding area.
Upon leaving the trailhead on Great Quarter Road, this walk immediately starts climbing upward toward its high point. Much of the path is rocky and rugged, however, so be ready for a bit of an adventure along the way.
For much of its path, this hike follows the shoreline of Lake Zoar, a reservoir created by a dam along the mighty Housatonic River. At several points during this hike, you'll need to make some small river crossings, so waterproof boots are essential.
Furthermore, in addition to awesome views of Lake Zoar, this hike gives you a chance to see the 25' tall Prydden Falls.
That said, this hike is very popular in the summer months, especially around the waterfall. Therefore, we highly recommend arriving early in the morning during the summer months to ensure you get a parking spot.
8. Breakneck Pond Loop Trail, Bigelow Hollow State Park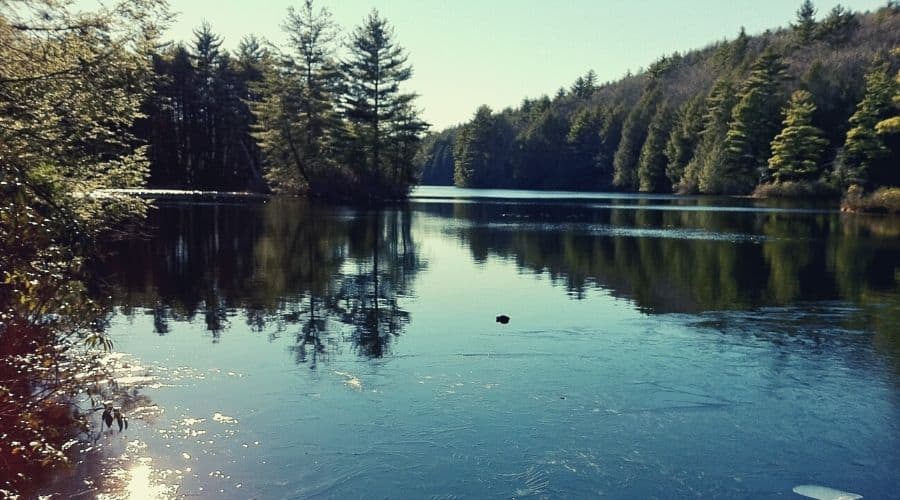 Trail type: Loop
Length: 6 miles (216ft ascent)
Difficulty: Easy
Access: From East Ridge Trailhead on Bigelow Brook Road near Union
One of the more popular treks in Bigelow Hollow State Park, the Breakneck Pond Loop is an excellent full-day outing. Located in northeastern Connecticut near the Massachusetts border, this hike offers a chance to see the serene Breakneck Pond.
You can start your adventure at a number of different points along this trail, though the East Ridge Trailhead is the most convenient. Since a number of different trails start at this trailhead, it's important that you pick up the path with the blue and white blazes.
After departing from the road, you'll make your way northward toward Breakneck Pond. The first few miles of the walk are relatively mellow as you meander through tranquil forests.
Eventually, you'll come across a lean-to shelter on the southern edge of the lake, which is where the fun really starts. At this shelter, you can choose to continue either clockwise or counterclockwise around the lake.
Regardless of the path you take, you'll be treated to amazing views of the lake throughout your walk. You'll pass by a handful of different shelters and campsites, which also make for great places to stay if you're looking for a short backpacking trip.
Also, if you're visiting during the summer months, don't forget to pack your swimsuit for your hike. There's decent swimming at Breakneck Pond as well as some fun places to take a dip at Bigelow Pond near the trailhead.
9. Mount Frissell Trail
Trail type: Out-and-back
Length: 2.3 miles (800ft ascent)
Difficulty: Easy/Moderate
Access: From AMC Parking Lot on Mount Washington Road near Salisbury
If bagging state high points is your goal, then the Mount Frissell Trail is one for your bucket list. While technically speaking Bear Mountain (the second hike on our list) is the highest peak in Connecticut, the tallest spot in the state is actually not a mountain, but a patch of grass on the slope of Mount Frissell.
Confused? Well, the state line between Massachusetts and Connecticut runs along the southern slope of Mount Frissell. So, while Frissell's peak is in Massachusetts, the highest point (not peak) in the state of Connecticut is actually along the Mount Frissell Trail.
But, just to put all the naysayers to rest, we'd recommend bagging both Frissell and Bear. That way, you can claim the honor of having ascended both Connecticut's highest point and its highest peak.
Now, enough with the chit-chat, let's talk about the hike itself.
The trek along the Mount Frissell Trail starts out at an Appalachian Mountain Club parking area on Mount Washington Road. However, the parking area isn't accessible in the winter, so you may need to leave your car on East Street in snowy conditions.
From the trailhead, you'll navigate undulating terrain until you climb atop Mount Frissell in Massachusetts. For extra fun, you can continue down the path a little further and cross the New York state line. That way, you can say that you walked through 3 states in one day. What could be better?
10. Bluff Point Coastal Reserve Trail, Bluff Point State Park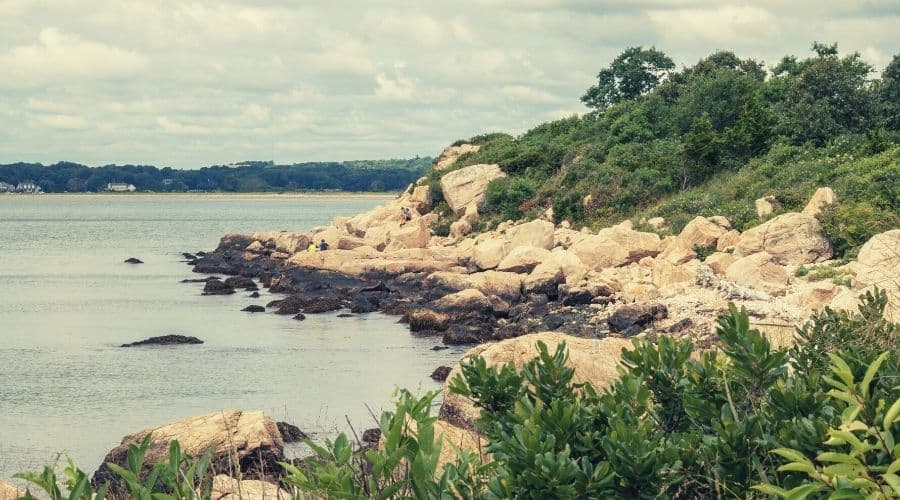 Trail type: Loop
Length: 3.6 miles (170ft ascent)
Difficulty: Easy
Access: From Bluff Point State Park parking lot near Groton
Up to this point, we've mostly discussed mountain hikes and forested walks, but Connecticut is a coastal state. So, it's only right that we include a hike with spectacular views of the Long Island Sound in our list of the best hikes in Connecticut.
Enter: the Bluff Point Coastal Reserve Trail.
Easily the most popular walk in Bluff Point State Park, this hike starts out right in the center of the town of Groton and brings you straight to the coast. This mostly flat hike provides super vistas over the sound as well as easy access to the region's many beaches.
About halfway through this loop, you'll even come across Bluff Point Beach. Here, you can take some time to relax in the sand or go for a dip in the Long Island Sound's refreshing waters.
Plus, the hike also offers superb opportunities to see local wildlife. As you stroll along the coast, keep an eye out for seabirds and other animals that like to hang out in the Poquonock River's fertile estuary.
All in all, the walk out to Bluff Point is a fabulous adventure for wildlife lovers, beachgoers, and the whole family.
The Verdict
With so many amazing hikes in Connecticut to choose from, adventure awaits those who seek it out in the Constitution State. Just remember to always come prepared with the right gear for the conditions you'll face in the mountains of the great state of CT.
We hope that our list helped you find your next outing in the lovely state of Connecticut. If so, give us a shout in the comments below to tell us all about your travels!