Take a break from the theme parks and head out into the great outdoors to explore the Sunshine State's incredible array of stunning natural landscapes!
From Everglades National Park to Ocala National Forest, Florida boasts some of the best and most unique hiking locations in the country. Whether you're wading through swamps in Big Cypress or descending into underground caverns, there's a trail for every type of hiker in the Sunshine State.
So put on your hiking boots, grab your pack, and get ready to explore the beauty and diversity of this state's natural wonders.
In this guide, we discuss everything you need to know to hike Florida's top treks.
1. Anhinga Trail, Everglades National Park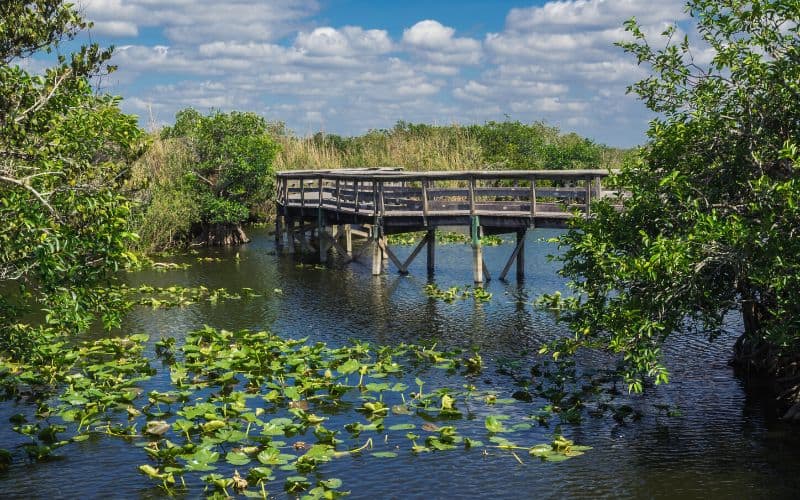 Type: Loop
Length: 0.8 miles
Difficulty: Easy
Known as the largest subtropical wilderness in the country, Everglades National Park is one of Sunshine State's top attractions. This unique natural habitat is home to rare species like American crocodiles, manatees, and even Florida panthers.
Anhinga Trail is a short, 0.8 miles round trip stroll along a paved path and a wooden boardwalk above a sawgrass marsh. It's a popular hike for nature lovers of all ages and abilities wanting to catch a glimpse of the area's abundant wildlife. And, it's less than a 30-minute drive southeast of Homestead, FL.
This self-guided nature path features interpretive signs with information on the park's birds and reptiles. It's common to see many of the local wildlife along the way, including alligators and turtles.
This is a fantastic spot for birdwatching, especially in the winter. Keep an eye out for herons, egrets, and large and slender waterfowls called anhingas – the route's namesake.
Anhinga Trail starts at the Royal Palm Visitor Center, about four miles from the Ernest Coe Visitor Center. Here you'll find an ample parking lot and a comfort station.
To extend your hike a bit, take the Gumbo Limbo trail from the parking lot. It's a 0.4-mile roundtrip walk along a shaded path flanked by gumbo limbo trees, royal palms, air plants, and ferns.
2. River Rapids Nature Trail, Hillsborough River State Park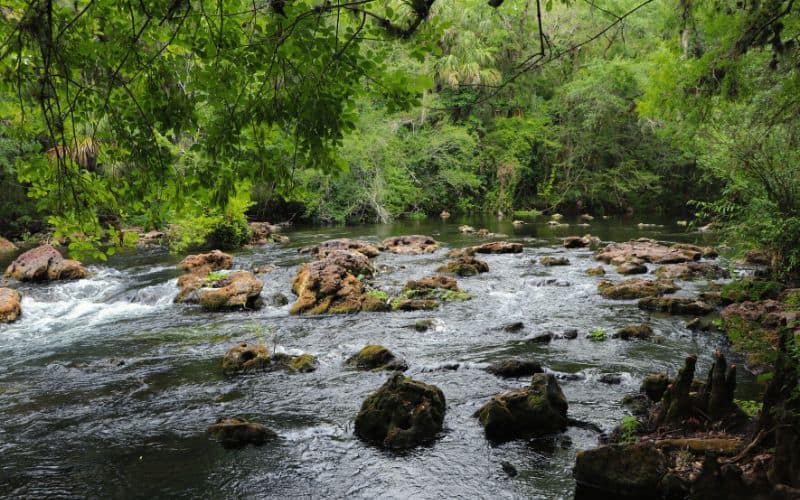 Type: Loop
Length: 1.3 miles
Difficulty: Easy
Located just a 30-minute drive northeast of Tampa, Hillsborough River State Park encompasses over 3,383 acres with a live oak hammock forest, swampy terrain, and Class II rapids along the Hillsborough River.
Its proximity to downtown Tampa makes it a popular place to walk or bike on the paths, paddle down the river's rapids, spend a weekend camping, see the historic Fort Foster, or enjoy a picnic while taking in the beautiful scenery in atmospheric hardwood forests.
Hillsborough has more than seven miles of hiking trails winding through it with plenty of opportunities for wildlife viewing.
The River Rapids Nature Trail is an easy 1.3-mile loop along the Hillsborough River offering stunning views of the Class II rapids. It's a shaded hike through the hydric hammock forest along a well-maintained path and boardwalks lined with interpretive signs.
You'll find the trailhead for this hike along State Park Access Road. The park's main parking area has a suspension bridge, restrooms, picnic pavilions, and a children's playground. Helpful hiking maps are available at the nearby ranger station.
If you're visiting in the spring or summer, bring insect repellent and watch out for seasonal flooding.
3. Florida National Scenic Trail, Ocala National Forest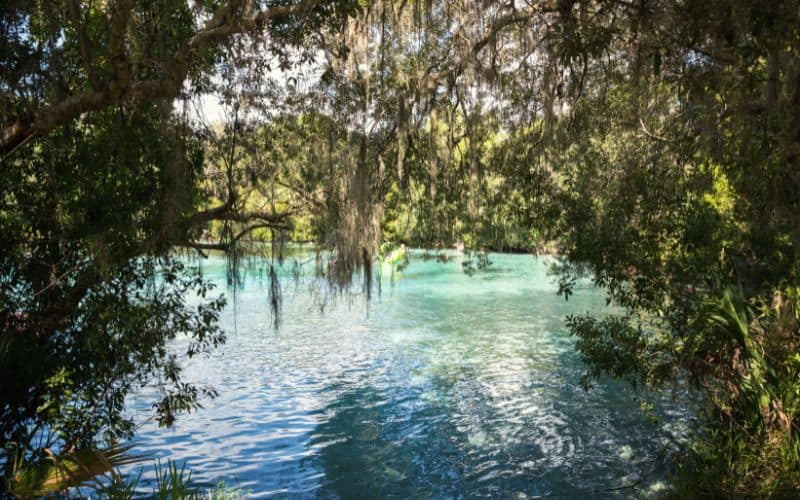 Type: Point to Point
Length: 72.3 miles
Difficulty: Moderate
The Florida National Scenic Trail, commonly known as the Florida Trail (FT), is a 1,500-mile journey across most of the Sunshine State.
The route begins at the Big Cypress National Preserve in the south and ends at the Gulf Islands National Seashore in the Panhandle. This epic trek is designated as one of the United States 11 National Scenic Trails. These types of hiking routes are known for their incredible scenic, cultural, historic, and natural wonders.
The 360,000-acre Ocala National Forest is the place where the first blaze of the Florida Trail was marked in 1966. This national forest is less than a 1.5-hour drive from Orlando and Daytona Beach, making it a top natural attraction for visitors to the area's theme parks and sandy beaches.
Known as the Big Scrub, it's home to over 600 rivers and lakes for snorkeling, paddling, swimming, and fishing. It also boasts an incredible collection of flora and fauna and is the world's largest scrub forest.
The Ocala National Forest section of the Florida National Scenic Trail is widely considered the best backpacking route in the state. The hiking path enters the forest from three different directions and crosses through sandhills, pine woods, cypress and gum swamps, ponds, prairies, and elevated boardwalks.
4. Florida National Scenic Trail (Blackwater River State Forest)
Type: Point to Point
Length: 45.5 miles
Difficulty: Moderate
At 219,077 acres, Blackwater River State Forest is one of Florida's largest state forests. It hosts a 30-mile segment of the Blackwater River, beginning in Alabama and ending at Blackwater Bay. This forest sits on the southern tip of red clay soil in West Florida and features a scenic landscape of rolling hills covered with longleaf pine forest.
One unique aspect of this protected area is its community of carnivorous plants that lure, trap, and digest insects. There are a variety of pitcher plants inhabiting the bogs including glistening sundews, butterworts, and bladderworts.
The famous Florida Scenic Trail also snakes its way through Blackwater River State Forest. The 45.5-mile Blackwater section of the trail winds up to the Alabama State Link to connect with the Alabama Hiking Trail and the greater Eastern Continental Trail.
Backpackers can expect to hike through spectacular landscapes filled with Atlantic white cedar and longleaf pine forests, pitcher plant bogs, and swamps.
Hikers looking to explore the Blackwater portion of the Florida Trail on a day hike can take the 4.9-mile out-and-back trek along Burnt Grocery Creek.
5. Little Manatee River Trail, Little Manatee River State Park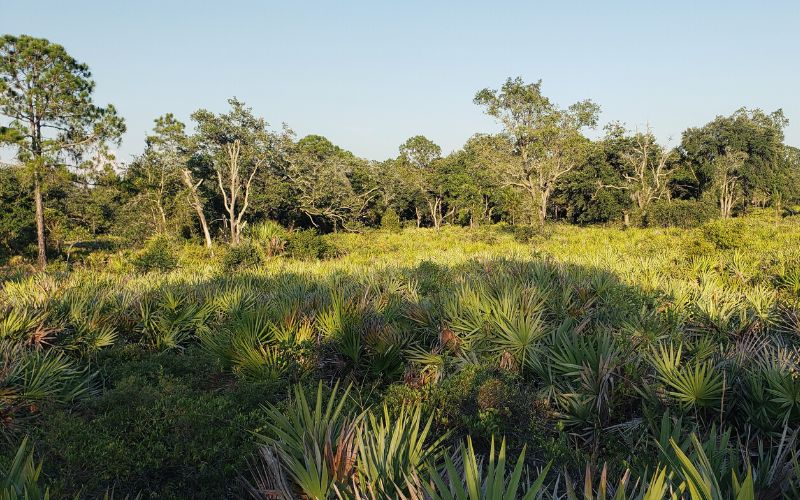 Type: Loop
Length: 6.5 miles
Difficulty: Easy
Situated 32 miles south of Tampa, Little Manatee River State Park is the perfect place to escape the hustle and bustle of the city. 
The Little Manatee River boasts a designation as an Outstanding Florida Water due to its reputation as one of the most pristine blackwater rivers in the southwestern part of the state. The river commences in a swamp close to Fort Lonesome and meanders through the park on its way to Tampa Bay.
This hidden gem of a park features a variety of ecosystems ranging from 4.5 miles of river shores to sand pine and oak scrub to oxbow wetlands.
The Little Manatee River Trail is a 6.5-mile circuit in the state park's northern wilderness area. This primitive path passes through the region's different natural communities like scrubby flatwoods, riverine hammocks, floodplains, sand pine forests, and sandhills. 
As it crosses over Cypress Creek, you'll enjoy scenic vistas of the junction between the creek and the river, while several lookouts on top of the bluffs serve up stunning views of the Little Manatee River.
The trailhead for this hike is on the north side of the Little Manatee River, off U.S. 301 North. Those looking for an easy backpacking trip can sleep under the stars at the primitive campsite about 2.5 miles from the trailhead.
Keep an eye out for the area's interesting wildlife such as wild boars, deer, hawks, osprey, and even alligators!
6. Florida Caverns State Park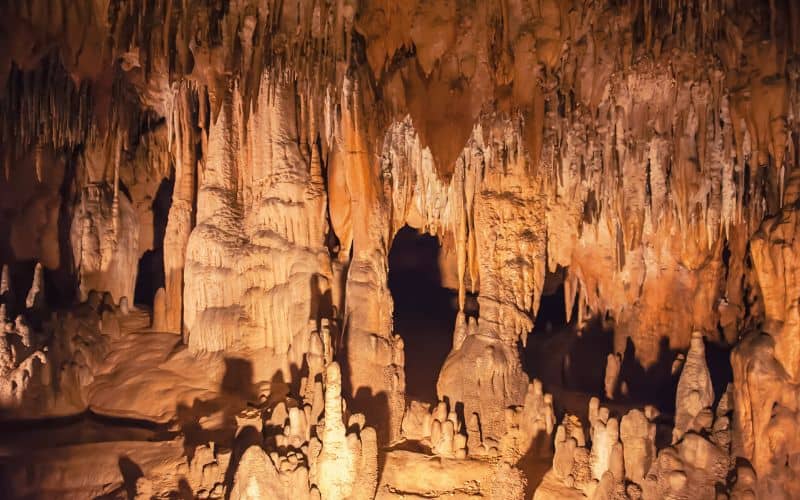 Type: Loop
Length: 1.1 miles
Difficulty: Easy
Take a break from your typical hiking trails and head underground at Florida Caverns State Park! This magnificent state park is located in Marianna, about an hour's drive west of Tallahassee, and is the only one in the state offering cave tours for the public.
Spend the morning exploring some of the park's three above-ground nature trails. The Bluff and Beech Magnolia Trail is a 1.1-mile loop built by the Civilian Conservation Corps (CCC). It passes by rare Appalachian plant species and rocky outcroppings once used as shelters by Native Americans. This hike begins at the main visitor center parking lot.
Once the midday heat picks up, head underground to roam the cool caverns and observe the unique rock formations in this show cave. The historic Florida Caverns tour route was built in the 1930s by the CCC.
The path winds through over 12 rooms, each with unique geological features and interesting names like the Wedding Room and the Cathedral. Cave tours are available mostly on a first-come, first-served basis from Thursday through Monday.
7. Myakka Hiking Trail Loop, Myakka River State Park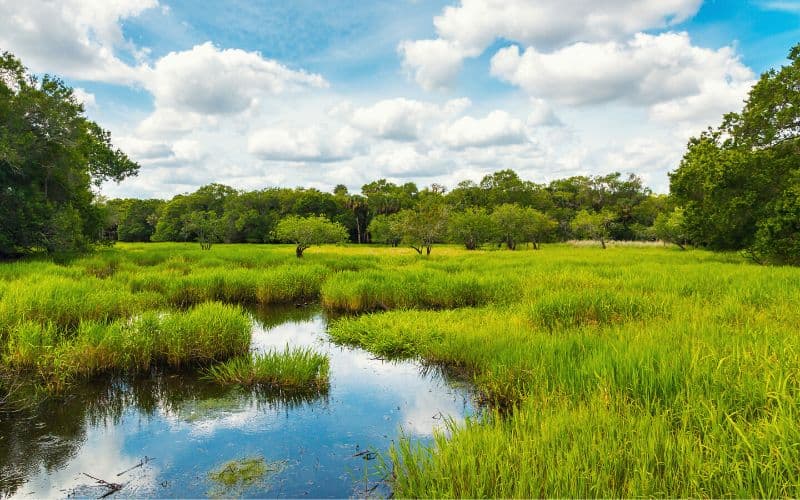 Type: Loop
Length: 38.9 miles
Difficulty: Easy
The Myakka River is the first state-designated wild and scenic river in the Sunshine State. It travels through 58 square miles of the Myakka River State Park. This wild and rustic state park is located only about 19 miles southeast of Sarasota.
The park's primitive landscape offers a glimpse of what the area might have looked like before the Spanish explorers arrived. It's a tea-colored waterway surrounded by a vast region of untouched prairies, wetlands, hammocks, and pinelands.
The Myakka Hiking Trail Loop is a 38.9-mile circuit route for backpacking and day hiking maintained by the Florida Trail Association. The trail features panoramic vistas of the live oak canopy and the Myakka River basin. It traverses shady live oak and palm hammocks, open prairies, sandy pine flatwoods, and marshes.
The best time to visit is in the late fall, winter, or early spring when the temperatures are relatively cool compared to the hot and muggy summers. Be sure to bring plenty of insect repellent!
8. Big Shoals Trail, Big Shoals State Park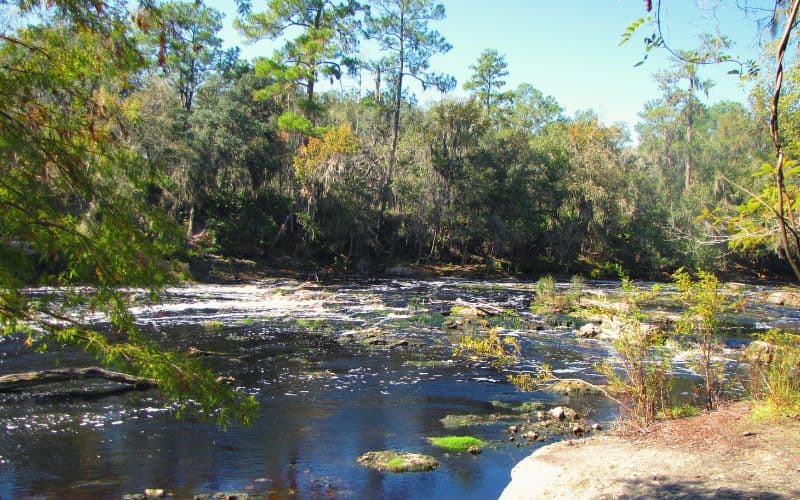 Type: Out-and-Back
Length: 4.5 miles
Difficulty: Easy
With 80-foot-high limestone bluffs, over 28 miles of hiking paths, and the state's largest whitewater rapids, Big Shoals State Park is a must-visit for outdoor lovers. It's located about 75 miles east of Jacksonville in the northern part of the state.
The park's scenic landscape features sandhills, hardwood hammocks, moss-draped oaks, and wildflowers. There are plenty of opportunities to see the local wildlife, too, including wild turkeys, gopher tortoises, great-horned owls, hawks, and deer.
The Big Shoals Trail is one of the park's best hiking routes, especially for birdwatching. The route begins at the Big Shoals entrance and leads to the wet lowlands along the Suwannee River. This area is home to songbirds like the Acadian flycatcher, and wading birds like the black-crowned night heron.
If you stay until sunset, head to the wooden bat house at the Big Shoals entrance to see hundreds of Mexican free-tailed bats flying out to find insects for their supper!
9. Bulow Woods Trail, Bulow Creek State Park
Type: Point to point
Length: 6.8 miles
Difficulty: Moderate
Bulow Creek State Park is home to almost 5,600 acres of protected land just north of Daytona Beach in East Florida. This serene state park is home to ancient live oaks, over 1,500 acres of submerged land, historic ruins, and plenty of hiking routes.
The Bulow Woods Trail offers spectacular vistas of a coastal forest with tranquil ponds. This 6.8-mile path meanders past plenty of ancient oaks providing shade along the route, starting at the famous 600-year-old Fairchild Oak. You'll walk through slash pine forests and wet hammock areas and cross over a salt marsh. Boardman Pond and Cedar Creek are two of the hiking path's scenic stops.
The trek's southern segment follows an ancient path used by Native Americans that eventually became a road to a sugar plantation in the 1800s. The route comes to an end at the Bulow Plantation Ruins Historic State Park
Barred owls, wild boars, bald eagles, and white-tailed deer are just some of the local wildlife to keep an eye out for on the way.
10. Croom Loop C, Withlacoochee State Forest (Central Florida)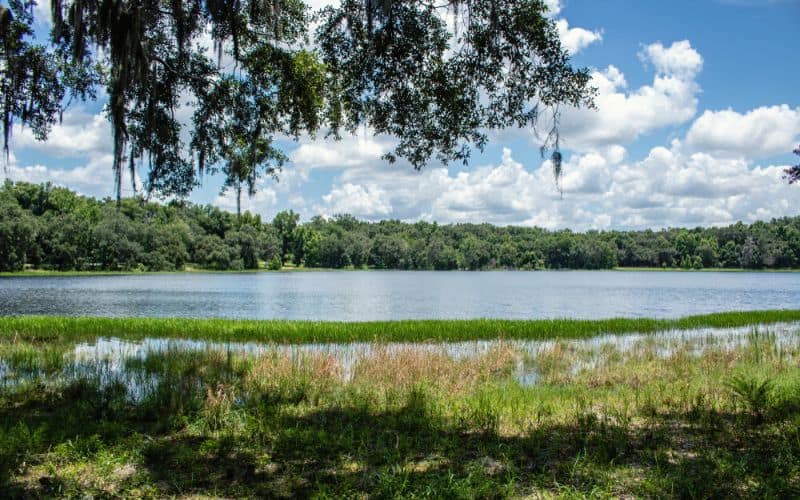 Type: Loop
Length: 7.2 miles
Difficulty: Moderate
Withlacoochee State Forest is the third largest state forest in the Sunshine State. It's made up of 164,073 acres of protected public land in west central Florida and is separated into multiple tracts for a variety of uses including timber production, wildlife habitats, environmental restoration, and outdoor recreation.
The Croom Tract of Withlacoochee State Forest is in Hernando and Sumter counties. It's home to the popular Silver Lake, 13 miles of the Withlacoochee River, and over 20,000 acres of cypress and longleaf pine forest.
The Croom Loop Trails in this region's Silver Lake Day Use Area offer over 30 miles of awesome hiking. Croom Loop C is the most visited of the three connected loops on the tract's western side. The path traverses the sandhill ecosystem with plenty of wildflowers and a sparse hardwood forest.
This hike begins at the Tucker Hill Trailhead and has a 396 ft elevation gain.
11. Gator Hook Trail, Big Cypress National Preserve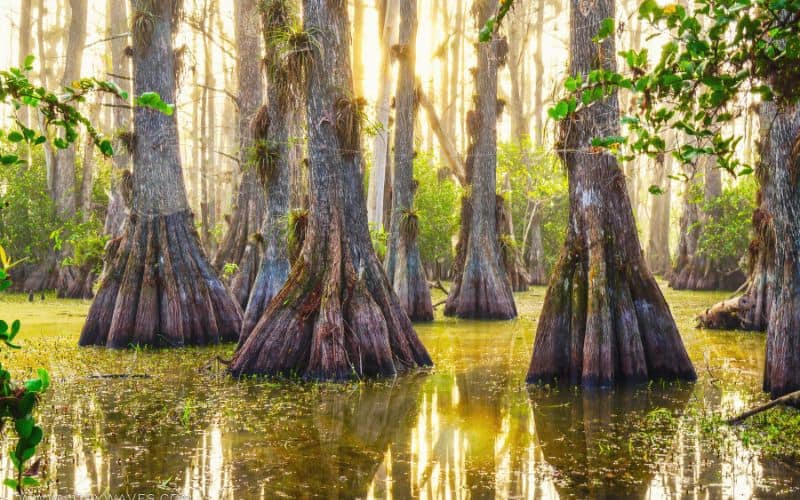 Type: Out-and-Back
Length: 5 miles
Difficulty: Moderate
Encompassing over 729,000 acres of swamp, Big Cypress National Preserve is home to a unique mix of tropical and temperate plant life and diverse wildlife, including the state's elusive panther.
Big Cypress was created in 1974 and it boasts some of the most rugged and wild terrain in the Sunshine State.
Be prepared to get your feet wet because this Gator Hook Trail is a hike unlike any other! This extraordinary 5-mile hike offers an up-close-and-personal view of this lush landscape. The first section of the path follows an elevated logging tram. But don't get too comfortable! Soon after, the path disappears under the swamp's knee-deep to hip-height water for most of the trek.
This is an incredibly unique hike and a fun opportunity to explore the Sunshine State's famous swamps and possibly see a few alligators or snakes along the way.
Other Florida Hiking Trails We Recommend
If you're keen to sample more of the best hiking in Florida, be sure to check out these trails too:
Paynes Prairie Preserve State Park – see bison, alligators, wild horses, various bird species, and a 50-foot observation tower on any of 6 trails!
Bok Tower Gardens – A gorgeous bird sanctuary located north of Lake Wales
Juniper Creek, Blackwater State Forest
Dune Ridge Loop, Little Talbot Island
Torreya Challenge Loop, Torreya State Park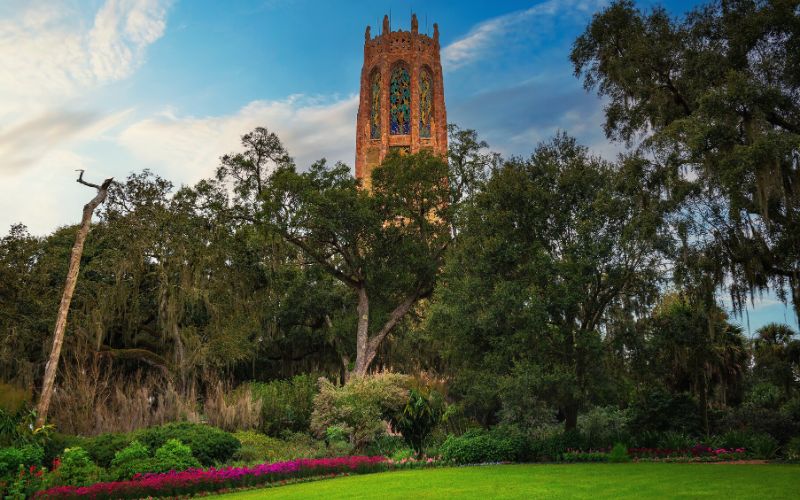 Best Hikes in Florida: Happy Hiking!
The Sunshine State may be best known for its beaches and theme parks, but it also has some of the best hiking trails in the country.
From whitewater rapids to cypress swamps to underground caverns, the best hikes in Florida offer a diverse range of outdoor experiences for everyone from beginner to expert hikers.
What are your favorite places for hiking in Florida? Let us know in the comments below! If you enjoyed this article, feel free to share it with your hiking pals!