Top Choices by Category
Budget: Propper Tactical Duty Belt, JASGOOD Military & Tactical Nylon Belt, and Hoanan Tactical Hiking Belt 2-Pack
Lightweight: Arc'teryx Conveyor Belt and Black Diamond Diamond Mine
Tactical/Military: JASGOOD Military & Tactical Nylon Belt, Klik Belts Tactical, and Propper Tactical Duty Belt
What are the Best Hiking Belts?
Having trialed and tested dozens we settled on the 8 belts below as some of the best outdoor belts for hiking, backpacking, camping, and climbing.
Arc'teryx Conveyor Belt
Black Diamond Diamond Mine Belt
Propper Tactical Duty Belt
Klik Belts Tactical Belt
Hoanan Tactical Hiking Belts 2-Pack
Under Armour Men's Webbed Belt 2.0
Columbia Men's Military-Style Web Belt
JASGOOD Military & Tactical Nylon Webbing Belt
What Features to Look For In A Hiking Belt?
Although hiking belts are relatively straightforward accessories, we've included the most important features to consider below.
Buckle Style
Materials
Weight
Durability
Buckle Style
If you're looking for specific functionality, the buckle should be your focus. There are multiple styles of belt buckle as listed below.
Tongue
Hooked
Flip-Closure
Sliding Latch
Clip-on/Quick-Release
Tongue Buckles
Tongue-type buckles are attached by threading the fabric through the frame and poking the "tongue" or bar through a grommet in the fabric. This buckle type is easy to adjust but may lack durability due to the inclusion of the moving, and therefore breakable, part – the tongue. Tongue buckles are the most common closure for casual belts.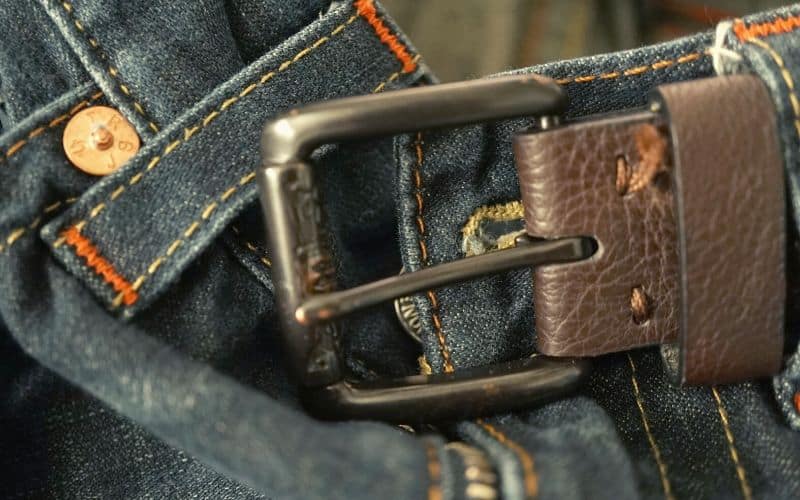 Hooked Buckles
Hooked buckles consist of a hook that attaches to a hole or webbing loop on the other end of the belt. They have become more common on hiking belts in recent years but, in our experience, don't offer as secure a fastening as other styles.
Having a (potentially) loose hook dangling around your midriff/groin/genitalia also feels like a risk that's better avoided.
Clamping Buckles
Clamping, or clamp closure, buckles work by threading the fabric through the clamp and then locking the latch in place to provide a reliable hold. This buckle type is excellent for hiking belts because it is both durable and secure. Since they don't have prongs or teeth that chew on the fabric, they don't damage the material with each use, making them less likely to fray over time.
Flip-Closure Buckle
Flip-closure buckles are similar to clamp closures. However, instead of clamping down onto the fabric, they use teeth to provide a secure hold. While these are also a good choice for hiking belts, the serrated teeth on the underside cause additional wear and tear on the canvas with repeated use.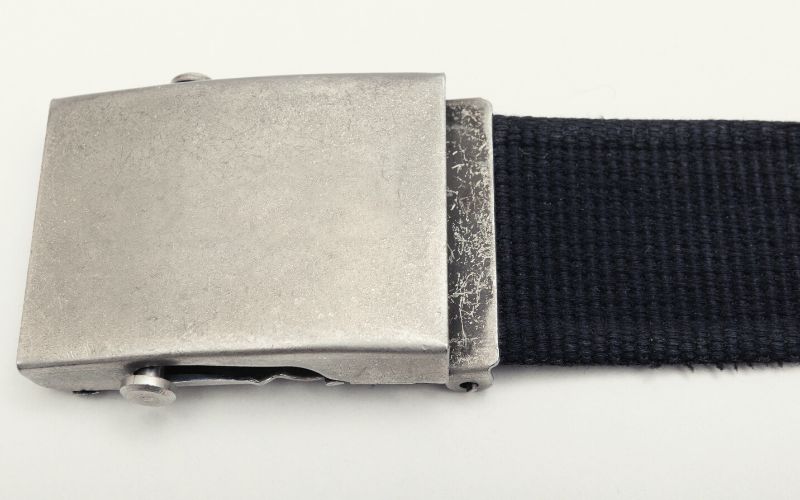 Sliding Latch Buckles
Sliding latch buckles work similarly to a ratchet strap. They have a larger buckle on the front that allows you to "slide" the fabric through as you tighten it. While durable, this buckle style is usually a bit heavier and slightly trickier to use.
Clip-on/Quick-Release Buckles
If ease of use is your primary concern, clip-on or quick-release buckles may be for you. Each end has a piece of the buckle, with one end snapping into the other like a seatbelt. This creates a reliable hold that can be quickly undone either by pushing a button or pinching the sides of the closure, allowing it to snap open quickly.
These belts are marvels of convenience but need to be made from more durable materials to deal with the wear and tear caused by repeated pressure and release. If opting for this style, look for a model made with acetal homopolymer plastic or polycarbonate, both of which have high tensile strength.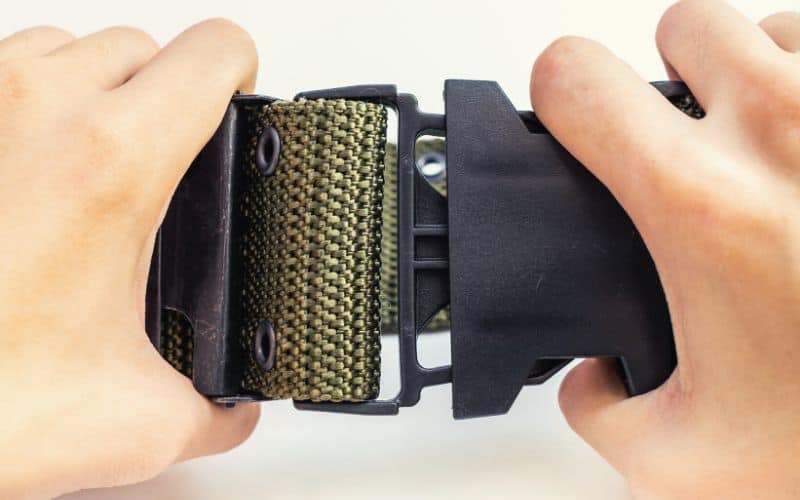 Materials
Like all hiking gear, long-term durability relies on high-quality materials. In the case of belts, the webbing fabric of the belt band and the buckle materials are the most crucial for long-term performance.
Fabric
Outdoor belts are typically made from synthetic fabrics such as nylon or polyester or natural materials such as leather or canvas.
Synthetics like nylon and polyester make up the majority of belts in the niche of hiking pant holders. This is because they're quick-drying, lightweight, flexible, and, for most, much more comfortable. On the downside, these belts occasionally lack longevity and can dig in at the hips if the material is too rigid or the webbing is too thin. 
Leather belts provide outstanding longevity and ruggedness. However, they're also usually far heavier than synthetic alternatives and take an age to dry when wet. Flexibility and mobility are also key concerns for most hikers, so some leathers might be just a little too stiff to allow the freedom of movement you desire.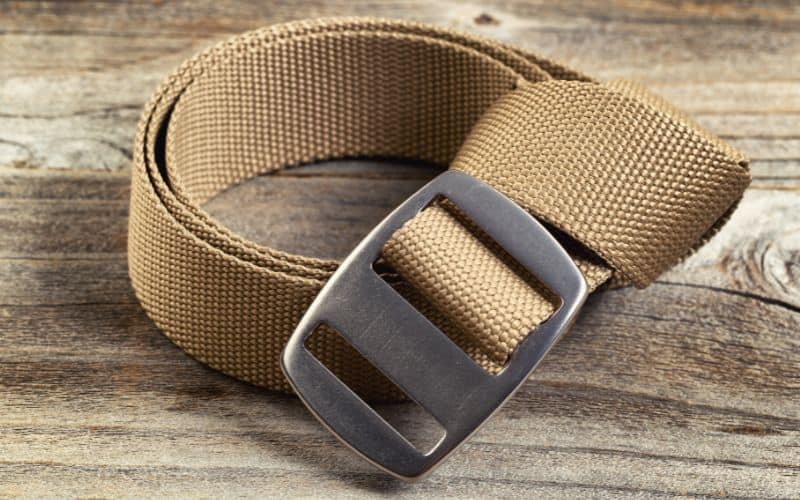 Buckle
Buckles for hiking belts are usually made from metal, plastic, or occasionally even carbon fiber.
Metal buckles made with titanium, stainless steel, and aluminum are strong and the most durable options. Steel models, however, are often a little on the heavy side and not ideal for those who don't like feeling at all encumbered by their clothing. Plastics and carbon fiber, of course, weigh less and won't set off the metal detectors at the airport, however, plastic is far easier to break.
Weight
Weight is the key difference between casual or luxury belts and those designed for outdoor use. Ideally, your belt should weigh under 10 ounces. Most outdoor adventurers agree that a lighter belt is better, as long as it doesn't compromise durability and ruggedness.
Ideally, hiking belts should also have a low profile, especially if you anticipate wearing them under a mountaineering harness. Also, compact and flat buckles won't be felt under your backpack's hip strap and are less likely to get caught in your shirt or straps.
Belt length is another important consideration, and this essentially comes down to ensuring your pick is fully adjustable or can be cut to size. To do the latter, you simply remove the buckle, cut the fabric to the desired length, heat seal the fabric with a lighter to prevent fraying, and then replace the buckle.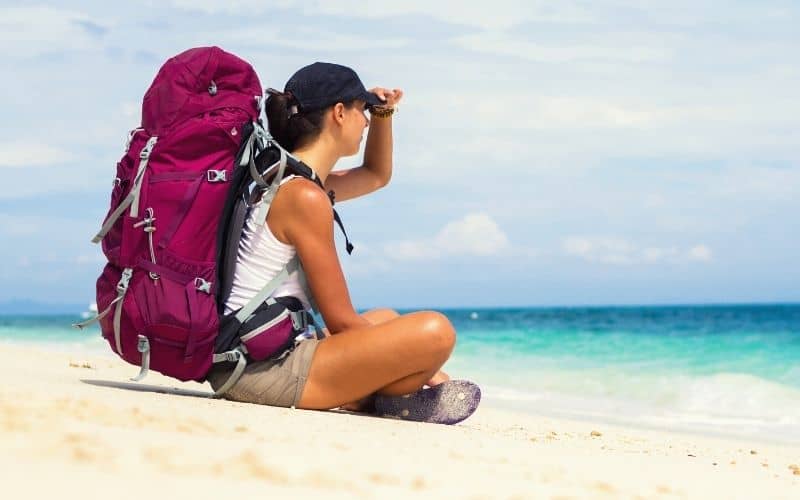 Durability
The ideal belt for backpacking or hiking must be durable enough to handle rough trail conditions. Signs of durability include the use of high-denier fabrics and one-piece buckles that don't have breakable components. Machine-washable fabrics are also beneficial. Even if you don't plan on washing your belt all too often, this indicates a belt's ability to withstand repeated soaking and rough treatment on the trail.
Durability is hard to gauge when buying online, so we recommend reading user reviews from buyers that are made months after the purchase to get a handle on how any model performs in the longer term.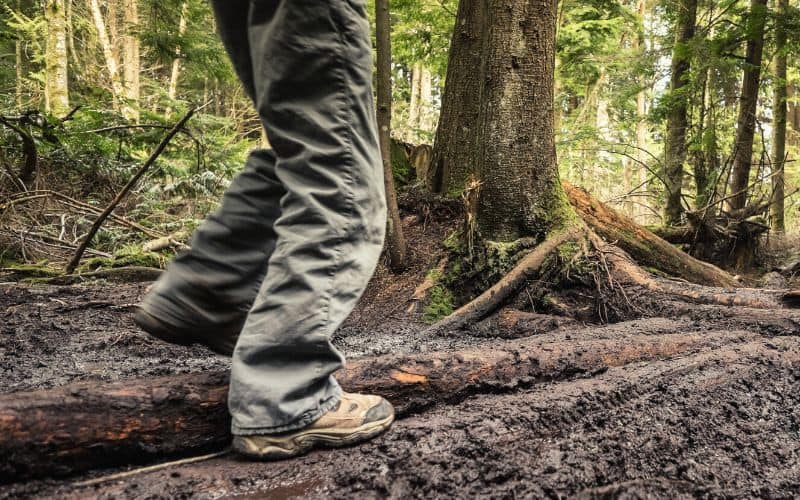 Best outdoors belts for Hiking, Backpacking or Mountaineering: The Verdict
The best belt for outdoor adventures is the Arc'teryx Conveyor. It is ultralight, comfortable, tough, and with a low profile is less likely to snag or get in the way than most other hiking belts on our list.
If the Conveyor's a little too pricey for your budget, we recommend the Propper Tactical Duty, which boasts more or less the same design as the Conveyor and the Black Diamond Diamond Mine Belt but uses slightly lower-quality materials – and costs a fraction of the price.
So, how did you like our article? If we missed anything or you have any questions, let us know! And if you'd like to share this post with your friends, please do!