Spending the duration of your hike hauling your pants up because of an ill-performing belt is no fun at all. Nor is enduring hour after hour of chafing, digging in, and general discomfort that can be caused by wearing a belt that's better suited to a day in the office than a day on the trails.
To help you keep your hips happy and hands-free during your trail time, read on to discover the top belts out there for adventurers of all shapes and sizes.
Top Choices by Category
Budget: Propper Tactical Duty Belt, JASGOOD Military & Tactical Nylon Belt, and Hoanan Tactical Hiking Belt 2-Pack
Lightweight: Arc'teryx Conveyor Belt and Black Diamond Diamond Mine
Tactical/Military: JASGOOD Military & Tactical Nylon Belt, Klik Belts Tactical, and Propper Tactical Duty Belt
Editor's Choice
Arc'teryx Conveyor Belt
Combining durability and comfort with a practical design, the Arc'teryx Conveyor Belt wins our vote as the best belt for hiking out there.
The Conveyor weighs in at a tiny 3.4 ounces, so it ticks what, for many, is the most important box. Being light in itself is of course a good thing, but the fact that you don't notice it's there until it's time to take your pants off at the end of the day is the Conveyor's true beauty and strength.
The Arc'teryx Conveyor is also a rugged and high-quality belt. It's made with breathable nylon fabric and has a low-profile but solid buckle made from stainless steel. Together, these materials make it weather- and corrosion-resistant, and also one of the most durable belts out there in this weight category.
Bottom Line: An impressive hiking belt that ticks every box that needs ticking!
At a Glance: Quick Recommendations
Best Hiking Belt Reviews: Our Top 8 Picks
Arc'teryx Conveyor Belt
Editor's Choice
Material: Nylon; Metal ⸱ Weight: 3.4 ounces
The Arc'teryx Conveyor Belt wins our vote as the best overall hiking belt for hikers of all persuasions, from gram-counting, minimalist backpackers to Sunday strollers.
Despite weighing just 3.4 oz., the Conveyor is both incredibly versatile and durable. And although it can't be cut down, it does come in three sizes. These are small (43 inches), medium (45.5 inches), and large (49.5 inches). This belt also uses a durable, self-locking tongue buckle engraved with the Arc'teryx logo, which adds a nice little aesthetic touch to its functionality.
The nylon materials used in this textured webbing belt do require a little breaking in to reduce stiffness, and the buckle is a fraction on the large side for use under a climbing harness. These minor flaws, however, seem a small price to pay for such a durable and well-made product.
PROs

Very lightweight
Durable metal buckle
Abrasion-resistant fabric
Stylish enough for casual wear

CONs
Bottom-Line: Lightweight, durable, and tough enough to last a lifetime, the Arc'teryx Conveyor is the best backpacking belt/hiking belt out there for those who like to travel light and fast without compromising on quality and comfort.
Black Diamond Diamond Mine Belt
Runner Up
Material: Military Grade Polyester; Aluminium ⸱ Weight: 3.5 ounces
Black Diamond is famous for producing everything from climbing shoes, harnesses, tents, and rain jackets. In the Diamond Mine, however, they've also made a pretty darned amazing hiking belt.
The Diamond Mine is made of strong, military-grade polyester webbing and uses a hard-anodized aluminum buckle that remains flat and doesn't catch or interfere with your layers, climbing harness, or backpack hipbelt.
We loved how this adjustable belt maintained its "barely there" feel throughout the day, how we didn't have to stop and tighten it at any point, and its low-bulk design. We were also pleased with the option of four different colorways because we reckon there's a chance we'll be picking up another one sometime soon!
PROs

Weighs just 3.5 oz.
Tough materials
Low-profile buckle
4 colorways

CONs
Bottom-Line: A lightweight but durable belt that provides all-day comfort. What's not to love?
Propper Tactical Duty Belt
Best Budget
Material: Nylon; Plastic buckle ⸱ Weight: 4.8 ounces
The Propper Tactical is a steal for those needing a cheap yet durable solution to their outdoor pant-supporting needs.
The Propper is made with an all-nylon fabric strap and a non-metallic tongue buckle. While this buckle is a little less durable than metallic options, its light weight and airport-friendliness make it a good option for world travelers and gram-counters alike.
What we like most about this nylon belt is its simplicity and lack of breakable parts. The one-piece molded belt buckle is easy to thread and adjusts with just one hand, but holds even heavily loaded pants in place even when you're removing fast and jostling around on the trail.
The Propper comes in many sizes with multiple color options. And if you don't get your size just right, you can easily trim the length to suit.
PROs

Low price tag
Multiple sizes
Travel-friendly

CONs

Plastic buckle is not as durable
Bottom-Line: This highly affordable belt for hiking pants isn't the most durable, but its light weight, comfort, and convenience make it a solid choice nonetheless.
Klik Belts Tactical Belt
Best Closure
Material: 100% Nylon; Aluminum alloy ⸱ Weight: 8 ounces
The Klik Belts Tactical is ideal for those looking for a product they can open and close with the minimum of fuss and one hand only. It uses a quick-release buckle design attached to 2-ply nylon fabric. If you need to get it on or off quickly, just pinch the sides of the 7075 aluminum alloy, corrosion-resistant buckle, and it will spring open.
The KBT is not only convenient and durable but also multipurpose. The inner layer of the fabric band is triple-stitched nylon webbing that provides added strength. The outer ply is more flexible, high-grade, heavy-duty nylon. Together, these layers make it a fraction heavier, but also strong enough to carry equipment like knives, flashlights, and even radios at your hips.
The downsides to this hiking utility belt are that it is very expensive and a little on the heavy side. However, if you want a belt that's sure to last a lifetime, it may well be worth the splurge.
PROs

Multipurpose
Heavy-duty
Quick-release aluminum buckle for safety and convenience

CONs

Very expensive
Quite heavy
Bottom-Line: A tough multitasker that is a great choice for buyers who prioritize robustness and like to keep other accessories close to hand by stashing them on their belt as opposed to inside their backpack.
Hoanan Tactical Hiking Belts 2-Pack
Bargain Buy
Material: 100% nylon; Plastic buckle ⸱ Weight: 8.1 ounces each
If more than one person you know needs a waist belt, or you need more than one belt for your outdoor activities, the Hoanan Tactical Belts 2-Pack is an excellent, money-saving option.
Although they are not made with the highest-quality fabrics, the Hoanan are still reasonably durable and well worth buying for those who prefer fuss-free functionality.
The buckle on the Hoanan is a flip-closure YKK plastic that is robust, airport-friendly, and easy to operate even with only one hand, while the thick webbing is a burly, 1.5-inch wide nylon. Although this extra width may make it tricky to feed the hip belt through the loops on some pairs of pants, it does make it very comfortable and less prone to digging in.
This hiking belt has more stretch to it than many of the others. While this does mean it scores highly in the comfort stakes, it also means it might lose its ability to keep your pants up in the longer term or if you tend to stuff your pockets with bits and bobs that weigh your pants down.
This belt comes in four sizes, each of which can be trimmed down to the desired length.
PROs

Two belts included
Airport-friendly, non-metallic buckle
Highly adjustable

CONs

Extra-wide band might not fit through all belt loops
Bottom-Line: A frill-free but highly functional belt that combines classy looks with above-average performance and comfort. 
Under Armour Men's Webbed Belt 2.0
Most Versatile
Material: 100% polyester; Metal buckle ⸱ Weight: 8 ounces
The Under Armour Men's Web Belt 2.0 is an excellent choice for all types of outdoor adventure.
The polyester material makes this belt much more flexible than nylon belts, which means it affords more freedom of movement and provides better overall comfort.
This is a winning quality at any time, of course. However, it's particularly good to have if you're on longer backpacking trips when you'll be wearing the belt for several hours each day or if you plan on doing some climbing, scrambling, or anything else that requires more dynamic movements.
This product has a detachable, clamp-closure buckle and can be trimmed to your desired length. It's also machine-washable and also comes in a variety of different colors.
PROs

Nicely elastic webbing
Detachable clip-on buckle
Rip-resistant material
Machine-washable
Stylish!

CONs

Polyester is slightly less durable than nylon
Bottom-Line: A flexible, easily adjustable, and incredibly comfortable option that's especially well-suited for longer duration hikes, climbing, or scrambling.
Columbia Men's Military-Style Web Belt
Best For All Occasions
Material: 100% cotton; Metal plaque buckle ⸱ Weight: 7.2 ounces
Over the years, Columbia has earned a rep for producing high-quality, reasonably priced outdoor garments, and this belt is no exception.
The 100% cotton construction on this one is sure to raise a few eyebrows, we know. Yes, it doesn't dry quickly, ain't the most durable, and is about as breathable as shrink wrap. It is also, however, incredibly comfortable. So, if softness and suppleness are more of a priority than toughness and technical performance, this one's well worth considering.
The strap on this belt measures a meaty 1.5 inches wide and it uses a reassuringly burly metal buckle with a clamp closure and a neatly engraved Columbia logo to add a touch of style. Bling it ain't, but in terms of comfort and support for your pants, it's hard to beat.
PROs

Metal clamp closure buckle
Buckle isn't bulky
Cotton allows for flexible and comfortable movement

CONs

Made from cotton and not very durable or quick-drying
Bottom-Line: A great belt for hikers who are happy to forego a little in the way of performance and weight savings in return for oodles of comfort.
JASGOOD Military & Tactical Nylon Webbing Belt
Best For Air Travel
Material: Nylon; Polymer buckle ⸱ Weight: 5.3 ounces
The JASGOOD is a great choice for hikers who tend to do a little bit of air travel on the way to their trails.
The belt material on this one is a burly but lightweight nylon and the removable, clip-on buckle is made with tough-as-nails YKK polymer plastic. Multiple color options are available, and the length can be trimmed down to find the ideal fit for your waist.
The 1.5-inch strap on the JASGOOD is also breathable and quick-drying, and the non-metallic design means you can breeze through airport security without having to disrobe.
PROs

Airport-friendly
Lightweight
Highly adjustable
Low-profile plastic buckle

CONs

Plastic is less durable than metal
Bottom-Line: The JASGOOD Military and Tactical Nylon belt is highly adjustable, as convenient as they come, and uses a metal-free design that makes it ideal for the traveling hiker.
Features To Look For In A Hiking Belt
Although hiking belts are relatively straightforward accessories, there are some features to consider before you make the purchase. Below, we've included the most important:
Buckle Style
There are two parts to each hiking belt, the fabric of the band and the buckle. There are multiple buckle styles, some of which work better than others. If you are looking for specific functionality, the buckle should be your focus.
Tongue Buckles
Tongue buckles are the most common kind of closure for casual belts.
This buckle type is attached by threading the fabric through the frame and poking the "tongue" or bar through a grommet in the fabric. Tongue buckles are easy to adjust but often lack durability owing to the inclusion of that moving—and, hence, breakable—part, the tongue.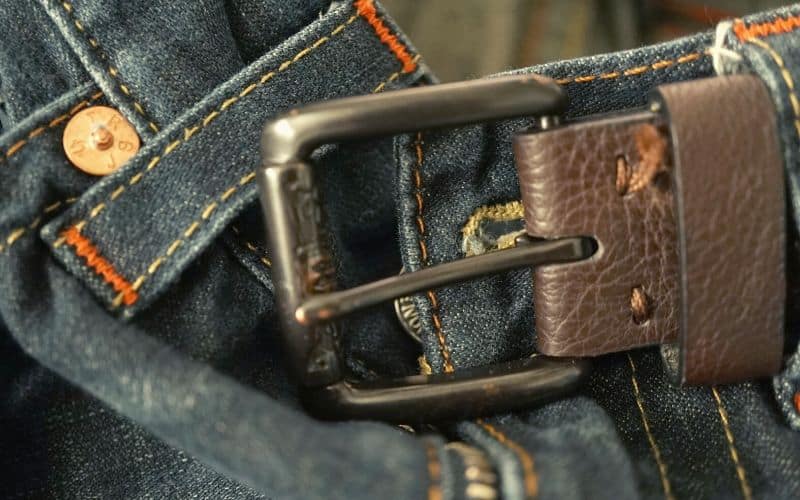 Hooked Buckles
Hooked buckles, as the name suggests, use a hook that attaches to set holes or webbing loops.
These have started appearing on more and more hiking belts in recent years but, in our experience, don't offer as secure a fastening as other styles. Having a (potentially) loose hook dangling around your midriff/groin/genitalia also feels like a risk that's better avoided.
Clamping Buckles
Clamping buckles, or clamp closure buckles, work by threading the fabric through the clamp and then locking the latch in place over the material to provide a reliable hold.
Clamp closure buckles are excellent for hiking belts because they are both durable and secure. Because they don't chew on the fabric with prongs or teeth, they cause less damage to the cloth each time you use them, meaning they're also less likely to fray over time.
Flip-Closure Buckle
Flip-closure buckles are similar to clamp closures. Instead of clamping down onto the fabric, though, they use teeth to bite into the material and provide a secure hold. While these are also a good choice for hiking belts, the serrated teeth on the underside cause additional wear and tear on the canvas with repeated use.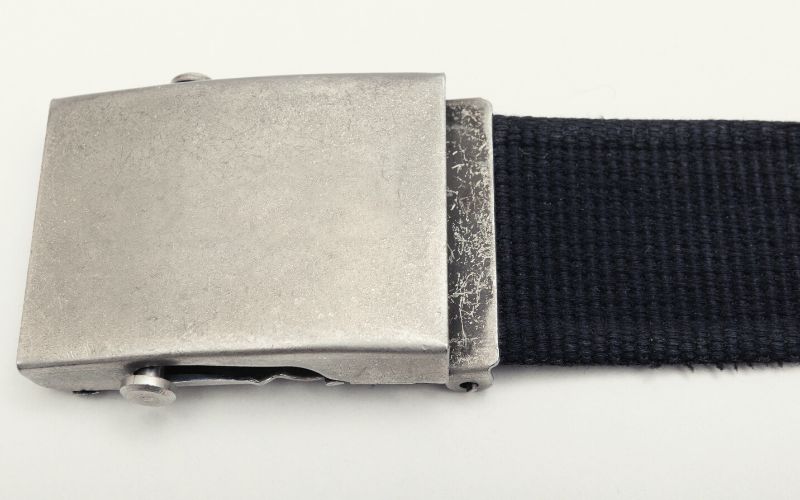 Sliding Latch Buckles
Sliding latch buckles work similarly to a ratchet strap. They have a larger buckle on the front and allow you to "slide" the fabric through as you ratchet it tighter and tighter. While durable, this buckle style is usually a touch heavier and a fraction trickier to get on and off.
Clip-on / Quick-release Buckles
If ease of use is your primary concern, this buckle style might just be your bag.
Clip-on or quick-release buckles work in the same way as a seatbelt. Each end has a piece of the buckle, with one end snapping into the other. The two ends click together to create a reliable hold but are quickly undone by either pushing a button or pinching the sides of the closure, allowing it to snap open quickly.
These belts are marvels of convenience but need to be made from more durable materials to deal with the wear and tear caused by repeated pressure and release. If opting for this style, look for a model made with acetal homopolymer plastic or polycarbonate, both of which have high tensile strength.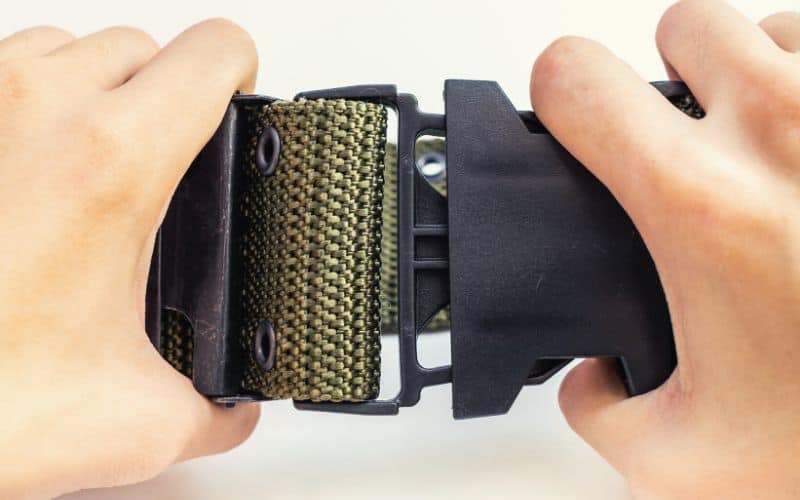 Materials
As with all hiking gear, long-term durability in belts requires high-quality materials. In this case, the webbing fabric and buckle materials are most consequential as regards long-term performance.
Fabric
Outdoor belts are generally made from nylon or polyester, but you can also find them made from leather or even canvas.
Leather belts provide outstanding longevity and ruggedness. However, they're also usually far heavier than synthetic alternatives and take an age to dry when wet. Flexibility and mobility are also key concerns for most hikers, so some leathers might be just a little too stiff to allow the freedom of movement you desire.
Synthetics like nylon and polyester make up the majority of belts in the niche of hiking pant holders. This is because they're quick-drying, lightweight, flexible, and, for most, much more comfortable. On the downside, these belts occasionally lack longevity and can dig in at the hips if the material is too rigid or the webbing is too thin.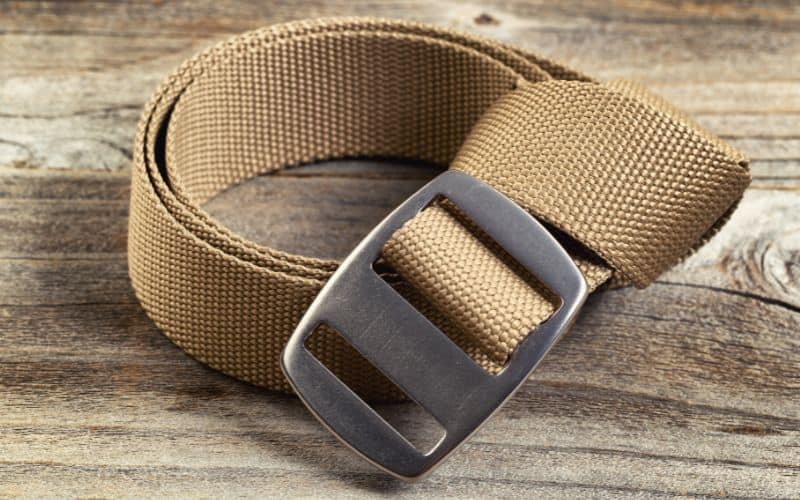 Buckle
Belt buckles are typically made from either some kind of metal or plastic or sometimes even carbon fiber.
Metal buckles made with titanium, stainless steel, and aluminum are strong and the most durable options. Steel models, however, are often a little on the heavy side and not ideal for those who don't like feeling at all encumbered by their clothing. Plastics and carbon fiber, of course, weigh less and won't set off the metal detectors at the airport, however, plastic is far easier to break.
Length & Weight
Weight is the most significant difference between casual or luxury belts and those meant for outdoor use. Ideally, your belt should weigh less than 10 ounces. Most outdoor adventurers agree, however, that the lighter the belt, the better—as long as it doesn't compromise on durability and ruggedness.
Ideally, hiking belts should also have a low profile, especially if you anticipate wearing them under a mountaineering harness. Also, compact and flat buckles won't be felt under your backpack's hip strap and are less likely to get caught in your shirt or straps.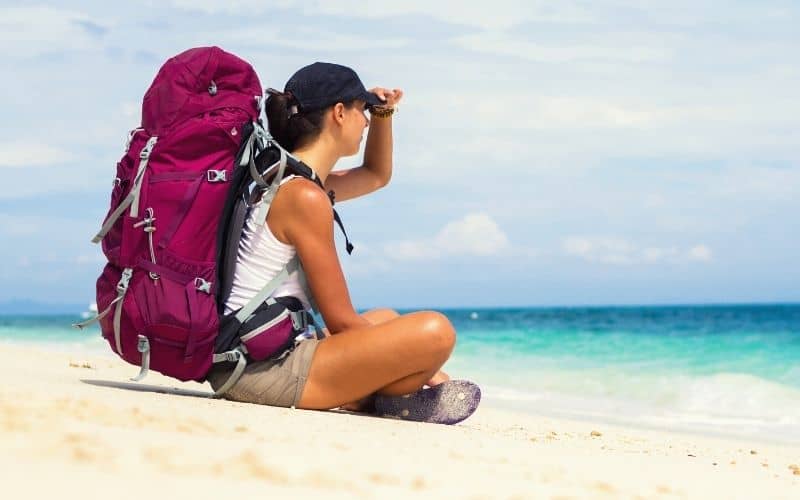 Belt length is another important consideration, and this essentially comes down to ensuring your pick is fully adjustable or can be cut to size. To do the latter, you simply remove the buckle, cut the fabric to the desired length, heat seal the fabric with a lighter to prevent fraying, and then replace the buckle.
Durability
The best belt for backpacking or hiking needs to be able to deal with the rough and tumble of the trail. While hard to gauge when buying online, we recommend reading user reviews from months down the line to get a handle on how any model performs in the longer term.
Other tell-tale signs of durability include high-denier fabrics and one-piece buckles that don't have any easily breakable components. Finally, machine-washable fabrics are also never a bad thing. Even if you don't plan on washing your belt all too often, this capacity usually indicates the ability to deal with repeated soaking and rough treatment in the wash.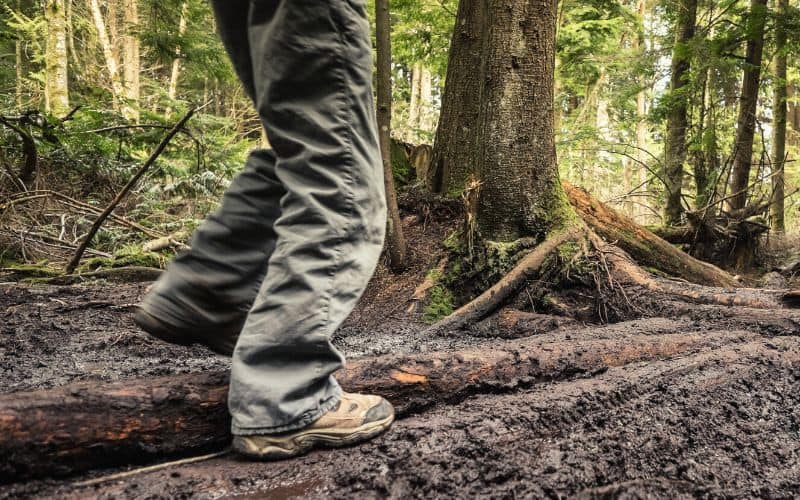 Best Belts for Hiking or Backpacking: The Verdict
Just in case you're still undecided, let's have a little recap to help you out.
Our favorite hiking belt is the Arc'teryx Conveyor. The Conveyor is ultralight, comfortable, tough, and boasts a low profile that makes it less likely to snag or get in the way than most belts on our list.
If the Conveyor's a little too pricey for your budget, we recommend the Propper Tactical Duty, which boasts more or less the same design as the Conveyor and the Black Diamond Diamond Mine Belt but uses slightly lower-quality materials – and costs a fraction of the price.
So, how did you like our article? If we missed anything or you have any questions, let us know! And if you'd like to share this post with your friends, please do!