North Dakota is a state that many people overlook when it comes to hiking and that's a darn shame! The entire state is crisscrossed by wild and varied hiking and biking trails, each more beautiful than the last.
Hikes available range from the challenging, multi-day Maah Daah Hey trail to several, family-friendly interpretive treks scattered across the state in picturesque places like the Red River Valley and Theodore Roosevelt National Park.
Ready to plan your next epic adventure? Then strap on your hiking boots and read on to learn more about where to find the top hiking trails in the Peace Garden State.
1. Wind Canyon Trail, Theodore Roosevelt National Park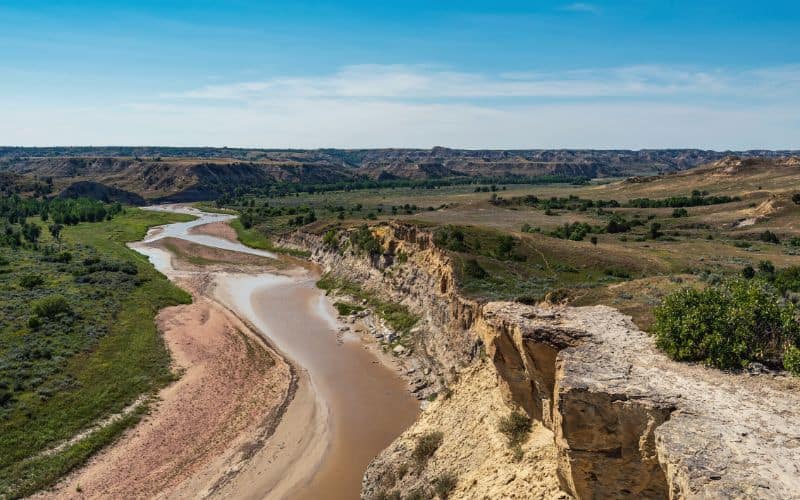 Type: Loop
Length: 0.5 miles
Difficulty: Easy
This short and sweet hike is located in the stunning, 70,000-acre Theodore Roosevelt National Park. Featuring panoramic views across the prairies and an accessible, easy terrain, this is one of our favorite day hikes in the state for families or anyone who hates breaking a sweat.
The Wind Canyon trek winds its way along the Little Missouri River. The terrain is flat and dusty, but you'll only have to manage about 160 feet of elevation gain. Along the way, you'll encounter interesting landforms and boulders that were carved by thousands of years of erosion.
The entire journey will take you about 30 minutes to complete. Despite being one of the most popular hiking spots in the region, you can still enjoy some solitude during the quieter times of the day. Just leave your four-legged hikers at home as dogs aren't allowed on the trail.
2. Turtle River Loop Trail, Turtle River State Park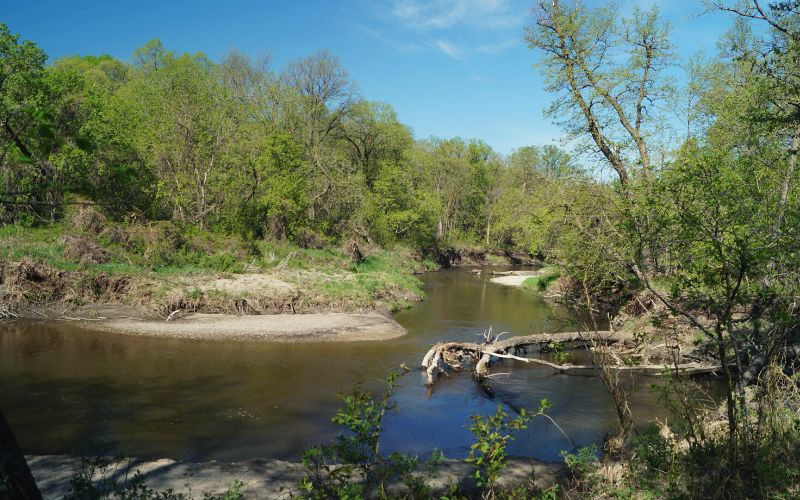 Type: Loop
Length: 5.6 miles
Difficulty: Easy
If you enjoy hiking in a beautiful woodland setting, then Turtle River State Park is the place for you! The park is set in a lush valley that meanders along the scenic Turtle River.
Along with plenty of easy and family-friendly hikes, you'll find other year-round recreational activities like camping, mountain biking, fishing, snowshoeing, and sledding.
There are over 12 miles of trails that carve their way through the valley. If you're hoping to check out all of the park's best hikes in one go, we suggest the Turtle River Loop Trail, which combines all the best trails in the park. You can expect to see all kinds of scenery, ranging from the bluffs surrounding the Turtle River to open prairie fields.
The Turtle River Loop Trail will take you roughly 2 hours to complete. It features mainly flat, well-maintained paths so it's accessible to families and hikers of all skill levels. The trails on this trek do crisscross quite a bit, so pick up a map at the Visitor's Centre to avoid getting lost.
3. Pipestem Creek Trail, Central North Dakota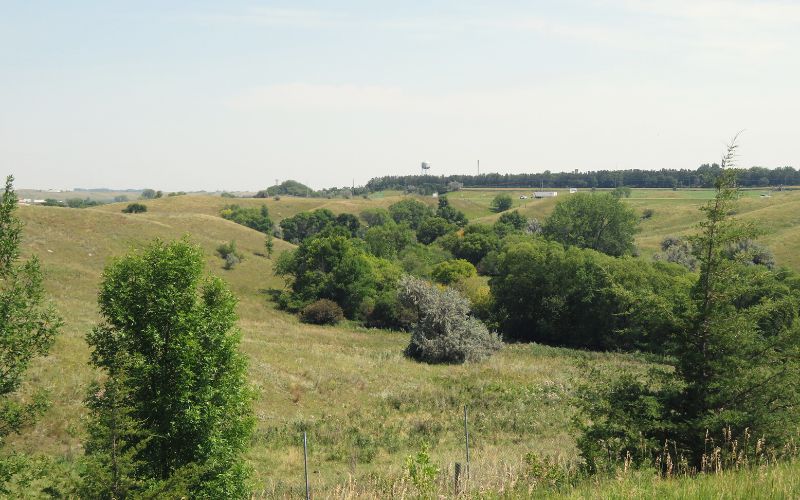 Type: Loop
Length: 6 miles
Difficulty: Moderate
Pipestem Creek trail is located just 4 miles north of the central North Dakota town of Jamestown. This is a peaceful trek that follows a wooded river bank and provides plenty of heart-pumping fun thanks to the varied elevation caused by the Pipestem Dam.
If 8 miles feels too long, there's another option that still allows you to enjoy the serene and tranquil beauty of Pipestem Creek. Just take the shorter, 3-mile outside loop. Remember to keep an eye out for runners and mountain bikers since this is a multi-use track.
The trailhead for the 4.5-mile North Ridge Trail is also nearby. This trek winds its way through rolling prairie with plenty of views of Pipestem Lake that entire way.
4. Old Oak Trail, Lake Metigoshe State Park
Type: Loop
Length: 3 miles
Difficulty: Easy
Old Oak in Lake Metigoshe State Park is North Dakota's first National Recreation Trail. This hike winds its way through mixed forests and the rolling terrain of the Turtle Hills. It's a popular hike, so head out early to beat the crowds.
Before you start your trek, be sure to pick up a brochure at the park office by the trailhead. It will provide information on all the natural wonders you can spot along the way.
5. Redetzke Ridge and Valley View Loop, Fort Ransom State Park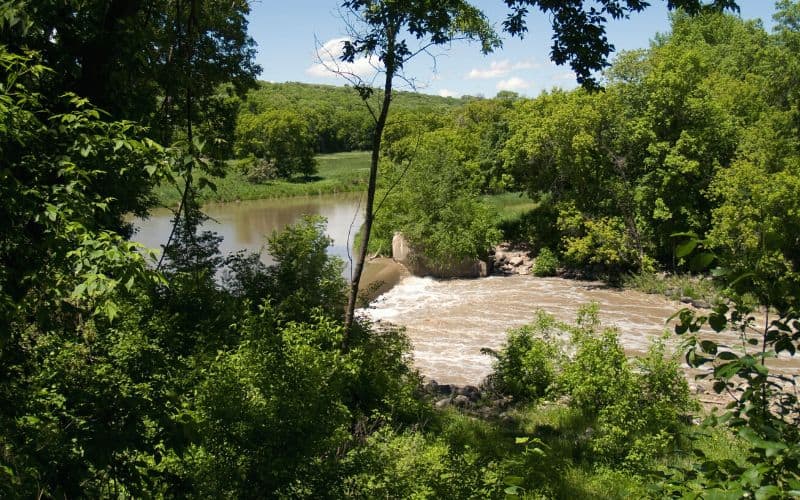 Type: Loop
Length: 2.8 miles
Difficulty: Easy
Fort Ransom State Park, which is named after an 1860s military fort, is nestled in the picturesque Sheyenne River Valley. The rolling grasslands and mixed woods of the park provide the perfect backdrop for exploring North Dakota's homesteading heritage.
The Redetzke Ridge and Valley View Loop combine two of Fort Ransom's most popular hikes. This hilly trek winds its way through an oak forest and gradually ascends to a lookout with stunning views of the valley below.
Keep your eyes peeled for the abundant wildlife! Fort Ransom is well-known for its varied wildlife, including over 147 species of birds. There's even a cool checklist you can use to keep track of all the ones you spot!
If you want to keep the adventure going, there are plenty of other trails to explore in Fort Ransom, including the short, interpretive Ridgeline Nature Trail and a portion of the North Country National Scenic Trail.
6. Old Settlers Trail, Icelandic State Park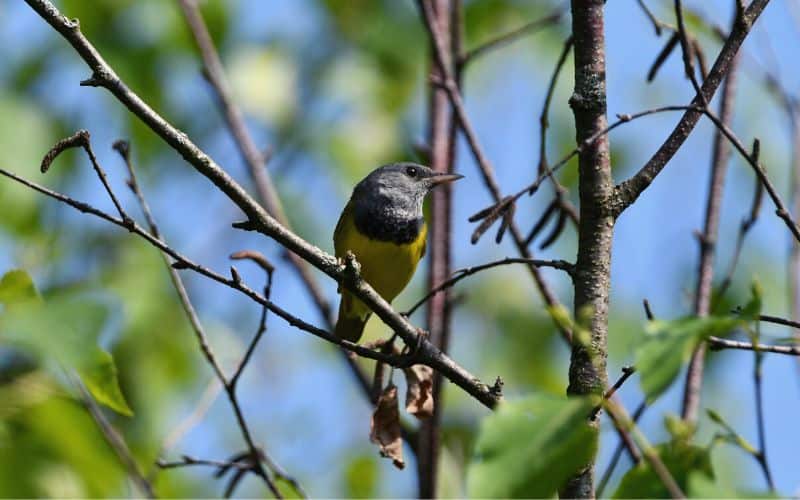 Type: Loop
Length: 1.5 miles
Difficulty: Easy
Icelandic State Park in northeast North Dakota offers a rare glimpse into North Dakota's homesteading heritage. Situated on the North Shore of Lake Renwick, this 912-acre park features a number of fascinating, restored historical buildings including Akra Community Hall, Hallson Church, and a Pioneer Historic Center.
The Gunlogson State Nature Preserve is also found within the park. It contains 200 acres of natural wooded areas near the Tongue River. It's a sanctuary for plants, birds, and wildlife, including dozens of rare species like Bishop's Cap and Watermeal.
The Old Settler's Trail is a short, family-friendly trek that loops through the beautiful woodlands of the Gunslogson preserve. It's open for hiking and groomed for cross-country skiing in the winter. If you want to keep the adventure going, the trail connects to the Bluebird and Basswood hikes.
7. TNC Self-Guided Prairie Trail, Cross Ranch State Park
Type: Loop
Length: 2 miles
Difficulty: Easy
Self-guided nature trails are fun and interactive ways for kids and adults alike to learn about the flora and fauna of a natural habitat. The TNC Prairie hike is a self-guided trek that takes you through all the natural habitats found in the Nature Conservancy of Cross Ranch State Park.
Stop by the Visitor Centre and grab your brochure. It provides information on all the interesting flora and fauna found in the nature preserve including unusual prairie grasses and the roaming bison.
If you're still looking for more adventure after you finish your hike, Cross Ranch State Park has over 17 miles of hiking trails to explore. Cabins and yurts are available for overnight lodgings and a boat ramp provides access to segments of the Missouri River.
8. Bloody Knife Loop Trail, Fort Abraham Lincoln State Park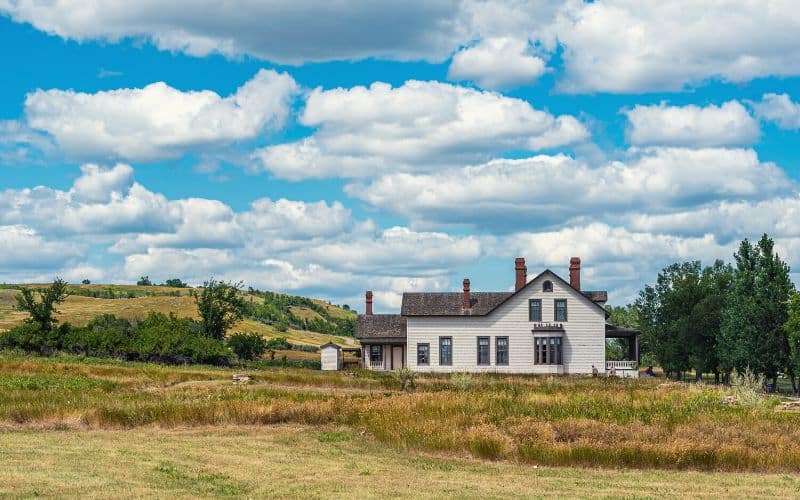 Type: Loop
Length: 1.9 miles
Difficulty: Easy
The Bloody Knife hike is a short and peaceful trek down to the bluffs of the Missouri River Valley. The trail starts at the top of a hill overlooking the valley and the partially reconstructed cavalry post makes a great photo opportunity.
As the oldest state park in North Dakota, Fort Abraham Lincoln State Park is steeped in history. After your trek, explore the rich culture and history of the area at the Visitor Centre Museum or spend the night in a cabin or one of the 100 campsites along the majestic Missouri River.
9. Maah Daah Hey Trail, Theodore Roosevelt National Park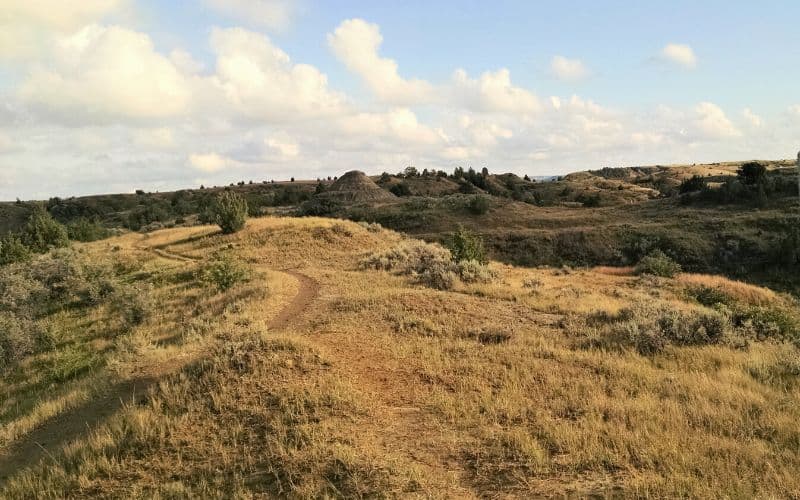 Type: Point-to-point
Length: 144 miles
Difficulty: Challenging
Widely recognized as one of the best mountain biking trails in the US, Maah Daah Hey is a single, non-motorized track that showcases some of North Dakota's most unique and stunning terrain. Expect to share the trail with other hikers, mountain bikers, and equestrians.
The hike starts (or ends) at the southern end of Sully Creek State Park and winds its way through the unadulterated Badlands and the South Unit and the North Unit of Theodore Roosevelt National Park until it reaches the CCC campground 16 miles south of Watford City.
There are over 9 campgrounds spaced about every 20 miles of trail. Pumped potable water is available along the trail, but it's still recommended that you bring enough for each person.
Don't let its length deter you! There are plenty of smaller sections you can try to suit your fitness level or time restrictions.
Other North Dakota Hiking Trails We Recommend
Above, we've given you the lowdown on what we consider to be the best hiking trails in North Dakota. There are, however, plenty of other great trails in the state, including:
Little Soldier Loop Trail, Mandan
Northern Cass Pass (once part of the Great Northern Pacific Railroad)
Nux Baa Ga Trail, Indian Hills
Caprock Coulee Loop, Theodore Roosevelt National Park
Painted Canyon Nature Trail, Theodore Roosevelt National Park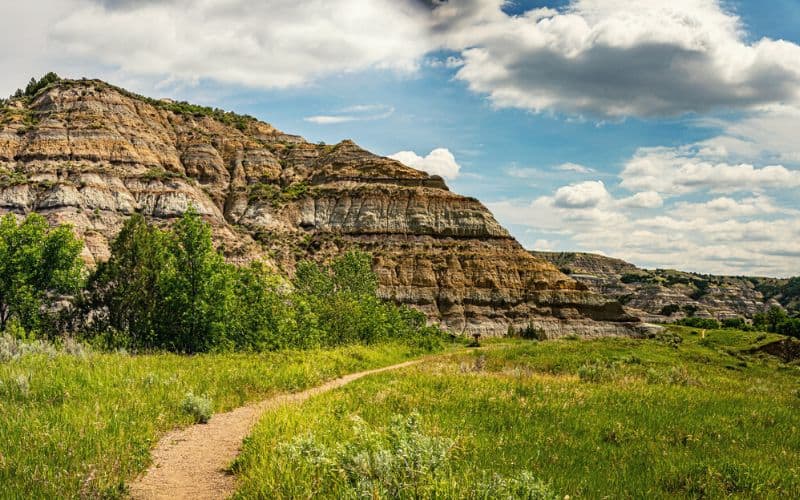 Best Hiking in North Dakota!
Whether you want to enjoy a peaceful stroll along the majestic Missouri River or huff and puff your way up some steep grades in the Badlands, ND has it all!
We hope our guide to the best hiking in North Dakota has inspired you to check out all the wild and rugged beauty the Peace Garden State has to offer. If you're still hankering for more, check out the treks available in Beaver Lake State Park and Little Missouri State Park.
Did we leave out any of your favorite North Dakota treks? Be sure to let us know in the comments below! And if you want to share this guide with your outdoorsy friends, go right ahead.