If you're craving a break from downtown Phoenix and the surrounding metro area, you're in luck! A short distance outside the city limits (and sometimes right within them), you can find an amazing assortment of hiking, mountain biking, and horseback riding trails to indulge your need for an outdoorsy adventure.
From cool and unusual rock formations to the gorgeous desert flora and towering mountains, Arizona is filled with boundless natural beauty to explore and enjoy…and you don't have to go all the way to the Grand Canyon to see it! Right here in Phoenix, AZ, you can find a little bit of everything that this unique state has to offer.
Ready to hit the trail? Then check out our guide for a comprehensive overview of our favorite hikes!
Easy Hikes
1. Gateway Loop Trail
Type: Loop
Distance: 4.4 miles
Thanks to an easy and gradual elevation gain, the Gateway Loop is a great choice for families, hikers with dogs, and people of all fitness levels. For experienced hikers looking for a challenge, the Gateway Loop connects to several other trails that are perfect for extending your trip.
From the trailhead parking lot, the GL gradually loops around the popular McDowell Mountain. Despite being heavily trafficked, the path is clean and well-maintained with easy-to-follow markers. Although the GL is too busy to catch a glimpse of Arizona's most elusive wildlife, you can still enjoy some pleasant views of the surrounding mountains and city skyline.
2. Granite Mountain Loop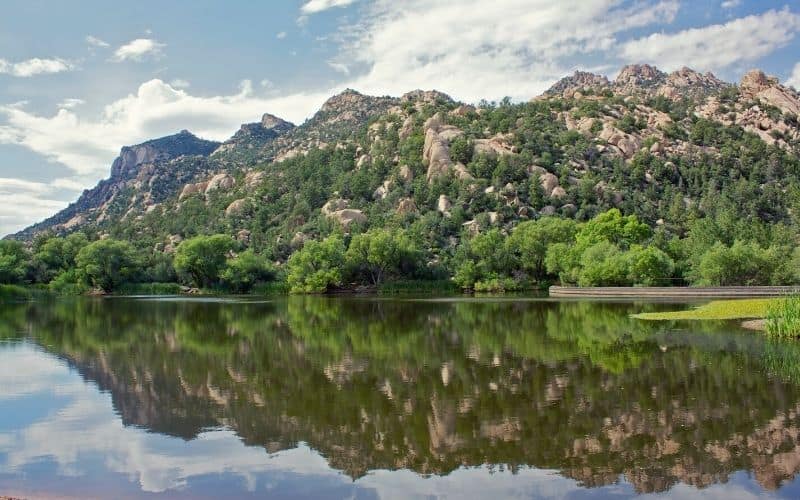 Type: Loop
Distance: 5.1 miles
Granite Mountain is one of the largest peaks in the northern part of the McDowell Sonoran Preserve. This area of the McDowell preserve offers up everything Arizona is famed for: unusual rock formations, shady, Juniper tree-lined paths, and long stretches of stunning desert landscape.
While the GML is mostly flat, the 5-mile distance might pose a bit of a challenge for some. Prepare to be walking for at least 2 ½ hours and avoid hiking in the mid-afternoon heat.
Ample parking is available at the trailhead, but there is no water or restrooms, so come prepared.
3. Double Butte Loop Trail (Papago Park)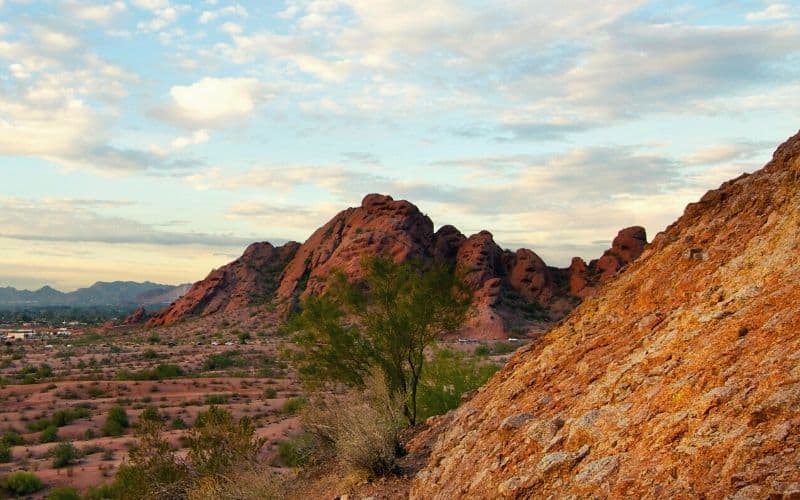 Type: Loop
Distance: 2.5 miles
Papago Park offers a number of family-friendly hiking trails. The park is famous for many unusual, natural landmarks, including the Papago Buttes. To enjoy the best view of them, choose the Double Butte Loop, a relatively easy hike that's suitable for both dogs and kids.
Another must-see highlight in the park is the famous Hole-in-the-Rock Trail. This fascinating rock formation offers the perfect lookout for taking in the views of the park's numerous lagoons and the distant city skyline. Despite Hole-in-the-Rock only being only 0.3 miles long, be prepared to tackle over 200ft in just 1/10th of a mile!
4. Lost Dog Wash Trail to Ringtail Loop
Type: Loop
Distance: 4.4 miles
If you're looking for an easy hiking trail showcasing the best of Arizona's unique and natural beauty, this is it! Often considered to be the "southern gateway" to the McDowell Sonoran Preserve, the Lost Dog Wash Trail offers a natural oasis just a few minutes outside of Scottsdale.
The trail is flat, wide, and easy to hike with kids or dogs. Along the way, you'll explore protected washes and a rich desert ecosystem, all while enjoying stunning views of the McDowells in the distance.
After about 2 miles, you'll run into the intersection for the Ringtail Loop. Follow the Ringtail Loop markers until the last mile, then rejoin the Dog Wash to return to the trailhead.
Moderate Hiking Trails
5. Tom's Thumb Trail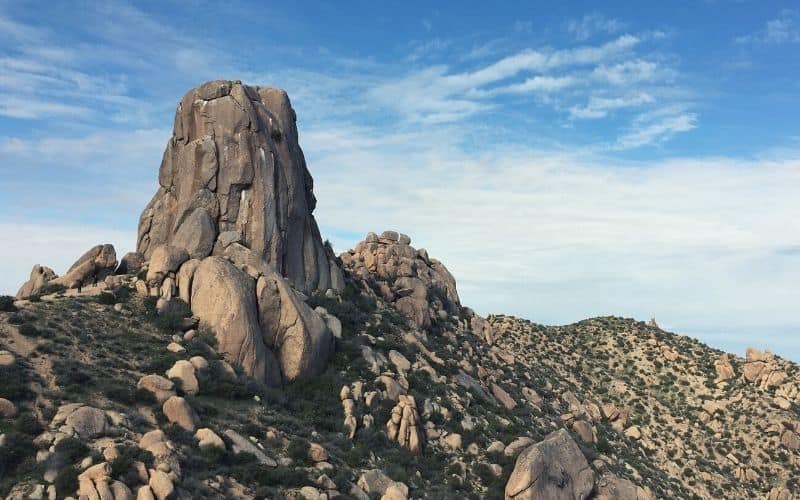 Type: Out-and-back
Distance: 4.4 miles
In the middle of the Sonoran desert, atop a mountain, lies a strange, thumb-shaped rock formation called Tom's Thumb. If you want to partake in the tradition (beloved by locals) of taking a thumbs-up photo with this unique landmark, however, you're going to have to deal with some moderate elevation gain!
Tom's Thumb is an out-and-back trail lined with otherworldly boulders and rock formations. If you start from its north end, you'll be facing a moderate hike filled with enough switchbacks to work up a serious sweat.
The views at the top are worth it though! On top of your well-earned selfie with Tom's Thumb, you can take in some beautiful views of the city skyline and the McDowell Mountains.
The Tom's Thumb trailhead is located just off E Paraiso Drive in North Scottsdale.
6. Sunrise Peak via Sunrise Trail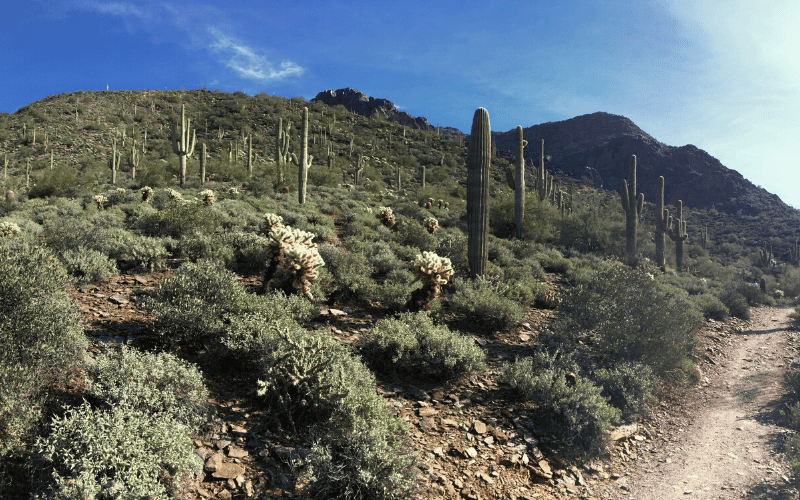 Type: Out and back
Distance: 3.8 miles
The Sunrise Trail involves a 1,200ft ascent to one of the lower summits in the McDowell Mountains. Don't be misled by the trailhead located in the middle of a residential neighborhood, pretty soon after leaving you'll find yourself fully immersed in Sonoran Desert flora like saguaro, cholla cacti, palo verde, and other desert flowers!
The ST is moderate but quite strenuous due to its rapid elevation gain. Its steep inclines are often used by locals as "training" for some of the area's taller peaks. Don't underestimate the challenge, especially on hot days, and bring those hiking poles!
7. Dixie Mountain Loop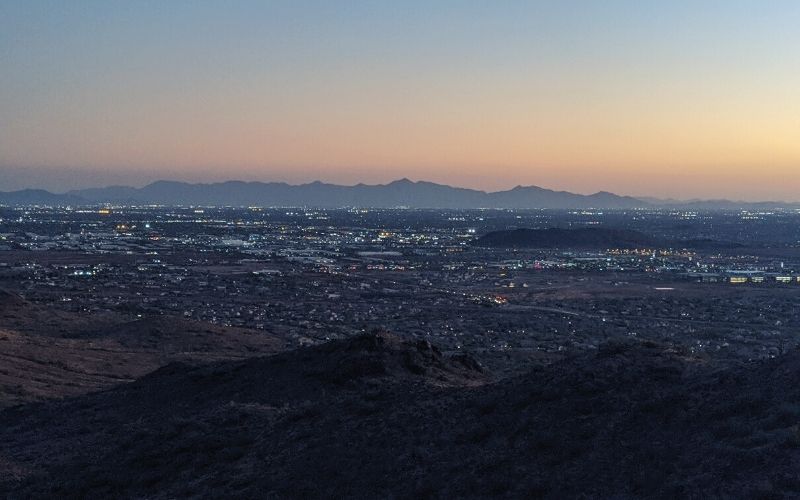 Type: Loop
Distance: 4.2 miles
The Phoenix Sonoran Preserve lies nestled amongst the northern suburbs of Phoenix. Within the preserve, you'll find a landscape of picturesque, rolling hills that are the perfect spot to escape the city and get back to nature.
The Dixie Mountain Loop is an easy to moderate-hike that winds its way through the northern part of the preserve. The route is well-marked and easy to follow, but it does have 600ft of elevation gain. Almost the entire route is exposed, so make sure you bring lots of water and plan your trip to avoid the mid-afternoon sun.
8. Pinnacle Peak Trail, Pinnacle Peak Park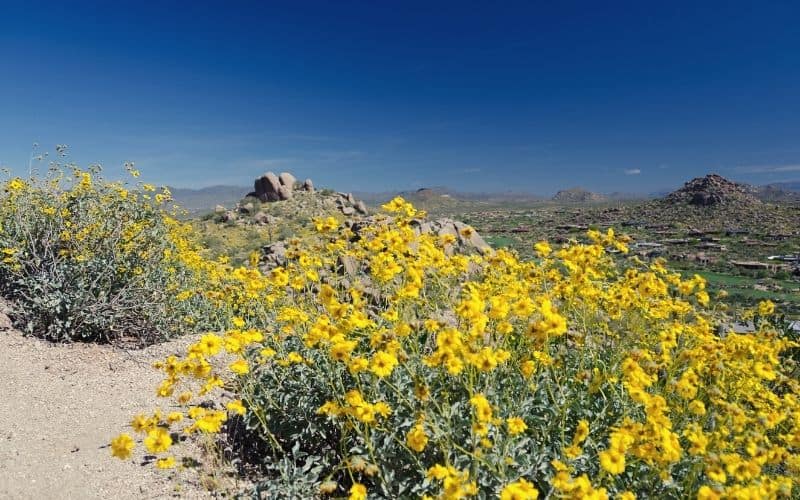 Type: Out and back
Distance: 4 miles
No list of the best hiking in Phoenix would be complete without mentioning the popular Pinnacle Peak. Pinnacle Park is a local hotspot for outdoor adventures thanks to the park's spectacular views and convenient location in Scottsdale. The jewel of the park is the Pinnacle Peak Trail, a moderate hike that features 1,300ft of elevation gain.
Pinnacle Park is a wildlife sanctuary, so get ready to get up close and personal with the local Arizona residents as you ascend. Although the trail doesn't actually lead to the summit, rock climbers with their gear can access the peak from the designated climber's technical area.
9. Butcher Jones Trail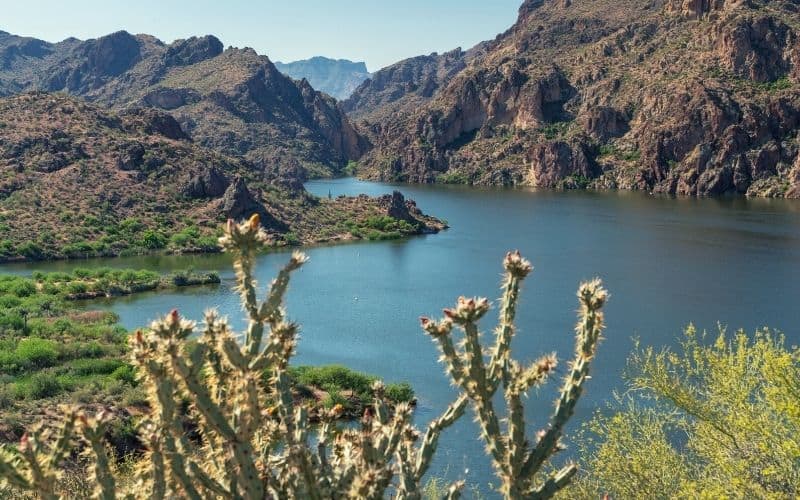 Type: Out and back
Distance: 4 miles
Just an hour's drive from the city, you'll find Butcher Jones Recreation Area, where you can enjoy all sorts of outdoor fun, from rock climbing to paddling around Saguaro Lake. The star of the show, however, is the 4-mile-long BJT, which winds its way around this lovely desert oasis.
If you fancy a dip in the lake, you'll find the trailhead right next to a large beach and picnic area. The trail follows the shoreline and provides lots of opportunities to explore small coves and inlets, and ends at the Burro Cove, a popular fishing spot.
10. Wind Cave Trail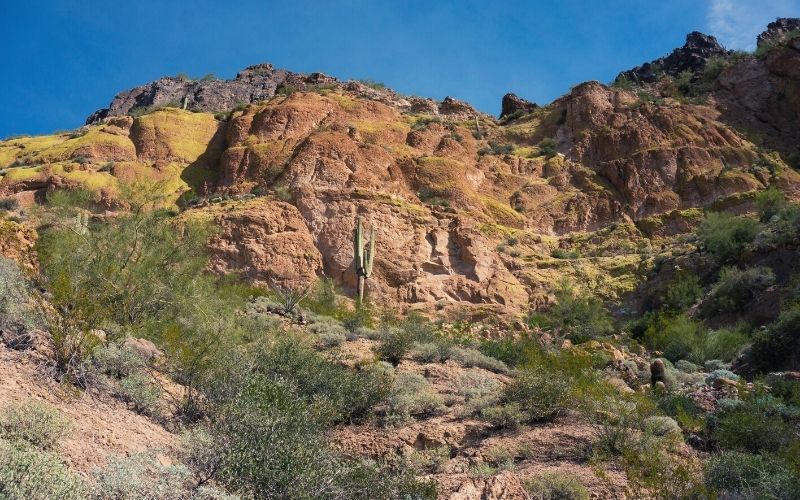 Type: Out and back
Distance: 3 miles
The Wind Cave Trail is ideal for beginners looking to challenge themselves.
The "cave" you'll eventually reach is not so much a cave as a gash cut into the side of the mountain, but it provides some welcome shade in the blistering heat of the summer months. If you want to take in the views of Fountain Hills and the surrounding countryside, you'll have to hike past the cave on an unmarked path.
This is one of the most popular trails in Tonto National Forest, so hike early to beat the crowds.
Challenging Hiking Trails
11. Flatiron Summit via Siphon Draw Trail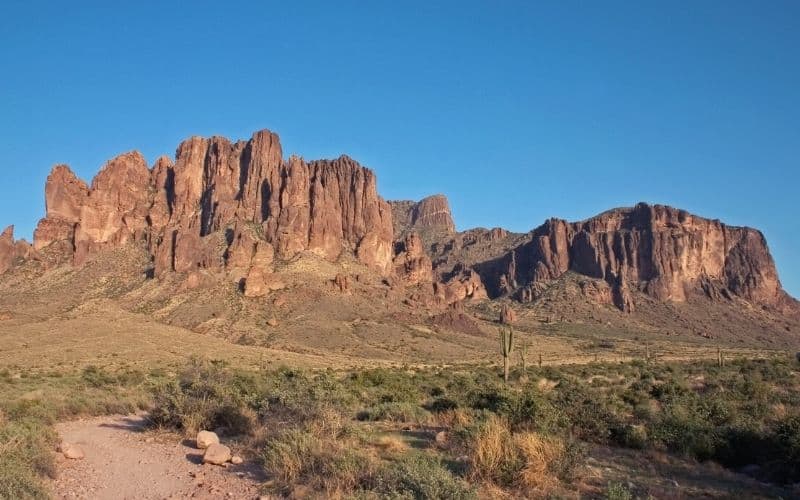 Type: Out and back
Distance: 5.5 miles
The Siphon Draw Trail is a quad-busting hike to the summit of the Flatiron. This one isn't for the faint of heart as it will throw several challenges your way, including 2,700ft of elevation gain and plenty of rock scrambles. Some sections of the trail are quite technical, so proper hiking shoes and gear are a must.
Siphon Draw is located in Lost Dutchman State Park. You'll be able to see your destination, the Flatiron cliff, in the distance as you make your ascent. Don't be fooled by the wide and clean path at the beginning of the route – things get less comfortable quite quickly once you reach the basin!
12. Camelback Mountain via Echo Canyon Trail
Type: Out and back
Distance: 2.4 miles
Camelback Mountain is an iconic Phoenix-area landmark that can be seen towering in the distance from anywhere in Scottsdale. Thanks to its convenient location just outside the city, the Echo Canyon Trail is perfect for enjoying some R&R in nature…. if you're the type of person that finds climbing mountains relaxing!
Despite its short distance, the ECT is a tricky hike. You'll be tackling 1,200ft of elevation in just 2 miles, making it a strenuous and heart-pumping challenge. Make sure you bring more than enough water and have some desert hiking experience before taking it on.
13. Piestewa Peak Summit Trail, Phoenix Mountains Preserve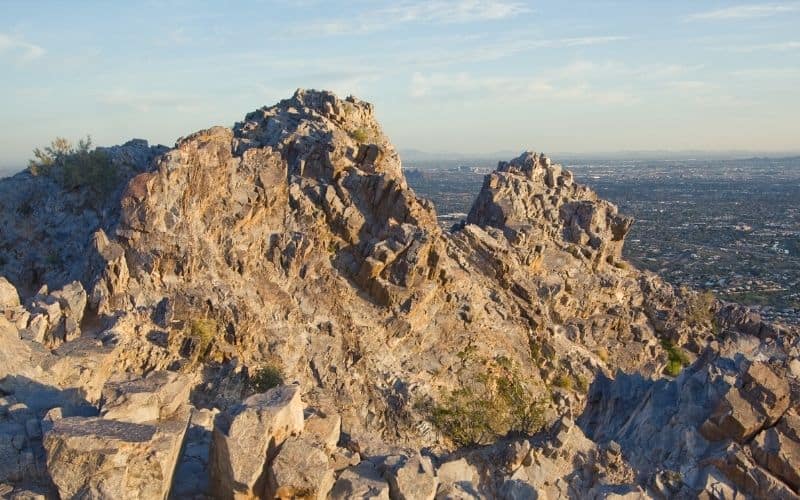 Type: Out and back
Distance: 2.4 miles
Formerly known as Squaw Peak, Piestewa Peak is located in the Phoenix Mountain Preserve, right inside the city limits. Its convenient location just 20 minutes away from downtown Phoenix makes it popular with the locals…despite the somewhat serious challenge it poses.
If you want to enjoy the breathtaking views from the summit of Piestewa, there's only one way to get there: a grueling, unrelenting climb along the Piestewa Peak Summit Trail. With 1,200ft of elevation gain covered in just under a mile, it's definitely a good choice for hikers looking for a serious workout!
14. Superstition Ridgeline Trail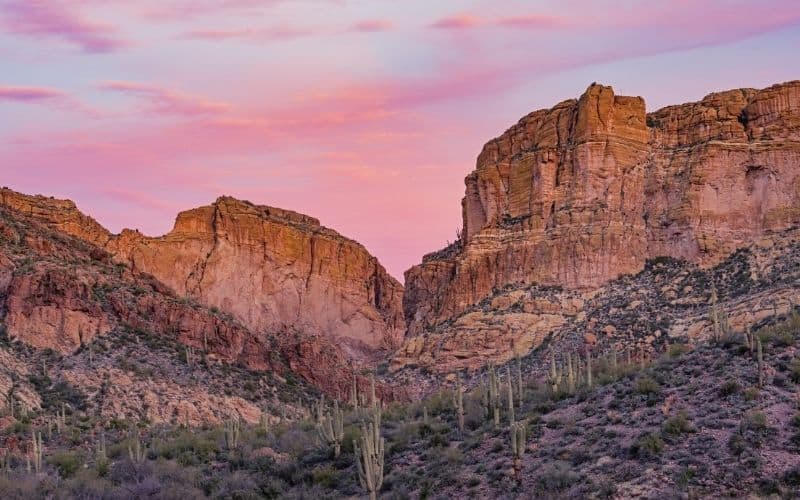 Type: Point-to-point
Distance: 10.7 miles
The Superstition Ridgeline Trail is a long, 8-10-hour hike across the Lost Dutchman State Park. If you can handle its length, you'll be rewarded by a gorgeous trek through the rugged Superstition wilderness. Cacti, shrubs, and other prickly natives line the faint dirt path while the Superstition Mountains loom in the distance.
While most of the terrain is relatively flat, note that there are a few technical sections that require some scrambling.
Best Hiking in Phoenix!
There's no better way to enjoy Arizona's vast natural beauty than by exploring it on foot, so what are you waiting for? Grab your hiking boots and get on your way to any of the top 14 hikes on our list.
Wherever the trails take you, just make sure you keep yourself safe from the desert's challenging environment by practicing sun safety and bringing along adequate water.
Know of any other top-secret, hidden-gem hiking trails in Phoenix? Give us the scoop in the comments below! And if you have any other questions, feel free to ask.