While Rocky running up the steps of the Art Museum might be one of the most iconic film scenes shot in the City of Brotherly Love, we recommend you hit the hiking trails near Philadelphia instead of those stairs for your cardio workout.
Whether you are an avid hiker looking for a challenging summit, interested in great hikes and outdoor adventures within city limits, or in need of an easy and kid-friendly nature fix, we've got you covered. Here are the 11 best hikes near Philadelphia.
RELATED READING: Check out our guides for more great Pennsylvania hiking trails.
Hiking In andAround Philadelphia: The Top Trails
1. Schuylkill River Trail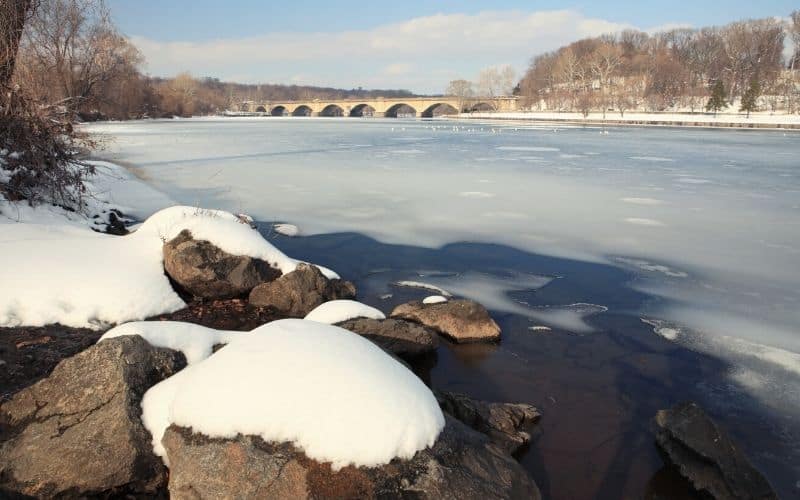 Type: Point-to-point
Length: 75 miles completed, 120 miles planned (WIP)
Difficulty: Easy (but long!)
This multi-use path will eventually stretch over 120 miles, from center city Philadelphia heading northeast to Frackville. Most of the trail is built on or along former railroad tracks that follow the Schuylkill River. Today, about 75 miles of the "SRT" are complete, with a more than 30-mile uninterrupted section open between Philadelphia and Parker Ford.
The terrain is a mix of gravel and paved road, doubles as a biking trail, and traverses a wide range of classic southeastern Pennsylvania scenery. Expect a variety of rural, urban, and industrial landscapes, all of which are part of the history of the region.
Popular with runners, walkers, cyclists, and young families, the Schuylkill River Trail is highly accessible. Not only does it offer easy terrain, there are a number of options for parking and trailhead access along the route – ideal for family-friendly walks in Philadelphia!
2. Lake Loop at John Heinz National Wildlife Refuge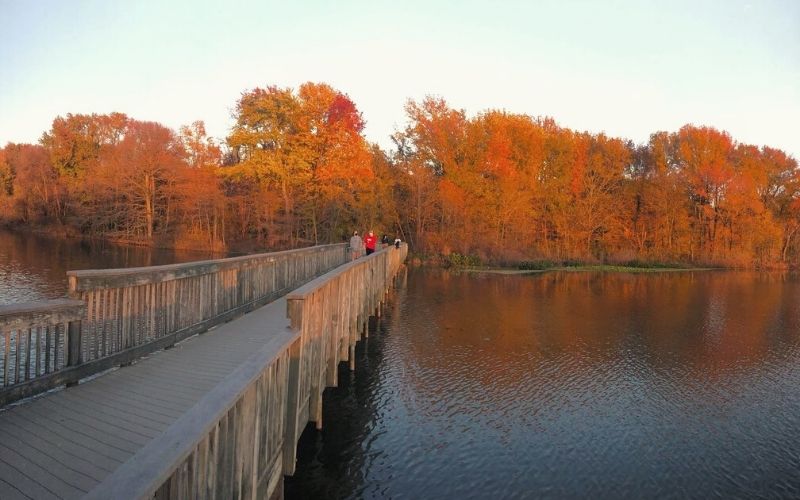 Type: Loop
Length: 3.5 miles
Difficulty: Easy
For a more wild landscape, head to the John Heinz National Wildlife Refuge at Tinicum, located just west of Philadelphia International Airport. The Tinicum Marsh was America's first established urban refuge and is the largest remaining freshwater marsh in all of Pennsylvania.
Ten miles of trails around the refuge offer easy hiking around Philly and ample opportunities for bird and wildlife viewing. Multiple trails can be combined to take a family-friendly, easy hike around the emergent wetland and marsh on partially paved trails. Biking is also allowed on designated trails. In the distance, the skyline of Philadelphia offers a scenic urban backdrop.
3. Valley Forge Historic Trail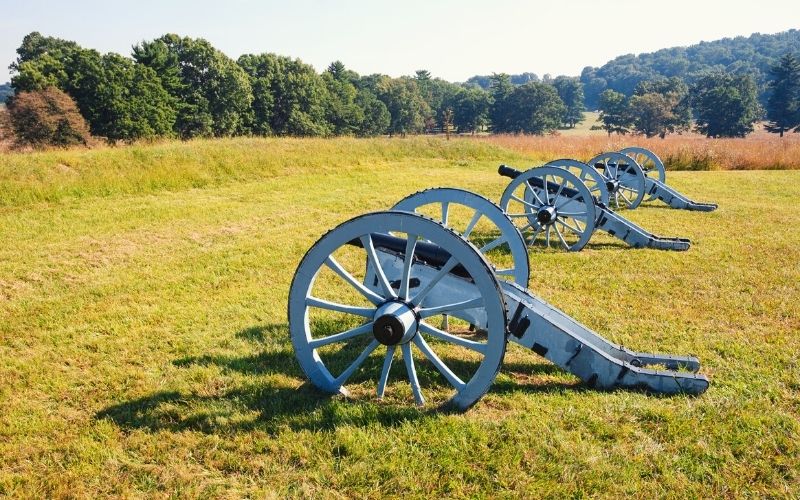 Type: Loop
Length: 7.7 miles
Difficulty: Easy
Located northwest of the city within Valley Forge National Historic Park, this 7.7-mile route is one of the best day hikes for history lovers. Rolling hills and bucolic countryside are dotted with revolutionary-era log cabins and historical landmarks, and in the summer you'll see plentiful wildflowers in bloom.
There is no shortage of options here, with more than 35 miles of designated hiking trails, 19 miles of designated biking trails, and even the Horseshoe Loop for horseback riding. For something a bit shorter, Mount Misery Trail in the western side of the park can be turned into a three-mile loop.
The variety of easy to challenging hiking trails combined with Revolutionary War history makes Valley Forge Park a great destination for the whole family. Because it is suitable for all ability levels whether you are a new or experienced hiker, this park is one of our favorite destinations for hiking near Philadelphia.
4. Ringing Rocks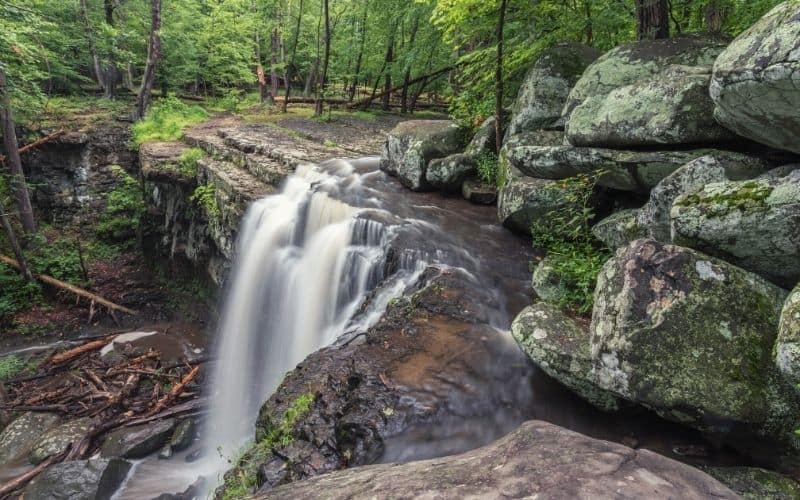 Type: Out-and-back
Length: .9 miles
Difficulty: Easy
Located about 75 minutes north of Philadelphia in Ringing Rocks County Park, this short hike offers a few notable features – including a waterfall – amid an unusual landscape.
At just under one mile, some might argue this is too short to be considered a hike. But hear us out: the name of this route rings true (puns intended). At the end of this trail is a boulder field of rock formations that ring like a bell when struck with something metal, making this one of the shortest but most unique places to hike near Philadelphia.
Bring a hammer along to see (or rather, listen) for yourself!
Best Hikes Near Philadelphia for Outdoor Adventurers
5. Wissahickon Creek Gorge Trails, Wissahickon Valley Park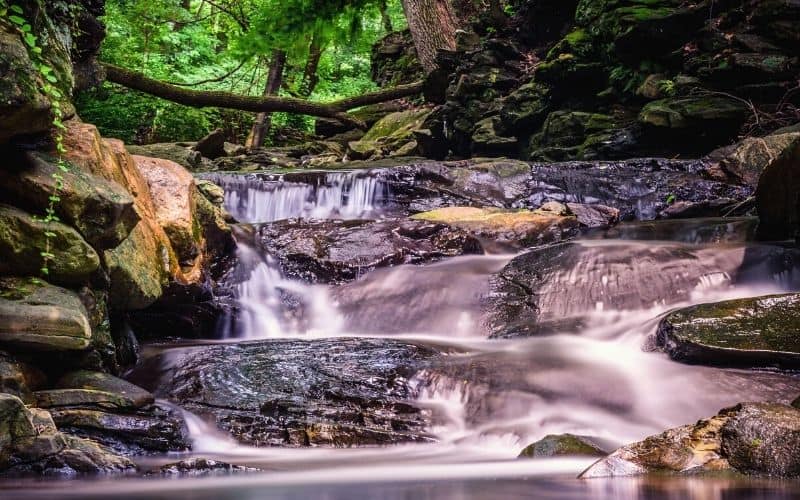 Type: Loop
Length: 9.4 miles
Difficulty: Easy
One of the closest options for hiking in Philadelphia, Wissahickon Valley Park (located just north of Fairmount Park) offers more than 50 miles of trails within 1,800 protected acres. While you won't get any sprawling scenic views here, Wissahickon Valley Park features a beautiful array of dense forest, open meadows, and shady creeks.
Also popular for birdwatching, fishing, and horseback riding, the park has seven main trails and a variety of smaller access trails. The main network of trails allows for a variety of loops that include rugged and rocky terrain, occasional steep climbs, and historic and cultural points of interest such as the Thomas Mill covered bridge.
Five-mile long Forbidden Drive runs along Wissahickon Creek, and its wide, flat terrain makes it accessible for hikers of all ages. Follow the white and orange trails on the east side of the creek and Forbidden Drive on the west for a 9.4-mile loop that features plenty of opportunities to enjoy nature – including a waterfall and plentiful birds!
Alternatively, the Wissahickon Gorge North Loop will take you on the 7.9-mile yellow trail that runs the length of the park on the west. For shorter options, the lavender trail in the northeast corner of the park offers a short 1.5-mile offshoot loop. A true urban refuge, Wissahickon is the fastest way to forget you are in the middle of a city.
6. High Rocks, Tohickon Valley Park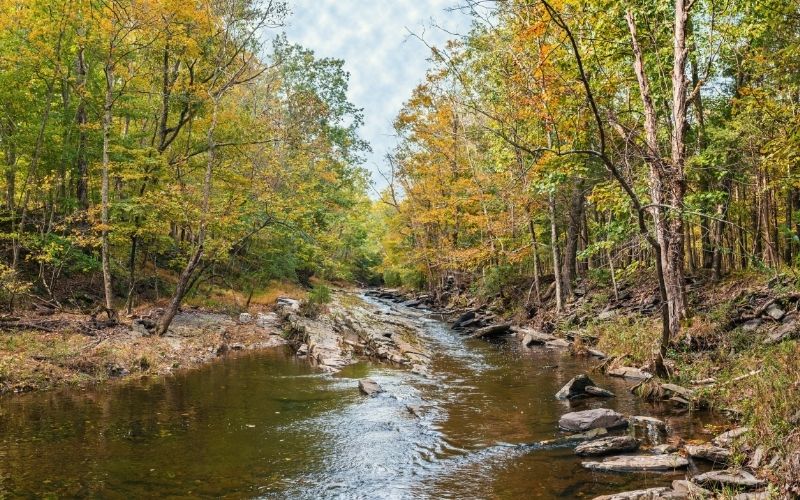 Type: Loop
Length: 3.9 miles
Difficulty: Moderate
The High Rocks Trail in Tohickon Valley Park is a 3.9-mile loop hike and one of the most popular hiking trails near Philadelphia. Used by hikers and climbers alike, the trail name comes from the 200 feet of red Brunswick shale that rises up from the gorge.
High Rocks can be accessed from Ralph Stover State Park or Tohickon Valley Park in Bucks County (about an hour north of center city). The High Rocks Vista rewards hikers with scenic views of the Tohickon Creek below, and is particularly beautiful in the fall, when the vista lookout showcases the colorful wooded areas nearby.
Because this hike is popular and parking is limited, we recommend getting an early start to avoid crowds.
7. Ricketts Glen Falls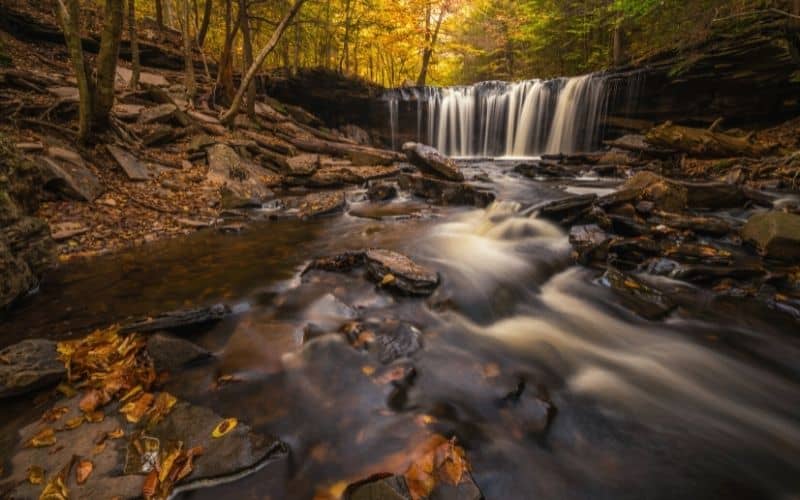 Type: Loop
Length: 7.2 miles
Difficulty: Moderate
If you're looking for hiking trails with waterfalls near Philadelphia, there's no better spot than Ricketts Glen State Park. Considered by many to be the best waterfall hike in the eastern United States, this route takes in 21 of the park's 24 waterfalls.
At 7.2 miles, the Falls Loop is the most challenging route in the park if you complete the full "lollipop" loop. By parking at the Glens Lot Trailhead, you'll walk through the old-growth forest en route to the falls. A shorter version of this hike clocks in at only 3.2 miles if you instead park at the Lake Rose Trailhead.
The rocky trails in Ricketts Glen State Park can be wet and muddy due to all the water features, and sturdy boots are recommended in case the terrain is slippery.
We suggest you bring your camping gear and make a weekend adventure of it since Ricketts Glen is a 2-3 hour drive from the city. The park features a total of 26 miles of trails that vary from mostly flat to fairly steep, so there are plenty of options for a second day of hiking.
8. Mount Minsi via Appalachian Trail, Delaware Water Gap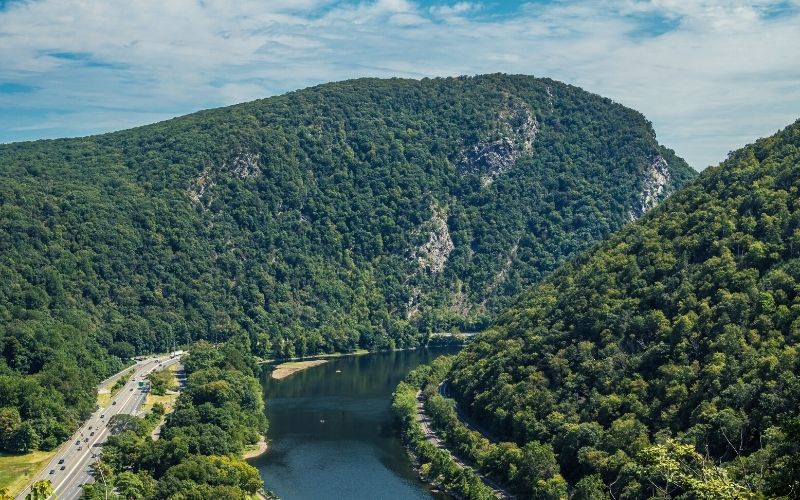 Type: Loop
Length: 5 miles
Difficulty: Moderate
This hike is located in the Delaware Water Gap National Recreation Area, which encompasses 70,000 acres and has more than 150 miles of trails.
According to park staff, the parking lot for Mt. Minsi trailhead is usually full by 9 am on most weekends, so this hike is best done early in the morning or on a weekday. But don't let that deter you–at just over two hours north of the city, this loop is one of the most popular day hikes near Philadelphia for a reason.
With a few different viewpoints of the Delaware River, gorgeous views of Mount Tammany and the Appalachian Mountains, and scenic spots to stop for a picnic, this is a great option for anyone looking for some of the best hiking near Philadelphia.
Best Philadelphia Trails for Avid Hikers
9. Mount Tammany via Red Dot and Blue Dot Loop Trail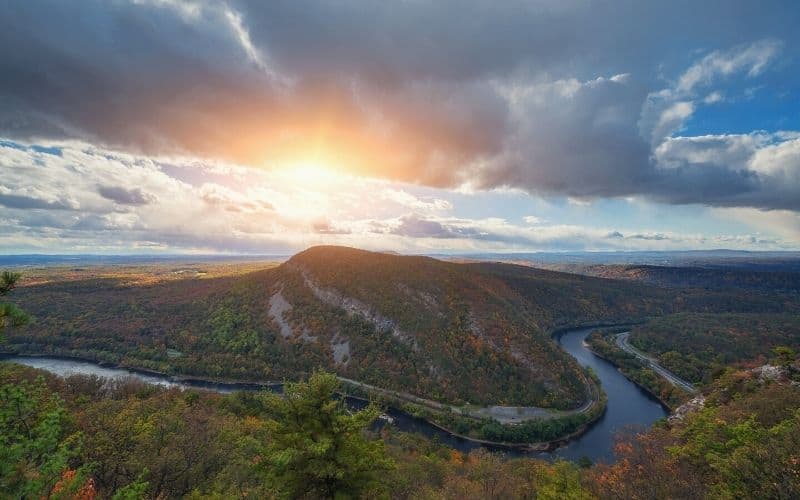 Type: Loop
Length: 3.6 miles
Difficulty: Moderate to Hard
If you are more interested in summiting mountains near Philadelphia than hiking through wooded forest, Mt. Tammany is a great option.
Two hours north of the city, Mt. Tammany is located on the New Jersey side of the Delaware River, with summit views of the Delaware Water Gap and Mt. Minsi on the Pennsylvania side of the river.
Don't let the length of the Red Dot Trail deceive you – this is a challenging hike. At only 1.2 miles, this short but steep trail gains more than 1,000 feet of elevation over uneven terrain and is best suited for experienced hikers. It can be completed as an out-and-back hike or combined with the Blue Dot Trail for a 3.6-mile loop.
We recommend taking the Red Dot on the ascent because there is a section of rock scrambles that is easier done uphill. The two hiking trails connect at the summit, where you can follow the Blue Dot Trail to the west for a more gradual descent that passes a swimming hole in Dunnfield Creek and a few small waterfalls – the perfect opportunity to cool off on a hot summer day!
10. The Pinnacle Trail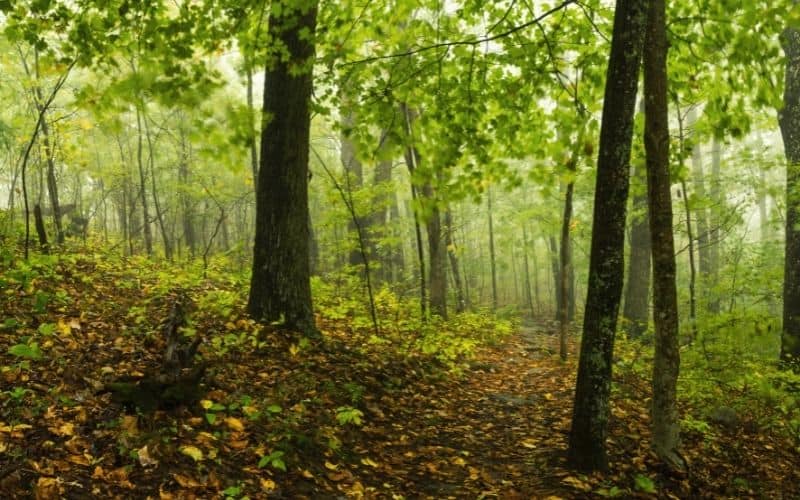 Type: Out-and-back
Length: 10 miles
Difficulty: Moderate
The Pinnacle Trail is lengthy at nearly 10 miles total, and is also rocky and steep in sections, but overall is relatively easy for a summit hike. The 1,000 feet of elevation gain is a gradual incline, making this trail a great choice for a full-day, moderate adventure for hiking near Philadelphia.
The Pinnacle Trail goes through state game lands, so it is essential you wear bright colors on this hike during hunting season. This trail can also be combined with a section of the Appalachian Trail that passes Pulpit Rock to make a 9-mile loop, which is another popular option among hikers.
11. Hawk Mountain Sanctuary Loop trail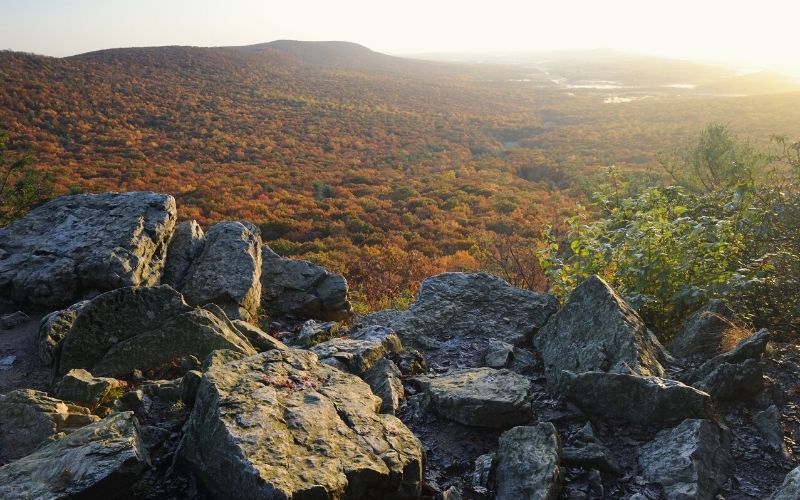 Type: Loop
Length: 5.4 miles
Difficulty: Hard
With a mission to conserve and protect birds of prey, there are some incredible birdwatching opportunities in Hawk Mountain Sanctuary, a private, non-profit wildlife sanctuary that is listed as a national natural landmark. To access the sanctuary's designated hiking trails, users pay a small daily fee which supports their educational programming and research efforts.
The loop trail at Hawk Mountain Sanctuary is difficult due to a few rock scrambles, but well worth the effort. Follow the trails counterclockwise, beginning with the River of Rocks trail before turning right onto Golden Eagle, then turning left onto Skyline Trail and hiking to North Lookout. Then, take the Lookout Trail back down to the Visitor Center.
Not only is Hawk Mountain one of the best options for challenging hiking near Philadelphia, it also hosts regular special events, lecture series, and summer programs to further the sanctuary's mission.
Fun Times in Philly!
While it may be known for its Revolutionary War history, museums, and great restaurants, there are plenty of opportunities for great hiking near Philadelphia, too. Whether you've got a car camping set up and you are ready to escape the city for a weekend, or just need a natural oasis accessible from downtown, one of these trails is bound to impress you.
What did you think of our article? If you have any questions or we missed any of your favorite hikes, let us know in the comments box below!