As far as hiking destinations go, Texas's San Antonio is something of a one-of-a-kind. Within a short driving distance of the city's downtown area, you can enjoy a wide variety of trails. From lonely wanders in the desert to historical trails in the Hill Country and the city itself, this is one location that offers something for everyone.
Whatever you're into, and no matter your fitness or experience levels, you're sure to find something that appeals to you and your hiking crew in our guide to the best hiking near San Antonio.
All of the hikes on our list are within 1.5 hours of downtown San Antonio, so there's no excuse not to get at least a few under your belt during your stay!
Top 10 Hiking Trails In and Around San Antonio
1. El Camino & Rio Medina Trail, Medina River Natural Area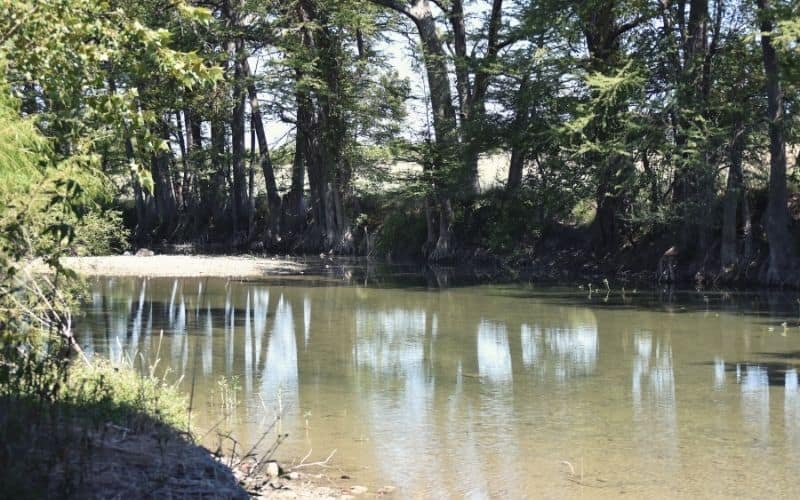 Type: Lollipop
Distance: 2.1 miles
Difficulty: Easy
Located 30 minutes from downtown San Antonio, the Medina River Natural Area is one of the most accessible hiking areas on our list—not to mention one of the most interesting.
The highlight of this 511-acre reserve is the El Camino & Rio Medina Trail, a 2.1-mile historical trail that's partially paved, family- and pet-friendly, and home to a surprisingly diverse array of flora and fauna.
On the El Camino section of the trail, you'll find interpretive signage that teaches you about the El Camino Real wagon trail, an old military, trade, and missionary route that spans from Mexico City to Louisiana.
And once you reach the Rio Medina Loop, you'll find yourself amongst towering cottonwood, pecan, and cypress trees, and may even spot the odd painted bunting or green kingfisher.
If you want to turn your hike into more of an all-day affair, you can easily extend this route by hopping onto the Medina River Greenway. This 6.5-mile out-and-back trail provides a scenic, shaded stroll along the banks of the Medina River and can be accessed via the Olmos Spur path, just past the Medina's midway point.
RELATED READING: Check out our guides for more great hiking in Texas.
2. Main Loop, Water Trail & Forest Range Loop Trail, Friedrich Wilderness Park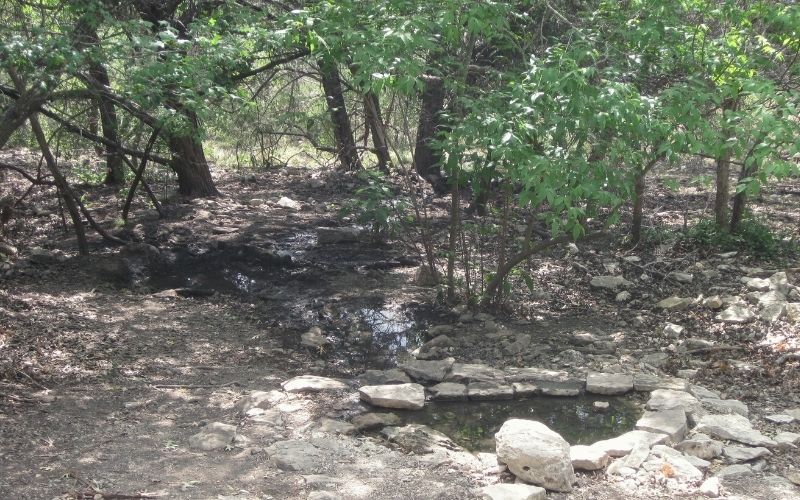 Type: Loop
Distance: 1.1 miles
Difficulty: Easy
Friedrich Wilderness Park is a tiny gem hidden in the rolling landscape of Hill Country, just 30 minutes drive from San Antonio downtown.
180 of this park's surprisingly wild 600 acres were donated to the state by Emilie and Albert Friedrich back in 1971, and a further 420 have been added since. The couple's wish was to preserve the natural beauty of the area and to create a sanctuary for its diverse birdlife, something that visitors to the area are sure to agree the park has achieved.
While the park offers over 10 miles of trails, these three routes combined total just 1.1 miles, and for the most part wiggle their way through flat and easily negotiable terrain. It's worth mentioning, however, that park authorities often close the trail when conditions are too muddy, so be sure to phone and check for closures after periods of heavy rainfall.
Just as Emilie and Albert Friedrich wished, their land's greatest treat is the birds, so watchers, get your binoculars ready! Keep an eye on the trees and you might just see the park's main attraction—the endangered golden-cheeked warbler and the black-capped vireo.
3. Joe Johnston Route Trail, Government Canyon State Natural Area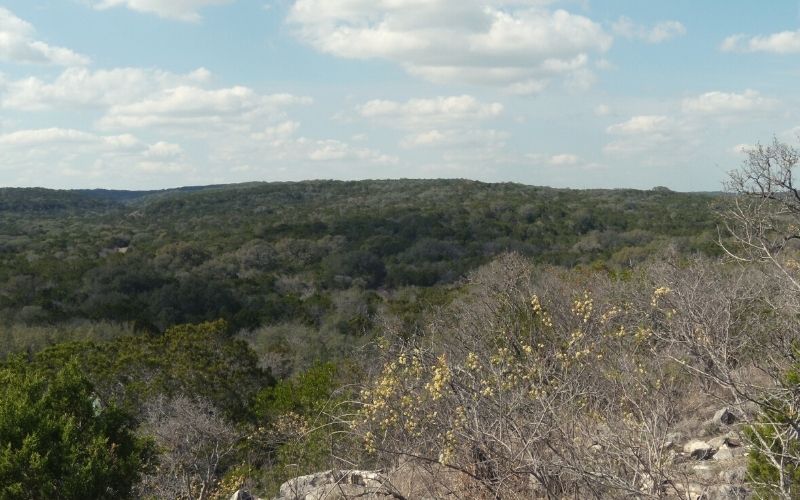 Type: Out-and-back
Distance: 5.7 miles
Difficulty: Moderate/challenging
Government Canyon State Natural Area is, to our mind, the best hiking destination in all of Bexar County. Located only 30 minutes from downtown and boasting over 40 miles of trails, the canyon is a must-visit for hikers in the San Antonio area.
Although there are a few other contenders (more on these below), the Joe Johnston Route is arguably GCSNA's best trail.
The JJR is a 3.85-mile trail (5.7 out and back) in prime Hill Country and serves up a bit of a special attraction that, since its discovery, has seen the trail's popularity skyrocket.
Towards the end of the trail, an innocuous rope marks off the location of a 110-million-year-old battleground between the mighty Acro­can­thosaurus and the 130,000-pound, long-necked Sauro­po­sei­don. The tracks of these giant Triassic reptiles are clearly visible in the mud, providing a fun photo op if you can weave your way through the crowds.
While the section of trail leading to the dino prints can be busy, the rest of it is delightfully wild and remote. You'll also have the chance of spotting plenty of wildlife along the way, including foxes, bobcats, wild hogs, and—if you're lucky—maybe even a roadrunner.
4. Tower Loop, Comanche Lookout Park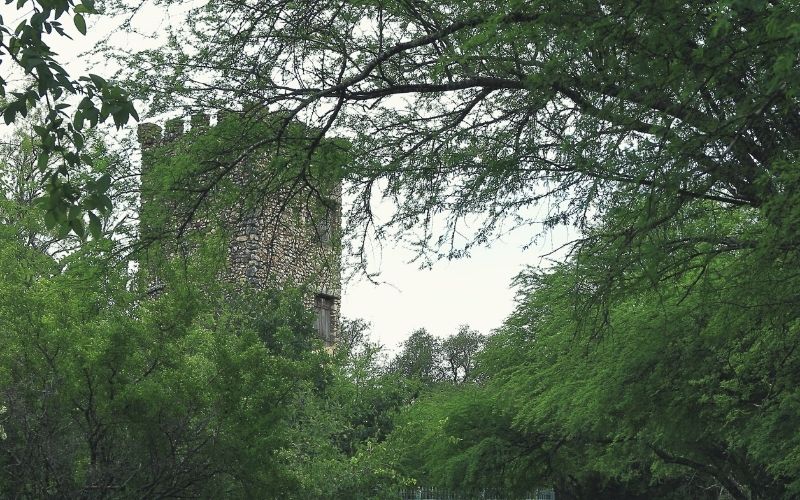 Type: Loop
Distance: 1.1 miles
Difficulty: Easy
Tower Loop is a mellow, 1.1-mile paved path that leads to a mysterious medieval tower located at the center of Comanche Lookout Park, just 20 minutes from downtown San Antonio.
This 96-acre hill was an important site for both the Apache and, latterly, Comanche tribes. Each used the height of the area as a natural vantage point for security and hunting.
Over the years, the park has undergone a few extensions and changes, most notably at the hands of one former owner who envisioned constructing a full-scale castle. He only managed to build the foundation and a single tower before scrapping the plans, but in doing so bequeathed something of an unexpected highlight.
After scaling the hill to the Tower, winding through a forest of oak, juniper, mesquite, and mountain laurel, you'll be stood atop a 1,340-foot lookout that's the 4th highest point in Bexar County and have great views of the surrounding area.
5. Old Tunnel Nature Trail, Old Tunnel State Park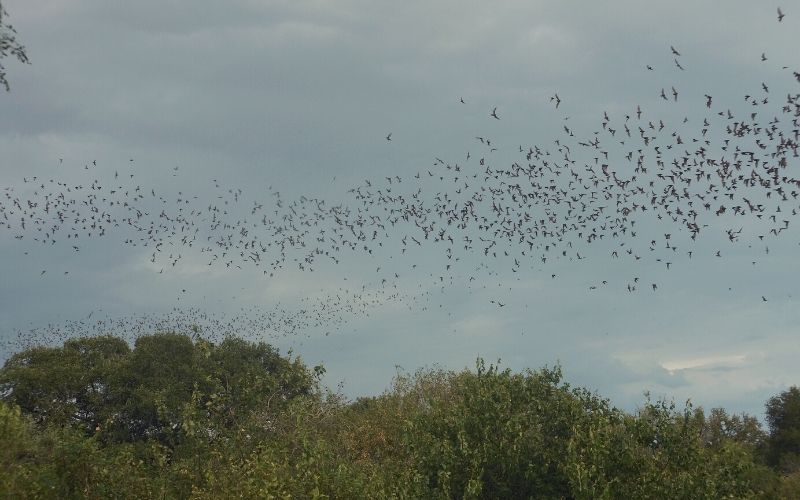 Type: Loop
Distance: 1 mile
Difficulty: Moderate
This unique hike takes you to the home of one of Texas' most renowned residents—the Mexican free-tailed bat!
This park, which was founded in 2012, contains the remnants of an early 1940's railway tunnel that is home to over 3 million bats. Although the park is free to enter, you'll have to hand over $5 to see the bat viewing area (which is totally worth it).
In case you didn't know, citizens of the state are serious about their winged mosquito-eaters, and go to great lengths to protect them. For this reason, park authorities close the tunnel early in summer (5 pm) to prevent hikers from disturbing the sleepers.
The hike itself is a short, 1-mile loop, though includes at least one steep climb and is strenuous in places. Appropriate footwear is recommended.
6. Cougar Canyon To Hermit's Trace Loop, Hill Country State Natural Area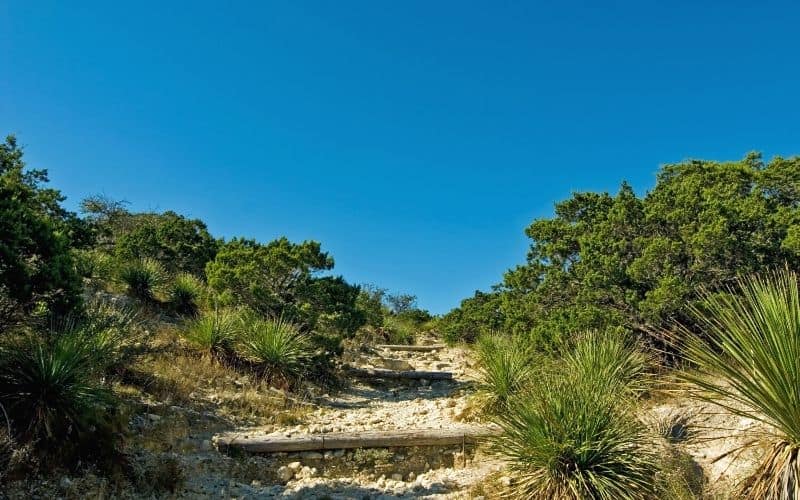 Type: Loop
Distance: 7.2 miles
Difficulty: Moderate
Located 1.5 hours from downtown San Antonio, this trail is the furthest from the city on our list but is well worth the extra effort required to get there.
Hill Country State Natural Area is a 5,000-acre mecca for nature-lovers, boasting over 40 miles of wild-feeling hiking trails for visitors of all fitness levels.
At 7.2 miles, the Cougar Canyon to Hermit's Trace Loop is one of the area's longer hikes—and also one of the most enthralling.
The trail is well-marked from start to finish and passes through a desert wonderland populated by diverse tree species, wildflowers, and shrubs. It also offers up plenty of opportunities for sightings of wildlife like deer and armadillos.
This is also one of the lowest-trafficked trails on our list, so you'll likely have it to yourself for most of the way. The feeling of being immersed in Texan wilderness is worth the price of admission (gas only!) alone.
While you can hike the loop in either direction, we suggest hiking counterclockwise so that the end of your hike is on the downhill portion.
7. Hillview Trail, Eisenhower Park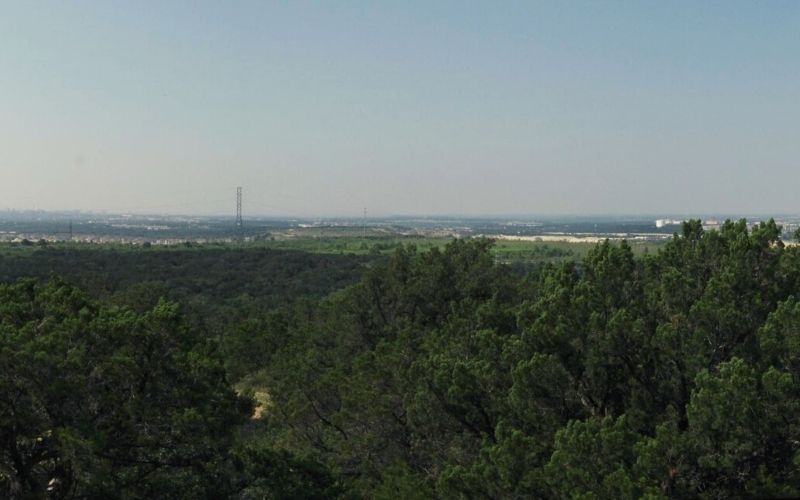 Type: Loop
Distance: 2.9 miles
Difficulty: Moderate
The Hillview Trail is one of the most popular San Antonio trails attracting hundreds of tourists and locals per day. It's located just 25 minutes from downtown San Antonio, provides a decent workout, and rewards you with awesome views of the city skyline at the top.
The loop circumnavigates the perimeter of the park. While suitable for hikers of all fitness levels, the rougher terrain and occasional steep incline mean it's not wheelchair accessible or a good option for families with small kids.
This trail is particularly popular with trail runners and after-work nature enthusiasts, who flock here to enjoy the impressive display of colorful wildflowers, spot armadillos, and scale the observatory that provides awesome birds-eye views of San Antonio and the surrounding area.
8. Wildcat Canyon Trail & Far Reaches Trail, Government Canyon State Natural Area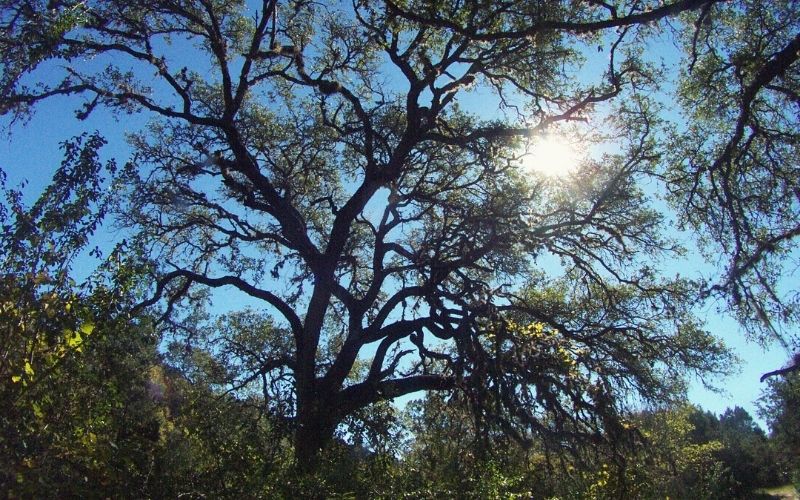 Type: Loop
Distance: 6.8 miles
Difficulty: Moderate
If you've finished the John Johnson Trail, seen the dino prints, and want to see more of Government Canyon (as we suspect), we highly recommend you hop onto the Wildcat Canyon and Far Reaches Loop next.
While the JJR explores the north part of the park, the Wildcat Canyon and Far Reaches meander towards the park's southern border, offering you all-new views of the area. This section of the trail is notoriously rocky and gravelly, so be sure to wear a good pair of boots or hiking shoes.
What this route lacks in prehistoric footprints, it makes up for in great foliage, old windmills, occasional views of the downtown skyline, and a surprisingly remote feel between times.
9. The San Antonio River Walk, San Antonio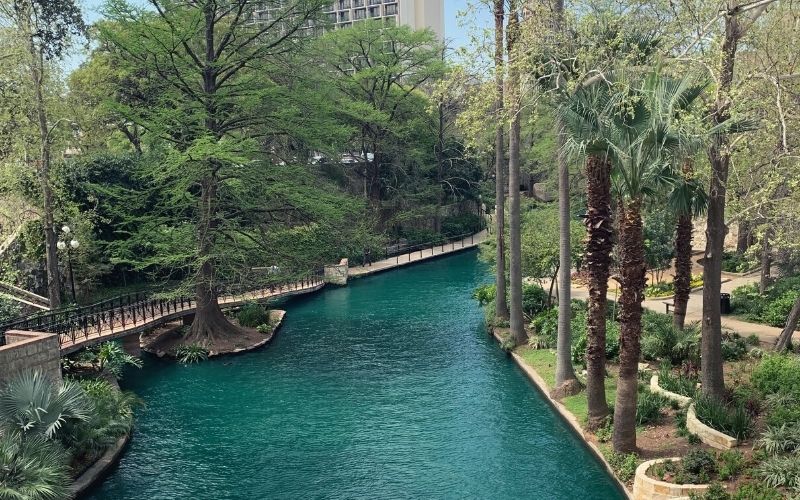 Type: Out-and-back
Distance: 15 miles (6 for the downtown section only)
Difficulty: Easy
While not a "hiking trail" per se, no visitor to San Antonio has had the full Alamo City experience without a stroll down the city's stunning River Walk.
The River Walk is one of America's most popular urban hikes. The "trailhead" can be accessed easily from downtown and the route is widely regarded as the best way to explore the city. There are tons of restaurants along the way and plenty of other pitstops where you can kick back and indulge in a little southern hospitality.
This is a "pleasure hike" in all ways imaginable, and an absolute bucket list item for Texans and visitors alike. While there's plenty to see in the downtown section of the hike, if you carry on to the Mission Reach and Museum Reach, you'll have the chance to stop off at the San Antonio Museum of Art, the Pearl, the city's five Spanish colonial missions, and the Alamo.
Before you start walking along the river, it's worth taking the chance to fuel up at the famous Menger Hotel, which has a bar that some claim is haunted by the ghost of president Theodore Roosevelt (in a friendly way, we promise!).
10. Full Trail Circle, Cibolo Nature Center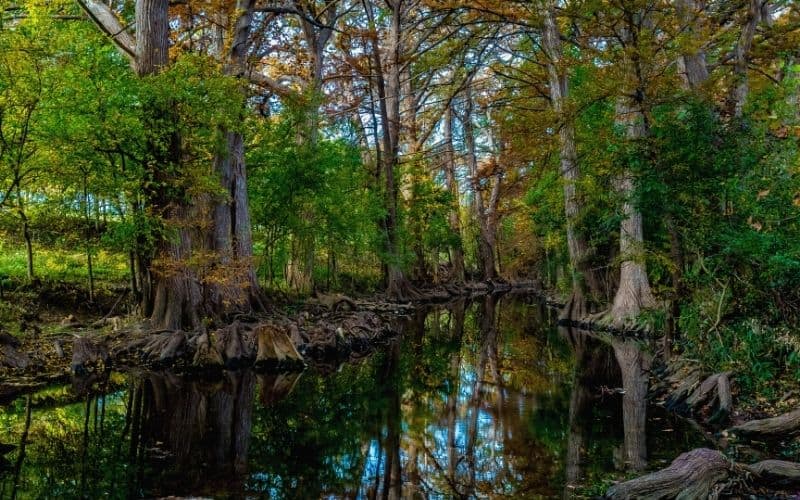 Type: Loop
Distance: 3 miles
Difficulty: Easy
Last but not least on our list of San Antonio hikes is something of a hidden gem and one of our favorite places to hike in San Antonio and the surrounding area.
Located in Boerne, just a short drive north of San Antonio, the Cibolo Nature Center is a great spot for anyone keen to explore and experience the area's diverse ecosystems.
Within this incredibly pristine conservation area, you'll find a network of four family-friendly trails that take you through an impressively diverse array of terrain and scenery, from marshes and old-growth forests to a sprawling prairie and a stunningly pretty creek.
Along the way, you'll also have a chance to spot plenty of wildlife, including the red-shouldered hawks, deer, and scissortail flycatchers.
Top Hikes Near San Antonio: The Runners-Up
If you're willing to drive a little further, you'll find yourself not too far from some of the state's most interesting natural landmarks and outstanding hiking areas.
Lost Maples State Natural Area, Enchanted Rock, Inks Lake, and a few other places that appear on our places to camp in Texas list are all located within two hours of the park.
See Ya In San Antonio!
We hope the above list has demonstrated that San Antonio, Texas has a lot more to offer than the Alamo, awesome BBQ, and Tex-Mex cuisine alone!
If you're in the city and are keen to get your wander on, none of the above trails will disappoint. The chances are, however, that once you've gotten a taste for what this kinda unique corner of the country has trail-wise, you'll be itching to sample the rest.
How did you like our list of the top trails in San Antonio? Did we miss any of your favorite trails? If so, let us know in the comments box below, and holla if you have any questions or need more info about hiking around San Antonio.