When summer rolls around, it's time to ditch those hiking pants for something a little fresher and more comfortable. Not everyone's keen on hiking in shorts, but for every argument against using them, there's a counterargument that, truth be told, is far more convincing.
Not enough protection from rocks and vegetation on the trail? Wear long or crew-cut socks.
Not enough UV protection? Wear sunscreen.
Leave your lower legs exposed to biting bugs? Throw on some bug spray (or move faster!).
All told, the benefits of wearing hiking or walking shorts in hot weather far outweigh the discomfort and other disadvantages of sticking with pants, something we'll go into in more detail below.
Now that we've delivered our pro-short spiel, it's time to help you find the best pair for you! Below, we've reviewed 8 of our favorites from brands such as Marmot, REI, The NorthFace, Patagonia, and other heavyweights in the outdoor world. At the bottom of the page, we've also added in detailed buying advice to help you choose the perfect pair for your needs.
Top Choices by Category
Budget: REI Co-op Sahara and Columbia Silver Ridge
Cargo: Columbia Silver Ridge, REI Co-op Sahara, and prAna Stretch Zion
Lightweight: Patagonia 9 Trails and The North Face Aphrodite
Editor's Choice
Patagonia Quandary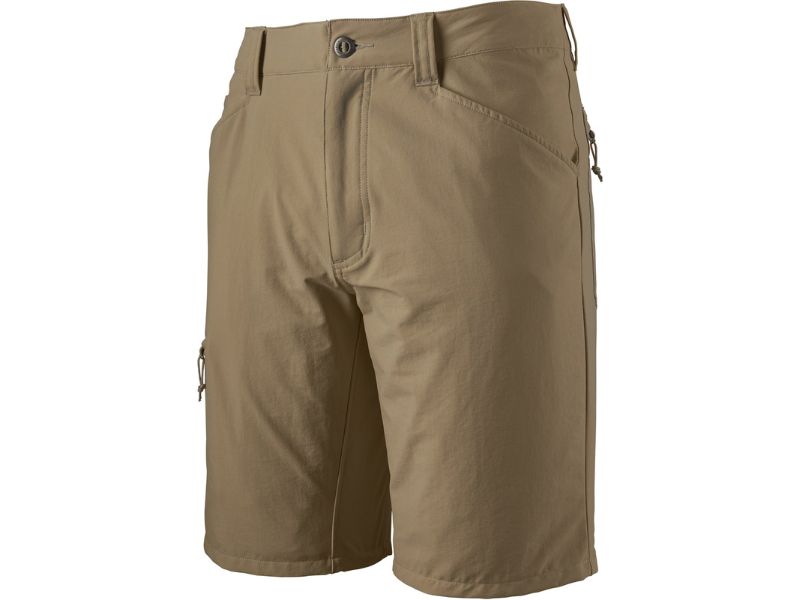 In our pursuit of the best hiking short in the business, we sought a pair that was protective enough to deal with strong sun, abrasion, and regular use and abuse, light and breathable enough for high temps, and comfortable enough that we'd be happy wearing them multiple days in a row. This is the Patagonia Quandary in a nutshell.
The Quandary's high nylon content makes them more durable and rugged than other options on our list, while their gusset crotch, light fabric, and mesh pockets mean they're breathable and mobile enough for hot summer hikes and steep climbs in trickier terrain.
The Quandary excels in both warm and wet weather thanks to their UPF 50+ rating and DWR finish, and their quick-drying fabric makes them perfect for post-hike, celebratory plunges in swimming holes, lakes, or creeks.
There were plenty of other good options to choose from, but we feel the Quandary strike a better balance than any others between performance, practicality, and comfort.
Bottom Line: Practical, performance-oriented shorts that score a little higher than the best of the rest in the comfort and durability metrics.
At a Glance: Quick Recommendations
Best Hiking Shorts: Our Top 8 Picks
Patagonia Quandary
Editor's Choice
The Patagonia Quandary wins our vote as the best men's hiking shorts out there for several reasons, but mainly because they find the perfect balance between comfort, versatility, durability, and performance.
The Quandary are made with 96% nylon and 6% spandex, giving them a nice blend of durability and stretch. The lightness of the fabric also makes them highly breathable and incredibly comfortable. As a bonus, the fabric is 65% recycled and approved by bluesign.
A few nice, non-standard features up the Quandary's game. These include a secure button closure, a zippered thigh pocket, a curved waistband that matches the natural shape of your hips, and a gusseted crotch that permits a full range of motion.
The Quandary are up there with the most versatile options available – they're great on the trail, stylish enough for days around town, and dry quickly enough for mid-hike dips in mountain lakes or creeks.
The only small gripe we have is that Patagonia neglected to add zippers in the hand pockets – not a dealbreaker, sure, but they would've been nice to have.
PROs

Stretchy
Comfortable
Durable
bluesign-approved fabric
Six pockets
UPF 50+

CONs

No zippers on hand pockets
Bottom-Line: A pair of high-quality hiking shorts for men that tick every box that needs ticking!
The North Face Aphrodite
Best Women's Hiking Shorts
Our female testers fell in love with The North Face's performance-oriented Aphrodite when putting them through their paces. On first impression, the Aphrodite looks like any other short shorts but, in this case, looks are highly deceiving.
The Aphrodite are made with 7% elastane and 93% nylon herringbone fabric. This combo, in addition to their four-way stretch, incuts at the thigh, and wide, stretchy waistband, making them far more mobile and comfortable than any others we tested – and, all told, the best women's hiking shorts by some distance.
To top it all off, they have a FlashDry and non-PFC DWR Finish and are made with 37% recycled materials.
The Aphrodite's 4–6-inch inseam (depending on size), might make them a little too short for some, but otherwise, they can't be beaten!
PROs

Quick-drying fabric
Pack into their own pocket
Lightweight
Incredibly comfortable
DWR finish
Elastic waist

CONs

Only one zippered pocket
A little too short for some?
Bottom-Line: Incredibly comfortable, water-resistance, breathable, quick-drying, and as packable as they come. What more could you ask for?
prAna Stretch Zion
Runner Up
There's a lot to love about the hugely popular prAna Stretch Zion, and they pushed our winner the Patagonia Quandary all the way to the finish line in the race for our top pick.
Made with 97% abrasion-resistant nylon and 3% spandex, the Stretch Zion are the toughest and most durable male hiking shorts on our list. They also have a UPF 50+ rating and a DWR finish, so are suitable for hikes in all kinds of weather.
While not quite as mobile as some of the competition, the Stretch Zion's gusseted crotch and loose fit mean you'll have plenty of freedom of movement. The mesh pockets also provide ample ventilation, which is always a concern when buying a short made with a thicker, burlier fabric.
There are a few other nice touches that earn the Stretch Zion extra points, most notably the discretely integrated belt and dual-entry cargo pocket.
PROs

10" and 12" inseam available
Highly durable
UPF 50+
Water-resistant
Five pockets

CONs

Pricey
Less stretchy than some
Bottom-Line: The toughest option on our list and ideal for lovers of a longer inseam.
prAna Olivia
Runner Up Women's
If you're looking for a women's hiking short that excels both as outdoor apparel and casual wear, the prAna Olivia are well worth considering.
The Olivia are made with 97% nylon and 3% elastane. While this makes them slightly less stretchy and mobile than the TNF Aphrodite, it also makes them a little more durable and resistant to rips and tears in rough terrain. The mid-rise, relaxed fit also means they offer all-day comfort and won't restrict your movement as you climb steep trails.
We didn't find the Olivia to be quite as comfortable as the TNF Aphrodite, which are much more expensive, but they're still a great option if durability is high on your list of priorities.
PROs

Stretchy fabric
Highly durable material
High-wicking fabric
Four pockets

CONs

Pricey
Not as stretchy as the TNF Aphrodite
No zippered pockets
Bottom-Line: A good pair of casual hiking shorts whose toughness and relaxed fit makes them great for climbing mountains and other outdoor adventures in warm weather.
Columbia Silver Ridge
Best Budget Hiking Shorts
If you're looking for a classic pair of cargo-style shorts for your summer adventures, it's hard to go wrong with the Silver Ridge.
The Silver Ridge are made with the brand's Omni-Shade technology, which provides UPF 50 protection from the sun's rays. The fabric is also light and airy, so will help to keep your legs cool on crazy hot days, and a gusseted crotch and partial elastic waist together enhance comfort and mobility.
The Silver Ridge give you a total of six pockets – two rear, two hand pockets, one cargo, and a zippered left pocket in the thigh – so you'll have plenty of room for all your gadgets and other small necessities.
The Silver Ridge aren't as durable as other, pricier models on our list like the Patagonia Quandary or Marmot Arch Rock, but they're more than tough enough for general hiking and a steal at the price.
PROs

Mesh pockets
UPF 50
Elastic waist
6 pockets
Gusset crotch

CONs

Only one zippered pocket
Not as rugged as some alternatives
Bottom-Line: An inexpensive short that's ideal for general hiking and lovers of the cargo style.
REI Co-op Sahara Cargo Short
Best Value
If you're looking for great bang for your buck and in the market for a pair of cargo shorts, it's hard to go wrong with the REI Co-op Sahara.
These lightweight shorts tick just about every box. They have two cargo pockets, two hand pockets, and two rear pockets, are highly breathable, have a DWR finish and UPF50+ rating, and boast an elasticated waist belt and gusseted crotch which enhance comfort and mobility.
The Sahara weigh just 5.9 ounces, so are the lightest cargo shorts on our list. While not as rugged or durable as the Quandary or 9 Trails, their lower price tag makes them well worth considering if you're looking for a pair of frill-free, practical, relatively low-cost shorts.
PROs

Large pockets (and lots of them!)
Lightweight
Breathable
Affordable
bluesign-approved
UPF 50+ and DWR finish

CONs

No zipper closures on pockets
Not the most stylish
Bottom-Line: Despite a few, minor shortcomings, probably the best cargo hiking shorts out there (and pretty good as casual wear too!).
Patagonia Nine Trails Short
Most Sustainable and Best for Comfort
Although the Patagonia 9 Trails have scooped our "most sustainable" award, they have a lot more going for them than sustainability alone.
These trail shorts are made with 75-denier, 91% recycled polyester, and 9% spandex. To unpack that, this makes them tough, eco-friendly, highly breathable, and extra-stretchy to boot.
Inside the outer fabric, there's also a HeiQ® Pure odor control boxer-brief liner that helps reduce the risk of chafing and keeps the "funk from your junk" to a minimum. Odor control might not be top of everyone's priority list, but if you're heading away on a multi-day backpacking or thru-hiking trip, then your hiking companions will probably tell you it should be!
In testing, we found the 9 trails to be incredibly comfortable. They're very light and breathable given the thickness of the fabric and the loose fit provides plenty of airflow. Happily, they come in a women's version too!
PROs

Durable
Stretchy fabric
Sustainably made
Side notches improve mobility
2 large zippered front pockets; the right zippered rear pocket fits a phone

CONs

Integrated boxer won't be to everyone's liking
Bottom-Line: Ideal if you're looking for a lightweight pair of shorts for trail running or hiking in seriously hot weather.
Marmot Arch Rock
Best Mobility
The Marmot Arch Rock are geared towards rock climbing, which gives the biggest clue as to why these will be an easy sell for a certain number of hikers.
As with most climbing brands, the Arch Rock places a strong emphasis on free movement and ruggedness. Made with 94% abrasion-resistant nylon and 6% elastane, they're both one of the most durable and one of the stretchiest models on our list.
Like the prAna Stretch Zion, the Arch Rock have a UPF 50+ rating and a DWR coating, so are an all-weather kinda short. Their relaxed fit and lighter, high-wicking DriClime fabric also make them standout performers in sweaty conditions.
While not quite as comfortable or well-featured as the Quandary or Stretch Zion, these are still a great pick for scrambling or hiking more technical and rugged trails.
PROs

Moisture-wicking fabric
Gusseted crotch
Durable
DWR finish
UPF 50+
bluesign-approved fabric

CONs

Patch pockets won't be to everyone's liking
No integrated belt
Bottom-Line: One of the toughest options on our list and ideal for everything from rock climbing, scrambling, and general hiking alike.
Hiking Shorts vs. Hiking Pants
Which is the best option for you? This ultimately comes down to when and where you'll be hiking, and a few other variables such as personal preference, the type of trail you're hiking, the terrain, and the presence or absence of things you don't want to expose your legs to, like biting bugs, nettles, poison ivy, sumac, or oak, and so on.
In any case, we'll add a few reasons in favor of wearing shorts:
They're lighter
Increased airflow
Better mobility
Gaiters, suncream, and bug spray can be used to protect your lower legs
No noise (we're thinking of the often annoying swishing sound caused by long pants)
How to Choose the Best Shorts for Hiking
Comfort, Fit, & Style
Fabric
Nothing impacts on the comfort, breathability, durability, and mobility provided by your shorts more than the materials they're made with.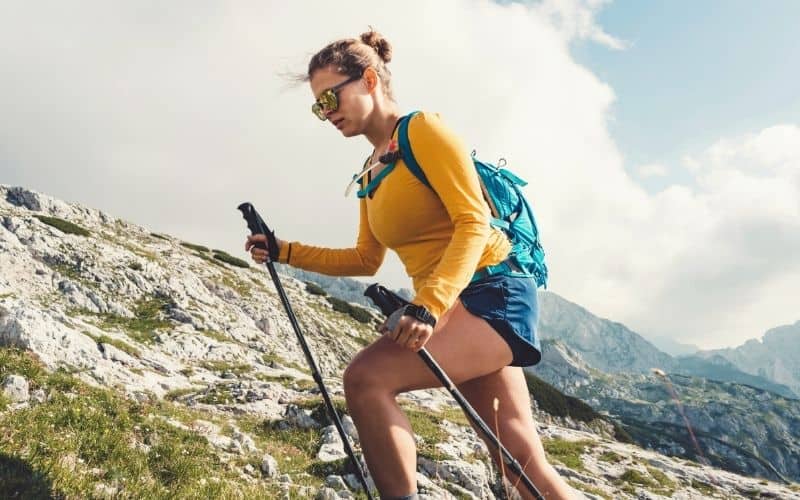 Most of the options on our list are made with a combo of polyester or nylon and elastane/spandex. While polyester or nylon provides durability, the elastane/spandex content provides stretch.
This being so, models with a higher percentage of elastane, like the Patagonia Nine Trails (9%) are typically the most mobile. And because nylon is the toughest of the three materials, those with the highest nylon content, like the prAna Stretch Zion and REI Sahara, are the most durable.
While nylon is the toughest fabric, polyester is usually the most comfortable against the skin, mainly because it's a little softer and more yielding. For this reason, shorts like the Patagonia Nine Trails score highly in the comfort stakes.
Inseam Length
This refers to the length of the shorts, measuring from the "apex" of the crotch to the hem. The shorts on our list have inseams ranging from 4 inches (The North Face Aphrodite) to 11 inches (Marmot Arch Rock).
Which length is best? This is ultimately a matter of personal preference, but shorter models typically feel lighter and airier, while longer ones provide more protection.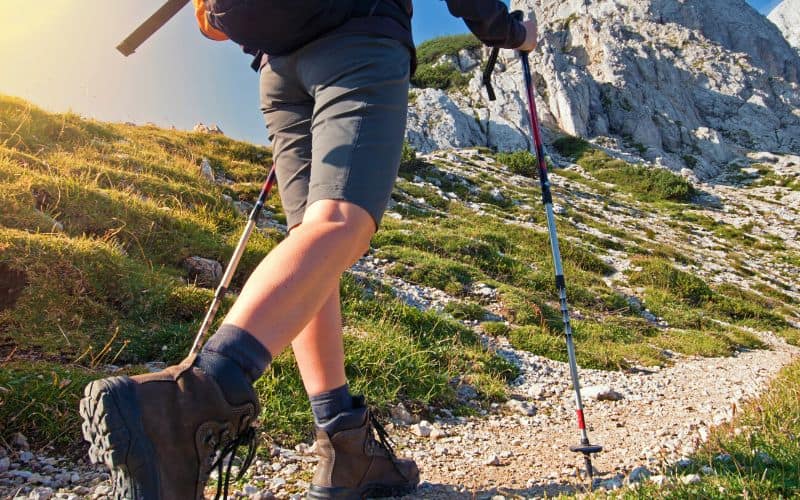 Cargo or Regular?
The choice between the two essentially boils down to two considerations: length and pockets.
In most cases, cargo shorts are longer and have more (and usually larger) pockets. So, if you want to cover more of your legs for any reason or have lots of gadgets or other small items you like to store on your person, cargoes are the way to go. Bear in mind, though, that the extra length impedes airflow, can restrict movement, and will also add weight.
If you're keen to maximize airflow and mobility, then a pair of sporty, lightweight hiking shorts or trail running shorts like the Patagonia Nine Trails are a better bet. The downside, as you might have guessed, is that you'll have fewer pockets to store all your bits and bobs.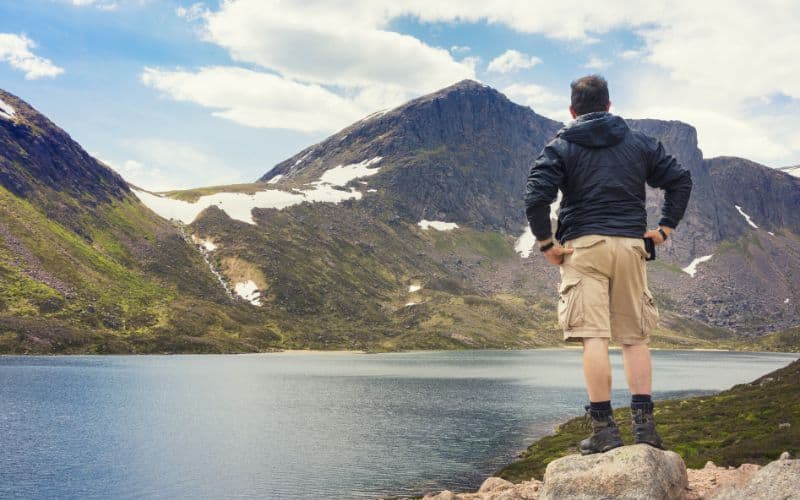 Stretch
As mentioned above, stretch is mainly determined by the amount of elastane used in the construction of the shorts and is the key contributor to mobility.
The stretchiest models we reviewed are the Patagonia NineTrails, which have 9% of elastane. This makes the Nine Trails the most mobile option on our list and a shoo-in for trail runners, fast-moving hikers, and for wearing on more technical trails. If you're looking for a longer short with plenty of stretch, we recommend the Marmot Arch Rock.
Ventilation and Breathability
Many of us are apt to think that shorts are, by design, inherently well-ventilated and breathable. But this metric can be measured in degrees, and some models on our list score far better than others.
What features or design attributes boost breathability and ventilation? The main things to look for are mesh-lined pockets, thigh vents, ventilation holes (often in the crotch), size notches/incuts, and the weight and density of the fabric.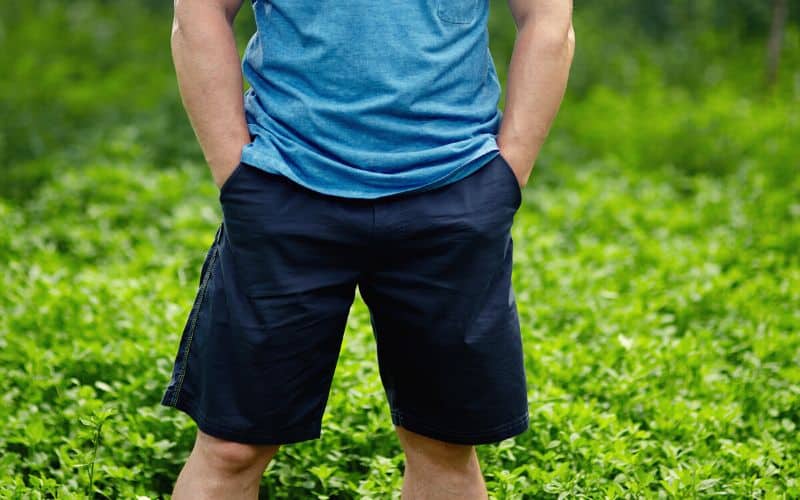 All of the models on our list have mesh pockets except for the Marmot Arch Rock and prAna Stretch Zion, though the Stretch Zion atones for this in part with the inclusion of ventilation holes in the groin area.
During testing, we found the Patagonia Nine Trails to be the most breathable and well-ventilated of the bunch, mainly owing to their lighter materials, looser fit, 2" side notches, and three mesh pockets.
Durability
Getting good value for money requires buying a pair of shorts that are built to deal with a little bit of rough treatment and will last for several seasons, if not longer.
The most durable options on our list are those made with the burliest and thickest fabric, namely the prAna Stretch Zion, Marmot Arch Rock, and REI Co-Op Sahara. The Patagonia Quandary and Columbia Silver Ridge also score above average in this metric.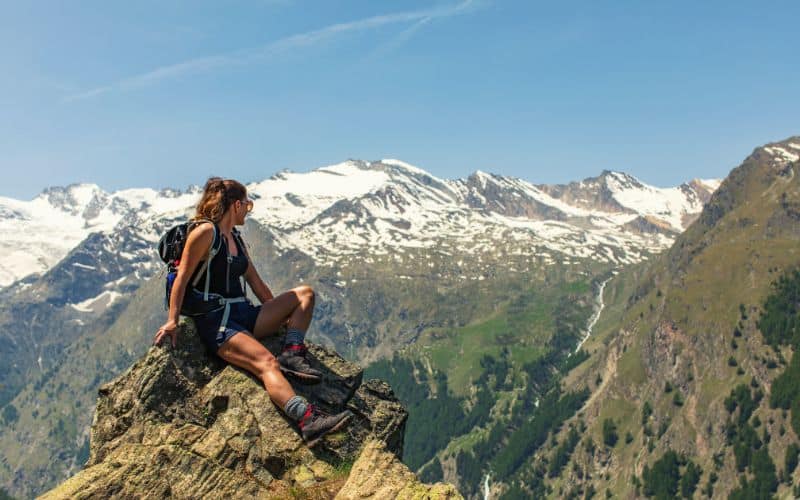 Sun Protection
In all likelihood, you're here scoping out legwear options for summer hiking. This being so, sun protection is a big deal, particularly if you live in a hot climate.
Sun protection is quantified by the UPF (Ultraviolet Protection Factor) rating system, which you've probably come across when buying threads in the past. This system measures how much sunlight can pass through a fabric. If, for example, the UPF rating is 40 (UPF 40), then the fabric blocks 98% of the sun's harmful UV rays. If it's 50+, then it blocks over 99%.
All of the shorts on our list have a UPF rating of UPF50 or UPF 50+, meaning they're standouts in sun protection.
Weather Resistance and Drying Time
Weather resistance isn't such a big deal if you're a fair weather hiker, but models like the Patagonia Quandary, REI Sahara, prAna Olivia, and The North Face Aphrodite all have a DWR (Durable Water Repellent) finish that will shed rainwater, which is handy when hiking in wet weather.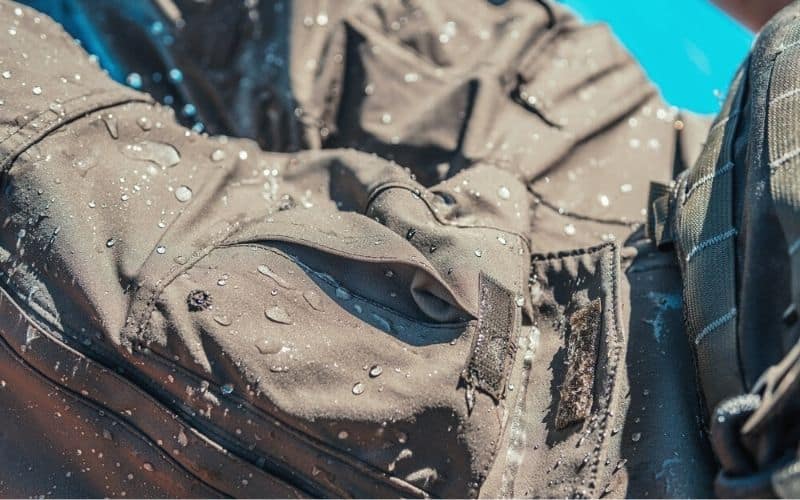 Features
A few features can seriously enhance the convenience, performance, and general practicality of any short. Some of these include zippered pockets, rear pockets, extra side pockets (on cargo pants), an integrated belt, belt loops, and an elastic waistband.
Best Hiking and Backpacking Shorts: The Verdict
Still undecided? Just in case you are, let's have a quick little recap of our top picks.
Our favorite hiking shorts overall are the Patagonia Quandary, which pipped the rest to the post owing to their impressive performance in every metric. They're tough, lightweight, protective, quick-drying, and have all the pockets you could need to store small essentials.
If the Quandary are a little out of your price range, check out Columbia's Silver Ridge Cargo Short. This cargo short does just about everything that the high-end alternatives do but at a fraction of the price.
So, how did you like our article? If you have any questions or comments, drop us a line in the comments box below. And if you'd like to share this post with your friends, please do!