Maui is one of the most unique places in the world and offers a variety of stunning hiking trails for hikers of all fitness and experience levels. There are few places on Earth where you can see a black-sand beach and lava caves on the same day – but here you can!
Our list features 12 awesome hikes on which you'll experience the best this magical location has to offer, from those black-sand beaches and lava caves to towering waterfalls and stunning ocean vistas.
Our guide also includes all the information you need to make the most of each of our top hikes.
1. Hosmer Grove Loop Trail, Haleakala National Park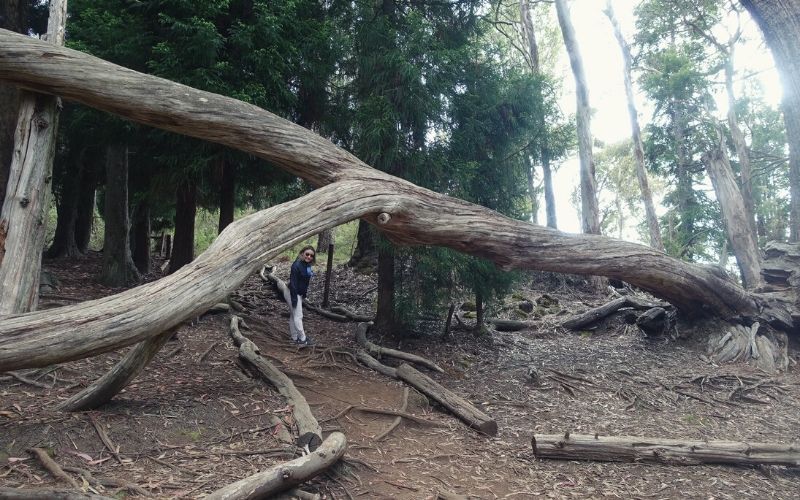 Type: Loop
Distance: 0.5 miles
Rating: Easy
Haleakala National Park's Hosmer Grove Loop is a stunning and short hike that offers great views of plants and wildlife. It takes you through the remnants of a forestry experiment where 86 foreign trees were once planted, but now less than 20 remain.
The trailhead is located just inside Haleakala National Park and starts around mile marker 10.6 on Highway 378. After entering, look out for a left turn where the Hosmer Grove Trail starts. There are public toilets near the parking area and remember that the parking fees are subject to change depending on the time of year you go.
Also, remember to help preserve the local ecosystem by staying on the trail!
RELATED READING: For more great adventures check out our page on the outdoors in Hawaii.
2. La Perouse Bay/Hoapili Trail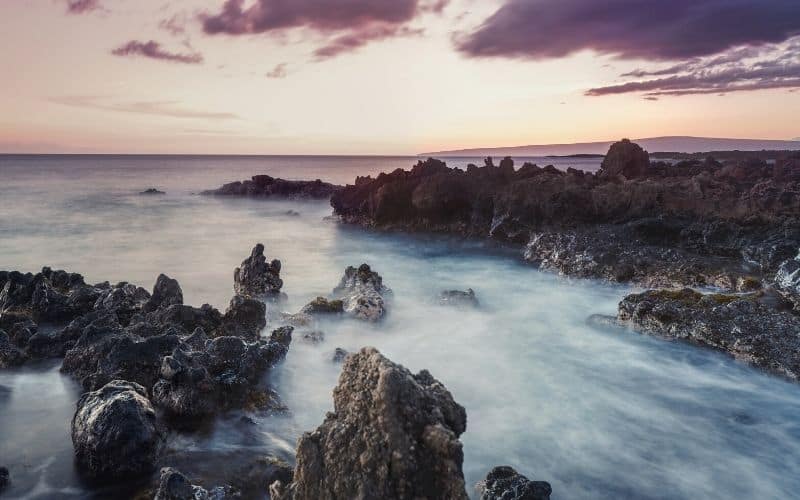 Type: One way
Distance: 10 miles/5 miles
Rating: Difficult
The La Perouse/Hoapili trail is one of the longer Maui hikes, but the mileage can be adjusted depending on your preferences.
Most travelers choose to do the shorter section of the trail along the La Perouse Bay, which is where the hike will begin. The trailhead/parking is accessible by heading to South Maui on Makena Rd. until the road ends. Soon after you'll find a large parking lot closer to the bay. The trail begins in the southwest corner of this lot.
The crowds will thin out after about a mile, as most people aren't up to the full 5 or 10-mile hike. As you continue, the trail will take you through lava rocks and sacred Hawaiian archeological sites. Pay attention to the local guidelines and signs, and have a physical map or download a map if you decide to go for the full trek as the Hoapili Trail can be tricky to follow in places.
Sun exposure and jagged lava rocks are ever-present features on this trail, so we recommend wearing real hiking boots/shoes and carrying plenty of sunscreen.
3. Twin Falls Trail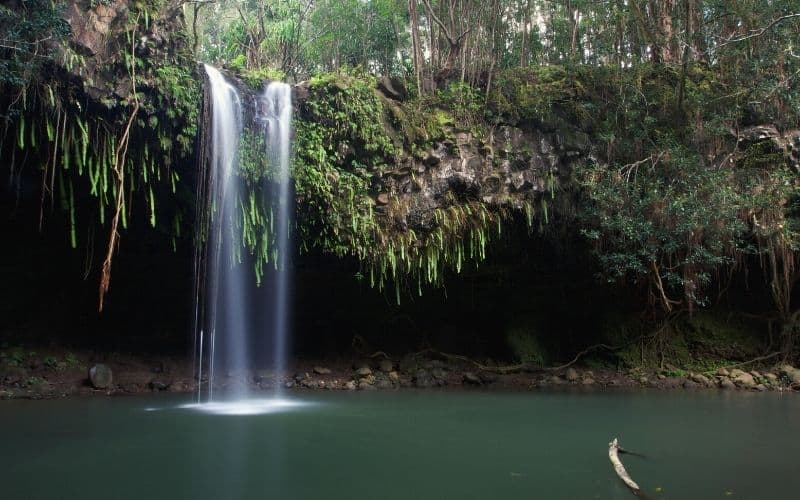 Type: Out-and-back
Distance: 1.8 miles
Rating: Moderate
The Twin Falls Trail is one of the best hikes for those who are seeking a spot of swimming and spectacular views of waterfalls. This great hike is located on the Road to Hana and has some amazing local fruit stands near the trailhead to get a pre or post-hike snack.
To find this trailhead, look for mile marker 2 on the Hana Highway. Depending on when you go, the parking lot could be full. If so, there may be open spots further down the Road to Hana.
The trail is invariably muddy, so we always suggest quality shoes and boots. Also, always be extremely cautious when swimming or crossing streams after a rainfall. Flash floods and swift currents can be deadly. Be sure to heed any signs along the Twin Falls Trail advising that swimming is closed.
4. Waihou Spring Loop Trail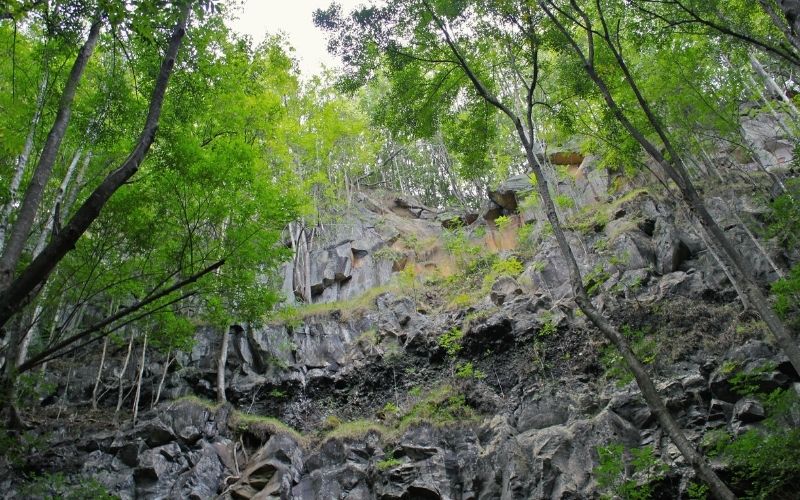 Type: Loop
Distance: Around 2 miles
Rating: Moderate
The Waihou Spring Trail Loop is a stunning hike that starts in upcountry Maui and takes you through native Hawaiian forests. You even get to see Maui's spectacular north shore.
The trailhead is just past the Olinda Endangered Species Propagation Facility on Olinda Rd. You can find trailhead parking on the side of the road (open from 7 am to 7 pm). After passing the public toilets, you'll cross through an overgrown section of the trail and down into a gulch with boulder fields.
The highlight of the hike is the descent down to Waihou Spring. Here you'll find yourself in a basin with a moss-covered wall where old tunnels have been carved into the lava.
With 850 feet of elevation gain and a few rugged stretches of trail, the Waihou Spring Trail offers a moderate challenge. But it's well worth the effort, particularly during the rainy season when you're most likely to find the spring in full spate.
We recommend rain gear and good shoes for this one (no flip-flops!).
5. Mahana Ridge Trail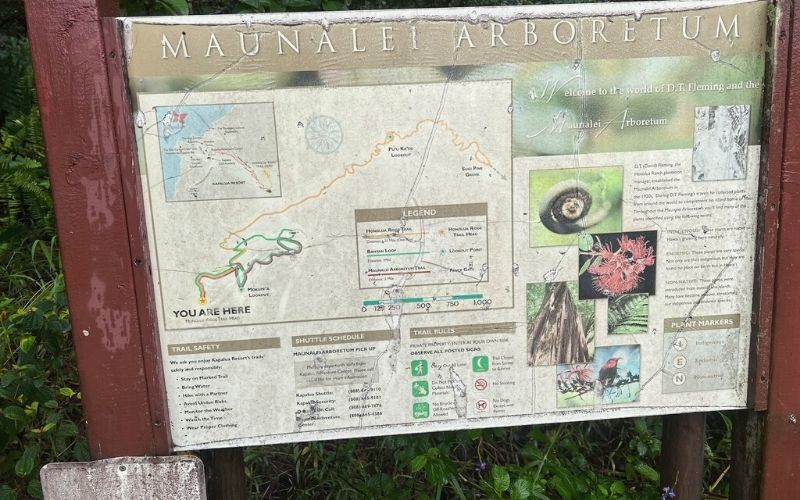 Type: Out-and-back
Distance: 9.2 miles
Rating: Difficult
The end goal of this hike is to reach the Maunalei Arboretum for the awesome views, but the rest of the trail still provides plenty of interest, most notably in the diverse array of native and introduced plant species.
The Mahana Ridge Trail starts on Highway 30 in West Maui. You'll find a road named D.T. Fleming Beach Park past the 31st-mile marker. Drive down this road to find a ton of parking with water and bathroom access. (Despite some online information to the contrary, the shuttle to this destination is no longer running.)
You'll be hiking through dense forest and putting in over 3,000 feet of elevation gain, so long pants, solid hiking shoes, and carrying a bite to eat and plenty of water are recommended. There is, however, a good turnaround point at the reservoir if you run out of gas.
6. Redwood Trail, Plum Trail, Haleakala Ridge, and Polipoli Trail Loop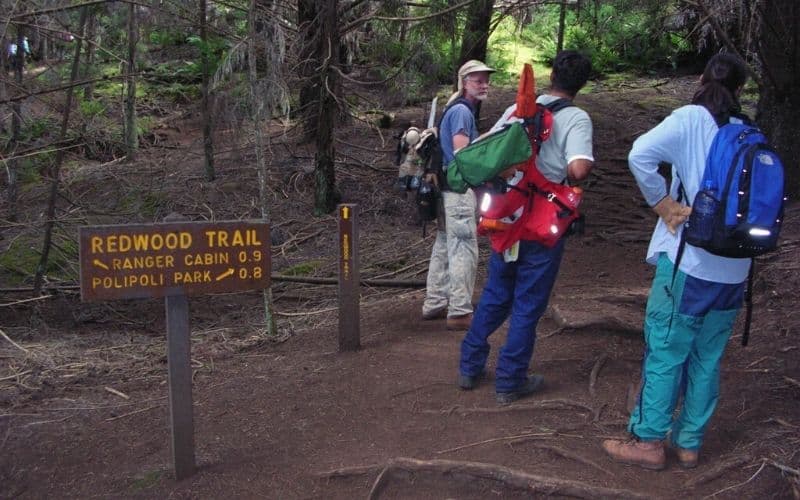 Type: Loop
Distance: 4.2 miles
Rating: Moderate
All of these hiking trails can be combined to create a big loop with great scenery of South Maui. You even get to see the beautiful wildflowers and a variety of terrain other hikes in Maui don't offer.
Unlike other Maui hikes, the trail is not well marked, especially when connecting the different loops, so we recommend downloading a map or carrying a physical one with you. The trailhead isn't the most accessible and 4-wheel drive vehicles are required to access the main parking area.
7. Lahaina Pali Trail
Type: Point-to-point
Distance: 5 miles
Rating: Challenging
Lahaina's Pali Trail is a challenging point-to-point hike that serves up breathtaking views of central Maui and its valleys.
This hike is strenuous and rocky for the most part, so good hiking shoes are a must. It's also very exposed to the sun and involves 1,600 feet of elevation gain, so bring plenty of water and sun protection.
There are 2 sides to this trail, one in East Maui and one in West Maui. The eastern side is a bit more difficult because of the trailhead access and steepness of the start, while the western side has a more gradual elevation gain. The western trailhead starts at the Lahaina Pali Trailhead. The eastern trailhead can be found just outside of Maalaea.
This area of Maui is very prone to bushfires and high winds, which is something to keep in mind. If you have the extra time, be sure to check out Lahaina's enormous banyan tree located along the coastal road.
8. Kapalua Coastal Trail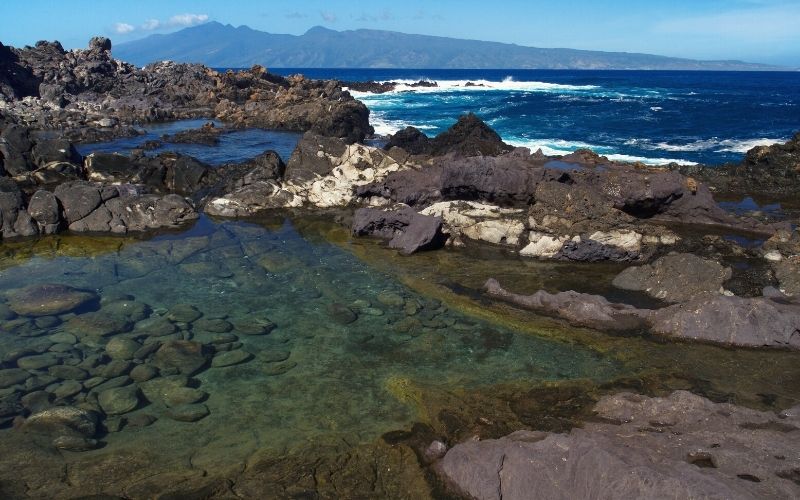 Type: Out-and-back
Distance: 2.5 miles
Rating: Easy
This is one of the more crowded trails on our list as it passes nearby and through the hugely popular – and stunning! – Napili. 
Overall, this is a very relaxing coastal trail that follows Maui's rocky shores, offering great views of the Pacific Ocean. Kapalua Beach is also a fantastic destination for sunrise and sunset photos!
This mostly flat coastal trail has 2 starting options – either the parking off of Puna Point Lane or the Ridge Road parking lot that is right off of Lower Honoapiilani Road. Both are good starting points and it's up to you as to which is more convenient – both will make for an easy hike.
Alternate parking is available in the Bay Villas Beach access lot or Fleming Beach parking lot.
9. The Iao Needle, Iao Valley State Park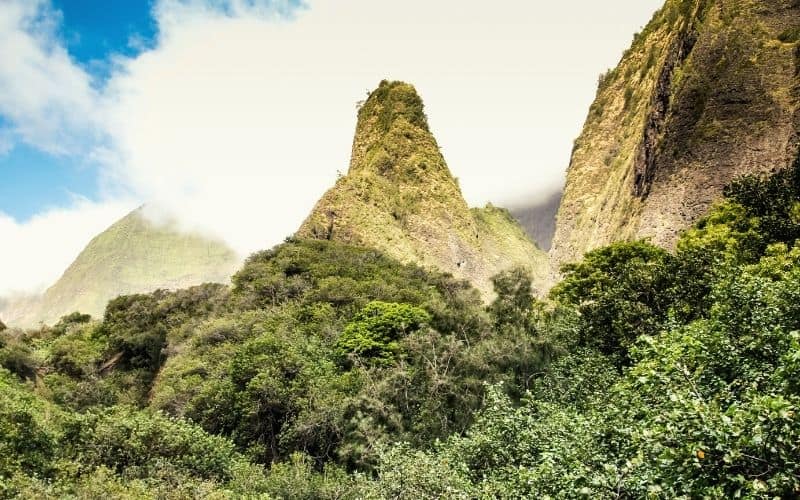 Type: Loop
Distance: 1.2 miles
Rating: Easy
The Iao Needle is the perfect hike for families with kids. The entire trail is paved and offers views of the towering Kuka'emoku (Iao Needle), an erosional rock feature rising 1,200 feet from the valley floor.
To get here, head to the end of Iao Valley Road located on Highway 32 which will take you into Iao Valley State Park. There are entrance and parking fees for those who aren't residents of Hawaii, however children 3 and under do get in for free.
10. Waihee Ridge Trail (Waihe'e Ridge Trail)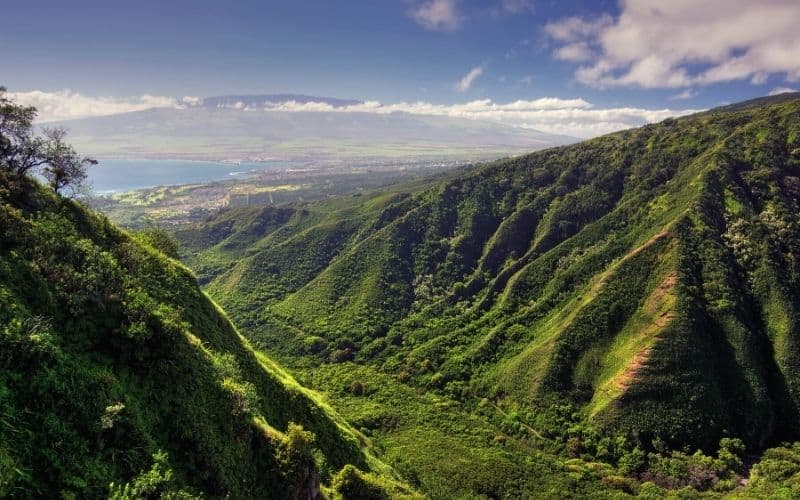 Type: Loop
Distance: 5 miles
Rating: Moderate
Located high in the west Maui mountains, the Waihee Ridge Trail gives you the chance to see the gorgeous Waihe'e Valley. The earlier you start, the better chance you'll get to see all of it – as the day progresses it tends to be covered with clouds.
To get to the Waihee Ridge Trail trailhead, head towards the Maluhia Boy Scout Camp, turn left on the road closest to the camp, and keep going for about a mile. You'll find the parking area shortly after with public toilets. Trailhead parking is open from 7 am to 7 pm.
This is one of the best on our list for viewing the West Maui Mountains. The terrain can be slippery and steep at some points, so make sure you wear solid footwear.
11. Pipiwai Trail to Oheo Gulch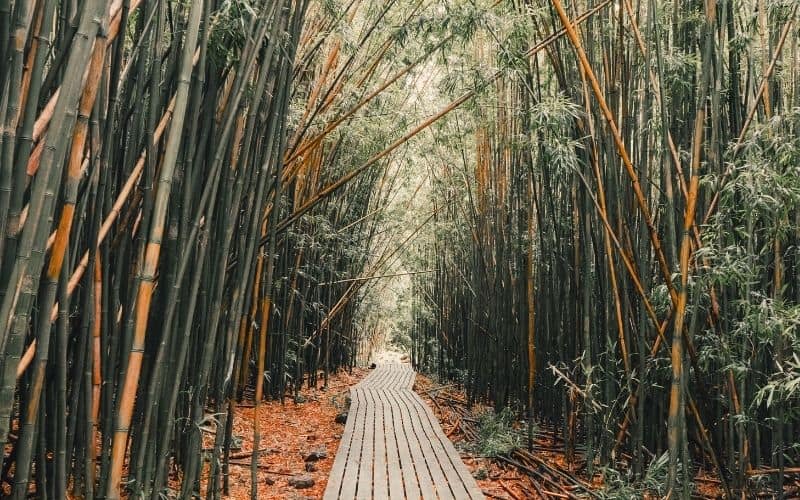 Type: Out-and-back
Distance: 4 miles
Rating: Moderate
The Pipiwai Trail is one of the best waterfall hikes on the island, offering up a truly magical experience in return for very little effort.
You'll start by heading to the Kipahulu Visitor Center parking lot, close to mile marker 42. After you park, head across the Hana Highway and go to the right to find the start of the Pipiwai Trail.
You'll pass several gorgeous waterfalls, some that are 400 feet tall, along the way, and also travel through a dense bamboo forest on the way to the exquisite enclave of Oheo Gulch.
The best bit about the Pipiwai Trail? To enjoy all of this, you only have to put in a very manageable 650 feet of ascent on a very well-maintained trail!
12. Sliding Sands Trail, Haleakala Crater, Haleakala National Park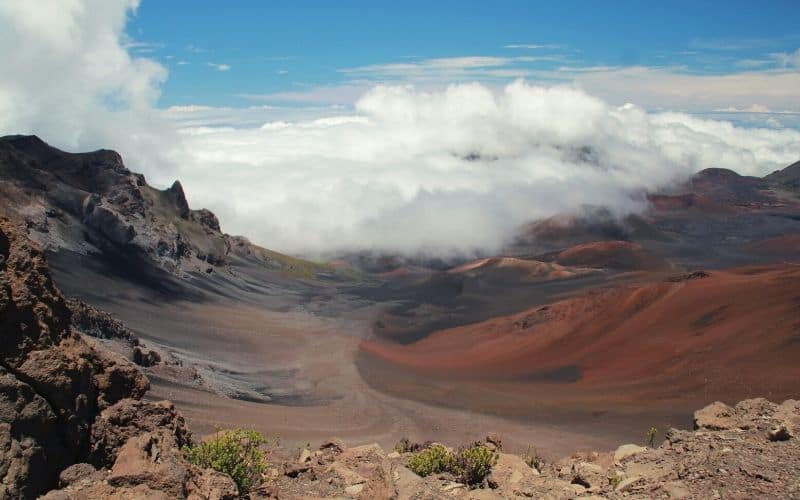 Type: Out-and-back
Distance: 11 miles
Rating: Difficult
Located in the rugged and mountainous Haleakala National Park, this is one of the best hikes for those who like a challenge.
You can choose how far you go on the 11-mile Sliding Sands Trail, and even reaching the halfway point will let you enjoy some of the most amazing views the Hawaiian Islands have to offer.
To describe this Maui hiking trail as 'otherworldly' doesn't really do it justice, but gives a rough approximation of what to expect. On the way, you'll hike down into the crater from which Haleakala National Park takes its name, immersed in a lunar landscape that takes the breath away at each turn in the trail.
The Sliding Sands Trail is usually busy, but crowds tend to thin out the deeper into the Haleakala Crater you go.
To access this hike, pay your Haleakala National Park entrance fee ($30), head towards the end of Haleakala Highway, and find the Keonehe'ehe'e Trailhead – which sits about half a mile below the actual summit of Mount Haleakala. Here you'll have access to restrooms but no drinking water, so bring plenty with you!
Sliding Sands Trail is not maintained and can be rugged in places. It also involves over 3000 feet of ascent, which makes it one of the most challenging Maui hikes on our list.
Be sure to plan ahead for the Sliding Sands hike. Depending on the weather and how busy it is, you may have trouble finding parking. If so, a good alternative is to park your vehicle at Halemau'u and hitchhike up to the Keonehe'ehe'e trailhead.
Other Fun Activities in Maui
Road to Hana!
The scenic drive known as the "Road to Hana" offers a variety of views that can be enjoyed by hiking in Maui or from the comfort of your car – waterfalls, Hana Town, the West Maui Forest reserve, and much more!
Snorkeling in Maui
Snorkeling is one of the best ways to see the island's amazing coral formations and ocean-dwelling critters. If you're new to snorkeling, you could take a Snorkeling and Whale Watching Tour. If going it alone, be sure to read up on Ocean Safety and Marine Protection.
Maui Hiking Tours
If you don't feel like tackling any of the above trails solo, there are several places that offer hiking tours, such as Hike Maui.
Best Hiking Trails in Maui: Endless Adventures
From waterfall and coastal walks and volcano and rainforest hikes, the island of Maui serves up a veritable smorgasbord of wonders to be explored! We hope this article has kindled your curiosity and provided all the info you need to make the most of your time in magical Maui!
If you used our Maui hiking itinerary, please let us know how we did! And if you're in the process of planning any of these hikes, we'd love to hear more from you so drop us a line in the box below!