As we all know, the stability of any structure is determined by the solidity and quality of the apparatus that secures it to the ground. In the case of your tent, that means your pegs or stakes.
While most of us are happy to splash the cash on a fancy tent or other camping gear, not so many are keen to splurge on mere "accessories" like stakes. Given they are responsible for preventing our fancy tents from being blown into trees, campfires, the ether, or our faces while we sleep, investing in a good set is, without doubt, the way to go.
All tents come with a set of stakes from the manufacturer, but these – in most cases – leave a lot to be desired in terms of pack weight, strength, durability, and their ability to keep your tent upright in windy conditions. If this applies to your stakes, it's time for an upgrade!
To help you choose the perfect pegs for your adventures, we've taken a look at several of the best options out there and put them through their paces.
Editor's Choice
MSR Groundhog Tent Stakes
With so many variables to take into consideration, choosing one tent stake as our top pick wasn't easy. After much deliberation, we plumped for the stake that served us best in all terrain types, all conditions, and on varying types of trip: the MSR Groundhog.
These tent pegs tick all the boxes, no matter where or when you do your camping. They're light and compact enough for backpacking, have enough holding power for howling gales and hefty car-camping tents, and unlike most tent stakes are versatile enough for use in soft, hard, and rocky ground alike.
Bottom line: A versatile, well-made, and easy-to-use stake that performs well in every situation.
At a Glance: Our Tent Stakes Recommendations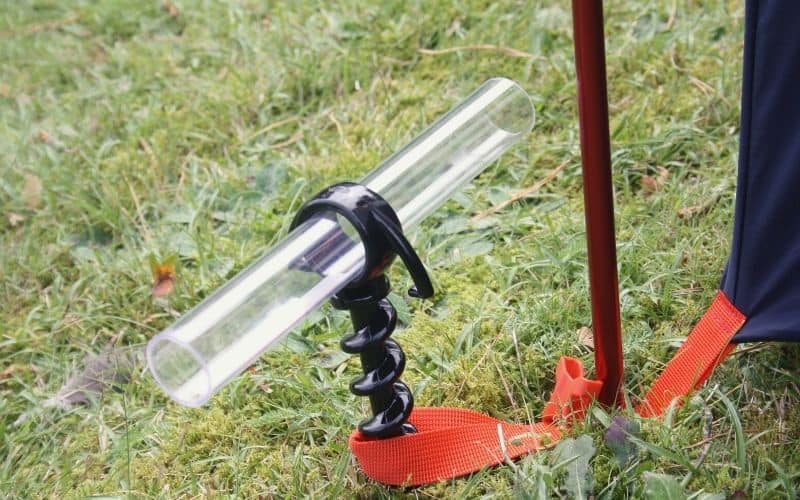 Reviews Of The Best Tent Stakes, Pegs & Anchors
MSR Groundhog
Best Overall
The MSR groundhog is a standout performer in every type of terrain. As such, it's a great pick for buyers looking for one stake that can do it all.
The Y-stake design provides enough surface area to deliver excellent holding power in soft terrain, while the tapered tip and tough materials mean it can be stomped or struck into hard or frozen ground with ease.
The Groundhog's are also light, packable, and have reflective pull cords that increase visibility and make extraction a cinch.
While not as light as the NEMO Airpin or either of the Vargo models, it holds better than all three in all but the hardest ground.
Specs
Type: Y-stake
Material: 7000-series aluminum
Weight: 0.46 oz. per stake
Length: 7.5"
PROs

Lightweight
Y-shape provides great hold
Reflective pull cord
7000-series aluminum is tougher than other varieties
Excels in a variety of terrain types

CONs

Not as tough as titanium options
Bottom-Line: A well-made and super-versatile tent peg that's ideal for minimalists, car campers, and everyone in between.
MSR Blizzard Tent Stakes
Best for Snow
Winter camping in snowy conditions? If so, there are few options out there that will provide comparable stability to the MSR Blizzard.
These snow tent stakes are made with tough, 7000-series aluminum, and use a concave design with an extra-large surface area to provide extra holding power in the white stuff. Pull cords aren't included, but can easily be attached to eyelets in the shaft.
Although the Blizzard are almost three times heavier than other snow stakes like the TOAKS Titanium Tent Stake, their extra 3" of length makes them a better option in windy conditions or softer snow.
Specs
Type: Snow/sand stake
Material: 7000-series aluminum
Weight: 1.12 oz.
Length: 9.5"
PROs

Holds well in very loose ground, sand, and snow
Shaft holes provide added grip
Extra-long
3-year warranty

CONs

Pricey
Not ideal in tough ground
Bottom-Line: A slightly heavy, but otherwise practical, stake that holds well in snow, sand, and boggy terrain.
All One Tech 12-Pack
Best Budget
These Y-shaped, nicely priced pegs are a solid option for campers looking for a cheaper alternative to the winner of our top prize, the MSR Groundhog.
Like the Groundhog, the All One Tech uses a Y-shaped design providing an impressive holding strength in various types of terrain, making them among the most versatile models on our list. They're also a generous 7" long and have a reflective pull cord for added visibility.
While not as strong, durable, or lightweight as the Groundhog, the All Ones cost a fraction of the price and, as such, offer great value.
Specs
Type: Y-stake
Material: Aluminum
Weight: 0.6 oz.
Length: 7"
PROs

Lightweight
Good holding power
Reflective cord
Value for money

CONs

Weaker than titanium models
A fraction heavier than pricier models
Bottom-Line: The versatility, light weight, and excellent holding capability of these pegs mean they offer top bang for your buck by some distance.
NEMO Airpin
Best Value
How does a pricey stake win our value award?
In addition to its light weight, tiny pack size, and impressive performance in hard ground, the Airpin scooped this prize on account of its intelligently designed attachment system. Instead of leaving you to fiddle around with knots when staking out every guy line, the Airpin uses a smart, three-point locking system that eliminates the need for knots, cord locks, or guyline tensioners.
This equals less time faffing around, and more time enjoying your whereabouts. If that ain't value, we don't know what is.
The Airpin are also the second lightest pegs in our review, after the MSR Carbon Core, and only lost out to the Vargo Nail Peg in our "Best Tent Stake for Hard Ground" category because we found the Vargo a fraction stronger and easier to stomp or strike with a foot or mallet.
Specs
Type: Nail/needle
Material: Premium 7075 aluminum
Weight: 0.3 oz.
Length: 6"
PROs

Great in firm soil
Ultralight
Lifetime warranty
Knot-free tie-in system

CONs

Pricey (but worth the extra cost!)
Not great in soft or loose soil
Bottom-Line: These funky-looking pegs are great in tough terrain and the easiest to use on our list.
Vargo Ti Shepherd´s Hook
Best Titanium Stakes
Definitely, the lightweight pegs of choice among some campers, these lightweight Shepherd's hook style pegs are a mere .3 ounces each and made with titanium, renowned for its strength. The bright, fluorescent orange coating makes them easy to spot in a variety of terrain. These hook stakes are made in the USA and are available for domestic shipping. They are just .2 inches in diameter, with 8 ½ inches of in the ground anchor power. The larger Shepherd's Hook style is designed to hold both your tent and guy lines securely in place. These are the classic tent peg design and come in packs of six without a bag.
PROs

lighter packs at only .3 ounces each
easy to spot orange coating

CONs

thin, making them more prone to bending
not designed to grip, making twisting and slipping a potential problem
do not have added features for guy lines or ropes
do not have added features for guy lines or ropes
Bottom-Line: These titanium tent stakes are light and space-saving, making them the best ultralight tent stakes available.
Eurmax Galvanized
Best for Car Camping
These oversized, heavy-duty tent stakes are ideal for a car-camping trip in blustery conditions or with larger tents.
The Eurmax are tough, galvanized steel metal tent stakes that can be stomped or driven into any type of terrain with absolute ease. They also measure a whopping 10" long and have sizable, winged stoppers that can be twisted to tweak guy line tension while staking out.
At 3.7 ounces, these are the heaviest option in our review, weighing twice as much as the next heaviest model (the Orange Screw Ultimate Ground Anchor). As such, they're not a great option for camping trips in the backcountry.
Specs
Type: Nail
Material: Galvanized steel
Weight: 3.7 oz.
Length: 10"
PROs

Extra-long
Strong and durable material
Great holding power
Flat head makes it easy to stake down
Great value for money

CONs
Bottom-Line: This steel tent stake wins no prizes for minimalism, but it's a great option for car camping, heavy tents, or blustery conditions.
TOAKS Titanium
Best for Soft Ground
Camping in snow, loose sand, or boggy conditions? If so, then TOAKS are well worth a place on your shortlist.
These V-shaped pegs combine a large surface area with a perforated shaft to provide outstanding holding strength when ground conditions are soft.
They're also made with highly durable titanium, weigh a tiny 0.4 ounces per stake, and measure 6.5 inches in length.
While a few inches shorter than the only other sand/snow stake in our review, the MSR Blizzard, they're also almost three times lighter and half the price.
Specs
Type: V-stake
Material: Titanium
Weight: 0.4 oz.
Length: 6.5"
PROs

Awesome in sand and snow
Durable
Lightweight
Perfect tent stakes for beach camping

CONs

No pull cord
Not ideal in harder ground
Bottom-Line: A rugged, hard-wearing stake that comes into its own when softer underfoot conditions require a little more nuance and holding power.
Vargo Titanium Shepherd's Hook Stakes
Best Hook Stakes
These lightweight tent stakes are a solid option for traditionalists who prefer the unfussy functionality of a shepherd's hook design but want a little more strength and a little less weight than aluminum.
Like all hook pegs, these aren't the easiest to stomp/hammer into the ground and have poor holding strength in loose soil. If these metrics are a priority, we recommend flat-headed, V- or Y-shaped options like the MSR Groundhog or All One Tech. That hooked head, however, does make it very easy to extract the Vargos when it's time to decamp.
At 0.3 ounces, these are also among the lightest tent stakes in our review, and their titanium construction makes them tougher than most of the hook-style pegs supplied with tents by manufacturers.
Specs
Type: Hook
Material: Titanium
Weight: 0.3 oz.
Length: 6.5"
PROs

Strength and shape retention
Easy to extract
Ultralight
Stuff sack included

CONs

Poor holding power in spongy or looser ground
Pricey for hooks
Bottom-Line: The hook-style pegs look like generic, standard tent stakes, but bring added strength and durability thanks to their titanium construction.
Orange Screw Ultimate Ground Anchor
Best Ground Anchor
When holding power is top of your priority list, the OS Ground Anchor is the stake you need!
This corkscrew-style stake is made from recycled plastic and is surprisingly tough and durable. To use it, all you need to do is poke the tip into the ground and begin turning the handle on the head. Thirty seconds later, you'll have a bombproof anchor that even the stormiest conditions will be unable to shift.
The OS's outstanding holding capabilities make it a great option for heavy family tents and wild weather. Its bulky dimensions and hefty weight, however, mean it's a less suitable option for backpacking. For this lightweights like the MSR Groundhog, which isn't as grippy but weighs a whole 1.3 ounces less will be a better option for you.
Specs
Type: Ground Anchor
Material: Durable recycled plastic
Weight: 1.8 oz
Length: 9.5"
PROs

Outstanding holding power
Recycled materials
Relatively lightweight (for plastic stakes)
Useful handle for easy insertion/extraction

CONs

Bulky
Expensive
Overkill for most conditions
Bottom-Line: It may be a little on the bulky and heavy side, but this intelligently designed ground anchor is among our favorite camping stakes for extreme conditions.
MSR Carbon Core Tent Stake
Best Ultralight Tent Stakes
These game-changing pegs are ideal for buyers keen to ensure their pack's loaded with no more weight than is necessary.
Weighing a measly 0.2 ounces, these are the lightest on our list, trumping even featherweight titanium options like the NEMO Airpin and Vargo Titanium by 0.1 ounces per stake. The difference may be negligible, but if you're on the type of trip where every gram counts…
The good news is that the MSR Carbon are relatively strong, come with a reassuring 3-year warranty, and easily penetrates firm ground thanks to their needle-style design and mallet-friendly top.
The bad news is that they're less durable than the titanium options featured above and are so pricey that you might have to remortgage your home to finance a purchase.
Specs
Type: Needle
Material: Carbon fiber core
Weight: 0.2 oz.
Length: 6"
PROs

Ultralight
Strong
3-year warranty
Flat top for easy insertion with foot/hammer
Great in firm ground

CONs

Not as durable as most stakes featured above
(Darned) expensive!
Bottom-Line: Weighing a mere 0.2 oz, these surprisingly strong carbon needles are ideal for multi-day trips when you need to pack light.
Do You Really Need New Tent Pegs?
All too often, the generic tent pegs supplied with tents by manufacturers aren't fit for purpose. While they may survive a few outings if you're pitching on softer ground, in most cases they'll break or bend to the point of uselessness after a few trips. They also usually lack the design characteristics required for stability and hassle-free pitching in more challenging terrain.
Even if your tent is sold with a set of passable pegs, it's likely your camping experience could be seriously improved by investing in an upgrade. Aftermarket sets, for the most part, are more robust, have superior holding power, and boast features that make them both easier to use and more suitable for use in varying terrain types.
Snow/sand stakes, for example, excel in softer ground, while nail or needle-style models trump the best of the rest when conditions underfoot are rocky or firm. And when the conditions are wild, screw stakes will provide the added stability and holding capability you need.
How to Choose Tent Stakes
When choosing tent pegs, the most important factors to consider are the type of terrain you anticipate using them in, the quality of the materials, weight, design, ease of use, and holding power.
Which Terrain Will You Use Them In?
There are different kinds of camping tent pegs and tent anchors that cater to different underfoot conditions: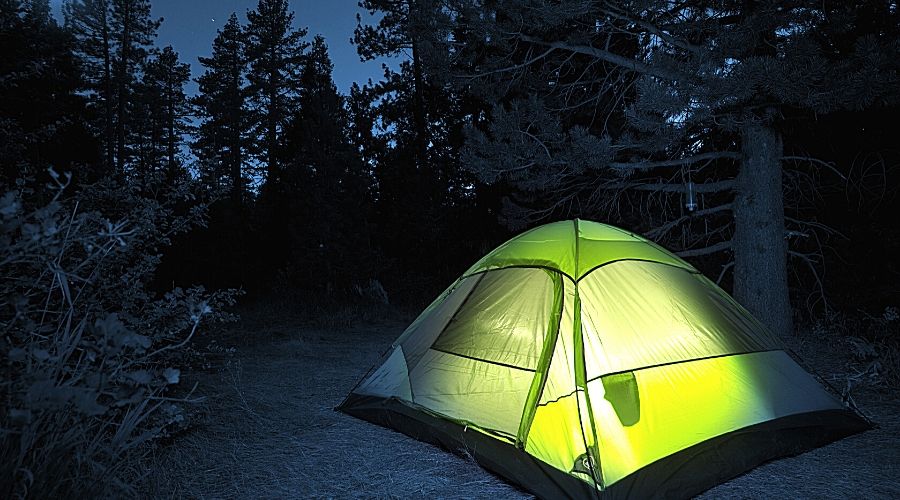 Loose terrain
In loose terrain, such as sand or snow, pegs with wide blades and a larger overall surface area will provide the best holding power and stability. Some wide-bladed pegs also have a concave shape that improves grip and/or a series of holes that increase friction between the stake and the terrain.
Our favorite tent stakes for softer ground are the MSR Blizzard snow/sand stake and the TOAKS Titanium, both of which anchor in the soft stuff twice as well as standard nail or hook pegs.
Pro-Tip: When pitching in sand or snow, it's a good idea to use the "dead man" technique. This involves weighting the top of the inserted stake with a bag of sand/snow to keep it in place.
Hard ground
Penetrating hard-packed ground requires a narrower stake with a sharp point, a strong top that can be struck with a mallet, and be made from tough materials that won't bend or break when stamping or hammering them into place.
Our favorite stake for firm ground is the Vargo Titanium Nail Peg, which weighs just 0.3 oz making it a great option for backpacking. A close second is the Eurmax Galvanized, whose 3.7- ounce weight makes it a better option for car campers.
Types of Tent Stakes
V-Pegs
Shaped (as the name suggests!) like a 'V', this style of stake provides good grip because it can't rotate in the ground and has a greater surface area than a nail or hook peg.
Example: TOAKS Titanium Stakes.
Y-Stakes
Similar to V-pegs, these have an extra "wing" to provide extra holding strength and make them less likely to bend when stamped/hammered into compacted ground. These can be tricky to extract, so we recommend choosing ones with a pull cord to simplify removal.
Examples: All One Tech and MSR Groundhog.
Hook Stakes
Aka "shepherd hooks," these are the classic tent spikes typically supplied with tents by the manufacturer. Hook pegs are compact, affordable, and relatively lightweight, but offer the lowest holding power due to their smooth, cylindrical profile. They also bend easier than any other style of stake in our review, so are more suitable for medium-soft ground.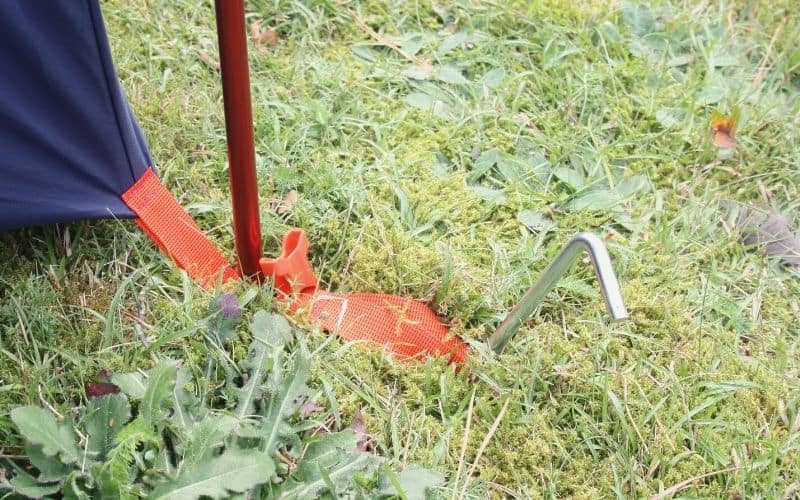 Example: Vargo Titanium Tent Stakes (Shepherd's Hook).
Snow/Sand Stakes
These are usually V or Y-shaped with the holding capability further increased by having a wider surface area. The most effective also feature holes or "teeth" that improve grip in softer ground. When camping in the snow, titanium models are a better option since aluminum is known to break in freezing conditions.
Examples: MSR Blizzard and TOAKS Titanium Tent Stake.
Needle/Nail Stakes
These have sharp tips that make it easier to pound or stamp them into very hard soil, and often a flattish head that can be struck with a hammer. To avoid breakage or bending, most are also made with tough materials like galvanized steel or titanium.
Examples: Eurmax Galvanized and Vargo Titanium Nail Peg.
Ground Anchors
These screw-in tent stakes (aka "spiral tent stakes") are designed to provide maximum holding strength in extreme conditions. Resembling giant corkscrews, they are twisted into the earth until the entire spiral section is anchored.
Example: Orange Screw Ultimate Ground Anchor.
Holding Power
This refers to how strong a hold any stake provides in terrain, and is directly proportional to the length and area of the surface of the stake. Longer and wider models, therefore, are usually a better option for pitching in looser terrain or in particularly wild conditions.
Ease of Use
This refers to how easy it is to get your pegs into the ground when pitching and then out again when it's time to decamp.
As mentioned above, pegs made with tougher materials, have pointed ends, and a flat top that can be struck with a mallet or pushed in with a foot are the easiest to insert without breaking or bending. On the other hand, hook and aluminum stakes are often tricky to stake out when the ground is any harder than butter.
When it's time to head home, the easiest pegs to remove are those with something you can yank on – either a hook or a loop of cord-like those used on the MSR Groundhog. In some cases, these loops will be reflective for added visibility, which will (hopefully) help you avoid stubbing toes or spilling your nightcap when moving around camp at night.
Material & Design
Titanium
Durable and the lightest option available
Highest strength-to-weight ratio
Can bend without breaking, making it an excellent choice for camping on hard ground
Expensive
Examples: Vargo Titanium Nail Peg, Vargo Titanium Stake, TOAKS Titanium.
Aluminum
Lightweight, cheap, easy to replace
Not as strong as titanium or steel stakes
Bend easily (particularly hook pegs)
Examples: All One Tech and MSR Blizzard.
Steel
Strong and durable
Cheap
Rust-resistant
Heavy
Example: Eurmax Galvanized.
Carbon
Ultralight
Prone to breakage
Pricey
Example: MSR Carbon Core Tent Stake.
Plastic
Lightweight
Inexpensive
Relatively durable
Often made in bright colors for increased visibility at night
Weight & Packability
While this metric isn't quite so consequential for car campers, for backpackers, every ounce of weight saved will make your life a little easier.
The lightest materials are carbon and titanium (aluminum is a close third), while the heaviest is any variety of steel, and the bulkiest is plastic.
The lightest pegs in our review are the MSR Carbon, weighing in at just 0.2 oz. per stake. The heaviest are the Eurmax Galvanized, which tip the scales at 3.7 oz.