Editor's Choice
MSR Groundhog
The MSR Groundhog comes out on top as the best tent stakes. The innovative Y-shaped design allows it to grip anything from soft to hard soil without twisting. Made with 7000-series aluminum it is not as likely to bend or break under pressure, and is easy to drive into the ground.
At a meager 0.35 oz per stake these lightweight tent stakes will satisfy the weight requirements of even the most ardent ultralight backpacking gram counters among you.
Other little features like the pull loops to help with removing the stakes from the ground push these over the top.
Bottom line: with good holding power, a low weight and the ease at which it drives even into harder ground all combine to make the MSR Groundhog as our top pick for best tent stake.
The Best Tent Pegs for Camping & Backpacking
Looking For A Great Set Of Tent Stakes
You're in the right place! In this guide, we will be covering the following:
Why you should upgrade your tent stakes.
Types of stakes & what to look for.
How to stake out a tent
Which tent spikes get our seal of approval
Camping is exciting and fun, but you could have less fun if your shelter blows away or you end up sleeping in wet bedding & wearing wet clothes. Or, you know, you get eaten by bears, which is a whole different issue.
Having the proper pegs is important for a variety of reasons, but it is something most people often do not consider. All shelters you buy will come with a set of tent stakes from the manufacturer. Most often, since they are included, people do not wonder if they are the best option or even an adequate one. Particularly with the budget end of the market, this is not the case.
Purchasing new tent stakes for your tent is usually the cheapest way to make your pitch easier in rocky soil or hard ground. A decent set of tent stakes will also make it more likely your tent stays in one place in windy conditions.
Lastly, for those more unusual camping trips to the beach or in winter, then stakes designed for snow or loose sand are the way to go.
We've taken a look at several of the top tent stake brands, and run them through their paces in every from soft soil, loose sand, and rocky soil to see what they're made of.
Types Of Tent Stakes: What Difference Does It Make?
You may ask yourself, "What difference does it make? A stake is a stake is a stake, right?" Wrong. It makes a huge difference in several ways.
The main reason for this is that staking out your tent does more than simply keep it on the ground. Most tents are designed to be waterproof, but the effectiveness depends on how tightly staked it is. You have to ensure that the bottom of the shelter is taut and stays taut.

The reason for that is that rain or groundwater will seep inside if it has not been tightly staked, no matter how "waterproof" it is supposed to be. Stakes designed to grip and not twist are the best ones to use as they are more likely to keep your tent taut.
Most tents also come with covers that are designed to be protective, but they do not just lay over the top of your shelter. You will notice that each of the guy lines for the cover are even with the corresponding tent stake holes at the bottom of your tent.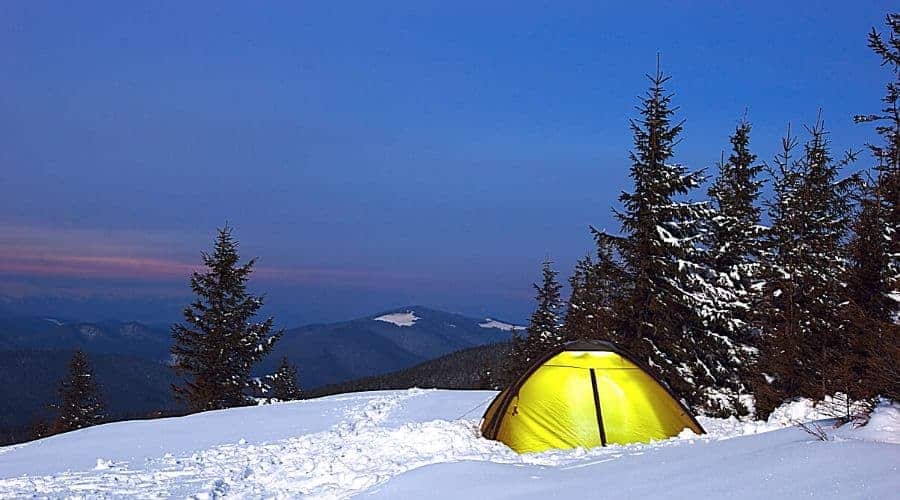 The reason they match up is so you can tie or hook the guy line to the tent stake. You have to tie down the cover, making it tight, in order to keep out rain and dew. Dew falls and will drip through your cover, making everything inside damp. The guy lines are designed to attach to the tent stakes so you can secure them tightly without creating a spiderweb of potentially hazardous lines through your campsite.
You should be able to easily attach your guy lines to your tent stakes without compromising their seat. Also, if you are not using a good stake, each time you walk around, or trip over a guy line, you will loosen your tent stake.
Things To Remember When Choosing The Best Camping Stakes
One thing you need to remember when choosing your tent stake is that you need to be able to pound it into the ground. Usually with a hammer, although you could use a hatchet or even a rock if you had to. The point is, the stake has to be able to withstand that kind of treatment without bending or breaking.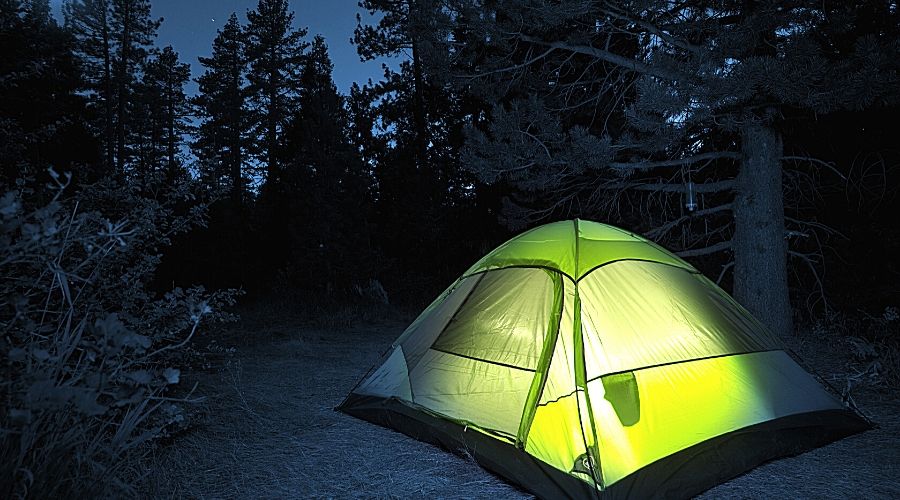 If you think a plastic stake or one that is little more than heavy-duty wire with a bend in it is sufficient, you need to think again. Plastic tent stakes are one of the worst types to use. While the plastic anchors do feature the Y-design, they are very hard, if not impossible, to pound into hard-packed earth without breaking. Metal tent stakes are much more durable, and easier to drive into hard ground.
The Shepherd's Hook style of tent stakes are only slightly better, as they usually will go in the ground, but they also are more prone to bending. The Shepherd´s Hook tent pegs will also twist and slip, causing your rainfly to be "loose" when it should be "tight".
Another thing you need to remember when choosing camping stakes is length matters. Tent stakes are available in many different lengths, but a short tent stake will not seat in the ground well enough to keep your shelter firmly staked, and that is what you need. It is best to choose anchors that are longer, making it possible to pound the stake in deeper so they will not work loose from the ground as quickly.
How To Stake A Tent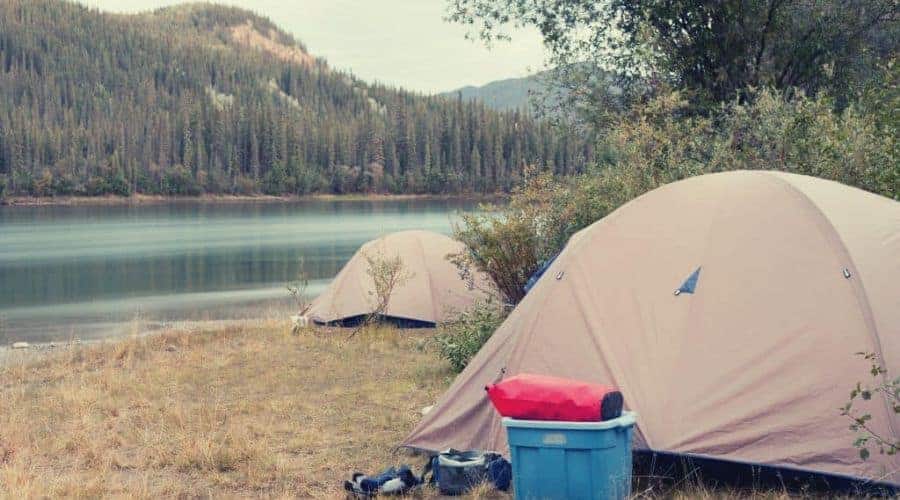 How hard can that be, right? There is more involved than you might think when it comes to pitching out your tent.
This cannot be said enough: it has to be tight. After spreading the shelter out and assembling the poles, or popping it up as the case may be, you need to go around to each stake hole around the bottom, pull it tight, and pound in your stake. Pulling it tight is very important.
Next, spread your rainfly cover over the top, matching up the guy lines with the pegs, and tie or otherwise fasten the lines to the pegs.
Finally, go around to each stake and make sure the stake is still seated firmly in the ground, even if it means having to move the stake a little to accomplish this.
You may even need to make sure your stakes are still snug in the ground every few days, depending on the length of time you are there, the traffic in and out of your shelter, and the weather conditions. Certainly, if you notice there are drips or seepage in your shelter, you need to re-check your stakes and take steps to make them tight and snug.
Review Of The Best Tent Anchors & Pegs
MSR Ground Hog
Best Tent Stakes
Made with 7000-series aluminum, this stake is strong and built to take the abuse of repeated use. Available in two sizes, Regular (7.5") and a Mini (6"), you will have no trouble finding the one to fit your needs.
Lightweight as well as durable, each peg weighs only 0.35 oz, making them perfect for treks where every ounce matters.
The hook at the top will easily secure a 5mm cord, which enables you to easily attach your guy lines while also keeping those guy lines from slipping off the top of the stake.
The racy red paint looks fantastic and makes them easy to spot in any terrain. The innovative y-shape design provides a greater surface area for better grip in a variety of soil types, from soft soil to rocky ground. This design also results in less slippage while making seating the stake easier. Your fingers will be safe during stake removal due to the strong cord attached to the top of the stake, all you have to do is pull!
PROs

Durable 7000 series aluminum
Comes in two convenient sizes, mini and regular
Y-stakes for better grip
much easier to set and remove

CONs

Guy lines thicker than 5mm may be problematic
Bottom-Line: If durability and strength are what you are looking for, this stake is one of the best & our top pick for the best tent stakes on the market.
HJH® Outdoor Products Aluminum
Best Snow Stakes
Made with aluminum, they are well designed and ideal tent stakes for beach camping, as well as camping on snow.
The excellent design features a wider, longer stake with an innovative "U" shape to make these sand stakes much stronger and more durable for repeated use. This great stake also features six holes measuring .42 inches in diameter, giving you more options when rigging your shelter.
They are 1.38 inches wide, 12 inches long, and weigh only 1.76 ounces each. They are available in packs of six. They are easy to use and easy to remove, making them ideal for beach or winter camping. These are one of the best sand and snow tent stakes on the market, making it easy for you to take your camping adventures to the beach or the mountains!
PROs

12 inches long and 1.38 inches wide for better stability
made with aluminum for superior strength
longer and wider, with a "U" style design to make them stronger
made with 6.42 inch diameter holes for easy rigging
sold in packs of six for your convenience

CONs

May become unstable in harder packed snow
Only come six to a pack
Bottom-Line: Thanks their wide design they are easily the best tent stakes for sand or snow.
SE 91NRC10 Glow In The Dark Metal Pegs
These three-sided tent pegs are made with 7075 aluminum compound, making them super light and very strong. Each stake weighs just 12 grams, and they are ½ inch in diameter. They will provide a secure anchor for your shelter, and are designed to grip in the soil to prevent slipping. The 7 inch shaft length will ensure that your shelter hugs the ground firmly, and the added cord loop on the top makes removal a breeze.
The "Y" design will keep your nail stake in a wide range of soil types. Strong and durable, you won't have to worry about bending or breaking, and the notched top provides secure fastening for guy lines or rope. They are available in a variety of colors and are sold in packs of twelve with a bag for your convenience.
PROs

are light, just 12 grams per stake and ½ inch in diameter
made with durable 7075 aluminum compound
have the innovative "Y" design for better grip
come in a variety of colors

CONs

only available in one length (7")
do not come in a variety of pack sizes
Bottom-Line: You will get peace of mind when you use these nail stakes
All One Tech 12 Aluminum Outdoor
Best Camping Tent Stakes
These strong and heavy-duty tent stakes are ideal for anchoring your shelter or for anchoring your outdoor items at home. These pegs can be used on patio and garden structures, pavilions, canopies and much more.
Made with galvanized steel, with large, bright green PVC stoppers for easy seating with mallet or hammer. For more secure anchoring, the stoppers feature eyelets to easily attach hooks or ropes. The corrosion-resistant, milled points are designed to easily prod into even hard ground and give extra holding power. They are each 10 ½ inches long and 8mm in diameter for durability and strength, even with repeated use, and come in 10 or 20 packs. The packs of 20 weigh in at 4.35 pounds and they are not designed to grip in the soil, making them more likely to slip and twist.
PROs

shafts that are 10 ½ inches long and 8mm in diameter
sturdy PVC stoppers equipped with eyelets for easy anchoring
galvanized steel tent stake for durability

CONs

heavier than aluminum stakes, weighing 4.35 pounds for a pack of 20
prone to twist and slip in some terrain
Bottom-Line: For car camping with the family or securing structures at home, these are a great deal!
Vargo Ti Shepherd´s Hook
Best Titanium Stakes
Definitely, the lightweight pegs of choice among some campers, these lightweight Shepherd's hook style pegs are a mere .3 ounces each and made with titanium, renowned for its strength. The bright, fluorescent orange coating makes them easy to spot in a variety of terrain. These hook stakes are made in the USA and are available for domestic shipping. They are just .2 inches in diameter, with 8 ½ inches of in the ground anchor power. The larger Shepherd's Hook style is designed to hold both your tent and guy lines securely in place. These are the classic tent peg design and come in packs of six without a bag.
PROs

lighter packs at only .3 ounces each
easy to spot orange coating

CONs

thin, making them more prone to bending
not designed to grip, making twisting and slipping a potential problem
do not have added features for guy lines or ropes
do not have added features for guy lines or ropes
Bottom-Line: These titanium tent stakes are light and space-saving, making them the best ultralight tent stakes available.
Conclusion
With such a wide variety of tent stakes available, it is easy to set up camp no matter where your adventures may take you. Pack up your tents and sleeping bags and get ready to enjoy the great outdoors!
Last update on 2021-07-30 / Affiliate links / Images from Amazon Product Advertising API