Best Tent Brands (and Shelters) of 2023
Looking for a Guide to the Best Tent Brands
You're in the right place! In this guide, we will be covering the following:
What considerations should you keep in mind
What features to look for
Our pick of the best tent brands on the market
More detailed reviews of specific tents
There's nothing quite like the idea of camping out and falling asleep under the stars, listening to the sounds of wilderness and different animals as you drift off.
In reality, no shelter at night means tons of bug bites, freezing temperatures and high winds with nothing to contain your body heat, and exposure to terrible weather like torrential downpours and snow flurries.
Though these difficulties do come with spending time outdoors, you can sleep protected from the elements while still enjoying the outdoors. How? By choosing a great tent brand.
Here are our top picks for the best tent brands:
MSR
Big Agnes
Coleman
Kodiak Canvas
Kelty
R.E.I.
The North Face
Do
Have a clear understanding of what type of camping you want a tent for
Have an idea of what size of tent you need
Think about whether you will use it in the summer, or all year round
Don't
Let price be your main deciding factor
Overlook the material/fabric specifications – is it sufficient for your purpose?
Considerations
Here are some frequently asked question answered about how to find the best tent for you…
How Many Seasons Do You Plan To Camp?
When buying a tent, buyers need to think about what types of weather the tent is going to be used for. Oftentimes, tents are made for warmer weather but don't explicitly state this on the label. If your plans might take you camping in the winter, then consider looking for a tent that is specifically designed to withstand high winds, snow and sleet, and cold temperatures.
Winter tents are often more durable and hold heat better. Similarly, if your plans might take you camping in the summer, look for a tent with a rain fly. In inclement weather, the rain fly will prevent you and your gear from being drenched. In great weather, you can still look up at the night sky without worrying about waking up with mosquito bites. There are also tents that perform for all weather, but take into consideration what you might need, first.
How Many People Are Going On The Trip?
Quite a straightforward question. If you are a solo hiker, then you will probably want to opt for a single-person tent (or maybe a two-person tent if you like a bit of extra space). Yet, if you have a family with five little ones running around, you'll want something a little roomier. You can check out our buyer's guides for specific sizes of tents below:
How Are You Planning On Getting To Your Campsite?
If you might be planning on camping only at campgrounds and plan on bringing all of your gear in a vehicle, then any tent that you choose may work for you. However, those who are planning on going backpacking or hiking to their campsite may experience some difficulty with heavier tents. Consider the two options below:
The heavier a tent, the more it will weigh down a backpack. Larger tents may also take up more space. When searching for the best tent for you, definitely consider how you plan on traveling to your campsite. If backpacking is a favored option, also plan on buying a tent with a very sturdy bottom that can withstand cold temperatures and rocks, since areas not in a campground will not be well maintained.
Features To Look For When Searching For the Best Tent
Tent Poles
Tent poles hold up the tent fabric and create the structure of the tent so that it doesn't fall down or succumb to the wind. When looking at tent poles, you might want to keep in consideration where you are planning to camp and what types of weather you might camp in.
Aluminum tent poles are much stronger than carbon composite or fiberglass poles. Durability is a major factor in tent poles if you might plan on camping in high-wind areas. However, aluminum tent poles are often more expensive and are much heavier than other types of poles. This means that backpacking with aluminum tent poles might be difficult if you plan on traveling far. Though, if you are taking a shorter hiking trip, the aluminum poles compensate for the slight weight difference in their durability.
Tent Fabric
A critical feature when buying a tent is the fabric that the tent is made from. Tents can be made from many different types of material, and some are constructed from cheap nylon that rips easily and feels thin. This causes uncomfortableness, susceptibility to rain and moisture, and can tear if anything pushes up against the tent poles and creates tension.
Rip-stop nylon fabric is a better alternative to cheaper tent fabrics and will keep you safe, warm, and dry while you are camping. Rip-stop nylon is an excellent option for families with little ones that may not be so careful. This type of fabric can endure shoes in the tent, pushing on the tent poles, and even harsh rain and winds.
When you look at tent fabrics, you should also look for a tent that features material reinforcement. This means that all stress points (the points that are pushed on the most, like the tent poles or the tent opening) are reinforced, and the material is at least four layers thick. When your tent material has multiple layers, it becomes stronger against tears.
Tent Rainflys
A super durable rainfly is essential to any decent tent. Most rainflys are removable, which means that you can take them right off of the tent and store them away while you look up at the stars. Roof-only styles won't have this option and will either just have a tent roof, or won't have an easily removable piece to take off to enjoy the outdoors.
Additionally, removable rainflys allow some breathing room. Underneath the rainfly, there is usually a mesh vent that allows you to bring fresh air into the tent. Roof-only styles also are more susceptible to rain and moisture leaking inside the tent. In these styles, the rain drips down the side of the tent and at the base perimeter. Then, the corners and bottom of the tent can soak in the rain and will cause the bottom of the tent to flood. This is a terrible situation to be caught in.
Straps, Loops, Pockets & Other Accessories
A good tent is going to have straps everywhere for easy assembly and easy living. Some examples include hold-back straps for windows and the door, loop straps for the tent poles, and guy lines. If there is any part of your tent that can be opened or tied, it should have some hold-back or loop strap for reinforcement. This prevents accidents, like the tent poles coming undone and flying away or the tent fabric from separating from the tent poles and falling in on the tent in the middle of the night.
Additionally, this feature will help campers if any rips or tears do occur while camping, such as a small tear in the tent door zipper. A strap should be installed in that section to reinforce the door, so there aren't any worries about the material flying open.
Many good tents offer accessory pockets on the sides of the tent or at the very top. You can store things in these pockets so that they are easily accessible. This is for lighter items like matches, a flashlight, your wallet, or a good book. Some tents even come with a pocket/strap option for your lantern so that it can be tied to the top of the tent. As long as you don't have a too heavy lantern, you could hang it up in the tent and won't need to worry about navigating in the dark.
Tents (and Accessories) for Every Situation
There are a variety of products on the market that cater to specific situations such as tents that are designed to be pitched on the back of a flatbed truck, to canopy tents for providing shade/shelter. We've covered a selection of different tents (and accessories) below:
The Best Tent Brands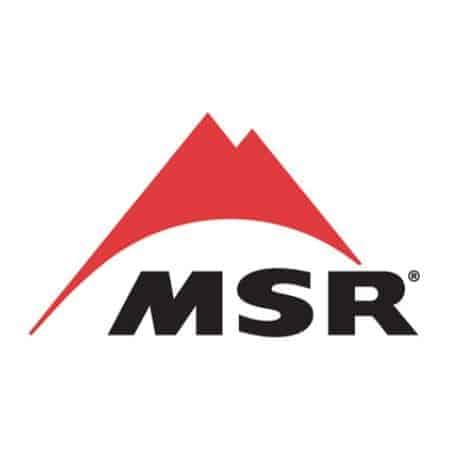 Mountain Safety Research (MSR)
Mountain Safety Research's slogan is, "the idea that better, safer, more reliable equipment is the key to unlocking greater adventures". As their slogan suggest, Mountain Safety Research has been creating reliable tents for all kinds of weather since the 1960s.
MSR's products are made to last and are designed to withstand the environments of mountains, harsh terrain areas, and the dreams of backpackers. MSR's variety of tents makes their company well known; they sell all season tents, backpacking tents, minimalist shelters, and gear tents.
MSR is known for their tent's ability to withstand freezing temperatures but still function well in the middle of the summer. While their tents can be quite expensive, there are a few affordable models that would be suitable for everyday camping such as the MSR Hubba Hubba NX. However, if you might be in the market for a tent for backpacking or mountain environments, this is one company to look into.
MSR Hubba Hubba NX
MSR Hubba Hubba NX 2-Person Lightweight Backpacking Tent, Without Xtreme Waterproof Coating
3-season, 2-person backpacking tent that offers the most livable accommodations...
Pole geometry maximizes space with 29 sq. feet of floor area, interior peak...
Complete setup weighs 3. 9 lbs. and packs down to 18x6 inches; minimalist setup...
Includes DuraShield Coating and DAC Featherlike NFL poles
Includes tent, one unified hub-and-pole system, rainfly, stakes, and guy lines;...
MSRs most popular selling lightweight 2 person tent, the MSR Hubba Hubba NX is a great all-rounder. Following a redesign in 2014 that shaved a pound in weight, this lightweight backpacking tent now weighs in just shy of 4 lbs and comfortably sleeps two.
Read our full review or check out today's price on:
MSR Elixir 2
MSR Hubba Hubba NX 2-Person Lightweight Backpacking Tent, Without Xtreme Waterproof Coating
3-season, 2-person backpacking tent that offers the most livable accommodations...
Pole geometry maximizes space with 29 sq. feet of floor area, interior peak...
Complete setup weighs 3. 9 lbs. and packs down to 18x6 inches; minimalist setup...
Includes DuraShield Coating and DAC Featherlike NFL poles
Includes tent, one unified hub-and-pole system, rainfly, stakes, and guy lines;...
The MSR Elixir 2 is an entry level lightweight 2 person tent that whilst doing everything competently, but without setting the world on fire. At just under 6 lbs it is towards the heavier end for backpacking, but is a sturdy and roomy 2 person tent.
Read our full review or check out today's price on: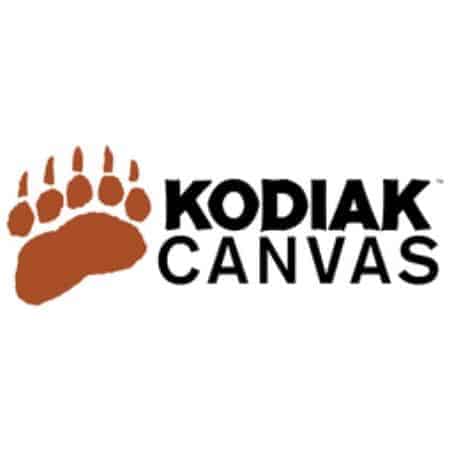 Kodiak Canvas
Kodiak Canvas Tent Company has been in business for ten years and was born in the rugged Rockies. Though Kodiak has not been in business long, they have created a name for themselves for making some of the best quality tents on the market. Their tents are reliable and comfortable and suit almost any need; all of their tents will protect you from the elements.
Kodiak's specially invented Hydra-shied canvas makes their tents unique and provides a breathability and air flow that most other tents don't have. Additionally, Kodiak tents are quality made and are made to last for a very long time. These tents will likely outlive anything you would buy at a department store and are made with a canvas that is not easily susceptible to common rips and tears. The best thing about Kodiak tents? All tents come with a limited lifetime warranty to ensure their customer's happiness and that the tents function well.
Kodiak Canvas Flex-Bow 6
Kodiak Canvas Flex-Bow Canvas Tent Deluxe 9 ft x 8 ft (4-Person)
Made with Hydra-Shield, 100% cotton duck canvas that is durable, watertight and...
Spacious 6'1" ceiling height provides walk-around comfort
Two large D-shaped doors (front and back) with #10 YKK zippers
Four large windows with no-see-um mesh
Flex-Bow Frame: Exceptionally sturdy. Keeps tent taut. Quick and easy,...
Kodiak Canvas Flex-Bow series comes in multiple sizes. With the Kodiak Canvas Flex-Bow 6 packing an incredible 100 square feet and an apex height of 6 foot 6 inches there will be plenty of room for both you and your gear.
Read our full review or check out today's price on:
Kodiak Canvas Truck Bed Tent
Kodiak Canvas Mid-Size Truck Tent - 5 to 6 ft Bed
Sturdy, 3/4-inch, steel tube frame.
Tunnel shaped design maximizes interior space. Tall 5 ft. ceiling height.
Packed Size: L:47 W:10 H:10" Weight: 41 lbs
5 windows provide excellent ventilation and openness. Cab access window.
Clamp-on rails easily mount on truck bed for secure fit.
Bringing a whole new level of meaning to the phrase car camping, the Kodiak Canvas Truck Bed Tent allows you to turn your trucks flat bed into a palatial tent with a 5 foot high apex. This tent is compatible with most major brand trucks.
Check out today's price on: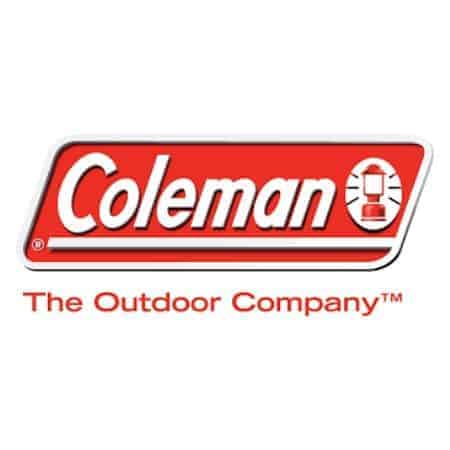 Coleman
Coleman is a great family company that produces outdoor products and has been in business for over 100 years. Coleman also has 7 out of 10 of the best selling tents on Amazon and continually rates ridiculously well on leaderboards measuring quality of outdoor gear.
Coleman creates fun and versatile styles of tents that can be used for many different situations. Their "Hooligan Tent" is a cool option that not only sleeps four people but can also function as the perfect spot to watch rain falls without getting wet.
Another interesting option are Coleman's cabin tents which can fit up to 9 people. Coleman tents are known for their rain flys, which come with nearly every one of their tents. Additionally, Coleman also features a diverse price range for every type of customer budget and are specifically known for making large family tents.
Coleman Sundome 2 Person Tent
Sale
Coleman 2-Person Sundome Tent, Green
Weatherproof: Welded corners and inverted seams keep water from getting in;...
Wind and rain tested: Strong frame withstands 35+ mph winds
Great ventilation: Large windows and ground vent for enhanced airflow
Stay connected: E-port makes it easy to bring electrical power inside
Easy setup: In 10 minutes
The Coleman Sundome 2 person tent is a budget friendly 2 person 3 season tent. At 9 lbs it is definitely on the heavy side for a backpacking trip, but if you just need a cheap two person tent for an occasional spot of car camping then this could do the trick.
Check out today's price on:
Coleman Octagon
This family friendly tent packs a huge 170 square feet, which can be divided into two separate rooms using the privacy wall. If you are especially tall, at 6 feet 10 inches, the Coleman Octagon won't have you stooping over when you enter.
Check out today's price on: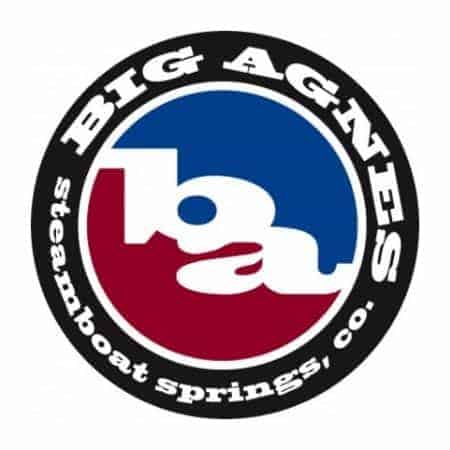 Big Agnes
Big Agnes is an outdoor company that has been giving customers great quality gear for over fifteen years. Their motto says, "life is too short to use bad camping gear." So, Big Agnes provides the best camping gear for their customers and has specially designed equipment to fit individual needs.
Big Agnes' tents are designed to focus on maximizing space and comfort while weighing the least amount possible to make a great experience for campers. Big Agnes also tries to create tents that are easily constructed for quick assembly. They have many different categories of tents to fit any one of their customer's needs and can be found at affordable price points and cool colors.
One such example is the Big Agnes Copper Spur UL 2 which features a cool color, lots of head room, and an ultra light weight for traveling and is our top rated backpacking tent.
Big Agnes Copper Spur HV UL2
The winner of our 2018 backpacking tent category, the Big Agnes Copper Spur HV UL2 is a high end 2 person 3 season tent that is super roomy and liveable yet still only weighs 3 lbs!! With great 3 season weather performance, we'd pick this for most expeditions.
Read our full review or check out today's price on:
Big Agnes Flying Diamond 6
Big Agnes Flying Diamond Tent - 6 Person
Four-Season, free standing, deluxe car camping/base camp tent
DAC combination lightweight aluminum poles with press fit connectors
Color coded pole ends, webbing and buckles make setup easy
Sport Type: Camping & Hiking
If you are looking for a larger tent that can handle some more extreme weather conditions, then Big Agnes Flying Diamond series may be just the ticket. Billed as 3+ seasons, these tents come in 4-, 6-, & 8- person sizes and can take quite a beating.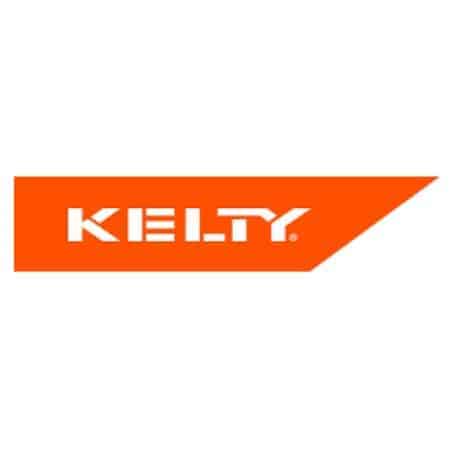 Kelty
Kelty manufactures tents, along with other outdoor gear such as sleeping bags, and is owned by Exxcel Outdoors, LLC. Kelty is based in Boulder, Colorado and was first established in 1919 when the owner and founder Asher "Dick" Kelty created an outdoor backpack.
Kelty is credited with later creating the first aluminum backpack. Known for their good quality and affordability, Kelty tents keep backpacking and great camping in mind. Kelty also makes a wide variety of tents for different experiences including their models, Mirada, Outback, and TN2. This variety ensures that any camper with a need for a tent can find something within Kelty's collection. Most of their tents come with a star-gazing removable rain fly ability and fly vents that keep out even the smallest gnats.
Kelty TN2
Kelty TN 2 Tent
Seasons: 3
Number Of Doors: 2
Number Of Vestibules: 2
Capacity: 2
Minimum Weight: 4 Lbs 4 Oz / 1.93 Kg
The Kelty TN2 is a comfortable and roomy backpacking tent that is easy to set up, and comes at a reasonable price. Much like MSRs Elixir 2, the TN2 is a decent entry level backpacking tent that doesn't overly excel in any one area but does everything competently.
Read our full review or check out today's price on:
Kelty Rover Tent
Kelty Rover Tent (2 Person), Orange
The Kelty rover tent is a Classic pup tent, reinvented with updated materials...
Classic A-frame tent design
Easy to set up and take down tent design
Big & roomy footprint
If you are looking for a traditional pup tent design, then consider this A-frame offering from Kelty, the Kelty Rover Tent. Easy to setup, this 3 season tent has plenty of floor space for two and your gear (and your dog according to the company's photoshoot).
Check out today's price on: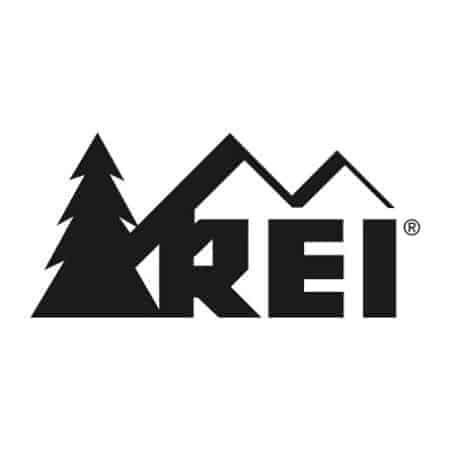 Recreational Equipment Incorporated (REI)
Recreational Equipment, Incorporated (REI) is an outdoor company established in 1938. They have many award-winning outdoor products (including tents), and also spend millions of dollars each year donating money to the environment. Their positive cause and durable gear make them a great contender when searching for the best tent.
REI manufactures and sells many different styles of tents, including their Tepui Tents which fit over a car for easy camping while traveling. REI makes and sells all kinds of tents for various walks of life. REI is also specifically known for making great tents at an affordable price.
While some of their specialized tents (like the Tepui Tent) can be quite expensive and range over $1000, many of the tents that they make are affordable and durable, like the six person REI Kingdom 6. This makes REI a great option for those who don't want to spend a boatload of money while trying out camping for the first time.
REI Half Dome Plus 2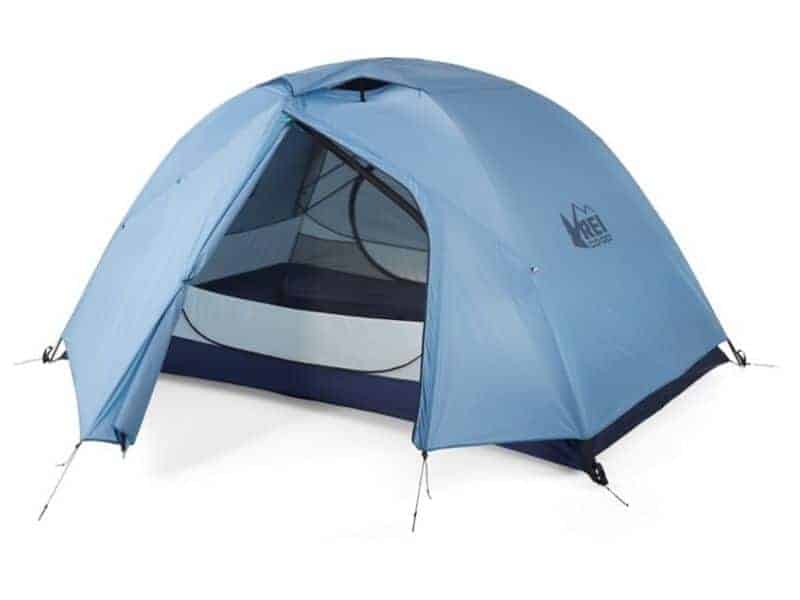 A super comfy, roomy tent for two, the REI Half Dome Plus 2 has a great amount of space and a lot internal features that make it a very liveable tent. Towards the lower end of the price spectrum it is not likely to break the bank. However, as with most backpacking tents, this lower price point does come at a heavier weight with the half dome weighing nearly 6 lbs.
REI Kingdom 6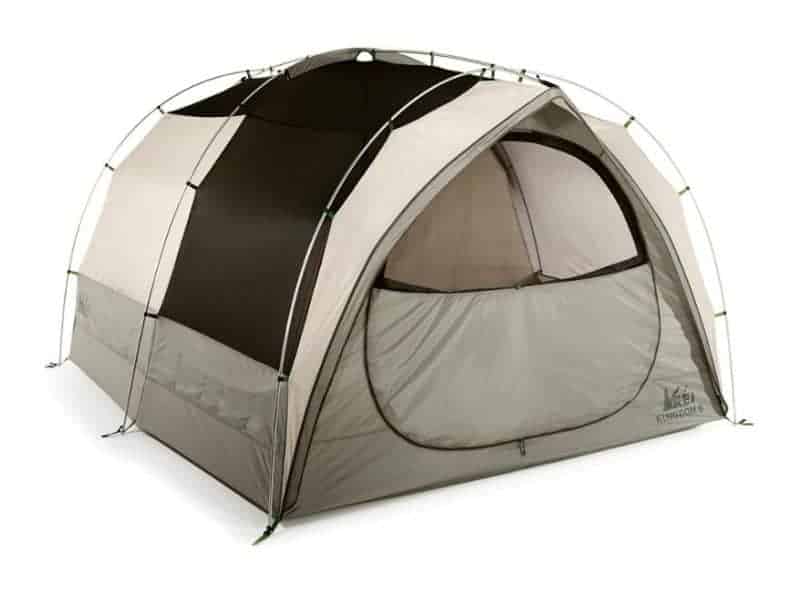 The all round flexibility, and strong performance in all areas won the REI Kingdom 6 our top award in the best family camping tent. It has the ability to split the interior, and can be made even roomier with an attachable garage to store even more gear. It will hold up to most weather except more extreme rainstorms or wind, but for our money, it is the best six-person tent on the market right now.
Read our full review or check out today's price on: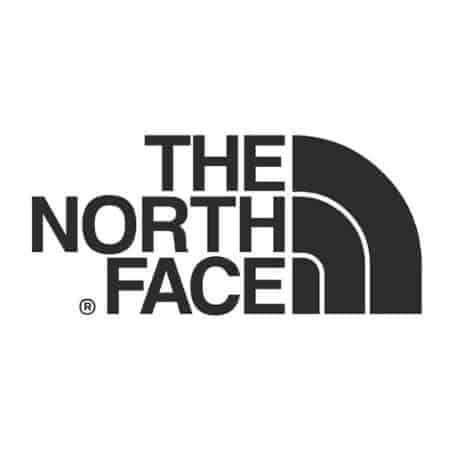 The North Face
North Face is an American company that sells all different types of outdoor gear. The company was originally founded in San Francisco in the 1960s by Douglas Thompkins and his wife. It was sold two years later, but North Face's mission has remained the same: to provide gear for the north face of a mountain.
The north face is the coldest area on a mountain in the northern hemisphere and generally the iciest, most difficult path to climb. North Face is still located in California but has gained popularity since it's foundation in the 1960s.
While backpacks and outfitting seem to be North Face's most popular product lines, their tents are also a great product for cold weather. North Face's tents are designed for 1-4 people. While their tents are not designed to hold more than four people, they can withstand crazy temperatures while still looking cool with their neat designs. Models such as North Face's Stormbreak 2 have gained popularity, as the company has expanded into tent manufacturing.
North Face Stormbreak 2
The North Face Stormbreak 2, Asphalt Grey/Papaya Yellow, OS
BACKPACKING & CAMPING TENTS: Find The North Face tent for you, from a 1 person,...
MORE THAN JACKETS: If you're looking to spend more time on the slopes or the...
OUTDOOR EQUIPMENT: From daypacks to backpacks to tents and sleeping bags, The...
OUTDOOR APPAREL: Whether you're skiing, snowboarding, camping, hiking, training,...
The North Face Stormbreak 2 is a great choice for summer camping trips when plenty of ventilation proves useful. It's a roomy, entry-level backpacking tent. Unfortunately, despite the name, the stormbreak is not built to withstand heavy rain or winds, let alone storms.
Read our full review or check out today's price on:
North Face Wawona 6
The North Face Wawona 6, Golden Oak/Saffron Yellow, OS
A CAMPER'S RETREAT. Virtually a portable chateau, this durable, single-wall tent...
SPACIOUS DESIGN. This family tent features a large double-door front vestibule...
INTEGRATED STORAGE. Internal dry lines, hang loops and a hook-and-loop lantern...
WATERPROOF CONSTRUCTION. The single-wall design is fully waterproof and makes...
DETAILS. Stuffsack: 10" X 27" (25.4 cm X 81.3 cm). Packs into a duffel-bag style...
If you are looking for a spacious six-person car camping tent, then the North Face Wawona 6 should be on your short-list. It is a very durable and easy to set-up tent with ceiling heights that allow even the tallest campers to stand fully upright.