Picture the scene: You just drove five hours for a fun family weekend in the outdoors. After an hour of driving off-the-beaten-path, you find the perfect spot and set up camp lakeside with majestic mountains in the background.
All is wonderful, right? Not so fast – here come the bugs. The good news is you're prepared. You did your homework and bought a model with a screened porch. With more space and added protection from the elements, your weekend is saved!
Editors Choice
Wenzel Klondike
It was a tough pick. There are some pretty good options if you're looking for the best tent with a screened porch, but the Wenzel Klondike checks just about every box.
For one, the company's been around since Grover Cleveland was president, so you know its gear is durable and top-notch. The Klondike is no exception.
In addition to its well-made construction, the Klondike features a large screen room and tall six 1/2-foot ceilings, giving it a surprisingly spacious feel. While it's not the best in stormy conditions and only comfortably fits six people rather than the eight that are advertised, there's plenty of room for a couple or small family and all or most of their gear.
With a gear loft, oversized T-style door, two cross-pattern windows, ground-level air vent, and polyurethane floor, it has a lot of great features too, allowing it to provide one of the best all-around camping experiences.
Bottom Line: The Wenzel Klondike is a robust outdoor tent for couples and small families. While it just misses the mark in a category or two, it tops the list in many others, earning it our top pick.
How to Choose the Right Tent with Screened Porch
What is a Screened Porch Tent?
Whether you call it a screen porch tent, screen room tent, or tent with porch, they're all family-friendly tents with separate screened porch areas for added livability and square footage.
With many designs, the screened porch area is distinct from the body of the tent, giving it an authentic porch feel. While some tents with screened porches feature flooring made with polyurethane-coated material, some continue the real porch feel by not including any flooring at all. Both have their pros and cons, but the choice is yours to make.
As their names suggest; however, all of these tents feature screen-room porch additions, and being screened, they're ideal for cooking, sitting, and keeping out bugs, not the elements. You may have to go into the main body of the tent if rain or snowstorm approaches.
Types of Screen Room Tents
Despite coming in a variety of sizes and offering several different features and design characteristics, there are only two types of screen room tents to choose from:
Dome Tents with Screened Porches
Dome tents with screened porches are great for hitting the trail or for a person or two, but if you're looking for extended comfort in the great outdoors, one of these tents might not be for you.
Despite having an extended section, thanks to the screened porch, their curved walls, and reduced headroom can make them feel a bit cramped.
Nonetheless, they're more aerodynamic, allowing them to perform better in storms and high winds. They're better suited for the snow as well.
Cabin Tents with Screened Porches
Cabin tents are taller than dome tents and usually have more windows, making them feel more livable in general. With vertical walls, you can fit more people and more stuff without feeling cramped.
Needless to say, they're a popular option for families and anyone wanting a feeling of home while out in nature. Despite their size, some set up quickly as well, which is a big plus.
Unfortunately, many cabin-style tents feature minimal fly roofs, so they're less than ideal in rainy or snowy weather. However, with more room, windows, and even room dividers, they're a good choice for fun summertime family camping adventures.
Benefits Of Using A Camping Tent With Screen Room
More Space
Porch tents are terrific for camping outdoors with the family or a group of friends. Most are designed for at least six people, and the extra screened porch area provides even more square footage and living room.
Protection from Insects
Thanks to their extended screened porches, these popular tents provide extra protection from mosquitos, wasps, spiders, and other creepy crawlers and fliers.
Extra Storage
In addition to offering additional protection from insects or the elements and more lounging space, tents with screened porches also provide more room for storing gear.
Not only can you use the space to store extra stuff, but you can also use it for muddy boots and other things you don't want to be dragged inside the tent. Heck, you can even use the space to grill!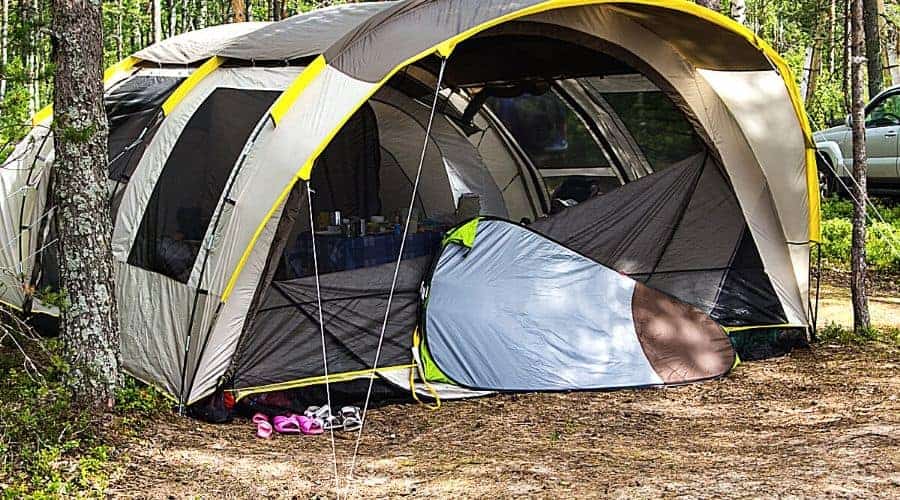 What to Look for in a Tent with Screened Room
As is the case with everything else, there are a lot of tentmakers out there claiming to have the best tent with screened room or porch. However, many fail to live up to their bold claims.
Unless you want to waste your hard-earned money, there are some things you should consider when shopping for a screen porch tent, including:
Size
From smaller dome tents to larger cabin tents, tents with screened porches come in a variety of sizes. It's up to you to choose the best size for your needs.
Do you have a large family or like to take extended camping trips and pack a lot of stuff? If so, a large 10-14 person cabin tent with screen porch may be best.
Is it just you and perhaps a significant other or a friend or two? Do you live in a rainy climate or like to winter camp? Then a smaller dome tent with screen porch might be a better fit.
You get the point. You need a tent big enough to sleep everyone staying in it and the gear comfortably. You also need a tent roomy enough to relax in and do more than sleep if a wet spell rolls through.
Just remember, when planning for anything outdoors, it's best to prepare for the worst.
Shape and Layout
The shape and layout of a tent with a porch screen helps determine how much available space it's able to provide. As far as shapes go, as discussed, you'll need to choose between a dome or cabin tent.
Most porch tents have an inner sleeping area with a separate space inside the door you can use to store gear or whatever you like.
Many larger tents, however, utilize a centrally located door and lounging area with sleeping rooms on each side. This type of layout is ideal for families as it adds privacy and gives you more options.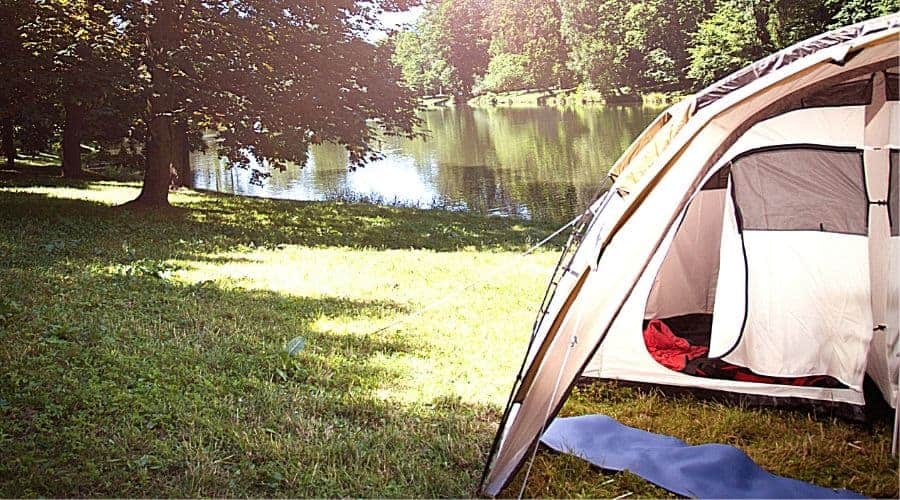 Comfort
When camping, even in Yosemite or an equally gorgeous locale, you want it to be your home away from home. Therefore, comfort should be a top priority.
Is it big enough to move around in or tall enough to stand in? Will it keep the rain and snow out? Whenever shopping for a tent with a screened porch, these are some of the first questions you should ask.
Height
The height of a tent can play a huge role in its overall comfort. If you have to crouch over or crawl around on your hands and knees the whole time, your outdoor experience won't be nearly as enjoyable.
Durability
A budget tent made for backyard camping or an occasional weekend getaway won't stand up to inclement weather. Since your tent is your only source of shelter when out in the woods, it's worth spending a little more to get a tent that will last.
Ventilation
A good tent with screened porch should have plenty of mesh windows and roof vents for the best possible ventilation. Not only will this keep you cool and comfortable on a warm summer night, but it will also allow you to breathe clean, fresh air. Isn't that what being in the great outdoors is all about?
Storage
In addition to offering separate storage areas or at least enough room to store your gear and keep everything dry, the best tent with screened porch should come with a storage bag for easy transport as well.
Easy Setup
Even with the addition of a screened porch, a good tent should be easy to set up and take down. After all, no one wants to arrive in paradise only to spend an hour pulling their hair out in frustration.
Weight
The lighter your tent is, the easier it will be to carry, transport, and set up. If you're backpacking, the weight of your tent is especially essential.
Unfortunately, the most durable, well-made tents are usually some of the heaviest, so you may need to give in a little to get the best overall screen porch tent for your needs.
Weather
Different screened porch tents have different features for various types of weather. The best tents have ventilation to keep you cool when it's hot, zipper flaps for the windows to keep the cold or rain out, and a covered roof for all-weather protection.
Length of Your Trip
The longer your camping trip, the more space you'll need in order to stay comfortable. On the other hand, if you only plan on using it for weekend trips, you can get away with a smaller, more portable tent with a porch.
Budget
Like anything else, you can spend hundreds of dollars on a tent with a screen porch, or you can spend less by going the economical route.
That said, if you're like most people shopping for the best tent with screened porch, you'll be happy to know many of today's best options are similarly priced and surprisingly affordable.
Needs and Expectations
You're the only one who knows what you and your family and friends need in a tent. A screened porch is important to you, but do you need separate interior rooms or one big space? One door or two? Enough room for four people or eight?
The key to finding the right tent with screened porch is knowing what you need and where to find it. The good news is we've covered both.
The Best Tent with Screened Porch – The Results
Coleman Evanston
Best Dome-Style Tent with Screened Porch
This dome-style tent with screened porch from Coleman features the same WeatherTec system found on the Elite Weathermaster. This means it also has a wind-proof frame, patented welded floors, waterproof floors, and inverted seams to keep everyone inside safe and dry when the weather acts up.
Also, like the Elite Weathermaster, there's enough room inside this "8-person" dome tent for two queen airbeds, making it more suitable for 4-6 people rather than eight. Unlike the Elite Weathermaster, however, the separate screened porch area is equipped with a built-in floor, allowing it to keep this area drier and more bug-free.
On the downside, the Coleman Evanston doesn't have ePorts. While this will increase your connection to the great outdoors, which is probably why you're camping in the first place, it's an inconvenience.
PROs

Weatherproof design allows it to stand up to a variety of weather conditions
Zipped in screen room floor for added moisture and bug protection
Surprisingly easy to put up

CONs

No ePorts, which can be an inconvenience
Not a real 8-person tent as it's best suited for 4-6 campers
Bottom-Line: The Coleman Evanston is made to withstand the elements and provide a safe and comfortable camping environment in all types of weather.
Wenzel Klondike
Best Tent with Screened Porch
With a 68D polyester construction and sealed, double-stitched seams, the Wenzel Klondike is made to last. Since the company has been making camping gear since 1887, this is kind of a given. However, it's the Klondike's other features that stand out.
One of these features is its 6.5-inch ceiling height, giving it plenty of head clearance for the tallest of campers. Meanwhile, the T-style door makes entering and exiting easy, while the two cross pattern windows provide excellent ventilation but can be buttoned up if rainy weather approaches. The ground level air vent towards the rear of the tent offers added ventilation as well.
As far as the screen room goes, it's about 1/3 the size of the main tent body, which is a pretty good size. Unlike many other screened porch tents with no floor at all, the flooring in the Klondike tent extends into the screen room area. If this wasn't cool enough, it's coated in polyurethane for added protection.
With a mesh roof and removable tarp, the Klondike also allows you to control your level of airflow and protection from the elements as needed. This added flexibility is a nice touch. While it isn't entirely as weatherproof as the Coleman Elite Weathermaster, it performs quite well in a variety of conditions and is made to last for years.
PROs

Quality materials and well-made construction for superior durability
Mesh roof and air vents provide excellent ventilation
Large screen room with polyurethane flooring keeps the outside out

CONs

Not the best in stormy weather
Not ideal for large families or groups
Bottom-Line: The Wenzel Klondike is a reliable dome-style tent with high scores in almost every category, earning a spot as our top overall pick.
Tahoe Gear Carson
Best 14-Person Tent with Screened Porch
If you want something that will make you feel like you're camping in a spacious cabin rather than a tent, the Tahoe Gear Carson 14-Person Tent is up for the challenge. Both the tent and the attached screen porch are huge. The latter is big enough to set up a table and eat meals in the open air without getting bitten up by bugs.
As one of the best cabin tents with screened porch, it hits the mark in a number of other ways as well. For instance, the ceiling height of the screened porch is 92 inches, making it tall enough for even Shaquille O'Neal to enjoy. With 84-inch tall walls and ceiling inside the tent as well, it provides all of the space you could need.
The ceiling of the tent slopes to keep rain from pooling and there are two large windows with zipper covers for ventilation and protection from the rain as well. The Carson also has awnings that extend to keep you protected from the elements while still enjoying some airflow.
While there's a lot more to like about this tent, like its storage, ceiling hangers, and ePort, its sheer size and extra-large screen porch stand out. The only downside to the porch is its lack of a floor, but this shouldn't be an issue unless you're planning on using it for extra sleeping space.
PROs

Extra-large design is excellent for large families and groups
Very tall ceiling height improves comfort even more
Extended fly canopy for added protection

CONs

Screened porch doesn't include a floor
Assembly can take longer due to its size
Bottom-Line: Both the tent and screened room section of this sizeable cabin-style tent are oversized, allowing you and your family to camp comfortably for days.
Ozark Trail
Best 10-Person Tent with Screened Porch
The Ozark Trail WT17215 is a dome-styled 10-person tent with screen door, making it better suited for windy conditions. With no vertical walls and a lower, more angled roof, it sacrifices a little interior comfort to let the rain roll off and minimize wind resistance.
While the screened porch on this 10-person Ozark Trail is half the size as the one on the Tahoe Gear Carson, it still provides more than enough room for a couple of people to sit outdoors protected from bugs. With a triangle shape, the porch's front is shallow while the back offers average head clearance.
It also lacks a floor, but it does have not one but two large zipper doors with windows. This is a big plus as having more than one entry/exit point is always a good thing. Of course, it also has ePorts, which is a must considering how wired we are these days. At 78 inches tall and with four fly windows, it offers plenty of headroom and ventilation too.
PROs

Two large zippered doors for multiple entry/exit points
Several windows with zipper fly covers for excellent ventilation and protection
Dual room dividers are great for creating separate rooms

CONs

Screened porch isn't the biggest
Lack of a screen porch floor brings you closer to the outdoors (may or may not be a good thing)
Bottom-Line: Ozark Trail's WT 172115 10-Person Tent with Screened Porch has a more awkward porch space but plenty of headroom, floor space, windows, and interior features, making it a great option if you like the idea of having a screened porch tent extension but don't necessarily plan on having a family feast inside it.
Coleman Elite Weathermaster
Best Weatherproof Tent with Screened Porch
If you're looking for a roomy, good looking tent with enough space for two queen size airbeds, the Coleman Elite Weathermaster might be worth a look. In addition to its ample sleeping space, it also has a floorless screen room addition for extra space and bug-free lounging.
Featuring Coleman's "WeatherTec" system with a windproof frame, patented welded waterproof floor, inverted seams, and even weather-resistant zippers, this camping tent with porch will work well in every season and type of weather.
The cabin-style Elite Weathermaster also has a straight main room wall, giving it enough head clearance to comfortably stand up in. Convenient window rollers also make it easier to cover and uncover the windows as needed, and built-in LED lights provide light for nighttime reading, playing games, and the like.
PROs

Sturdy weatherproof construction keeps the inside nice and dry
Separate zippered sleeping area is excellent for families or groups
Windproof frame and durable materials are ideal for mountain expeditions

CONs

Lack of floor in screened porch area allows some rain and creepy crawlies in
Frame is excellent, but metal stakes could be stronger
Bottom-Line: The Coleman Elite Weathermaster is strong, durable, and smartly designed to keep the weather out and provide adequate room, protection, and comfort for today's modern campers.
Alpha Camp 6-Person Screen Room Cabin Tent
Best Tent with Screened Porch for the Trail
This Alpha Camp takes a different approach. Despite being a cabin-style tent, allowing it to provide a good amount of headroom, it's smaller and much quicker and easier to set up than the other screen porch tents on this list. You can set it up in just a few minutes, and with a lot less weight to lug around; it's perfect for hitting the trail.
Perfect for 3-4 people and their gear, the Alpha Camp features a four-pole design with pre-attached telescopic main poles. Just attach the end poles, stake the ropes, and attach the rain fly if you wish and you're good to go.
Of course, with several large mesh windows, you can keep the rain fly off if the weather permits and enjoy a magnificent view of your camp surroundings. The tent's large windows also provide excellent ventilation. Inside, the tent is pretty roomy. However, six people is tight.
PROs

Lightweight makes it suitable for hitting the trail
Can be put up in just a few minutes
Lots of large mesh windows for excellent ventilation and views

CONs

Not ideal for large families or groups
Zippers on the door tend to get stuck
Bottom-Line: The Alpha Camp 6-Person Screen Room Cabin Tent is comfortable, well-ventilated, has a large screened room and is great for camping with your significant other or a few friends.