Not all camping adventures are in your backyard. Like most outdoor enthusiasts, you have bucket-list camping trips that require a boarding pass. A lot goes into planning a camping trip, and it's even more complicated if you have to get your equipment onto a plane.
In this guide, we break down the ins and outs of navigating air travel when your destination is a tent. You'll learn what needs to go in checked baggage, what is allowed in the cabin, and what hardware you'll have to leave behind. We've also included alternatives to taking camping kit on your flight, how to pack, and further tips for a seamless airport experience.
Key Takeaways
What Goes Where? – Fragile items like your camp stove go best in carry-on baggage, and sharps like tent poles and tent stakes must go in checked baggage.
Pack Light – Only bring the essentials when flying to a camping destination.
Know Before You Go – Make sure you are familiar with airline regulations, weight restrictions, and where to find info on the things you can't fly with, like lighters and camp stove fuel.
Air Travel For Camping Trips: All You Need to Know
It is possible to fly with most of your camping kit. However, some items must go in a checked bag, and some fare better in the cabin with you. We'll look at both options below.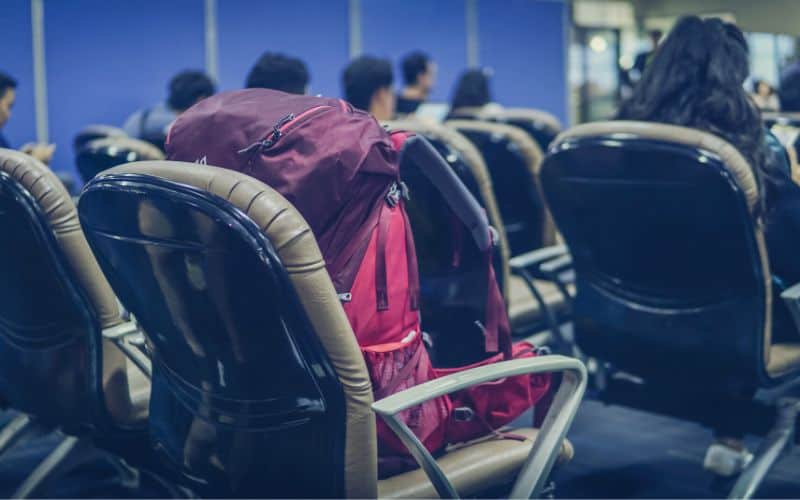 What Camping Gear Can Go in the Cabin?
Between your carry-on and your personal item, you can bring many things into the cabin with you. This is what we recommend carrying on.
Anything Fragile – If you're worried about fragile items getting broken or damaged sliding around in the cargo belly, bring them into the cabin. This can include GPS tracker and communication devices, collapsible cookware, and your camp stove.
Campstove – Pack your camp stove in an easily accessed part of your carry-on bag. This way, if TSA agents want to inspect it, they can do so without rummaging through all your things. Thoroughly clean your stove before you pack it to remove all fuel residue and vapors. To clean your stove, use an old soft or medium-bristled toothbrush with warm water and soap. You can let the stove soak first to loosen stubborn build-up. Avoid abrasive sponges like steel wool, and let the stove air dry completely before packing it up.
"Just in case" essentials – Nothing is worse than an airline losing your checked bags, especially if you didn't bring any essentials in your carry-on. Bring a few just-in-case items, like your toothbrush, a change of clothes, and an extra pair of underwear.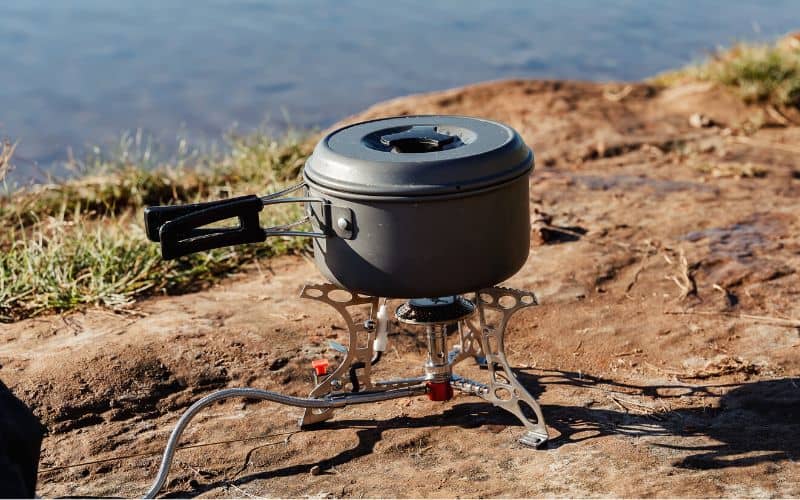 What Camping Gear Goes in Checked Luggage?
Even ultralight backpackers will have to check at least one bag because certain items cannot be brought into the cabin of a plane. For example, anything that can be used as a weapon has to be in your checked luggage. The following are must-check items.
Trekking Poles – Even collapsible hiking poles are not allowed in your carry-on bags. Pack these into your checked bag.
Tents – The tent itself, including the footprint and fly, are allowed in the plane's cabin. The stakes and tent poles are not. Instead of separating the stakes from the tent material, keep the whole thing in its stuff sack and put it in your checked luggage.
Knives – Knives obviously have to be checked through to your final destination. Thoroughly check your carry-on for pocket knives, can openers, or multi-tools, and make sure you put them in your checked bag to avoid a scene at airport security.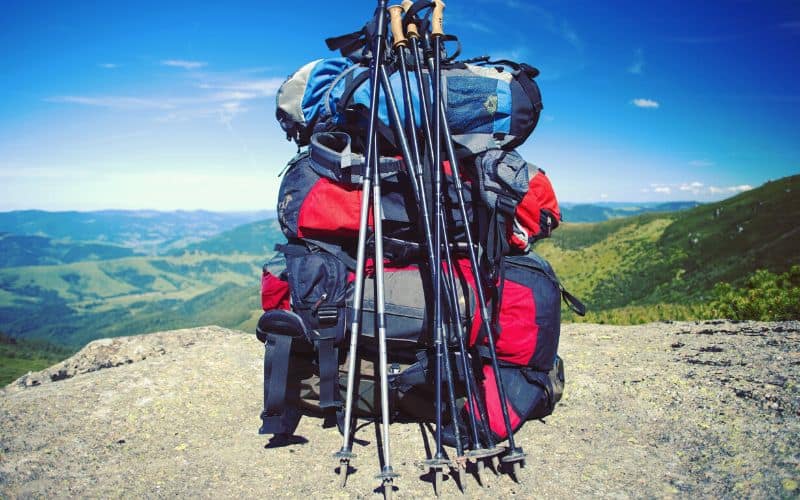 What Camping Gear Can't Go At All?
Some outdoor gear items cannot fly on a plane at all, not even in a checked bag.
Lighters – Lighters are not allowed anywhere on the plane. The exception is refillable but emptied lighters, like a Zippo lighter. If you want to bring a refillable lighter, empty it and clean it before you go.
Strike-Anywhere Matches – Don't try to pack strike-anywhere matches, even in a checked bag. On the other hand, you can pack safety matches, matches that light on a specific strip on their box, in your carry-on bag.
Camp Fuel – Camp fuel of any kind, including canisters, Esbit tablets, or alcohol fuel, is prohibited. You can bring an empty fuel bottle for a liquid fuel stove. Thoroughly clean it to remove all traces of fuel, and remove the lid so the TSA agents can see that it is empty.
Bear Spray – Bear Spray, a more potent pepper spray, is not allowed on airplanes.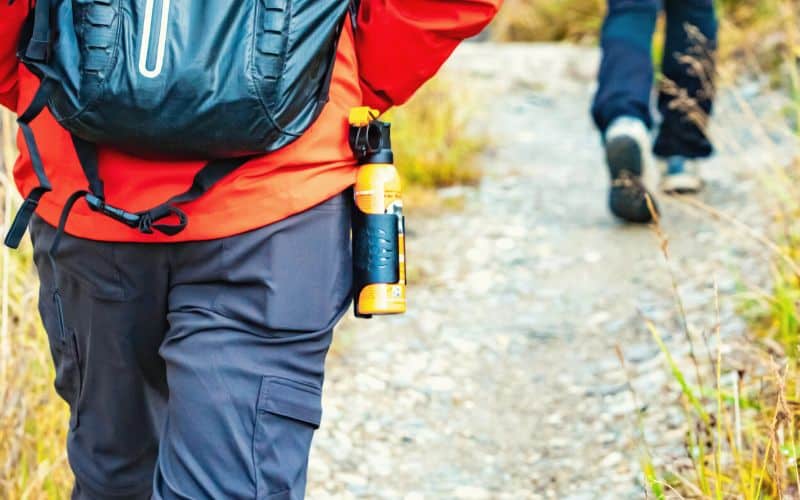 How to Pack Camping Gear for a Flight
Pack light!
First and foremost, bring only what you need to be safe on your outdoor adventures. Don't weigh yourself or your bags down with unnecessary items. Once you've paired it down to must-have items, you can pack your backpack as per usual.
If you prefer a large duffel bag instead of a backpack, try compression sacks and packing cubes to help organize and shrink your sleeping bag, jackets, and other luggage. Some traveling campers like to use duffel bags that come with backpack straps. Tuck-away backpack straps make carrying your duffel less of a hassle.
To protect your trekking and tent poles, slide them into a PVC pipe and pack them in the middle of your bag. You can also use a poster/document tube to keep them from getting bent or broken in transit.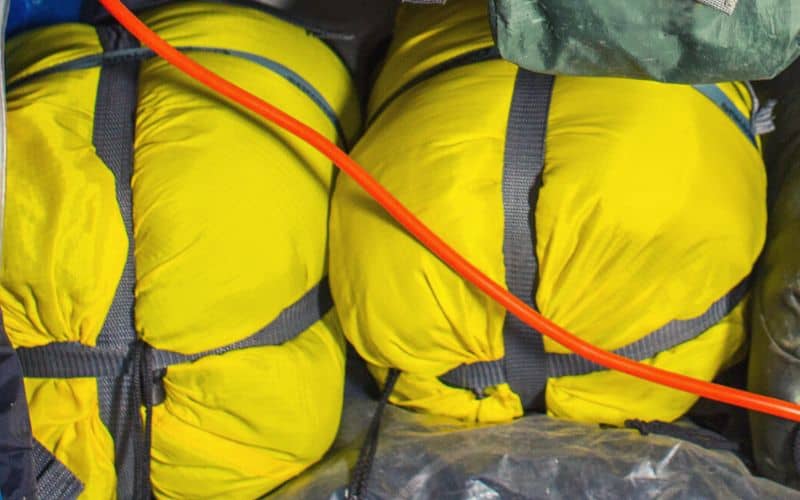 Alternatives
Taking camping gear onto a flight can sometimes be stressful and expensive. You might have to pay to check a bag, or your kit might be overweight. There's always the potential for things to get confiscated or damaged by baggage handlers, or your bags could end up at the wrong destination and show up a day too late. Try one of these alternatives if you don't want to risk it.
Renting Camping Gear
Believe it or not, you can rent camping equipment. Search the web for your destination plus "rent camping gear" to find outfitters in the area you're headed to. Different outfitters offer different types of packages.
You can rent a backpacking setup, winter kit, and some outfitters even offer specialized options for travelers with kids. You can also just rent a couple of pieces of gear, like a sleeping bag, that you don't want to fly with instead of an entire package.
Most outfitters will ship your accessories to your destination, or you can pick them up at their outpost. Remember to reserve your equipment as far in advance as possible and return everything clean and dry.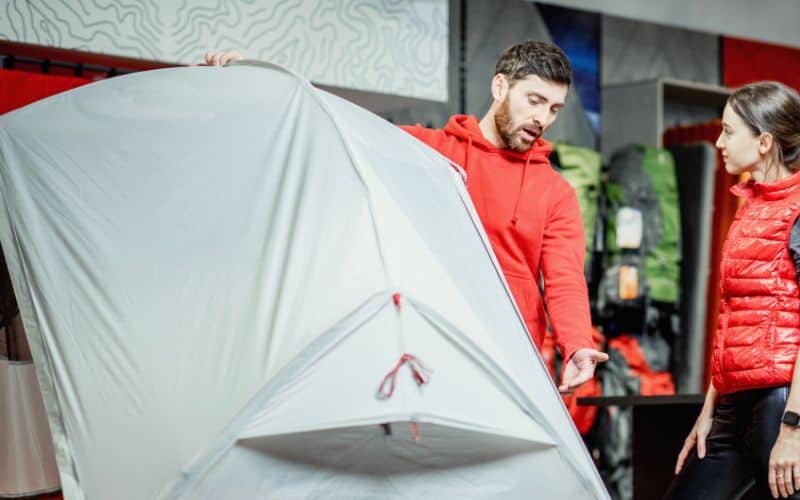 Ship Your Gear
Shipping camping gear to your destination is a good alternative to taking a flight with it. There are a few options for shipping outdoor equipment. You can use a parcel service like UPS, FedEx, or USPS, or consider using LTL shipping to get your kit to your destination.
Whichever service you use, plan to have your things arrive at least four to seven days before you, and find a place that will receive and hold the shipment. In some cases, the carrier can hold your packages at their depot. Confirm with the carrier and make plans to ship your pack back at the end of your trip.
Guided Tours
If you're planning on using a guiding service, you can likely get gear from the company. When you book your tour, ask about what is provided and what you need to bring yourself. Guided tours are a great option for less experienced campers.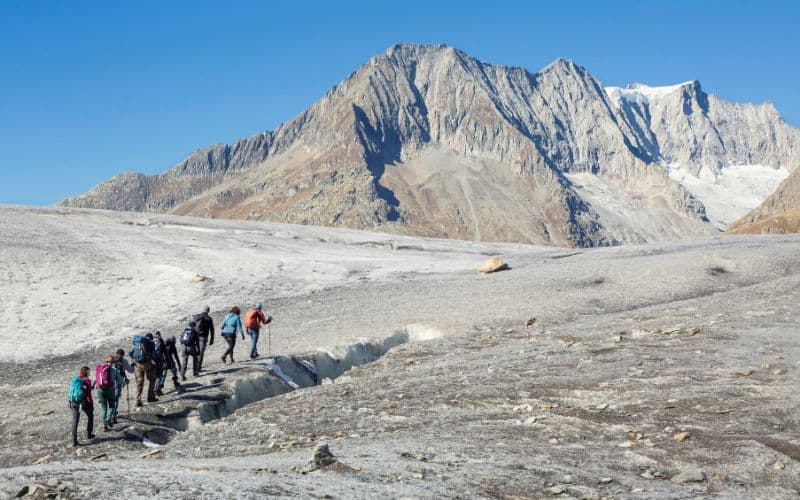 Further Tips for Flying With Camping Gear
Traveling with your camping gear doesn't have to be much different from taking a flight with normal luggage. Here are a few more tips to consider.
Know the Size Requirements – Research your airline's size and weight requirements. You could be stuck with a baggage fee if your bag exceeds these measurements.
Have a plan for items you can't bring – You will have to get lighters, stove fuel, and bear spray when you get to your destination. Lighters are easy to find, but camp stove fuel and bear spray can be trickier. Look for somewhere to buy these items before you arrive.
Protect your backpack – Tighten backpack straps and buckles all the way down. Then put your backpack in a plastic bag. You can usually get a large plastic luggage sack from the airline counter. The plastic bag helps protect the straps from getting torn or damaged in a conveyor belt or the luggage carousel. To save $, you can also use a large, heavy-duty trash bag and duct or parcel tape.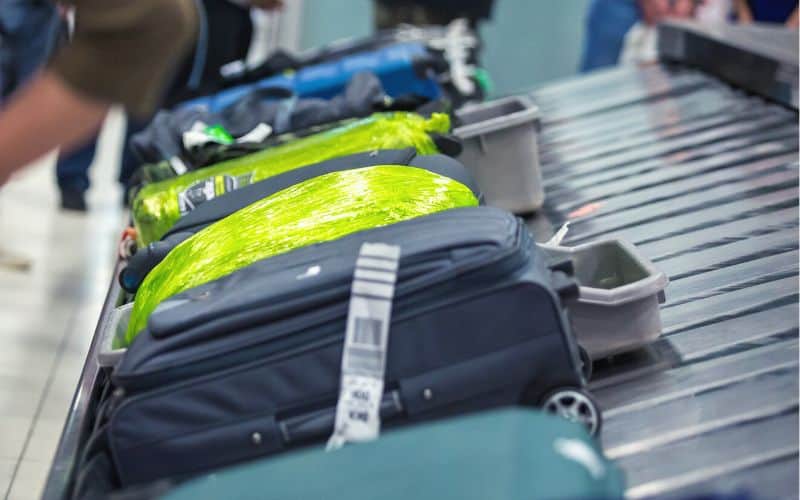 Label your baggage – Make sure to label the backpack itself and not just the plastic bag, which could get torn off. Put a label with your name, phone number, and email address on the backpack.
Pass it forward – If you camp in bear country and buy bear spray that you can't take on your return flight, pass it forward. Gift the bear spray to the ranger station or camp host to pass along to another hiker or camper. You can do the same thing with leftover camp fuel.
Consider Insurance – Travel insurance can be a lifesaver when you're traveling with expensive and essential gear like sleeping bags, tents, sleeping pads, etc. If your gear gets lost, damaged, or stolen in transit, replacing it can cost a lot of money. Travel insurance isn't a must-have but can help save money and provide peace of mind.
Happy Travels!
Camping and backpacking in your home state is a great experience but sometimes further flung places call your name. When this happens, you have to find a way to bring all your stuff. We hope our guide on flying with camping gear makes doing so a little easier, and wish you the best on all your upcoming travels.
Feel free to drop any questions you have in the comment section below. And don't forget to share this post with your adventure buddies!