Dogs are excellent expedition companions. Loyal and fun, they're happy to tag along whenever you head outside, whether you're hammocking at a local campground or backpacking in the mountains.
Taking your dog cammping happens to be one of the best ways to spend time in the great outdoors for young puppies and older dogs alike. That said, it's important that you're prepared for your hammocking trip so you and your furry friend can have a safe and fun adventure.
In this article, we'll provide you with a comprehensive guide to taking your pup hammock camping so you can spend less time prepping for your excursion and more time enjoying your time outside.
Can You Take Your Dog Camping in a Hammock?
It's absolutely possible and one of the best ways to spend quality time outside with your puppy.
In fact, if your puppy enjoys running amok outside, there's a pretty good chance that they'll love your hammock camping experience.
That said, do keep in mind that not all dogs actually enjoy sleeping in a hammock. Many dogs, especially larger breeds, prefer to sleep on the ground next to you rather than be suspended between 2 trees. As such, it's wise to bring a blanket to let your dog sleep on terra firma in case they give the airborne experience a 'hard no'.
Regardless of your pup's personal sleeping preferences, though, a hammock-based adventure is an amazing option for getting outside. The key is to give your dog a slow introduction to hammocking and plenty of practice before you leave home so that they're not spooked by the experience.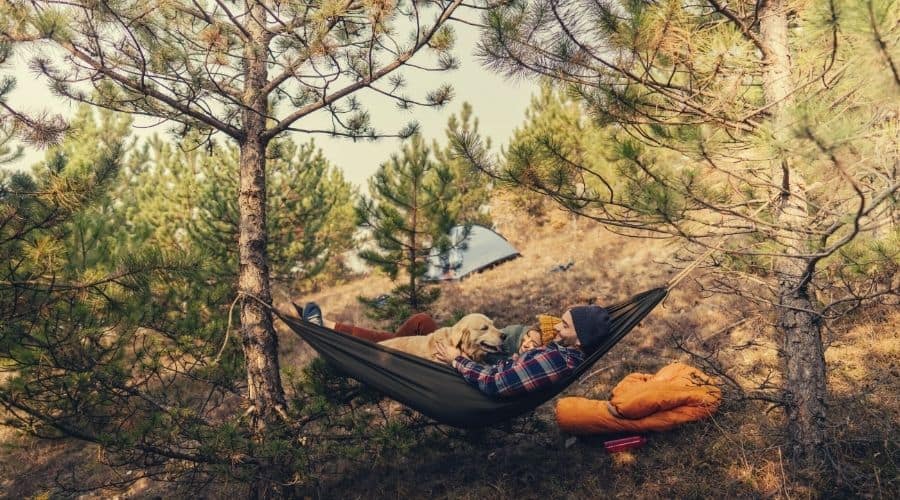 How To Plan A Hammock Camping Trip With Your Puppy: Key Considerations
Planning your first hammocking trip with your dog requires a lot of pre-planning to ensure the experience goes off without a hitch. In this section, we'll help you determine if your doggy is ready to hit the trails and offer up some guidance to make your adventures as fun as possible.
Is My Dog Ready To Go Hammock Camping?
Before you even start planning your first hammocking adventure with your dog, you need to figure out if your furry friend is ready to go camping.
As with all types of outdoor adventures, there are a few general "rules" that dog owners ought to follow to ensure that their furry friend is ready to go hammocking. For example, your dog should be:
Able to reliably listen to and follow commands
Up to date on all their vaccines, flea treatments, and other medications
Generally healthy and have no underlying health conditions
Capable of wearing a collar with tags (a microchip is a good idea, too)
Calm and friendly around other animals and humans
Additionally, it's worth mentioning that small to medium-sized dogs are more likely to do well on a hammocking trip simply because they're better able to fit into the hammock itself.
This fact doesn't preclude large pups from tagging along, but you'll likely have to figure out a different sleeping arrangement (e.g., having your canine sleep on the floor) to ensure everyone is super cozy at night.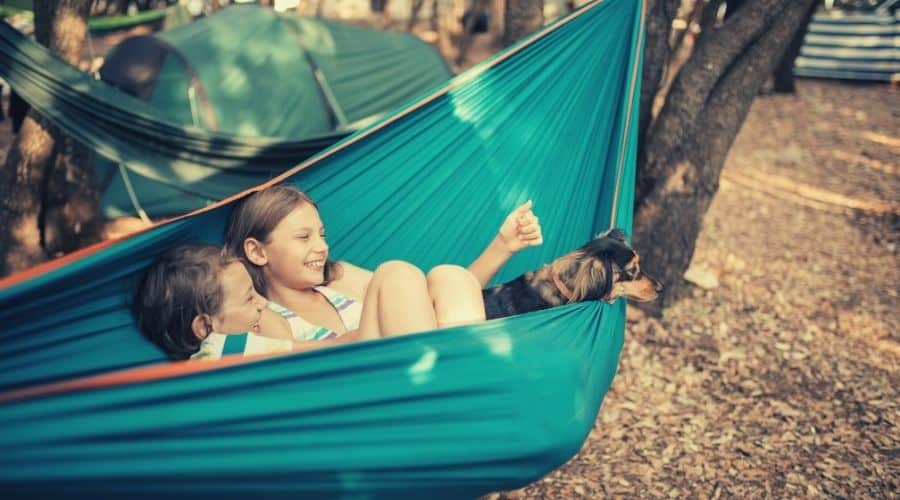 The Pre-Trip Hammock Camping Experience
Once you've determined that hammocking is a possibility for you and your pooch, it's time to get them used to the idea of cuddling up in or around a hammock at night. Doing so involves introducing them to the idea slowly so that they're comfortable during your adventures.
Before you head out on your first trip, consider doing the following:
Set up a mock hammock camp in your backyard
Allow your dog to investigate the hammock, jump in and out of it, and get a feel for what it's like to balance in one on their own
Spend the night hammocking with your doggy and figure out if they'll sleep better with you or on the ground next to you
Make Sure You Choose The Right Campsite
As soon as you feel ready to take your dog into the great outdoors on your first real hammock excursion, you'll need to start looking for a quality, dog-friendly campsite.
RELATED: Hammock Care: How to Wash a Hammock
If you're hammocking with your dog, you'll need to make sure that you've either chosen a pet-friendly campground or that you're venturing to public lands where dogs are allowed.
In the United States, it's important to remember that dogs generally aren't allowed in national parks except in designated campsites, so check the rules before you leave home.
Additionally, any potential location for your excursion needs to be suitable for hammocks. Some campgrounds, such as those in Joshua Tree National Park, don't allow hammocks, so make sure you keep this in mind as you look for adventure spots. 
You'll also want to look for a campsite where you'll have rocks, trees, and other places to hang your hammock at night to avoid any difficulty after you arrive at camp.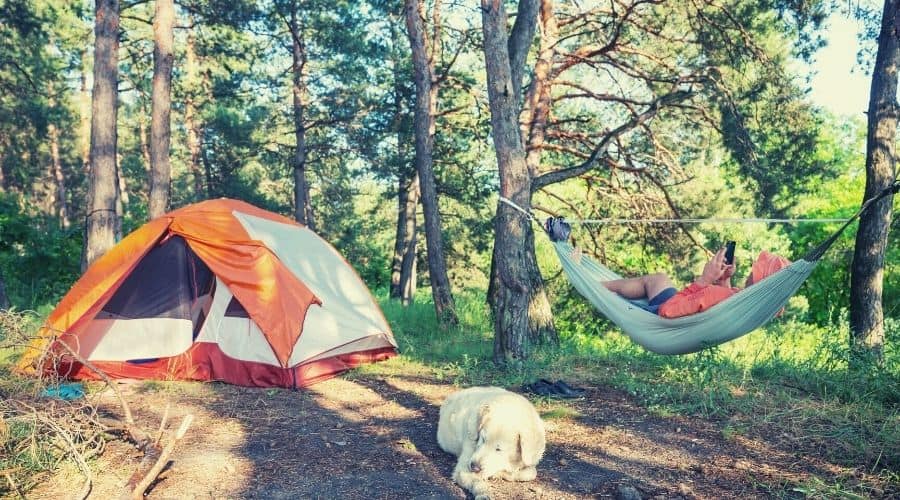 Setting Up A Dog-Friendly Campsite
Upon arriving at your campsite, you'll need to ensure that you make your sleeping area dog-friendly. In particular, there are 2 key things to consider when setting up your hammock campsite, namely, how and where you pitch your hammock.
As far as where to pitch a hammock goes, it's best to avoid sloping campsites. These can make it difficult and dangerous for your dog to get in and out of the hammock. Plus, if your dog sleeps on the ground, sloping campsites aren't comfortable.
RELATED: How to sleep in a hammock correctly
When it comes to actually hanging your hammock, be sure to keep it as low to the ground as you can. This will allow your dog to jump in and out of the hammock more easily while also reducing the likelihood of injury if either of you falls out while you snooze.
Essential Gear For Hammock Camping With a Dog
Hammocking with a four-legged adventure companion is just like camping with your dog in a tent. However, you'll need to come prepared with some extra pieces of gear to make sure that your outdoor getaway is fun and relatively stress-free.
In addition to the camping gear you'd bring on a regular tent-based adventure, you may want to pack the following things on your next hammock excursion:
Hammock – Use a model that's strong enough to support you and your doggy. Double hammocks are best because they let you and Fido have more space as you sleep.
Sleeping Bag or Quilt – Rated for the temperatures you'll face to keep you warm.
Tarp – Opt for a model that's quite large, especially if your dog will snooze on the ground.
Blankets or Doggie Bed – A must for dogs that don't like hammocking and would prefer to catch some Zzs on the ground.
Leash & Dog Harness – Required at most campsites and on most public lands.
Food & Treats – A dog's got to eat! Bring 1.5x the amount you think you need.
Water Bowl – Collapsible models are best on the trail.
Pet First Aid Kit – It's better to be safe than sorry. Don't forget to pack emergency contact info for your vet.
Doggy Doo-Doo Bags – Need we say more? LNT encourages dog owners to pack out poo on every adventure—the human and canine kinds alike.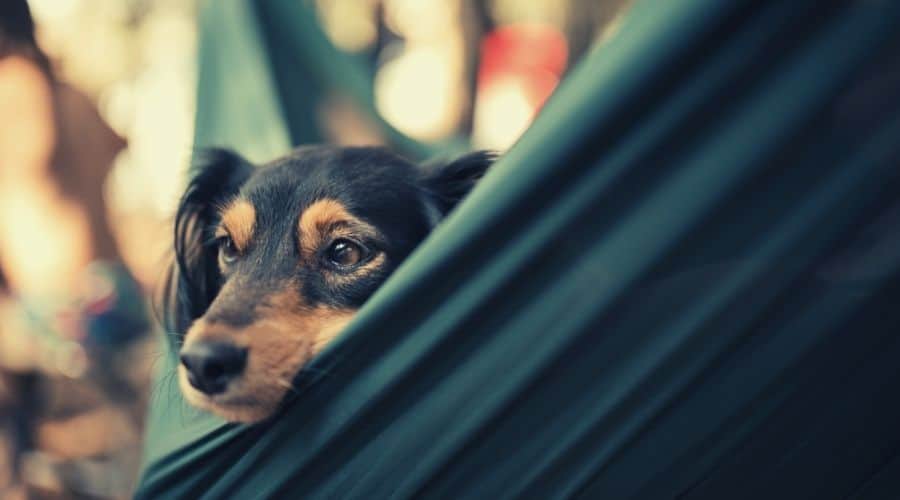 Top Safety Tips For Hammock Adventures With Your Dog
Safety is important on any outdoor excursion and hammock camping with a dog is no exception. Stay safe in the great outdoors with these top tips:
Stay Attentive – Never leave your dog unattended in camp even if it's only for a short period of time – Keep your dog close by and use a dog run if you need to keep your hands free for other camp tasks.
Set Up Camp With Care – Hang your hammock low to the ground so Fido doesn't get hurt jumping in and out.
Opt For Flat Ground – Try not to hang your hammock above rocks, steep slopes, or similar sharp objects which can cause injury if you fall out at night.
Find Strong Trees – Hammocks should be pitched only on large trees that can support your weight and that of a large or medium-sized dog.
Grooming Is Important – Canine claws are sharp, so trim your dog's nails before heading outside.
Have A Back-Up Plan – Make sure you have a safe, alternative shelter option if your dog doesn't want to sleep in your hammock. Consider a small 1 person tent or bring a bed that you can place under your tarp for them to snooze on at night.
Happy Camping!
Hammocking is a favorite past-time among dogs everywhere, but it's imperative that you come prepared for any future adventure.
If you liked this article, let us know in the comments below! Also, don't forget to share this guide with your other dog-loving friends so everyone can enjoy a puppy-friendly hammocking adventure. See you in the mountains!