Has your expensive waterproof shell begun to leak water already? Not keeping you as dry as a $300 jacket should? There may be something you can do about that.
Most people don't know that rain jackets are supposed to be washed at frequent intervals. However, don't be tempted to throw your waterproof-breathable in beside your other clothes and regular detergent! Read below to find out why and what you should be doing instead.
Collect Your Washing Kit
To follow this tutorial, you'll need the following:
How to Wash a Rain Jacket: Step-by-Step Instructions
You can wash and dry your shell using a front-loading or top-loading washer and dryer (though try to avoid front-loading washing machines with agitators if you can).
Step 1: Prep Your Shell
Before washing, brush off any loose mud or dirt.
Step 2: Prep Your Washing Machine
If your washing machine has a detergent container, run an extra rinse to make sure that it is entirely clear of all chemical detergents. These can damage your coat's membrane, sometimes irreparably.
Next, if you have a top-loading washer, allow the machine to fill with water. Set the temperature to "warm" (30°C/86°F) and the cycle to "heavy."
Step 3: Add Your Detergent/Cleaning Agent
Use three capfuls of NikWax Tech or follow the directions listed on your cleaning agent.
Step 4: Wash!
Throw in your jacket and run the cycle for 30 minutes. If you're particularly nervous about the welfare of your shell, you can place it inside a pillowcase and run a longer cycle. This will give you added peace of mind and shouldn't interfere with the cleansing process.
Step 5: Dry!
Either hang dry at room temperature or throw in the dryer on low-to-medium heat, as per the manufacturer's instructions.
Once it's dry, run it in the dryer again for around 15 minutes on a warm setting. This process helps the DWR on the shell's outer layer reactivate.
(You can skip step 6 if you're reapplying DWR by washing in or spraying on).
Step 6: Test Your Handiwork
Take a spray bottle filled with just water and test out your jacket. Is it beading up? Great, you're golden! Is it still wetting out? That's ok, let's dive into what to do next.
Post-Wash Optimization With DWR: Spray-On or Wash-In?
Why this second stage? DWR treatments let you double down on existing waterproofing. They do so by creating a thin layer of fluoropolymers that cause H20 to bead up on the fabric's surface instead of saturating it, thus providing a "first line of defense."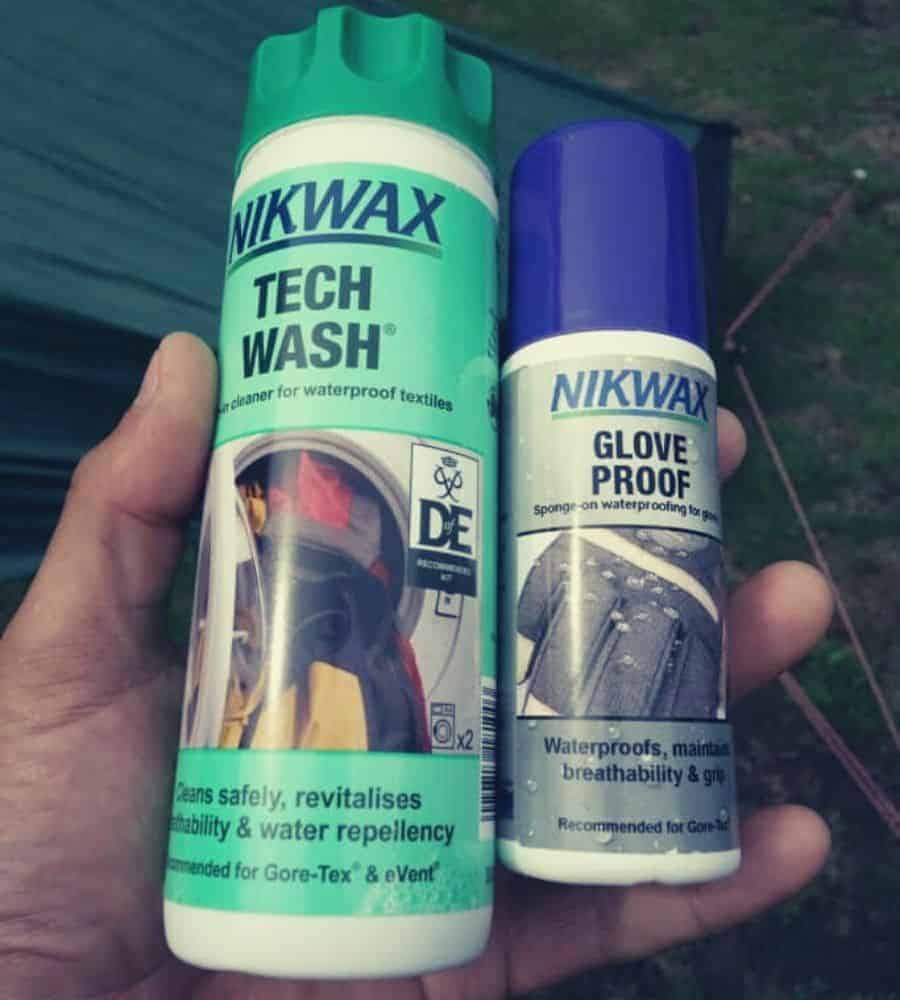 Two types of DWR treatments are available: spray-on or wash-in.
Spray-On
You'll want to apply DWR while your shell is still wet from washing.
As you spray on, wipe away anything that doesn't soak in. Small collections of DWR can leave white spots that are extremely difficult to remove when dry.
Instructions
1) Hold your spray bottle 4 to 6 inches away from the garment.
3) Spray evenly across the entire face fabric (outer layer).
4) Don't forget to apply the spray everywhere (in the creases of the hood, pocket flaps, and under the arms)!
5) Wait around 2 minutes and wipe away any leftover DWR with a damp cloth.
6) Air dry your gear or run on a dryer for around 30 minutes on a low heat.
Wash-In
We recommend using Nikwax TX. Direct Wash-in. After the initial washing, you do not need to dry the jacket before re-washing with the DWR.
ProTip: Don't overload the machine! Add no more than two jackets or pieces of gear at a time.
Instructions
1) Once you have completed the initial washing cycle, leave your jacket inside the machine, and fill with water again. Use the "heavy" and "warm" settings.
2) Pour the entire bottle of Nikwax TX Direct Wash-in into the load (or follow manufacturer instructions)
3) Wash for about 30 minutes.
4) Either run the gear on a low tumble dry or hang dry.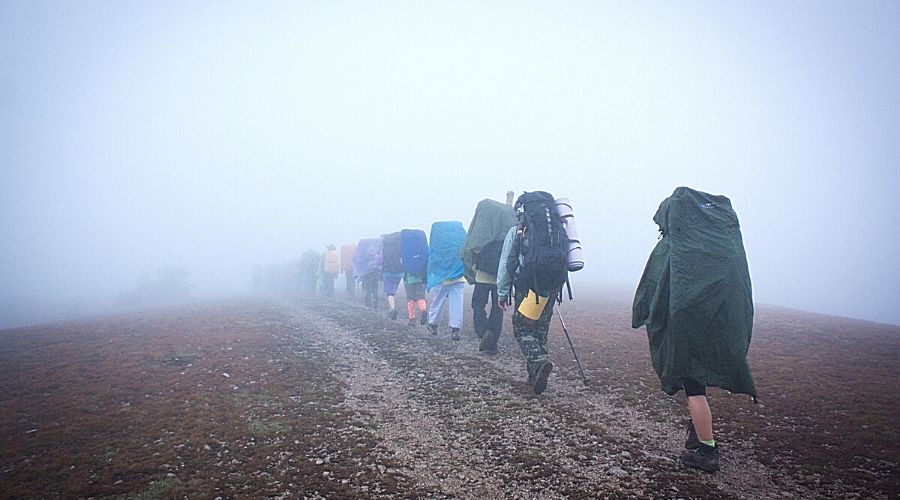 Why Wash a Waterproof Jacket?
Extends Life
A rain shell's waterproof ability is finite, even with proper care. Washing lengthens its lifetime, much like regular vehicle maintenance. It also puts extra miles on your waterproof-breathable clothing. Pun intended.
It's Safer
There's nothing worse than being wet outside. At best, it's merely annoying, a "wet blanket," if you will (pun again intended). At worst, it's deadly dangerous. Reproofing your waterproof clothing keeps it fit for purpose and capable of keeping you dry in the long term.
Performance
As with all waterproof clothing, not washing your shell can seriously hamper its performance. Firstly, the buildup of contaminants (dirt and oil from your skin) diminishes breathability, meaning things will get mightily clammy when wearing your shell for long periods of time or when moving fast. Your jacket will also take longer to dry and be a whole lot heavier when it absorbs rain.
When to Wash Your Jacket
Signs of "Wetting Out"
"Wetting out" is the biggest tell-tale sign that your "shell" is becoming more like a sponge. Simply put, this means your jacket soaks up water instead of the rain collecting in dew-like drops (aka "beading up") on the surface. Imagine your shell is like the hood of a shiny, newly waxed car. The water should drip away smoothly.
Appearance
Does your shell look dirty? If there are obvious signs of dirt, it's time for a clean!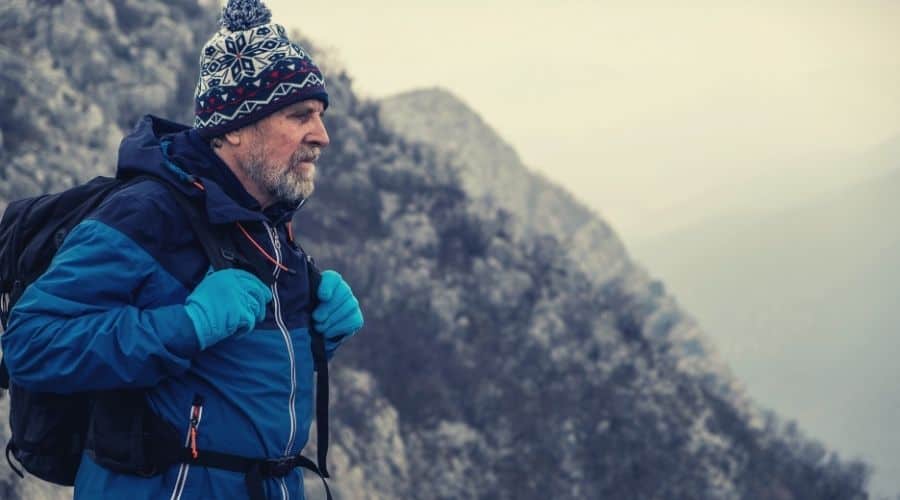 How Often Should You Wash Your Rain Jacket?
It depends on how often and how you use it. If it's been through a tough couple of trips, every 10 to 15 uses is a good rule of thumb. If you haven't sweated too much into it and there hasn't been a ton of dirt accumulation, treating it to a wash every 20-30 uses should be fine.
Generally, the cleaner your jacket, the better it will perform!
Further Washing Tips
Only Rain Gear – Wash only your waterproof gear together. Oils from regular clothes are bad for your waterproof jacket.
Avoid Normal Detergent – Normal detergents are a no-go when washing your rain jacket. That includes fabric softener. Both may contain chemicals that are harmful to your shell. We recommend using products like Nikwax Tech Wash, in lieu of detergent. Other brands you can use are Astko's Sport Wash, Grangers, ReviveX, or Penguin.
Zip Up – Close up the main zipper to avoid it getting your jacket caught in the cycle (torn jackets are highly unwaterproof ones!). However, leave your zippered pockets open in the machine—and be sure to check there's nothing inside them while you're at it!
Redo Your DWR – Don't be shy about reapplying DWR treatments. As mentioned above, these can wear off in a hurry, particularly in the shoulder, seat, and wrist areas.
Warning: Check the instructions for your specific jacket carefully! Each piece of clothing may have its own specifications.
Good to Go!
You did it! You've washed your rainshell and reapplied DWR to keep yourself dry and cozy. It may seem like a lot of work at first, but this process becomes routine quickly and the benefits of doing so far outweigh the effort!
We hope you enjoyed our article on how to wash a rain jacket. Please let us know if we can provide any more insights or advice and if you'd like to share this post with your friends, share away!