Disclosure: The team at My Open Country highlights products we hope you might find interesting. If you buy them, we get a small share of the sale revenue from our partners at no additional cost to you. This never drives our decision as to whether or not a product is featured or recommended – you can read more about
our editorial process here
.
MSR Elixir 2 Review
Our Rating: 3.9/5
The MSR Elixir 2 is MSRs effort at a cheaper entry level tent that has a lot going for it. It's a palatial one person or cozy two person tent with plenty of storage room in the form of two covered vestibules, with the added option to roll back the rainfly and enjoy the stars from the comfort of your sleeping bag.
Its design allows it to stand up well to both rain, and wind, although, we would recommend purchasing some additional guys if you are expecting torrential weather. It is tough to call it a true backpacking tent as it is considerably heavier and bulkier than some of its competitors in this category, weighing in at just under 6 lbs.
All in all, the MSR Elixir 2 is a great tent for the relatively small cost, however, due to it's heavier weight we would recommend it more for car camping or short backpacking adventures (particularly if you can share the load over two or more packs). For the serious backpacker, you may wish to consider a lighter alternative.
Key Features
Unique pole geometry optimizes headroom and fits two mats.
Retractable rainfly allows for excellent views.
Includes an MSR Elixir Footprint that allows for a lightweight Fast & Light setup with rainfly.
Freestanding system features color-coded poles, clips and webbing for fast and easy setup.
Mesh and solid panels offer ventilation, warmth and privacy.
Category Scores
Comfort & Liveability
Weather Resistance
Durability
Weight & Packed Size
Ease of Set-Up
PROs

Roomy interior and 2 storage vestibules
Good ventilation & little/no condensation
Sturdy even in strong wind
Great value for money

CONs

On the heavier side for a backpacking tent
Poles have been known to bend/snap
Hands on Review
Comfort & Liveability
With a sleeping area that is 7 feet and 2 inches (2.13m) long and a width of 4 feet 2 inches (1.27m), it is pretty roomy for two people. Unless you and your usual camping buddy are built like a football lineman. The floor space is only just shorter than the width of a double mattress resulting in an overall space of 29 sq feet; which provides sufficient room to fit two sleeping pads down next to each other. If one of you is a restless sleeper is another matter.
Thanks to the tent's dome design and the crisscrossing of the two poles that hold up the inner tent, this setup gives a fairly reasonable amount of headroom, even toward the edges of the tent. Certainly, at a maximum height of 40 inches (1.02m), there is plenty of room for the majority to be able to sit upright. Thus, removing most of the awkward caterpillar dressing/undressing dance necessary in tents with less overhead clearance.
The inner is comprised of white nylon fabric on the side panels combined with a significant amount of nylon micromesh that helps ventilate the inner tent. The internal venting is linked to two adjustable kickstand vents in the rainfly located at either end of the tent. Ventilation is pretty top-notch – although at low temperatures condensation sometimes collects on the inside of the rainfly, although not in enough quantities that it'll cause dripping.
The white nylon fabric of the inner allows a significant amount of light to penetrate and helps brighten the inside, creating a lovely hospitable atmosphere even on the gloomiest of days outside.
https://www.instagram.com/p/BEPLan7Pu5S/?utm_source=ig_embed
The two vestibules are pretty spacious, and can safely accommodate your pack and muddy boots under the safety of the rainfly with space left over. Indeed, with one vestibule used for storage, the second vestibule can be used for rainy-day cooking if needed.
Weather Resistance
This three-season tent holds up pretty well in the majority of weather conditions. With a groundsheet and fly rated at a hydrostatic head of 3000 mm and 1500 mm respectively, you'll be dry in all but the most severe of downpours. Indeed, we have yet to hear anything bad about how this tent holds up in the rain.
A cute little feature is the rain gutters that have been added to the fly doors. The overall design of the fly doors is meant to prevent those annoying drips falling onto you from the fly as you enter or exit the tent and certainly seems to do it well.
This is a pretty sturdy tent for the price range it is in and appears to cope with high wind admirably. The double-crossing pole configuration seems to strengthen the overall construction and has seen it survive 25 mph winds intact. Also, there is a good overall combination of nylon and mesh walls, which provide an excellent balance between protection from the most chilling winds, and the need for ventilation.
The ability to roll back the rainfly, allows one to lie back and watch the stars through the mesh inner on warm and dry nights.
Durability
Is this the most durable tent in the world? No. However, considering the price range and the job it's designed for, it is a pretty darn sturdy tent. With all but the most extreme of conditions, this tent holds up well and is durable enough that with a bit of care should last you a long time.
That being said, some owners do report that the poles have been known to snap or bend in high winds. This seems to be particularly prevalent if you purchase the newer models which come with plastic-tipped poles, as opposed to metal tips.
Weight & Packed Size
The MSR Elixir 2 is certainly at the heavier end of the backpacking category, weighing in fully packed at 5 lbs 13 oz (2.64 kg); which is roughly equivalent to carrying around 4 standard 12 oz bottles of beer. That being said, if you regularly pair up on your trips then distributing the carry weight between you will make it less likely that you'll need to schedule an appointment with a chiropractor on your return.
Alternatively, you can pack (and set up) the tent in "Fast and Light" mode which shaves off another 2 lbs, bringing the overall weight down to a more manageable 3 lbs 9 oz (1.61 kg). However, this does leave a significant gap of a few inches between the ground and the rainfly, so if you expect any wind (or bugs), then I would go with the full setup.
Of course, there are other lighter options out there such as Big Agnes Copper Spur UL2 and MSR Hubba Hubba NX, but as with most things in the world of lightweight backpacking, less weight = heftier price tag.
Packed down into the provided stuff bag, the tent is around 20 x 7 in (51 x 17 cm), making it fairly bulky for a backpack. One thing we noticed is that the stuff bag is a bit roomy when filled. The culprit for this "oversizing" is the length of the poles which take up most of the length of the bag. Carrying the poles separately, and buying another smaller stuff bag for the rest of the tent is one workaround that would help to reduce the overall bulk.
Ease of Set Up
Pitching the tent is pretty straightforward, and with a few attempts, the majority of folks will be able to single-handedly pull it together in around 5 minutes or less. The tent uses a pole/clip system that is all color coordinated, making it virtually foolproof.
The footprint and inner tent are pegged to the ground before the large double pole is slotted into the four corners of the inner tent/footprint. The inner tent is then attached by using clips to affix it to the poles. A second pole is set across the top and connected to the inner which makes the whole structure taught and pretty sturdy. This setup works pretty well and can be left as is, in warmer/dryer climes.
Once the inner is set up, then throw the rain-fly over and again using clips, and attach it to the four corner points. You will then need to use a couple of guy ropes and pegs to pull the vestibules out, so they are taught.
This setup obviously, involves putting up the inner tent first before putting the flysheet on top afterward, which is of course not ideal in heavy rain conditions. Potentially leaving you with a very soggy inner tent and various other possessions.
When setting up in particularly windy conditions, you may want to purchase and bring extra guy ropes and pegs to supplement those that are supplied with the MSR Elixir 2.
In addition, you can also set up the tent in "Fast and Light" mode, which sets the tent up with only the footprint and rainfly (omitting the inner tent). This will cut some weight from your pack and some time from your setup, however, be sure that the weather conditions are favorable to this.
Limitations
The principal limitation that comes to mind is quite simply the tent's weight and bulk. Weighing in at nearly 6 lbs (~3 kgs), it is a significant weight to carry on long backpacking trips especially when there are significantly lighter tents on the market such as the Elixir's baby brother, MSR FreeLite 2 UltraLite or the Nemo Blaze 2P UL. If you are looking for a light tent for longer trips, then you may be better off looking elsewhere.
The inner tent's first setup may not lend itself well to anywhere that involves a bit of rainfall when you plan to make (or break) camp. It is possible to protect the inner tent as you set it up, but this is, well, to put it simply, awkward.
Best Applications
This tent is an awesome tent for either car camping or short backpacking trips. Essentially, anytime that you don't have to carry your kit too long or far. If you can spread the weight between two packs (or more), then this tent becomes more amenable to longer hikes.
As MSR themselves proudly states that it is "the most liveable 2-person backpacking tent in its class" and it's difficult to fault them on the livability part. The Elixir 2 is roomy and comfortable and well suited to couples, and possibly even couples with dogs.
Value
The MSR Elixir 2 is one of the cheaper expedition backpacking tents on the market and does a pretty reasonable job for its price tag.
Brand Reputation
MSR is one of a number of brand names that fall under the auspices of Cascade Designs, which is one of the most respected in the hiking and mountaineering world. The company's customer service is held in high regard, with replacement parts sent out quickly to any customers that report defective products. We have even heard of MSR requesting the defective part to be sent in at their own cost so they can test the reason for failure.
Other Versions & Accessories
If you are looking for something to accommodate a few more people, then the Elixir comes in a range of sizes; with the MSR Elixir 3 comfortably sleeping three and the MSR Elixir 4 sleeping four.
The Elixir 3 or 4 come with many of the same features as the Elixir 2 such as the general structural design, the overall roomy interior, and the mesh/nylon inner tent for privacy/ventilation. As a result, they also suffer from similar issues, again the main one being the weight – the Elixir 4 packing a whopping 9 lbs 3 oz.
Technical Specifications
| | |
| --- | --- |
| Best Use | Backpacking/Car Camping |
| Min Weight | 4 lbs 10 oz |
| Packed Weight | 5 lbs 13 oz |
| Warranty | Limited Lifetime |
| Vestibule Area | 8.75 sq ft + 8.75 sq ft (2 vestibules) |
| Sleeping Capacity | 2 |
| Seasons | 3 |
| Seam Sealed | Taped Seams |
| Pole Type | 7000 series aluminum |
| Packed Size | 20″ x 7″ |
| Number of Poles | 2 |
| Other | Stuff Sack and Footprint Included |
| Material | Canopy: 20D Nylon Micromesh, 20D x 330T Ripstop High Tenacity NylonFloor: 70D x 190T Taffeta Nylon 3,000mm Durashield Polyurethane CoatedFly: 68D X 210T Ripstop Polyester 1,500mm Polyurethane |
| Interior Height | 40″ |
| Freestanding | Yes |
| Floor Dimension | 84″ x 50″ |
| Floor Area | 29 sq ft |
| Doors | 2 |
| Clips or Sleeves | Clips |
Alternatives
BEST ULTRALIGHT BACKPACKING TENT
Big Agnes Copper Spur UL2
It is probably a little unfair to compare the MSR Elixir 2 vs Big Agnes Copper Spur UL2. It's the equivalent of comparing a Porsche 911 with a Ferrari.
The Copper Spur is a two-person tent with a similar floor and storage space as the Elixir 2, but it weighs over 2.5 lbs less. The weight reduction does equal a fairly large increase in price but every pound shaved from your pack is worth it on long hikes.
BEST BUDGET BACKPACKING TENT
REI Halfdome Plus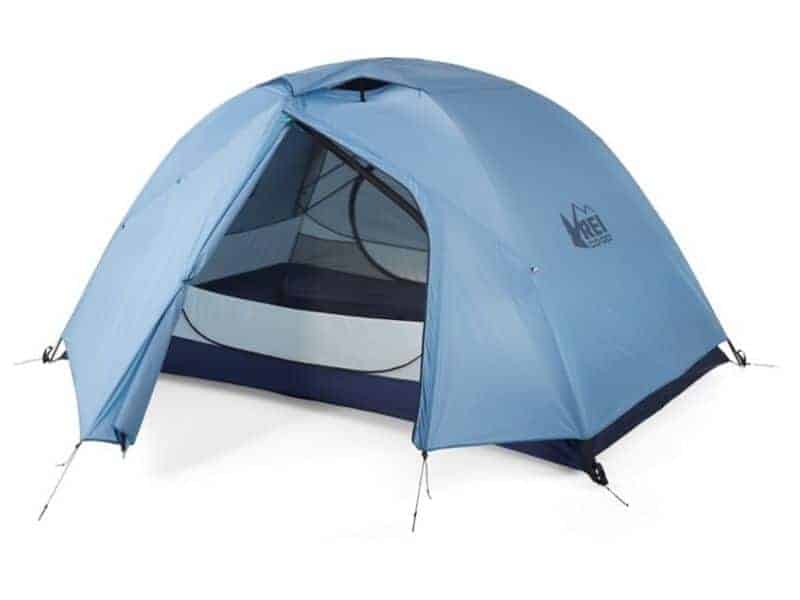 The REI Halfdome Plus is an alternative "budget" option, which can be found at around a similar or even cheaper price than the Elixir 2.
The REI Halfdome Plus weighs in pretty much the same as the Elixir 2 and packs down to about the same size. However, it does boast a bit more comfort with an additional 9 square feet of floor space, making it one of the roomiest 2-person backpacking tents on the market.