Disclosure: The team at My Open Country highlights products we hope you might find interesting. If you buy them, we get a small share of the sale revenue from our partners at no additional cost to you. This never drives our decision as to whether or not a product is featured or recommended – you can read more about
our editorial process here
.
Tarptent Notch Review
Our Rating: 3.7/5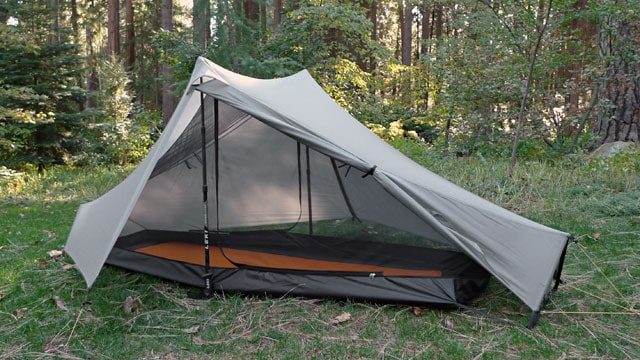 The Tarptent Notch is made for serious solo hikers. It weighs 26 ounces and uses trekking poles and four stakes to pitch. The double wall protects from condensation, cold winds or bugs depending on the interior that is clipped in.
The modular design allows for the interior to be set-up without the tent, or for the tent to be set-up with no interior at all. This flexible design makes it suitable for most seasons and locations. It is not meant for more than one person, but it makes a sturdy and reliable ultra-light tent for the experienced hiker.
Key Features
Weighs just 26 ounces and folds into small and easy-to-pack size
Double wall for increased protection from weather and condensation
30d, silicone coated fabrics for better weather resistance and durability
Dual entries for easy access and increased ventilation
Removable interior can be pitched independently for mesh-only camping or alternatively, the interior can be removed to decrease weight and increase space
Dual support and has no poles in living space
Different replaceable interiors for camping in various seasons
Category Scores
Comfort & Liveability
Weather Resistance
Ease of Setup
Weight & Packed Size
Durability
PROs

light weight for longer treks
small footprint that can fit in dense forests
very waterproof after seams are sealed
modular parts for different seasons and preferences

CONs

interior hooks can be difficult to attach
not freestanding and very difficult to pitch on hard or rocky ground
Bottom-Line: the Tarptent Notch is a reliable, ultralight tent for experienced hikers that don't want to carry extra weight and want the ability to change how they can camp. The removable interiors allow sleeping with just a bug net, sleeping in a double-walled shelter or sleeping on a sleeping pad under a tarp. The Notch is better for experienced solo campers than couples, families or beginners.
Hands on Review
Comfort & Livability
According to the official specs, the Tarptent Notch floor size is 32″ x 84″, and the headroom is 43″. It uses dual pole support for extra headroom and increased stability. The two vestibules are large enough for packs, shoes, and other gear, and the dual entry allows for cross-ventilation and makes it easier to get in and out of the tent. The supporting poles are outside of the living space.
The tent has two vents, and it has good overall ventilation with little condensation. The double wall design protects the camper from wind, condensation, and insects. The Notch is a good size for a single person, but large campers over 6′ may find it a bit small. It can be difficult for a large person to dress in the interior, and the doorway is also designed for a more average-sized camper. For two people, the interior of the Notch is downright uncomfortable.
The mesh interior of the Tarptent Notch can be detached and set up by itself for sleeping under the stars without being interrupted by bugs. A partially solid interior can be attached for cooler weather. The Notch can also be used without the interior to make it lighter to carry and to provide more sleeping room.
While the Tarptent Notch is not designed for more than one person, it is possible to fit two sleeping pads inside with the interior removed. Overall, the Tarptent Notch is a dry and comfortable shelter that can be adjusted for more open-air camping or enclosed in a double wall for cooler weather. For larger campers, the Saddle 2 or the Moment DW may be a better choice. If you like the tent design, but want a lot more room, then the Double Rainbow is an excellent choice.
Weather Resistance
The Tarptent Notch performs well in the rain. It does not bend in light wind, and you can leave the door open in light rain. As an ultra-light tent, it is not meant for heavy snows or high winds, but it is very waterproof after it is seam sealed. You must seam seal the Notch for full waterproofing. When pitched correctly, the interior stays dry when you pitch it in the rain. In hot weather, the tent entries can be opened to allow a breeze to pass through, and the mesh keeps out mosquitos and other bugs. The Tarptent Notch uses "no-see-um" bug netting which is a favorite for hiking gear because of its tight, durable mesh and its light weight.
The Tarptent Notch is double-walled and made of 30d, silicone-coated fabric which gives it more resistance to tears and the wind. A partially solid inner is available for colder winds and mists. For colder weather, you can add a solid inner liner. The Tarptent Notch will be most comfortable and weatherproof with a footprint or other groundsheet which you must buy separately.
Ease of Setup
With practice, the Tarptent Notch can be set up in a couple of minutes. It uses four stakes and trekking poles for support. Attaching the interior clips can be difficult, but it can be done with practice. The Notch footprint is small, so it's good for dense forests. The tent has built-in line tighteners. You can trade out the trekking poles for other supports if you don't hike with poles.
You can add additional lines if you want more tension. Footprints and groundsheets are optional, but they do make the night more comfortable. Part of the modular design of the Tarptent Notch is that you will need to practice and fiddle with it to decide how you want to set it up. You will probably want to try setting it up in different ways for different seasons and expeditions prior to your trip.
The interior can be left out or pitched independently, but setting up the interior by itself requires either finding sticks or removing a couple of supports from the tent. The tent can be pitched with a double wall for the best weather protection, but the tent can also be opened up like a canopy over the sleeping pad. The notch is designed to be modular and versatile in the summer, spring, and fall seasons. It can be pitched quickly, but it's designed for the experienced hiker who wants to adjust how he or she camps to get the most enjoyment out of his camping trip.
A major weakness of the Tarptent Notch is that it's not freestanding. The Tarptent Notch needs softer ground for the stakes. If you're hiking somewhere rocky, or with a shallow layer of dirt, you may have trouble finding a place to pitch your tent. The Big Agnes Copper Spur UL2 is a popular freestanding alternative to the Tarptent Notch. The Tarpent Moment DW is similar to the Tarptent Notch but doesn't need trekking poles for setup.
Durability
While small and light, the Tarptent Notch is made of heavy silicone fabric that resists tears. The double pole design increases stability in moderate winds and storms. The Notch is both sturdy and lightweight, and almost everyone that has a Tarptent Notch sings its praises for its weather-proof exterior and its long-lasting and durable construction. The major trade-off for its light weight is space, not durability or stability.
Most quality backpacking tents are designed to last for more nights than the average camper will ever use them. All Tarptent products are made in America and can be sent in for repairs if necessary. Manufacturing defects are free to fix, but repairs for wear and tear will cost $20 or more depending on the repair needed.
Washing the tent occasionally and keeping the zipper clean reduces wear on the tent. Door zipper failures from repeated use, while coated in grime, are a common problem. The clip that keeps the door closed at the bottom of the door zipper also may break if repeatedly used without cleaning. Other than that, the Tarptent Notch can withstand most weather conditions for years of hiking and is an excellent choice for ultralight camping in rainy climates.
Weight & Packed Size
As it uses trekking poles for support, it only weighs around 26 ounces with everything included. It's made to be as light as possible without giving up any stability or weather resistance. If weight is a major concern for you, the Tarptent Notch is one of the lightest ultra-light tents on the market.
In comparison, other ultralight tents like the Big Agnes Copper Spur UL2, Hilleberg Akto and MSR Elixir 2 can weigh pounds more. While this doesn't seem like an important point while sitting at home and reading about tents on the internet, an experienced hiker knows that a couple more pounds can feel like a big difference if you carry it all day.
The small size of the Tarptent Notch also frees up valuable space in the pack for other gear, water, and food. The Tarptent Notch is an excellent choice for hikers that want the lightest and smallest solo tent they can carry that will still protect them from the rain and weather. It's also suitable for campers that want the option to choose whether they sleep under the sky, sleep under a tarp with a sleeping pad or a groundsheet or sleep in a fully enclosed tent. The notch allows you to do all three while only carrying one shelter.
Limitations
However, this tent is not made for more than one person, and it is not made for beginners. Like most ultra-lights, the tent takes some practice to pitch, and adjustments to the trekking poles and the number of stakes and lines may be necessary. Freestanding tents are usually easier for beginners to pitch. It's not meant for couples, and even solo hikers may find it too small for them.
Best Applications
The small, light Tarptent Notch is suitable for long hikes and is adjustable for three seasons. It's made for serious solo hikers that want to carry the least amount of weight while having a tent that is durable and waterproof. The removable interior can reduce the weight even further. The mesh can be used alone for bug-proof camping under the stars or can be used with the tent for better wind and weather protection. The tent can be set up with just a sleeping pad for the lightest weight and the most room. It has vestibules for the gear and uses the trekking poles as tent poles to reduce weight.
Value
Price-wise, there are cheaper tents available for their size, but cheap tents are more likely to fail. If you're a couple or a family, you should consider a larger tent. If you're a beginner, you should consider a freestanding tent with more room. In all cases, don't buy the cheapest tent on the market unless you're camping close to your car or another shelter.
Other Versions & Accessories
The Tarptent Notch has interchangeable interiors for different weather conditions. Optional adapter handles for the trekking poles are sold. They also have tent poles for campers that don't want to use trekking poles. You can get a footprint for the Notch, but a groundsheet may be needed for rough ground. The feature you want is seam sealing to keep out the rain. Tarptent can do this for you, or you can do it yourself. If you think the small size will be a problem, the next largest option is the Saddle 2.
Alternatives
BEST ULTRALIGHT TENT
Nemo Hornet 2P
The Nemo Hornet 2P weighs 2 pounds 5 ounces and features an easy semi-freestanding set-up. All the materials are lightweight and the tent packs can be easily carried between 2 people. It has 2 doors and 2 vestibules. It boasts easy set-up with poles that arch over the tent and ball-and-socket end tips. It offers more room than the Tarptent Notch, and it is a bit more expensive. It's good for couples and hikers that want a fully enclosed tent with minimal adjustments.
BEST BACKPACKING TENT
Big Agnes Copper Spur UL2
According to a survey of Appalachian hikers, Big Agnes was the most popular tent company for 2016, and the Big Agnes Copper Spur UL2 was the favorite tent. As a two-person tent, it has a lot more room, but it is heavier at over 2 pounds. It has door doors and two vestibules. It is slightly more expensive than the Tarptent Notch. It's better for couples and hikers that want more room.
See here for our full Big Agnes Copper Spur UL2 review.
BEST FOUR-SEASON BACKPACKING TENT
Hilleberg Akto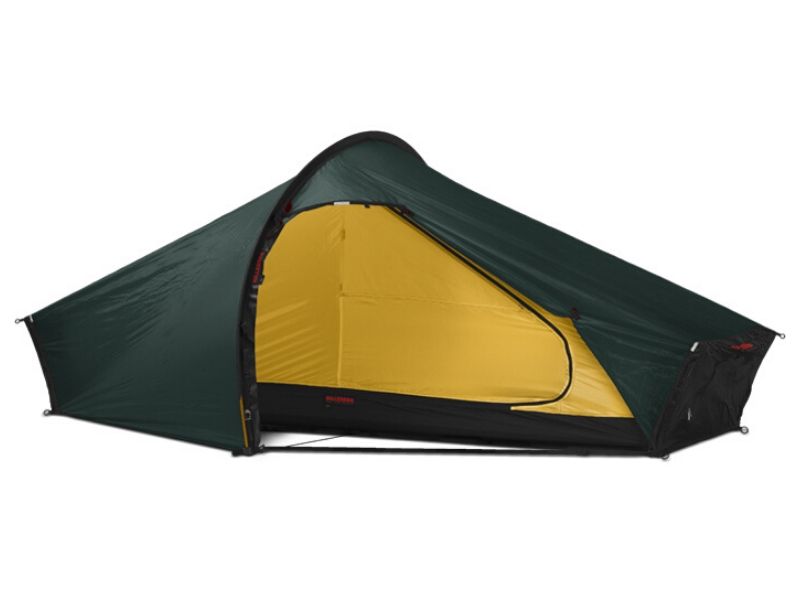 The Hilleberg Akto is a single-person ultralight tent that weighs over 3 pounds. It's well known due to it being used in extreme conditions and on lengthy polar expeditions. It has a removable inner tent and an optional inner mesh, and the interiors can be pitched separately like the Tarptent Notch. It has only 1 door and 1 storage area, but it can be used for all 4 seasons. It's a couple of hundred dollars more than the Notch.
See here for our full Hilleberg Akto review.