Figuring out what to wear on those springtime wanders ain't easy.
Variable temps, frequent rain showers, and the occasional snowstorm make picking out the perfect spring hiking outfit a major challenge.
The good news is that we're here to help.
In this guide, we'll introduce you to the basics of how to layer your clothes for spring adventures. That way, you'll be ready for anything the trail and weather gods throw your way.
Key Takeaways
Layer up – Use a layering system for springtime adventuring with additional warm layers in your pack
Expect rain – Have high-traction boots for muddy trails and be prepared with waterproof apparel
Expect sun – Don't overlook the importance of sunglasses and UPF protection
Avoid cotton – There is never a good season to wear cotton when hiking
The Right Clothes For Hiking In The Spring
Springtime weather conditions are a bit of a mixed bag. Some days, you might get summer-like temperatures and bluebird skies. Meanwhile, other days might bring frigid temperatures, rain, or even snow.
So, as we discuss what to wear hiking in spring, it's important that you always consider the current weather conditions before you head outside. With that in mind, here's everything you need to know about staying warm, dry, and comfortable in your springtime hiking clothing.
Base Layers For Springtime Hiking
Choosing the right base layers for springtime hiking starts with understanding what base layers actually do.
The primary role of your long underwear is to wick away moisture as you hike. In cold conditions, they also provide a little bit of added warmth, but insulation is generally the role of your fleece and/or puffy jackets.
Furthermore, in very warm temperatures, you may find that your only base layer is a t-shirt or lightweight long-sleeved top. So, finding longjohns that can work either as a stand-alone piece of clothing or in conjunction with other garments is ideal.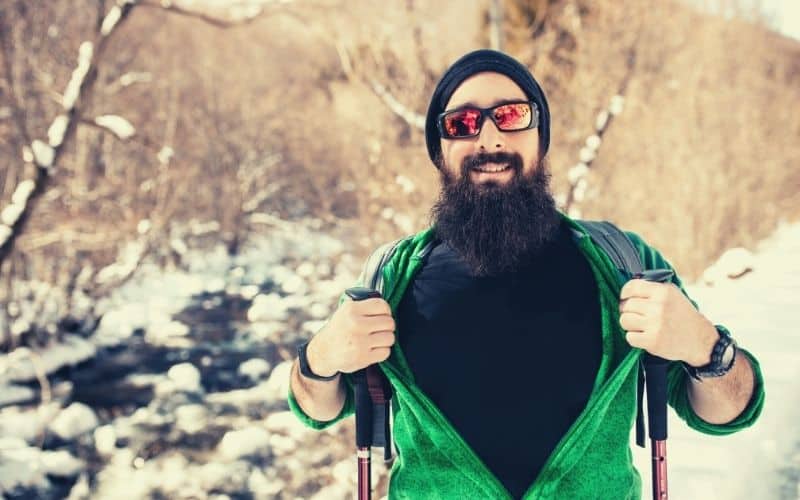 What does all this actually mean for your trek?
Well, most folks find that a thin shirt is sufficient for springtime adventures. With that in mind, here are some key things to consider when selecting the perfect shirt or long underwear for spring hiking:
No Cotton: Cotton is a popular fabric, but it has no place in hiking clothes. That's because it offers no insulating value when wet. In fact, it actually makes you colder in damp conditions, which can be dangerous. So, skip the cotton and opt for synthetic or merino wool shirts, instead.
Consider Sun Protection: If you're hiking in sunny springtime conditions, finding a way to protect yourself from the sun's harmful rays is critical. So, moisture-wicking t-shirts that offer some UPF protection to shield you from UV rays are a fantastic choice.
Bug Protection is Important: Springtime is when bugs come out of their wintertime hibernation. Therefore, bug protection is very important. The good news is that many brands now sell shirts that are pre-treated with insect repellent. Alternatively, you can use a specific type of bug spray called permethrin to treat your long underwear before you head outside.
Mid Layers For Hiking In Springtime
As we've mentioned, temperatures can vary quite a bit during the springtime. So, while one day might bring summer-like weather, the next could be as frigid as a midwinter's day.
Therefore, mid-layers play a critical role in your springtime hiking clothing system.
A mid-layer is essentially any jacket or top that insulates you from the cold. These jackets or tops can include anything from fleece pullovers to puffy coats depending on the temperatures you expect to face.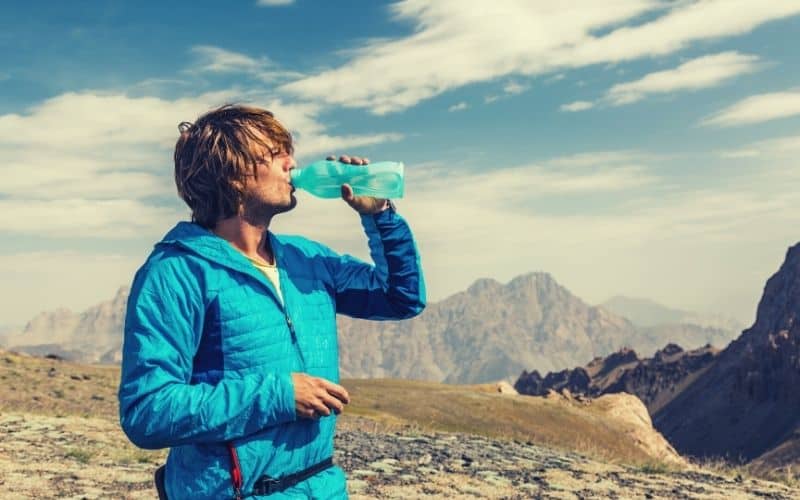 As a general rule, we'd recommend packing at least 1 to 2 insulated jackets for springtime hikes. While the temperatures might seem warm when you leave home, they could change at any time. So, having a handful of insulated jackets on hand can make a big difference.
Additionally, it's also worth considering what kind of insulated jacket you want to have with you on your adventures. There are 3 primary types of insulation that you'll find in outdoor jackets, each of which has its own advantages and disadvantages. This includes:
Fleece: An economical choice, fleece is a type of polyester insulation that's known for being super comfortable. It's also good at keeping you warm when wet, though it's generally not as light and packable as down or "synthetic down".
Down: Often considered to be the gold standard in outdoor jacket insulation, down is a natural fiber that's made from the plumes of ducks and geese. It has a superb warmth-to-weight ratio, so is one of the most packable insulation materials available.
The downside? Down is usually quite expensive and is not water-resistant. But, for weight savings, it can't be beaten.
Synthetic: Crafted from wound-up polyester fibers, synthetic insulation is an amazing choice for spring hiking. While it's not as light and packable as down, it is capable of keeping you warm when wet. Plus, it's usually much cheaper than down. What's not to love?
Wind And Rain Protection For Hiking In The Spring
If you've ever heard the saying "April showers bring May flowers," you know that spring can bring some variable weather. Therefore, having waterproof gear on hand is of the utmost importance.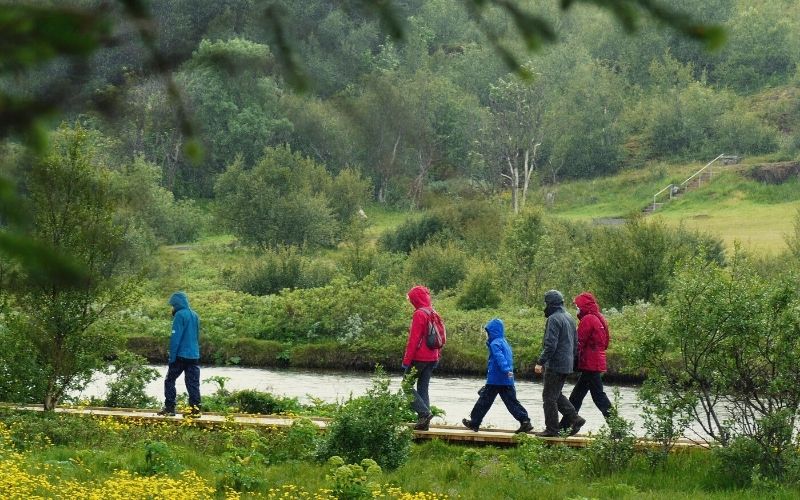 When packing for springtime hikes, you'll need to come prepared with a waterproof outer layer. Usually, this waterproof layering system includes a rain jacket and a pair of rain pants that you can put on and take off as the weather changes.
Most waterproof gear is made with something called a waterproof-breathable membrane. This membrane is a thin piece of fabric that's designed to allow your sweat to escape as you hike without allowing rainwater to soak through. As a result, these waterproof jackets and pants can keep you dry and comfortable when trekking in foul weather.
Hiking Boots & Footwear For Hiking In The Spring
If there's a universal truth out there about springtime hiking, it's that the trails will be muddy.
End-of-season snowmelt combined with seasonal showers tend to lead to mucky trails, so you'll want to make sure that you're wearing a quality pair of waterproof boots or hiking shoes for your trek. Regardless of what type of footwear you prefer, having a set of shoes with good traction is important if you don't want to slip and fall in the mud—eek!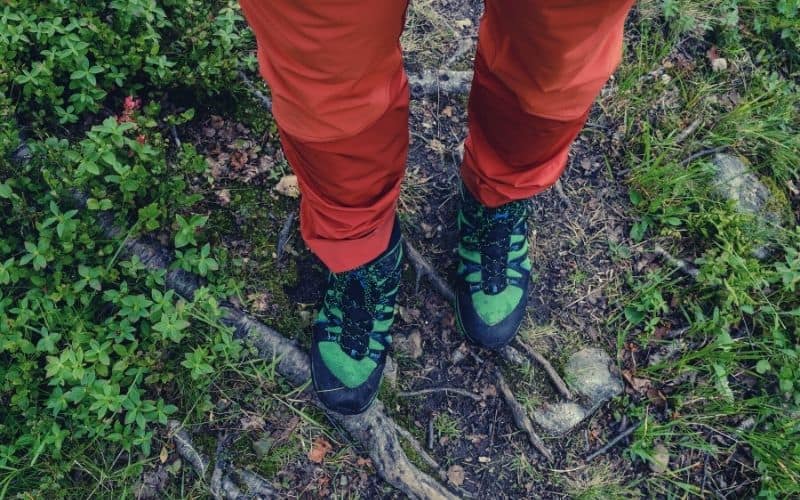 We should also note that rivers and streams tend to flow at full capacity during the spring season due to an increase in water from local snowmelt. So, having waterproof boots that will allow you to keep your feet dry while fording streams and other bodies of water is a great idea.
What to Wear Hiking in the Spring: Accessories
In addition to the spring hiking clothes we listed above, there are a number of other pieces of gear that are worth tossing into your pack before you leave home for a springtime hike. Here are some awesome pieces of hiking gear to keep in mind when organizing your pack for your next trip:
Sunglasses: Snow blindness is real and we can assure you that it ain't the best of fun. Get yourself a solid pair of sunglasses to protect yourself from the glare of the springtime snowpack. Your eyes will thank you later.
Mosquito Headnet: Hiking is fun. Bugs are not. A mosquito head net can help protect you from those biting insects, even in swampy locales.
Spare Socks: Springtime trails are muddy! Keep an extra pair of socks in your pack to make sure that you always have a clean pair to wear during your hike.
Trekking Poles: If you've ever slipped down a muddy trail, you know how helpful trekking poles can be during springtime.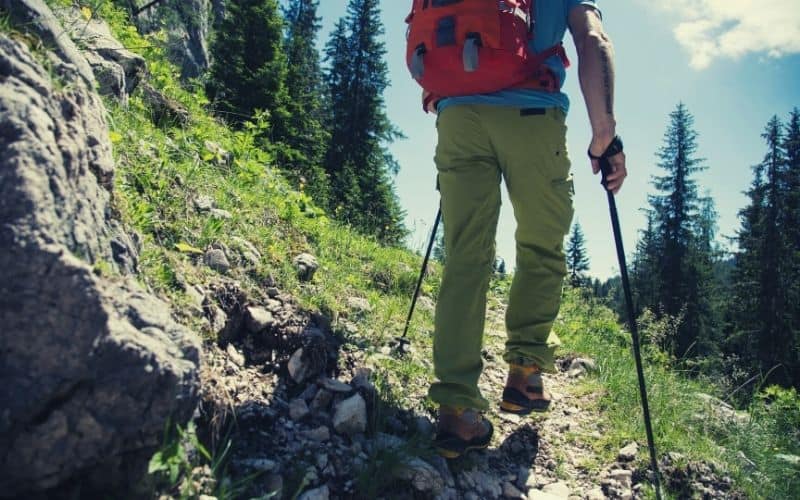 The Ultimate Hiking Gear For Springtime Outings
If you love hiking in the springtime as much as we do, you know how important it is to come prepared with the right gear. We hope that this article helped you learn exactly what to wear hiking in the spring. That way, you're ready for whatever Mother Nature throws at you.
If this article helped you become a veritable springtime hiking guru, let us know in the comments below! Also, don't forget to share this article so your friends and family can prepare for their next shoulder-season expeditions, too.