Learning how to adapt your winter hiking wardrobe is essential to ensuring you can continue to get your fill of nature-time all year round. And because we feel like this is something that everyone should enjoy, we're gonna show you how it's done in this comprehensive guide.
There is an old Norwegian saying that we believe holds true – "Det finnes ikke dårlig vær, bare dårlig klær!" It translates to: "There is no bad weather, only bad clothing!"
But what does good clothing look like? And how are you supposed to wear it?
If you don't have a Norwegian handy, never fear! Whether you're heading out winter hiking for the first time or are looking for a way to supplement your current gear, we have all the information you need for a safe trip.
Key Takeaways
Layers – Use the layering system and adjust them as you continue to move
Packing – Carry waterproofs and make sure no items you bring are too puffy or heavy
Hot and cold – Even though it's cold don't forget the old sunscreen and sunglasses
Cotton kills – Wearing cotton is a definite no-no since it doesn't wick moisture
Footwear – Don't underestimate ice when considering your footwear
Winter Hiking Conditions
Hiking in the winter isn't as much a walk in the park as it can be during the other seasons. However, it does offer a different type of experience that is still worth going out and enjoying. Plus, who wants to take a trekking break for a whole season?
Some of the harsher conditions you should prepare to run into on your travels include:
Extremely low temperatures
High amounts of precipitation (such as snow, sleet, and rain)
Increased wind speeds
Icy surface conditions
All of these affect how you should prepare for your hike. In winter's case, it is better to be prepared than to be frozen.
Many winter hikers seem to think that warmth is the only goal when it comes to specialized gear. However, your clothes should also boast ample water resistance and breathability, while your footwear should provide adequate traction to help you stay upright on slick or icy surfaces.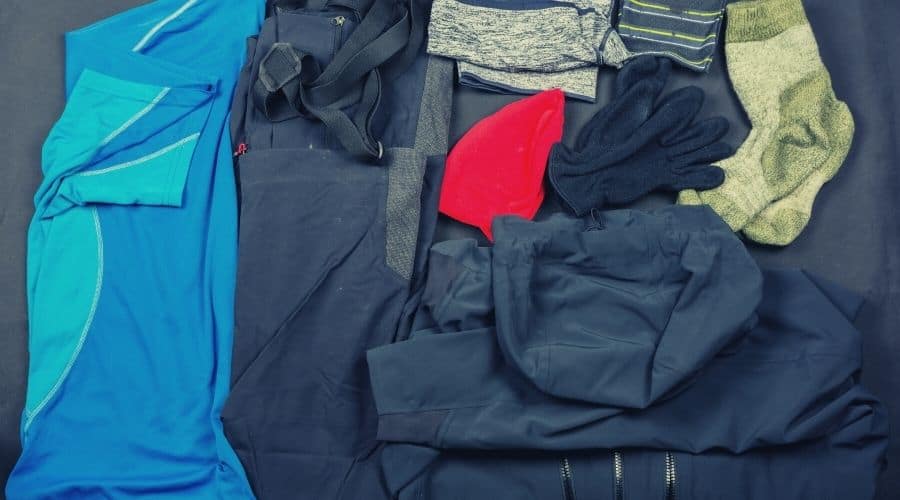 How to Layer Winter Hiking Clothes
The most important characteristic of any winter hiking outfit is the layering system.
This system allows you to build up clothing layers to increase your body's insulation and enhance breathability, while also providing protection from the wind and rain.
Don't only consider how warm the clothing is. Each layer needs to be breathable and highly moisture-wicking. If any layer isn't, the whole system will fail because this layer will prevent moisture vapor passing through, which results in the fabric saturating. This, in turn, creates the perfect climate for hypothermia.
Air is one of the most effective insulators, even in the technologically-advanced 21st century. Layering utilizes air by creating "pockets" of insulation between the layers, exponentially increasing the system's effectiveness.
Whether or not you want to start winter hikes wearing everything is up to you. You can always carry items in your pack until you need them, adjusting as you move.
It might seem a drag to have to carry around winter hiking clothes you aren't going to wear right away, but you'll be glad you brought them somewhere along the way! It's also helpful to remember that three thin layers are better than two bulky ones, as chunky layers can inhibit breathability. Having thinner layers will also, of course, decrease weight and pack space.
But what is the best way to layer? What kind of clothes should comprise your cold-trumping trinity?
Now, let's take a look at the main components of this simple but hugely effective system: the base layer, insulation layer, and shell layer.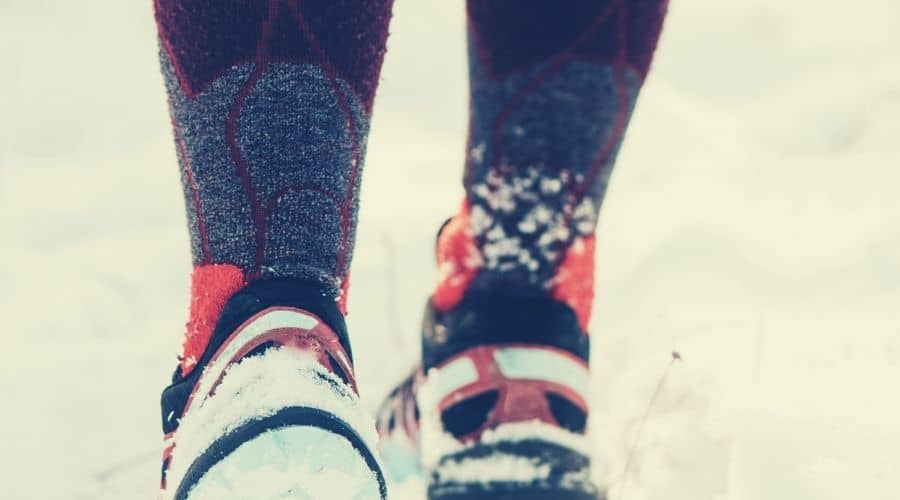 Base Layer
Every piece of clothing should be breathable and moisture-wicking, but this one more so than all the others. The base's priority is breathability, then wicking, and finally, warmth.
This layer of your winter hiking clothing getup includes underwear, long underwear, wool socks, and thermals. You can also have multiple base layers for comfort. Just make sure they are all thin, breathable, and able to manage the moisture produced by your body.
The best types of materials for this layer include polyester and merino wool. They check all of the boxes, including increased breathability and a high moisture-wicking capacity. They also give you one good synthetic option and one natural.
Since these clothes will be against your skin, make sure that you are not allergic to wool. For some, merino wool can cause maddening levels of itchiness.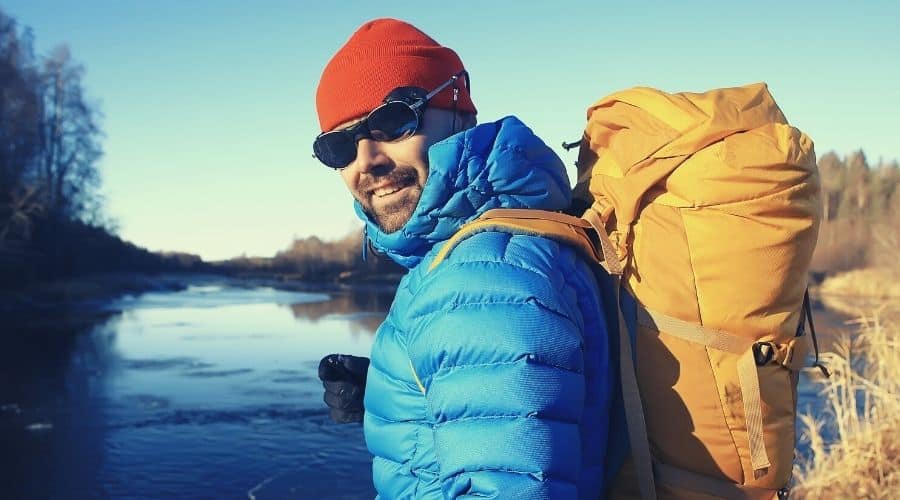 Insulating Layer
The next piece in the puzzle is the insulating layer or "mid-layer". It goes over the top of the base (meaning those materials need to be very thin and tight-fitting) and is all about keeping you warm.
Some examples of clothes in this winter hiking layer include things like a mid-weight down or fleece jacket, wool or fleece pullovers or hoodies, and softshell pants.
They need to be warm but still thin enough to get another coat over them or a pair of rain pants. If you are facing truly frigid conditions, you could also try insulated fleece pants.
The clothes that you wear in this layer might be made of several different materials. Some of these could include fleece, mid-weight merino, down, and even fleece-lined softshells.
Fleece is a good addition for a hiker on a budget since it is cheaper but still quite warm. It is very lightweight as well and continues to insulate even when damp. The only downside is that it is usually quite bulky.
Mid-weight merino wool might be one of the best insulation options out there. It is highly breathable while still being toasty warm. It is, however, usually eye-wateringly expensive.
Finally, there is down. Down is not waterproof-breathable. What it is is a superb insulator. Given this, down's only a good option if worn in dry conditions or under a waterproof shell.
With all mid-layers, make sure they are slender enough to get under your shell but loose enough to fit over your baselayer.
Pants for Winter Hiking
Our legs are not as sensitive to the climate as our upper bodies, but equipping them with the proper gear is still essential.
Fleece-lined pants are the most insulating option, but they are also the heaviest, least breathable, and will likely be overkill unless you're out in seriously cold weather.
Also, consider the plan for your shell. Do you intend on bringing rain pants? If not, ensure that your mid-layer pants are waterproof or at least water-resistant to avoid getting wet.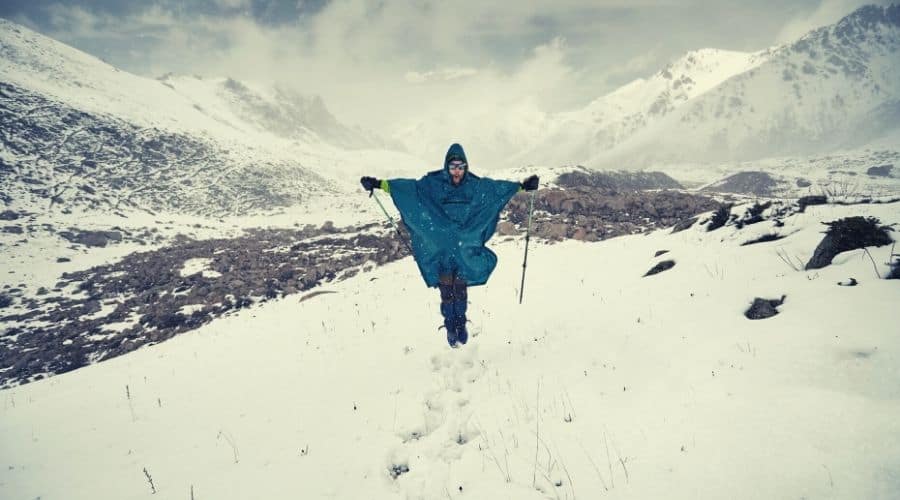 Shell Layer
The final aspect to consider when trying to stay warm and dry while hiking is the shell layer. The shell is all about staying protected from the elements.
In wet conditions, you need to wear clothes that are highly waterproof since your underlayers will likely only be water-resistant at best. For the same reason, the shell should also be windproof.
The shell should be the most water-resistant and windproof part of your gear, whether that means wearing a waterproof-breathable rain jacket and pants or water-resistant softshells.
Be sure to check that items in your shell layer have a high hydrostatic head, which is the measurement and rating used to determine levels of waterproofing in both pants and jackets, as well as tents and other gear that's made to protect you from the elements.
Also, remember that "water-resistant" and "waterproof" are not interchangeable terms. To be on the safe side, we always recommend opting for the latter of the two.
Shell Jackets
Beyond waterproofing, there are a few features to look for in rain jackets for hiking. The most important of these include:
A peaked, wired hood to keep rainwater out of your eyes
An adjustable hem at the waist to add/reduce airflow
Storm flaps on the zippers
Waterproof zippers
Pit-zips for ventilation
Adjustable wrists cuffs
A cinch to stop your hood flopping in your face
Finally, also bring your backpack when you go to try on these jackets. The jacket's pockets need to be accessible when you wear your pack so you can keep your hands warm and dry.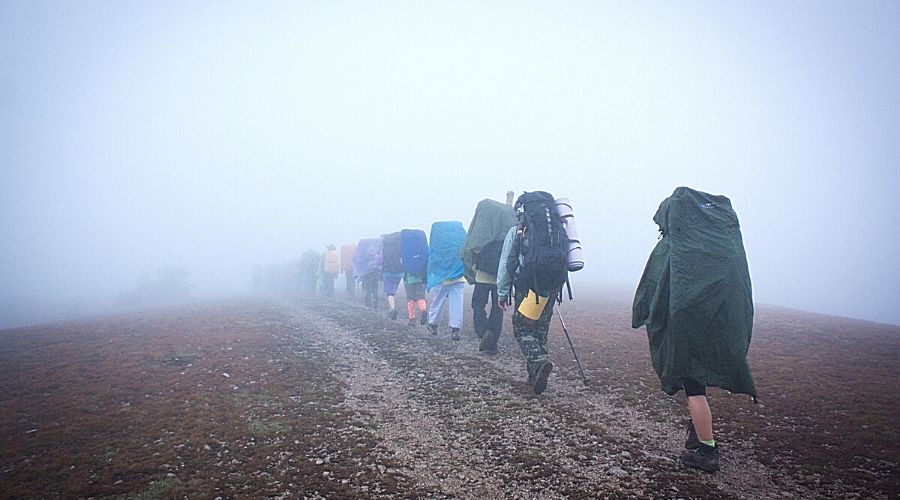 Shell Pants
The requirements for the type of shell pants you should wear or carry while winter hiking are essentially the same as the jacket: waterproof, breathable, and with plenty of options for ventilation.
They should fit over your mid-layer clothes and not make the outfit too tight or restrictive. You may find that models with a gusseted crotch and articulated knees worked into the design can help with this objective.
They also need to be easy to get over your boots, ideally using a full-length zip that lets you whip them on and off without having to remove your footwear.
Adjusting Your Layers to the Conditions
Winter hiking entails exposing yourself to sudden changes in the weather. You need to be prepared for anything, even if the weather forecast predicts the opposite only hours before you leave.
Just because you are cold-weather hiking, doesn't mean that you won't get warm. Ensure that your pack is large enough to hold your extra layers along with any other necessary hiking gear.
Don't be afraid to take clothing on and off frequently. Be sensitive to the temperature, and even if you feel hot, don't expose your bare skin—it's far harder to warm up once chilled than vice-versa!
A winter hiking outfit should be easy to tweak, as well. If you're buying new duds, look for items that have pit zips, wrist cuffs, collar zips, and ventilation panels that you can adjust if you get too hot heading uphill or want to warm up on the descent.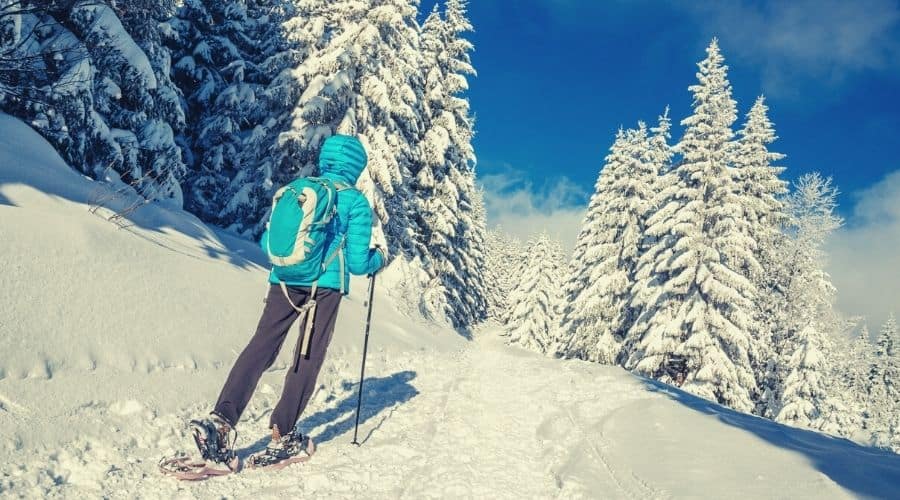 Footwear
We promised that we would cover you from top to toe, and we intend to fulfill that promise. What you wear on your feet is just as important, if not more so, than all of the other clothes in winter hiking clothing getup.
What you wear on your feet can protect you from icy conditions and slips when trekking in the snow. You should wear:
Crampons/Microspikes/Snowshoes
Winter doesn't always mean snow. Even without snow cover, though, there is still a possibility you could encounter ice while hiking. Wearing crampons or microspikes can mean the difference between staying upright or sliding down a slippery slope.
Snowshoes are also a good option if there is a good covering of snow over the ground. They use crampons that keep you steady on ice and also disperse your weight over the snow's crust, helping you avoid postholing (sinking into your knee).
Hiking Boots
Hiking boots are essential all year round. However, during the colder seasons, they should be winter boots with more insulation than your regular summer-spring-fall hiking boots.
Ensure that your boots are compatible with the crampons you need to wear. C1-rated crampons are compatible with all types of boots. C2 crampons will only be compatible with B2 boots that have heel and toe bails or welts.
Finally, C3-rated crampons are exclusively used for ice climbing and will only be necessary if technical climbing is on the cards.
If you are simply out for some general winter hiking, you will only need a combination of B1 boots with C1 crampons. Intend to travel across a glacier or up a steep, icy slope? A B2 and C2 combo will suit you better.
Socks
If you aren't allergic, wool socks offer the best way to keep your feet warm. However, you need to ensure they are not too tight that they affect your circulation.
As with other hiking gear, avoid cotton socks. The breathability of wool and synthetic materials like polyester make them the best.
Gaiters
Gaiters are a fabric guard that fits over the top of your boot and extends to about mid-calf height on your leg. They are super-duper handy if you are hiking in snow or mud, fending off both rainwater and groundwater and ensuring neither sneaks in at the collar of your boots.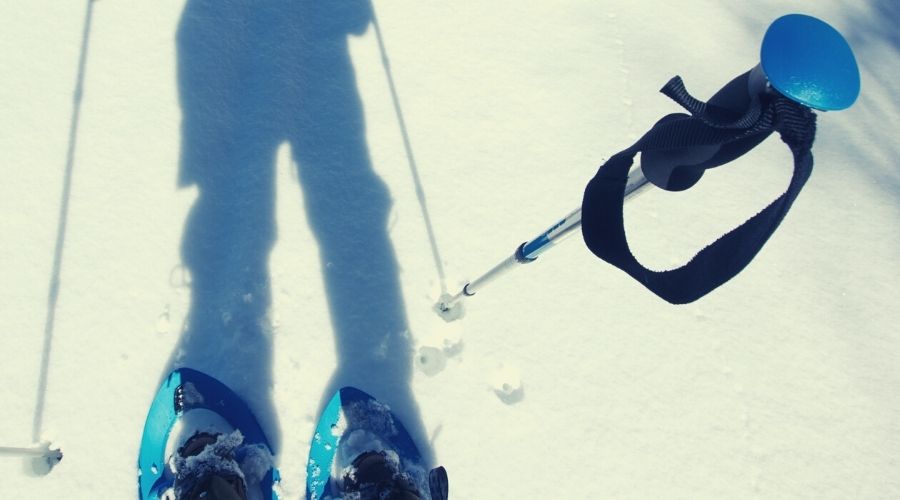 Accessories
You don't want to overdo it on the amount of gear you bring with you up a mountain at any time of year. However, some additional items could prove invaluable:
Buff/Neck Gaiter: An excellent winter addition, the buff or neck gaiter is a closed tube made from fabrics like fleece, merino wool, or knitted synthetics. It can be worn as a beanie, neck warmer, face mask, and even a sweatband.
Balaclava or Face Mask: If you are facing freezing temperatures or biting winds, wearing a balaclava or a face mask will protect the skin on your face from windburn or, heaven forbid, frostbite.
Hats: Beanies or other types of knit hats will keep the heat from escaping from the top of your head. Again, wool options are winners!
Sunglasses or Goggles: The sun's rays in winter can still do serious damage to your eyes. Make sure these have a good UPF rating and will stay on your head in high winds.
Gloves and Glove Liners: Your fingers often have the worst circulation in your entire body. Protect them by layering up gloves with glove liners. As always, these should be breathable and capable of keeping the elements at bay. A wool liner and insulated top glove with a waterproof shell are the best combo.
What to Wear Hiking in Winter: Tips and Tricks
Although gear for winter hiking can vary, we have some valuable tips to help you select the best clothes to wear during these hiking trips.
Avoid Tight Accessories and Clothing
Overall, you want to avoid clothing that is too tight. The base layer is one of the few that should be tighter, but not so much that it begins to cut off circulation, which is a surefire way to start feeling chilled. Pay special attention to your wrists and ankles.
Thermals can be slightly tighter since they are meant to keep the body's heat close and prevent cold air from forcing its way in. The mid-layer and shell are then looser to utilize air as extra insulation and, of course, to let you squeeze them on over lower layers without restricting movement…
Don't Forget Sunscreen and Snow Glasses
Although the sun doesn't feel as hot while winter hiking, we often forget that wandering without protection in the winter months can still harm your skin.
Snow reflects the light from the sun. By doing so, it can burn your skin or cause skin sensitivity. Wear sunscreen on any bare skin to protect yourself. Even on a cloudy day, UV rays still get through, and the snow still isn't a friend.
If you're hiking high in the mountains, remember that UV rays are stronger at higher elevations. As such, you will burn much faster than what you are accustomed to.
Consider Adding Heat
You don't only have to rely on your body heat to keep you warm during winter hiking and camping. On particularly cold trips, consider using battery-powered heat packs. Just ensure they don't get wet to keep them functioning correctly.
You can also wear single-use heat packs in your gloves. This is a great way to keep your hands warm if you have slower circulation.
Get You Winter Wander On!
When the nights start getting shorter and the mercury plummets, there's no need to go consigning your backpack and hiking boots to the store cupboard until spring. By following the above tips, you'll be able to carry on hiking all year round and stay safe and cozy on the trail no matter what kinda weather you encounter.
Do you feel like our article has equipped you to know what to wear hiking in winter? If you have a favorite tip or a question, please share it in the comments below. And if you liked the article, feel free to share it with your friends!
Further reading: Is winter finally beginning to thaw? Check out our guide to see what to wear hiking in spring!