Looking for an exciting outdoor adventure in Indiana? Look no further! With its rolling hills, endless forests, and plentiful bodies of water, Indiana offers a plethora of serene places to set up camp.
Whether you're a long-time camping veteran or getting started, this state has something to offer every type of camper. From rustic backwoods retreats to bustling lakeside RV parks, we'll take you through the top Indiana campgrounds so you can start planning your next getaway today!
1. Brown County State Park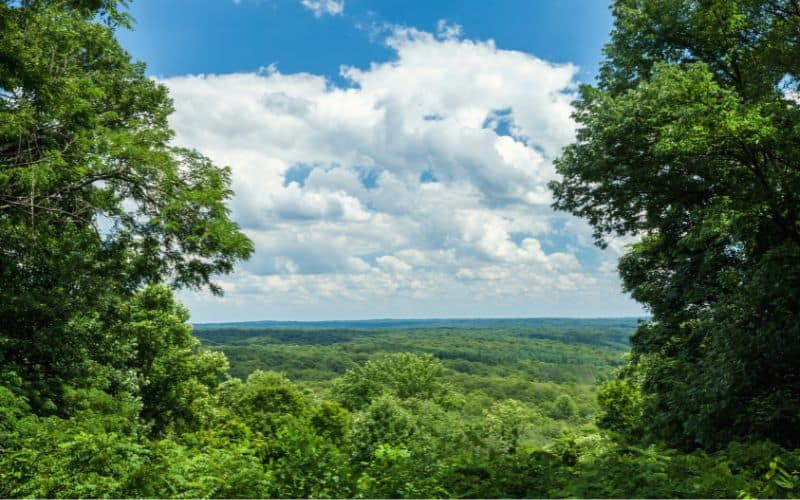 Type: RV, Tent
Electric: Yes
Nearest town: Nashville (2 miles)
Brown County State Park is one of Indiana's largest and most popular state parks. It comprises 16,000 acres and has five different campgrounds, so there's plenty of space to explore and sure to be a camping location that suits your needs.
The state park is nicknamed 'Little Smokies'. With rugged hills, dense woodland, mysterious and misty ridgelines, and rushing water, Brown County State Park is believed to resemble the Great Smoky Mountains, the mountain chain that runs between North Carolina and Tennessee.
There are 12 hiking trails of various difficulties that meander throughout the park. We suggest trying the '7 Vista Challenge'!
There are also 15 mountain biking trails and over 70 miles of horseback riding trails. If you've never ridden a horse, this is a great place to do so – especially in the fall, when the changing leaves make the scenery all the more epic!
Apart from the aforementioned activities, you can also enjoy the large swimming pool, the nature center, go to the camp store, and climb a 90ft fire tower for exceptional views over Brown county!
Whatever you decide to do, we recommend watching the gorgeous sunrises or sunsets from one of the many vistas on a trail or along the 20 miles of tree-lined roads, where you'll find plenty of viewpoints to take it all in.
2. Indiana Dunes Campground, Indiana Dunes National Park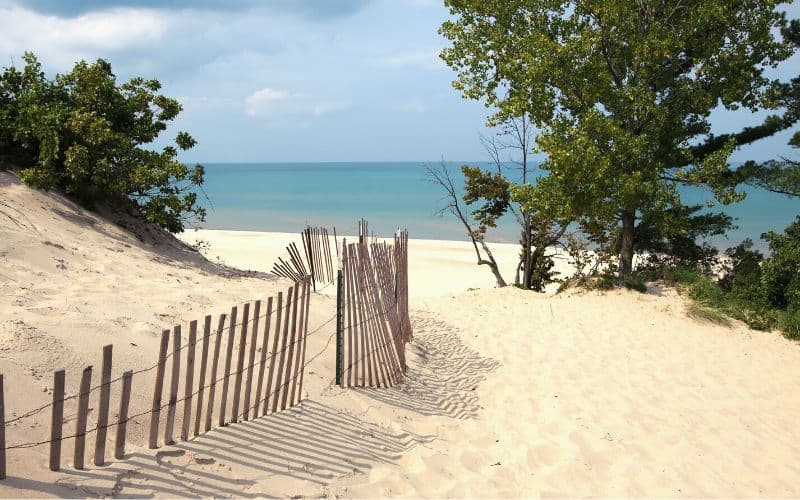 Type: RV, Tent
Electric: Yes
Nearest town: Porter (3 miles)
Rolling hills, 200ft sand dunes, various species of flora and fauna, 3 miles of beach along the southern shore of Lake Michigan – what more can you ask for?
Indiana Dunes State Park was established in 1925 thanks to the conservation efforts of botanists, scientists, and keen outdoor enthusiasts. The park offers some of the most varied landscapes in the state so is one not to be missed for nature lovers of all kinds.
There are more than 350 bird species, 1,110 flowering plants, and 50 miles of beach and dune hiking trails. And, if you need more, there are various water sports to enjoy, cross-country skiing, and plenty of idyllic spots for a post-hike BBQ on the beach.
Seven hiking trails set out from this campsite. If you are keen to explore and up for a challenge, we particularly recommend the 9-mile Calumet Trail. If you're looking for a fun workout, we recommend the '3 Dunes Challenge'. With 552 ft of over 1.5 miles, this challenge takes you over the three highest sand dunes in the Indiana Dunes State Park!
There are 140 campsites at Indiana Dunes, as well as picnic tables, shelters, flush toilets, hot water, showers, and a nature center on-site.
3. Dunewood Campground, Indiana Dunes National Lakeshore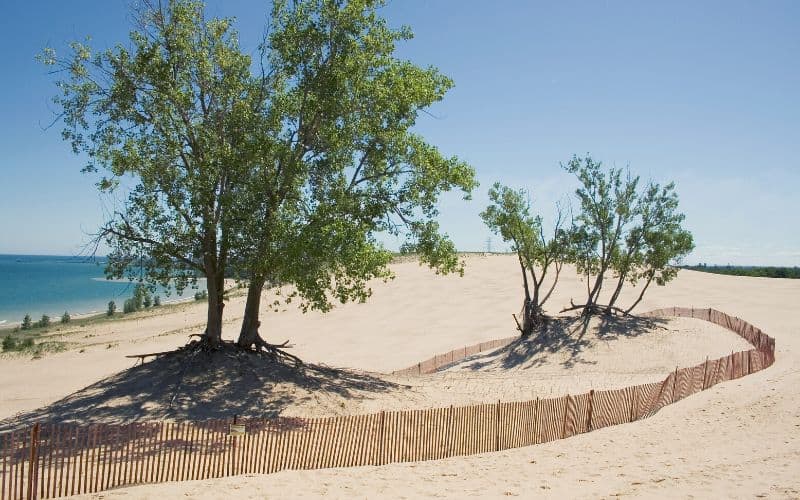 Type: RV, Tent
Electric: No
Nearest town: Beverly Shores (2 miles)
Dunewood Campground offers more primitive sites along the shores of Lake Michigan. From spring to autumn, this campground has a variety of different activities for the nature lover: bird watching, swimming, hiking, camping, fishing, canoeing, paddling, and historical sightseeing. And whatever you do here, it can all be capped by a beautiful sunset on the beach.
Two campground loops hold the 66 campsites – 52 drive-ins, 12 walk-ins, and 4 fully accessible. There are hot showers, flush toilets, picnic tables, and shelters. However, there are no electric and water hookups.
4. Hardin Ridge Recreation Area, Hoosier National Forest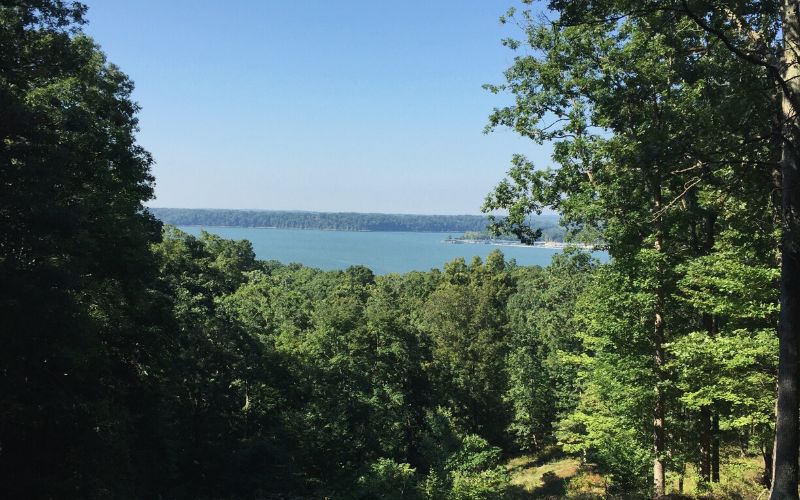 Type: RV, Tent, Cabin
Electric: Yes/No
Nearest town: Bedford (15.7 miles)
This seasonal campground is located on Monroe Lake (Indiana's largest lake) in the secluded Hoosier National Forest, just south of Bloomington. If you love hiking, swimming, and boating, but need respite from the hot sun, then this shaded campground is for you.
There are 200 campsites in the Hardin Ridge Recreation Area, spread over six campground loops. Depending on the size of your party, you can either rent a single or double campsite. And, if you're tired of sleeping in the ol' tent and want a different kind of experience, there are rustic rental cabins!
Amenities on-site include picnic tables, modern restrooms, a boat launch, swimming beach, and recreation areas.
However, right on the outskirts of the campground, there is so much more to do. Go swimming, boating, or fishing in Monroe Lake, head up to the Hickory Ridge Lookout Tower, explore the Pioneer Mothers Memorial Forest and the Hemlock Cliffs National Scenic Trail, or visit the Lick Creek African American Settlement.
If it's not obvious . . . there's heaps to do!
5. Yogi Bear's Jellystone Park Camp-Resort, Lake Monroe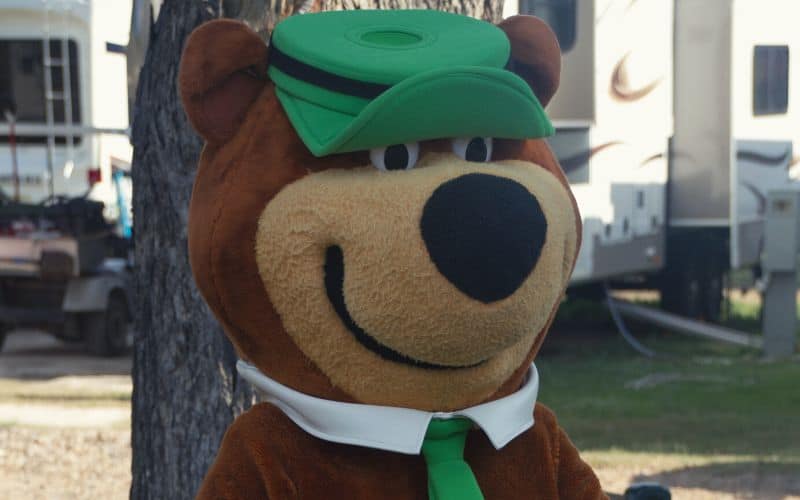 Type: RV, Tent, Cabin
Electric: Yes
Nearest town: Harrodsburg (2.7 miles)
If your kids aren't so keen on 'wild' traditional camping and prefer resorts with waterparks and other fancy facilities, then this is the place to go. Yogi Bear's near Lake Monroe is basically an amusement park, with tent sites, RV sites, and the option to rent deluxe cabins!
So, what can you expect? The simple answer is 'something different – every day'. Yogi Bear's foam parties are notoriously fun, but some of the more 'traditional' activities include swimming, arts and crafts, and relay races.
For the non-traditional and unique events, you can expect character visits with your favorite mascots, exploring the entire campsite on pedal carts, and going gem-mining. All of these activities are available daily.
Every weekend, Yogi Bear's has a different theme. From 'Life on the Farm', 'Mermaids and Pirates', and 'Hawaiian Luau' to 'Jurassic Jellystone Park' and 'Christmas in July', no weekend camping trips are ever the same . . . and the kids will want to keep coming back!
6. Turkey Run State Park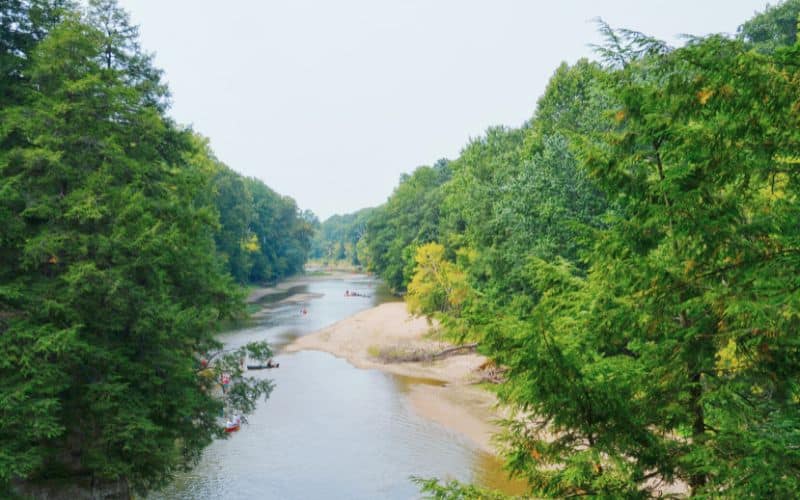 Type: RV, Tent, Cabin, Inn
Electric: Yes
Nearest town: Marshall (2.4 miles)
Turkey Run is one of the busiest state parks in Indiana, and with good reason. The activities range from horseback riding, hiking, swimming, playing ball, and visiting the nature center.
If there's one thing we recommend, it is to visit the numerous historical sights scattered across the state park grounds. Whether it's the Lieber Cabin, the Log Church, the Lusk Home, or the Narrows Covered Bridge, these historical sites which date back to the early 1800s are utterly fascinating.
There are different options to enjoy your stay at Turkey Run State Park, all with various camping fees. This is great if you're traveling in a big group and everyone has their own preferences and budgets. There are 61 rooms in the Turkey Run Inn, 23 rental cabins, and 213 campsites. If the campground here is full, check out the nearby Sugar Creek Campground.
Regardless of how you choose to stay, it's worth noting that over 1 million people visit the state park every year. Our advice? Book early! This may be the most visited campground on our list.
7. Clifty Falls State Park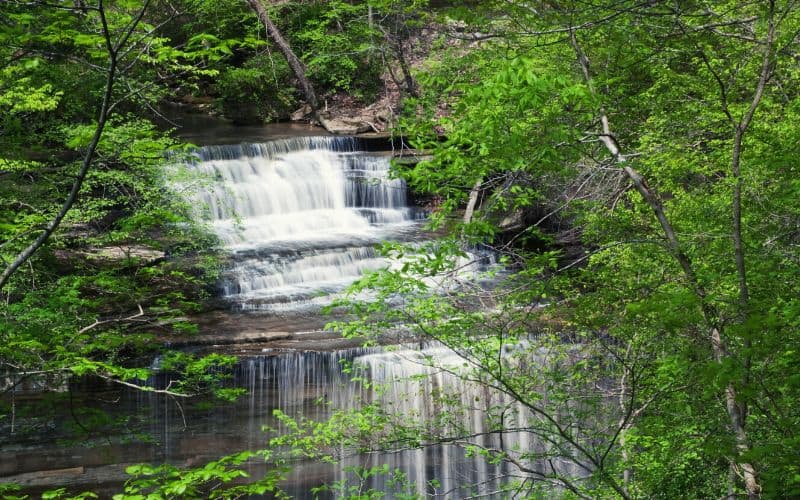 Type: RV, Tent
Electric: Yes/No
Nearest town: Madison (5 miles)
Only a few miles away from the Ohio River, which marks the Kentucky-Indiana border, Clifty Falls State Park offers one of the most scenic camping experiences in southern Indiana.
This incredible park offers year-round hiking trails to the four waterfalls, which we recommend visiting during the spring and wintertime. From roaring cascades to frozen torch-like icicles, they are never the same!
There are 169 sites here – 106 electric, and 63 non-electric. Amenities include tennis courts, a nature center, a swimming pool, picnic tables, shelters, and a dumping station.
There is plenty to do in this state park right from the campground. If you're a keen hiker, there are ten trails of various difficulties. We recommend trying the 'Four Falls Challenge', which is a 4-mile hike along part of the old railroad, through canyon walls, and past these great big falls. On-site, there are the Dogwood, Redbud, Hoffman, Tunnel, and Little Clifty Falls.
Note, the historical railway tunnel is only open to visitors from 1 May to 31 October.
8. Summit Lake Campground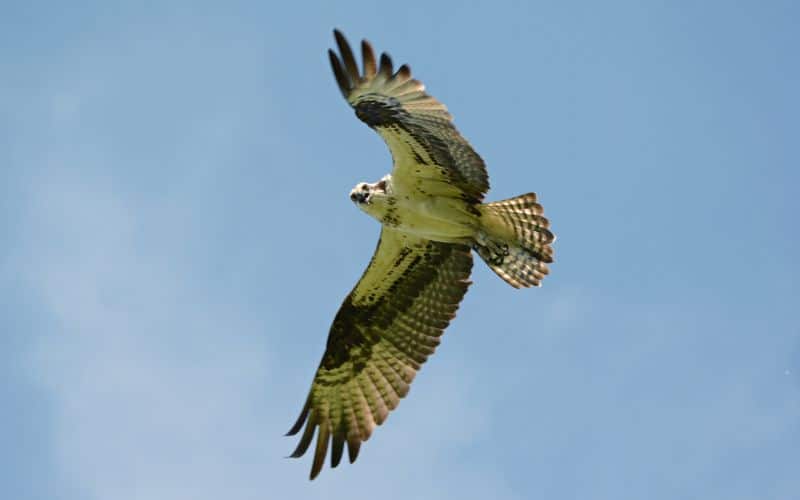 Type: RV, Tent
Electric: Yes
Nearest town: Mooreland (5 miles)
If you're a keen water sports fan, then this campground is the place for you. Right on the lake, there are three separate boat launches and a beach shelter. You can catch six different types of fish and, if you're traveling from afar and can't bring your water vessel, fear not. Here, boat rentals include canoes, paddleboats, and rowboats. 
Summit Lake isn't only for water people. Nearby prairie marshes and meadowland offer fantastic opportunities to watch waterfowl, while the area is also known for witnessing rare migratory species such as eagles, osprey, the black tern, and bitterns.
Lastly, there are four great walking trails for those who enjoy silence and seclusion. These meander through prairie grasses and oak wood, where you can also witness clear markings of glacial activity.
Note, blue-green algae is found in the water year-round. Try to avoid contact with it and do not drink the lake water.
9. Chain O'Lakes State Park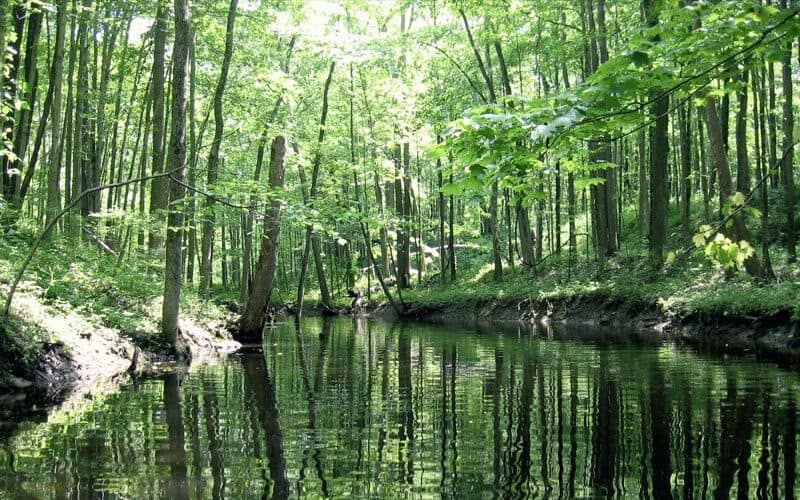 Type: RV, Tent, Cabin, Canoe
Electric: Yes
Nearest town: Albion (7.7 miles)
Chain O'Lakes State Park is the ideal destination for those who enjoy long canoe and kayak trips in tranquil environments. Comprising 9 lakes, there is no better place to get out on the water. And, if you're up for it, we recommend the 5-mile long '9 lakes challenge' which, as the name suggests, will see you navigate across all 9 lakes! 
There are many different activities to savor the area's quiet, rugged landscapes. Of course, renting a boat is a great option. Fishing is also great, and in the winter there is even the option to go ice fishing!
If you're not so keen to get on the water, there are twelve hiking trails, some of which are interpretive and self-guided. You can visit the Stanley Schoolhouse, built in 1915, and in the winter cross-country skiing around here is great, too.
The Chain O'Lakes Campground has 426 camping sites: 331 electric, 49 non-electric, 33 primitive, 4 rally camp, 4 canoe camp, 4 youth tent areas, and various cabins. The campground also has a dump station and camp store.
10. Grandpa's Farm Campground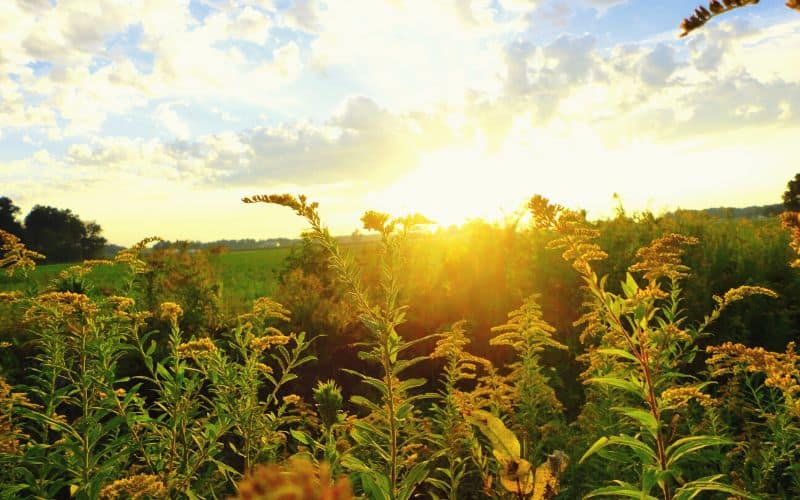 Type: RV, Tent, Cabin, Canoe
Electric: Yes
Nearest town: Albion (7.7 miles)
If your Indiana RV camping trip doesn't take you to Grandpa's Farm, then you've got to re-route. Set among the state's eastern rolling hills and by the Whitewater River, this is an Indiana classic.
Grandpa's Farm Campground has been operating for 58 years, and their modest camping fees reflect their focus on providing the best experience to travelers. Amenities include hot showers, laundry services, a camp store, free wifi, a swimming pool, fire rings and picnic tables at each site, and more!
While the Whitewater River's name would suggest it offers wild, adrenaline-filled fun, it is in fact a mellow river and great for swimming. In the campground, there are also shuffleboards, basketball courts, and a large recreation area for the kids to run around, while indoors or beneath a roof, campers can enjoy pool tables, ping pong, and arcade games.
There is something old school about this family-run campground, and we like that! Campers are welcome to stay as long as they want, too.
11. Mccormick's Creek State Park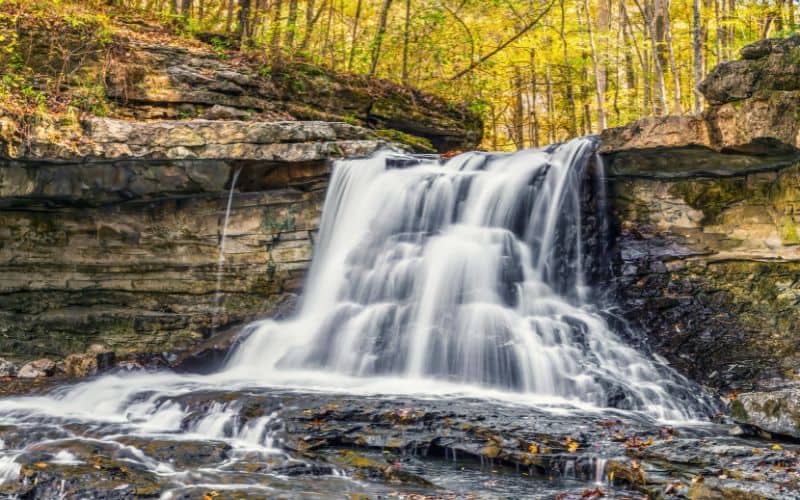 Type: RV, Tent, Cabin, Inn
Electric: Yes/No
Nearest town: Spencer (2.2 miles)
Established on July 4, 1916, as part of Indiana's centennial state celebration, this is Indiana's oldest state park… and it is nature's paradise. If you're looking to immerse yourself in the best Indiana has to offer, this place should be high on your list.
Mccormick's Creek State Park Campground has 120 campsites – 89 electric, and 31 primitive. If you'd rather stay inside, you can rent a room in the Canyon Inn, or stay in a cabin.
There is no shortage of natural beauty here. There are ten hiking trails of varying difficulty where you can enjoy the abundance of wildflowers, waterfalls, various trees and plants, and the infamous limestone canyon. The Rolling Meadows Golf Club is nearby, too, for those who fancy squeezing in 18 holes at one of the state's premier public courses.
If you enjoy history, we recommend climbing the fire tower to get a great view over the surrounding countryside and visiting the Statehouse Quarry.
12. Dogwood Springs Campground
Type: RV, Tent
Electric: Yes
Nearest town: Cloverdale (6.3 miles)
Located only 30 miles southwest of Indianapolis, and open from April to November, Dogwood Springs Campground is another relaxing nature oasis with so much to do.
With more than 500 acres of land, there are 15 lakes and ponds, many of them stocked for fishing. RV, trailer, or tent, you're guaranteed to get a well-secluded and shaded campsite, and you can fish from your chair!
If you're a keen fisherman and are staying for an extended period of time, we recommend going across the road to Deer Creek Fish Area.
There is a large recreation area and many hiking trails around the park, so there's plenty more to do if you're not a water lover.
13. Paynetown Campground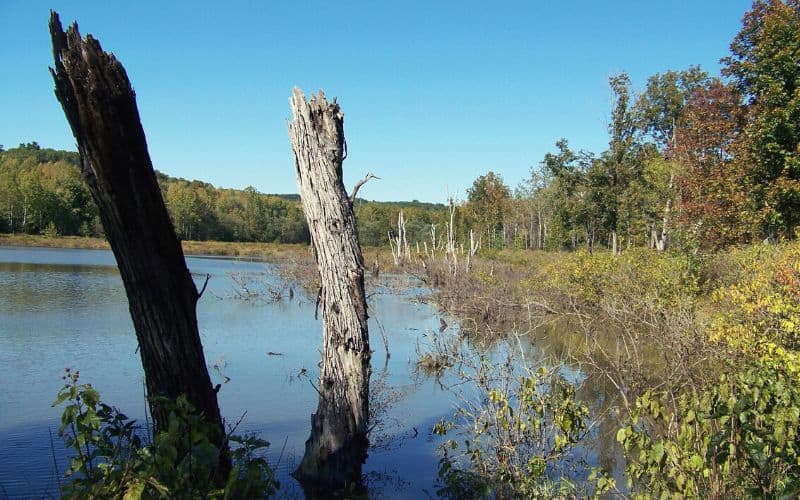 Type: RV, Tent
Electric: Yes
Nearest town: Bloomington (6 miles)
Paynetown Campground is nestled on a small peninsula on the north side of Monroe Lake, the largest lake in Indiana! From the water's edge, after having enjoyed an activity-filled day of hiking, swimming, boating, fishing, and even hunting, you can enjoy a relaxing picnic or barbeque as the sun sets.
Like many places in Indiana, this campground really springs to life during the fall. Orange, red, yellow, auburn, ochre – all the trees surrounding the massive lake seem ablaze, and the landscape is simply beautiful. Whether you're a birdwatcher or not, keep an eye out for a bald eagle perched high up in a tree or swooping high up in the sky. They are impressive birds!
There are 227 camping sites at Paynetown Campground, with a mix of both electric and non-electric. RV or tent camping, they've got you covered! There is also a large recreation area, basketball courts, a dump station, a boat launch, a fish cleaning station, a shelter, and a playground.
Note, there is a blue-green algae advisory alert, so do not swallow the water or come into contact with the algae. It is recommended that you shower with warm soapy water after swimming.
Best Camping in Indiana, Let's Go!
From the wild sand dunes, beaches, lakes, and isolated woodland of northern Indiana to the historical areas, swimming pools, and amusement parks down south, there is no singular camping experience in this state. What they do have in common is that each destination is dreamy for the fun and adventure-loving camper!
Whether you're looking for a cabin getaway, a glamping pod, RV sites, or secluded areas to pitch your tent, the many Indiana state parks are guaranteed to put a big smile on your face!
If you know someone who is looking for the best camping in Indiana, then please feel free to share this article with them! And if you have any questions or comments, drop them in the box below.