There's more to Kentucky than bourbon and bluegrass! This state has plenty of incredible hiking trails, making it an ideal hiking destination that's still under the radar.
From towering waterfalls to lush forests to red rock arches, the stunning landscapes and the environmental diversity of Kentucky hiking trails has so much to offer.
This guide has everything you need to know to hit the trail, including highlights from each trek, difficulty level, and other important details.
1. Eagle Falls Trail, Cumberland Falls State Resort Park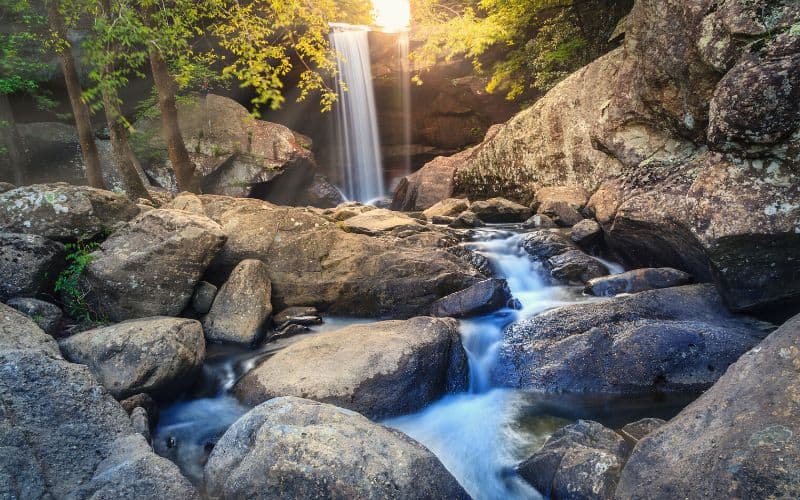 Type: Out-and-back
Difficulty: Strenuous
Length: 1.5 miles
With some of the most gorgeous scenery in Cumberland Falls State Resort Park, the Eagle Falls Trail is one of Kentucky's bucket-list hikes. The path leads to striking views of two waterfalls: Eagle Falls and the larger Cumberland Falls – known as the Niagara of the South.
This short, yet challenging 1.5-mile trek follows the Cumberland River and then descends via rocks and over 100 steps to reach the stunning 44-foot-tall falls. A walk along the cliff line takes you to one of the finest vistas of Cumberland Falls, with fewer crowds than you'll find on the main trail to the falls.
Don't forget to stop for a dip in the pool at the base of Eagle Falls before heading back! You can also take a peek behind the rushing waterfall for an interesting vantage point. Wear waterproof hiking shoes because some parts of the trail may be submerged during peak water season.
2. Sand Gap Trail, Natural Bridge State Resort Park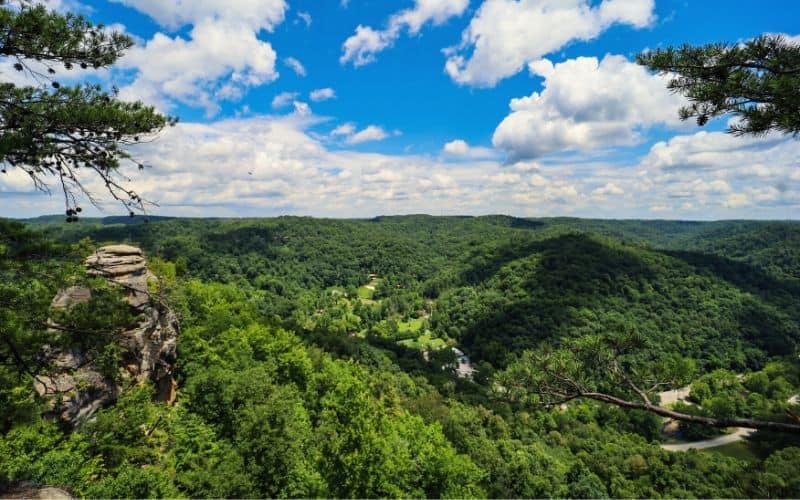 Type: Point-to-Point
Difficulty: Strenuous
Length: 7.5 miles
The Sand Gap Trail is 7.5 miles long and the most challenging trek in Natural Bridge State Resort Park near Slade. The park is home to over 19 miles of hiking trails and a 60-acre lake.
The trailhead is close to the top of the Balanced Rock Trail, around 500 feet from Natural Bridge. From there the path follows part of the Sheltowee National Recreation Trail along an old road to a forested ridgetop.
The path passes through Lower Hood Branch, a bog, more bridges, rhododendron thickets, and old logging roads from the 19th century. It eventually connects with Hood Branch Trail as it descends toward the skylift and mini-golf parking area.
Sand Gap Trail is a serene trek through Daniel Boone National Forest's high country flora and presents opportunities to see local wildlife, like bears, deer, and snakes. There are no exit points other than the trailhead and end point, so be sure to allow at least 4 to 6 hours to complete this hike before the sun sets.
3. Double Arch Trail, Daniel Boone National Forest
Type: Out-and-back
Difficulty: Moderate
Length: 4.6 miles
With over 100 natural arches, the Red River Gorge Geological Area, near Stanton, has the largest number of stone arches anywhere on this side of the Rocky Mountains.
The Double Arch Trail is a moderate to difficult trek to see the area's famous sandstone arch. The 4.6-mile hiking path takes you down past a high cliff and through giant hemlocks and bigleaf magnolias. Once at the end of the ridge, you'll get a jaw-dropping vista of the beautiful Double Arch and the incredible gorge.
After taking in the views of the arch, you can catch a glimpse of Courthouse Rock, Haystack Rock, and other landmark Red River Gorge rock formations.
It takes most hikers a little under 2 hours to complete the trek. This popular hike is open year-round, but plan your visit around the crowds because it gets busy! Parking for this trail is at the Auxier Ridge Trailhead lot.
4. Indian Staircase and Indian Arch Loop, Red River Gorge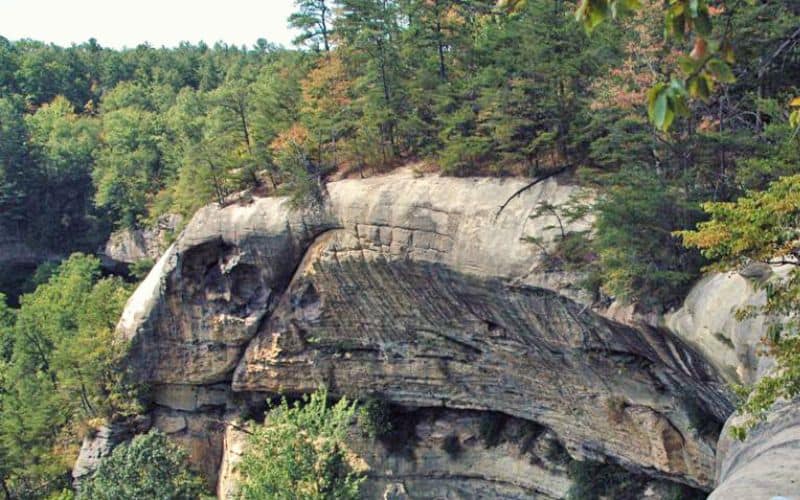 Type: Loop
Difficulty: Strenuous
Length: 3.5 miles
This strenuous yet rewarding hike is a 3.5-mile loop trail in Red River Gorge, near Frenchburg.
The Indian Staircase Trail is a grueling hike with scrambling and climbing up a steep rock face for about 200 feet. The path is unmaintained, unofficial, and can be outright dangerous at times. As such, it's best to do this hike with a buddy for additional safety and to carry a good topographical map and compass for the unmarked portions of the trail.
It takes some experienced hikers about 1.5 hours to complete this hike but you should allow between 3 to 5 hours to have time to enjoy the scenery and a picnic at the top of the staircase.
The Indian Staircase and Indian Arch Loop trail is extremely challenging and not meant for beginners or children. The trail is open year-round. Dogs are allowed, but they must be kept on a leash.
5. Rock Bridge Trail, Red River Gorge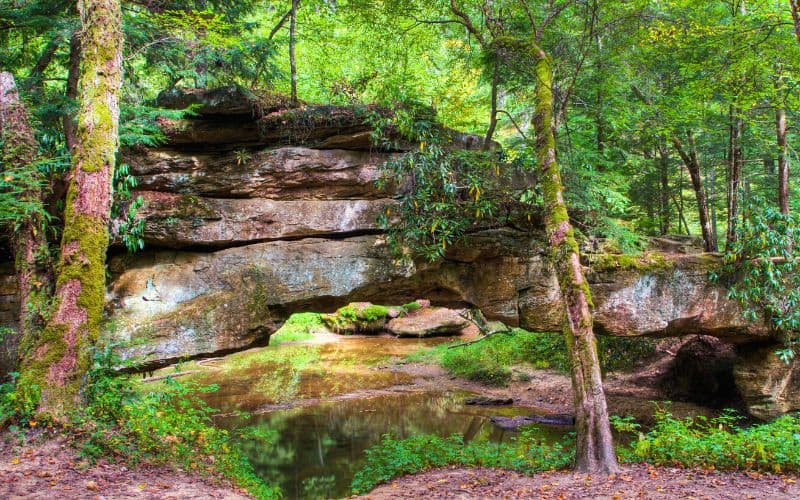 Type: Loop
Difficulty: Moderate
Length: 1.3 miles
Rock Bridge Trail is one of Kentucky's most unique treks and a must for any hiker in the state. Located inside the Red River Gorge and the Clifty Wilderness within the Daniel Boone National Forest, this multifaceted trek traverses a dense forest, a natural arch, a creek, and a waterfall.
The short, 1.3-mile loop trail is made up of sections of pavement and gravel. It meanders through a lush hemlock forest and descends over stone steps into a deep narrow valley. The hiking path passes by the Rock House cave formation and a 12-foot waterfall called Creation Falls.
Once past the scenic cascade, the trail leads to the impressive Rock Bridge. This natural sandstone formation arches over Swift Camp Creek and is the only arch in the Red River Gorge Geographical Area that crosses over water. It's estimated to be 300 million years old and makes for the perfect picture backdrop!
Cool off in the water or stop for a picnic under the trees before heading back to the trailhead.
6. Green River Bluffs Trail, Mammoth Caves National Park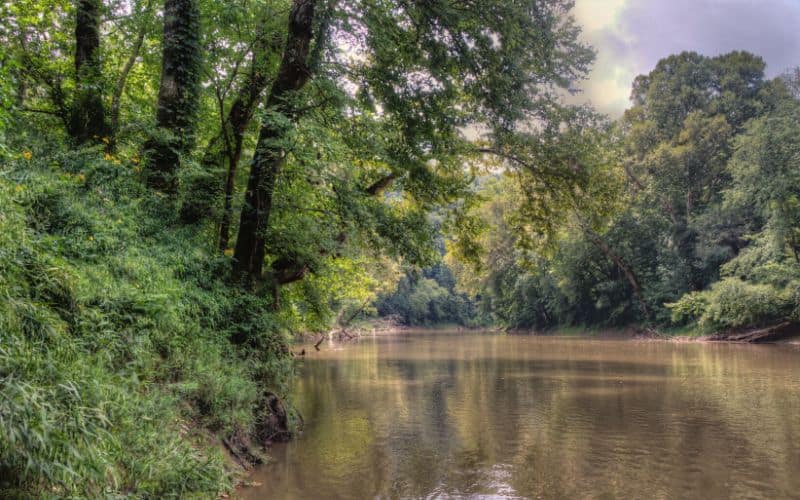 Type: Loop
Difficulty: Moderate
Length: 4 miles
The spectacular Mammoth Cave National Park is home to some of the top trails in Kentucky. Take some time to explore the park's above-ground trails before heading below to explore the famous underground caves.
Green River Bluffs Trail is a popular 4-mile loop offering a variety of beautiful vistas and utterly unique geology. Hike along this path to see Dixon Cave, several sinkholes, parts of Heritage Trail, and a river that flows out from an underground cave. Many visitors choose to do this surface hike along with a guided tour of the subterranean Mammoth Cave.
For a longer hike, take the Green River Bluffs Route. A trek that combines several shorter trails including Green River Bluffs Trail, Echo River Trail, Sinkhole Trail, and Heritage Trail.
7. Dog Slaughter Falls Trail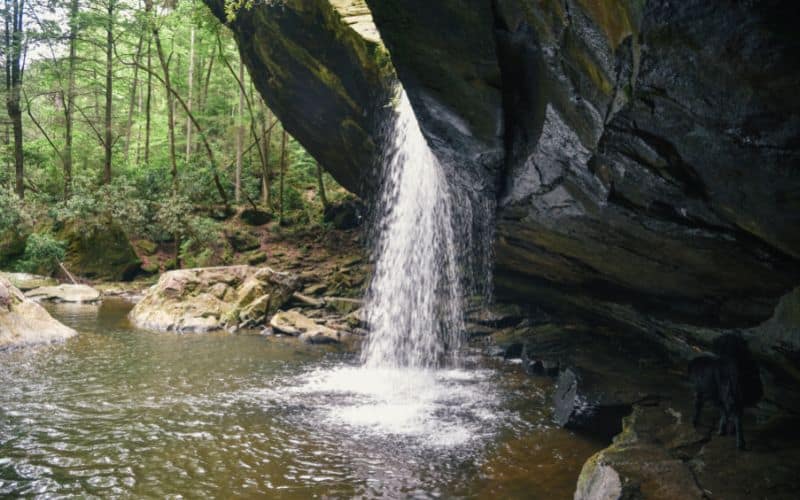 Type: Point-to-point
Difficulty: Moderate
Length: 3.7 miles
This hike in the London Ranger District near Corbin, Kentucky runs next to a creek to the 15-foot-tall Dog Slaughter Falls.
Dog Slaughter Falls Trail is a 3.7-mile point-to-point trek along Dog Slaughter Creek. The hike passes through areas thick with moss, hemlock, and rhododendron until it reaches the flowing waterfall.
The waterfall provides the perfect spot to stop to relax before heading back on the path. Once past the falls, the hiking path climbs over boulders just before connecting to Sheltowee National Recreation Trail, which ends at Cumberland River.
The trailhead is located off Forest Road 195, a little less than a mile from KY 90. There is another trail access point 2.7 miles from the KY 90 junction.
Take care during the rainy season because some low-lying areas are prone to flooding.
8. River Styx Spring Trail, Mammoth Cave National Park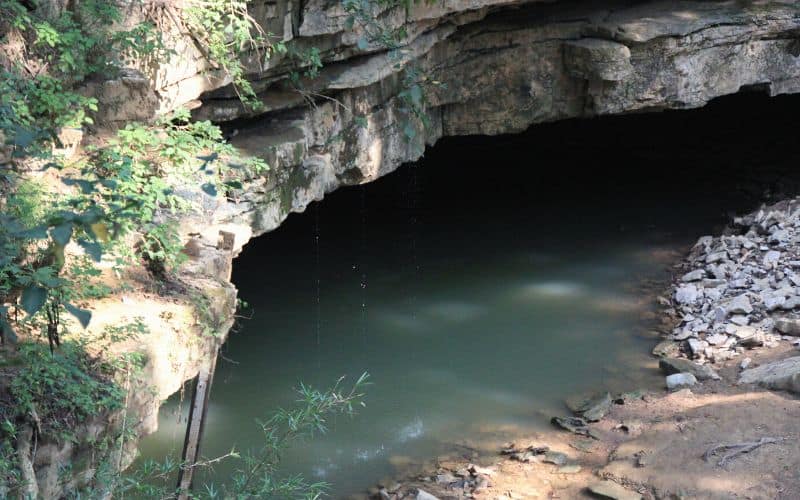 Type: Out-and-back
Difficulty: Easy
Length: 1.9 miles
River Styx Spring Trail is a popular surface trail in Kentucky's Mammoth Cave National Park. This short and easy hike takes you to see a freshwater spring bubbling out from one of the caves.
The trek begins just past the Visitor's Center near the Historic Entrance to Mammoth Cave. It's the larger trail on the left side of the cave's entrance. Keep in mind that you need to join a guided tour to explore Mammoth Cave.
After going downhill for less than half a mile, you'll reach Green River. Hop on the boardwalk on the left to get to the spring. Here you'll see the River Styx Spring, where groundwater flows out from Mammoth Cave towards the Green River.
Stop to check out the Green River before heading back uphill to complete the hike at the Visitor's Center.
9. Sheltowee Trace Trail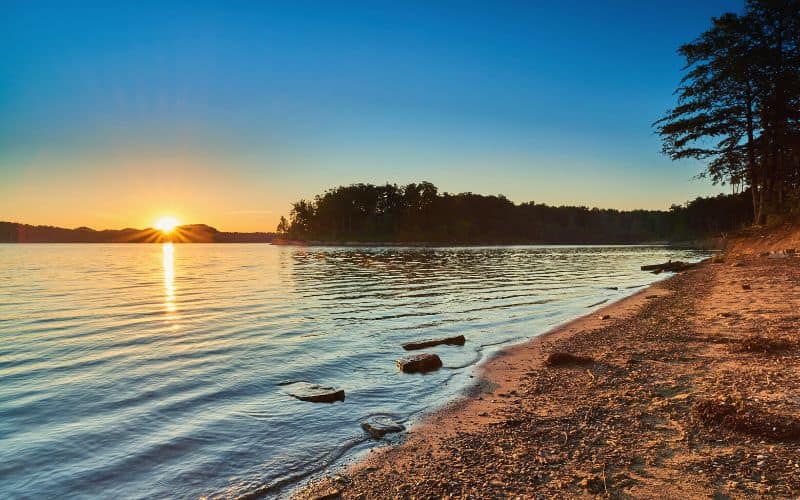 Type: Point-to-point
Difficulty: Strenuous
Length: 290 miles
Known as Kentucky's signature hiking trail, the Sheltowee Trace Trail is the backbone of Daniel Boone National Forest's trail system. This 290-mile trail begins near Morehead in northern Kentucky and ends at Pickett State Park in Tennessee.
Thru-hikers on the trail get to experience the most scenic regions in the state, such as Red River Gorge, Cave Run Lake, Laurel River Lake, and Big South Fork.
Sheltowee Trace Trail winds through a variety of Kentucky's natural landscapes, as well as old homesteads, oil and gas wells, and timber tracts. Along the way, you'll pass through rugged terrain, climbing along narrow ridges and descending into gorges with towering cliffs on either side.
The path also traverses swaths of private land and road corridors between portions of the national forest land. The trail is marked with white diamonds with a turtle symbol. Yellow signs or red paint on trees marking the beginning of private property.
There are many loop trails connecting to portions of Sheltowee for those wishing to explore the area on day hikes or short multi-day treks.
10. Bark Camp Trail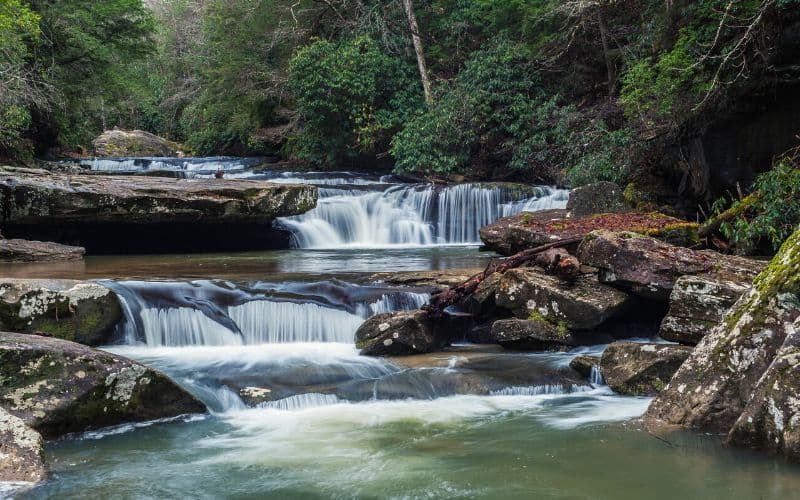 Type: Out-and-back
Difficulty: Moderate
Length: 6.1 miles
Bark Camp Trail follows the northern bank of Bark Camp Creek near Parkers Lake, Kentucky. It's located in the London Ranger District of Daniel Boone National Forest.
This 6.1-mile trek begins where Daniel Boone Forest Road 193 meets Bark Camp Creek. The well-marked path passes under rock shelters and high cliffs. About a mile from the trailhead, you'll encounter a small waterfall flowing from the cliff's jagged edge. There is another group of cascades where the trail connects with the Sheltowee Trace National Recreation Trail.
The series of pools are perfect for a refreshing dip after a walk on a hot summer day. Keep an eye out for the rainbow trout which inhabit the creek.
It takes most hikers a little over 2 hours to complete this trail. The trail is popular with hikers and walkers, but still has times with few visitors. Leashed dogs are allowed on the trail.
11. Auxier Ridge Trail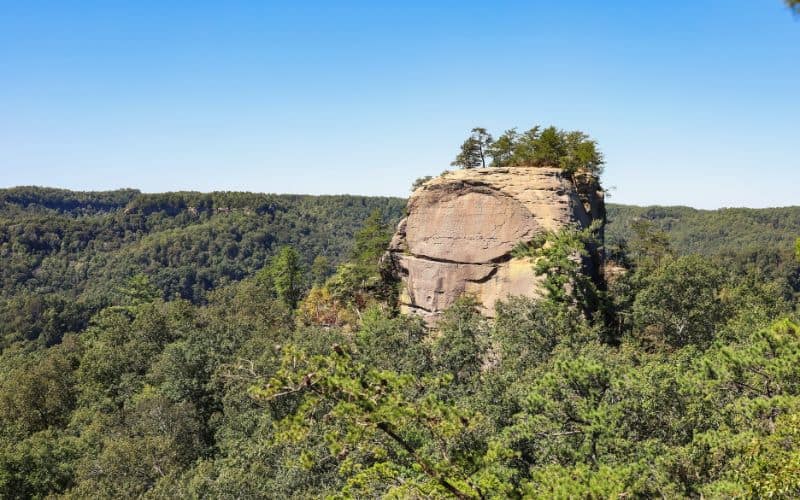 Type: Out-and-back
Difficulty: Moderate
Length: 4.2 miles
The Auxier Ridge Trail is yet another of the popular hikes within the Red River Gorge region in Eastern Kentucky. It features stunning vistas of the area's most well-known and interesting rock formations including Courthouse Rock, Raven Rock, Haystack Rock, and Double Arch.
This 4.2-mile round-trip trek along a narrow ridge has looming, colorful cliffs on either side of it (now you'll understand why the area is a mecca for rock climbing!). Once you reach the end of the trail and stop to take in the views, you can backtrack or continue to one of the many other hiking paths.
The Auxier Ridge Trail system includes Courthouse Rock, Auxier Branch, and the Double Arch trails.
Take the 2.25-mile Courthouse Rock trail back to the parking lot after heading below the ridgeline via an old forest road to see the rock formation resembling a courthouse.
Another option is to continue on the 5-mile loop linking Auxier Ridge Trail with Auxier Branch Trail. This loop trail winds through wildflowers, ferns, and beech trees before returning to the parking area. Add on the half-mile-long Double Arch Trail for more excellent views of Double Arch and to get the complete Red River Gorge experience.
Best Hiking in Kentucky: Happy Hiking!
There are endless opportunities for outdoor adventures in the Bluegrass State. Whether it's a 290-mile thru-hike across Daniel Boone National Forest or a short trek to one of the Red River Gorge's natural arches, the best hiking in Kentucky has something for everyone.
What are your favorite hikes in the Bluegrass state? Let us know in the comments below! If you enjoyed this article, feel free to share it with your friends.