With its jagged Black Hills rising above the sprawling prairie, South Dakota has plenty of unique camping areas to enjoy.
Most people visit to see its famous monument featuring the faces of four U.S. presidents carved into granite, but there is so much more to experience in the Mount Rushmore State.
Whether it's sleeping under the stars in the Badlands, trekking through the Black Hills, or paddling on the Missouri River or around the pristine Roubaix Lake, there are endless opportunities for outdoor adventure in South Dakota.
This guide has all the info you need to pitch a tent or park an RV in the best spots in the Mount Rushmore State, including information about the amenities and facilities available in each area.
1. Cedar Pass Campground, Badlands National Park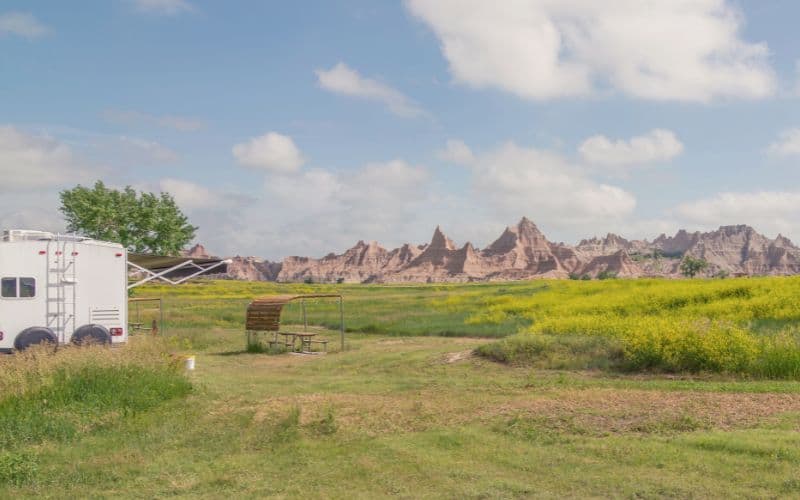 Visiting Badlands National Park in the southwestern part of the state is a journey into one of the world's richest fossil beds. The park has 244,000 acres of rugged beauty with unique rock formations where ancient horses and rhinos once roamed.
Badlands NP also has areas of mixed-grass prairie where you can see bison, prairie dogs, black-footed ferrets, and bighorn sheep.
Cedar Pass Campground is one of only two established campgrounds within the park boundaries. It's located close to the Ben Reifel Visitor Center and within walking distance from the Cedar Pass Lodge. The lodge has a restaurant where you can grab a bite to eat and a store with supplies and groceries.
This camping area has 96 sites where you can spend the night in a tent or trailer with stunning views of the badlands formations. Each campsite has a shaded picnic table. The RV sites offer electricity, but no sewage or water hookups. Amenities include potable water, flushing toilets, pay showers, and a dump station for an additional fee.
Campfires are prohibited due to the area's high risk for wildfires. For more information or reservations, contact Cedar Pass Lodge.
2. Sage Creek Campground, Badlands National Park
Sage Creek Campground is one of two camping areas in Badlands National Park. It's found on Sage Creek Rim Road, an unpaved road on the northern side of the park which is subject to closure in bad weather.
Bison are known to roam around Sage Creek, making it a popular spot to see these iconic North American animals.
The campground has 22 sites available which are best suited for tent camping and small trailers. Due to the road's unpredictable nature, recreational vehicles and trailers (except for horse trailers) over 18 feet are not permitted.
These are primitive campsites located along a road that forms a loop around the sites. The minimal amenities offered here are a few shaded picnic tables and vault toilets. Campers must bring in everything they need, including water, and pack out any trash. Potable water is available at the Ben Reifel Visitor Center.
Sites at this campground are free and first-come, first-served. Campfires and generators are not allowed.
3. Sylvan Lake Campground, Custer State Park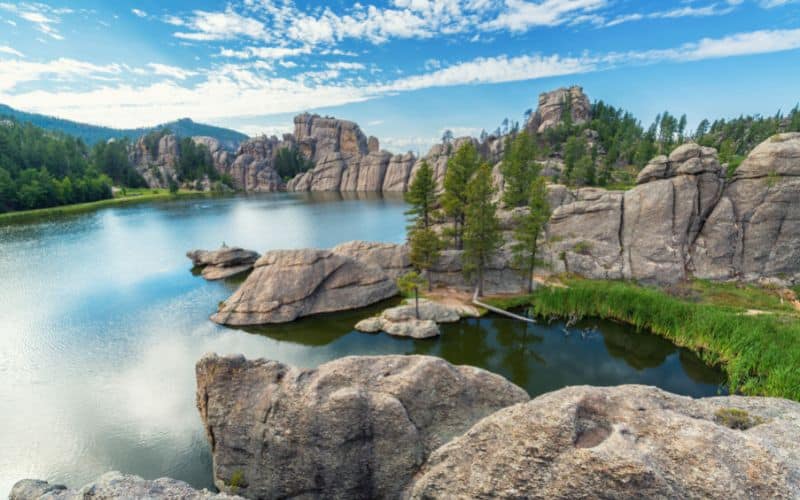 Custer State Park in the Black Hills is considered one of the best parks in South Dakota. Encompassing 71,000 acres, it's also one of the largest state parks in the entire United States.
There are endless opportunities for outdoor adventures here, including camping, hiking, biking, fishing, swimming, paddling, boating, and wildlife viewing.
Sylvan Lake Campground is a popular camping area just a short walk from Sylvan Lake, the state park's main attraction. This lake is surrounded by forest and it's the ideal spot for swimming, kayaking, canoeing, and fishing.
At 6,200 feet, this Sylvan Lake Campground is the highest-elevation camping area in the park. There are 39 campsites, some for tent camping and some with electrical hookups for RVs. The sites are close to each other and not recommended for campers over 27 feet long.
Amenities here include flush toilets, showers, and drinking water. This campground is open from May through September.
Sylvan Lake Lodge is just a mile from the campground and offers a restaurant, convenience store, and boat and water sports rentals.
4. Spearfish Canyon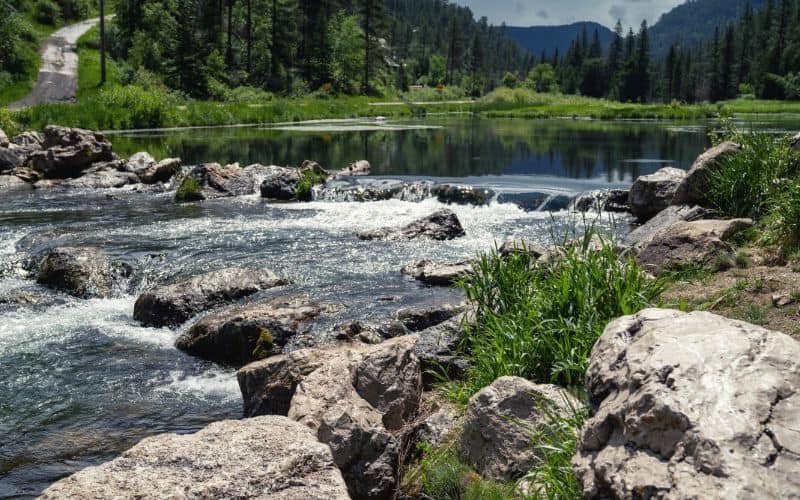 Spearfish Canyon is the crown jewel of the state's Northern Hills. It's a narrow gorge with stunning views and 1,000-foot-high walls formed by a creek with some of the best trout fishing in the Black Hills.
The canyon hosts a diverse array of plants and wildlife, including mountain goats, porcupines, bobcats, and deer. The area is also an outdoor lover's dream destination with ample opportunities for hiking, biking, rock climbing, fishing, and wildlife viewing.
Spearfish City Campground is located on the shores of Spearfish Creek and within walking distance of the city of Spearfish. It offers plenty of things to do in the laid-back town, plus easy access to the area's outdoor activities.
It's a scenic, shaded camping area with RV sites and primitive tent camping sites. There are 61 reservable RV sites: 56 RV sites with full hookups (30- and 50-amp electricity, water, sewer, and cable television) and five premium creekside sites with full hookups, wider spaces, and more privacy. There are also about 150 tent sites without any hookups. Reservations are highly recommended for primitive sites.
The campground offers amenities such as restrooms, showers, fire rings, picnic tables, an RV dump station, and firewood and ice for sale.
5. Horsethief Lake Campground, Black Hills National Forest
The Black Hills National Forest spans almost 1.25 million acres across western South Dakota and northeastern Wyoming. Caves, lakes, creeks, canyons, grasslands, and unique rock formations are all found within this incredible national forest.
Nestled amongst lodgepole pines and ponderosas, Horsethief Lake Campground is the perfect campground for exploring the Black Hills region. It's located on Horsethief Lake, about 2 miles from Mt. Rushmore National Memorial and Crazy Horse Memorial, and 10 miles south of Hill City. Popular activities in this area include hiking, biking, fishing, and wildlife viewing.
The campground and RV resort has paved roads with several dozen campsites, ranging from walk-in tent sites to drive-up tent sites to larger RV and trailer sites. Some of the camping sites are lakefront and offer serene views of the lake.
Amenities here include picnic tables, campfire rings, vault toilets, grills, drinking water, and a fishing dock. There are no electrical or water hookups, but there are trash bins. Generators are only allowed to run from 6 am to 10 pm.
6. Lake Vermillion Recreation Area
Lake Vermillion is a recreation area in eastern South Dakota with over 500 acres of water, making it a popular location for swimming, fishing, and boating in the warmer months. Visitors can bring their watercraft and access the lake via a boat ramp or rent canoes, kayaks, and paddleboards onsite.
Hiking fans can explore the recreation area's only designated hiking trail: 1.25-mile Otter Stream Trail, an easy, family-friendly hike.
There are several campgrounds in this recreation area with a total of 94 campsites between them, many of them lakeside. The area's campsites can accommodate tents, trailers, or RVs, and it also offers lakefront camping cabins for rent. Some of the sites are tent-only, while other sites offer electric hookups.
Amenities here include picnic tables, vault toilets, flushing toilets, showers, drinking water, a dump station, boat ramps, swimming beaches, and playgrounds.
7. Palisades State Park Campground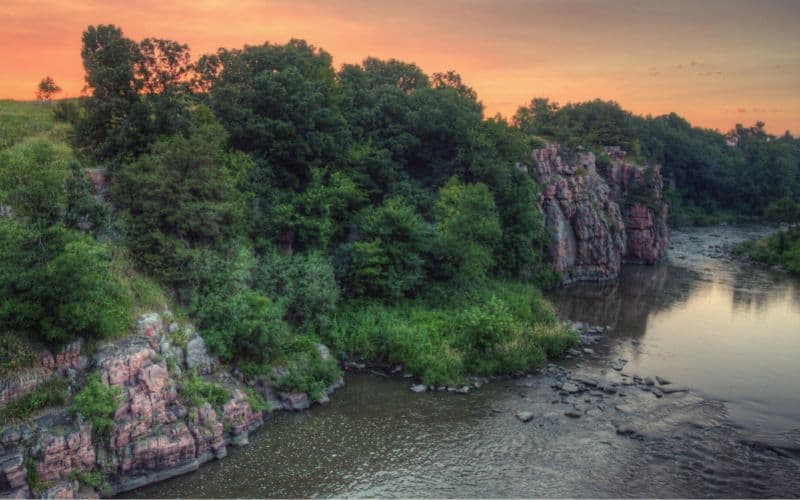 The bubbling Split Rock Creek and the rose-colored Sioux Quartzite rock formations lining its shores form an incredibly unique environment in Palisades State Park. This park in eastern South Dakota is a popular destination known for its spectacular vistas and rushing waters.
The 50-foot vertical cliffs provide the perfect challenge for rock climbers, while hikers enjoy trekking the rugged creekside trails.
Palisades State Park Campground features 37 camping sites within a short walk from Split Rock Creek. There are primitive tent-only sites and RV sites with electric hookups available, along with rental cabins.
The camping area has picnic tables, flushing toilets, showers, and drinking water.
8. Echo Valley Park Campground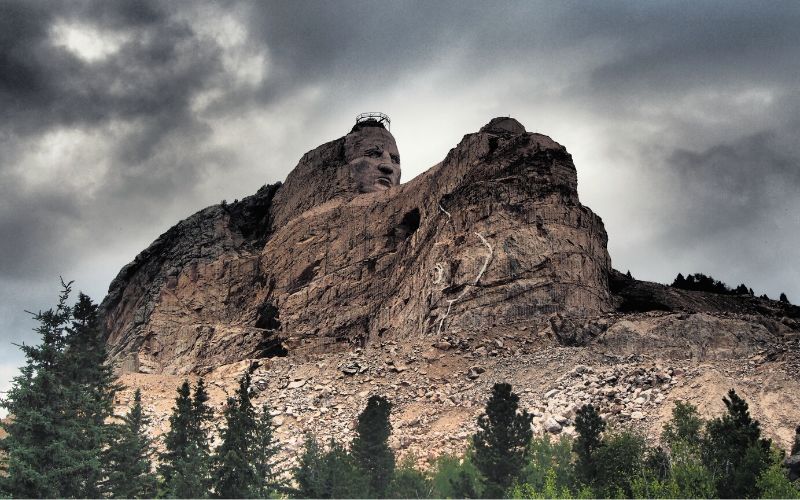 Echo Valley Park Campground is located in an ideal spot near Custer City, close to the top attractions in the Black Hills. This centrally located campground is next to Crazy Horse memorial, only seven miles from Custer State Park, and 20 miles from Mount Rushmore National Memorial.
Echo Valley Park features a camping area, a lake, several ponds, and miles of hiking trails. The area provides easy access to many nearby caves, the Buckhorn Wilderness Area, and the Thunderhead Mountain region in the Black Hills National Forest.
The campground offers sites to pitch a tent or park an RV. There are large, pull-through RV sites with full hookups, featuring 30- and 50-amp electrical. They also feature large, shaded tent sites, along with camper and cabin rentals.
Picnic tables, showers, flushing toilets, laundry facilities, and horse riding trails are just some of the amenities available here.
9. Lake Herman, Lake Herman State Park
Lake Herman is a 1,350-acre lake formed thousands of years ago by melting glacial ice. Lake Herman State Park sits on a peninsula in the lake with stunning vistas of the water.
Popular activities here, in the summer months, include camping, fishing, boating, and wildlife observation. The area's native oak woodlands and prairie grasses are home to a collection of birds and other animals.
The park features plenty of opportunities for outdoor fun like boat ramps, biking and hiking trails, cross-country ski trails, fishing piers, group picnic shelters, playgrounds, disc golf, historical sites, swimming beaches, and ski beaches. Canoes, kayaks, and fishing poles are available for rent.
A popular camping area for hundreds of years, this lake was an overnight spot for Native Americans traveling to the closeby stone quarries.
In modern times, the park offers over 70 campsites and a few camping cabins. There are both primitive tent-only sites and electric RV campsites available. The facilities offered are flushing toilets, showers, drinking water, a dump station, and picnic tables.
10. Sleepy Hollow Campground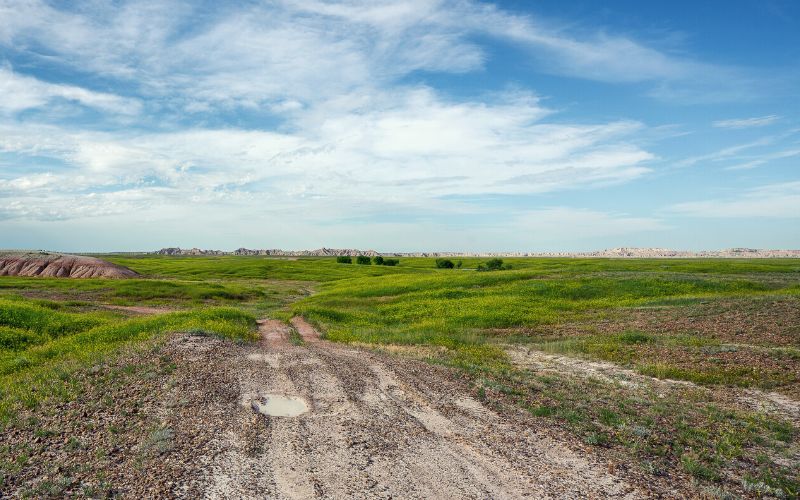 Sleepy Hollow Campground is a centrally located camping area and RV park near the city of Wall, South Dakota. This small town (population 800) provides spectacular views of the Badlands National Park and the sprawling prairies of the Buffalo Gap National Grasslands. It's only a short drive from here to Mount Rushmore.
Sleepy Hollow Campground and RV Park has 59 pull-through recreational vehicle sites and several tent-only campsites. Some RV sites provide full hookups with 50/30/20 amp electric, water, sewer, and cable TV. The camping area also offers internet access, a camp store, water fill up and dump services.
This campground is within walking distance of the town's restaurants and its famous Wall Drug Store, which was founded in the 1930s.
Pets are allowed and there is an onsite dog park on the grounds. The campground is open seasonally from April through October.
11. Roubaix Lake Campground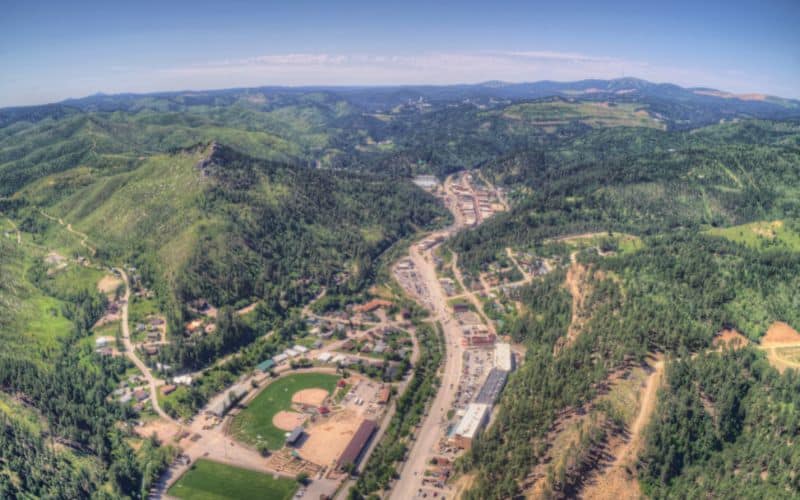 Roubaix Lake is a small, secluded lake in South Dakota's Black Hills. Its shorelines are surrounded by ponderosa pine trees that provide ample shade in the summer months.
The lake is a popular area for paddling and non-motorized boats, like canoes and kayaks. It also has a swimming beach, ideal for taking a dip in the pristine water.
Fishing for brook and rainbow trout is another top activity at this lake. There's a 1-mile multi-use trail nearby which connects to a network of other trails and is open to horseback riding, mountain biking, and off-road vehicles.
At 5,500 feet above sea level, Roubaix Lake Campground is the best off-the-grid getaway to escape hot weather in the Mt. Rushmore State. The camping sites are nicely spread out amongst four loops and offer more privacy than most campgrounds. Many of the sites feature stunning vistas of the lake.
Each primitive campsite has a gravel spur, picnic table, and fire ring. The amenities here are minimal, but drinking water and vault toilets are available.
Once you've had your fill of outdoor relaxation, take the short drive to the town of Deadwood, South Dakota. It's a National Historic Landmark with authentic Wild West saloons, casinos, restaurants, and souvenir shops. Mt. Rushmore is located less than an hour's drive from the lake.
Other Great Campgrounds in South Dakota
In this post, we've reviewed our 11 favorite campgrounds in SD. The following list contains other locations that are also well worth visiting:
Lake Louise Recreation Area
Other Custer State Park Campgrounds – Game Lodge Campground, Blue Bell Campground, and Stockade Lake
Iron Creek Horse Camp, Black Hills National Forest
Gavin's Point Campground, Lewis & Clark Lake, Lewis and Clark Recreation Area
Newton Hills State Park
Comanche Park Campground, near Jewel Cave National Monument
Yogi Bear's Jellystone Park, Sioux Falls
Big Sioux Recreation Area
Best Camping in South Dakota: Happy Camping!
Whether it's parking your RV in the middle of the Badlands or pitching a tent near Split Rock Creek and its pink rock formations, there is an endless array of spectacular campsites in the Mount Rushmore State.
From hiking through fossil beds to seeing the historic Mt. Rushmore to fishing for rainbow trout, South Dakota has something to keep every type of outdoor lover entertained. 
Have we missed any of the best camping in South Dakota? Let us know in the comments below! And if you enjoyed this article, feel free to share it with your friends.