Camping at any time of the year means sacrificing a few creature comforts and conveniences. In those sweaty, sweltering summer months, however, your beloved AC doesn't have to be one of them.
These days, a whole host of outdoor brands make tents with ports that allow you to rig your tent to a portable AC unit. But which of these tents is the best? That's exactly what we wanted to know, so we tried and tested 7 of the best out there so we could help you beat the heat on those sweltering summer camping trips. Below, we reveal the results!
Top Choices by Category
Budget: Wenzel Klondike and Coleman Tenaya Lake 8
Instant: CORE 9-Person, Bushnell Shield, and Ozark Trail 3-Room
High-Capacity: Coleman Elite WeatherMaster and Ozark Trail 3-Room
AC Flap (window unit): Ozark Trail 3-Room
Editor's Choice
Ozark Trail 3-Room Instant Cabin Tent with AC Port
The Ozark Trail 3-Room Instant Tent scoops our top prize for a variety of reasons.
This tent gives you multiple AC options, boasting 3 e-ports as well as ground vents where you can install an AC window unit. But that's only part of the story. It's also huge, providing you with 256 square feet of living space, 3 rooms, and a sheltered outdoor space created by a large awning.
Inside, you have plenty of wall pockets for storing your gear, 7 windows for aerating or taking in the views, air vents, and gear loops for lanterns or drying clothes.
Best of all, its central pole hub and pre-attached pole system make setup a cinch, allowing you to pitch up in a mere 3 or 4 minutes.
Bottom Line: A huge shelter that fits 3 queen air beds (or up to 12 sleepers in sleeping bags) and boasts enough e-ports to let you install an air conditioner in each room.
At a Glance: Quick Recommendations
Best Tent With AC Port: Our Top 7 Picks
Ozark Trail 3-Room Instant Cabin Tent with AC Port
Editor's Choice
AC Ports: 3 x e-port and 1 x window port ⸱ Size: 256 sq. ft. ⸱ Weight: 61 lbs.
The OT 12-Person Instant tent is a great choice for large groups who want a little privacy and a shelter that feels like a true "home away from home".
This cabin tent divides into three rooms courtesy of two removable room dividers. While you'd think this would rule out cooling the interior entirely, the inclusion of one e-port per room means you can share the love as long as you have enough extension cords. In addition to the air conditioning ports, there are also large ground vents that can fit an AC window unit as well.
AC features aside, this is the perfect tent for any family camping trip.
Despite weighing a hefty 61 pounds and giving you 256 square feet of floor space, it can be pitched in around 3 or 4 minutes. And although there's no vestibule, you do get a huge awning that creates a nice shaded spot for drying out your clothes and boots or for relaxing in the shade on hot summer days.
This super-spacious tent also has a handful of great features. These include interior storage pockets, ground vents to air out the interior when not using your AC, two huge walk-through doors, and seven large windows.
PROs

3 e-ports
Oversized ground vent can be used for a window air conditioner
Fairly priced for such a large tent
Fits three queen air mattresses
Easy to set up
Huge!

CONs
Bottom-Line: More of a portable palace than a make-do shelter!
CORE 9-Person Instant Cabin Tent
Runner Up
AC Ports: 1 x e-port ⸱ Size: 126 sq. ft. ⸱ Weight: 27.62 lbs.
The CORE 9-Person Instant Cabin is a great option for tent camping families who want a roomy, highly livable, user-friendly, and AC-compatible shelter that's built to last a lifetime.
This cabin-style tent has 126 square feet of floor space and a generous peak height of 76 inches. Despite this, it can be set up in under two minutes thanks to its pre-attached poles and central pole hub.
The electrical cord access port on this one is fully closable when not in use. While having only one port means one of the two rooms will be cooler than the other, the room divider's mesh fabric does allow some cold air to circulate into the second room.
When not running your AC, the CORE's large mesh doors and windows and "adjustable air intake vents" are great, letting fresh air enter at the base and stuffy, hot air escape through the mesh roof vents.
Unfortunately, the CORE Instant cabin isn't a standout performer in wet conditions. It is however waterproof enough to withstand short bouts of heavy rain or longer periods of lighter rain.
PROs

Easy and quick setup
Hanging storage pockets
Roomy
Central room divider
Great ventilation
Fairly priced
Well-made

CONs

Not ideal in really wet weather
Bottom-Line: A breeze to pitch and just about the ideal summer tent, whether you're using AC or not.
Coleman Tenaya Lake 8
Best Value Tent
AC Ports: 1 x e-port ⸱ Size: 117 sq. ft. ⸱ Weight: 33.8 lbs.
The Tenaya Lake tent from Coleman is one of our favorite family shelters, also featured on our list of the Best Multi-Room Tents and Best 8-Person Tents. The reasons for this are simple: it's well-made, affordable, sturdy, user-friendly, and has one "bonus feature" that makes it a true standout.
Let's get straight to that oh-so-special feature.
Only one model on our list, the Bushnell Shield, has dedicated vestibule space (the Ozark Trail tent has sheltered storage space in the form of an awning and the Wenzel Klondike tent has a screen room). The Tenaya Lake, however, comes equipped with not one but two storage closets, both of which have shelves and a hanger bar to help you stay organized.
The TL boasts 117 square feet of floor space, enough room to fit two queen-sized air mattresses. Its near-vertical walls also maximize headroom from wall to wall, which gives it a far roomier feel.
The Tenaya Lake takes a little longer to set up than any of the instant tents on our list. Nevertheless, it will only take two pitchers 5-10 minutes with a little practice. And while the rainfly is best described as minimalist, the interior is waterproof enough to see you through a few rainstorms.
The most significant downside is in the tent material. Because the TL has an all-mesh ceiling, some of the cool air your air conditioner produces is sure to escape.
PROs

Built-in closets!
Two separate rooms
Easy to pitch
Spacious
Heavy-duty ties downs
Sturdy steel poles

CONs
Bottom-Line: A well-made car camping tent with 2 super handy built-in storage closets and big enough for two queen air mattresses.
Bushnell Shield Series Instant Cabin Tent
Best Instant Tent
AC Ports: 1 x ground vent/e-port ⸱ Size: 88 sq. ft. (other sizes available) ⸱ Weight: 26 lbs.
The Bushnell Shield Series Instant Cabin is a great pick for camping families who want an easy-pitch tent that offers plenty of interior space and storage galore.
The Shield's pre-attached, extending pole system allows you to take care of setup in under a minute. Once pitched, you'll have just under 90 square feet of space to roam around in, plus a roomy vestibule for gear storage.
The quick setup time is not the only great selling point of the Bushnell Shield. The most notable of these are its durable fabrics, extra features, and the extra coverage provided by its rainfly.
Its 150D fabric and steel poles make it one of the toughest, sturdiest, and most durable tents on our list, and a great performer in windy conditions. The rainfly isn't full-coverage but covers more of the tent than other models on our list. This means it offers more weather protection than many competitors and that less of the cool air from your AC will escape through the mesh walls.
As for features, there's a covered ground vent for your AC cord, pockets and pouches galore, a handy gear loft, and a room divider.
The hydrostatic head (waterproof) rating of the Shield's fly fabric is just 600mm, so it isn't the most waterproof tent available. However, the body is also water-resistant so it's capable of withstanding light rain.
PROs

Plenty of storage options
Vestibule space
1-minute setup
Roomy for 6
Heat-shield technology blocks out the sun
Heavy-duty tie downs

CONs

Not waterproof (only water-resistant)
Bottom-Line: Sturdy, tough, and the most convenient option on our list by a long way!
Wenzel Klondike Camping Tent
Best Budget Tent
AC Ports: 1 x mesh-covered vent ⸱ Size: 98 sq. ft. + 60 sq. ft. ⸱ Weight: 26 lbs.
The Wenzel Klondike has two attributes that make it stand out from the other shelters we reviewed. Firstly, it's the cheapest tent on our list by a large margin. Secondly, it is the only model that boasts a screen room – and it's a frickin' huge one at that!
This freestanding tent has a 98-square-foot sleeping area that can host 6-8 people. On top of this, however, you get a 60-square-foot screen room that can be used as a bug-free sitting area or converted into sleeping space for 4 more campers.
The e-port on this one takes the form of a raised ground vent that has a mesh covering to keep out the bugs. Because this is located 10 inches off the ground, it minimizes the risk of water sneaking into the sleeping area if it rains.
Like the Coleman Tenaya Lake, the WK's all-mesh roof does mean you'll lose some of your cold air through the ceiling, though the rain fly will mitigate this issue to some degree. And while it's not waterproof enough for 3-season camping, its Weather Armor waterproofing will fend off light rain showers.
PROs

Affordable
Lightweight for the size
Easy setup
Huge screen room
10-year warranty
Nicely positioned tent AC port

CONs

Not the most waterproof tent
Bottom-Line: A fairly priced, roomy, and relatively lightweight shelter with a screen room big enough to park your car in!
Coleman Elite WeatherMaster
Premium Pick
AC Ports: 1 x e-port ⸱ Size: 153 sq. ft. ⸱ Weight: 31 lbs.
The Weathermaster is an excellent choice if you want a spacious family tent that excels in both warm and wet conditions.
This is one of the roomiest shelters on our list, boasting 153 square feet of floor space in total and an 80-inch center height. Adding to livability are two large entryways, a skylight, wall pockets, and an interior lighting system with three dimness/brightness settings.
Like all tents on our list, the WeatherMaster uses a partial-coverage rainfly. However, the WeatherTec interior is also highly waterproof, so you'll be safe from soakings in wet conditions.
The only downsides to the WeatherMaster are the all-mesh ceiling, which is sure to let some of your conditioned air escape, and its lengthy setup time (around 15 minutes). Other than that, it's a winner!
PROs

Huge!
80-inch peak height
Two room dividers
Tough fabric
LED lighting system
Robust waterproofing

CONs

Heavy
All-mesh ceiling will leak some cool air
Bottom-Line: This Coleman tent is one of the best out there for families who need an extra-roomy shelter without compromising on ease of setup and weatherproofing.
E-Z UP Camping Cube Tent
Honorable Mention
AC Ports: 3 x e-port power pockets ⸱ Size: 100 sq. ft. ⸱ Weight: 18 lbs.
This wildcard entry on our list is ideal for groups or families who want a versatile shelter that can switch from canopy mode to tent mode in a matter of seconds.
The Cube isn't a tent per se but can be combined with the E-Z Up Pyramid Canopy to create a shelter that transforms from an open-wall canopy/gazebo into a camping tent. This makes it a great choice if you're looking for a shelter for the yard that can also be used on car camping trips.
The Cube offers 100 square feet of floor space and has a lofty peak height of 76 inches, roomy enough to accommodate 6-8 sleepers.
But it's the features that earn it a place on our list. In addition to 3 weather-resistant power pockets, you get 3 large windows, a pet door, a doorway mat, O-ring attachment points for lights, storage pouches, a gear shelf, and a gear loft.
The vertical walls on this tent do mean it lacks stability in strong winds, so we wouldn't recommend it for camping in exposed locations. For campsites or yard camping, however, it's a fantastic option!
PROs

Roomy
Great features
Blocks 99% of harmful UV rays
Multiple storage options (shelves, pockets, and gear loft)

CONs

Not the sturdiest in strong winds
Bottom-Line: A versatile canopy-shelter combo that boasts the best features of all the tents on our list.
How to Choose a Tent with an AC Port
AC Unit Size & Compatibility
The most important thing to consider here is compatibility. If you've already bought an AC, then you want to make sure it fits the port on your tent-to-be. Likewise, if you've already bought your tent, make sure you pick up an AC compatible with the port.
The first question to ask yourself is whether you want a tent with an AC flap or an e-port (aka electrical port or electrical cord access port).
Tents with an AC flap have a large opening that allows you to attach a window AC unit. The main benefit to this type of AC is that the unit stays outside your tent, so it doesn't eat up any living space, and no wires have to run inside. The downside? There are far fewer options to choose from.
E-port tents are a better option for campers who plan on running a freestanding air conditioner from a generator or electrical hookup. These air conditioners take up room inside your tent, sure, but they're far more portable and there are plenty of affordable models available.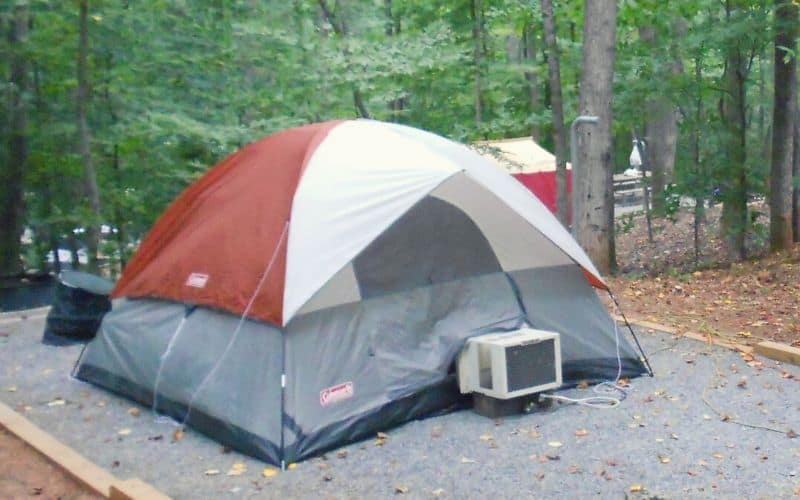 Whichever type of air conditioning unit you buy, you need to make sure it's powerful enough to cool the interior space. For more on this check our FAQs, below.
Floor Space
Before you go choosing a tent based on the appropriate size for your AC unit (or vice versa), it's best to consider how much space you'll need for your camping crew. Generally speaking, we recommend around 14 square feet of floor space per adult sleeper. So, a 60-square-foot tent is plenty big for 4 adults, plus a little gear.
But that's not the whole story…
If using a freestanding AC unit, bear in mind that this will take up quite a lot of room inside your tent, and be sure to factor this into your calculations. While it depends on the size of your unit, you'll typically need around 6 square feet over and above the space required for humans.
Durability
While several factors contribute to durability, the most important is the thickness of the fabric it's made with.
Fabric thickness is measured in denier, which is usually represented by a solitary 'D' in product specifications, i.e. 20D, 50D, 70D, and so on. As you might imagine, the higher the figure, the tougher and more durable the fabric will be.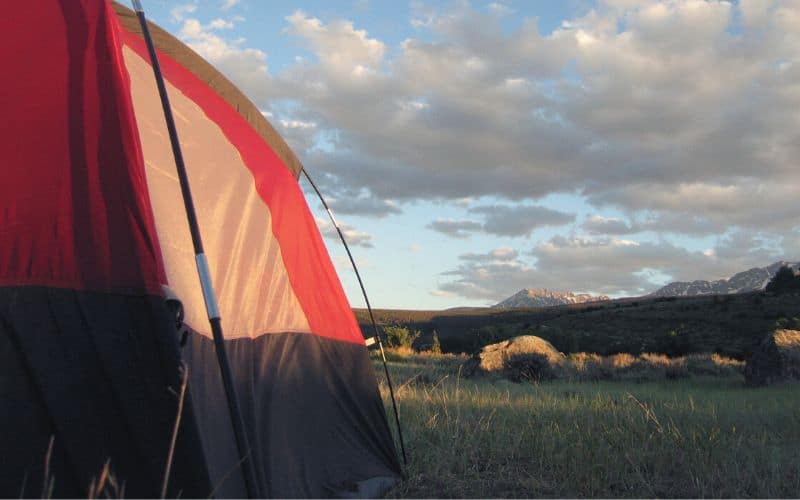 The toughest tent on our list is the Bushnell Shield, which is made with extra-burly, 150D polyester.
Waterproofing
What makes one tent more waterproof than another?
Two things: The extent of coverage provided by the rain fly and the hydrostatic head rating of the fly and/or the tent body.
The tents on our list all have a partial-coverage rain fly as opposed to a full-coverage fly. While full-coverage flys typically provide more robust weather protection, that isn't the full story. Some tents with a partial-coverage fly have a water-proof body, so even if rainfall evades the fly, the waterproofing of the inner tent should keep you dry.
This brings us to hydrostatic head. This is the rating used to measure the waterproofness of fabrics. Also known as the "water column", it measures how many millimeters (mm) of water pressure the fabric can withstand before it starts to leak. The higher the HH, the more waterproof the fabric.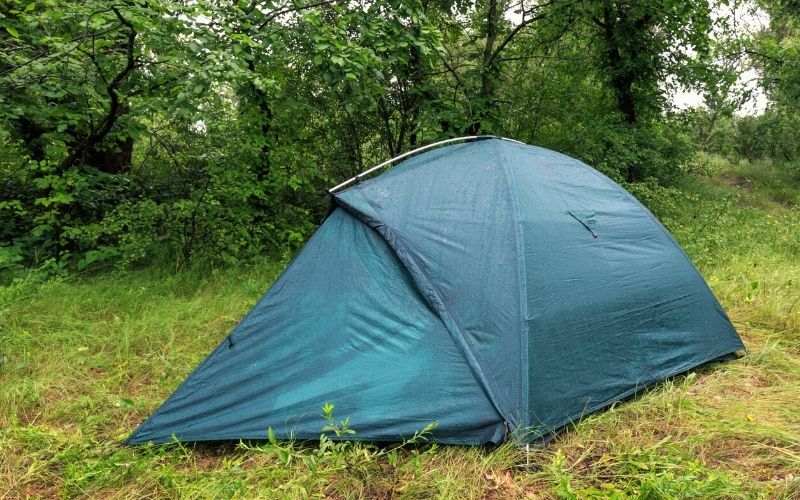 The most waterproof tent on our list? The Coleman WeatherMaster which uses Coleman's 6,000mm HH WeatherTec fabric.
Ventilation
A tent that lacks ventilation can quickly become stuffy, overheated, and damp with condensation. The features that mitigate the above factors are mesh windows, double doors, and air vents in the base or roof. With AC-compatible tents, you'll want adjustable vents that can be closed so none of your cool air escapes.
All of the tents on our list ventilate well thanks to their partial-coverage flys. The standouts, however, are the CORE 9-Person, Tenaya Lake, and Wenzel Klondike, all of which have vents and large mesh windows that let you boost airflow when not running your AC.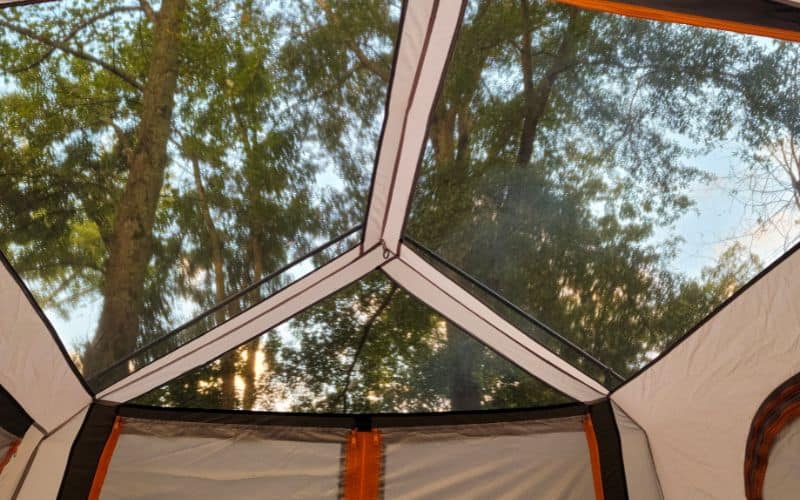 Ease of Setup
There's no denying the convenience of a tent you can pitch lickety-split and with minimal hassle. Instead of fussing around with formalities, quick-pitch tents let you get right down to the good stuff – enjoying your time outdoors.
The quickest tents to pitch on our list are the "instants", all of which use a central pole hub that opens like a giant umbrella and can be set up in 1-2 minutes. These include the Bushnell Shield, CORE 9-Person, and Ozark Trail 3-Room.
Tent Features
A few features can make a big difference to your tent's livability, practicality, and convenience. For us, the most important of these are storage pockets, a gear loft, windows, and hinged, walk-through doors. As mentioned above, vents that can be closed to keep cool air inside the tent are a huge plus.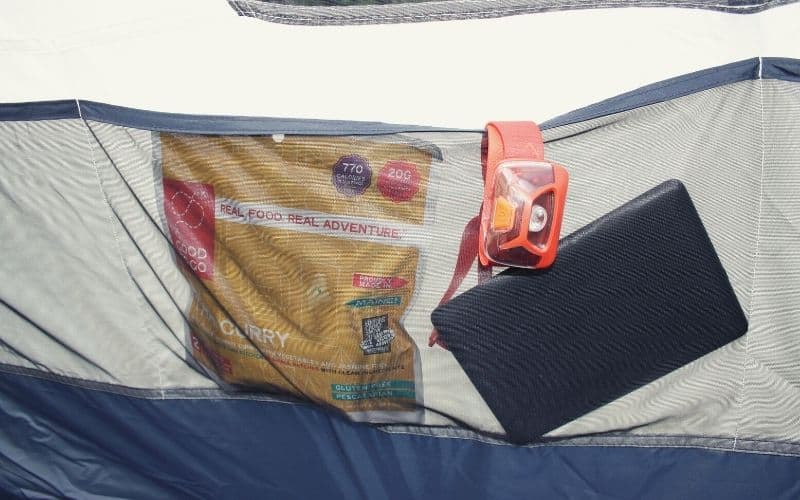 FAQs
Is it safe to use an air conditioner in a tent?
As with using any electrical equipment anywhere, whether at camp or at home, there will be an increased risk as compared to using non-electrical equipment. However, using an air conditioning system in your tent is very safe if you follow a few safety measures.
Firstly, if you're using a generator-powered air conditioning unit, make sure the generator is a safe distance from the tent, and ideally downwind of any doors. If the generator is too close, then the toxic fumes it produces could enter the tent.
Secondly, keep a safe distance between yourself and the tent air conditioner unit to avoid coming into contact with moving components. This will also reduce the risk of sleeping bags or quilts covering the unit's opening and causing a short circuit.
Finally, ensure that there's no lying water where you plan on placing your unit. If you're worried about condensation, set it on a stand to keep it above the floor/groundsheet.
Can a portable AC unit cause a fire?
Portable AC units are generally very safe to use. However, there are a few circumstances in which they could become a fire hazard.
The first of these is when camping in exceptionally hot conditions. In these conditions, temperatures can strain the unit and, if the unit is not properly maintained, can become a fire hazard.
Also, be wary of extension cords. Whenever possible, use a dedicated circuit as any defects in the extension cord could cause it to crack and start a fire.
What size air conditioning unit should I get for my tent?
As mentioned above, this depends on the size of your shelter.
Even with a two-person tent, you'll need an air conditioner unit with around 5,000 BTUs to keep the tent cool. But as you can imagine, the bigger the tent, the more BTUs you'll need.
| | | |
| --- | --- | --- |
| Tent Capacity | Sleeping Area | BTUs Required |
| 2-6 person | 30-90 ft² | 5000-6500 |
| 6-10 person | 90-150 ft² | 8000 |
| 10-12 person | 150-200 ft² | 10000–12000 |
Best Camping Tent With AC Port: The Verdict
Just in case you're still undecided, let's have a quick recap of our top picks.
Our favorite AC-compatible tent is the Ozark Trail 3-Room Cabin. This is the most spacious tent on our list, very well-made, feature-rich, and compatible with both window AC units and portable standing units.
If you're on a tighter budget, we recommend the Wenzel Klondike, which is compatible with small window units and portable standing units and scores surprisingly highly in all of the regular metrics for such a fairly priced tent.
Now you know our pick for the best camping tent with an AC port do you agree? If you liked this article or have any questions, let us know in the comments box below! And if you'd like to share it with your friends, please do!