In a bid to find the top tent on the market this year, our team has been busy putting together a selection of kickass tents. We put many to the test from the likes of REI, The North Face, MSR, Coleman, Marmot, and other big-name brands.
We know what a hassle it can be wading through the wealth of worthy options out there, so to help you out, we've separated the proverbial wheat from the chaff and drawn up a list of our top 9 picks.
We're pretty fussy campers. As such, all of the camping shelters that made our final list are ones in which we'd be happy to spend a night or ten in 2- or 3-season conditions. But because we're aware different campers have different budgets and requirements, we made sure our list has plenty of variety.
Whether you're looking for a cozy family tent, a "bombproof" shelter for wet-weather adventures, a budget option for occasional trips, or a palatial backcountry palace, we have you covered!
Editor's Choice
REI Base Camp 6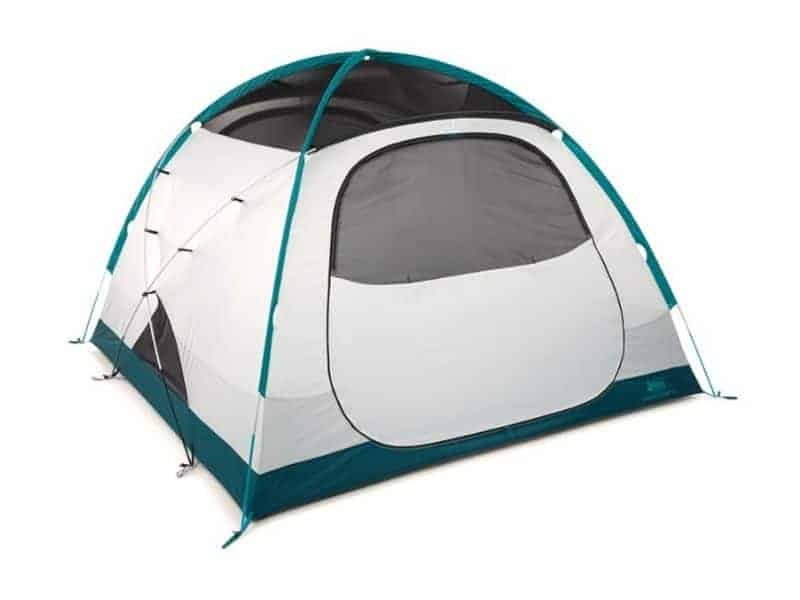 Want a shelter that's roomy enough for all the family, waterproof enough for trips in suboptimal conditions, and full of dialed-in features that enhance convenience and livability? Look no further than the REI Base Camp 6!
The Base Camp is as the name suggests – the perfect basecamp tent for multi-day trips where livability is your topmost priority. It has 84 square feet of interior space, a 74-inch peak height, a 27-square foot vestibule for cooking and gear storage, and plenty of pockets that help keep things organized and free up space for humans.
While other tents in our review are roomier, the Base Camp's added weather protection and five-pole, semi-geodesic build mean it's a far better performer in windy conditions. If like us, you're the kind of camper who likes gear that's good to go no matter what the weather's doing, then the Base Camp will likely become your go-to for group or family camping trips.
The Base Camp might be one of the more expensive tents for camping on our list, but its palatial dimensions, durable materials, robust weather resistance, and an impressive array of user-friendly features make it great value for money nonetheless.
Bottom Line: A spacious, user-friendly, and feature-rich camping tent that boasts outstanding weather resistance to boot.
Best Camping Tent: Quick Recommendations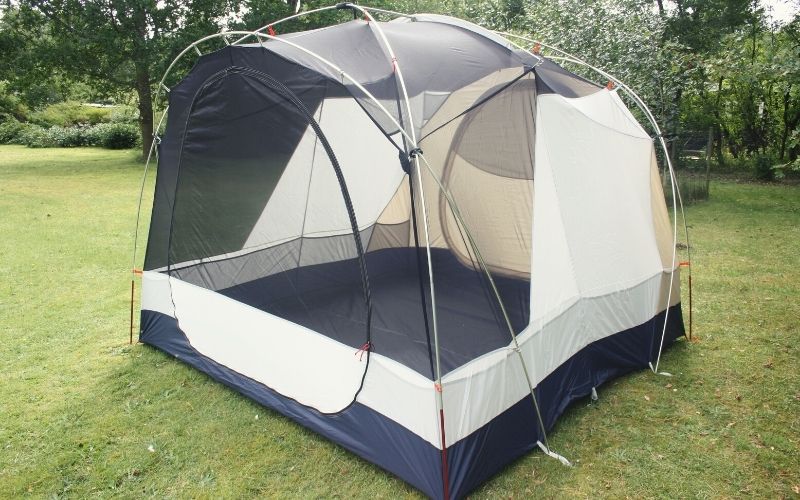 Our 9 Favorite Camping Tents Reviewed
REI Base Camp 6
Editor's Choice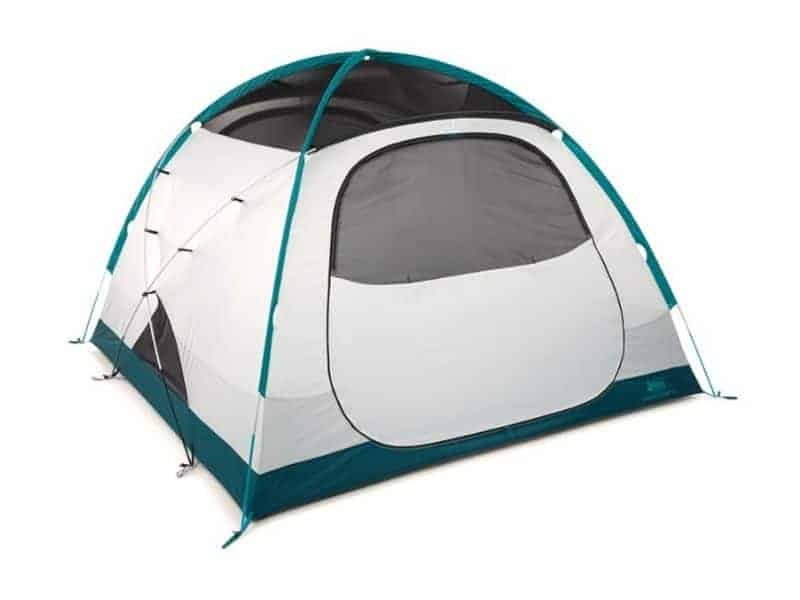 The REI Base Camp 6 ticks all the boxes that need ticking for three-season family camping. It's roomy, easy to pitch, durable, offers outstanding weather protection, and has a wealth of interior and exterior storage options that help boost livability.
The Base Camp's geodesic, 5-pole, dome-style design means it lacks a little headroom compared to tunnel or cabin tents. Nevertheless, we found it plenty livable for 5 or 6 adult sleepers. This design, it's worth noting, also makes it a much better option in blustery weather than cabin tents like the Grand Hut 6 or tunnels tents like the Kingdom 6.
Features-wise, the Base Camp is a bit of a dream. There are two large air vents in the roof, a total of 14(!) pockets for gear storage, hang loops galore, two oversized vestibules, and two extra-wide doors that give all sleepers easy access to both entrances.
The Base Camp is also one of the most well-made shelters we've ever slept in. Its 75D rainfly and body fabric are among the burliest on our list, while the 150D floor is tough enough to let you leave the included footprint at home when you're keen to shed a few ounces. The thick aluminum poles are also a little more confidence-inspiring than those in similarly priced tents.
In short, this is a shelter that's truly made to last.
The Base Camp is a little pricier than REI's Grand Hut 6, but has an extra 10 square feet of vestibule space and is a better performer in wet and windy conditions. And while not as roomy as the REI Kingdom 6, it's a fraction cheaper and offers better stability in wild weather.
We're also big fans of the 4-person version of this tent, the Base Camp 4. However, added livability is never a bad thing, and the Base Camp 6's extra 14" of peak height and 24 feet of interior space seem well worth the 4-pound weight penalty.
Specs
Type: Dome
Floor Area: 84 square feet
Center Height: 74"
Weight: 20 lbs. 10 oz.
PROs

Roomy
Good weather resistance
Nice peak height
2 roof vents and 1 wall vent
2 large vestibules

CONs

Pricey
Ventilation not as impressive as REI Grand Hut
Bottom-Line: A tough, roomy, well-made camping tent that provides plenty of weather protection for 3-season adventures and better organizational features than its similarly priced peers. 
REI Grand Hut 6
Best Value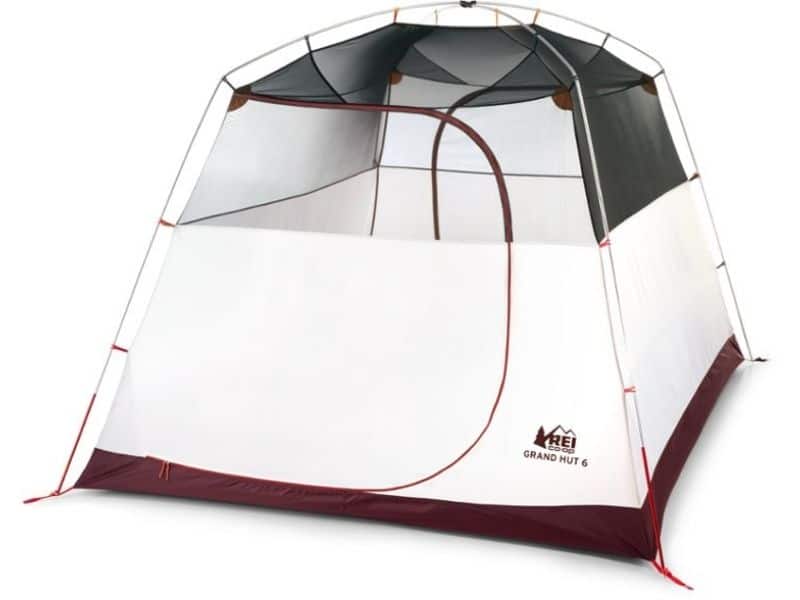 Are you the kind of camper who wants maximum bang for your buck? If so, then the REI Grand Hut 6 is a shoo-in for your shortlist.
This cabin-style shelter is, like all things REI, remarkably well made, using similar 75D and 150D fabrics in the rainfly, body, and flooring. Its bounteous storage options, nearly vertical walls, 78" peak height, and 83.3 sq. ft. of interior space also make it among the most livable on our list, while the pre-bent poles and hubbed pole system make it a cinch to put up and take down.
The 1,500mm HH rainfly, extensive mesh canopy, and double-doored design make the Grand Hut a versatile tent, providing both ample rain protection for three-season conditions and enough ventilation to stave off condensation and stuffiness in hot and humid weather.
All this coming at such a low price point quite frankly makes the Grand Hut a bit of a steal. Which begs the question: what does it lack that pricier options don't?
Compared to the REI Base Camp, the Grand Hut is a poorer performer in inclement weather, mainly on account of its X-shaped pole system and vertical walls, both of which make it more vulnerable to collapse, billowing, and/or buckling in strong winds. It also has fewer storage options than the REI Kingdom 6 and a little less end-to-end headroom.
Specs
Type: Cabin
Floor Area: 83.3 sq. ft.
Center Height: 78"
Weight: 16 lbs.
PROs

78" peak height
Relatively lightweight
Great ventilation
Easy setup
Tough fly, body, and floor fabric

CONs

Poorer performance in high winds
Less waterproof than REI Base Camp
Bottom-Line: A more affordable 6-person camping tent that scores highly in every important metric. 
Coleman Sundome 4
Best Budget
The Coleman Sundome 4 is a great option for campers who tend to do most of their camping in fair weather and spend only 5-10 nights "under the canvas" per year.
The Sundome has been our favorite low-cost camping tent for several years running. Here's why…
This four-person shelter has a generous 63 sq. ft. of floor space and a peak height of 59 inches, none too shabby for a dome-style tent designed for 4 sleepers. And given that it weighs a modest 7.4 lbs., its weight-to-space ratio is up there with the best on our list. It's also a cinch to pitch and stands up well to breezy and blustery conditions thanks to its curved walls.
As with all budget camping tents, compromises are to be expected, and the Sundome has a few that make it less than ideal for multi-day trips or wet-weather adventuring.
For starters, the lack of any form of vestibule largely negates the benefit of the roomy interior by forcing you to store gear inside if you want to keep it dry. And while the partial coverage rainfly has a high hydrostatic head rating (3,000mm), its limited coverage means the lower portion of the tent is left exposed to any rain.
This is also the only model on our list that uses fiberglass poles. We found these to be sturdier than other fiberglass poles we've come across in the past, but still harbor a few concerns about how they'd hold up in stormy conditions and over time.
All of this means the Sundome is a solid budget tent for summer camping. If you're looking for a 4-person shelter for 3-season camping trips, however, we recommend you fork out a little more for the REI Base Camp 4 or MSR Habitude.
Specs
Type: Dome
Floor Area: 63 sq. ft.
Center Height: 59"
Weight: 7.4 lbs.
PROs

Affordable
Roomy interior
Lightweight
Decent center height

CONs

Less durable materials than pricier options
No vestibules
Partial-coverage rainfly
Bottom-Line: A lightweight and affordable tent that makes a few compromises but is nevertheless a solid option for less frequent, fair-weather camping.
REI Kingdom 6
Best Tunnel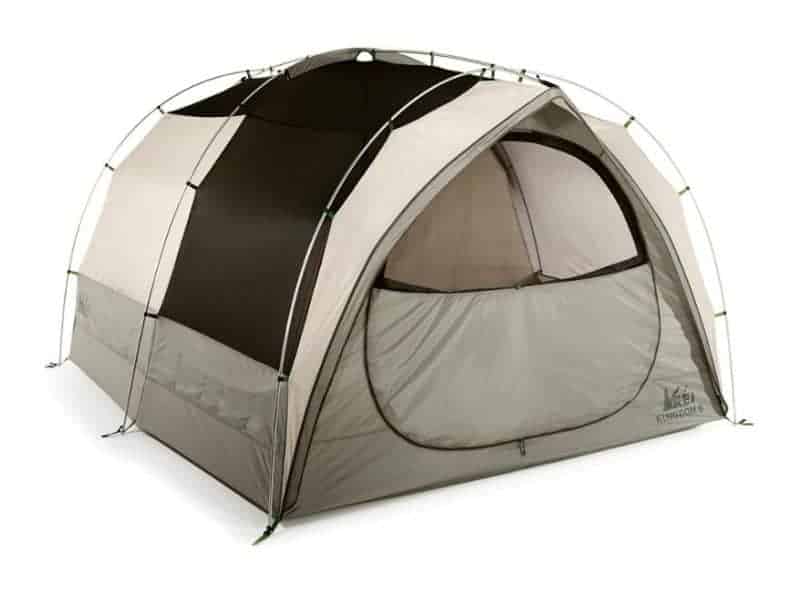 Looking for a tent that provides the closest feeling to a "home away from home"? If so, your search can probably end here.
The Kingdom 6 is a luxury shelter and, as such, comes with a lofty price tag and fairly ponderous packed weight. But in return for that added outlay and extra heft, you get a feature-rich, family-oriented tent that trumps nearly all others on our list in terms of livability.
The Kingdom has the same amount of floor space as the REI Base Camp 6 (83.3 sq. ft.), but its steeper walls, tunnel-style design, and the fact that its 75" peak height remains uniform from one end to the other means that it offers substantially more headroom and three-dimensional space (i.e. cubic footage).
For families, the Kingdom 6 is a standout. It has a wealth of storage pockets to help keep things organized, a central divider for privacy, and a 29-square-foot vestibule for gear or kicking back with a pre-bedtime beer or Capri Sun. Its color-coded poles and hubbed pole assembly also make it easy enough to set up with one eye whilst keeping the other on the kids.
Like the other REI camping tents in our review (with the exception of the Half Dome 3+), the Kingdom is built to last. Its 75D fly and body, and 150D floor are robust enough to withstand frequent use and abuse, while the aluminum poles are reassuringly thick.
There's no getting around the fact that this is a pricey option, especially if you choose to buy the Kingdom Mud Room and Kingdom Porch to expand the vestibule/garage space. However, it's well worth the price tag for all that added headroom and the upgrade in livability this entails, and still significantly cheaper than top-tier alternatives like the Marmot Halo.
Specs
Type: Tunnel
Floor Area: 83.3 sq. ft.
Center Height: 75"
Weight: 21 lbs. 6 oz.
PROs

Roomy
Room divider for privacy
Compatible with Kingdom Mud Room and Kingdom Porch
Plenty of pockets
Made from robust materials

CONs

Pricey!
Poorer performance than REI Base Camp in strong winds
Bottom-Line: A feature-rich shelter that feels a little more luxurious than the best of the rest.
Coleman Octagon 98
Best Cabin
Looking for a shelter that's big enough to accommodate all the family, a few friends, a canine or two, and still have plenty of room left for your camping gear? If so, the Coleman Octagon 98 should be somewhere near the top of your shortlist.
Over the years, Coleman has earned a rep for producing budget tents that give pricey, high-end models a serious run for their money, and the Octagon 98 is no exception.
This beast of a shelter has a peak height of 82" and a whopping 122 sq. ft. of interior space. Assuming you have 8 sleepers, that equates to 15.25 sq. ft. per sleeper. (It's worth noting, however, that the tent's octagonal shape makes it tricky to squeeze in 8 adult-sized sleeping pads – worth bearing in mind if you tend to use air mattresses as opposed to foam pads.)
Beyond its oversized dimensions and sturdy build, what we also love about the Octagon are its family-friendly features. The most endearing of these are the huge, D-shaped front door (handy for keeping an eye on the kids while lounging inside), the removable room dividers that let you enjoy a little privacy come bedtime, and the nicely sized interior pockets.
The only complaints we have with the Octagon are its weight (45 lbs.) and lack of vestibules. While the former is forgivable given the size of the thing and the robustness of the build, the inability to store wet gear, cooking equipment, and other kit outside the main sleeping area may prove to be a dealbreaker for some.
Specs
Type: Cabin
Floor Area: 122 sq.ft
Center Height: 82"
Weight: 45 lbs.
PROs

Enough room for two queen-size airbeds or 8 campers in sleeping bags
Tough (steel poles, 1000D floor, 68D fly and body)
Peak height
An inexpensive tent for the size
Room divider with multiple configurations
3,000mm HH flooring and rainfly

CONs
Bottom-Line: Although the Octagon may not shine in every category, its enormous interior makes it a great option for larger families.
The North Face Wawona 6
Best Extended Tent
With a mighty 86.11 sq. ft. of interior space, 56 sq. ft. of vestibule space, a peak height of 80", and a veritable shedload of storage pockets in the roof and walls, the NF Wawona 6 is among the most livable and home-like tents out there.
Despite having a dome-style design, the Wawona's steeper walls mean its peak height remains relatively high throughout the tent, which allows you to wander around inside without having to duck. The massive, 44.7-square-foot front vestibule, meanwhile, means there's a whole other area to hang out in if things in the sleeping area start to feel a little claustrophobic.
The Wawona's use of a partial-coverage rain fly means it doesn't offer as much weather resistance as the Base Camp or Marmot Halo. However, the exposed portion of the tent body is waterproof enough to keep the interior dry in all but the heaviest of downpours so we'd happily take it out in all but the gnarliest of wet conditions.
Where this shelter really excels, however, is in warm weather. It only has one door, but this is big enough to provide ample airflow throughout the interior. There's also a duo of large ceiling vents and plenty of mesh in the roof, so stuffiness and condensation are kept to a minimum even when humidity is soaring.
Specs
Type: Extended dome
Floor Area: 56 sq. ft.
Center Height: 80 inches
Weight: 20 lbs. 15 oz.
PROs

Massive vestibule
Plenty of storage pockets
Impressive peak height
Great ventilation

CONs

Partial-coverage rain fly
Only 1 door (albeit a big one!)
Bottom-Line: The Wawona's 56 square feet of space in the vestibule area make it a great option if you're camping with lots of gear or simply want plenty of sheltered square footage for lounging
REI Co-op Half Dome SL 3+
Best for Budget Backpackers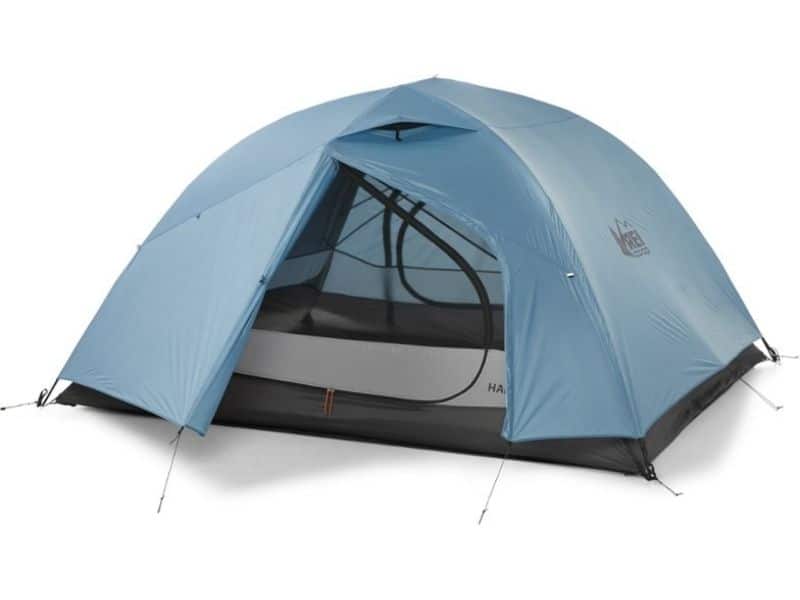 The highly popular REI Co-Op Half Dome 3+ has undergone something of a makeover in the last year. The latest iteration offers everything we loved about its predecessor – solid weather resistance, a small packed size, bluesign-approved fabrics, and idiot-proof pitching – but this tent weighs over a pound less.
The previous version was already one of our favorites for backcountry camping, but the new, improved Half Dome 3+ is even more ideal for small families or couples who like to do their camping off the beaten track.
This tent weighs 5 lbs. 11.7 oz, the lightest option in our review. And while its 48.75 square feet of floor space also make it the smallest, there's ample room for 3 adults and a pooch, or two adults and two small children.
What we love most about the Half Dome is that it makes very few compromises in order to achieve its light weight. Its weatherproofing is robust enough to stand up to three-season weather, its pre-bent pole structure amps up livability, and there are enough pockets and gear loops to keep the interior tidy and clutter-free.
The only real issue we have with this tent is that the materials are slightly flimsier than others on our list. Whether or not this is an issue for you, however, depends on where you plan on doing your camping, how careful you are with your kit, and how much ruggedness you're willing to sacrifice to get a tent that's light enough to carry further afield than the roadside.
Specs
Type: Dome
Floor Area: 48.75 sq. ft.
Center Height: 44"
Weight: 5 lbs. 11.7 oz.
PROs

Lightweight
Footprint included
Roomy enough for 2 adults & 2 children
Hubbed pole system and color-coded poles
Spacious vestibule

CONs

Less spacious than other tents on our list
Low peak height
Less rugged materials
Bottom-Line: An extra-roomy two-person tent or a cozy shelter for smaller families who prefer to do their camping a little further from the roadside.
MSR Habitude
Recommended
This super-spacious shelter is an ideal pick for families or groups who want plenty of livability without having to splurge on a pricier and heavier 6-person tent.
The Habitude is one of the most versatile options on our list. Whilst not lightweight, its 12-pound packed weight makes it just about light enough for shorter backcountry forays, while its 73" peak height, 62.4-square-foot sleeping area, and 23.5-square-foot vestibule make it livable enough for car campers.
The walls on the Habitude aren't as vertical as either the Kingdom 6, Grand Hut, or the Wawona, so it feels a little less roomy. Its curved shape and semi-geodesic pole structure, however, translate into superior stability in strong winds. The Habitude is also over 8 lbs. lighter than the Wawona, 2 lbs. lighter than Grand Hut, and over 9 lbs. lighter than the Kingdom 6.
In terms of waterproofing, the Habitude's a bit of a standout, with its 1,500mm rainfly and 10,000mm PU flooring it is resilient enough to handle the worst 3-season conditions and even the odd winter camping trip, something that can't be said of competitors like the REI Co-Op Grand Hut or Coleman Sundome 4.
The only real downsides to the Habitude are that it's a little tricky to put up and it only has one door – both highly forgivable given its stellar performance in every other metric.
Specs
Type: Dome
Floor Area: 62.4 sq. ft.
Center Height: 73"
Weight: 12 lbs.
PROs

Good weather resistance
Lightweight
Great peak height
Plenty of pockets

CONs

Quite pricey
Only one door
Trickier to set up
Bottom-Line: A lightweight, compact, and livable dome-style camping tent that's made with top-notch materials.
Marmot Halo 6
Recommended
Six-person camping tents that strike the perfect balance between weather protection, size, quality, and ease of setup are few and far between. The Marmot Halo 6, however, is just that kinda tent.
The Halo is, simply put, a bit of a beast. Its 96.7-square-foot floor area makes it the second-largest shelter on our list and the roomiest six-person tent model by over ten square feet. It also has a healthy 75.5-inch center height, meaning there's more than enough headspace to walk around inside without having to duck or stoop.
Other beast-like characteristics include the 40D/68D body, 150D/3,000mm flooring, and ripstop 68D/1,800mm rain fly, all of which place it very near the top of the class in terms of toughness and waterproofing.
Brawny, burly, and badass as it may be, the Halo also has a handful of more subtle touches that make it wonderfully user-friendly. The most endearing of these are the color-coded clips and poles, oversized D-shaped doors with "jingle-free" zipper pulls, neatly arranged wall pockets, and sizable overhead shelves.
The only grumble we have with this Halo is the price tag. Given the tent's overall quality and extra-commodious interior, however, the added expense is well worth it for campers prone to cabin fever or who are willing to pay top dollar for top-notch and long-lasting materials.
Specs
Type: Extended dome
Floor Area: 96.7 sq. ft.
Center Height: 75.5"
Weight: 20 lbs. 1.3 oz.
PROs

Spacious interior
Peak height
High waterproof rating
Nicely sized vestibules
Easy to set up and take down

CONs
Bottom-Line: A high-end tent with a high-end price tag, but well worth it for the quality materials and the cabin-fever-free camping experience the Halo provides.
What to Look for in Great Car-Camping Tents
Capacity & Floor Space
Camping tents have a "person rating" that tells you how many sleepers the manufacturers believe it can accommodate, e.g. "4-person," "5-person," "6-person," and so on.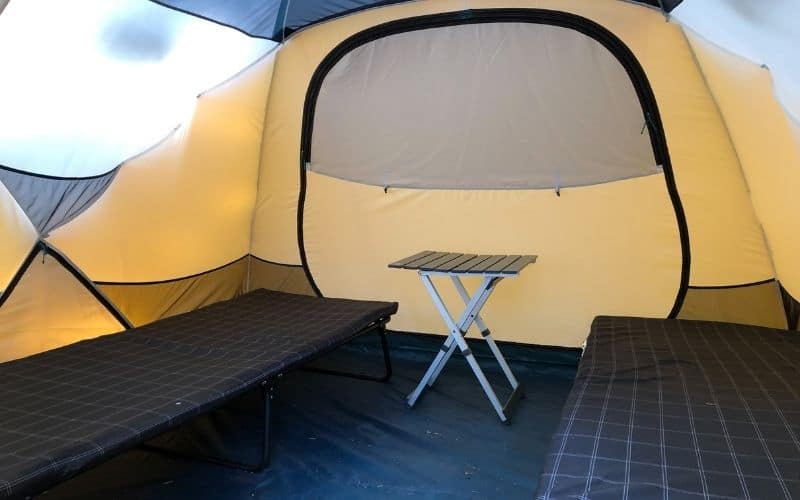 While these give you a rough idea of how many campers will fit inside, it's best to take them with a pinch of salt. Why? Well, many brands are apt to overstate capacities either a) because they're inveterate optimists, or b) to make their tents appear roomier than they are.
To gauge capacity more accurately, we recommend you search for the tent's overall square footage in the product specs. Given that the average adult sleeper needs around 14 square feet of space for a comfortable night's sleep, you can simply divide the total square footage by 14 and – hey presto! – you'll know how many sleepers can comfortably fit inside.
For example: 100 square feet divided by 14 = 7.1. This means a 100-square-foot tent can comfortably host 7 happy campers and will be extra roomy for 6.
Peak Height and Pole Structure
Peak height (aka "center height") refers to the distance between the tent floor and the tent ceiling at the highest point. Because this determines how easy it is to move around inside the tent while standing up, it's a crucial contributor to livability.
Generally speaking, cabin and tunnel tents provide the most headroom since their near-vertical walls translate into an almost uniform peak height throughout the tent. The curved shape of a 'dome-style tent', on the other hand, means ceiling height drops sharply as soon as you move away from the center of the tent, and is much lower around the edges.
It's worth bearing in mind that a dome tents' lower profile and curved shape will make them better performers in windy conditions. Conversely, the steep walls on cabins and tunnels mean they tend to take a battering (and occasionally buckle or collapse) when things get blowy.
Weather Resistance
This metric can be neatly divided into two performance categories: wind resistance and waterproofing.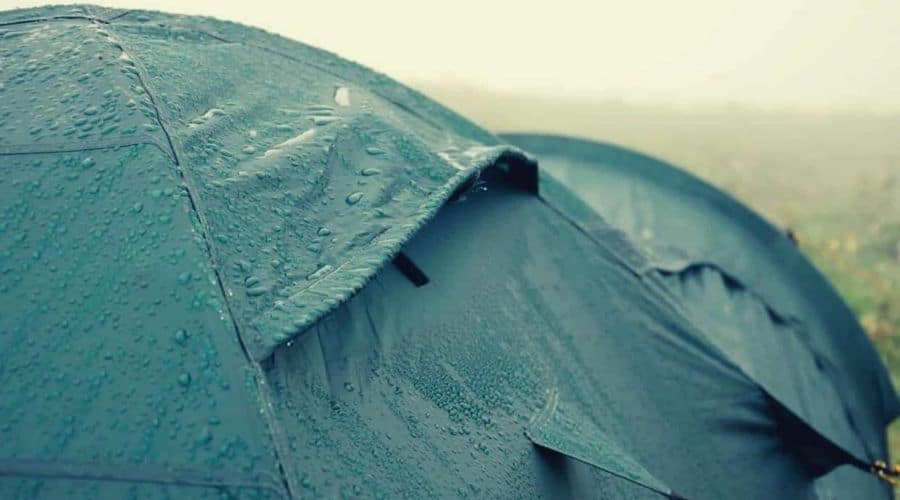 Wind Resistance
In windy conditions, the most stable camping tents are those with a lower peak height and an aerodynamic design. This means a geodesic tent or a standard dome tent, both of which sit lower to the ground and have curved walls that provide less resistance to the wind.
Conversely, the near-vertical walls of cabin and tunnel tents make them more prone to collapse, billowing, and sleep-stealing swaying and flapping when the wind's any stronger than a moderate breeze.
Waterproofing
The waterproofing capacity of tent fabric is measured using the Hydrostatic Head (HH) open-column water test. This simply means it has been tested to determine how much water pressure the fabric can withstand before it starts to leak.
HH ratings are given in mm (i.e.1,000mm HH, 2,000mm HH, and so on), and the higher the figure, the more waterproof the fabric will be. For three-season camping, we recommend a tent with a minimum 1,000mm HH rainfly and 1,500mm flooring.
The most waterproof tents in our review are the Coleman Octagon (3,000mm rainfly and floor) and MSR Habitude (1,500mm rainfly, 10,000mm floor). The least waterproof is the Coleman Sundome 4. This tent's floor and fly have a high HH rating (3,000mm), but the rainfly offers only partial coverage, so a large portion of the inner tent has no protection against precipitation.
Ventilation
Death and taxes are often cited as life's two most inevitable eventualities. But anyone with a bit of camping experience under their belt knows that condensation is (almost) equally unavoidable.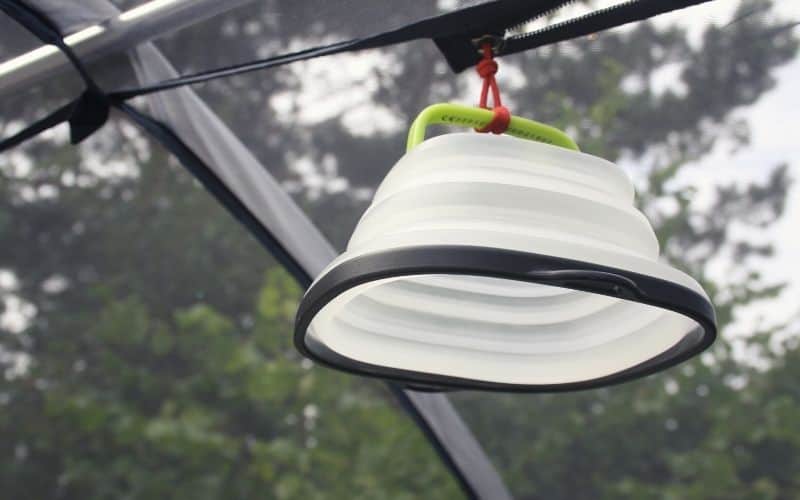 Condensation occurs when warm, humid air (like the kind inside your tent) encounters a colder surface (like the walls of your tent). At this point, the airborne water vapors caused by the breath and sweat of the tent's occupants change from a gaseous form to liquid, and soon your tent will be somewhere between "slightly damp" and "wetter than an otters pocket".
Luckily, tent manufacturers have come up with various means of mitigating the problem and ensuring their tents have enough airflow to keep our tent interiors as condensation-free as possible.
The first and most important of these is the use of a double-walled design.
Double-wall camping tents consist of an inner tent (aka "tent body") and a weather-resistant rainfly. The inner tent's mesh construction allows heat and moisture to escape the sleeping area, while the gap between the two layers allows fresh air to circulate and minimize the heat differential that causes condensation.
Other features that help improve air permeability and minimize condensation include double mesh doors, large mesh panels in the tent canopy, and air vents in the roof and/or walls of the tent. These features are rarely found in cheaper tents, but most are all but standard in high-end models like the Marmot Halo and REI Kingdom, Grand Hut, and Base Camp.
Camping Gear Storage Space: Pockets, Vestibules, and Garages
Storage space is important for three reasons:
It frees up space for humans in the sleeping area, thus improving livability
It helps keep your shelter clean and clutter-free
It helps you keep your gear organized and easier to locate
The main storage features to look for when you are in the camping tent market are large "garages" or vestibules, interior pockets on the tent walls, and a "gear loft", i.e. a suspended mesh shelf in the tent canopy that lets you store gear above the sleeping area.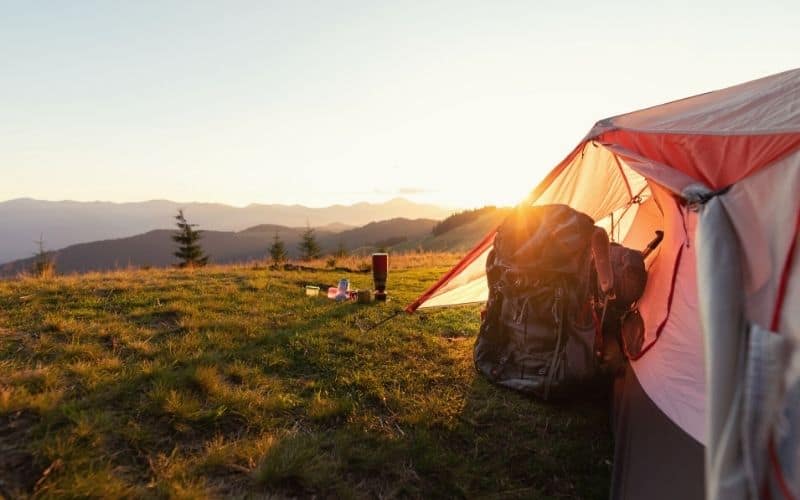 The North Face Wawona 6, which has a whopping 66 sq. ft. of vestibule space and a myriad of pockets on the inner tent walls and roof, is the best tent for storage of all the models in our review. The REI Base Camp, which has a total of 14 pockets and 44 sq. ft. of vestibule area, is a close second.
Weight and Packed Size
Plan on using your tent for car camping only? If so, you can probably skip this metric and proceed to "Ease of Setup." Why? Well, if your vehicle – rather than your legs – is responsible for transporting your tent to your pitching point, then you can afford to choose a roomier, sturdier, and heavier tent, irrespective of poundage and packed dimensions.
If you're backcountry camping, however, you want a tent that strikes the optimal balance between livability, ruggedness, weatherproofing, packability, and weight.
Finding this balance, however, can be tricky since weight savings often entail a trade-off with other desirable characteristics like liveable space, robust waterproofing, and durability.
Our list's heaviest and lightest camping tents, the Coleman Octagon and REI Co-Op Half Dome 3+ provide perfect cases in point.
The Octagon offers a whopping 122 square feet of interior space and has a 3,000mm HH waterproof rating, but weighs a mighty 45 pounds. The Half Dome 3+, on the other hand, weighs just 5 lbs. 11.5 oz., but offers far less protection against the elements, only 48.75 square feet of livable space, and has fairly flimsy, 20-40D fabric.
The moral of the story? Before buying, establish your priorities to draw up a shortlist, then decide how much livability, durability, and weatherproofing you're willing to sacrifice for weight savings.
If you're looking for a crossover tent (i.e. one that's suitable for both car camping and backcountry camping), check out the MSR Habitude. While not lightweight, this tent's 12-pound packed weight makes it just about light enough for short backcountry forays, while its roomy sleeping area and high center height make it just as livable as many "luxury" car-camping tents.
Ease of Setup
Top of the class in this metric is a pop-up or "instant" tent, i.e. those that have poles that are pre-attached to the fabric to allow for extra-quick, hassle-free pitching.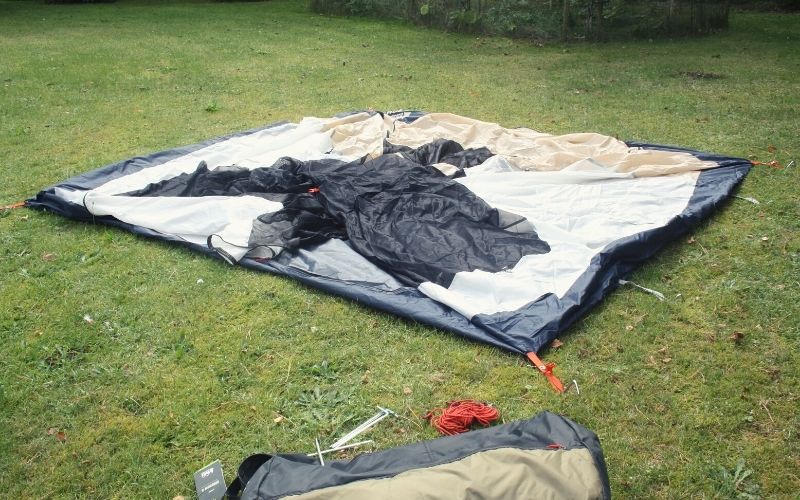 The next best thing is tents with "hubbed" pole assembly, which simply means that all of the poles connect to a central pole hub, making it easier to avoid threading the poles through the wrong loops or clips. If this system only uses two poles instead of three, four, or five, all the better – though it's worth noting the fewer poles usually equals less stability.
Beyond pre-attached poles and hubbed pole systems, the two features most conducive to struggle-free pitching are color-coded poles and freestanding designs. Color-coded poles make it easy to identify which poles go in which sleeves, while a freestanding design means the tent will stay upright even before it's staked out with guylines.
All of the tents featured above have a freestanding design, and nearly every tent on our list has color-coded poles except for the Coleman Sundome.
Durability
A tent's durability depends primarily on the fabrics used in its construction as well as the pole material.
Poles are made with either aluminum, steel, or fiberglass. Steel is the most durable of the three but is also far heavier than the other two materials. Between aluminum and fiberglass, aluminum is a hands-down winner. Fiberglass isn't as strong or resilient as aluminum, and is also less ductile, meaning it's prone to shattering under stress.
The durability of a tent's fabrics depends on the fabrics' density. Fabric density, or thickness, is measured in something called "Denier," which usually appears in product specifications as a solitary "D" – e.g., "50D," "100D," and so on. A higher denier count equals more robust and durable fabric, so the higher the better if longevity is a concern.
When surveying the options you'll notice that in most tents the denier count of the rainfly and inner tent fabric is much lower than the flooring. This is because tent floors are exposed to things like rocks, roots, and grit, all of which can puncture or wear through flimsy fabric.
If you do most of your camping at established, front-country sites with well-maintained pitches, this isn't so much of a concern. For backcountry camping, however, the rougher nature of the terrain means you'll need tougher flooring (ideally 150D+) unless you plan on carrying a separate tent footprint.
Family Friendliness
What makes one tent more suitable for family camping than another?
Until they start selling tents with nannies, chaperones, riot control teams, and/or sound-proof cubicles, the most important family-friendly features to look for are things like room dividers, extra storage space, pockets, and cup holders like those found in the Coleman Octagon.
In our experience, easy setup and a little extra square footage in the sleeping area never hurt, either.