Best Tent for Camping
REI Kingdom 6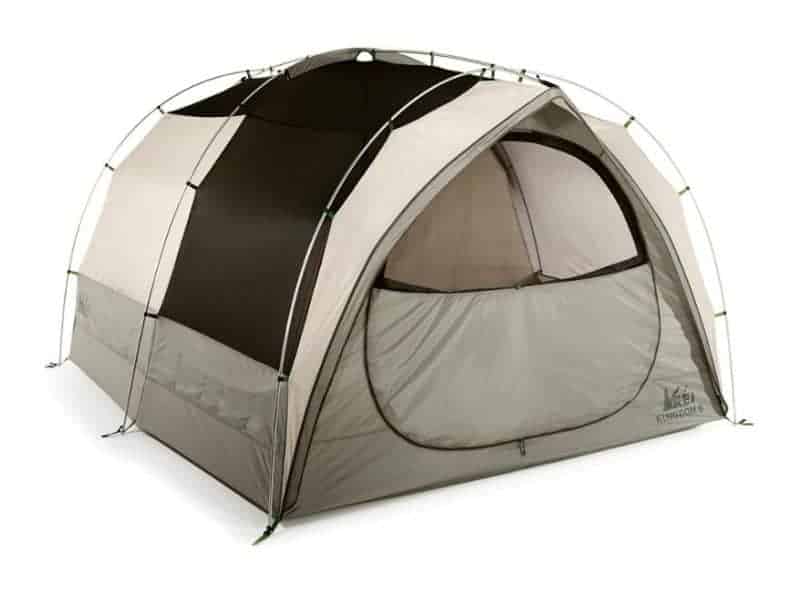 It's hard to match the all-around flexibility of the REI Kingdom 6 camping tent. The ability to split the interior of this tent into more than one room makes it ideal for families with children, two couples, or a group of friends to share.
It may not be great for windy areas or during stormy weather, but is well-ventilated and offers plenty of protected space should it rain during your camping trip. The optional attachable garage is well worth the extra money and adds invaluable space for gear storage.
Overall, the Kingdom 6 is one of the best six-person tents available for car camping with a group and our top pick as the best camping tent.
Best Value
Coleman Carlsbad Fast Pitch 6
The Coleman Carlsbad Fast Pitch 6 proves that decent camping gear doesn't need to cost a fortune. While it isn't the biggest or lightest or most rugged camping tent available, it offers some of the perks usually found in more expensive tents and still leaves you plenty of cash to buy sleeping bags and other camping essentials.
If you're new to camping or aren't ready to commit to a more expensive product, the Fast Pitch 6 will serve you well for car camping but may not be as long-lived as others in its class.
The Best Family Camping Tents of 2021
Looking for the Best Family Tent for Camping?
You're in the right place! In this guide, we will be covering the following:
Why you need a great family camping tent
What you should consider when buying.
Reviews of the best camping tents on the market
Our unbiased recommendation on the #1 camping tent for families
A good tent can mean the difference between an enjoyable outdoor adventure or a miserable and damp camping experience. Below are reviews of a few of the best tents for camping. Each has attributes that make it suitable for different kinds of camping situations, and so it is important first to know what to look for when searching for a good quality camping tent.
REI Kingdom 6
Kodiak Canvas Flex-Bow 6 Deluxe
Coleman Carlsbad Fast Pitch 6
Big Agnes Flying Diamond 6
REI Basecamp 6
Mountain Hardwear Optic 6
How to Choose the Best Family Tents
The best tent for you will largely be determined by the environment in which you plan to camp, your budget, and how much interior space you will need for sleeping and gear storage. Below are a few key factors to look at when deciding which tent is best for your needs.
Things to Consider
Portability & Ease of Set Up
Unlike many single person or two-person tents, six-person camping tents can be both cumbersome and unwieldy to erect. Most are not well-suited to ultralight backpacking trips as they can weigh more than forty pounds. But, they do provide plenty of living space for large families or groups of campers, and often have better gear storage space than smaller tents. Perhaps most importantly, they usually have a high enough peak height to allow you to walk inside without crouching.
If you will primarily use your tent for car camping, backyard sleepovers, or if you only plan to carry your tent a short way into the wilderness then most six-person tents will meet expectations. But if you need a tent that can be carried for many miles, or if you specifically need a tent that can be set up by just one person, then try to find a lighter tent with a simple pole structure which can be erected by you alone. Tents with X-shaped frames or which have a single central pole are typically easier for a single person to set up rather than tents with many interconnected poles or tents that have more than one main hub.
Keep in mind that while lightweight six-person tents do exist, they are often expensive due to their use of expensive fabrics and high-tech pole materials. They also tend to have a smaller interior space and lower peak height which may make them feel cramped if your camping trip turns rainy and you have to spend a lot of time inside.
Interior Living Space & Storage Space
One of the advantages of picking a six-person tent over several smaller tents for use during family camping trips or your group of friends is that you'll have a larger amount of interior living space for standing up and moving about. Some couples or small families even choose to use a six-person tent rather than a model designed for fewer people for this very reason. While the main goal of camping may be to re-connect with nature and experience the untouched beauty of the wild, using a tent in which you can move and sleep comfortably can make some camping trips much more enjoyable.
This applies in particular if rain becomes a constant presence during your camping trip. Rather than feeling confined, a six-person tent will likely have enough room to store muddy gear, play a card game, watch a movie, or even cook meals. Most have large vestibules or porch areas that are protected by the rain fly but may not have a floor. This makes them perfect for drying muddy boots or for using a cook stove. A few models even have detachable extensions. These add extra square footage to the tent which can be used to store bikes, gear, or wet clothing.
Wind and Weather Resistance
The main purpose of any tent is, of course, to provide shelter. While every shelter can provide basic protection from the elements, the shape of each tent, its pole structure, and the materials it is made from will determine just how capable a tent is of standing up to a storm.
When choosing a tent, it is important to keep in mind the environments in which you plan to use it. Most models are basic three-season tents and are unable to handle truly extreme weather or heavy snow loads. Instead, they are designed to be comfortable during warmer weather. They will have features such as large mesh doors and windows to help airflow and have nearly vertical walls to create more livable space inside of the tent. Vertical walls are rarely a problem during normal weather, but during truly windy storms, they are less capable of standing up to strong gusts than specially designed mountaineering models.
If you need a tent to serve as a base camp while mountain climbing, or if you will be using your tent during the winter, you should consider purchasing a tent specifically designed for these conditions. These will typically be geodesic in structure and will have plenty of tie down points to make them more able to withstand high winds and heavy snow loads. They are also typically a two-walled design and will have less mesh in the walls when compared to a standard warm-weather tent.
Cost
A camping tent will usually cost between $150 and $500. This wide range reflects a broad range of tent brands and quality of materials. Tents made of canvas or which are designed for the extreme demands of winter trekking will be more expensive, while a warm-weather model with a simple pole structure will be on the lower end of the spectrum.
You should also consider the cost of any extra accessories you will need in addition to the tent. This may include a footprint which helps protect the bottom from wear and mud. You may also want to purchase extra gear storage in the form of a gear loft or a detachable "garage" structure.
If you're new to camping or if you are on a budget and are not ready to commit to a high-dollar product, an inexpensive model will usually be perfectly serviceable for your needs for a few seasons, and shouldn't be dismissed out of hand.
It's important to keep in mind that, while not always true, a cheaper product will often have a shorter lifespan than a more expensive tent. Because higher-quality products are made from better fabrics, and because more attention is paid to important details like stitching on the seams and the strength of guy line attachments, they are a better choice if you want to use the same tent for an extended camping trip or if you want to use the same tent for many years to come.
Durability & Ruggedness
There are many details that contribute to a tent's strength. It is often true that cheaper products make use of materials that may be less rugged than higher quality tents. For instance, more expensive models will usually have better quality fabrics, well-sealed seams, and better quality poles which are less likely to break during high winds.
In general, you should try to find a high-quality product from a well-respected brand whenever possible. This may mean waiting to purchase a good model when it goes on sale or saving until you can afford the right product for you. In the end, however, this will mean you are less likely to be disappointed by poor-quality components, tears along seams, or bent and broken poles.
Durability is also a key factor if you plan on using your tent frequently. This is true whether you plan for lots of short camping trips over the course of several years, or if you need decent shelter for an entire season in the backcountry or an extended hunting trip. If longevity is your goal, you may want to consider making use of a canvas tent. They are heavier than a standard tent but will outlast most products made from thin polyester fabric.
The Top Camping Tent Reviews
REI Kingdom 6
Best Camping Tent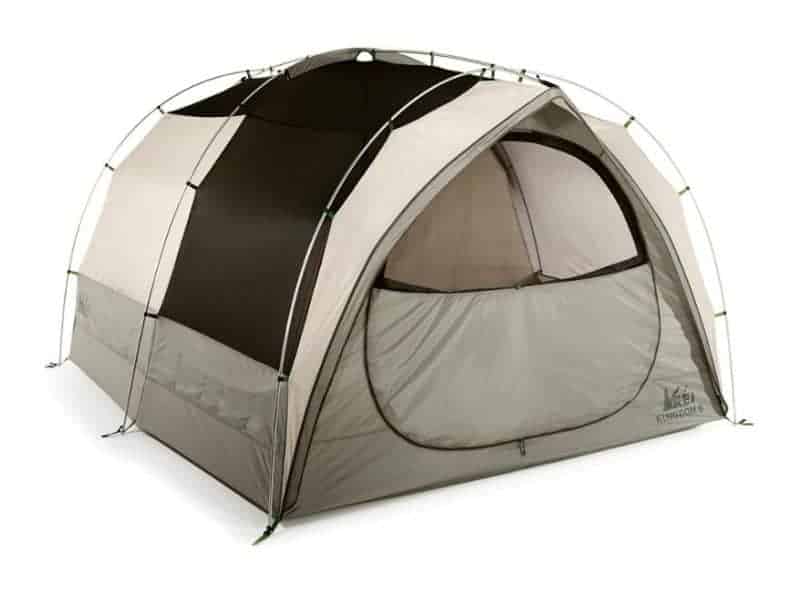 The luxury and flexibility of the Kingdom 6 interior are what put it at the top of the list for many campers. Its two-room design and optional zip-on garage give large groups plenty of room to stand and move around. Use the first of the two rooms for air mattresses and playing cards on rainy days. The second room can be kept partitioned for privacy, or leave the partition down to make one large space. The large vestibule and many interior pockets provide plenty of storage.
PROs

The main compartment divides into two rooms, a perfect solution for families
Lots of headroom created by nearly vertical walls create plenty of living space
Optional garage for extra storage space
Backpack straps on carrying bag make transporting easy

CONs

The shape makes it vulnerable during wind storms
Limited instructions make the first set up tricky
Rainfly awning does not adequately protect the door and may let rain in
Bottom-Line: The REI Kingdom 6 makes for a perfect base camp or car camping tent thanks to its roomy and flexible interior layout.
Coleman Carlsbad Fast Pitch 6
For a camping tent that won't break the bank, look no further than the Coleman Carlsbad Fast Pitch 6. It is an affordable yet well-designed option that has clever touches such as a large mesh porch room that doubles as extra sleeping space. The main sleeping space has walls made from dark fabric which blocks up to 97.5% of sunlight. This allows you to get to bed early or sleep in late.
PROs

Inexpensive and widely available, making it ideal for budget-conscious campers
Big screened vestibule/porch is versatile and practical
Dark fabric interior may help campers sleep better

CONs

Small quality flaws occasionally appear
Bottom-Line: At about half the price of most models in its class, the Carlsbad Fast Pitch does have some drawbacks but offers campers on a budget a great alternative.
Kodiak Canvas Flex-Bow 6 Deluxe
Using canvas may seem old-fashioned and impractical, but the sturdy square steel tubing frame and silicone-treated 100% cotton duck fabric of the Kodiak Canvas 6 Person Bow-Flex make it incredibly sturdy and nearly impervious to water. The breathable walls shed water thanks to their Hydra-Shield coating, and yet are extremely breathable, allowing both air and moisture to pass through the canvas. This feature makes the Bow-Flex 6 ideal for humid areas or extended stays and hunting trips.
PROs

Durable canvas and steel construction makes this a long-lived product
Two large mesh doors for easy entry and excellent ventilation
100 square feet of floor space and plenty of headroom
Perfect for hunting trips or extended camping stays

CONs

At 72 pounds it is one of the heaviest models
Canvas fabric takes time to dry after rain; cannot be stored wet
Single wall construction. No separate rain fly
Bottom-Line: The Kodiak Canvas 6 Person Bow-Flex proves that canvas can be a reliable option for outdoor enthusiasts who need long-term shelter.
Big Agnes Flying Diamond 6
For extreme camping conditions, the Big Agnes Flying Diamond 6 is an excellent option. This model has two interior spaces that can sleep four people and two people respectively. There is a door at each end, and the main entrance has a generous gear vestibule. At less than 20 pounds, the Flying Diamond is surprisingly light for a four-season model, yet its unique shape and pole design will withstand the worst winter storms. However, it should be noted that its shape also limits the peak height of this product to only 5 feet 6 inches in the main compartment and a mere 4 feet 1 inch in the smaller chamber.
PROs

Four-season performance in all kinds of weather
Weighs less than 20 pounds when packed
Aluminum pressfit poles and geodesic design make for a solid structure

CONs

It has 95 sq ft of floor space but has limited headroom; can feel cramped
Expensive
Bottom-Line: For high performance in any weather, the Big Agnes Flying Diamond 6 is the best four-season camping tent.
REI Basecamp 6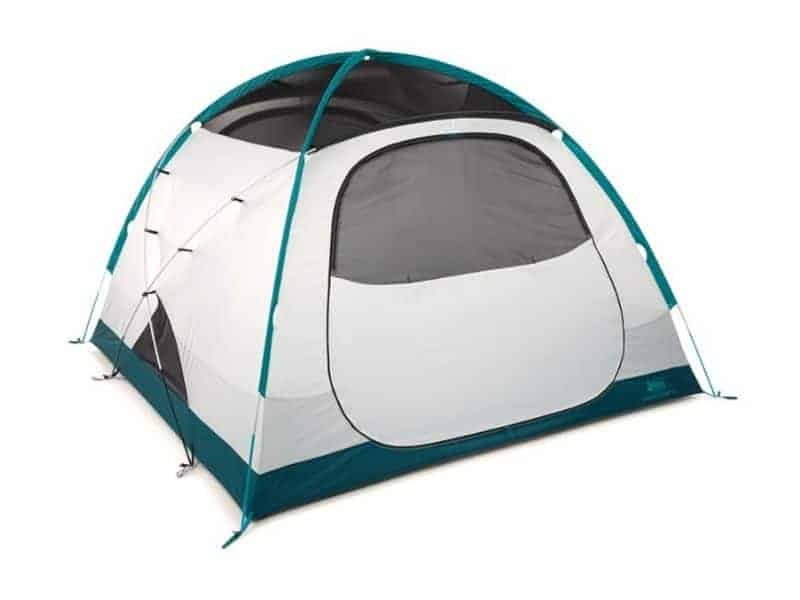 If you like the sturdiness of geodesic tents, but enjoy a bit more headroom than most car-camping tents provide, the REI Base Camp 6 offers a great balance between roominess and rugged engineering. The stability of the five color-coded aluminum poles keeps this model standing even during high winds, and the 150-denier polyester oxford floor is coated for superior water and abrasion resistance. While it is technically a three-season product, the design of the Base Camp 6 means that it is better suited to inclement weather than many models.
PROs

Sturdy design
Two oversized doors provide easy entry
Large pole-supported vestibule offers plenty of room to store gear

CONs

Can be difficult to set up solo; may require two people to set up
Limited mesh makes it less than ideal in hot weather and obstructs views
Bottom-Line: Taking its inspiration from geodesic mountaineering tents, the REI Base Camp 6 is a sturdy and durable campground shelter.
Mountain Hardwear Optic 6
The bold design of the Mountain Hardwear Optic 6 makes camping less of a chore. The simplicity of its pole structure makes it easy to set up right out of the box, and because you can pitch the fly first, you can keep the tent dry even when setting up in the rain. The two doors and vestibules are on adjoining sides of the tent. While this may mean you'll have to step over your buddies to get out at night, this design has advantages. Both vestibules can be used for gear, or one can be used as an awning instead. The two doors also provide an excellent and unobstructed view of the world beyond.
PROs

Vestibules provide plenty of room for gear, or one can be used as an awning
Vestibules and doors are designed to allow unobstructed views
Simple pole structure and clip-on attachments make set up easy

CONs

Not intended for high winds or cold weather camping
Low-quality stakes don't fully secure guy lines during windy weather
Bottom-Line: The unique design of the Mountain Hardwear Optic 6 ensures plenty of air flow, unobstructed views, and easy setup making it perfect for scenic campground stays.
Last update on 2021-09-18 / Affiliate links / Images from Amazon Product Advertising API