If hauling around a tent on your back has become a bit too much of a drag, it might be time to switch up your camping paraphernalia. Our advice? Take a leaf out of the book of the countless happy camping hammockers out there and kit yourself out with a hammock and lightweight tarp instead!
Hammock camping has become much more popular within the last decade. It allows backpackers to trek with less weight and many campers find that "hanging out" is easier and more low-maintenance than camping in a tent.
To keep this kind of camping safe, however, you should have the proper gear. The proper gear? Well, in addition to a trusty bug net and a well-made hammock to do your hanging in, we recommend making your kit the all-weather kind by buying a decent tarp.
Editor's Pick
Kammok Kuhli Pro Shelter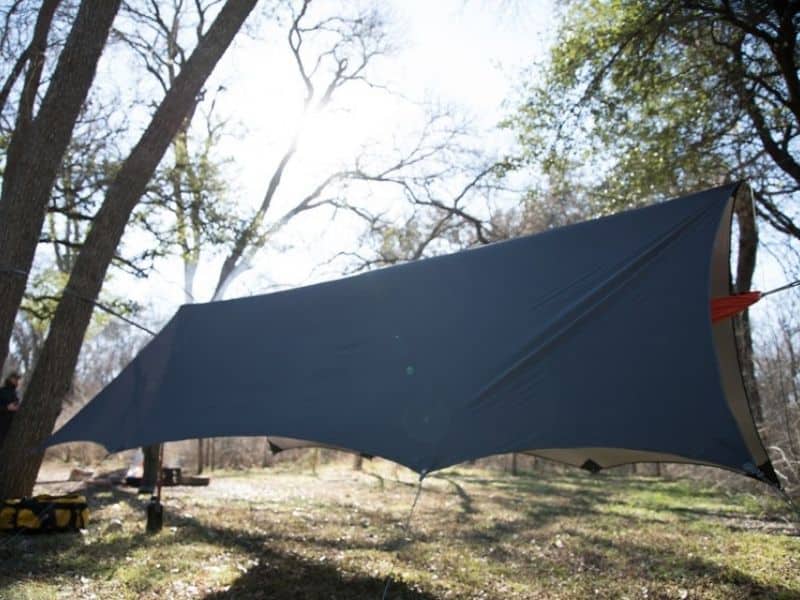 The Kammok Kuhli Pro Shelter is a tough, waterproof, well-designed tarpaulin suitable for year-round adventuring.
The fabric is an Amphibiskin™ 15D diamond ripstop nylon material. With a PU-, DWR, and X silicone-coating and taped seams, this one offers full, reliable waterproofing.
Along the fabric's outer edge are ten anchor points reinforced with Hypalon™ rubber to increase their longevity. They are laser cut with a circle stitched in to make attaching poles and guy lines a cinch. It's easy to set up and tear down, with its line-lock tensioners letting you make and break camp in a matter of minutes.
The design includes mesh pockets for the guylines, each of which has reflective fibers woven into them. You will find similar threads on the underside of the tarp as well, which are used to help trap in your body heat. J-stakes and a carry sack are included.
Bottom line: If you are searching for the best design and the most protection, the Kuhli pro is worth splashing some cash on.
Buying Considerations and Features of Hammock Tarps
Hammock tarps (aka. a rainfly for hammock camping) are considered an essential addition to any hammock camper's setup. By providing extra protection from the elements, they let you carry on camping even when the weather's at its worst.
To find a tarp that suits your camping setup, you need to consider the size, shape, weight, and weatherproofing, among other aspects. Below, we dig into each one of these important considerations to help you find the best tarpaulin for your needs.
Further reading: If you need help deciding which hammock is best for you then check out our guide to the best lightweight backpacking hammocks.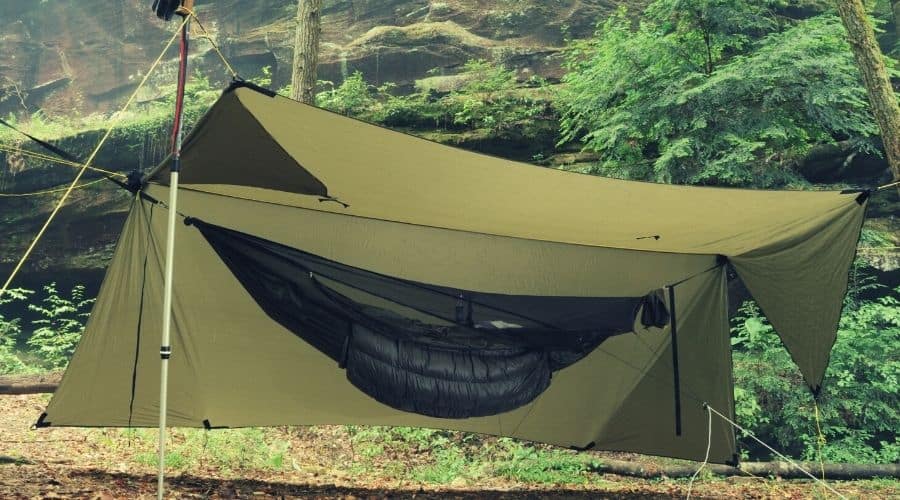 Hammock Tarp Sizing
With a rain tarp, size matters. What's the point of a tarp, after all, if it doesn't fit over the top of your camping setup?
The best size tarp for hammock campers is one that extends beyond the hammock anywhere from 1 to 2 feet, both lengthwise and across the width. This will provide adequate coverage for the sleeper and additional protection if the wind's blowing the rain sideways. It will also create a sheltered storage space beneath your tarp for your gear.
Make sure you remember that there are single and double sizes available when buying and pay close attention to the measurements provided in the specs.
RELATED: The best sleeping bag for hammock camping
Tarp Shape
The next most important characteristic is shape. There are five common tarp shapes, and the decision is primarily based on personal preference and the weather conditions in which you plan on camping. Different shapes can also give you more potential configurations or cover more of the ground underneath you, which helps with storing your gear.
Here are the most common tarpaulin shapes and their benefits:
Rectangular
Rectangular tarpaulins are the most common of all the shapes available. On these, the ridgeline runs across the exact middle of the tarp, with the same amount of fabric on either side of you.
The main benefits of rectangular tarps are their higher centerline and ease of use, which derives from the fact that most need only four tie-out points. On the downside, they don't provide so much room for storage.
Hexagonal
Hexagonal tarps, like the Hennessy Hammock Rainfly, offer less protection than rectangular varieties but more than a diamond. They are often more of a lightweight hammock tarp since the hexagonal cut saves on fabric. These require at least two guyline tie-outs per side and usually offer slightly less coverage than a rectangle.
Catenary
"Catenary" is often used interchangeably with hexagonal. What makes it more confusing is that all catenary tarps are hexagonal, but not all hexagonal tarps are catenary.
What sets "cats" apart is that they curve inward at the sides to help them shed water more easily, making them ideal for wet-weather camping. Although not as lightweight or easy to set up as diamond or rectangular tarps, they provide a superior amount of coverage.
Diamond or Square
Diamond and square are terms that can be used interchangeably. Diamond/square tarps have two triangles that form when guylines are attached on the bottom of the fabric on either side of the ridgeline.
The diamond shape offers a minimal degree of coverage at the tip and tail, but the corners stick out farther from your sleeping spot, meaning there's plenty of lateral storage or sheltered cooking space.
Winter/4-season
Finally, four-season camping becomes possible with a winter hammock tarp. Winter tarps differ in that they are a tarp with doors that close on either side like a tent, providing full coverage and superior insulation and weather protection.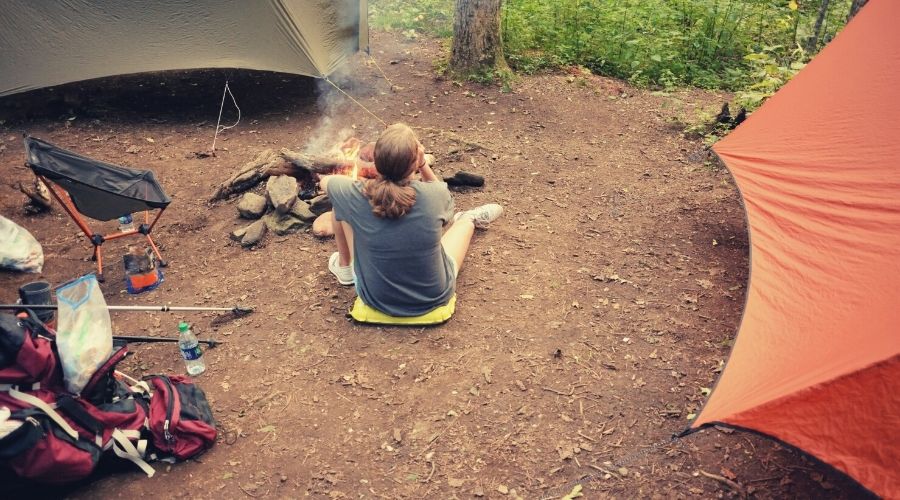 Materials
Synthetics like polyester and nylon are the most common type of material used for hammock tarps.
Polyester is often cheaper than nylon, but it also needs to be a higher denier than a nylon tarp because it's not as strong or resistant to tears.
Ripstop nylon is the most prevalent material. It is more durable than polyester but also, alas, tends to be more expensive.
Whichever material you buy, be aware that a higher denier count (i.e. 30-60D) will likely make the tarp heavier, but will also make it more rugged. For minimalist campers who want an ultralight hammock tarp, 10-20D ripstop polyester is the best bet. With that decrease in weight, however, you can expect to find a price increase, too.
Waterproofing
Waterproofing is the primary purpose of these coverings, along with wind protection. Given this, you want a hammock rain tarp that gives you the ability to stay dry at all times, even in a downpour.
The best indication of waterproofness is the hydrostatic head rating, but this is not always mentioned in the product specs.
The minimum rating to be considered waterproof as opposed to water-resistant is 1500mm HH. However, a rating of 2,000 to 3,0000mm HH is best for wet-weather campers.
If this isn't reported, check the denier rating. Higher denier ratings usually mean the fabric is more durable and water-resistant. If HH isn't mentioned, check to see if the fabric's polyurethane-treated so you know it has a waterproof coating. Failing that, check out hammock tarp reviews to see what customers have to say about their experience with the product.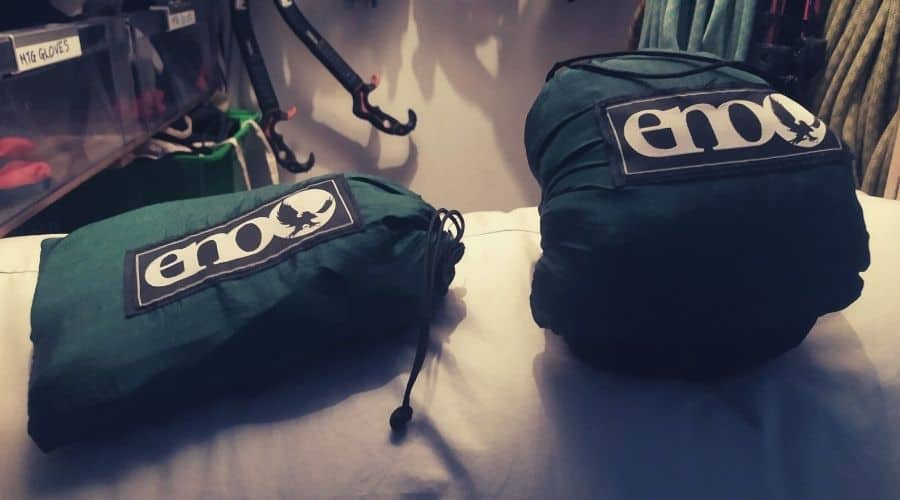 Weight
When backpacking, it is essential to look for packable material that weighs as little as possible without sacrificing performance. Less weight is typically more expensive but can be worth it on long treks. A hammock fly that weighs 2 pounds is considered heavy. If heavy ain't your thing, look for a tarp weight closer to 1 pound, or less if you're really counting those ounces.
Guy Lines
Guy lines are the points where you stake the tarp to the ground or tie it to a tree. The more guy points, the more stable and taut the tarp will be, allowing it to perform even better in windy weather conditions.
The only negative side to guylines is that, the more of them there are, the more work you'll have to do when setting up your tarp (and decamping). And that's not to mention more entanglement with the lines.
Some tarps come with handy guy line tensioners. These make it exponentially easier to get the guy line tight without tying extra knots. As such, if you're not a knot expert or just prefer the minimum of fuss, lines with added tensioners are the way to go.
Reviews of the Best Hammock Tarp in 2023
Kammok Kuhli Pro Shelter
Best Overall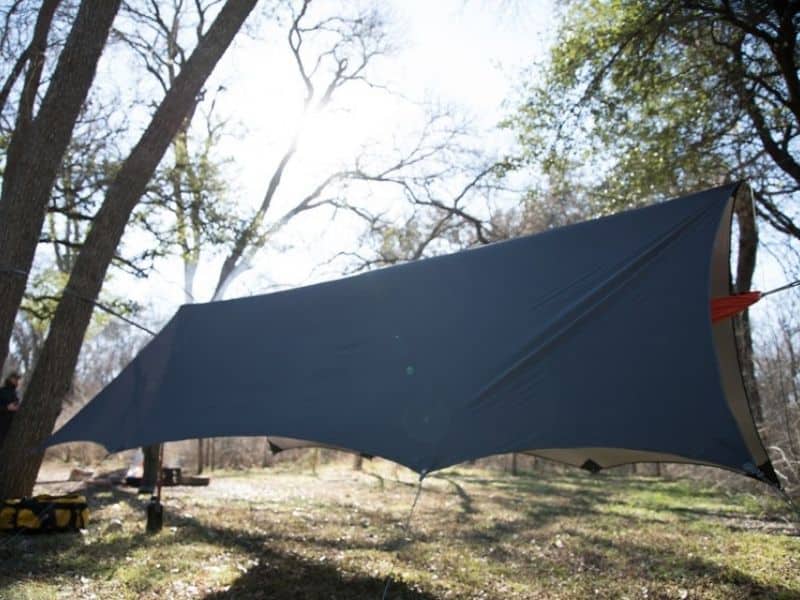 Shape: Rectangular
Material: 15D Ripstop Nylon
Weight: 26 ounces
Tough, reasonably lightweight, and just about as waterproof as they come, this tarpaulin's an outstanding choice for all kinds of adventurer.
The Kuhli Pro shelter is made with an Amphibiskin™ 15D diamond ripstop nylon material. The lower denier rating indicates that this rain fly for hammock adventures is not as durable as other options, but its ripstop fabric means it's more than capable of surviving a few scrapes with branches and sharp gear items.
What the Kuhli Pro lacks in durability, however, it gains back with waterproofing. It's made with X silicone, polyurethane, and durable water repellent (DWR) coatings, and the seams are also sealed with waterproof tape.
This tarp works well as a hammock rain cover, as its name promises. There are ten anchor points cut precisely using lasers and then sewn in with a circle bar-tack stitch for use with trekking poles. Each of these points also has a Hypalon™ rubber reinforcement, so they last longer.
Each of the guy lines also has built-in line-lock tensioners ending with cord hooks to make setup a piece of cake and knot-free.
Finally, a lot of consideration went into the overall construction of this hammock rain fly. There are mesh pockets to hold each of the anchor points, with reflective tracers woven into each cord for nighttime visibility. The inside of the material is also made with reflective fibers that help to keep your body heat inside.
When you are buying a hammock tarp from Kammock, it comes with everything you need. This kit includes J-stakes made from aluminum and a stuff sack made from Diamond Shell™ fabric that is both water- and abrasion-resistant.
PROs

Highly waterproof
Comes with stakes and a sack
Highly ergonomic design

CONs

Expensive
Low-denier fabric
Bottom-Line: It may be pricey, but this tarpaulin is incredibly well-made and an excellent option for hammock camping in all conditions.
Hennessy Hammock Hex Rainfly
Best for Camping in Harsh Weather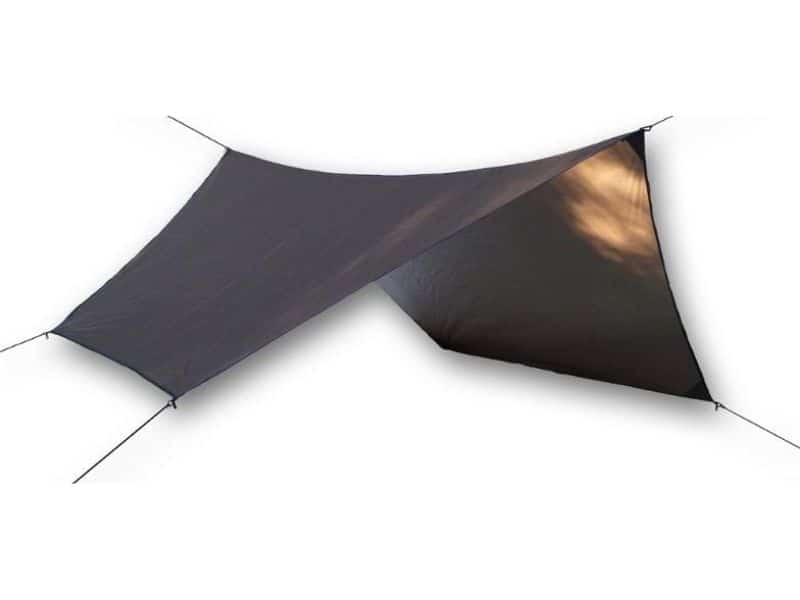 Shape: Hexagonal
Material: Ripstop Polyester
Weight: 27 ounces
The Hex is a rugged, high-denier, and highly waterproof option that's ideal for all-weather hammocking.
The Hennessy Rainfly is a true hexagon with a symmetrical cut. It's made with 70D polyurethane-treated polyester that gives you maximum protection from harsh weather. Weighing in a bit on the heavy side at 27 ounces (765 grams), this is a better choice for campers than backpackers.
The Hex tarp measures 143 by 120 inches and only 3.5 by 11 inches when packed. In addition to the PU-coating, it has factory-sealed seams and an impressive HH rating of 2500mm, meaning it's truly built to help you stay dry no matter what conditions you encounter.
There are six attachment points on this rain tarp, each of which has a corner slot to fit into when not in use, which helps avoid tangles in your guylines. On the downside, although the tarp is easy to set up, it is not easy to fit back into the bag without careful folds.
PROs

High HH rating
Slots for tie-outs
Hexagonal shape provides versatile setup
Performs well in wind and rain

CONs

On the heavy side
Difficult to get into included sack
Bottom-Line: A slightly heavy but very robust option that's ideally suited to wet-weather camping.
REDCAMP Lightweight Camping Tarp
Best Value for Money
Shape: Square
Material: Polyester
Weight: 29 ounces
While a touch heavy, this product from REDCAMP is the best hammock tarp for the money by quite some distance.
It comes with the whole kit and kaboodle, including six detachable guy lines, six ground stakes, and a storage bag. Even though it is a budget-friendly option, it doesn't mean it won't do its job. The hammock rain fly is very waterproof and is one of the most durable out there.
This 118 x 118-inch rain fly tent tarp is made from 210T polyester ripstop fabric with a PU-coating. The HH rating is high at 2,000mm, meaning this camping hammock tarp can protect you from harsh weather conditions.
Make sure to vet this product's weight and coverage before buying. It weighs 29 ounces, making it one of the heaviest tarps on our list. REDCAMP does believe in its product, though. They offer you a 100% money-back guarantee and a 365-day, full manufacturer's warranty if anything goes wrong with the product.
PROs

It comes as a whole kit
High HH rating
Has a 365-day warranty
Easy setup

CONs
Bottom-Line: A cheap and very cheerful tarp for hammockers who don't mind hauling a few extra ounces.
Pro Venture Waterproof Hammock Rain Fly
Best for Coverage
Shape: Catenary
Material: 210D Ripstop Nylon
Weight: 28 ounces
With a few added square feet of coverage on most of the other products in our review, this one's one of the best options for hammockers who like a little more in the way of sheltered living and storage space.
The Pro Venture Hammock rain fly is another product that comes as an entire kit. It has a waterproof stuff bag, the fly, six guylines with tensioners, four aluminum stakes, and a small accessory bag to hold them. Altogether, the kit weighs 28 ounces.
Instead of polyester, Pro Venture uses durable, 210D ripstop nylon, which is just about as tear- and puncture-resistant as materials come.
Catenary tarps like this one are great for camping hammock-style because they perform well in all weathers. But the real selling point is the size. Measuring 11 by 9 feet with a ridge line extending 142 inches, it covers 23% more space than other well-known brands. When the tarp kit is packed, it takes up only 10×5 inches of space in your backpack.
There are also six tie-down loops that each have reinforced grommet points. With these, the provided stakes, and the tensioners, setup is quick and easy. Pro Venture's products also have a 2-year warranty and a 100% money-back guarantee.
PROs

Full kit included
Very durable material
Comprehensive warranty

CONs

Too heavy for most backpackers
Bottom-Line: A beast of a tarp that's perfect for buyers who want added durability and storage space.
ENO ProFly
Best Pattern Selection
Shape: Rectangular
Material: 70D Ripstop Nylon
Weight: 22 ounces
The ENO ProFly offers a nice happy-medium between heavy, bombproof tarpaulins and lightweight backpacking varieties.
ENO has been creating hammocks and their accessories for many years. This tarp is a great example of one of their best products.
This rainfly is made with 120D nylon. The seams are high-quality, double-stitched, and taped. The dimensions of the tarp are 10′ 6″ x 6′ 4″, or 3.2 x 1.9 meters, meaning it provides plenty of coverage and added space for dry gear storage. Despite this, it weighs in at just 22 ounces.
There are six guy points on this tarp to keep it secure in windy weather. It comes with a stuff sack, but stakes are sold separately. The tarp comes in a variety of colors and patterns, some natural and others quirky.
Because it has a relatively low HH rating, this one's best used as a backup or for camping when there's a lower risk of heavy rainfall.
PROs

Highly waterproofed seams
Covers a large area
Six anchor points

CONs
Bottom-Line: A simple but highly effective hammock cover that ticks all the boxes for three-season camping.
DD Hammocks Tarp
Best Hammock Tarp for Versatility
Shape: Diamond
Material: Polyester
Weight: 28 ounces
This tarp by DD Hammocks is a little on the heavy side but still a great option for those who prioritize weatherproofing over portability.
It uses a diamond shape with 19 tie-outs that make it highly versatile, allowing for all kinds of setup configurations when pitching.
Weighing in at 28 ounces, the DD is one of the heavier items on our list. This weight, moreover, doesn't include pegs or guylines.
With a 3,000mm HH rating and 190T polyester fabric, this is the most waterproof tarp on our list and also one of the most rugged. These attributes make this tarp the go-to choice for survival schools worldwide.
While square tarps might not be to everyone's liking, they can be set up in an A-frame configuration or as a diamond, and were used, of course, by Chris Ryan in the Amazon rainforest in his program 'Alone in the Wild.' Endorsements don't get much better than that, right?
PROs

Highly versatile
Very durable
High HH rating

CONs
Bottom-Line: A slightly heavy but otherwise high-performing option that offers outstanding waterproofing and plenty of options for setup configurations.
Hummingbird Hammocks Pelican Rain Tarp
Best Tarp for Ultralight Backpackers
Shape: Hexagonal
Material: Silpoly fabric
Weight: 12.8 ounces
As you might have guessed from the hummingbird association, this is a lightweight hammock tarp that's barely noticeable in your pack and an outstanding option for backpacking.
It only weighs 12.8 ounces and has a very low pack volume. It is the only one on our list that weighs under a pound, which is all the more impressive given the addition of door flaps to either end.
Though lightweight, the Pelican can stand its own in severe climates. It is built to FAA parachute rigging standards. This means it has lock-stitched seams with military-spec nylon threads. The silpoly fabric is a mixture of polyester intertwined with silicone. It is hydrophobic and results in a very high level of waterproofing.
Setup time is quick for this tarp since it doesn't require any knot-tying or tensioning with its quick adjustment hardware at each attachment point. These are glow-in-the-dark as well as reinforced.
PROs

Very lightweight
Comes with seam sealer
No knot-tying required at setup

CONs

Doesn't include a tie-out kit
Bottom-Line: Lightweight but impressively waterproof, this tarp is perfect for gram-counting backpackers.