There are no bad hikes in Yellowstone National Park. Every hike either boasts beautiful mountain landscapes, amazing geothermal formations, glimpses of wildlife, and/or impressive river or waterfall views. The best trails in Yellowstone are a combination of all these.
Established by an act of Congress in 1872, America's first national park is also one of the country's most popular for good reason. This awesome swathe of land spans about 2.2 million acres and has more than 1,000 miles in its expansive network of trails. And there are a lot of must-see highlights, all of which we'll get to soon!
Your bucket list for Yellowstone should include Old Faithful, Mammoth Hot Springs, Grand Canyon of the Yellowstone River, and Grand Prismatic Spring. But there are trails off the beaten path that offer spectacular sights (and fewer crowds) that should also be on your checklist.
Our Top 11 Trails In Yellowstone National Park
1. Upper Geyser Basin Boardwalk & Observation Point Trails (near Old Faithful geyser!)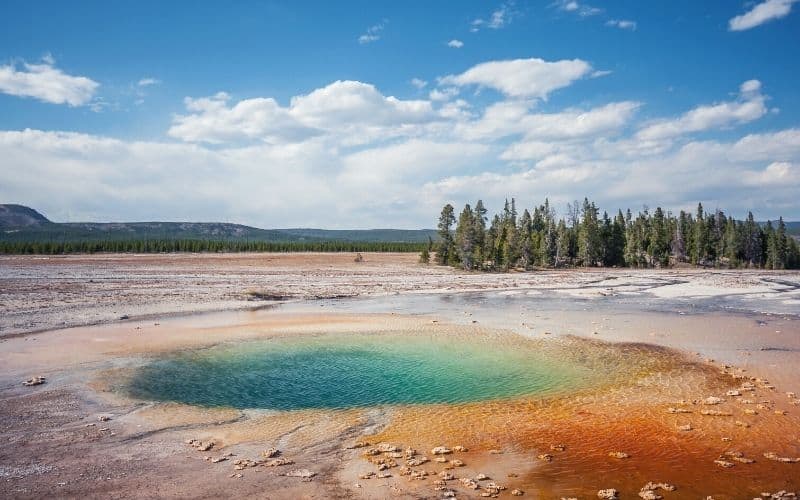 Type: Loop
Length: 5 miles
Difficulty: Easy
This loop highlights some of the most unique features of Yellowstone National Park hikes.
Upper Geyser Basin covers about 2 square miles. It contains more than 150 geysers, which is a big chunk of the park's total 500 geysers. Fun fact: That's the highest concentration of geysers in the world! You'll also find hot springs, mudpots, fumaroles, and other hydrothermal features.
Start at the National Parks Service visitor's center and take any path around the geyser to Observation Point Trail.
This route offers a unique vantage point of the famous geyser. After going up and around the little loop with amazing views, join the Upper Geyser Basin Trail. Travel along the route by following the Firehole River. After North Triplet Geyser, you can cut over to the Continental Divide Trail and head back down to Old Faithful.
If you aren't up for the full Upper Geyser Basin hike, you can complete the Observation Point hike independently as an easy 1.6-mile loop. Alternatively, you can continue along Upper Geyser Basin Trail to see Biscuit Basin and Mystic Falls.
2. Lamar River Trail to Cache Creek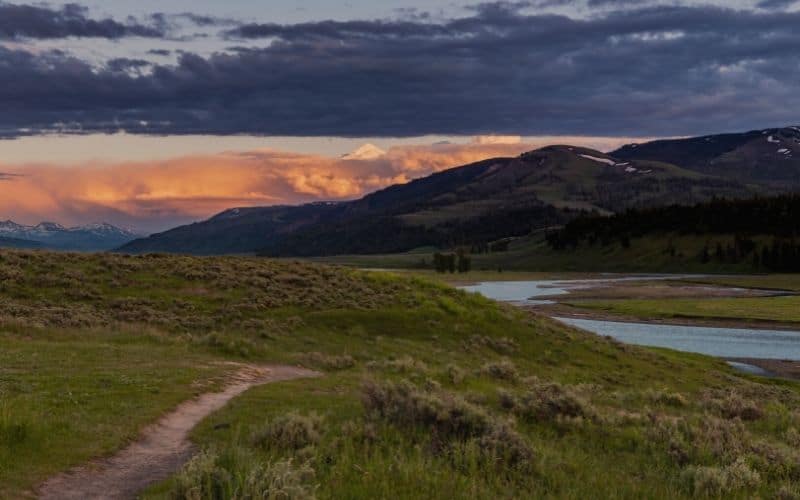 Type: Out and back
Length: 7 miles
Difficulty: Moderate
This is one of the best day hikes in Yellowstone. It's a great route to see some iconic Yellowstone wildlife including wolves, bison, bears, pronghorn, elk, and coyotes.
It's relatively flat to Lamar River, and then less than 700 feet in elevation gain to Cache Creek and back. After you start at Soda Butte and Lamar River trailhead, cross the bridge and head through a meadow.
At the first major junction, you can head straight on Specimen Ridge to reach the banks of Lamar River. It's a great place for a picnic! If you stop at Lamar River and head back, it's an easy stroll and only about 4 miles round trip.
Or, at that first major junction, continue on Lamar Valley Trail by taking a slight left. In less than two miles you'll hit the junction for Cache Creek. Take Cache Creek Trail on the right to go down and see the creek, find a campsite if you're backpacking, or head down even further to hit Lower Lamar River.
RELATED READING: If you're looking for campsites then check out our guide to camping near Yellowstone or camping in Wyoming.
3. Fairy Falls Trail to Imperial and Spray Geyser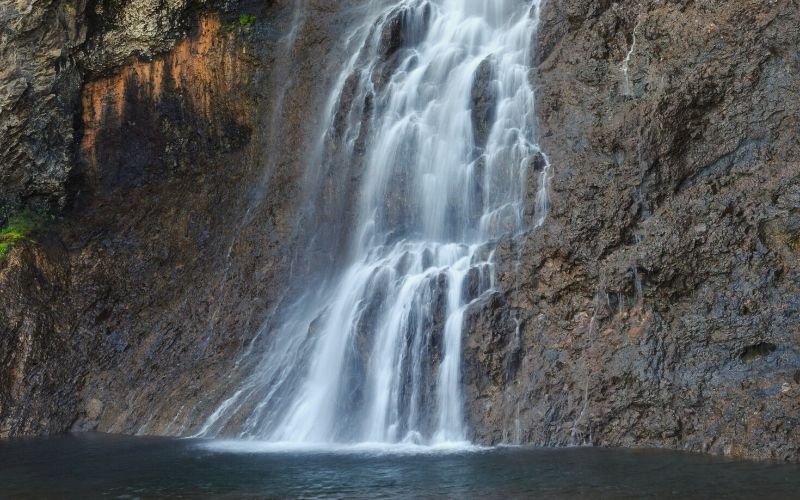 Type: Out and back
Length: 6 miles
Difficulty: Easy
Located in the Midway Geyser Basin, this relatively flat hike has some of the most breathtaking thermal features in the park. It's a family-friendly route, but parking is difficult.
This Yellowstone hike will give you majestic views of Grand Prismatic Spring. While Old Faithful is the more famous geyser, the Grand Prismatic Spring is the most photographed thermal feature in Yellowstone due to its vibrant colors and massive size.
At 370 feet in diameter and more than 121 feet deep, Grand Prismatic is the largest hot spring in the park. It's also the third-largest spring in the world.
A short distance after the Grand Prismatic vantage point you will reach the impressive Fairy Falls, a 200-foot waterfall. From Fairy Falls Trail, it's only another half mile to Imperial and Spray geysers. Imperial Geyser reaches heights of 35 feet, but doesn't erupt very often. Spray Geyser isn't as tall, but erupts more often.
4. Specimen Ridge Trail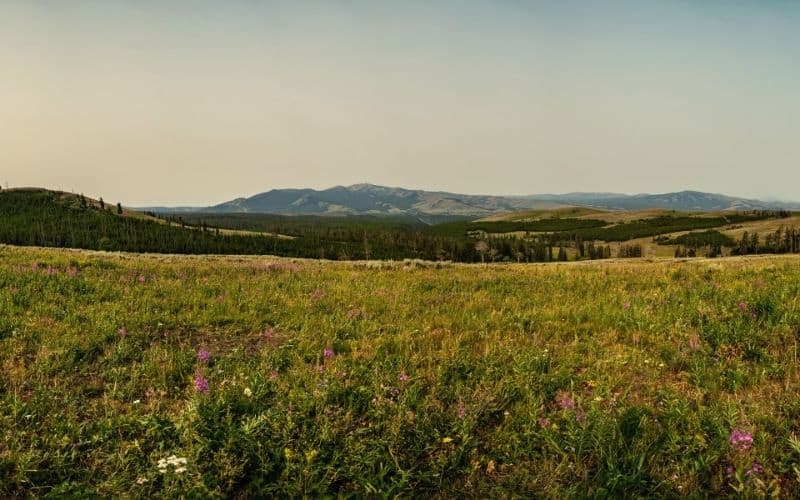 Type: Point to point
Length: 17 miles
Difficulty: Hard
This lengthy hike is challenging, but worth the exertion for experienced hikers who want some adventure.
Part of Absaroka Range, the highest point on Specimen Ridge is Amethyst Mountain at 9,609 feet. The trail includes 3,860 feet of elevation gain, a river crossing, and some scrambling. But you'll be rewarded with hard-to-beat views of Mount Washburn, the Grand Canyon of Yellowstone, and Lamar Valley.
You can tackle the trail from either direction, but we recommend a western approach. It has a more gradual climb from the valley up to the top of Amethyst Mountain.
The downside to this direction is when you get to Lamar River around mile 15, you'll have to turn back if it's too deep to ford. It's usually easy enough to cross by August, but check with a ranger beforehand or see it for yourself the day before (from the other side of the river, it's an easy and flat 2 miles to the river).
It's easy to make a wrong turn on this route, so remember to pack your map and GPS. Be on the lookout for cairns and blazes to help guide your way.
5. Electric Peak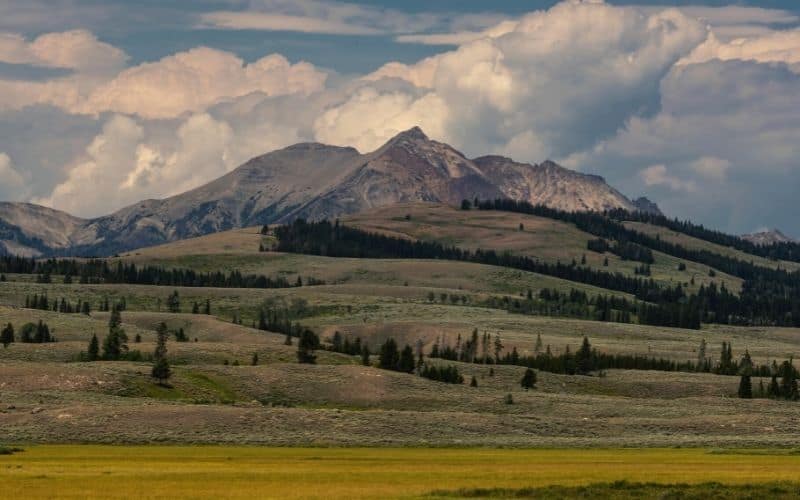 Type: Out and back
Length: 20.6 miles
Difficulty: Strenuous
This is another challenging Yellowstone trail, but worth the work when you climb to the peak. This hike includes about 5,767 feet in elevation gain and some scrambling to the summit.
Electric Peak is the tallest peak in the Gallatin Range and is located in the northwest corner of the park, just past Mammoth Hot Springs. The hike starts in Wyoming and ends in Montana.
Begin your trek at the Glen Creek trailhead. Follow a creek, meadow, and valley before entering the lodgepole pine forest and starting the climb up. If you're up for a little side adventure, check out the spur to Cache Lake.
Along the way, you'll pass meadows covered in sagebrush, wildflowers, and lush vegetation. At the top, you'll be in awe of the fantastic panoramic views.
If you're staying in Mammoth and want to try a less challenging summit hike, check out Bunsen Peak. On the way to this 8,564-foot, you'll also have the chance to see the impressive Osprey Falls.
6. Dunraven Pass to Mount Washburn Trail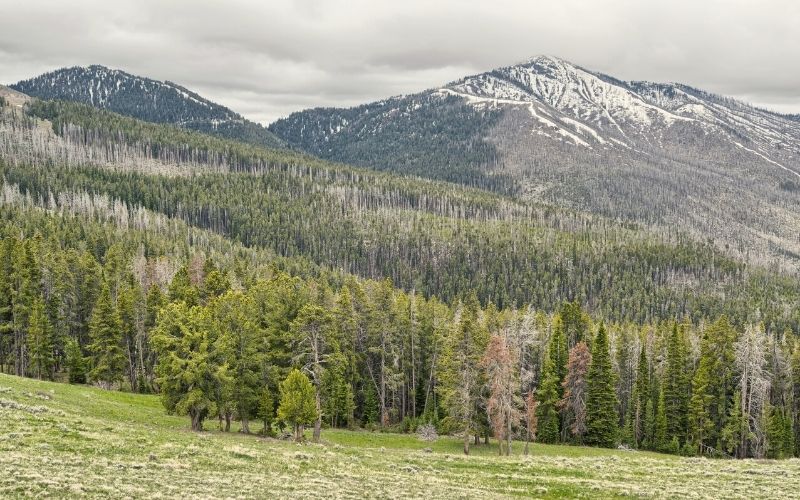 Type: Out and back
Length: 7 miles
Difficulty: Moderate
This is a well-maintained trail with nearly 1,400 feet in elevation gain. It's a popular day hike with some interesting history behind it.
Named after Henry Washburn, a former surveyor-general and politician from Montana. He led an expedition in Wyoming in 1870 and explored the area now known as Yellowstone National Park. He and his team were behind the naming of Old Faithful.
Begin your trek at Dunraven Pass and work your way up to the summit. The route follows an old stagecoach road built in 1905. You'll find a working fire tower lookout at the top.
You'll see incredible views along the switchbacks going up, including the Grand Canyon of Yellowstone. From the summit, you'll see sweeping 360-degree perspectives. You will hike past open meadows and rugged rocks. You might even catch a glimpse of some bighorn sheep.
An alternate path to the peak from Chittenden Road would only be about 5.8 miles. Or you could head down the ridgeline via the east route at the junction. But it's a steep drop into the valley and you would end in a different location than your starting point.
7. Point Sublime Trail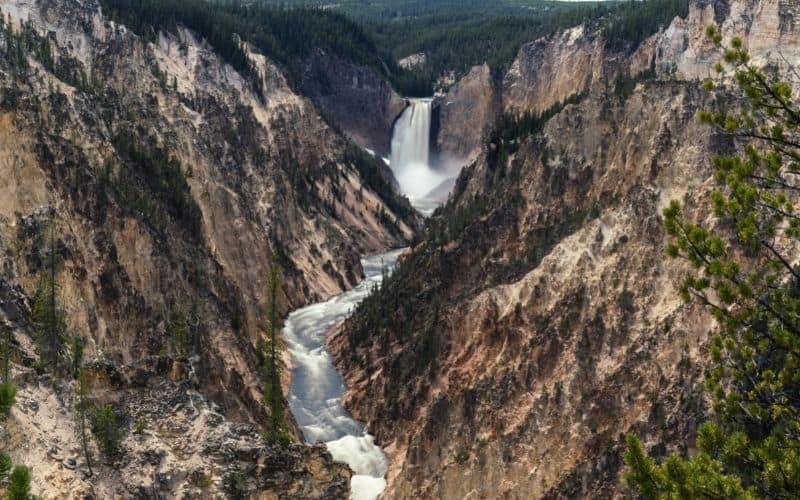 Type: Out and back
Length: 3 miles
Difficulty: Easy
This route starts at the popular Artist Point, which already offers some incredible views. It's easy to miss the Point Sublime trailhead and many people move on from Artist Point without noticing it. Because of this, the short hike to Point Sublime is a bit secluded.
You travel along the top of the canyon to reach Point Sublime. There are no guard rails and the path comes within a few feet of the nearly 1,000-foot dropoff, so step carefully.
When you arrive at Point Sublime, you'll have some epic views of the Grand Canyon of the Yellowstone River. Across the canyon, off the North Rim Trail, you would have a similar view from Inspiration Point.
8. Uncle Tom's Trail & Brink of the Lower Falls Trail
Type: Out and back
Length: 1 mile
Difficulty: Easy to moderate
This hike is short but fairly challenging due to the many steep switchbacks and more than 300 steps. It's very popular and crowded in summer.
The rushing water drops 308 feet into the Grand Canyon of the Yellowstone River Valley, making Lower Falls the tallest waterfall in the park. It's a "can't miss" landmark. There are a few distant overlooks adjacent to the parking lot, but if you're able it's well worth the steep trek down to the Brink of Lower Falls to really experience the power of the falls.
Other viewpoints in the area are definitely worth checking out as well. Artist Point offers an iconic view of the Grand Canyon of the Yellowstone and a short walk along South Rim Trail will get you there. It's an easy walk in the other direction along South Rim Trail to viewpoints of Upper Falls.
9. Blacktail Deer Creek Trail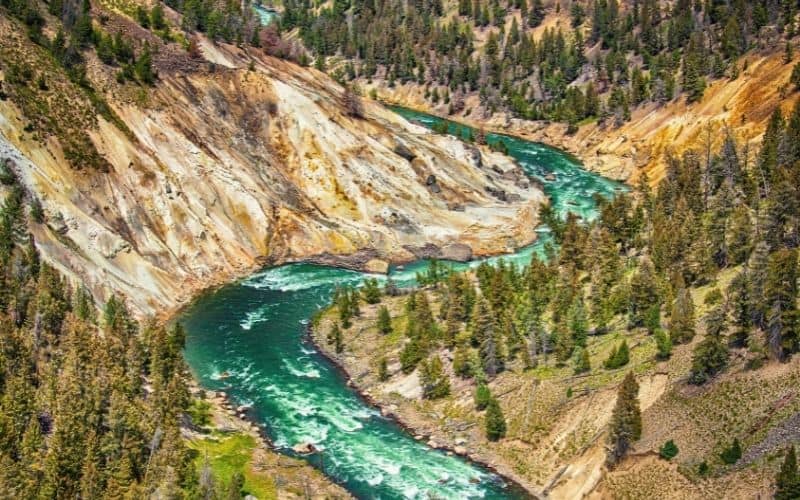 Type: Out and back
Length: 8 miles
Difficulty: Moderate
The trailhead is located on Grand Loop Road next to Blacktail Pond, between Mammoth Hot Springs and Tower Junction. Parking fills up fast, so arrive early.
On this moderate hike, you will follow Blacktail Creek and then descend 1,100 feet into the valley. You'll then cross the border into Montana and across a suspension bridge spanning the iconic Yellowstone River. Blacktail Deer Creek Trail ends at a junction with Yellowstone River Trail. The hike back out of the valley is fairly steep, so plan accordingly.
You can add an extra half mile north on YRT to check out little Crevice Lake. Or head further north on Yellowstone River Trail, about 1.5 miles from the junction, to see Knowles Falls.
While you're in the area, head over to Mammoth Hot Springs to check off another iconic Yellowstone attraction.
10. Avalanche Peak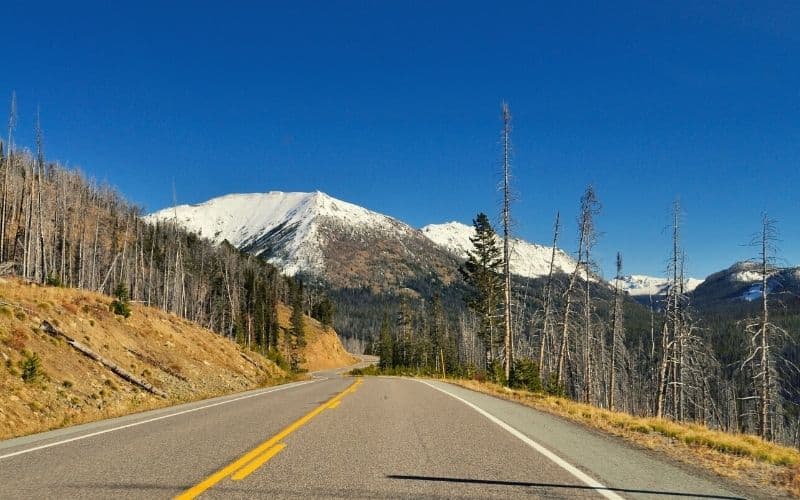 Type: Out and back
Length: 4.6 miles
Difficulty: Strenuous
This trail is steep from start to finish but offers wide views of the landscape, including Yellowstone Lake. The summit is at 10,566 feet and you'll climb more than 2,000 feet on the hike.
You begin your Avalanche Peak trek near Eleanor Lake, across the road from Clear Creek. You'll head up through the forest for about a mile before it transforms into an alpine landscape.
Keep climbing above the treeline and you'll see incredible views of Grand Teton National Park, Mount Sheridan, and Yellowstone Lake. Along the way, you might see bighorn sheep, marmots, pikas, and birds.
RELATED READING: Check out our guide to the best hikes in the Grand Tetons and the best route to take a trip from Yellowstone to Grand Teton.
There are slippery and snow-covered sections of this trail, often until early July. It would be best to try this trail later in July or August. It's not recommended to hike this trail in September or October as bears are often seen in the area in the fall.
11. Lone Star Geyser Trail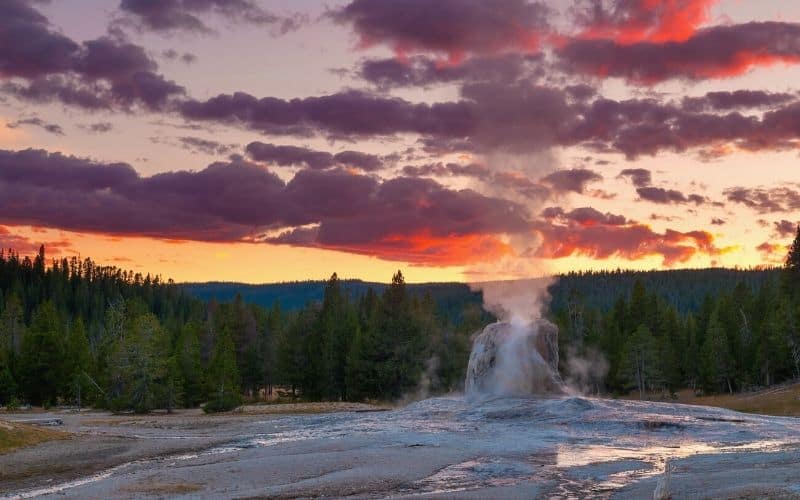 Type: Out and Back
Length: 5.3 miles
Difficulty: Easy
For a park as popular as Yellowstone, Lone Star is a nice break away from the crowds. And you still get to enjoy an impressive backcountry geyser.
Lone Star Geyser erupts approximately every three hours, shooting water as high as 45 feet in the air. You can hear the loud steam from a mile away.
Start your hike near Kepler Cascade. The trail meanders along an old forestry road through the woods alongside Firehole River. It ends at the junction for Howard Eaton Trail.
If you're feeling up to it, the trail can connect back to the park's most famous geyser, Old Faithful, on an 8-mile loop. At the junction, just continue straight onto the Howard Eaton Trail (which is part of the CDT). That will take you to Old Faithful Village. When you're ready to head back, close the loop via Kepler Cascades Ski Trail that follows alongside Grand Loop Road.
Another option to extend the Lone Star Geyser hike is to continue past the junction another 6.5 miles to Shoshone Lake.
Tips for Hiking Yellowstone
Some Yellowstone National Park hiking trails are seasonal and certain areas of the park close during winter
Certain trails are still slippery and snow-covered in summer
If climbing a peak, be mindful of cold and harsh weather at the top, with thunderstorms sometimes moving in quickly
This is bear country, so take precautions while hiking. You should carry bear spray (and know how to use it) and stay at least 100 yards away
Yellowstone National Park: A Hiker's Heaven
No matter your skill level, you'll find plenty of trails with stunning views to check off your bucket list and have an authentic Yellowstone adventure. It's one of the most popular national parks in the country because it has so much to offer. Hopefully, the list above helps you make the most out of your time in the popular national park.
If you liked this guide or have any questions, connect with us using the comment box below. And be sure to bookmark and share this post for your next adventure to Yellowstone National Park!