Yellowstone National Park and Grand Teton are two of the most impressive national parks in the US and, thanks to their close proximity, you can visit both in one jaw-dropping trip!
Yellowstone National Park is full of spectacular wildlife and an extraordinary collection of hot springs and geysers, while Grand Teton National Park boasts sweeping landscapes and enormous snow-capped mountain peaks. Both parks deserve to be front and center of any bucket list!
So if you are planning a road trip between the two but don't know where to begin then we've got you covered! In this ultimate road trip guide, you'll find all the information you need to plan your trip including itineraries, logistics, park information, and plenty of useful tips.
Key Takeaways
Two for one! – YNP and GTNP sit side-by-side, so it's possible to visit them both in one epic trip
Yellowstone NP – The larger of the two parks and has many must-see natural landmarks like Old Faithful, the Grand Prismatic Spring, and the Grand Canyon of Yellowstone
Grand Teton NP – The smaller and can be visited in one day unless you want to explore some of the off-the-beaten-path trails
Park rangers – Always stop at a visitor's center before starting your day. You'll get the most up-to-date information on trail and park conditions and the rangers are there to help
Be aware of bears – Both parks are in bear country, so stay aware and come prepared
Dress for everything – Weather changes unexpectedly in both parks, so pack layers and rain gear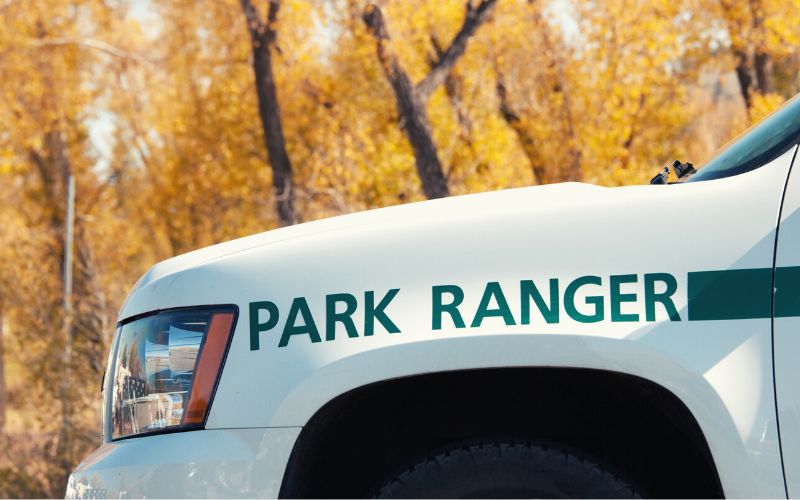 Info, Logistics, and Day-by-Day Trip Itinerary
Best Time to Visit
The best time to visit Yellowstone and Grand Teton is from late May through to early October. This guarantees most of the park roads will be open so you can experience the full beauty of both.
With that being said, both are worth visiting any time of year. In the summer months, you'll enjoy warm temperatures and extended daylight hours, but the park will be crowded with visitors and it might be difficult to find lodgings. 
In the shoulder seasons from October to May, you'll find smaller crowds and colder temperatures but it might rain or snow on your parade. Remember to pack warm clothing and rain gear.
Both parks experience long winters with freezing temperatures, so plan accordingly. While both parks are beautiful when covered with snow, you should plan for very cold temps, road closures, and few operating facilities.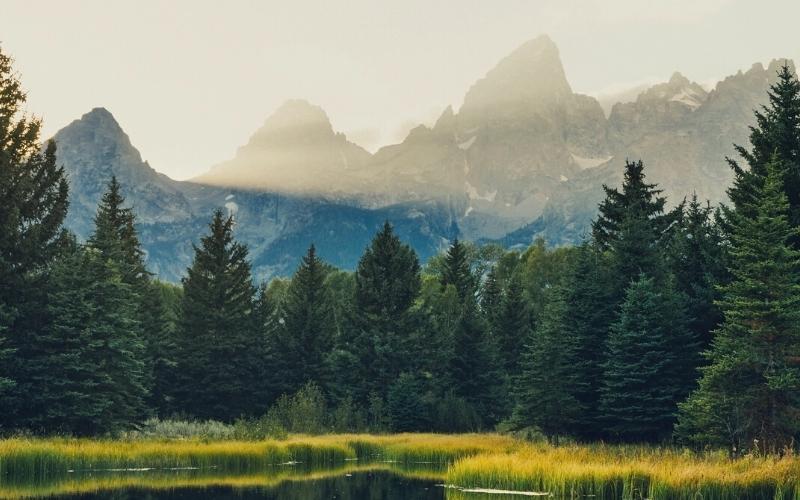 Location and How to Get There
Both parks are located in northwestern Wyoming. If you are not within driving distance of either park, there are a number of cities you can fly to that put both parks within reach. 
There are two small, regional airports located within the Parks. Jackson Hole Airport (JAC) is inside Grand Teton National Park while Yellowstone Airport (WYS) is just 5 minutes from the west entrance of YNP. Since they are regional airports, flights in and out of these airports tend to be expensive.

The closest large airport to the North Entrance of YNP is Bozeman Yellowstone International Airport (BZN) in Montana, which calls itself the "Gateway to Yellowstone." From the airport, it's a 2-hour drive to either park. 
Salt Lake City International Airport (SLC) is another popular choice if you want to combine a road trip with your visit. From here, it's a 5-hour drive to both parks. 
Camping & Accommodation
You have a variety of options when it comes to camping and accommodation – both inside and outside the parks. 
If you can, you should try to stay inside one of the parks – preferably Yellowstone – as it will save you a lot of driving time.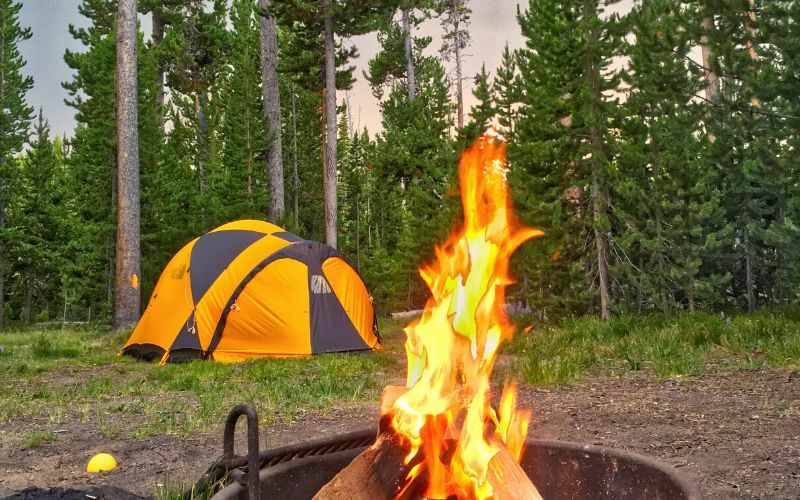 If you want to stay in one of the lodgings within YNP, you'll need to book very early! Accommodation sells out quickly after being made available, so try and book at least 12 to 15 months in advance. Staying inside the parks, however, is considerably more expensive than lodging outside the park.
Yellowstone has nine lodges and plenty of hotels and AirBnBs available nearby. Since accommodations both inside and outside the park go quickly, it's a good idea to book your lodgings first and then plan the rest of your trip after.
If you decide to stay in Grand Teton, there are campgrounds and lodgings inside the park and hotels outside of it. Our two favorites are The Jackson Lake Lodge and Colter Bay Cabins in Colter Bay Village. Outside the park, look for hotels in Jackson, Wyoming.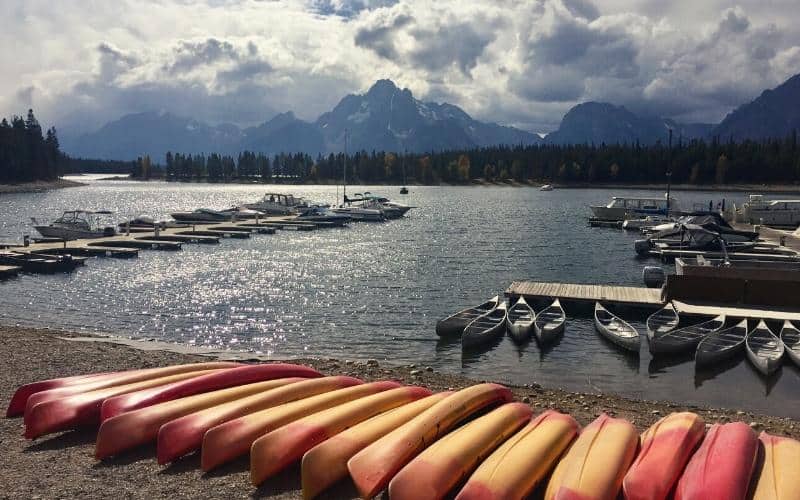 What to Take

Make sure to bring these essentials on your road trip:
America the Beautiful National Park Pass – Visiting both YNP and GTNP will cost you $70 per vehicle. Spend an extra $10 and you can get in with a National Park Pass. Since it's valid for national parks nationwide, you can spend the entire year embarking on epic adventures at no extra entry expense.
Binoculars or spotting scope – Both parks are filled with abundant wildlife. You can observe animals like deer, bison, wolves, and grizzly bears in their natural habitat with a pair of binoculars or spotting scope. 
Bear spray – You'll be heading into the heart of grizzly country, so don't forget your bear spray. Just remember that you can't carry bear spray on an airplane, even in a checked bag. You can pick some up from any of the local sporting goods stores in and around the parks.
Bug spray – Spend your time enjoying nature, not swatting away bugs! Pack bug spray and, if you're worried about the harsh chemicals, remember that there are plenty of eco-friendly options out there.
Layers – The elevations in both parks range from roughly 5,000 to 13,000+ feet, and temperatures fluctuate as much as 30 degrees per day. Pack plenty of layers to keep you comfortable and use the layering system.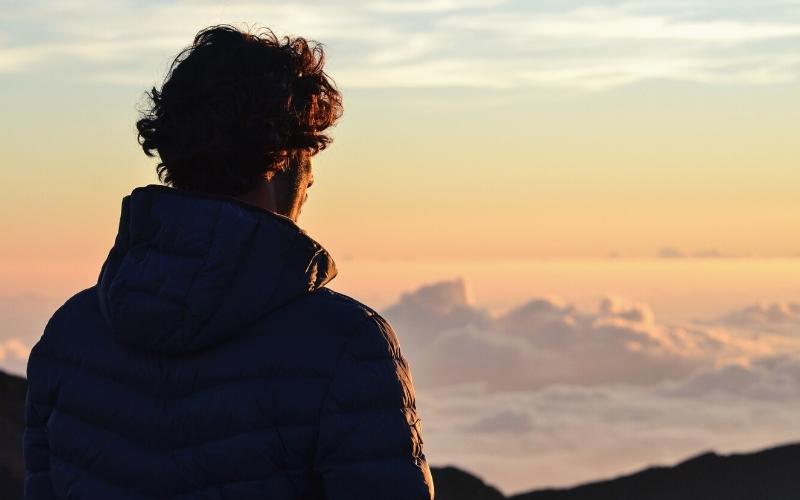 Permits
A permit is required year-round for all overnight stays in the backcountry in both national parks. 
With a permit, you may stay up to three consecutive nights at any one campsite unless otherwise stated in the campsite description. Some backcountry sites are available for reservation ahead of time while others are walk-in.
Permits are not required to climb Grand Teton.
Bear Safety
All of Yellowstone and Grand Teton are in bear country. To keep you and these majestic creatures safe, follow these bear safety tips:
Keep at least 100 yards between you and any bear you encounter
Never feed bears and safely store your food in bear boxes
Hike in groups and make noise while hiking
Carry bear spray and know how to use it
Learn what to do if you encounter a bear (hint: don't run!)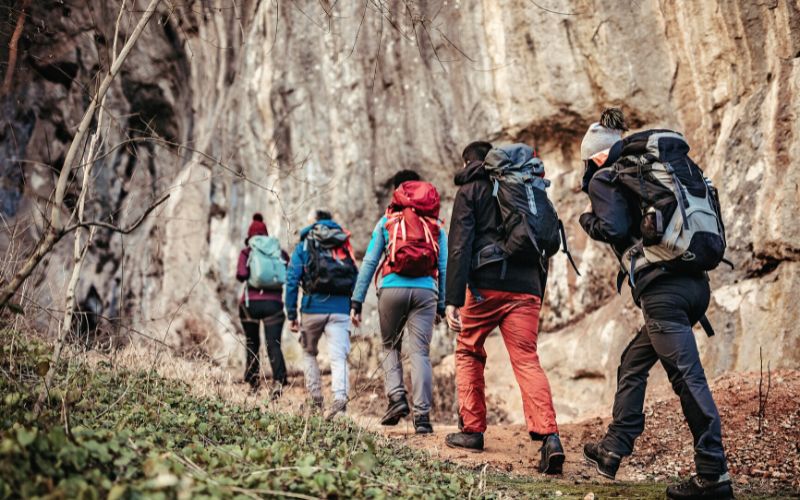 2-Day Itinerary
If you only have 2 days to spend in these parks, we recommend spending a day in each. It really doesn't matter which park you start with – that depends more on which direction you're arriving from. 
Day 1: Arrive in Yellowstone
Yellowstone is massive, so you won't be able to visit it all in one day, but you can still check out its most impressive landmarks.
We suggest embarking on the Lower Loop itinerary that covers all the best sights. This is a summer itinerary for mid-May to mid-October, when all the roads of Yellowstone are open. You can start the loop from either the South Yellowstone Entrance or the West Yellowstone Entrance.
Start your day by making your way to Old Faithful, Yellowstone's most iconic landmark. This area of the park is home to the historic Old Faithful Inn lodge and the fascinating Old Faithful Geyser. It's one of the most predictable geysers in the park, erupting around every 90 minutes, so stick around to catch the action for yourself.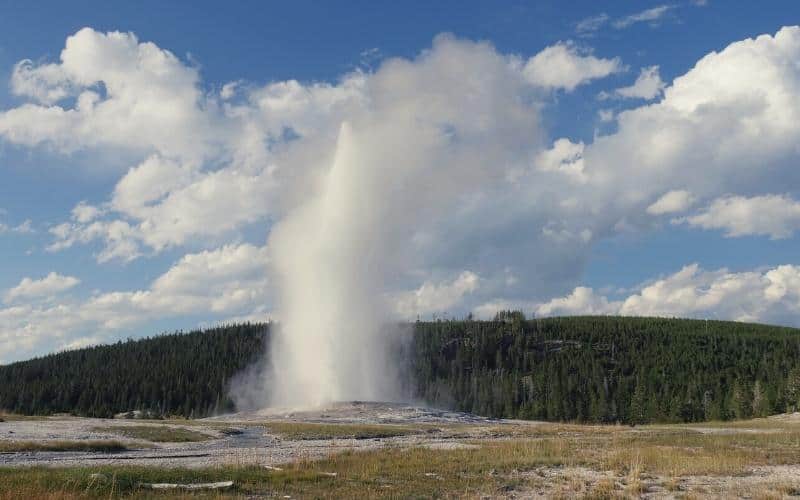 If you have time while waiting for Old Faithful to erupt, head up to the Upper Geyser Basin. Here you'll find the largest concentration of geysers, mud pools, and other geothermal features in the world.
Next, you'll want to take the short drive over to one of the most beautiful and fascinating sections of Yellowstone National Park, the Midway Geyser Basin. There you'll find a boardwalk that passes by all the most impressive features like the Grand Prismatic Spring (the largest hot spring in the US), Opal Pool, Turquoise Pool, and Excelsior Geyser Crater.
You can always spend the rest of the day here taking in the sights or hiking down the Grand Prismatic Spring Overlook Trail.
If you have extra time, we do recommend trying to squeeze in one last visit to the Grand Canyon of the Yellowstone for awesome views of the Yellowstone River and majestic Upper Falls.
If you're interested in more hiking trails, check out our guide to Yellowstone's top 11 hikes!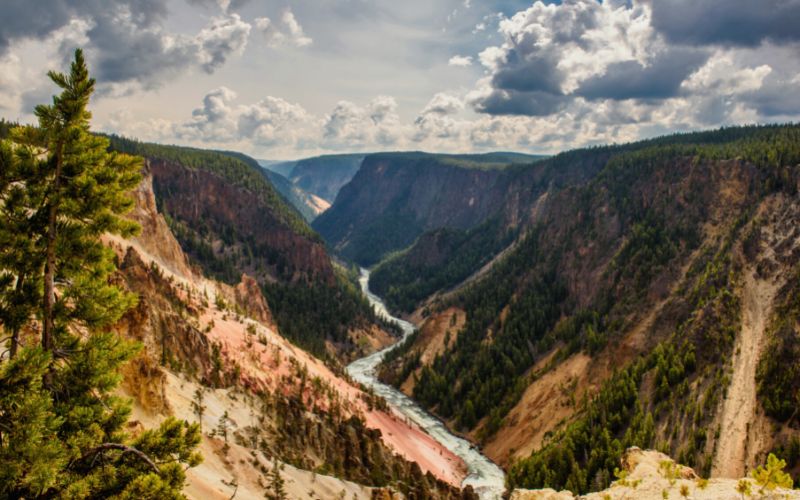 Day 2: Arrive in Grand Teton
Start your day early by driving to Grand Teton. Depending on where you stay, the drive will take between 1.5 to 2.5 hours (it's a roughly 95-mile trip from Canyon Village in YNP to Jenny Lake in GTNP, and one hour from the south entrance to Colter Bay).
Your day will focus on two of the park's most popular attractions – Jenny Lake and Mormon Row. Before these, we recommend a quick stop at the Jackson Lake Overlook and Snake River Overlook, just past Colter Bay on USH 191.
Start by making your way to Mormon Row. It's here where you'll find those historic Mormon barns and homesteads that are so heavily photographed. If you're hoping to spot some Grand Teton wildlife, drive down Antelope Flats to the Gros Ventre River, where you might catch some bison grazing in the open grassland.
Next, drive to nearby Jenny Lake. This beautiful, pristine lake is found at the base of Cascade Canyon. You can walk around the entire lake while taking in breathtaking views of the Tetons in the distance.
A lake ferry service runs across the lake and canoe and kayak rentals are available. You could spend the entire day just exploring this gorgeous lake and, if you do, we suggest the 7.6-mile Jenny Lake Trail. You'll find the trailhead near the visitor's center.
Another great hike takes you to the 200-foot waterfall, Hidden Falls. It's a 2-mile, out-and-back trail that is easy to incorporate into any Jenny Lake trip.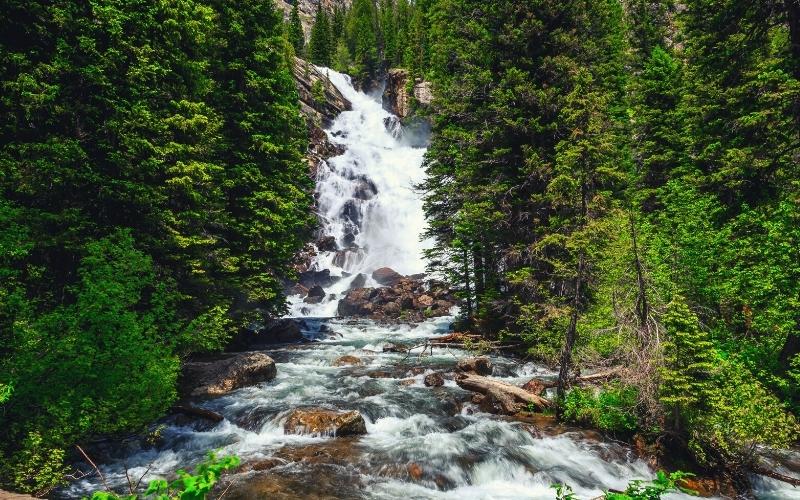 The views from the top of Hidden Falls are simply stunning! To get there, just catch a ferry to Hidden Falls dock where you'll find the trailhead.
If you have any time left in the day, you can explore nearby String Lake, Jackson Lake, or Oxbow Bend.
For more awesome hiking trails, check out our guide to the top Hikes in GTNP.
5-Day Itinerary
For our five-day itinerary, we suggest following our 2-day itinerary while adding an extra two days in YNP and one extra day in GTNP.
Day 1 and 2: Lower Yellowstone Loop
Follow our 1-day Yellowstone itinerary, but divide it over 2 days. This gives you more time to appreciate all the impressive landmarks along the Lower Yellowstone Loop like Old Faithful, the Grand Prismatic Spring, and the Grand Canyon of the Yellowstone.
There are plenty of additional stops you can add along the way if you find yourself with extra time.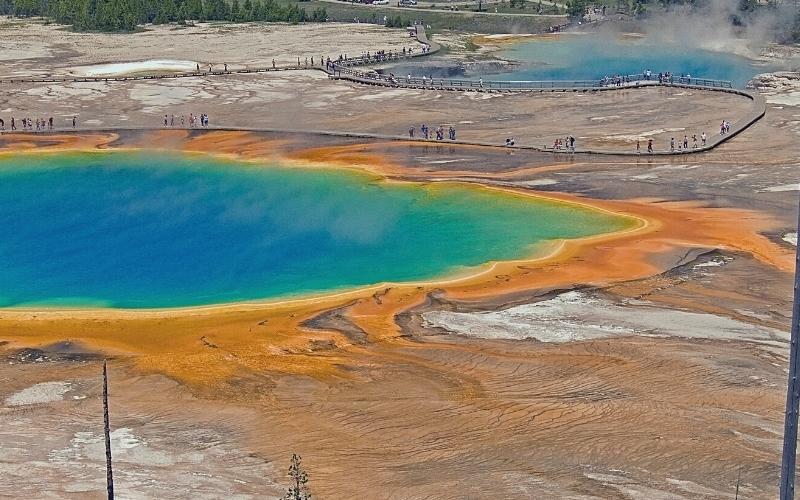 Hayden Valley is a short drive from the Grand Canyon and it's one of the best places to check out the local wildlife – just be prepared for buffalo traffic jams!
Or take the trip to the West Thumb Geyser Basin. Here you can explore the entire area on a short, half-hour walk along the boardwalk while checking out all the colorful, geothermal areas along the shoreline.
Day 3: Mammoth Village & Hot Springs
We suggest leaving the beaten path and checking out some less-trafficked areas on your final day. Our day 3 itinerary also allows you to cross the Lamar Valley in the evening when the animals are most active.
You'll start by making your way to the North Area of the park to Undine Falls. You can view the falls from the road or take the 8.5-mile round-trip hike up Lava Creek Trail.
From Undine Falls, it's easy to reach Mammoth Village. This small community is open to visitors year-round and it's a great stop to grab a bite to eat or a souvenir. You can also visit the Albright Visitor Center to learn more about the history of YNP.
Next, take the short drive to Mammoth Hot Springs. Here you can admire the steaming landscape while strolling on the boardwalk through colorful travertine terraces.
Finally, spend your evening driving through the Lamar Valley. If you visit about an hour before sunset, you're sure to catch an abundance of wildlife.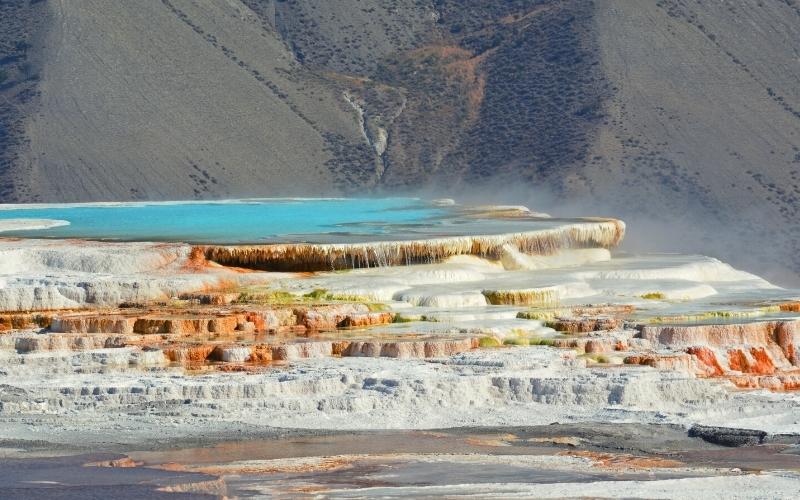 Day 4: Grand Teton Road & String Lake Loop
For your fourth day, we suggest the unforgettable experience of driving down Teton Park Road. This 21-mile scenic road stretches from Moose to Jackson Lake Junction and serves up gorgeous panoramic views the entire way, as well as plenty of opportunities to spot wildlife.
Since you'll be visiting popular Jenny Lake tomorrow, check out its smaller, nearby cousin, String Lake instead. It's a lovely spot for a swim or a kayak trip around the lake, all without the usual crowds.
At the end of your day, you can stop at the Jackson Lake Lodge to grab a bite to eat. We hear the milkshakes are the best! Not a fan of milkshakes and want to see a little more? Head up the Signal Mountain Road to the summit of Signal Mountain, from there you'll enjoy awesome panoramic views of the Tetons, Jackson Hole, and YNP.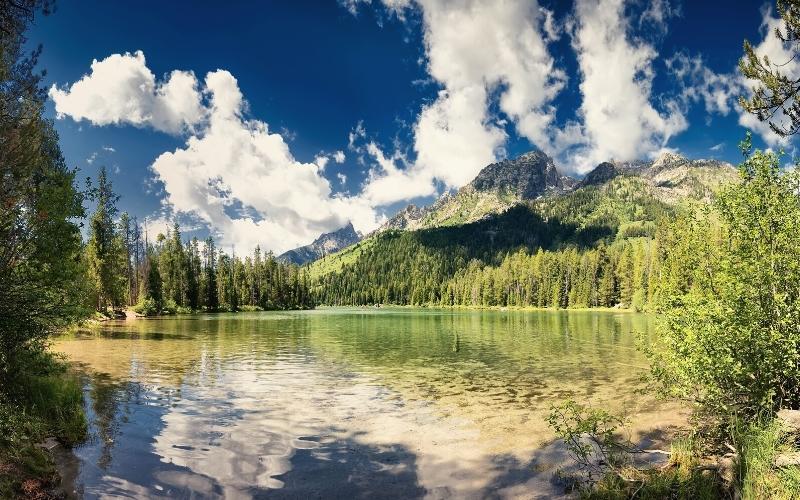 Day 5: Jenny Lake and Mormon Row
For your final day in GTNP, follow Day 2 of our 2-day Yellowstone to Grand Teton itinerary. That way, you'll spend your final day in GTNP exploring two of its major landmarks – Jenny Lake and Mormon Row. 
7-Day Grand Teton to Yellowstone Road Trip Itinerary
For our 7-day itinerary, you'll be spending 4 days in YNP and 3 in GTNP. Feel free to swap the order of the parks depending on which direction you arrive from.
Here is our suggested itinerary:
Day 1: Arrive in YNP, Mammoth Hot Springs, Bunsen Peak, Norris Geyser Basin
Day 2: Lamar Valley, Mt. Washburn, and the GC of the Yellowstone
Day 3: Old Faithful and Grand Prismatic Spring
Day 4: West Thumb Geyser Basin, Yellowstone Lake, head south to GTNP
Day 5: Mormon Row and Oxbow Bend
Day 6: String Lake and Jenny lake
Day 7: Rockefeller Preserve, Head Home
We'll be starting our itinerary from Yellowstone's North Entrance, but feel free to mix up the days if it's more convenient.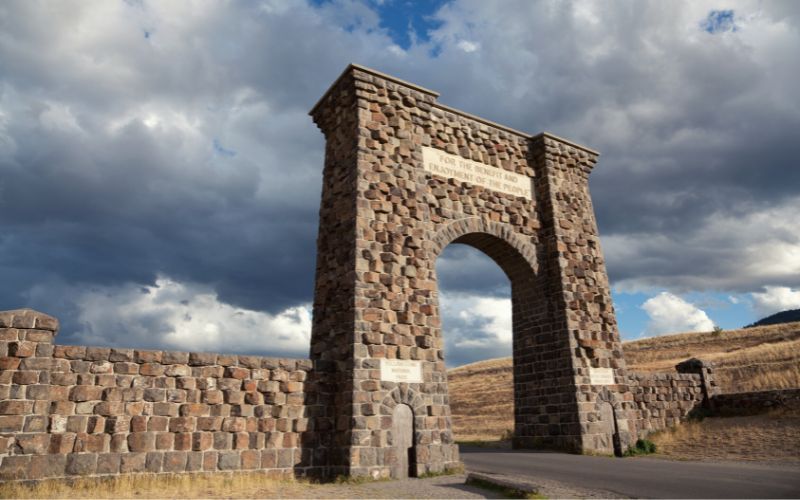 Day 1: Arrive in Yellowstone, Mammoth Hot Springs, Bunsen Peak, Norris Geyser Basin
After passing through the mesmerizing North Arch, you'll have arrived at YNP! Your first stop will be at Mammoth Hot Springs. You'll find over 50 terraced hot springs here, so it's an amazing way to kick off your YNP adventure.
If you're feeling adventurous, consider undertaking the 4.6-mile, out-and-back trail to Bunsen Peak for bird's eye views of Mammoth Springs from above.
Your final stop for the day will be enjoying the Norris Geyser Basin at sunset. There are two short trails here – Back Basin Trail and Porcelain Basin Trail. Both are worth checking out, especially at sunset when all the colors of the geyser become even more vivid and mesmerizing!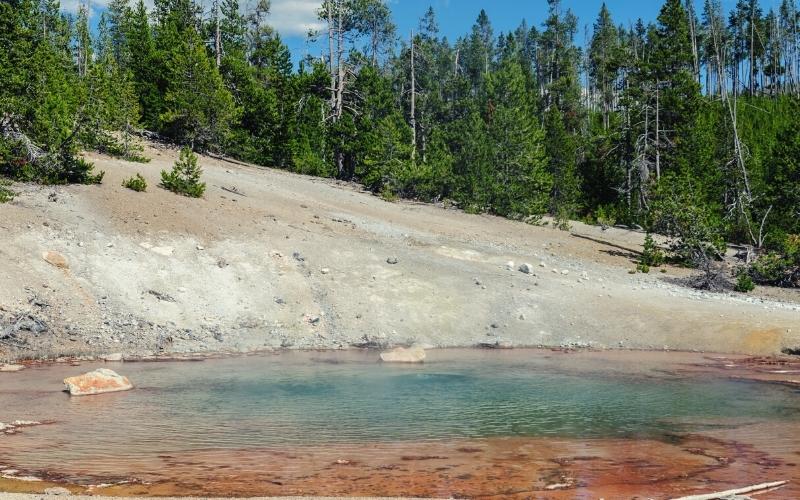 Day 2: Lamar Valley, Mt. Washburn, and the Grand Canyon of the Yellowstone
On your second day in YNP, you'll be hiking up Mt. Washburn, seeing the Grand Canyon, and checking out all the roaming wildlife in the Lamar Valley.
Start your day bright and early to arrive at the Lamar Valley before dawn. Since animals are most active at dawn and dusk, you might just get lucky enough to spot some bears, elk, bison, or wolves.
After some wildlife viewing, we suggest taking the long drive to the Mt. Washburn trailhead. It's a strenuous, 6.2-mile hike but it's out-and-back, so you can turn around at any time. You can enjoy the longest panoramic views in all of YNP from the peak, so don't miss it!
End your day with a trip to the Grand Canyon. It's a must-see and you can catch amazing views of the falls by following the scenic path down to the Upper Falls Overlook. If you have time, head over to the canyon's south rim to take in further awe-inspiring views at Artist Point.
Day 3: Old Faithful and Grand Prismatic
No trip to YNP would be complete without visiting these iconic landmarks.
We suggest visiting Old Faithful first thing. This place draws a crowd, so enjoy it bright and early before most people arrive. You can enjoy the view from the boardwalk or the Observation Point.
Your next stop is to the Upper Geyser Basin, where you'll find an entire day's worth of activities. We think the best way to see it all is on the 4.9-mile loop starting from the Visitor's Centre.
You're in for a truly memorable experience! Walking along a mixture of dirt trails and boardwalk you'll pass by Grotto Geyser, Morning Glory Pool, Chromatic Pool, and Riverside Geyser.
Before calling it a day, take the very short, 1.2-mile, out-and-back trail to the Grand Prismatic Spring in the Midway Geyser Basin.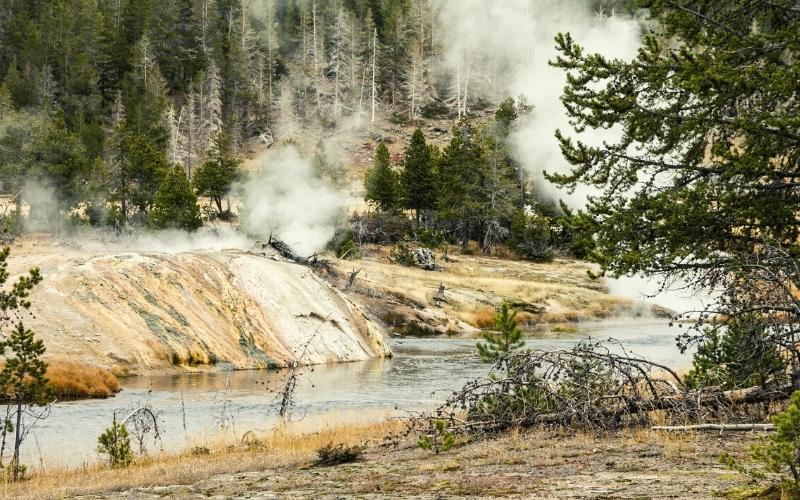 Day 4: West Thumb Geyser Basin, Yellowstone Lake, Drive to Grand Teton
Day 4 is a relaxing and slow-paced day that gives your legs a chance to rest before heading to Grand Teton National Park.
Your first stop is to a truly amazing Yellowstone landmark – the West Thumb Geyser Basin on the shores of Yellowstone Lake.
Once you're done checking out this crystal-blue geyser, why not go for a dip in Yellowstone Lake? Yellowstone is a massive lake where the temperatures vary from freezing cold to boiling.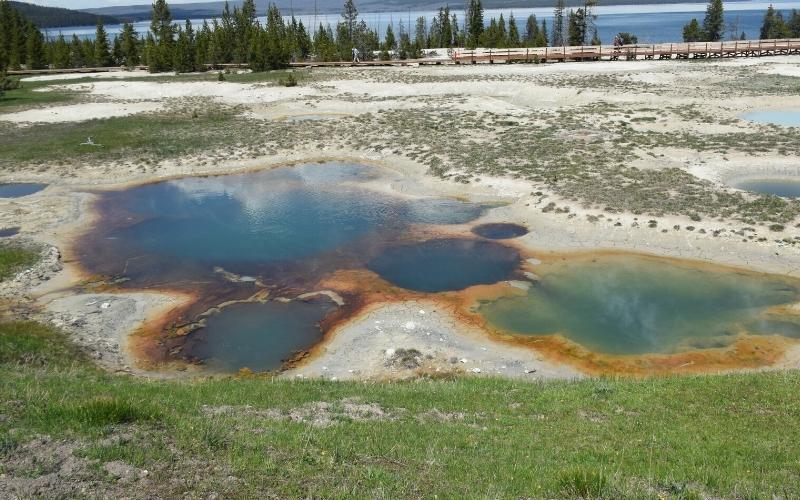 But don't worry, there are plenty of swimmable beaches here that are completely safe. Find out more about the swimmable beaches from the National Park Service website.
Day 5: Mormon Row and Oxbow Bend
After taking Rockefeller Highway to GTNP, head to the historic Mormon Row settlement. Here you can explore the remaining homesteads of Mormon settlers that arrived in the 1890s. It's an insanely popular spot for iconic Grand Teton photos, so get your camera ready!
After visiting Mormon Row, our itinerary takes you to Oxbow Bend. It's an amazing spot to catch the sunset with the majestic Grand Tetons in the distance. If you haven't gotten your fill yet of iconic viewpoints, make the trek up the Oxbow Bend Overlook.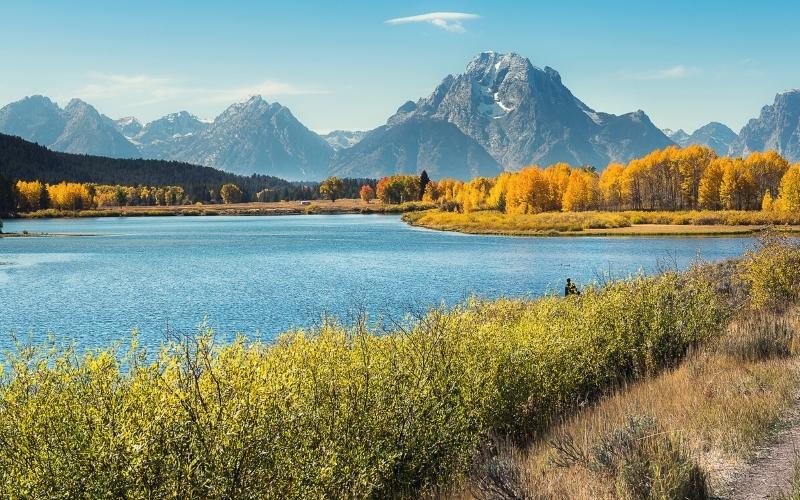 Day 6: String & Jenny Lakes
Get up early and start your journey heading south on Teton Park Road until you arrive at Jenny Lake. Hop aboard the shuttle boat across the lake where you'll find the trailhead for the Jenny Lake Loop.
It's a fairly easy loop trail to the 200-foot Hidden Falls. Carry on past the falls until you reach Inspiration Point for stunning views of the lake from above.
You can easily spend all day at Jenny Lake hiking, swimming, kayaking, fishing, and checking out the Jenny Lake Visitor Center. If you're looking for a change of scenery, however, you can head to nearby String Lake.
At String Lake, you'll find a short hiking loop suitable for any hiking level. It's an easy trek around a shallow and pristine lake with the Grand Tetons towering in the distance.
Moose love the shallow waters of String Lake, so get your binoculars ready (…because you're really going to want to keep your distance from these grumpy guys!).
If you're feeling a little more energetic, we recommend hopping on the Cascade Canyon Trail for the hike up to Lake Solitude, which, as the name suggests, is a great place to escape the crowds.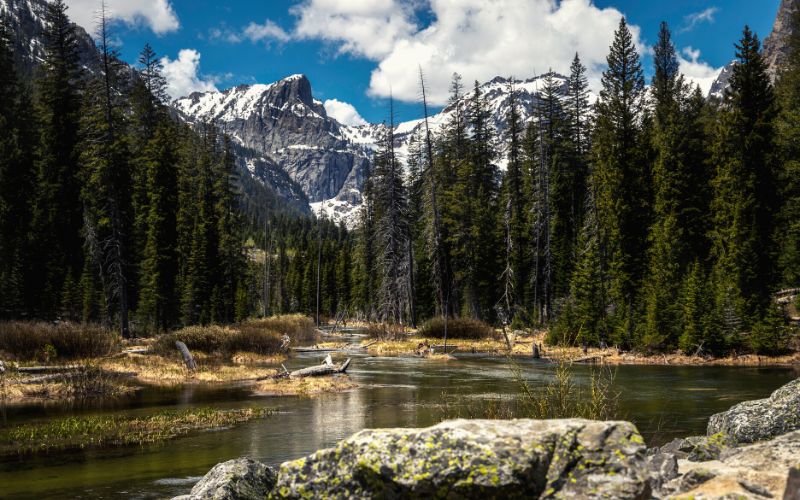 Day 7: Phelps Lake and Rockefeller Preserve
We know your last day will leave you feeling bittersweet, so we planned an epic day. You'll be swimming in picturesque Phelps Lake and visiting the historic Rockefeller Preserve Center.
Start your day bright and early with one last hike in GTNP on the Phelps Lake Loop. It's a moderate, 7-mile loop with almost 500ft of elevation gain.
Along the trail, you'll arrive at a famous jumping rock overlooking Death Canyon. It's a 30-foot drop into the cold, mountain lake water but it makes for an amazing photo op!
The Phelps Lake Loop begins and ends at the Rockefeller Preserve Center, which was historically a dude ranch. You can learn all about the historical significance of the ranch and the flora and fauna of GTNP at the center and so it is definitely worth a visit.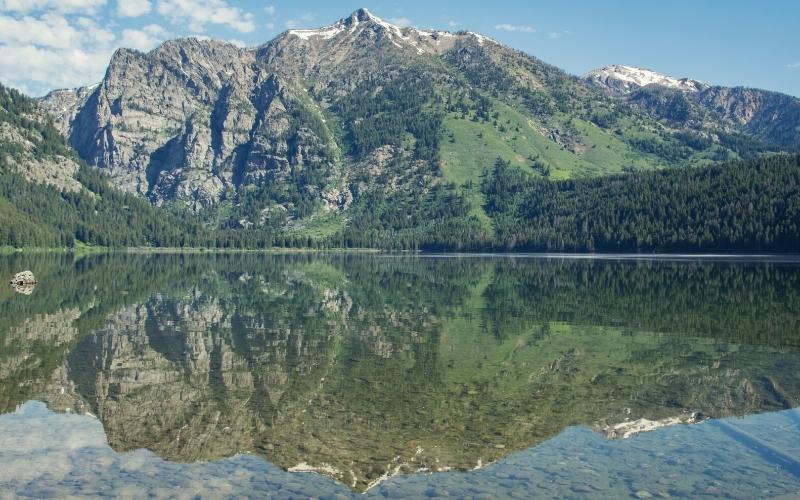 If you've got some time left in the day, head to nearby Teton Village. There you can climb aboard the Jackson Hole Mountain Resort's aerial tram and get whisked to the top of Rendezvous Mountain.
Enjoy Your Trip!
Thanks to their convenient location right next to each other, both parks can be combined into one grand, once-in-a-lifetime adventure.
We hope our detailed Grand Teton to Yellowstone guide has given you some ideas about what to do and see on your next road trip and you have an amazing time when it happens!

If you've got any questions about visiting either YNP or GTNP, feel free to ask us in the comments below. Enjoy your trip!