From bull-riding cowboys at rodeos to Yellowstone National Park's untamed geysers, Wyoming stays true to the spirit of the old West.
Camping in America's Cowboy State is one of the best ways to experience everything wild Wyoming has to offer. But figuring out which of the hundreds of amazing campgrounds to stay at can be a tad overwhelming.
That's why we've listed tour favorite campgrounds in Wyoming, along with the amenities and activities available at each one.
From Yellowstone to Devil's Tower, this guide will help you find which of our top 17 campgrounds work best for you!
1. Mammoth Hot Springs Campground, Yellowstone National Park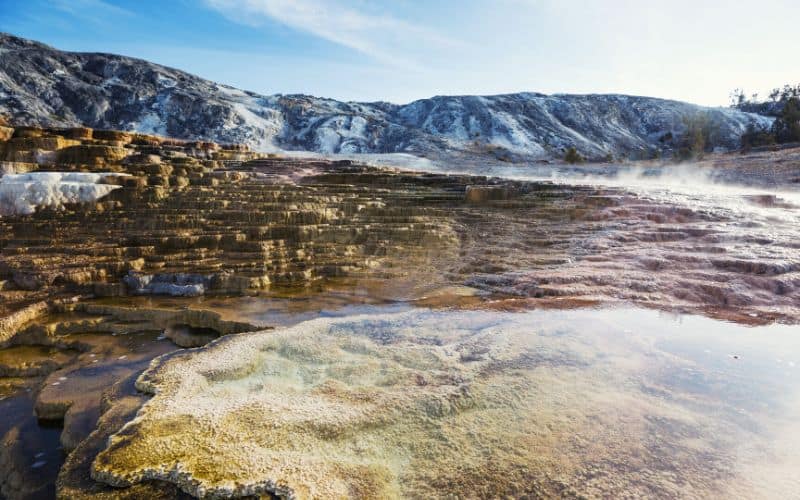 Mammoth Hot Springs Campground is the best campsite to stay at when exploring Yellowstone National Park and its mesmerizing travertine terraces. This area is located next to the Wyoming and Montana border, about 5 miles south of the park's North Entrance.
Juniper and Douglas fir trees dot the campground, with the occasional elk and bison passing through. Fishing, hiking, visiting Fort Yellowstone, and soaking in the thermal waters at the nearby Boiling River are some of the top activities here.
RELATED READING: 15 Awsome Yellowstone NP Hiking Trails
There are 85 tent camping and RV sites at Mammoth Campground, each with picnic tables and fire rings. Facilities include water, food storage lockers, and flushing toilets.
The camp's proximity to the Mammoth Hot Springs Historic District makes it easy to restock at the Mammoth General Store and grab a bite to eat at the restaurant.
Mammoth is the only Yellowstone National Park campground that is open year-round, but the campground is currently closed due to flooding.
2. Norris Campground, Yellowstone National Park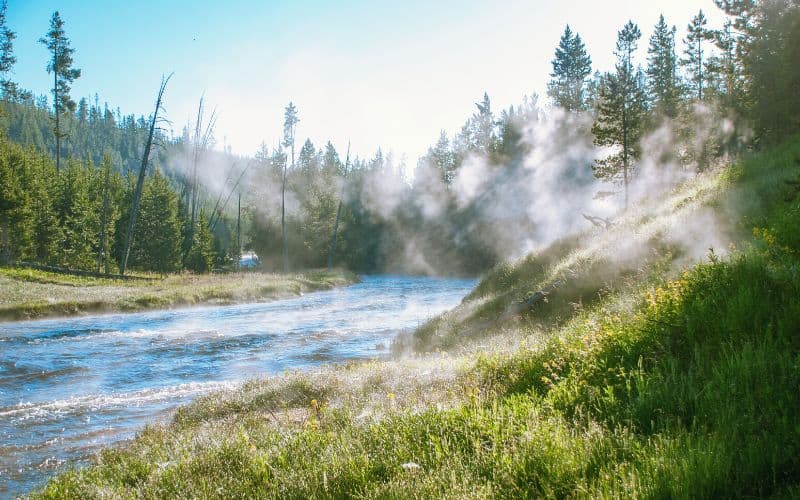 At 7,500 feet elevation, Norris Campground is surrounded by lodgepole pine and positioned next to the Gibbon River and a large meadow. The open area provides the perfect opportunity for wildlife observation, as well as easy access to the Grand Canyon of the Yellowstone and all of the park's geothermal wonders.
One of the highlights of Norris Campground is a 1-mile trail out to the popular Norris Geyser Basin, the park's hottest thermal area, and the Norris Basin Museum. History fans should pay a visit to the nearby Museum of the National Park Ranger.
This campground has a total of 112 tent and RV sites with picnic tables and fire pits. Most camping sites are small and only a few will fit RVs over 30 feet. Amenities here include water, flush toilets, food storage lockers, and firewood.
Warning: Please note that Norris Campground is currently closed until October 2023.
3. Grant Village Campground, Yellowstone National Park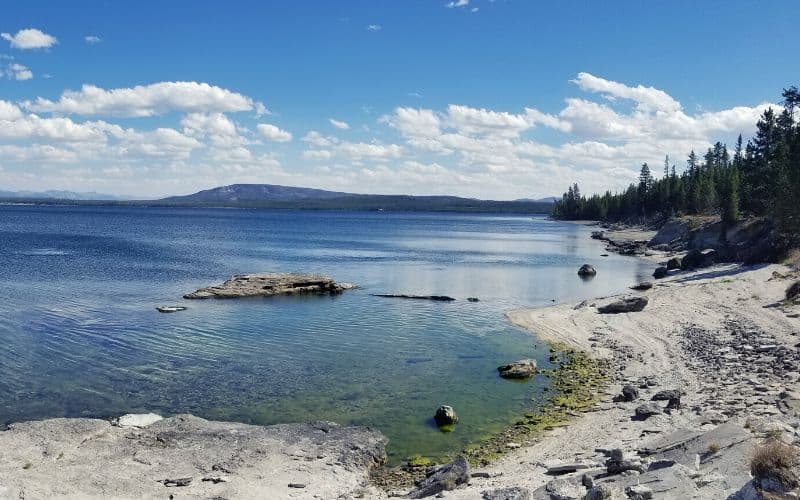 Grant Village Campground is located on the southwest shore of Yellowstone Lake, with easy access to Grant Village's services and facilities.
The campground is in a lodgepole pine forest at an elevation of 7,800 feet and only a short distance from Yellowstone Lake and West Thumb Geyser Basin. This geyser basin has a boardwalk and trail on the shore of the lake, with incredible views of hydrothermal activity.
Grant Campground features over 400 tent and RV sites throughout multiple camping zones, including hiker and cyclist camping sites. Each site has a picnic table and fire grate with water available nearby. There are flush toilets, laundry facilities, a dump station, dishwashing stations, and food storage lockers available.
Camping at this tent and RV park provides easy access to Grant Village's many facilities. Restock at the general store, take a shower, do laundry, fill up on fuel, or eat at the restaurant.
4. Gros Ventre Campground, Grand Teton National Park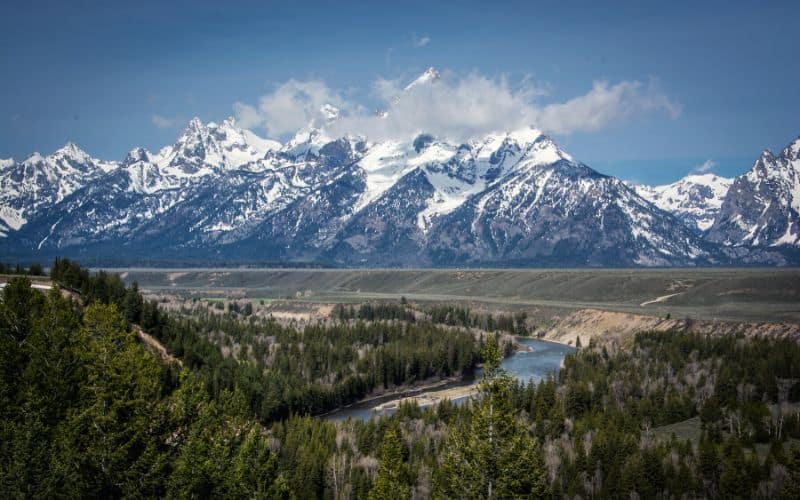 Gros Ventre Campground is on Grand Teton National Park's southeastern side, close to the Teton peaks and the town of Jackson, Wyoming. In case you're wondering, Gros Ventre is pronounced "grow-vont" by locals and it means "big belly" in French.
The landscape is scattered with low-lying sagebrush and grasses with the Teton Mountain Range as a backdrop. Cottonwood trees and towering blue spruce provide shade throughout.
Bears, bison, moose, mule deer, and birds all inhabit the area, so be ready for some incredible wildlife viewing. Fly fishing for cutthroat trout, brook trout, and whitefish is a popular activity in the nearby Gros Ventre River. Hikers should trek the Blacktail Butte Trail, a 7.3-mile out-and-back trail with views of the magnificent Tetons.
Gros Ventre Campground is the largest camping area in the park. It has 279 tent and dry camping sites, 38 of which have electrical hookups. All sites have picnic tables and fire pits with metal grates, and access to flushing toilets and water spigots. Other amenities include food storage lockers, dump stations, and ice and firewood for sale at the office.
The campground is a short walk from the Gros Ventre River and some sites have views of the Grand Teton and Blacktail Butte. Reservations are required for tent campers and RVers alike.
5. Jenny Lake Campground, Grand Teton National Park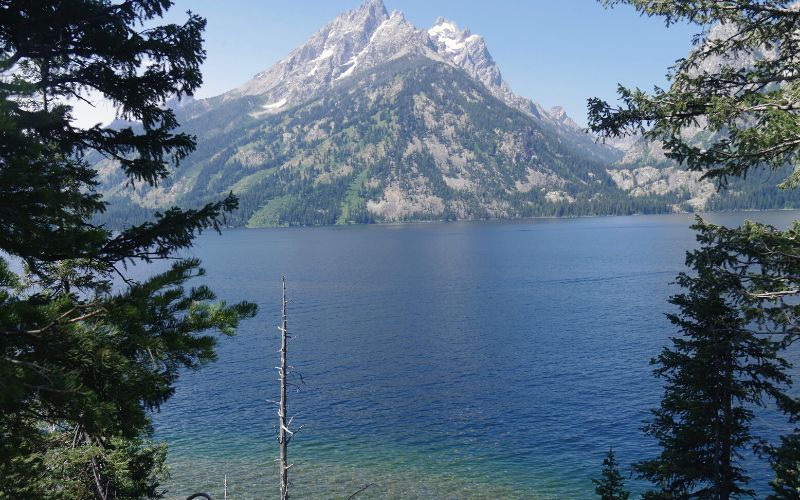 Jenny Lake Campground is nestled at the base of the Grand Tetons on the east side of Jenny Lake. It's about seven miles north of the park's Moose Entrance and conveniently located along the Grand Teton National Park bike path.
The campground is in a glacial moraine surrounded by lodgepole pine, subalpine fir, and Douglas fir. It has easy access to the shore and incredible views of Teewinot Mountain, Cascade Canyon, and Mount St. John across the lake.
Jenny Lake Campground has 51 tent-only sites, with 10 hiker-cycler sites. Each campsite has a picnic table and a fire ring. There are flush toilets, showers, water, food storage lockers, and a camp store. Camping here is by reservation only.
6. Big Sandy Campground, Bridger-Teton National Forest
Big Sandy Campground is located along Big Sandy Creek within Bridger-Teton National Forest, about 60 miles southeast of Pinedale, Wyoming.
This national forest is spread out over more than 3.4 million acres boasting water features, wildlife galore, and pristine wilderness areas. It forms part of the Greater Yellowstone Ecosystem, which is the largest intact ecosystem in the lower 48 states.
This campground is tiny compared to the rest of the camping areas on this list. There are only four sites in the main loop and one more site for horse trailers near Stock Trailhead. There are vault toilets available, but no water or electricity.
7. Pronghorn Campground, Keyhole State Park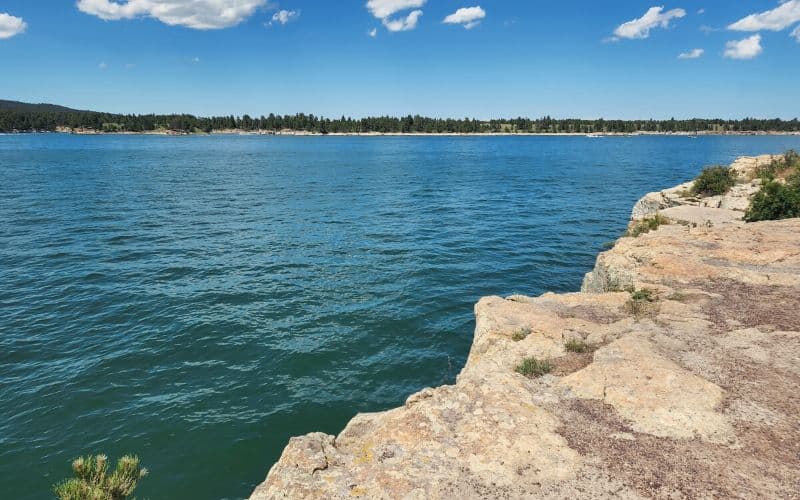 Keyhole State Park is home to Keyhole Reservoir – a popular spot for fishing, boating, and swimming. It's located in the northeast corner of Wyoming, north of Thunder Basin National Grassland and across from the Black Hills of South Dakota.
This enormous state park has 10 different campgrounds with almost 300 campsites in all.
Pronghorn Campground is our favorite camping area in Keyhole State Park. Pronghorn is on the reservoir's east shore and surrounded by pinewoods. There are 36 non-electric sites for tents and RVs, with water and flushing toilets.
8. Tatanka Campground, Keyhole State Park
Tatanka Campground is the top choice for boaters looking for RV hookups at Keyhole State Park. It's the only campground in the park featuring RV sites with water and electricity hookups (50-amp) and it also has a boat ramp.
This campground is located directly on the eastern shore of Keyhole Reservoir. Swimming and fishing are some of the main activities in this part of the reservoir.
Tatanka has 49 sites with picnic tables and fire pits, some with views of the water. The campground has water spigots and vault toilets.
9. Firehole Canyon Campground, Flaming Gorge National Recreation Area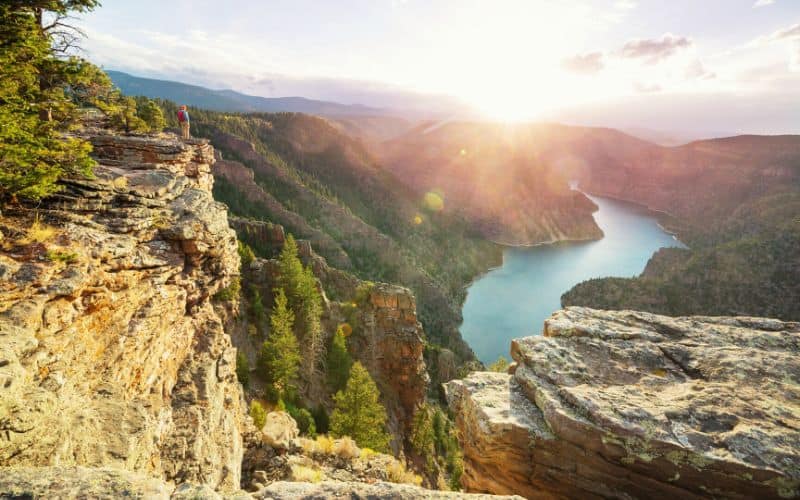 Firehole Canyon Campground is located on the Flaming Gorge Reservoir northeast shore, inside of Flaming Gorge Recreation Area and Ashley National Forest. This region of Wyoming is in the high desert; scattered with Russian olive trees and sagebrush.
Flaming Gorge Recreation Area has 360 miles of shoreline along the reservoir, with scenic views of the water and the surrounding red rock formations. The reservoir has a boat ramp and is a hotspot for trout fishing year-round. Boating, canoeing, water skiing, and swimming at the "beach" are popular activities.
There are 32 non-electric single sites and 4 double sites at Firehole Canyon Campground. Each has a shade structure, picnic table, and fire ring. The amenities here include water, a dump station, flush toilets, showers, and access to the reservoir's beach area.
10. Curt Gowdy State Park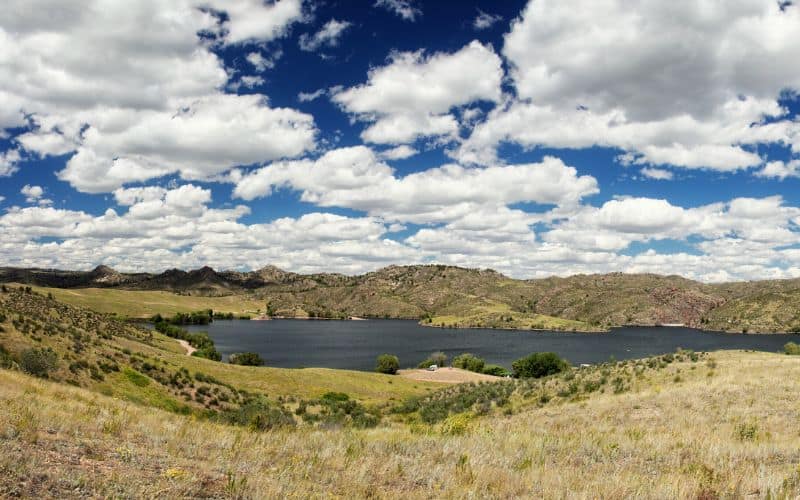 Curt Gowdy State Park is in the southeast region of Wyoming, approximately 24 miles east of Laramie and 24 miles west of Cheyenne.
Covering 4,000 acres, this state park has seven areas with different landscapes along the foothills of the Laramie Mountains. The park's scenery consists of meadows, low hills, and granite rock formations.
There are three reservoirs inside the park: Granite, Crystal, and North Crow. Crystal Reservoir is the smallest but offers big opportunities for boating and shoreline fishing for trout and salmon. Granite Reservoir also has trout and salmon, along with enough open areas for water sports. North Crow is less developed and open for fishing.
The Curt Gowdy Trail System's 35 miles of trails make it a popular destination for hiking, mountain biking, and horseback riding. The park also has mountain bike play areas and an archery range.
There are 159 tent and RV sites at Curt Gowdy, with electrical hookups at some. Amenities vary at each campground, but they all include potable water and restrooms with flushing toilets.
11. North Fork Campground, Buffalo Bill State Park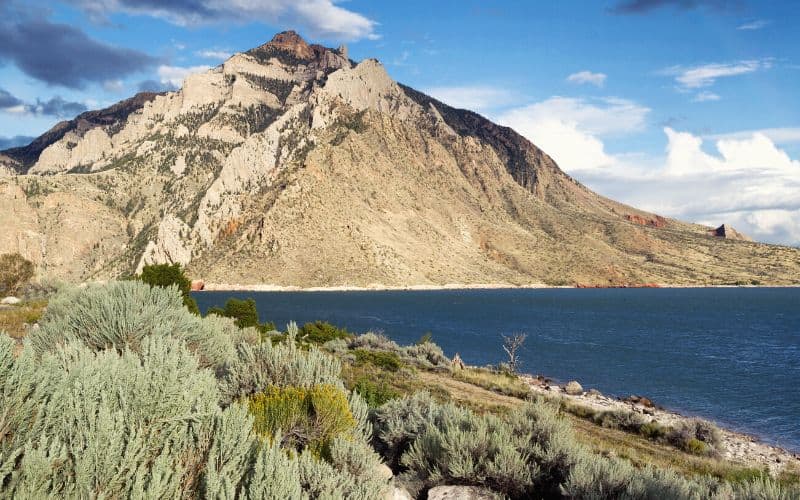 Buffalo Bill State Park in Shoshone National Forest has stunning views of the surrounding mountains and Clarks Fork of the Yellowstone River and is only 40 miles from Yellowstone National Park. The visible peaks are part of the Rocky Mountain Absaroka Range, with the highest summit reaching more than 12,00 feet.
Inside the park lies Buffalo Bill Reservoir, part of the Shoshone River, and a popular fishing and windsurfing spot. Wildlife viewing opportunities abound here, with bears, elk, deer, and antelope roaming the land.
The Buffalo Bill Dam Visitor Center is a good stop to learn more about the area's history and flora and fauna.
North Fork Campground has 62 sites along the North Fork Shoshone River, each with a picnic table and grill. Facilities here include a playground, showers, flushing toilets, and a grassy area for recreation.
12. Tough Creek Campground, Boysen State Park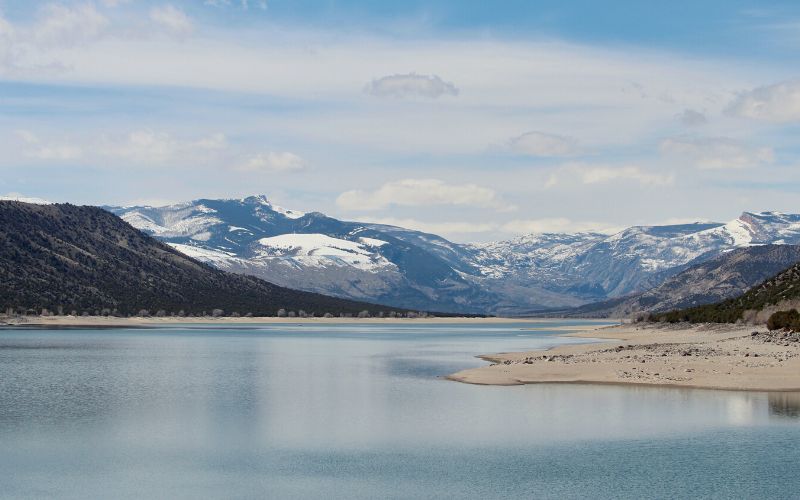 One of the largest state parks in Wyoming, Boysen State Park is home to Boysen Reservoir. The reservoir lies at the mouth of the Wind River Canyon and is a popular fishing destination.
Boysen State Park is at 4,725 feet elevation on the southern end of the Owl Creek Mountains, surrounded by the Wind River Indian Reservation. The Wind River and its reservoir provide opportunities for endless water activities, including boating, fishing, and swimming at Brannon Campground's beach.
Tough Creek Campground is on a peninsula on Boysen Reservoir's eastern shore. There are 65 non-electric tent sites and RV camping sites with shade and picnic tables, many of which have easy access to the water. The campground has water, vault toilets, and a boat launch.
13. Two Moon Campground, Glendo State Park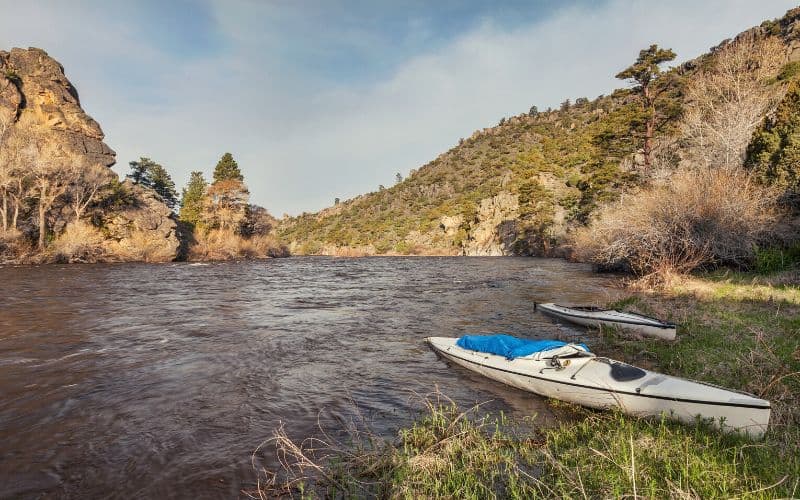 Glendo State Park is a 22,000-acre park in southeast Wyoming's Platte County. The park encompasses the area surrounding the Glendo Reservoir along the North Platte River.
The park has endless opportunities for outdoor adventures, most of which are open year-round. There are 45 miles of hiking and biking trails, six boat ramps for water activities, and fishing for walleye in the reservoir.
Of the over 500 campsites throughout the park, Two Moon Campground is one of the top spots to stay. It's the largest campground in the park and it's located on a bluff on the southeast side.
There are over 200 tent and RV campsites shaded by pines, each with incredible views of the reservoir. Amenities at Two Moon include water and vault toilets. Most of the camping sites here can only accommodate RVs under 27 feet, but the few sites with electricity are larger.
There's no direct water access at this campground. The nearest boat ramp is under a mile away and a swimming beach is available at Sandy Beach Dune Campground.
14. Belle Fourche River Campground, Devils Tower National Monument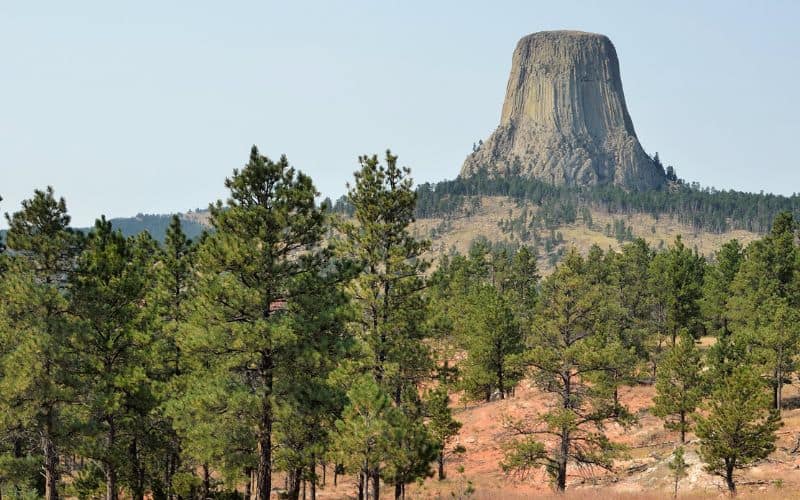 Belle Fourche River Campground is located inside the Devils Tower National Monument in northeast Wyoming. This protected area spreads out over 1,347 acres and is America's first National Monument.
The Devils Tower is a must-see geological formation made of igneous rock. It's an impressive granite tower that sticks straight up above the prairie surrounding the Black Hills.
Belle Fourche River Campground is one of the most scenic campgrounds in Wyoming and the only camping area inside Devils Tower National Monument. It has large cottonwood trees for shade, and views of the tower, plus it's next to the Belle Fourche River.
There are a total of 46 sites, including 43 sites for tents and RVs under 35 feet, and 3 tent-only group sites. The amenities offered here are picnic tables, grills, fire rings, flushing toilets, and water spigots.
15. Circle Park Campground, Bighorn National Forest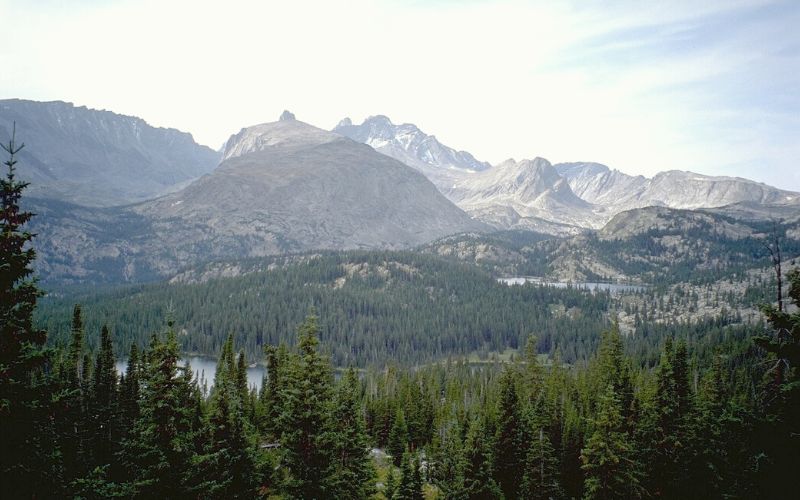 Bighorn National Forest in north central Wyoming is home to the majestic Bighorn Mountains – the Rocky Mountains' sister range. The area boasts a landscape varying from grassy meadows to glacial valleys and gentle hills to mountain peaks.
Circle Park Campground is close to Circle Park Trailhead, which provides access to the incredible Cloud Peak Wilderness and a trail system. Taking the drive along the 47-mile Cloud Peak Scenic Byway is a popular activity here, along with off-roading in the canyon.
This campground only has 10 single sites with fire rings and tables, 8 of which are reservable. There are water pumps and vault toilets, but not much else in terms of amenities.
16. Death Canyon Shelf Camping Zone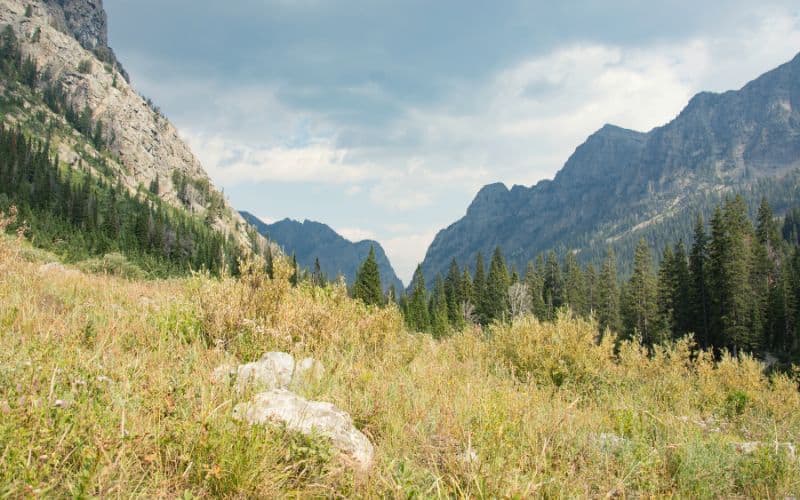 Want to experience backcountry camping in Grand Teton National Park? The Death Canyon Shelf Camping Zone is the place to visit.
Known as one of the top hiking trails in the park and one of the best backcountry campgrounds in Wyoming, the Teton Crest Trail hosts amazing camping spots along its scenic route in the park's southwest area.
Death Canyon Shelf is the best of the 11 camping zones along the Teton Crest Trail. It sits above the canyon walls, overlooking Death Canyon. The hike there is intense but worth it. The unforgettable views of the canyon below and the Grand Teton peak above is sure to be one of the most memorable vistas of your life!
There are no amenities and you need to pack everything in and out. A permit is required for all backcountry camping within Grand Teton. They're issued on a first-come, first-served basis and should be requested within 1 day of your trip.
17. Sinks Canyon State Park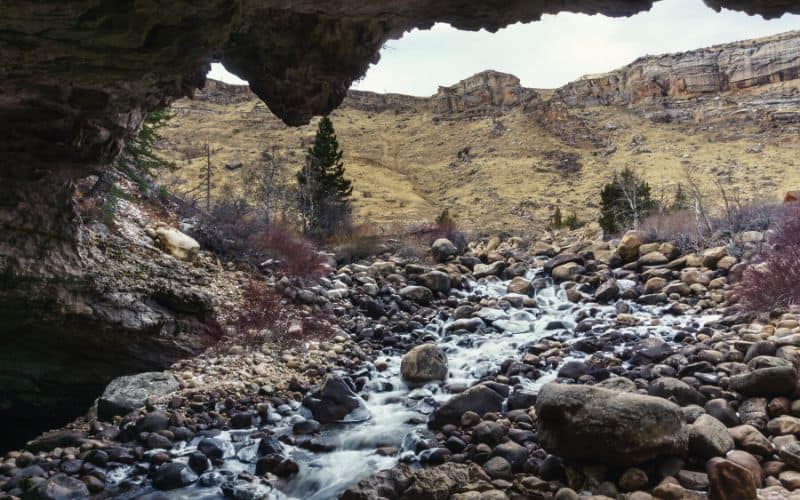 Sinks Canyon State Park features a geological phenomenon known as "the Sink," where the river water disappears beneath the ground close to the mouth of the canyon. This feature makes it one of the most unique campgrounds in Wyoming. Other activities here include hiking trails, wildlife observation, and fishing on the Wind River.
There are multiple small campgrounds within this park, all of which are primitive with picnic tables, fire pits, water, and pit toilets.
Sawmill Campground is a day-use area at the entrance to the canyon with a handful of camping sites. Popo Agie Campground has 25 sites with riverfront sites shaded by trees and access to hiking trails.
Best Camping in Wyoming: Happy Camping!
From fly fishing to soaking in hot springs, these top campgrounds in Wyoming have something to offer for every camping style. With our favourite, a road trip from Grand Teton to Yellowstone allows you to catch a lot of what Wyoming has to offer.
If you're searching for the best camping in Wyoming with electrical hookups, stay at Gros Ventre Campground in Yellowstone National Park or Curt Gowdy State Park. 
Want to camp totally off-grid? Trek the Teton Crest Trail to the backcountry camping zone at Death Canyon Shelf.
What's your experience with camping in Wyoming? Let us know in the comments below. If you found this article helpful, share it with your family and friends.