While better known for its milk and cheese, Wisconsin is also home to a veritable shedload of wild and wonderful hiking trails.
Wisconsin offers an array of attractions for hikers. Verdant meadows, kettle lakes, Great Lakes, glacial landforms, and mammoth rock formations are but a few. And best of all, most of the trails here receive far less foot traffic than their better-known peers elsewhere in the country.Ready to discover some of the best hiking in Wisconsin?
RELATED READING: For more outdoor adventure check out our guide to the best camping in Wisconsin.
Best Hikes In The Badger State: Our Top 12 Trails
1. Sentinel Trail, Peninsula State Park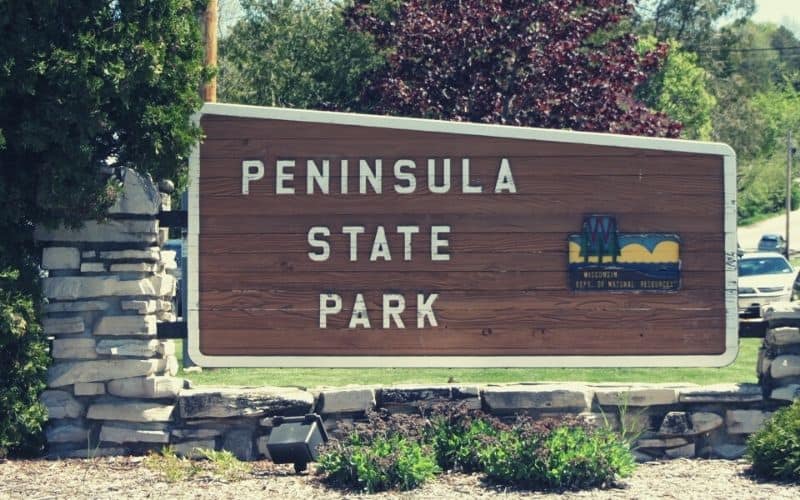 First in our list of trails is one of Wisconsin's most popular tourist destinations, the Peninsula State Park. Peninsula is the state's most visitor-friendly park, boasting 468 campsites, a long shoreline, a summer theater, and even an 18-hole golf course.
For our money, the best hike in the park is the Sentinel Trail, a moderately trafficked scenic route that's suitable for hikers of all fitness levels. The hike itself is a 2.1-mile lollipop loop, but it can also be combined with other trails for a much longer hike around the north side of the park.
The trail is well-maintained, clearly marked, and has only 75 feet of ascent in total. As such, it's very hard to get lost and ideal for the kids or a lazy Sunday afternoon stroll.
On this hike, you'll be immersed in a stunning forest that's dominated by pines, maple, birch, and towering oaks. It offers plenty of opportunities for birdwatchers and, like all things Wisconsin, showcases beautiful colors in the fall.
2. Green Tree Loop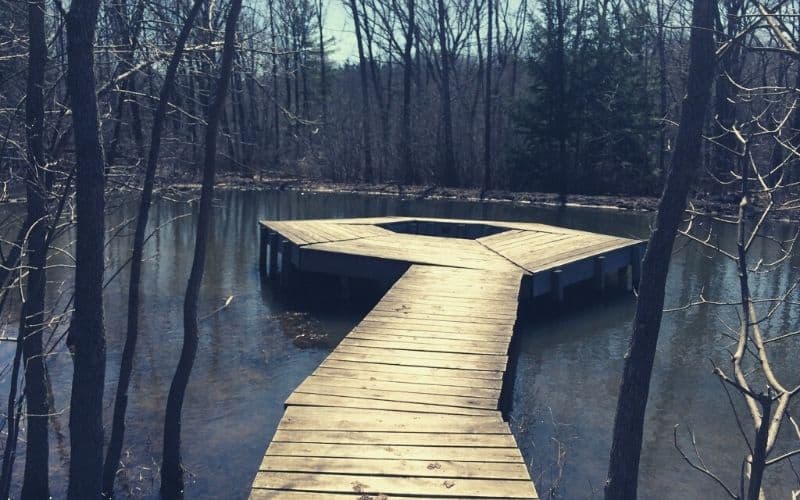 Looking for a super easy Wisconsin hike that's as much fun for experienced hikers as it is for kids and newbies? The Green Tree Loop might just be your bag.
The Green Tree Loop is a 6-mile nature walk that stretches throughout the Schlitz Audubon Nature Center in Milwaukee. It's paved from end to end and should take moderately fit hikers around 2 hours to complete.
Situated just a short drive from downtown Milwaukee, this one is ideal for city dwellers with less time on their hands. It's also relatively flat, well-maintained, and well-signed, meaning it's perfect for a day out with the kids or your pet.
And there are plenty of highlights to enjoy along the way. These include an observation tower, several grassy meadows carpeted with wildflowers, and great views of Lake Michigan.
If you're planning to take on the Green Tree Loop, however, it's worth noting that it's also very popular with cyclists and horse riders. This means it can get a little bit crowded in summer or on good-weather days in spring and fall.
3. The Monches Segment, Ice Age Trail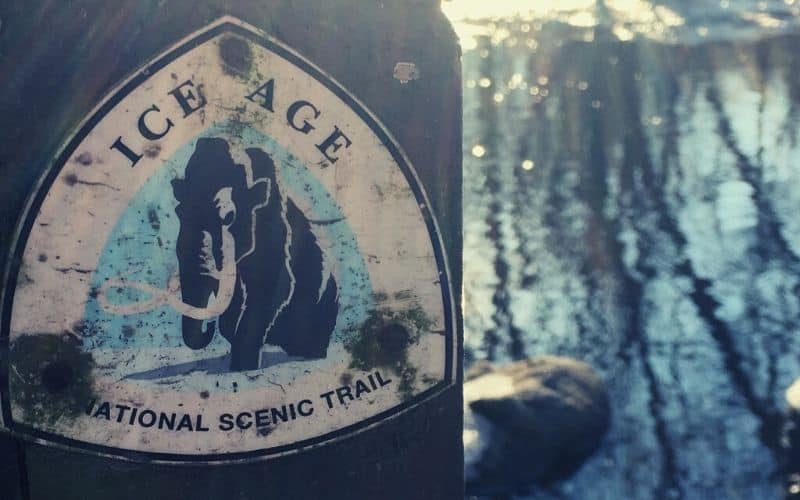 Located in the northern part of Waukesha County, this 3.7-mile footpath is one of the most idyllic portions of the ever-expanding Ice Age Trail.
This part of the Ice Age National Scenic Trail flanks the Oconomowoc River for most of the journey. While hiking, you'll be accompanied by the relaxing sound of the flowing river as you stroll through lowland hills and forests on well-maintained paths and over the odd boardwalk. With only around 200 feet of ascent, this is another one that's ideal for kids and beginners.
This area is particularly impressive in fall, when the trail comes alive with birdlife, the trees' golden and russet foliage, and when the area's biting insects have already holed themselves up for winter!
4. Sand Cave and the Little Sand Cave Loop Trails, Wyalusing State Park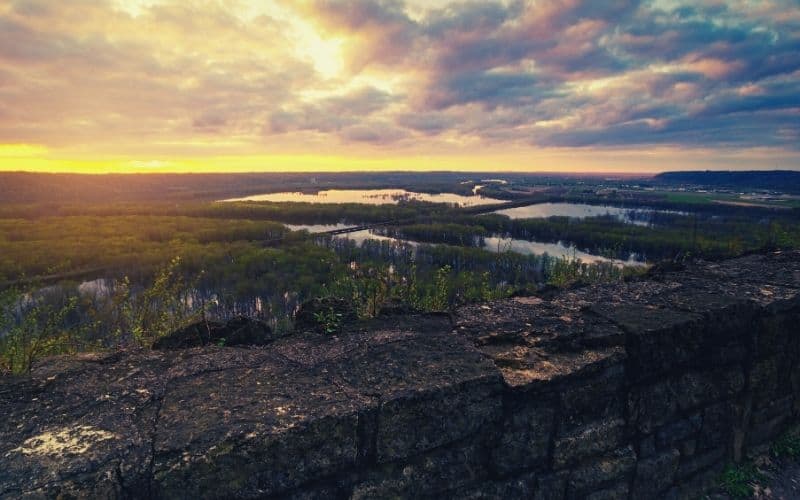 The Sand Cave Trail and the Little Sand Cave Loop are out-and-back adventures that offer something a little bit different.
In under 2 miles' walking, you'll discover multiple points of interest. These include two sand caves, two waterfalls, a hardwood forest, a charming little river, and no doubt spot some of the bald eagles and turkey vultures that bring wildlife watchers to the Wyalusing State Park in their droves.
The Sand Cave Trail travels down a lush ravine into the forest, from where just a short stroll will take you to the eponymous cave. At the edge of the cave, you'll come to the first waterfall.
Though not very grand, this small waterfall is a welcome sight in warm weather and ideal for photographers. The caves are composed of white sand and red clay. Together, these create a funky orange hue that looks stunning in pictures.
The second route, the Little Sand Cave loop, serves up similar terrain and scenery, and also features a colorfully hued cave and a small waterfall.
Done together, the lollipop loop that takes in both hikes measures roughly 3.5 miles and involves just over 200 feet of ascent. That means this is a trip you could easily take on in a morning or afternoon, or even on an extended lunch break with the kids.
5. Devil's Lake State Park, Ice Age Trail Segment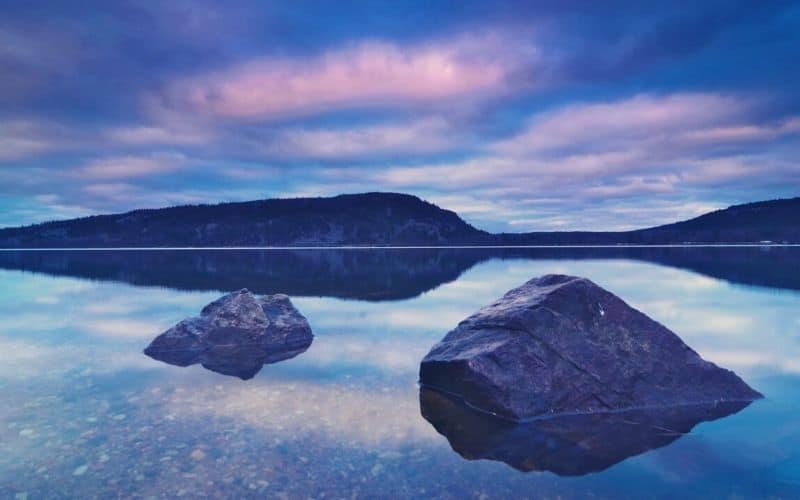 For visitors to Wisconsin looking for a little more adventure, Sauk County's Devil's Lake State Park has your name on it.
Perhaps the most famous section of the Ice Age National Scenic Trail, the park caters to the tastes of more advanced hikers with a thrilling 14.7-mile trail segment. You can hike it as an out-and-back trip, as a lollipop loop, or as a 10.8-mile point-to-point, depending on your preference.
Rated as moderately difficult, this hike involves just under 2000 feet of ascent and is lung-bustingly steep in places.
Starting off on the easy-breezy Ronzo's Meadow path, after just over a mile you'll start the first of several steep climbs encountered over the duration of the hike.
The route is easy to follow, but in places is littered with talus and boulders that can make the going a little tricky, particularly when wet.
At the end of the "stick" of the lollipop, you can either head east towards East Bluff or northwest to loop around by the Ice Age Campground. Either way, you'll be treated to a visual feast of outlandish rock formations, awesome views of the lake, and encounter a curious rectangle of rock named the Devil's Doorway that's the perfect spot for photo ops.
Just don't linger too long…
Whichever way you do the hike, there's still a good chunk of hiking to be done before you're back at the trailhead (and plenty more to be seen along the way)!
6. North Country Scenic Trail, Copper Falls State Park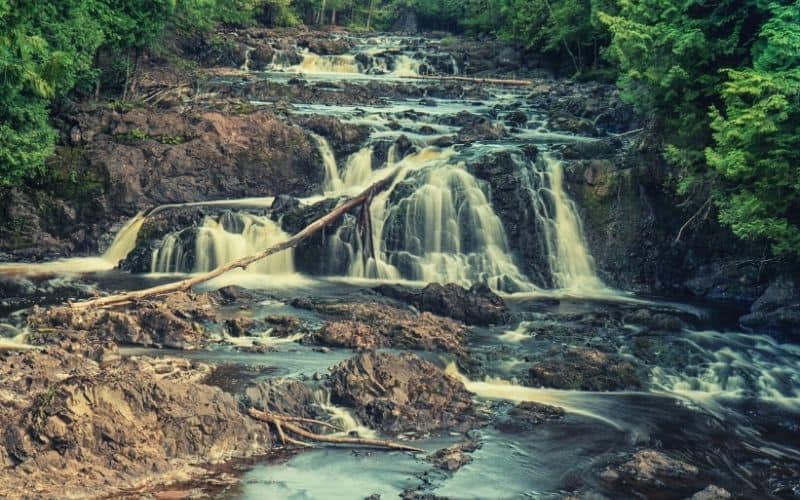 Copper Falls State Park is located just a few miles from Lake Superior. Its most recognized hiking route, the North Country ST, is another good choice for more experienced hikers.
While not as tricky as most of the trails near Devil's Lake, this one's 13.4-mile length point-to-point makes it a good challenge nonetheless.
From the trailhead at Mill Road, the route winds through dense forest along the gushing and perhaps unfairly named Bad River. There, you'll follow footpaths into Mellen, the only town you'll come across on the hike.
The North Country ST's main highlights are its two glorious waterfalls, Brownstone Falls and Copper Falls. More than 30 ft high, both of these thundering water features attract thousands of visitors every year.
Encompassing 3,068 acres of land, the park offers plenty of opportunities for side-trips, stopovers, and camping. There's a beach, multiple camping options, a nature center, a tower, convenient vault toilets, and a handful of helpful water stations along the NCST. All of this makes Copper Falls a simply outstanding destination for adventure lovers of all kinds.
7. Scuppernong Trail, Kettle Moraine State Forest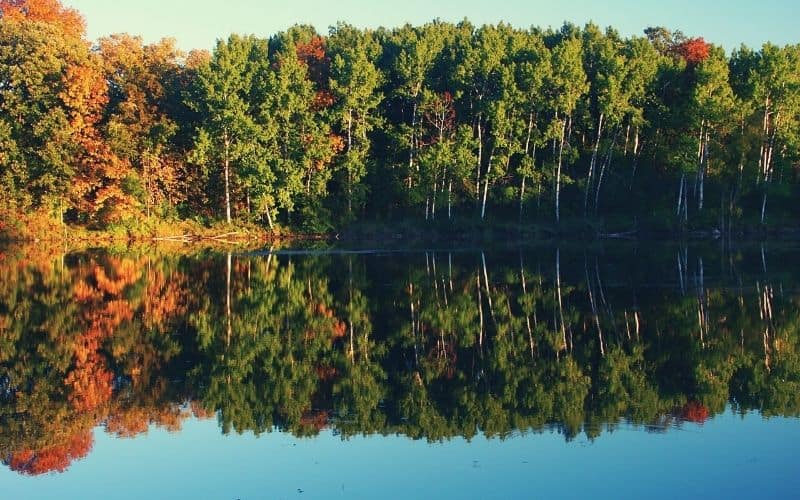 No Wisconsin hiking trip is complete without a visit to Kettle Moraine State Forest, a 22,000-acre forest that's home to gently rolling glacial hills, utterly unique kettle lakes, prairies, and over 100 miles of trails.
The Scuppernong is a 5-mile loop that's peppered with spring-fed water pools, prairie restoration sites, and pine plantations. With roughly 300 feet of ascent, this one's easy-going throughout and is a great pick for families introducing their little 'uns to the outdoors. It's also nicely shaded throughout and never steep.
If you are eager to explore further, however, you could easily combine the Scuppernong with one of the two other color-coded and well-waymarked trails in the area or even hop onto the Ice Age Trail to turn your hike into a true adventure.
The highlight of this hike is a leafy observation point from which you'll enjoy breathtaking views over the "kettles" and the wide expanse of prairie land and forest below.
8. Eagle Trail, Door Country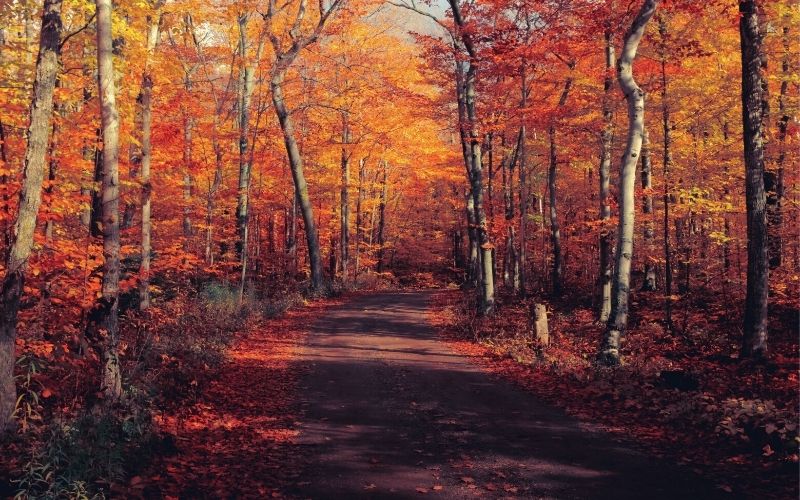 Among the many Wisconsin walks that we've mentioned, the Eagle Trail is the most visited and well-known of the bunch.
This 2.5-mile loop passes through a gorgeous, dense cedar forest, skirts thrilling rocky shorelines along Lake Michigan, and serves up breathtaking vistas, caves, and a 75-foot lookout tower that affords panoramic views of the surrounding forest, the lake, and beyond.
The trek starts from Eagle Bluff. From there you'll descend 200ft from a limestone cliff and follow a path that moves along the rocky shorelines of Green Bay, right underneath the gigantic dolomitic Niagara Escarpment, an extraordinary landform that stretches all the way from New York State to Lake Winnebago and the Horicon Marsh.
In some cases, hikers have even been lucky enough to witness the Northern Lights over the Eagle Trail. The best chance of catching Earth's greatest light show is between late August and April.
9. Hank Aaron State Trail, Milwaukee to Lake Michigan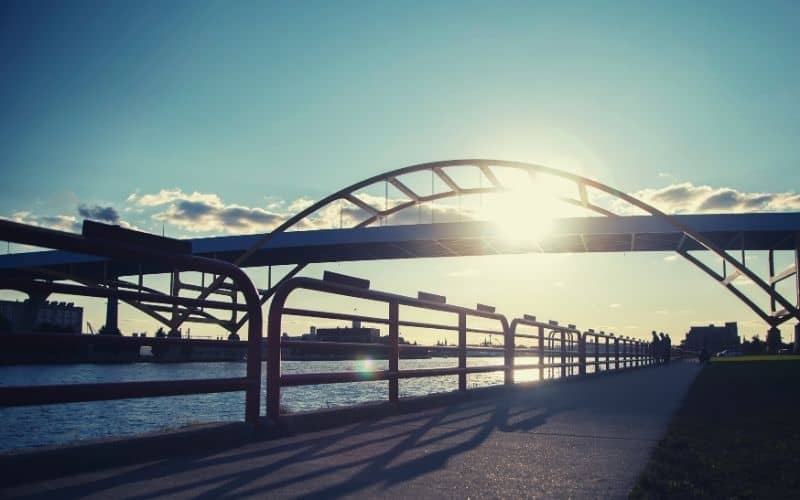 If you're looking for an easy-going, scenic route that can be easily accessed from Milwaukee, look no further than the Hank Aaron ST.
The trail takes its name from the Milwaukee Braves and Milwaukee Brewers' right fielder, Hank Aaron. It's a 14-mile point-to-point walk along a flat, paved pathway that connects Milwaukee with Lake Michigan.
Along the trail are quaint rivers, woodlands, and a few urban settings that don't really detract from the fun entailed in walking out of one of the US's major metropolises on your way to its largest lake.
On this trail you'll also pass the world-famous Harley-Davidson Museum and two parks, Miller Park and the Wisconsin State Fair Park. The trail is heavily trafficked by joggers, backpackers, and cyclists, so it's not the best bet for seekers of peace and quiet. Nevertheless, the trail's accessibility makes it a nice, handy escape from the bustle of the city.
10. Quincy Bluff & Wetlands State Natural Area, Wisconsin Dells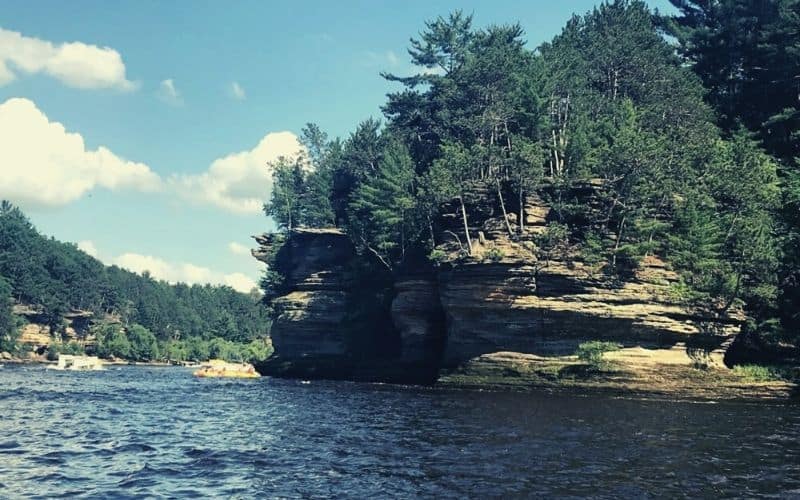 This hike is a 9-mile out-and-back trail that's great for seekers of solitude and largely unspoiled wilderness.
The highlight of this route is the 200-foot Lone Rock, a towering bluff of pale rock that rises out of the forest and prairie land below as if tossed there by some petulant deity displeased with the area's otherwise leafy and largely rock-free topography.
There are no amenities or services on this trail, no waymarkers, and, for the most part, next to no hikers. And if you're bold enough to scramble to the top of Lone Rock, you could be forgiven for thinking your hike has transported you to a remote corner of Siberia. In short: it's wild!
The Quincy Bluff and Wetlands State Natural Area covers a whopping 3,792 acres in total and is managed by the DNR. Awarded Natural Area status in 1993, it has been keenly protected as a reserve for wildlife like bobcats and wolves.
The hike is fairly easy-going and perfectly doable for hikers with moderate fitness levels and who are comfortable navigating without trail markers or signage.
11. Willow Falls Trail, Willow River State Park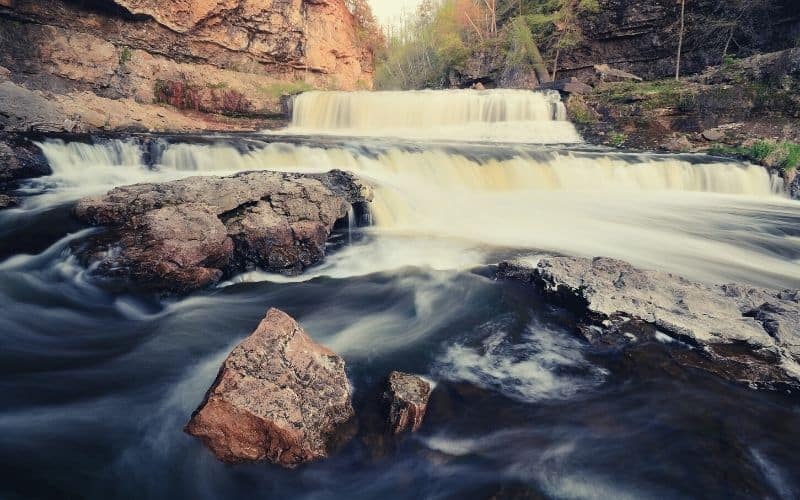 This Willow Falls hike is a mellow, 3-mile loop trail that is ideal for families with kids and pets.
There are several hiking trails in the Willow River State Park. Several of these bring to you the feature from which the park takes its name—the gorgeous Willow Falls.
This cascading waterfall in the St. Croix River is 100ft wide and tumbles down over dramatic, 15 ft drops over a stretch of several hundred feet that can be viewed and admired from the trail.
The area can get a little bit crowded on weekends, particularly in summer months. However, it's such a beautiful spot that sharing it with a few others never feels like too much of an imposition. And being able to take a dip in the pools below the falls on a hot summer day makes the slight lack of privacy well worth tolerating!
12. Wildcat & Norway Pine Trails, Black River State Forest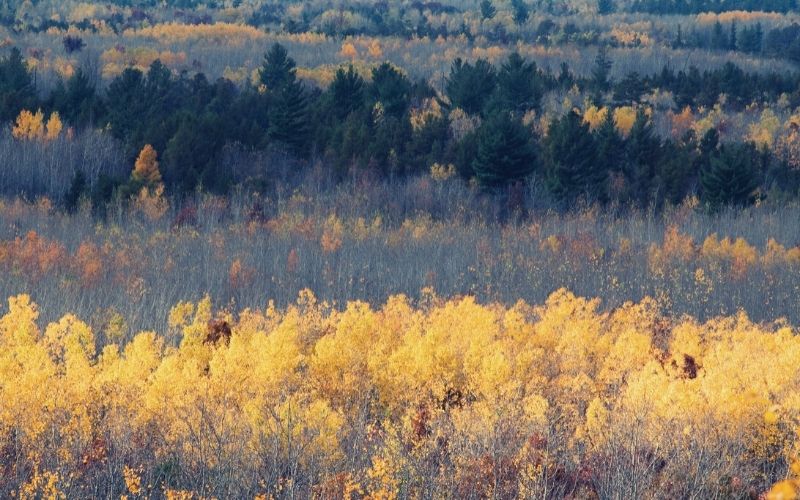 Last but not least in our list of Wisconsin hikes are two gems in the Black River State Forest. Located in Jackson County, Black River is a 67,000-acre swathe of land that's mostly engulfed by classic northern state forest. It's home to several hiking trails, but the best of the bunch are the Norway Pine and Wildcat, which can easily be combined in a day or even an afternoon.
The Norway Pine Trail is a 1.5-mile, moderately difficult loop trail with roughly 400 feet of ascent in total. The trail is well maintained, wide enough for couples to hike side by side, and offers a relaxing walk through subtle but charming bucolic scenery.
At 3.5 miles long and featuring several steeper sections, the Wildcat Trail offers more of a challenge. It also, however, offers far more extensive views of the surrounding countryside and is far less likely to be crowded on weekends and during the summer.
Hiking Trips Further Afield
Pack Your Bags! You're Going to Wisconsin!
Wild and more than just a little bit wonderful, Wisconsin is a state that deserves a place on the tick list of every hiker. And especially those with an appetite for diverse scenery, unblemished landscapes, and enjoying some of the world's less-traveled hiking trails.
We hope our list of hikes and walks in Wisconsin has inspired you to pack your things, don your boots, and head out to enjoy the very best of what the Badger State has to offer.
So, how did you enjoy our article on the best hiking trails in Wisconsin? If you have any comments, or we missed any of your favorites, let us know by commenting below. Want to share this post with your friends? Go ahead!