Pop-up shades can be used in a wide variety of circumstances, from hosting all your crew at a tailgating party to providing much-need sun protection for your family, friends, or clients on sweltering days at the beach, farmer's market, festivals, or a backyard party.
To help you find the best one for your needs, we've put together a list of the top seven pop-up canopy tents on the market this year. From SUV canopies and beach canopies to camping and commercial pop-ups, our list has something for every budget and occasion. Below our reviews, you'll find detailed buying advice to help you choose the right one for you!
Top Choices by Category
Best budget: Pacific Breeze, Ohuhu Pop-Up Shade, and Rightline Gear 110930 SUV
Lightest: Pacific Breeze, REI Co-op Screen House, and Rightline Gear 110930 SUV
Tallest: Eurmax 10×10 and ABCCANOPY 10×10
Editors Choice
Eurmax 10 X 10 Canopy Tent
The Eurmax 10 X 10 Pop-Up Canopy Tent is to the world of pop-up canopies what the Bentley is to the world of automobiles. It's pricey, but also extra-reliable, robust, classy, practical, and a notch above the best of the rest in terms of quality. 
This commercial-grade canopy shelter offers 100 square feet of floor space and its height can be adjusted from 10.5 feet up to 11.1 feet. And despite its size, it's easy to pitch and pack up at the end of the day, taking under two minutes if you have a buddy lending a hand. 
The Eurmax boasts impressive water resistance, a UPF50+ sun protection rating, and offers excellent wind resistance. It also comes with detachable sidewalls that can be shifted around to suit your needs – and conditions – throughout the day. 
In terms of durability, this pop-up canopy tent is in a league of its own. It has a powder-coated steel frame that's robust enough to use as scaffolding, and its 500D top and 210D sidewalls are tough enough to withstand a lifetime or two of use and abuse.
Bottom line: A durable, extra-stable 100-square-foot shelter that's easy to transport and set up, and comes with handy sidewalls for added protection against the sun and wind.
At a Glance: Quick Recommendations
Best Pop-Up Canopy – Reviews
Eurmax 10 X 10 Canopy Tent
Editor's Choice
Floor Area: 100 sq. ft. ⸱ Height: 10.5 ft. to 11.1 ft. ⸱ Weight: 71 lbs.
In our hunt for the best canopy, we sought a sturdy model that offers good coverage, is made with durable materials, and leaves a little leeway as regards setup configurations. The Eurmax 10X10 is just that kinda shelter.
The Eurmax is a commercial-grade canopy and reeks quality in every inch of its construction. It's made with an ultra-durable steel frame, burly 500/210D fabric, and has a PU coating that provides awesome water resistance.
Impressive, right? Be prepared to be impressed further…
What we love most about the Eurmax, besides its general burliness and quality construction, is its versatility. It comes with detachable walls that can be added or taken off whenever the wind changes direction or as the sun shifts throughout the day. And the straight-leg frame can be adjusted in 3-inch increments to suit your needs at any given event.
Other nice touches include a powder-coated frame finish that prevents rust and corrosion, a wheeled carry bag for easy transportation, sealed seams to prevent leaks, and an easy-to-use thumb lock system for attaching and adjusting the poles.
PROs

Removable sidewalls can be used in a variety of ways
Extra-sturdy frame can withstand strong winds
Wheeled carrying bag
Impressive resistance to water
UPF 50+
Tool-free setup

CONs

Velcro straps don't appear to be durable
Heavy!
Bottom-Line: The Eurmax Commercial Canopy Tent is the ideal choice if you want versatility, commercial-grade quality, unrivalled stability, and enough coverage to squeeze in 10+ people.
ABCCANOPY 10×10 Pop Up Shade Tent
Best Value
Floor Area: 100 sq. ft. ⸱ Height: 10.5 to 11.2 ft. ⸱ Weight: 48 lbs.
The ABCCanopy Tent is, all told, a cheaper and only slightly less high-quality version of the Eurmax 10 X 10.
Like the Eurmax, it's frame is made from extra-durable steel materials and uses a straight-leg design that maximizes interior space. And while its 300D, silver-coated PU fabric is a little less burly than the fabric used in the Eurmax, it's no less water-resistant and helps to make the ABC a whole 23 lbs. lighter, which of course, translates into easier setup and transportation.
Like the Eurmax, the ABC also provides 100 square feet of shade and rain protection, and the height of its adjustable legs can be altered in 3" increments from 10.5 to 11.1 ft.
The only major downside to the ABCCanopy is that it doesn't come with sidewalls. While a dealbreaker for some, this shelter is still a great pick for anyone looking for an "open-plan" shelter for the farmer's market, tailgating, or gatherings in the yard.
PROs

Roller bag included
Can be set up in only a few minutes
Tough, waterproof canopy material
Powder-coated finish
Guy ropes and tent stakes included

CONs
Bottom-Line: This spacious, sturdy canopy is made with tough materials, is easy to set up, and comes with a handy wheeled carrier to simplify transportation.
Pacific Breeze Easy Setup
Best Beach Canopy Tent
Floor Area: Roughly 35 sq. ft. ⸱ Height: 4 ft. ⸱ Weight: 4.45 lbs.
Looking for a lightweight shelter that provides good sun and wind protection for days on the beach? If so, the Pacific Breeze is well worth a place on your shortlist.
This pop-up tent offers roughly 35 square feet of shade and has a peak height of just 4 feet, so isn't the most commodious model on our list by a long way. Nevertheless, its piddly weight (4.45 lbs.), robust UV protection, and general convenience make it the ideal choice for long days lying on the beach.
This instant pop-up canopy lives up to its name, setting up in under a minute. And instead of having to fiddle around with ground stakes and guy lines, all you have to do is stuff a few handfuls of sand in the side pockets and you'll have a relatively sturdy pop-up shelter.
PROs

Easy setup
Lightweight
UPF 50+
Water-resistant
Small packed size included carrying bag

CONs
Bottom-Line: Made with corrosion-resistant materials and a dome-style design, this is the perfect option for windy days on the beach.
Ohuhu Pop-Up Shade Canopy
Best Budget
Floor Area: 100 sq. ft. ⸱ Height: 6.3 ft to 7 ft. ⸱ Weight: 62.9 lbs.
Looking for a deluxe pop-up canopy tent that doesn't break the bank? If so, the Ohuhu Pop-Up is well worth considering.
The Ohuhu is, simply put, a commercial-grade pop-up canopy tent with a bargain-basement price tag. It costs around half the price of the winner of our review, the Eurmax, but has only marginally less impressive specs.
This pop-up has a sturdy steel frame and flame-resistant, 420D, coated PVC fabric that together provide awesome stability and weather protection. It offers 100 square feet of coverage and its peak height can be extended from 6.3 feet up to 7 feet. While a little lower than the Eurmax and ABCCanopy, that's hardly low enough to induce cabin fever!
The Ohuhu is also a canopy tent with sides that can be detached and can easily be shifted as needed throughout the day to reduce sun exposure. It's also easy to set up, a great performer in strong winds, and just about as durable as they come.
All in all, the perfect low-cost shelter for parties, festivals, flea markets, beach days, and other outdoor events.
PROs

Affordable for its size
UPF 50+
Large floor area
Detachable sidewall
Wheeled carry bag

CONs
Bottom-Line: A roomy, sturdy shelter that provides above-average weather resistance at a below-average price point.
Clam Outdoors Quick-Set Escape
Best Screened Canopy Tent
Floor Area: 94 sq. ft. ⸱ Height: 7.5 ft. ⸱ Weight: 32 lbs.
If you're heading to buggy locations or simply want a shelter that provides more of an enclosed space, then the Clam Outdoors Escape is a great choice.
The CO Escape (along with the REI SH) is one of only two pop-up canopies on our list that come with comprehensive bug protection. This is courtesy of floor-to-roof no-see-um mesh walls and an extra-wide skirt that helps keep critters like flies, mosquitos, and other insects out.
But it ain't all about the bug protection…
The Escape is also one of the easiest models to set up on our list, using hub pull straps that transform it from a pile of fabric and poles to upright and ready to go in roughly a minute. It also offers solid rain protection thanks to its 210D, taped roof panel, and added wind resistance thanks to crisscrossing poles that help to maintain structural integrity when things get blowy.
While much pricier than the REI Co-Op SH, we found the CO Escape to be sturdier and a little easier to set up.
PROs

Awesome bug protection
Relatively easy to set up
Fits over a standard-size picnic table
Holds up to 8 people
Stakes, tie-down ropes, and carrying bag included

CONs

Not as stable as the Eurmax, Ohuhu, or ABCCanopy
Pricey!
Bottom-Line: This is the easiest pop-up canopy to set up on our list and includes mesh walls for bug protection.
REI Co-op Screen House
Best Camping Canopy
Floor Area: 100 sq. ft. ⸱ Height: 7 ft. ⸱ Weight: 13 lbs.
The REI Co-Op SH is the most versatile model on our list. When not in use as a canopy, it can happily moonlight as a standard camping tent. Sure, you have to make an additional purchase to get the rain fly, but that's far cheaper than buying a separate canopy and tent!
The REI SH boasts 100 square feet of floor space, has a peak height of 7 square feet, and uses straight legs that maximize interior space. Together, these attributes make it among the roomiest of shelters on our list.
This model also has floor-to-ceiling bug netting, mesh doors, and a solid fabric perimeter that will keep creepy crawlies and airborne biters at bay.
While the SH weighs only 13 lbs, a third of the weight of the other bug-blocking shelter on our list, the Clam Outdoors Escape, it's not the best performer in windy conditions, lagging far behind steel-framed models like the Eurmax and Ohuhu.
PROs

Aluminum frame
Straight-leg design increases inside space
Lightweight
Roomy
Great bug protection

CONs

Rain fly and guy lines not included
Bottom-Line: This oversize canopy tent is one of the lightest on our list, yet uses durable aluminum poles and mesh walls for insect protection.
Rightline Gear 110930 SUV Tailgating Canopy
Best Car Canopy
Floor Area: 48 sq. ft. ⸱ Height: 6 ft. ⸱ Weight: 8 lbs.
Need a simple, no-nonsense, but highly effective shelter for the rear of your vehicle? If so, pencil the Rightline Gear Tailgating shelter in near the top of your shortlist of potential purchases.
The Rightline Gear is simplicity defined. In the package, you get the roof, fiberglass, and steel poles, a stuff sack, and two sandbags to keep the poles in place and planted on the ground. All you need to do is attach the roof fabric to the trunk door of your vehicle, pop the poles up, throw some sand or dirt in the sandbags, and you're good to go.
The Rightline isn't the most spacious of shelters on our list, covering only 48 square feet, but it can comfortably host 6 or 7 people, boasts excellent weather resistance, and is so small and lightweight that you can pack it away in your vehicle and forget about it until your next tailgate.
PROs

Sized to fit stadium parking areas
Waterproof
Lightweight
Easy to set up

CONs

Smaller area
Needs a vehicle for setup
Bottom-Line: If you're planning a road trip or a spot of tailgating, this lightweight, durable, and water-resistant shelter is a great companion to have along for the trip.
Pop-Up Shelters – Things To Consider
Livability
Coverage & Sidewalls
The purpose of canopy tents is to create a semi-enclosed, sheltered space that protects against the wind, UV rays, bugs, and – in some cases – light rain. This being so, the type and effectiveness of the canopy's coverage is one of the main concerns when buying.
The first thing to note is that not all pop-up canopies have sidewalls. The only models of pop-up canopy with sides in our review are the Eurmax (3), Ohuhu (1), and Pacific Breeze (3). While the Clam Outdoors Escape (4) and REI Co-Op Screen House (4) both have mesh sidewalls that provide some, but very limited, wind and UV protection.
Coverage refers to what the canopy has up top, i.e. the quality of the roof. All of the pop-up canopies on our list have some form of overhead coverage, though the degree of water resistance and UV protection they provide varies.
In buggy locations, your best bet is a four-walled shelter like the Clam Outdoors Escape or REI Screen House, both of which have full-mesh coverage.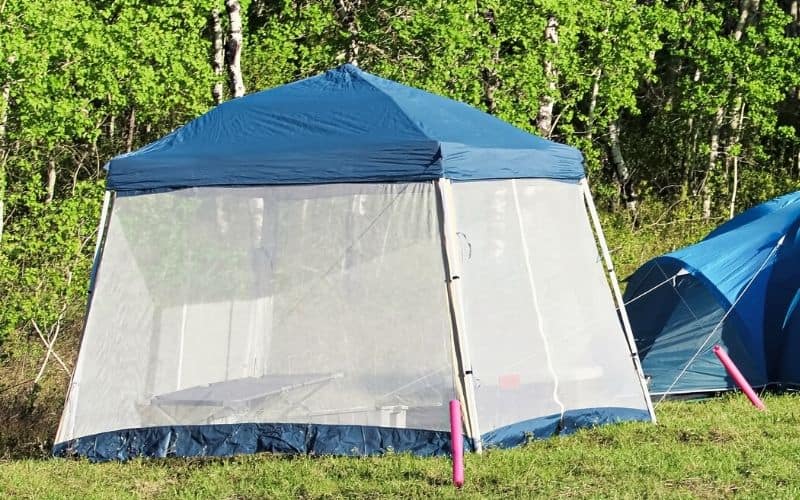 If rain's in the forecast, pop-up canopies like the Eurmax, ABCCANOPY, and Ohuhu will keep you dry thanks to their use of high-denier, water-resistant roof fabrics.
All of the models on our list offer UPF 50+ sun protection, though the valances on the Ohuhu, Eurmax, Clam Outdoors Escape, and REI Screen House make them standout in this metric.
Size & Shape
The size and shape of your shelter determine two things: how many people you can fit in there and how stable it is in suboptimal weather.
Let's start with the shape. Most pop-up canopies have a blocky, rectangular shape that maximizes headroom through the canopy. Other models, like the Pacific Breeze, have a dome-style shape in which headroom declines the further you are from the center.
While the dome shape provides greater stability in strong winds, it does mean that the middle of the shelter is prime real estate and the rest a "lowly" suburb.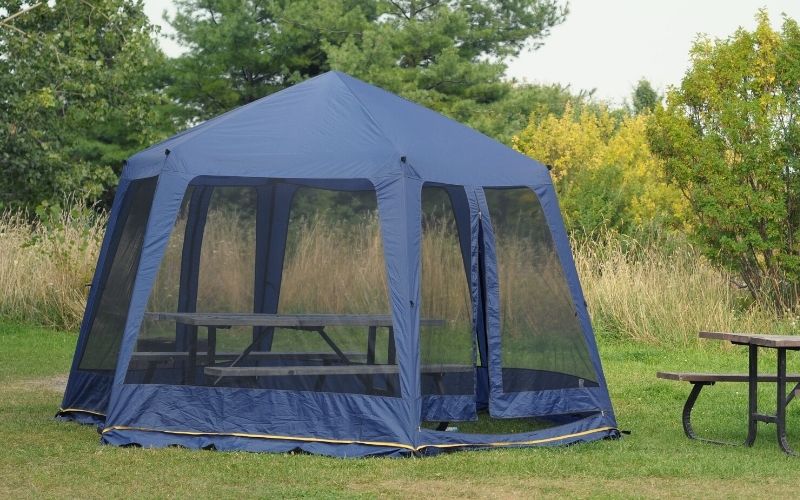 The canopies in our review ranged from 100 square feet of coverage/floor space (the Eurmax, Ohuhu, ABCCanopy, and REI Screen House) down to 48 square feet (the Rightline SUV) and around 35 square feet (the Pacific Breeze).
But how does that translate into space for humans? Well, we recommend you allow a minimum of 6 or 7 square feet per person, so the Rightline will cover 5/6 people at a squeeze, and models like the Eurmax could host 8-12 depending, of course, on the spatial requirements of the people in question.
Ceiling Height
Also known as "peak" or "center" height, this is important for two reasons. First, it tells you whether or not the shelter will let taller peeps move around inside without having to duck. Secondly, it tells you whether or not the sun (or rain) is going to be sneaking in under the roof and burning (or soaking) your canopy's occupants.
Finding a balance between the two is the name of the game. If that sounds too tricky, then we recommend opting for a model like the Eurmax, Ohuhu, or ABCCanopy, all of which can be easily adjusted in 3" increments to suit weather conditions and/or accommodate taller humans.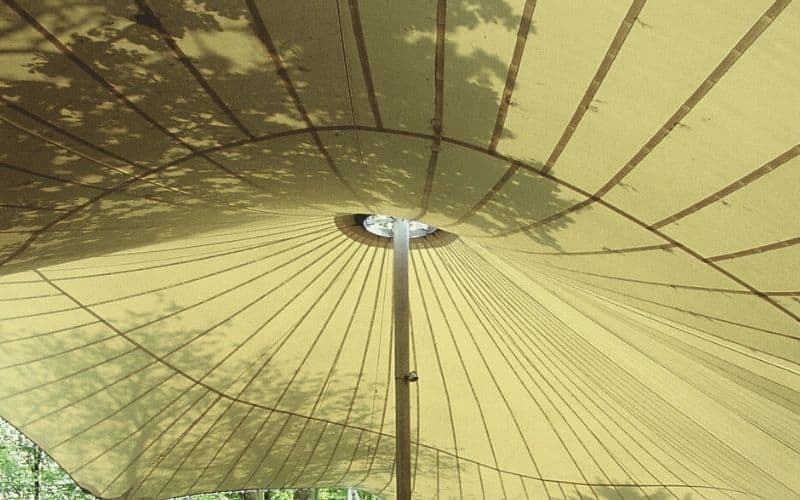 The tallest models on our list are the ABCCanopy and Eurmax, both standing at 11.1 feet with their steel legs fully extended. The shortest is the Pacific Breeze, which has a center height of just 4 feet.
It's also worth bearing in mind that taller camping canopies typically offer less wind resistance than shorter ones, though this isn't the case with the Eurmax or ABCCanopy.
Ease of Setup
One of the main benefits of using a pop-up canopy is that they take very little time to pitch. All of the models on our list can be set up in just a few minutes, though the easiest for just one person to do were the Pacific Breeze and Clam Outdoors Escape.
Wind & Water Resistance
Canopies are notoriously unstable in heavy winds and, of course, don't provide nearly as much resistance to water as their close cousin, the tent. Nevertheless, certain models are more than capable of remaining upright in moderate and even strong winds and others of keeping you dry if the heavens decide to try pee on your parade.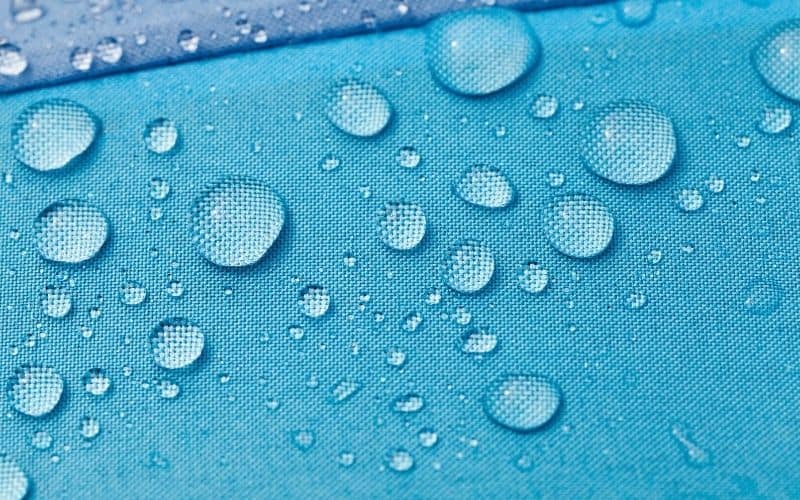 The most wind-resistant canopies on our list are the heavy-duty shelter with steel frames: the Eurmax Canopy Tent, the Ohuhu Pop-Up, and the ABCCANOPY Pop-Up. This trio also offers the best water resistance for heavy rain, though the Rightline, Clam Outdoors, and Pacific Breeze shelters are waterproof enough to keep you dry in light or moderate rainfall.
Durability
The main indicators of durability are the materials used in the canopy frame and fabric.
With canopy frames, you'll have a choice between steel, aluminum, and fiberglass poles. Steel poles are by far the toughest of the bunch. Aluminum frames are lighter, but far less sturdy, and fiberglass poles, though lightweight, are the weakest.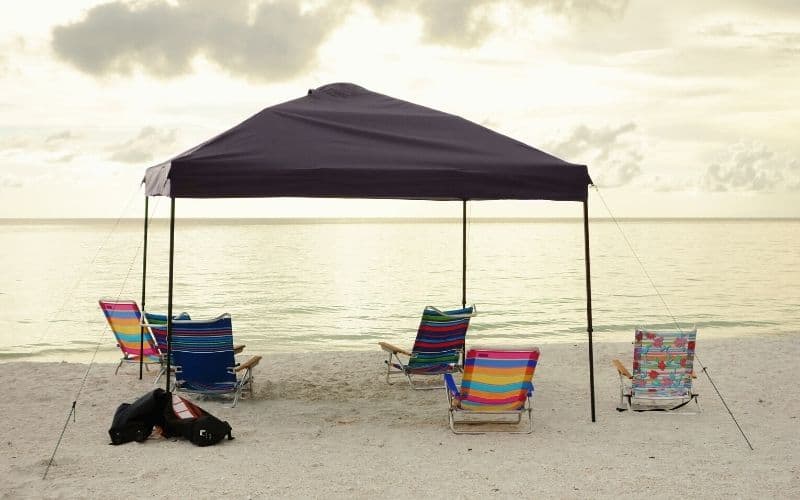 And the fabric? The durability and rip-resistance of the fabric will primarily depend on its density, something that's measured in denier ('D'). In short, the denser the fabric is, the tougher and more durable it will be. For example, the Ohuhu's 420D PVC fabric is likely to prove far more durable than the Clam Outdoors' 210D fabric.
Having burlier fabric adds weight, of course – the Ohuhu weighs nearly twice as much as the Clam Outdoors Canopy – so choosing between two models might come down to whether durability or portability is higher on your list of priorities.
Portability
Will you be pitching your canopy right next to where you park your vehicle or schlepping it hundreds of yards before setting it up? Answering this question is often the key to narrowing down your options.
The most portable option on our list is the Pacific Breeze, though it's worth bearing in mind that this offers far less shelter than all the other canopies on our list. The least portable are models like the Eurmax and Ohuhu Pop-Up, which weigh 71 and 62.9 pounds respectively, so are only a good pick if you will be setting up close to your vehicle and have many hands to help out.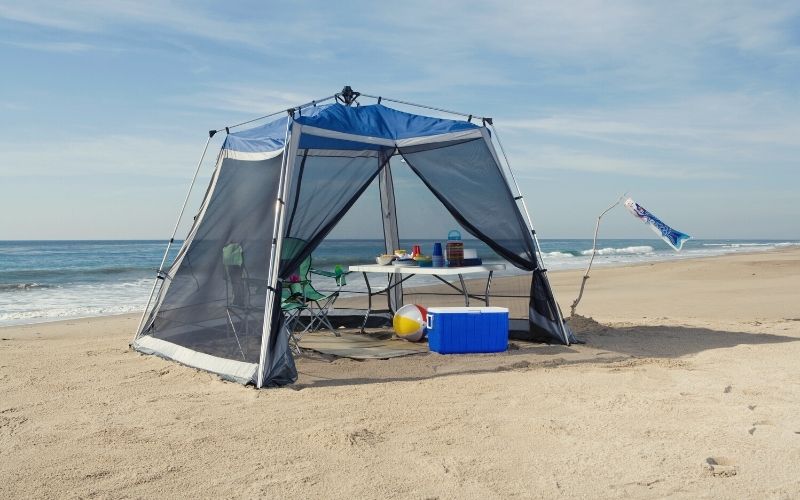 Best Instant Canopy Tent: The Verdict
Found what you're looking for? If not, let's have a quick recap of our recommendations per event or activity type.
For yard parties, flea markets, farmer's markets, commercial use, or even the odd wedding, our top pick is the Eurmax 10 X 10. This classy shelter is unrivaled in its quality and can be adjusted to suit just about any situation.
If the Eurmax is too pricey for your palate, the next best thing is the Ohuhu Pop-Up. This might not be as sturdy as the Eurmax and has only one detachable sidewall, but it's less than half the price, offers the same amount of coverage, and is still a great performer in strong winds.
Heading to the beach? If so, the Pacific Breeze is the best popup canopy for your needs. It's light, easy to assemble, and provides plenty of protection against the sun and breeze, Pacific or otherwise.
And if you're camping in buggy locations, take your pick between the Clam Outdoors Escape and REI Co-Op SH, both of which are dedicated bug-blockers. Of the two, the CO Escape is more stable but the REI SH is lighter and marginally better for camping trips.
How did you like our article? If you have any questions or comments, drop us a line in the box below? And if you'd like to share this post with your friends, please do!