The Best Rain Poncho for Backpacking & Hiking: Our Top 9 Picks
Why Take Waterproof Ponchos With You on The Trails
Once eschewed by "serious" hikers as an unnecessary and impractical fad, in recent years rain ponchos have gained serious traction in the outdoors world. Below, we've listed the reasons for this rise in popularity.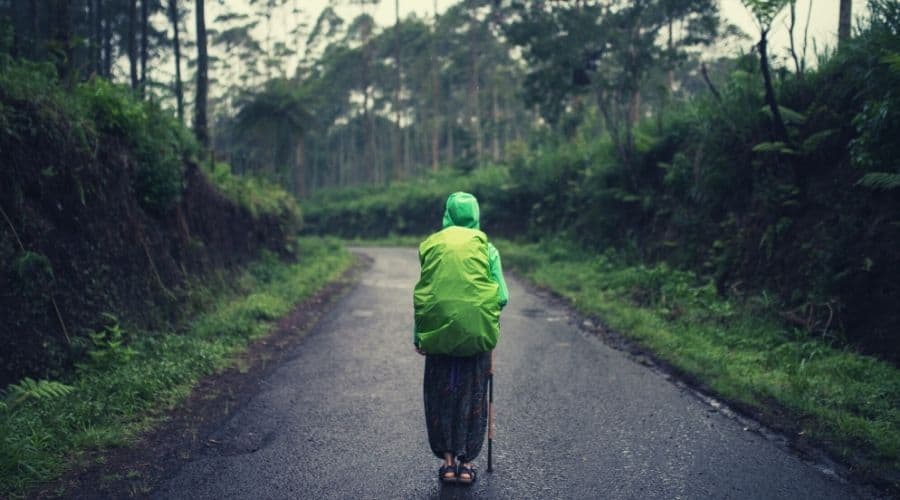 They're more affordable than rain pants and rain jackets.
They're lightweight.
They're compact.
They keep you and your backpack dry.
Many models double as a tarp or emergency shelter.
They provide better ventilation than jackets.
Some provide full-body coverage.
In the interests of a balanced argument, here are some reasons why you might prefer to plump for an old-fashioned pants-and-rain-jacket combo instead:
They don't offer the same level of wet-weather protection as hardshell jackets and pants.
They tend to billow and flap in windy conditions.
You kinda look like the grim reaper when wearing one.
What to Look for in a Lightweight Rain Poncho for Hiking
Water Resistance
Different poncho models offer different levels of water resistance. While some are designed to keep you dry no matter how hard the rain's falling, others are only capable of withstanding light and short-lived rain showers.
The factor that determines a poncho's level of waterproofness more than any other is the material used in its construction.
Materials
The most commonly used materials are nylon, polyester, and polypropylene.
Nylon – Although nylon isn't a very water-resistant material in itself, most nylon-based rain ponchos use nylon that's PU, PVC, or silicone-impregnated to provide added water repellency. Nylon is less breathable than polyester, but it's also more durable and resistant to punctures and abrasion.
The Snugpak Patrol and Exped UL are nylon based models in our review.
PU-Coated Polyester – In this case, polyester is treated with a liquid protective film made of waterproof polyurethane that also makes the fabric tear-resistant.
The Charles River Pacific and Terra Hiker are made with PU-coated polyester.
Polypropylene (PP) – While famous for its versatility, PP is not the most durable option and is typically only used in budget-priced ponchos.
FROGG TOGGS Ultra-Lite is the only polypropylene model in our review.
Waterproof Rating
Most manufacturers will list their products as either "water-resistant" or "waterproof", but the only way to know the level of weather protection they provide for sure (short of treating them to the acid test of a wet day on the trails) is to look for the fabric's hydrostatic head rating.
Hydrostatic head ratings are used to measure how much water pressure a fabric can withstand before it begins to leak, the higher the HH rating, the more waterproof the fabric will be. In product descriptions, this rating is given in millimeters (i.e. 3,000 mm).
In our review, the most waterproof poncho is the Deerhunter Survivor. It has a HH rating of 10,000 mm thanks to its use of a Deerhunter Stormliner waterproof-breathable membrane.
Breathability and Ventilation
Rain ponchos' loose fit means that they are far better-ventilated than standard rain jackets. The main benefit of this is that they allow your sweat and body heat to escape while you hike, thereby reducing the risk of overheating or your interior layers becoming saturated in perspiration.
Nevertheless, many of the coatings used to produce rain ponchos with added water repellency use fabric that is far less breathable than the types used in waterproof-breathable rain shells. As such, a few extra ventilation features are needed to avoid things getting stuffy.
Some have pit zips that allow you to boost airflow to the upper body without exposing yourself to the rain, while others have side poppers or a full-length main zipper that can be opened/downed to dump heat when necessary. Models that use a waterproof-breathable membrane, like the Deerhunter Survivor, are generally the most breathable of the bunch.
Fit and Mobility
Most ponchos are "one-size-fits-all," but this doesn't mean that all ponchos are the same size – far from it.
When buying, you need to think not only about your body size but also about the size of backpack you plan on carrying. Some models are designed to provide enough room for only a smaller daypack, while others have extended back panels that leave space for large backpacking packs. Needless to say, tighter-fitting ponchos can also restrict mobility.
In our review, there are two rain ponchos designed to accommodate a larger pack (60 liters and over), the Terra Hiker and the S2S Nano. The Exped Pack UL is also available in three sizes, the largest of which can easily accommodate larger packs.
When buying, you'll also have to decide if you want full-body coverage or not.
Models like the Snugpak Patrol (56.7"), Mil-Tec Waterproof (56.6"), and S2Summit (57"), offer coverage down to just below the knee. The Terra Hiker (36"), however, will only cover most users down to the waist.
Weight and Packed Size
Because your poncho will spend a lot of time in your backpack, only to be deployed when the wet stuff comes, its weight and size are a crucial consideration.
The lightest model on our list is the Exped UL, which weighs just 7.1 oz. The CRA Pacific is the heaviest at 17.76 oz. but is a far more durable option.
Also bear in mind that many lightweight ponchos are made with thinner and less rugged materials, or may lack some of the handy features – zippers, pockets, grommets, etc. – found in heavier models.
Durability
As with any outdoor product, a rain poncho has to be durable to be good value for money.
Of all the fabrics used in the rain ponchos in our review, nylon, PU-coated polyester, and PVC are the most durable, while EVA and polypropylene are the least durable.
Beyond the type of fabric used, the fabric's density is another key indicator of how durable and resistant to rips and tears it will be. Fabric density is measured in denier (e.g. "15d") and, generally speaking, the higher the denier count, the tougher the fabric will be.
Versatility
Some rain ponchos are "multi-functional," meaning they can double as a tarp, ground cover, or even as a shelter. This versatility makes such models especially appealing to gram-counting minimalists who are keen to cut down on pack weight for multi-day adventures.
A few of the ponchos on our list are multifunctional. The Terra Hiker can be used as a mat, shelter, or sunshade. The S2S Nano can be used as a pack cover, groundsheet, tarp, or emergency shelter. The Mil-Tec Waterproof can be used as a shelter, groundsheet, or sleeping bag cover.
Extra Features
Compared to hiking jackets, ponchos aren't blessed with many features. Nevertheless, there are a few add-ons that can help to make one model a more practical choice over another:
Adjustable Hood – This lets you cinch the hood down on your head, preventing it from being blown back when hiking in strong winds. All of the ponchos on our list have adjustable hoods
Grommets and Eyelets – Commonly found in multi-functional ponchos, these can be used to peg the poncho out with stakes or ropes to create a tarp shelter.
Pockets – These are handy for storing your map, compass, and other small essentials. In our review, only the Snugpak Patrol, Vaude, Deerhunter, and Exped Pack UL have a pocket.
FAQs
How Should I Store My Hiking Poncho?
To prevent it from falling victim to mold and mildew, clean and dry it thoroughly after each use and hang it up in a well-ventilated space.
How Can I Be Sure That a Poncho Will Fit?
Instead of relying on the "one-size-fits-all" or "unisex rain poncho" description in the product listing, make sure you check the dimensions before buying.
If you're wearing a large backpack, you'll probably need 50+ inches of width to avoid having an overly snug fit. If you're not, a wider model (50"-60") may flap around excessively in the wind and/or leave you feeling like you're hiking inside a windsock.
The length you need largely depends on your height, but also on whether or not you want full-body coverage.
Some models measure as little as 36" long and will cover the average adult hiker only down to the waist. On the other hand, full-coverage ponchos can measure as much as 60" long. While this is great for taller hikers who want to leave the waterproof pants at home it will only pose a trip hazard for shorter people.
How Do I Know If I Can Use My Rain Poncho as a Shelter?
Because it's a major selling point, manufacturers will state that their product can be used as a tarp or shelter if this is the case.
How Do I Get The Wrinkles Out of My Poncho?
When not in use, don't leave it in a stuff sack, storage bag, or folded on a shelf. Instead, air it out and hang it up in a cupboard.
With most rain ponchos, you can also use a steamer on a low heat to release the creases faster.
When you need new duds to wear on the trails, make sure to check out our other in-depth guides!
Last update on 2021-10-16 / Affiliate links / Images from Amazon Product Advertising API