Hammock camping in buggy conditions is an art form, to say the least. Whether you call them mozzies or skeeters, those biting bugs are sure to put a damper on your outdoor adventures if not stopped in their tracks.
In fact, when the mosquitos and midges are out in full-force, there's only one thing that can help you get the Zzz you need at night: a quality mosquito hammock for camping.
With so many different bug-netted hammocks for camping available, though, it can be tricky to find the right one for you. To help you decide, we've put together this guide to get you started.
Coming up, we'll give you the scoop on the best options with mosquito protecting capabilities on the market. As an added bonus, we'll even offer some tips to help you choose the right model for all your hammocking needs.
Editor's Choice
ENO JungleNest
Providing outstanding all-around performance in all kinds of conditions, the ENO JungleNest is one hammock with mosquito net protection that every hammocker ought to have in their pack.
Lots of features set this one apart from the best of the rest. In particular, though, is the 210D ripstop nylon construction that brings you that much-needed extra tear-resistance and durability. At the same time, it boasts breathable no-see-um netting to help you beat the bugs. If that wasn't enough, it's also among the lightest and most packable options on the market.
Of course, we'd prefer if it came with its own straps and tarp like some of the other models available. Despite this shortcoming, however, the ENO JungleNest is still an incredible shelter for all your hammocking needs.
Bottom line: Whether you're backpacking or car camping, it's hard to argue with the quality of the ENO JungleNest.
RELATED: Best Backpacking Hammock
The Top Mosquito Net Hammock: What To Look For
If you want to camp in buggy environments, a hammock with mosquito net protection is your go-to shelter.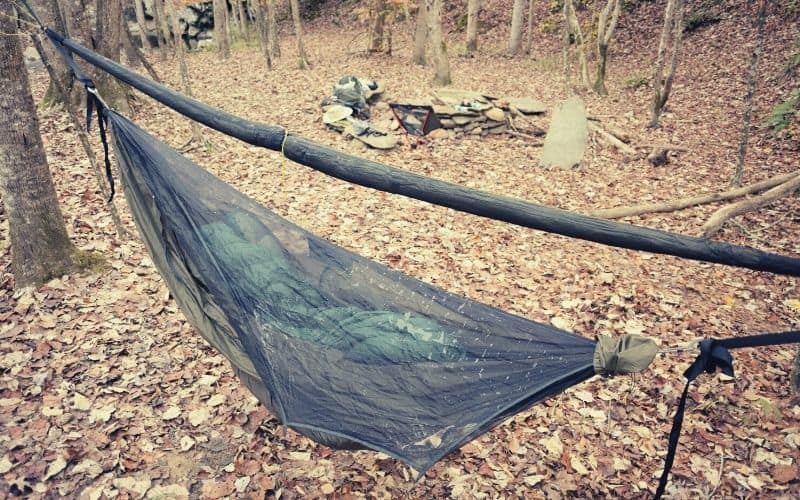 However, hammocks are notoriously tricky pieces of gear to shop for. That's because they're so jam-packed with features and technology that it's hard to know where to start with your analysis.
To get you started, here are some of the most important things to look for when shopping for a camping hammock with mosquito net protection.
Bug Netting Mesh Size
If you're reading this article, you're probably pretty darn concerned about protecting yourself from biting insects at night. In these situations, a mosquito hammock is a sure bet and a must-have.
That being said, not all mosquito nets are made equal. In fact, some bug nets are better designed to protect you from annoying insects than others.
In particular, you'll want to pay close attention to the type of bug net that you buy. While mesh netting might all seem similar, there are actually two types that you'll find on so-called "mosquito net hammocks":
Mosquito Net Mesh: Aptly named, mosquito net mesh is a highly breathable fabric that's designed to protect you from pesky mosquitoes. It usually has a pore size of about 200 holes per square inch. This is generally sufficient if you want to avoid mosquito bites at night. However, it won't do much if you're camping in an area with blackflies or midges.
No-See-Um Net Mesh: Engineered to have a smaller pore size of at least 500 holes per square inch, no-see-um net mesh is ideal for use in very buggy locales. It might not be as breathable as its mosquito-specific counterpart, but it's hard to beat in terms of functionality and protection from airborne terrors.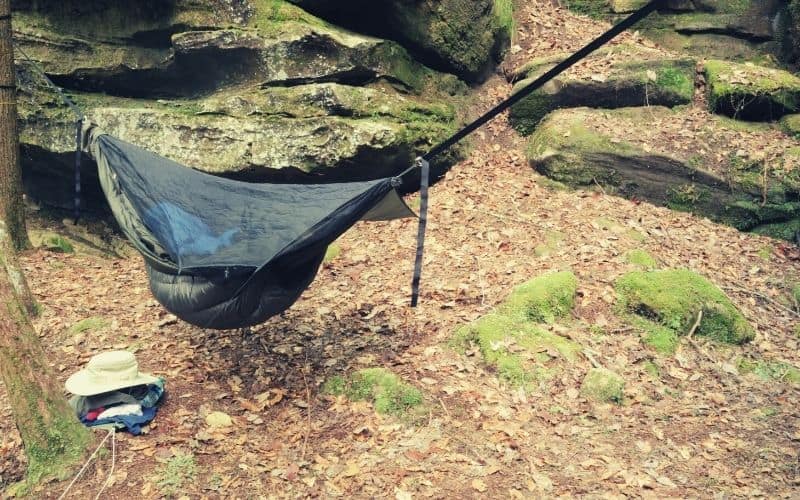 Entry & Exit System
While most hammocks are relatively easy to get in and out of, mosquito net hammocks pose an added challenge, mainly due to the mosquito net itself.
Since most bug net hammocks feature integrated mesh nets, it can be a bit trickier to get in and out of your sleeping area at night. As a result, most high-quality bug-proof hammock models come with a large zipper for entry and exit.
Nevertheless, not all zippers are as conveniently located as others. So, if ease of entry is important in your hammock, you'll want to look for a model with a full-length zipper. Doing so will help ensure that getting in and out of your bed for the night is as easy and hassle-free as possible.
Maximum Weight Capacity
As with any hammock, knowing the maximum weight capacity of your bug-proof hammock is essential. That's because exceeding this stated capacity can damage your hammock or even cause injury at night.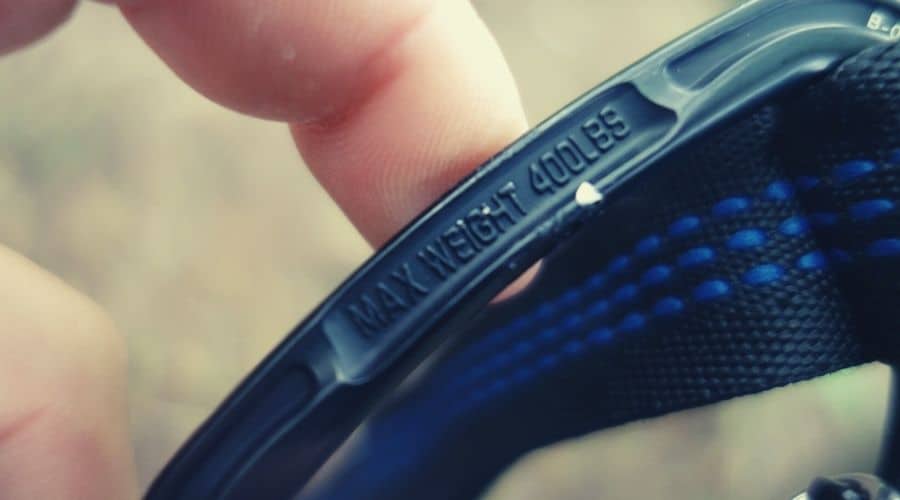 It's important that you carefully consider the total weight capacity of your hammock before you buy it, and then compare this to the weight of the user(s).
As a general rule, it's better not to load a hammock beyond 80% of its stated capacity for peak performance. So, if you weigh 200 lbs, a hammock with a 250 lb capacity is ideal. Alternatively, for two-person adventures, you'll likely need a hammock that can support at least 400 lbs.
Sleeping Area Size & Comfort
Your comfort is essential wherever you're doing your snoozing under the stars, and no less so in a hammock. As such, it's imperative that you get a bug-proof hammock that is comfortable enough for your needs.
When it comes to comfort, one of the most important things that you'll want to look out for is the sleeping area size of your hammock.
Generally speaking, most people will find that they need a hammock that's at least 10' long for a good night's sleep. However, taller folks might want to look for hammocks that are 11' or even 12' long for extra space while they snooze.
Additionally, it's worth considering the width of your hammock before you commit to a specific model. Most folks will find that solo models that have a 3' to 4' width are more than sufficient. However, if you're looking for two-person hammocks, one that's 5' to 6' in length is the better choice.
Finally, it's worth considering how having a bug net draped over your head at night might affect your comfort.
Some people really don't like having mesh netting near their face while they snooze. If this is the case for you, it might be worth considering models that come with poles or frames to help prop up the mesh netting above your head while you sleep.
Weather Protection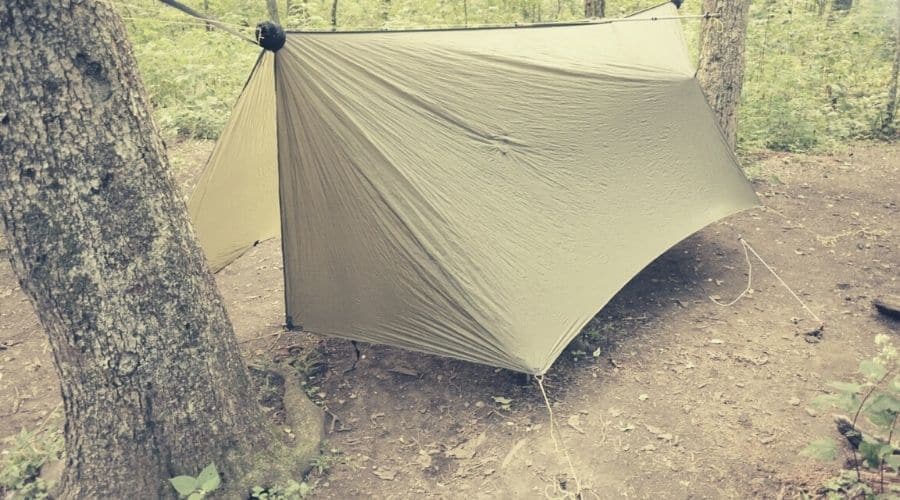 As a general rule, you'll find that hammocks are not waterproof. Since most hammocks are designed to be open-air shelters, you'll be exposed to the elements at night.
Thankfully, some models also come with durable, weatherproof fabrics, like ripstop nylon, to protect you from the rain and wind. Some hammocks on our list also come with their own tarp system to shield you from foul weather.
RELATED: Learn proper hammock tarp setup with our guide
Therefore, if weather protection is a chief concern, you may want to consider a hammock that comes with its own tarp. Alternatively, you could always buy a tarp separately, but this is another expense that you ought to consider.
Ease of Set-Up
Hammocks can sometimes be pretty darn complicated to set up. All those knots, straps, and carabiners are enough to make anyone's head spin, so searching for a model with an easy set-up process is ideal.
The good news is that many bug-proof hammocks now come with their own purpose-built straps. These straps usually make pitching your shelter as easy as can be, which is helpful if you're not keen on tying knots.
It's also worth considering whether your potential hammocking hang system includes poles to help prop up your bug net canopy. These included poles are helpful when it comes to your comfort at night, but they are an extra piece of gear that you'll have to set up when you arrive in camp.
Weight & Packed Size
Regardless of where you like to camp, the weight and packed size of your hammock is always a consideration.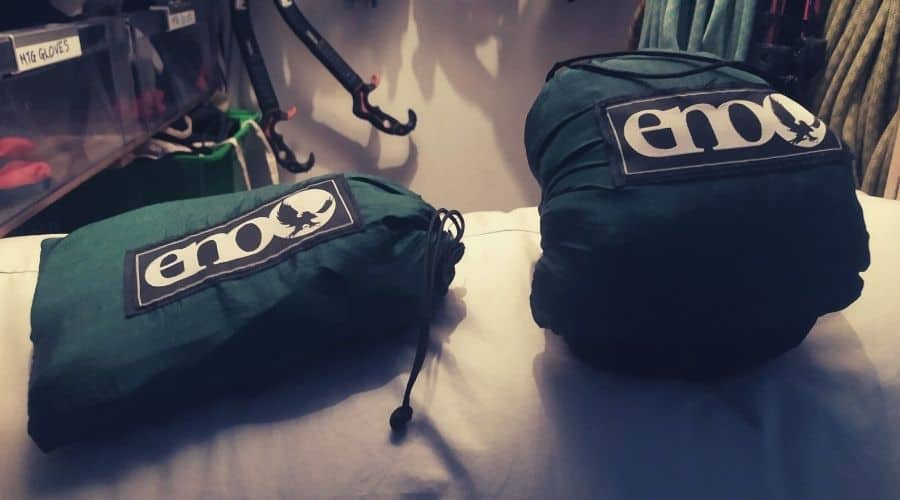 Of course, folks that spend most of their adventures in roadside locales may not be as concerned about the portability of their gear as backpackers. However, selecting a hammock that's a reasonable size and weight is important if you plan on venturing further afield before setting up for the night.
RELATED: The best sleeping pad for hammock camping
In general, you can expect most bug-proof hammocks to weigh less than 3 lbs. That said, some heavier models are better suited if durability and roominess are among your chief concerns. The bottom line? Whatever your needs, it's important to balance packability, durability, and comfort when shopping for bug-proof hammocks.
Best Camping Hammock with Mosquito Net
ENO JungleNest
Editor's Choice
Taking home the gold in our head-to-head match-up, the ENO JungleNest is one of the best camping hammocks with mosquito netting on the market today.
Tipping the scales at under 2lbs, the JungleNest is among the most portable options available. It boasts a 400 lbs weight capacity, a 12' long sleeping area, and an integrated gear storage pocket. All of this makes ideal for a wide range of different campers.
Furthermore, the JungleNest hammock is made from high-quality materials like 210D ripstop breathable nylon for improved durability. If that wasn't enough, it also has a built-in bug net that's made from no-see-um netting for complete insect protection.
That being said, it's a bit of a bummer that the JungleNest doesn't come with a suspension system or a rain fly. Nevertheless, it's still one of the most versatile options on the market.
PROs

High weight limit
Integrated gear storage system
Durable nylon material
No-see-um bug netting for enhanced insect protection

CONs

Tree straps are sold separately
Bottom-Line: The ENO JungleNest is a superb choice when it comes to keeping you safe from the bugs at night and a high-performer in every metric.
Hennessy Hammock – Expedition
Best for Wet Weather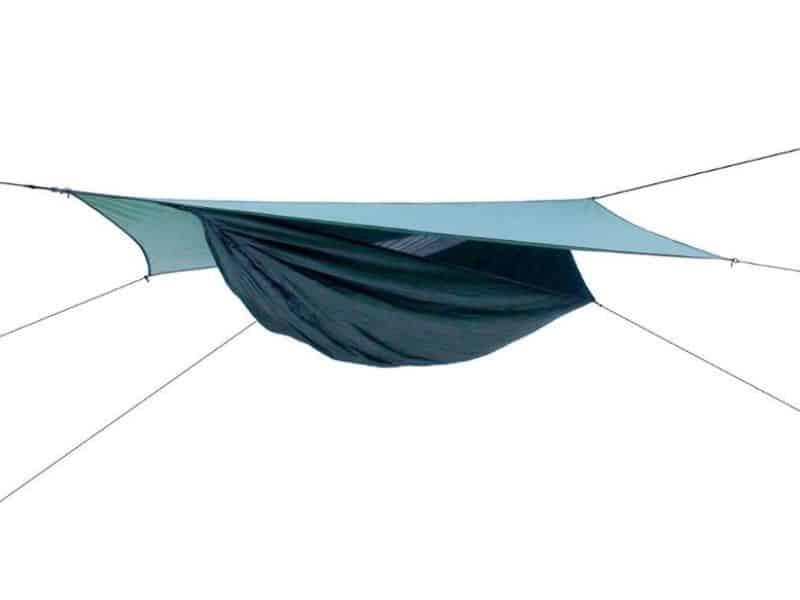 When the weather won't cooperate on your camping trip, you need a hammock that can keep you dry and safe from biting insects. Enter: the Hennessy Hammock – Expedition.
The Expedition is a fully-featured single hammock made from heavy-duty oxford nylon material. Additionally, it boasts a quality polyester no-see-um mesh netting so you can sleep comfortably at night.
The most endearing aspect of the Expedition, however, is that it comes complete with its own straps and rain fly. Plus, it also includes a set of gear pockets for simplified gear storage on the go.
However, this durable hammock is a bit on the heavy side (3.1 lbs.), despite having just a 250 lbs weight capacity. This being so, it's best for smaller folks who don't mind carrying extra weight in their pack.
PROs

Made from rugged materials
Includes everything you need for hammocking
Built with a full-length no-see-um mesh netting
Has an integrated gear storage system on one side

CONs

Low weight capacity
Fairly heavy
Bottom-Line: If you need to stay dry at night, the Hennessy Hammock – Expedition is arguably the best camping hammock with bug net and suspension system features currently on the market.
Grand Trunk Skeeter Beeter XT
Best Value
Perfect for the budget-conscious hammockers among us, the Grand Trunk Skeeter Beeter XT is your go-to choice for roadside adventures.
With the aptly-named Skeeter Beeter XT, you get an easy-to-set-up hammocking system that comes complete with a rain fly, straps, carabiners, and a stuff sack. Additionally, it features a set of fiberglass poles that keep its bug net off your face for a better night's sleep.
For added performance, the Skeeter Beeter XT is made from burly parachute nylon material with triple-stitched seams to ensure durability. Plus, this model also comes with the company's highly reassuring lifetime warranty, so you can feel confident in what you buy.
Nevertheless, it's worth mentioning that this hammock is fairly heavy (2lb 2oz) and it has a relatively short length. This means it's best for smaller campers who aren't as concerned about the weight in their pack.
PROs

Budget-friendly
Includes a lifetime warranty
Comes with straps, a stuff sack, and a rain fly
Made with triple-stitched parachute nylon

CONs

Relatively heavy
Fairly short length isn't ideal for taller campers
Bottom-Line: When keeping your bank account in the black is essential but compromising on quality isn't your thing, the Skeeter Beeter XT can't be beat.
COVACURE Double Hammock
Best Double Camping Hammock
Camping with your partner and looking forward to a bugless night while sleeping in a hammock? The COVACURE Double Hammock might just be your bag.
Perfectly sized for two people, this model boasts a 440 lbs weight capacity and a respectable 1lb 12 oz packed weight, meaning it's ideal for couples pitching up in the backcountry as opposed to by the roadside. It's also made from heavy-duty 210T ripstop nylon and no-see-um netting that's tough enough to endure rough treatment on the trail or in wilder camping locations.
As an added bonus, this hammock features an easy-to-set-up design. In particular, it includes its own tree straps that can be quickly attached to any two trees for a seamless hammock tent pitching process.
With that in mind, we ought to note that this model is fairly short. With a total length of 95", it's among the shortest double camping hammocks on the market.
PROs

Includes its own tree straps
Easy-to-set-up design
Has a burly no-see-um bug net
Lightweight, yet strong enough for two adults

CONs

Short for a double camping hammock
Bottom-Line: If cozy outdoor adventures with your partner are your ideal outdoor adventure, then the COVACURE Double Hammock is a sure bet.
ENO SkyLight
Best for Packability
When it comes to weight savings and packability, the ENO Skylight is arguably the best hammock with mosquito net protection available.
Weighing in at 2 lbs and packing down to 4.5 x 15 inches, the Skylight is a highly packable choice for ultralight adventures. Nevertheless, it's made with 40D diamond weave nylon and extra-breathable SkyWeave mesh for enhanced functionality.
The best part? The SkyLight makes full use of its included DAC spreader bars during the set-up process. These bars turn this model into a lie-flat bed that's perfectly sized for use with your sleeping pad and sleeping bag for increased comfort at night.
As you might imagine, ultralight performance doesn't come cheap. So, the SkyLight isn't exactly the most affordable choice available, nor does it have a high weight limit. But, when keeping your pack as light as possible is a priority, it's hard to go wrong with this model.
PROs

Ultralight and very packable
Lie-flat design for comfort
Highly breathable mesh
Durable nylon construction

CONs

Pricey
Limited weight capacity (250 lbs)
Bottom-Line: If gram counting is one of your favorite pastimes, the ENO Skylight is worthy of your consideration.
Lawson Hammock Blue Ridge
Best for Versatility
Searching for a mosquito hammock that can double as a 1-person tent when need be? The Lawson Hammock Blue Ridge just might be what you're looking for.
Crafted out of waterproof ripstop polyester, this innovative hammock is made to hold up in a wide range of environments. At the same time, it features shock-corded aluminum spreader bars that allow you to pitch it as either a tent or a hammock depending on the situation.
Additionally, the Blue Ridge has an ultra-fine mesh mosquito net that can also be used to keep the no-see-ums at bay. If that wasn't enough, it even comes with interior storage pockets for your gear to help you stay organized in camp.
However, the Blue Ridge is far from lightweight at 4lbz 15oz and it has a low weight limit. But, if versatility and comfort while sleeping in a hammock are among your top priorities, then this is one camping hammock and mosquito netting combo that you won't want to miss.
PROs

Can be used for hammocking or tent camping
Extra-rugged waterproof fabric for durability
Includes plenty of storage pockets for gear
Extra fine bug nets provide plenty of insect protection

CONs

Very heavy
Low weight limit (275 lbs)
Bottom-Line: For campers that prize versatility in their gear, the Blue Ridge is a hands-down winner!
Sunyear Camping Hammock With Mosquito Net
Best for Convenience
If simplicity in your gear is of the utmost importance, the Sunyear Camping Hammock with Mosquito/But Net is a solid choice.
Built out of high-quality 210T parachute nylon with a 500 lb weight capacity, this is one the best hammocks for use in rugged environments. Furthermore, it comes with a no-see-um-proof bug net to help make sure that you're protected from insects at night.
What really sets this model apart, however, is how simple it is to set up. That's because it comes with its own carabiners and tree straps to help cut your pitching time down to just a few minutes.
However, this model from Sunyear is a bit heavy (3 lbs), so it's best for use in roadside situations where portability is less important than convenience and comfort.
PROs

Quick set-up design
High 500 lbs weight limit
Includes carabiners and straps
Mosquito net can also protect against no-see-ums

CONs
Bottom-Line: For situations where you need a comfort-focused camping hammock with mosquito net protection, this model from Sunyear is the perfect choice.