Trekking in the snow and cold demands a lot of your gear, not to mention your body. So, it's essential that you have a reliable pair of cold-weather hiking pants to keep you warm and dry.
Finding the right pair of trekking pants for frigid temps isn't as simple as it may seem. With dozens of options on the market, sorting through your choices can be a challenge.
To get you off to a good start, we've put together this guide featuring 7 of our favorite options and offering top tips to help you make your choice.
Further reading: If you're looking for some general all-weather pants then check out our guide to the best hiking & backpacking trousers.
Editor's Choice
Arc'teryx Gamma LT
If you're going to take one pair of women's winter hiking pants into the mountains, the Arc'teryx Gamma LT is sure to impress. Thanks to their water-resistant construction, stretchy fabric, and articulated patterning, these hiking pants for women provide all but peerless comfort and performance.
The Gamma LT boasts an assortment of pockets with zippers to help you stay organized while you're out on your winter wanders. For the finishing touch, Arc'teryx gave these winter hiking pants an adjustable waistband and integrated belt for improved comfort throughout all your adventures.
Bottom line: If you need the best women's winter hiking pants, the Arc'teryx Gamma LT is hard to top.
Further reading: If you're looking for some general all-weather pants then check out our guide to the best hiking & backpacking trousers.
What To Look For In Winter Hiking Pants
If you're on the market for your next set of winter-weather pants, have no fear—we're here to help. In this section, we'll discuss the most important features that you ought to keep in mind as you shop.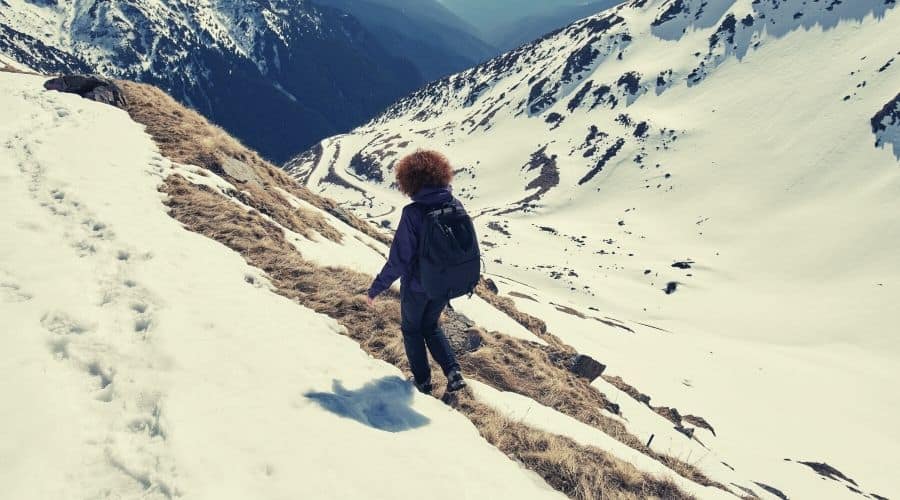 Weather Protection
If you're trekking in foul wintery conditions, it's imperative that you have gear that can protect you from the snow and the rain.
With winter activities, your key concern is staying reasonably dry while outside. However, this may not necessarily mean that you need to get yourself a set of waterproof pants.
RELATED: Best Rain Pants
In fact, most winter trekking pants are made to be water-resistant rather than waterproof. That's because water-resistant models, like the Arc'teryx Gamma LT, offer much more in terms of breathability and comfort in a wider range of conditions.
However, if you plan to spend a lot of time in snowy environments, a waterproof model, like the Patagonia Calcite, may be a good choice. If waterproofing is your top concern, keep an eye out for the following features as you shop:
Waterproof-Breathable Membranes: These membranes (often sold as brand names like Gore-Tex or eVent) are designed to help you stay dry in the mountains.
DWR Coatings: Durable water repellent (DWR) coatings help water bead off of trouser fabrics to prevent you from getting wet.
Waterproof Zippers: If your pants have side zippers, waterproof models are ideal for staying as dry as can be.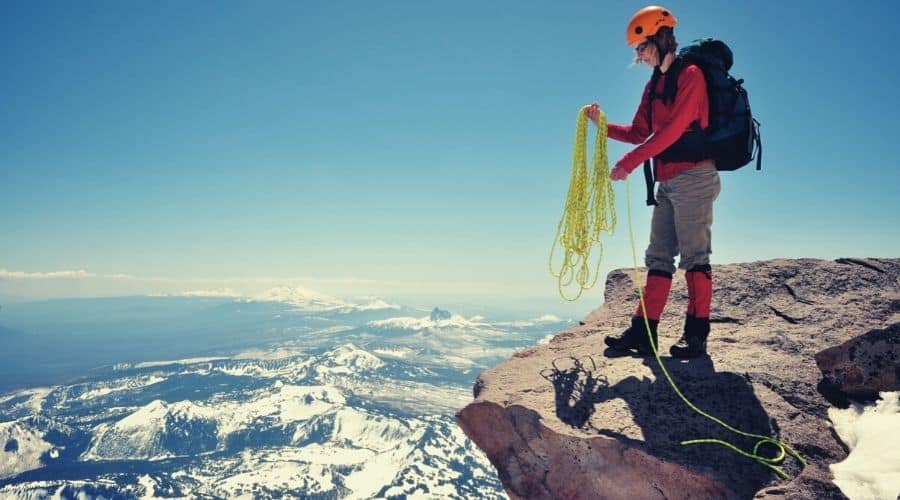 Insulation & Warmth
While many of us might automatically think that we need insulated pants for trekking in the winter, you'll often find that non-insulated models are more functional in a wider range of conditions.
That's because highly insulated pants are often too warm for use during active pursuits, like backpacking, rock climbing, or mountaineering. As a result, it's often better to opt for non-insulated models that you can layer with base layers to maximize your warmth and comfort.
If you do want to get insulated pants for use in especially frigid environments, consider opting for a model, such as the Outdoor Research Cirque II, which have a slightly thicker fabric. This extra fabric thickness can provide more warmth than you might initially think, especially when layered with a set of long underwear.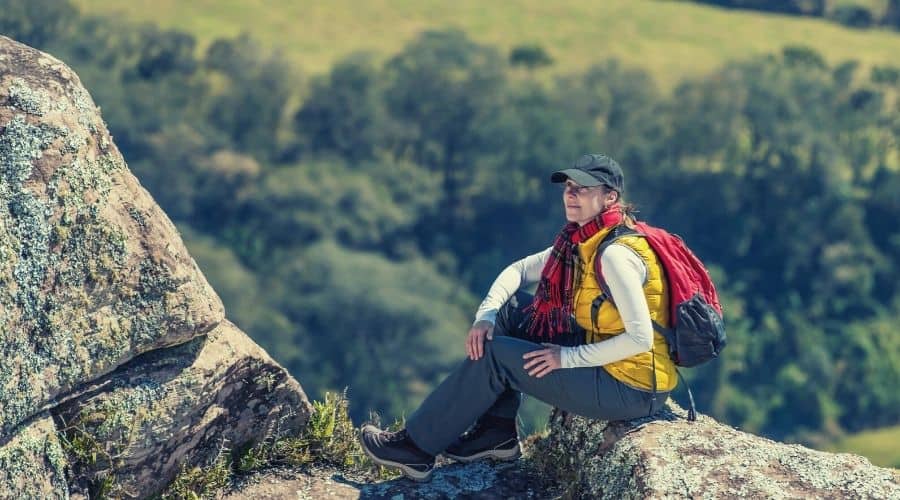 Durability
Durability is key in all outdoor gear and winter trekking pants are no exception. As you shop, keep an eye out for models with the following key features:
Reinforced Ankle Patches: For anyone that hikes with crampons or snowshoes, reinforced patches on the inner ankle are a must to ensure your gear lasts for years to come.
Abrasion-Resistant Materials: Rugged nylon and polyester face fabrics are a sure bet for trekking pants where durability is key.
Reinforced Knees: If you spend a lot of time in technical terrain, reinforced knees can help ensure that your gear stays in good working condition.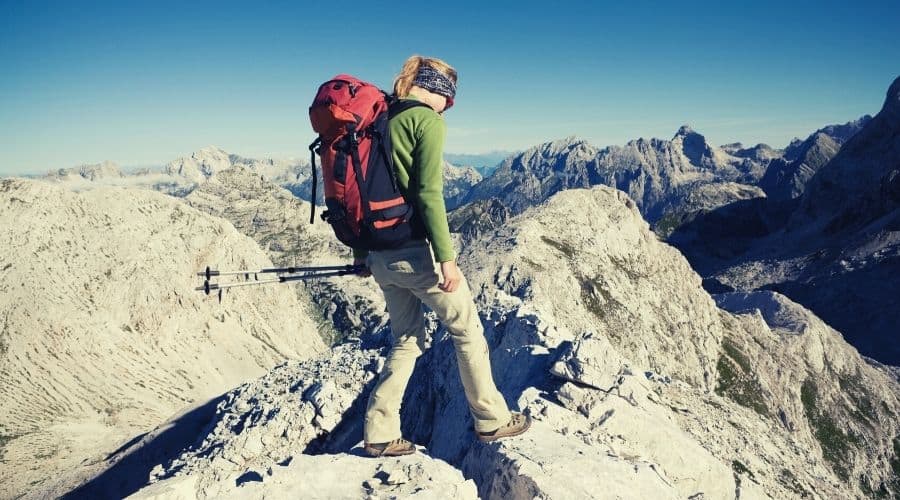 Fit & Comfort
Trekking and backpacking pants are one of those pieces of gear where fit and comfort are of the utmost importance.
RELATED: Best Pants for Mountaineering
While it can be tricky to know what's comfortable and what's not as you shop, look for comfort-adding features, such as adjustable waist belts, articulated knees, and a gusseted crotch whenever possible.
Moreover, we generally recommend sizing up with winter pants so you can wear them with base layers underneath. This is especially true with shell-type models, such as the Mountain Hardwear Exposure/2, but it's a solid practice regardless.
7 Best Women's Winter Hiking Pants
Outdoor Research Cirque II
Best for Cold Temperatures
When the mercury drops, the durable Outdoor Research Cirque II are some of the best winter hiking pants to have with you in the mountains.
Engineered out of an abrasion-resistant 90D nylon with a DWR finish, these water-resistant pants are thick enough to keep you toasty in cold weather. At the same time, however, they're still stretchy and breathable, which makes them about as versatile as pairs of pin-protectors come.
In addition to their zippered hand and thigh pockets, which are great for stashing gear, the Outdoor Research Cirque II women's winter pants have articulated knees and a gusseted crotch for extra range of movement. They also have reinforced lower legs to decrease the risk of damage when wearing snowshoes or crampons.
Of course, the Cirque II's thicker fabric means it's not as ideal for balmy winter days. However, it does also come with moisture-wicking Active Temp technology, which is perfect for more high-octane pursuits.
PROs

Highly durable materials
Water-resistant nylon with DWR
Plenty of zippered pockets
Reinforced paneling on the inner ankle

CONs

Fabric isn't breathable enough for warm days
A bit pricey for non-waterproof pants
Bottom-Line: The Outdoor Research Cirque II are an incredible pair of hiking pants for cold weather in alpine terrain.
REI Co-op Activator V2 Soft-Shell
Best Value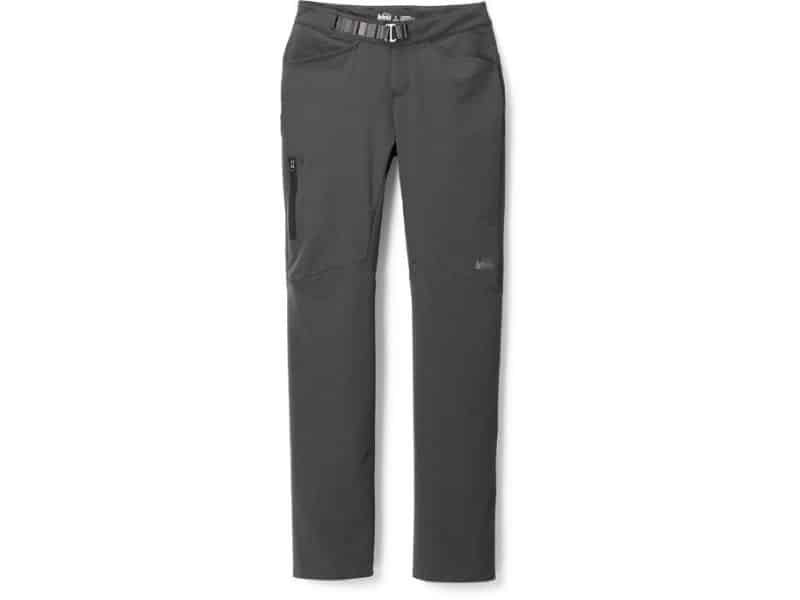 For go-getters on a budget, the REI Co-op Activator V2 Soft-Shell Women's Hiking Pants are hard to beat.
Featuring a super stretchy fabric that's bluesign approved for sustainability, the Activator V2 can breathe well and dry quickly in any mountain environment. Plus, this soft-shell material is even treated with a durable water repellent (DWR) finish for increased weather-resistance while winter hiking.
REI also designed this model to be wind-resistant in foul conditions for added comfort. Meanwhile, articulated knees, an adjustable waist, and a center gusset help make sure that these pants provide the comfortable fit and full range of motion you need on the trail.
There are also non-zippered hand pockets and zippered cargo pockets on these warm wintery weather hiking pants for added gear storage.
That being said, it's worth pointing out that the relatively thin fabric on the Activator V-2 isn't ideal for very cold weather. So, you may find that you need to wear a base layer in frigid temps.
PROs

Very stretchy soft-shell fabric
Durable water repellent treated and wind resistant
Very affordable price point
Quick drying for use in wet environments

CONs

Hand pockets aren't zippered
Too thin to be used without a base layer in cold temps
Bottom-Line: If sticking to your budget is your chief concern, then the Activator V2 Pants deserve a place somewhere very near the top of your shopping list.
KUHL Frost Soft-Shell
Most Comfortable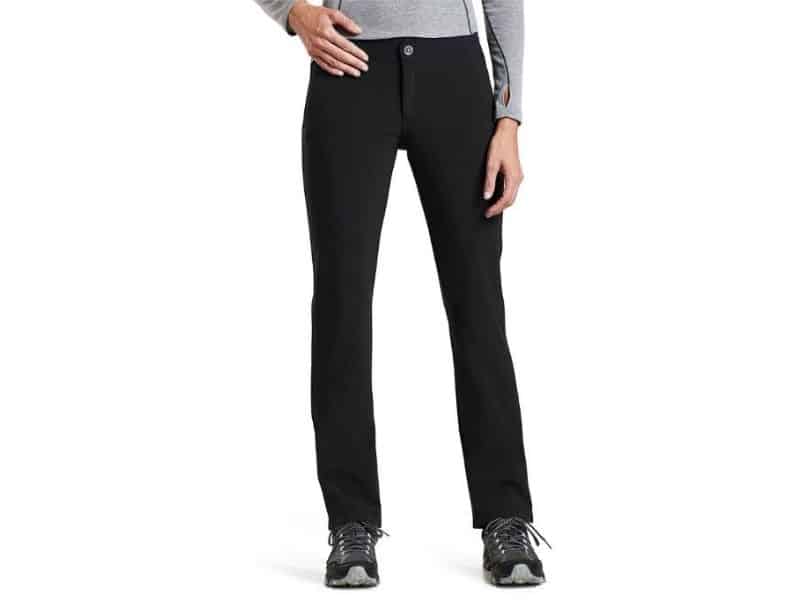 Our go-to choice if a comfortable fit is your top priority, the KUHL Frost Soft-Shell Pants are a solid option for wintery conditions
Boasting a polyester and spandex fabric, these winter hiking pants are designed to stretch with you for exceptional range of motion when you're on the move. Their mid-rise elastic waist allows for added comfort in the mountains while a rib-knit inner liner helps provide some much-needed moisture wicking on the trail.
Furthermore, the KUHL Frost's active fit couples well with its included bottom hem gusset, which allows each pant leg to comfortably fit over the bulkiest of winter boots. Oh, and this model even comes with a layer of microfiber fleece on the inside, so you can wear them in nearly any weather conditions without the need for an extra base layer.
Nevertheless, one feature that doesn't quite impress with the KUHL Frost is its lack of a reinforced lower leg. Therefore, care is needed when trekking with crampons or snowshoes to ensure you don't rip your hiking pant legs.
PROs

Very cozy active fit and breathable fabric
Layer of microfiber fleece for added warmth
Lower hiking pant leg can fit over a pair of boots
Elastic waist for enhanced comfort

CONs

No reinforced lower pant leg for added durability
Bottom-Line: One of the top women's insulated pants out there. When comfort is of the utmost concern, you'll struggle to find anything better.
Arc'teryx Gamma LT Pants
Editor's Choice
Snagging the top spot in our review and our Editor's Choice award, the Arc'teryx Gamma LT is our pick for the best winter hiking pants for women on the market today.
These lightweight pants feature Arc'teryx's proprietary DWR-treated Fortius DW fabric, which is crafted for stretch, water-resistance, and comfort on winter hiking adventures. Plus, they even have zippered hand and front pockets throughout for gear storage.
Thanks to their articulated knees, gusseted crotch, and straight leg construction, the Gamma LT are as comfortable as it gets on the trail. They also come with a number of belt loops and an included webbing belt for an improved fit in any weather conditions.
Like anything with the Arc'teryx name, however, the Gamma LT isn't exactly the most affordable option out there, nor are they insulated, so you'll want to pair them with a base layer for cold weather. But, if you're on the lookout for some superb, performance-oriented winter hiking pants for women, these pants are a serious contender.
PROs

Durable water repellent treatment
Articulated patterning and gussets for comfort
Plenty of zippered pockets for storage
Integrated webbing belt for an adjustable waistband

CONs

Pricey for non-water resistant trousers
Bottom-Line: Pricey as they may be, the Arc'teryx Gamma LT are a solid choice for all-around winter hiking pants.
Patagonia Calcite
Best For Light & Fast Hiking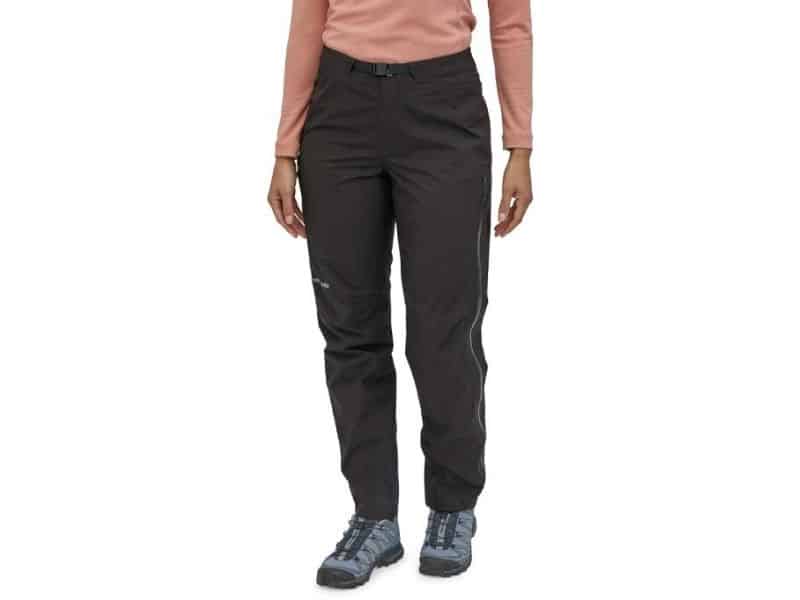 If your ideal winter hiking trip is an ultralight mission into the mountains, you need a set of pants that can keep up with your fast pace. Enter: the Patagonia Calcite.
Decidedly lightweight at just 10.1oz (286g), the Calcite is built out of 75D recycled polyester for maximum weight savings and eco-friendliness. They also boast a layer of Gore-Tex Paclite Plus with a DWR finish to make them waterproof and wind-resistant enough to keep you dry in even the most heinous conditions.
Taking things a step further, these Fair Trade Certified winter hiking pants have a whole host of performance-centric features. For example, they have water-tight 2-way zippers on each pant leg for ventilation in light rain as well as scuff guards on the lower leg for added durability.
If we had to pick something that doesn't quite impress about the Calcite, it'd be that they don't come with pockets and that you'll certainly want to wear base layers with them to keep you warm. However, if you want a truly water-repellent and lightweight pant, you don't have to look further than this fantastic creation from Patagonia.
PROs

Ultralight design for alpine missions
Water-tight zippers on each pant leg to keep you dry
Fair Trade Certified and made from recycled fabric
Made from Gore-Tex Paclite waterproof-breathable fabric

CONs

No pockets
Need to wear base layers underneath for warmth
Bottom-Line: For days when the weather just won't cooperate on your winter adventures, the Patagonia Calcite are some of the best women-specific trousers available.
Mountain Hardwear Exposure/2
Best For Snowy Conditions
When snow is in the forecast, you need a solid pair of winter hiking pants, like the Mountain Hardwear Exposure/2, to keep you dry and warm in inclement winter weather.
Crafted out of industry-leading Gore-Tex Paclite and treated with an eco-friendly PFC-free DWR coating, the Exposure/2 are some of the best hiking pants for staying dry in snowy conditions. Plus, they even come with full-length side zippers on each pant leg for easy ventilation in light rain or snow flurries.
Meanwhile, the Exposure/2 features articulated knees and a relaxed fit for increased mobility as you cruise over tricky terrain. There are also adjustable tabs on the elasticized waistband of these winter hiking pants to help you get a better fit during your adventures.
It's worth noting, however, that many hikers find that these trousers have inconsistent sizing, so you may want to size up when you order. They also don't come with pockets, but if weight savings are more of a priority for you, a lack of front pockets is a small trade-off.
PROs

Eco-friendly PFC-free DWR-finish
Full-length side zippers for added ventilation
Relaxed fit, articulated knees, and adjustable waist improve comfort
Gore-Tex Paclite fabric is breathable and waterproof

CONs

Sizing is a bit inconsistent
No pockets
Bottom-Line: Lightweight, comfortable, and fully waterproof, the Mountain Hardwear Exposure/2 are a reliable set of winter hiking pants for women who like getting their wander on in snowy conditions.
Columbia Women's Saturday Trail II
Best For All-Season Hiking
For folks who want one set of winter hiking pants that can do it all, the Columbia Women's Saturday Trail II is a must-have.
When designing this great pair of pants, Columbia pulled out all the stops. They crafted this model out of their proprietary comfort-focused Omni-Shield Summiteer Lite nylon fabric that also features their Omni-Shade UPF 50 sun protection technology.
Moreover, as some of the best women-specific convertible hiking pants for year-round use, this model also converts into 10" inseam shorts for summer conditions. If foul weather is more of your concern during the winter months, these trousers also come with a DWR finish to keep water at bay as you hike.
Since these are all-season hiking pants, though, they are a bit on the thin side. As such, they're best paired with a base layer when heading out in particularly frigid conditions.
PROs

Water-resistant design
Features a convertible construction for year-round use
Built-in sun protection for alpine environments
Fairly affordable

CONs

Relatively thin fabric isn't ideal in very cold temps
Bottom-Line: The Columbia Women's Saturday Trail II are a set of convertible hiking pants that have all the features and versatility you need for all-year-round adventuring.