Guide Tennie Approach Shoes: On Paper
A quick review of the Five Ten Guide Tennie specs and composition should tell you what these approach shoes are all about.
The uppers are made from a combo of nubuck leather and synthetic fabric to give a nice balance between breathability with durability, and a burly rubber rand provides ample protection for your toes. The sole and toe box are made with Five Ten's C4 Stealth rubber – the same kind used in many of the brand's technical rock climbing and bouldering shoes. 
A cushy, compression-molded midsole provides underfoot protection and support on rocky trails, while the new ErgoNomic last, athletic-fitting heel and lace-to-toe closure ensure a snug fit around the foot and make them a little more precise and technical than standard Tennies.
At 29 ounces per pair (size 10), the Guide Tennies are on the hefty side. This, combined with the very shallow sole tread, earmarks them as shoes better suited to short hikes on rock and scrambling rather than all-day, long-distance hiking shoes for gritty or muddy trails. But did these first impressions stand up to closer scrutiny in the field?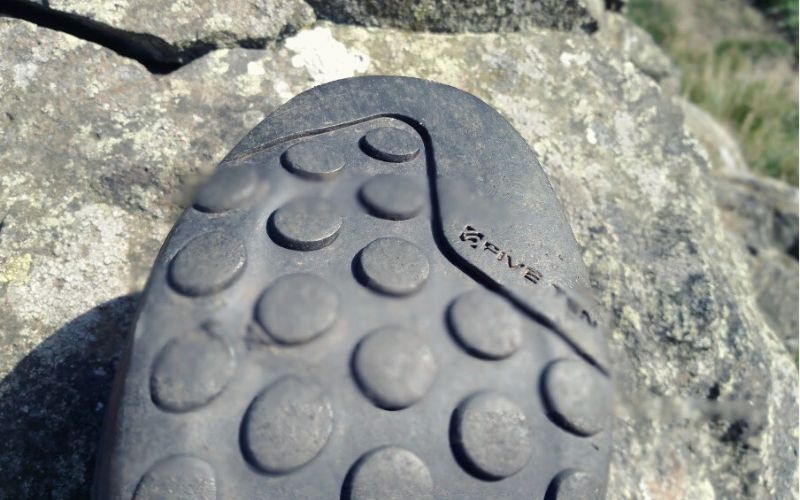 Five Ten Guide Tennies: In the Field
Five Ten's Guide Tennie have been around so long that it's easy to imagine the people of the Old Testament wore them on their wanders in the Wilderness of Paran or up Mount Sinai. Ok, so, they maybe aren't quite so old, but their three decades of flourishing puts them in a league of their own in terms of staying power. And their longevity is telling.
When Adidas took over Five Ten in 2011, Five Ten devotees' noses were put out of joint by the reshaping and tinkering with their tried-and-trusted footwear, from rock climbing shoes to mountain biking shoes. Thankfully, Adidas were wise enough not to meddle too much with the Tennies.
While a little chunkier thanks to the beefed-up tongue and cushioning around the cuff, Adidas has made the Tennies more comfortable and supportive without detracting too much from climbing performance. All told, they boast all the attributes of the old Guide Tennies but feel and perform just a little better thanks to a few minor but noticeable tweaks.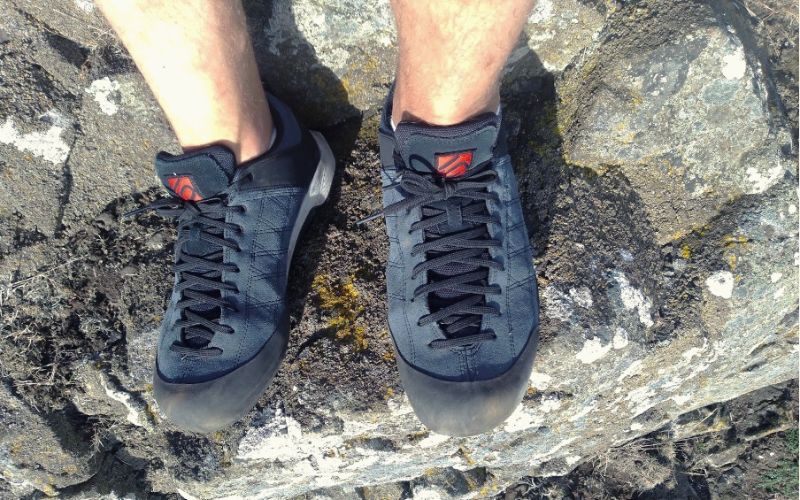 Performance & Climbing Ability
Edging
The Tennies have always been valued for their smearing prowess, not so much for their edging ability. This latest iteration, however, boasts a slightly stiffer midsole that provides added stability on smaller edges, and there's a new flat "climbing zone" at the toe that gives the new Tennies precision edging power and more sensitivity than the dotted tread used on the predecessors.
If edging is your top priority, we'd still recommend a shoe with a stiffer sticky rubber and sharper edge like the La Sportiva Boulder X or Scarpa Gecko. That said, if you size down in the Tennies a half or full size, depending on how much precision you need and how much comfort you're willing to sacrifice, you'll be getting a shoe that edges nearly as well as the Boulder X.
Smearing
Incoming bold statement: the Five Ten Guide Tennie are, by far, the best approach shoes for smearing in the business, and possibly better than many climbing shoes that use harder rubbers. The rubber Stealth C4 sole leeches to even wet rock and the new, flat edging pad in the toe means you get more surface contact with the rock where it counts.
In short, if we were stood somewhere high above a hard landing on a slab of any rock type, the Guide Tennie is the shoe we'd prefer to be in.
Hiking Performance
Let's get straight to the bottom line: the Tennies are not an out-and-out hiking shoe and, ultimately, their hiking ability isn't as impressive as many competitors in the approach shoe category.
While exceptional on rock and grippy enough for mellow trails, the Guide Tennie's shallow tread means they won't provide nearly as much traction or grip as shoes like the La Sportiva TX 4, Scarpa Crux, or Garmont Dragontail on loose dirt or muddy ground, particularly on the descent.
The Guide Tennie also offer far less support than dedicated hiking shoes like the TX 4, so they're not a good option if you plan on carrying a heavier load.
But it isn't all bad. The nubuck leather uppers provide good water resistance and decent ankle support, and the compression-molded EVA midsole is as cushy as they come.
Weight
At 29 ounces per pair (size 10 US), the Five Ten Guide Tennies are no lightweights but are still a few ounces lighter than the La Sportiva Boulder X.
If you want a lightweight approach shoe or one to store in your backpack on multi-pitch climbing routes, then the La Sportiva TX 2, which weigh 8 ounces less, are a better choice.
Agility & Precision
One of the most noticeable changes to the new Tennie Guides is the increase in bulk. There's more volume in the toe and a lot more padding around the collar and in the tongue. All of these changes have boosted comfort but to the detriment of nimbleness and agility. This won't make too much of a difference on easier scrambles but is noticeable when crack climbing.
Grip & Traction
As mentioned above, the Tennie Guides have a very low-profile, shallow, dot-pattern tread. The subtleness of this tread adds to their smearing ability and capacity to grip rock, but also makes them poor performers in loose or wet terrain.
Comfort
Tennies' popularity has largely stemmed from their combo of having sneaker-like comfort in a technical shoe. The plumped-up tongue and collar in the latest version, however, make them more comfortable than ever before. The new tongue and collar are also made from synthetic material instead of nubuck, so they're a little more breathable than the previous version.
Sizing
The Tennie Guide run more or less true to size – if anything, they're a fraction larger.
Choosing the right size for you will boil down to how you plan to use them. If the answer is exclusively as an approach shoe, we'd recommend buying your regular size or half a size down if you prefer a more precise fit. For more technical scrambles and easy climbing, you'd be better off going a full-size down. 
Alternatives
The first alternative that came to mind when I was testing the Tennies was the La Sportiva TX4, my go-to approach shoe for the best part of a decade.
On paper, there's not much to separate the two. They weigh virtually the same and both boast a sturdy, supportive build that puts durability to the forefront. Both the Vibram sole on the TX4 and the Tennie's Stealth C4 are exceedingly grippy. Though the Stealth C4 wins marginally, the tread on the TX4 makes them a better choice for regular hiking.
Both shoes fall short on packability and weight, so if you want to keep things light and nimble, we recommend checking out the La Sportiva TX 2. The TX 2 are less bulky than both and weighs 6 ounces less than the TX4 and 8.5 ounces less than the Guide Tennies. They also feel like trail runners comfort-wise but offer the traction and durability of burly hiking boots.
I'm happy to have both shoes in my quiver, but if you're looking for one shoe for multiple tasks, I'd shoot for the Tennies if you do more scrambling and light rock climbing than hiking, and the TX4 if you do more hiking.
Finally, given all the attention we've paid to the above alternatives, it's worth mentioning the factor that may sway any potential buyers in favor of one shoe or the other: price. Approach shoe prices have skyrocketed in recent years, and all of the Tennie alternatives mentioned above go for princely sums. The Tennies, however, have remained pleasingly affordable.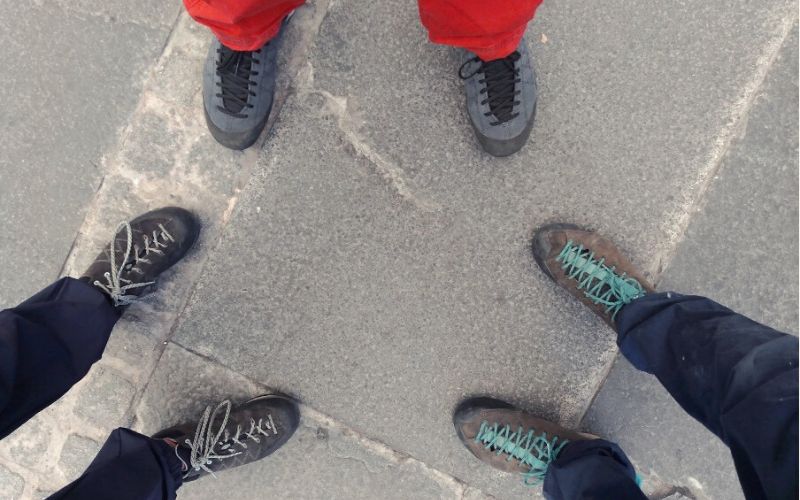 Five Ten Guide Tennie Review: The Verdict
Who They're For
All of the above leads us to one simple, clear-cut conclusion: the Guide Tennie is still the best in the business if you're looking for a genuine approach shoe and scrambling shoe as opposed to a full-bore hiking shoe.
On rock, they're almost in a class of their own, though (relative) newcomers like the La Sportiva TX4 provide stiff competition.
If you're looking for an all-rounder, there are better options available, most notably the aforementioned TX4, which is a great shoe all around. Even though the TX 4 is a fraction less impressive on rock, it's a far better performer on the trail and when hiking with heavy pack loads.