Disclosure: The team at My Open Country highlights products we hope you might find interesting. If you buy them, we get a small share of the sale revenue from our partners at no additional cost to you. This never drives our decision as to whether or not a product is featured or recommended – you can read more about
our editorial process here
.
Grand Trunk Skeeter Beeter Pro
Our Rating: 4.2/5
The Skeeter Beeter Pro is a high-quality hammock that is mosquito proof and comprised of parachute nylon, so it feels like you are lying in silk. It is incredibly comfortable to sleep on, and it has a weight capacity of 400 pounds, it capable of holding all but the most "robust" of campers.
The mosquito mesh is a unique feature that is constructed of triple reinforced stitching that will not allow a bug to get through. It includes two top hooks that you pass two bungee cords through to pull the netting tight and prevent it from falling on your face.
Key Features
Hanging is easy with the ultralight and secure carabiners
Made of high strength parachute nylon silk that is quick drying & comes with mosquito mesh feature
Lightweight, breathable fabric that is rot-resistant and resists mildew
High-grade nylon triple interlocking stitching
Packs down to the size of a football
Category Scores
Comfort
Weight & Packed Size
Versatility
Durability
Ease of Setup
PROs

Comfortable, affordable, and includes an integrated bug net
Comes ready-to-hang and is very easy to set up
Durable with a zippered side entry

CONs

A little hard for a taller person to sleep in
Does not come with a rainfly (sold separately)
Pockets for storage are not particularly usable
Mosquito netting hangs close to your face and may make you feel claustrophobic
Hands-on Review
The signature feature of the Skeeter Beeter Pro is the integrated mosquito net that keeps bugs off you while you sleep. It is made of a lightweight parachute nylon silk, and it has a weight capacity of 400 pounds.
RELATED: Looking for a hammock for camping?
The full-length zipper makes it simple to get in and out of the hammock. It also includes two inner pockets to hold your valuables, flashlight, or knife. And if you want to use it without the mosquito screen, simply roll it over and use it as a regular hammock.
Comfort
The Skeeter Beeter Pro is 10'6″ by 5 feet, a very spacious and comfortable hammock that can easily accommodate campers up to 6 feet (if you are over 6 feet, it is still possible, but slightly trickier to get a comfortable lie). If you have a lighter body type, you don't have to worry about sinking into it.
The Skeeter Beeter Pro's best feature is, of course, the mosquito net that lets you sleep undisturbed all night without having any bugs bother you. The mosquito net has a unique mesh that allows you to see through it, but others from seeing in. The hammock also has high sides that can keep both the wind and light from creeping in.
The Skeeter Beeter Pro is constructed of parachute nylon that makes you feel like you are sleeping in silk. The mosquito net adds a significant level of protection from all the flying creatures that surround you – so that you can get a comfortable night's sleep without molestation by flying bugs.
https://www.instagram.com/p/Be8GpXhgVuk/?utm_source=ig_embed
The material that is used is similar to standard lightweight hammocks, but the Skeeter Beeter is made with two different color fabrics. It includes super small matrix mesh netting that has an elastic banding sewn in.
There are pockets included with the hammock for convenient access to valuables. The two inner pockets help to keep your smaller items organized like a headlamp or cell phone while you rest inside the hammock.
However, we have found the pockets are not always very useful as most small items tend to fall out of them and larger items distort the shape of the hammock and get in the way. You will get more convenience out of a small stuff sack that you can hang from the ridgeline to store your valuables.
On one side of the hammock, there is an easy-to-use zipper that goes eighty percent of the way down and makes entering and exiting the hammock a breeze. It is even easy enough to open the zipper with one of your toes and push it down with the side of your foot.
Since the Skeeter Beeter Pro is made with fabric that is silky, moving inside the hammock is easy to do as nothing will stick or catch on the fabric. Another plus is that it will never attract pet hair or lint, so your hammock will always remain clean.
Weight
The Skeeter Beeter Pro weighs just 28 ounces making it very lightweight and won't break your back if you add it to your pack.
RELATED: Grand Trunk Ultralight Review
Versatility
When you don't want to use the mosquito netting, the Skeeter Beeter Pro hammock is easily flipped over and can be utilized as a regular hammock. This is also an all-terrain hammock that can be easily used in dense forest, mountainous areas, arid zones, and virtually any type of landscape where you can find two adequately distanced attachment points.
You can also set up a ridgeline on top of the hammock in case of rain or if you are camping in the winter attach a tarp for extra protection from the elements that must be purchased separately.
The main cords are not very long, and you have two hang points, so it will be necessary to find two trees that have a narrow enough distance with appropriate trunk diameters or replace the main cords with an extra nylon strap length adjustment that will work with the Skeeter Beeter Pro.
Ease of Set Up
The included suspension kit contains two 10' ropes that have 4.5 mm knots or loops to suspend the two ends of the hammock.
The actual setup of the Grand Trunk Skeeter Beeter Pro Mosquito Hammock is pretty easy and straightforward. All you need to do is, take it out at the campsite, hang it on the rope hooks, and then unroll your hammock to finish the setup. Simple. The great thing about this setup is the hammock never actually touches the ground at any time.
The mosquito net is attached above the hammock in a rigid position with bungee cords that run through two soft top hooks located on the mesh. You can tie the bungee cords around a tree to tighten the net and hold it parallel to the ground. This makes the net sit above your face as you lie down in the hammock.
If you prefer not to have the mesh because it is winter or there aren't any bugs around, you can flip the hammock over making the netting go on the other side. The netting is attached with stitching on one side and the double-sided zipper on the other, so it cannot be removed from the hammock.
The product's design makes it easy to accessorize with attachments like an underbelly gear sling or a rain tarp. Other accessories that can be attached include drip strips, hammock pillows, and a rainfly.
Durability
The Skeeter Beeter Pro is made of strong parachute nylon that can withstand high levels of tension without a tear. The accessories that are included with the hammock are also very strong with the carabiners and ropes sturdy enough to securely attach the hammock to the trees.
The Skeeter Beeter is made of some of the most high-grade components available, so it is one of the most resilient and hardwearing hammocks that you will find on the market. It has extra hardiness with the robust three-tier nylon stitching combined with the embedded side zipper making it incredibly strong and weatherproof.
Once it is up, it is very stable and will not collapse. It comes with webbing loops to stake it out if you prefer which stops the swinging and widens the body. It does not come with a tarp to protect you from the elements, so that is something to consider purchasing.
Reviewers have found that even after a good amount of use, the Skeeter Beeter Pro shows very little sign of wear, and it was still very comfortable to use.
Best Applications
The Skeeter Beeter Pro is best used in areas that are very buggy. It is a pretty lightweight alternative to a traditional tent, weighing in at 28 ounces. If you want to travel light, and expect good weather and bugs, the Grand Trunk Skeeter Beeter Pro may be just what you are looking for.
Value
The Grand Trunk Skeeter Beeter Pro is an affordably priced hammock, especially with its size, spaciousness, and features. Reviewers felt it was a great entry-level hammock that helps people become more excited about camping.
Alternatives
BEST OVERNIGHTING HAMMOCK
Warbonnet Blackbird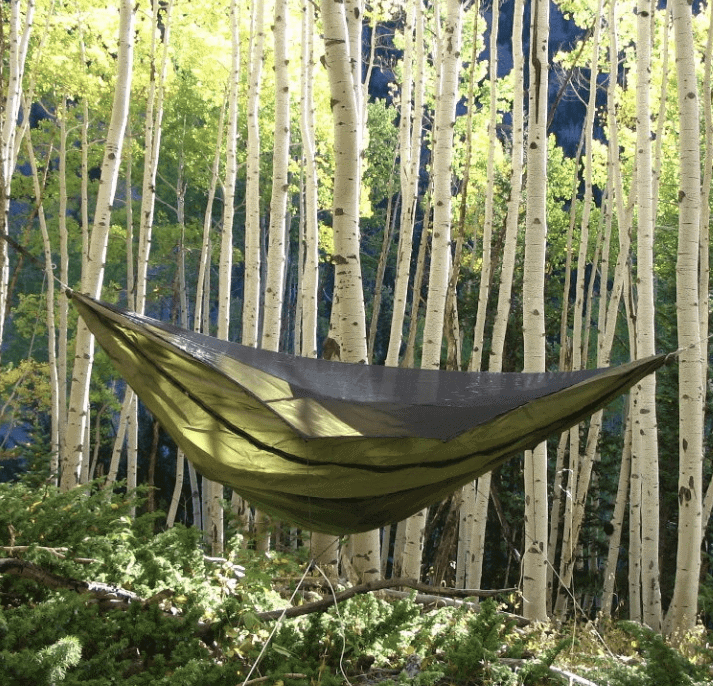 One of the most comfortable hammocks that also comes with tons of features is the Warbonnet Blackbird. It is a great option if you are out in the woods or at a campground.
It has an impressive array of features such as a storage shelf, an innovative foot box, an integrated bug net, and a bottom that is double-layered so that it will hold your sleeping pad in place. It is constructed of 1.7oz/70 denier double fabric which is the heaviest hammock material option on the market.
RELATED: Full review of the Warbonnet Blackbird
The Warbonnet Blackbird weighs just under two pounds which also includes the whoopie sling suspension. Weight-wise, this is similar to the lightest single-person tent that you can find on the market.
The Warbonnet Blackbird is one of the few other hammocks that comes with an integrated bug net like the Grand Trunk Skeeter Beeter Pro. There are other hammocks, like the Hennessey Expedition Asym, which comes with its rain fly as well as a bug net.
BEST ULTRALIGHT HAMMOCK
Grand Trunk Nano 7
The Grand Trunk Nano 7 is both a very lightweight hammock that packs up small. This is one of the best ultralight hammocks on the market. It only weighs seven ounces and packs down to the size of a baseball, including the carabiners.
The Grand Trunk Nano is perfect for trips when you don't want to carry a lot of weight, and you don't have a lot of space in your pack. This is a comfortable enough hammock to lounge around in after a long hike or to sleep in for a single night. Although, make sure and bring a tarp and some wrap-up warm with extra layers if you expect inclement weather.
BEST BUDGET HAMMOCK
Grand Trunk Ultralight
No products found.
The Grand Trunk Ultralight is a great budget hammock that works well if you are just being introduced to camping with a hammock. This is a very affordable option that only weighs 12 ounces.
It is an excellent choice for ultralight backpackers, and it can fit most campers with its 9'6" length and width of 4'6". Like the Grand Trunk Skeeter Beeter Plus, the Grand Trunk Ultralight is easy to set up and comes with an included stuff sack.
Interested? Check out our full Grand Trunk Ultralight review here.