Disclosure: The team at My Open Country highlights products we hope you might find interesting. If you buy them, we get a small share of the sale revenue from our partners at no additional cost to you. This never drives our decision as to whether or not a product is featured or recommended – you can read more about
our editorial process here
.
Warbonnet Blackbird Review
Our Rating: 4.6/5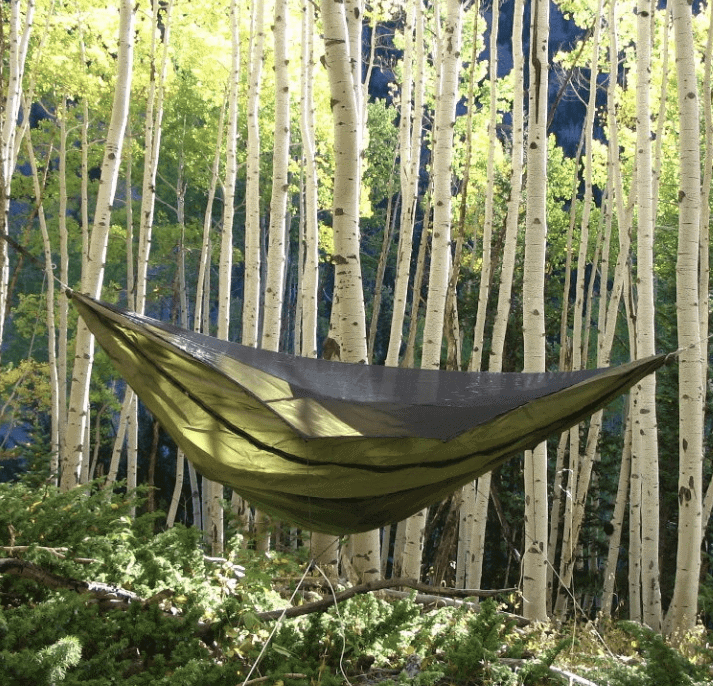 Many outdoor adventurers turn to camping hammocks to reduce their pack weight and to alleviate the pain of sore backs from nights of sleeping on the hard ground. Hammocks suspend you off the earth for a safe, comfortable night's sleep that leaves little trace of your presence behind.
Whether you are a new to hammock sleeping or have plenty of experience with this style of camping, the Warbonnet Blackbird is one of the all-around best hammocks you can buy. This model from Warbonnet Outdoors packs feature after feature into a lightweight, easily packable unit.
Key Features
Integrated footbox that allows you to more easily find a comfortable diagonal sleeping position.
Dual sided zippered bug net so you can easily get in whilst keeping the bugs out.
Storage shelf for holding your shoes, or other items.
Strong and durable construction.
Category Scores
Comfort
Weight & Packed Size
Versatility
Durability
Ease of Set Up
PROs

Incredibly comfortable
Comes with bug net
Lots of innovative features like a foot box and storage shelf

CONs

Not ultralight
At the pricier end of the spectrum
Tarps and quilts sold seperately
Hands on Review
The Blackbird hammock from Warbonnet Outdoors is a nylon sleeping unit for both casual and serious campers. It comes in 1.1 and 1.7 models. The 1.1 units are made of 30-denier nylon, and the 1.7 units are made of 70-denier nylon. Furthermore, both the 1.1 and 1.7 versions come in single-layer and double-layer varieties.
RELATED: The top camping hammocks with bug net reviews
The higher-denier nylon and the double layer add weight, so the lightest of these four variations is the single layer 1.1, which weighs in at one pound, five ounces when used with a standard suspension system. At the opposite end of the spectrum is the double layer 1.7 with a weight of two pounds and two ounces when used with a standard suspension system. Of course, both the 70-denier nylon and the extra layer add strength, so while the single layer 1.1 is rated for 200 lbs, the double layer 1.7 is rated for 400 lbs.
No matter the nylon or the number of layers, each version of the Warbonnet Blackbird measures 120 by 63 inches. The ridgeline length, or the distance from one end of the opening to the other, is 101 inches, and the hammock is suitable for users up to six feet tall. The hammock has a foot box built into the design to expand the useable space. This comfort-promoting feature is a Warbonnet original, so it sets the Blackbird apart from other hammock lines on the market.
The Blackbird is packed with handy features to enhance your camping experience. A built-in bug net keeps pesky critters from bothering you at night. Elastic guy lines hold the net away from faces, and you can roll the net out of the way in settings in which mosquito protection is not necessary. Plus, to keep you snug and secure inside, this hammock has a zipper that goes down the full length of the unit. It zips from either direction to make getting in and out easy. A handy storage shelf that measures approximately two square feet keeps all of your important stuff close at hand. It's a good place to stash books, glasses, shoes, or a flashlight.
https://www.instagram.com/p/6U4miJGcdT/
Comfort
The best way to sleep in most hammocks is in a diagonal position, and the Blackbird has a built-in foot box to help you do this comfortably. The foot box is an area of extra material that allows your legs to lie flat, rather than curving along the natural lines of the hammock. If you like to sleep on your back or your side, you may find that this design feature increases the comfort you experience while sleeping in a hammock.
You'll want something under you while sleeping in a hammock. It keeps your rear from getting too chilly from exposure to the elements. If you get a double-layer Blackbird, you can slide a pad between the two layers. This is a reasonable option, but Warbonnet does advise that since the Blackbird is an end-gathered style of hammock, the pad won't lie perfectly smooth, which can be uncomfortable. Therefore, they recommend using an underquilt with the hammock. Warbonnet manufacturers both full-length and torso-length underquilts that work perfectly with this unit.
RELATED: Grand Trunk Skeeter Beeter Pro review
Weight
The weight of your Blackbird depends on the denier of the nylon, the number of layers, and the suspension system on the setup you choose. The 30-denier of the 1.1 weighs less than the 70-denier of the 1.7; the single layer is lighter than the double layer, and the whoopie suspension system is lighter than the standard suspension system. Therefore, the absolute lightest combination is the single layer 1.1 with a whoopie suspension system. This combination weighs a total of one pound, two ounces. This is lighter than a backpacking tent, which is an appealing concept for those campers who carry all of their gear on their backs. Even the heaviest version, which is the double layer 1.7 with standard suspension, weighs just over two pounds, which is comparable to the weight of an ultralight backpacking tent.
The Blackbird is a light piece of gear, but it weighs too much to be considered an ultralight one. If every ounce counts in your packing, however, it is worth noting that there are lower-weight hammocks on the market such as Grand Trunk Ultralight.
Versatility
Warbonnet designs its hammocks with versatility in mind. They know that hammocks are not a one-size-fits-all sort of thing, which is why they provide you with so many design options. Get yours with a standard suspension system or a whoopie system, chose 30-denier or 70-denier nylon, and decide whether you want one layer of material or two. These decisions might seem like a lot to think about at the time of ordering, but the ability to choose exactly what you want is empowering. It puts the control in your hands, so you can select a hammock that works for your camping needs.
https://www.instagram.com/p/BM5Cs67DHku/?utm_source=ig_embed
Furthermore, a Blackbird hammock is versatile because it goes where you go. As long as there are two sturdy trees, 13 to 17 feet apart from one another, you will have a place to hang your bed. Pack its compact stuff sack among your camping gear, and this light hammock will be easy to tote along on all of your hiking adventures without weighing you down or taking up too much valuable space.
If you are camping in a place where open ground is easier to come by than sturdy trees, the Blackbird can still work for you. Warbonnet advertises that the hammock can be laid flat on the ground, and the net over you will keep away the bugs. Be advised, however, that you must place a protective layer between the hammock and the ground to protect the material from damage.
Ease of Set Up
Once you get the hang of it, setting up a Blackbird hammock can be a quick and easy process, but that is not an automatic skill. It is going to take some practice before you are a pro at adjusting your Blackbird just right. On the base model of Blackbirds, all adjustments are made by fiddling with the webbing and buckles that hold the hammock in place.
To help make adjustment an easier process, you might want to spend a little extra to upgrade your purchase to a Blackbird hammock with whoopie slings. These slings are a friction-based system that makes it easier to make little adjustments in the suspension of your hammock. Yes, you will spend more for this luxury, but most users find that the investment pays off when it comes time to pitch the hammock for the night.
RELATED: Best sleeping bag for hammock camping
Warbonnet makes the stuff sack for the Blackbird with dual openings. Since it opens at either end, you can hang the hammock in wet conditions without dragging it on the ground or exposing it to much-falling rain. Of course, if you hang a tarp over your hammock spot before setting up the hammock, that will also help to keep your sleeping area dry. Fortunately, Warbonnet manufactures tarps that are nicely compatible with the Blackbird. By hanging a tarp first and taking advantage of the smart dual-end stuff sack, you can reduce the amount that your hammock is exposed to wet conditions, thereby granting yourself a more comfortable sleeping experience.
Durability
One reason that the Blackbird is not one of the lightest hammocks on the market is that it is made of a sturdy nylon material. In this regard, the weight and durability are directly linked. Both the 1.1 and the 1.7 models are excellent, but if durability is a top priority for you, opt for the 1.7. Since higher-denier nylon increases strength, the 1.7 is naturally hardier than the 1.1 With all of the models, though, Blackbirds are quality hammocks that usually last for one camping trip after another.
One thing you may notice when you first take a new Blackbird hammock out of the package is the quality of the stitching. The seams are double-stitched and stray, or loose threads are a rarity. Warbonnet hammocks are American-made by a family-owned business, and when you take a close look at the stitching on a Blackbird, the care that goes into each piece is evident.
Although a tarp to cover your hammock is a smart idea when you are camping in areas prone to inclement weather, that should not be your only protection from the elements. The nylon material of a Blackbird is treated with Warbonnet's DWR finish. This acronym stands for "durable water repellency." In other words, this hammock may help you stay dry, even when the weather is less than ideal.
Best Applications
Warbonnet products are designed by people who truly love hammock camping. The design of the Blackbird was borne out of their personal experience with hammocks and a desire to come up with the best possible hammock design.
No, the Blackbird is not a flawless piece of equipment, of course, but the fact that it was designed by knowledgeable hammock campers is evident when you sleep in it. In fact, its feature-rich design makes this one of the best camping hammocks on the market.
https://www.instagram.com/p/BH9FkqKAj3z/?utm_source=ig_embed
For one thing, comfort is one of the most important features in any hammock, since getting a good night's sleep relies on it. With the Blackbird's footbox, you can stretch out at a comfortable angle, and even your legs can lie flat. For many sleepers, this one feature alone is enough to sell them on the benefits of a Blackbird.
The foot box is not the only thing that sets the Blackbird apart from other camping hammocks, however. The integrated shelf, the dual-end stuff sack, the built-in mosquito net, and the full-length zipper all help to make this a user-friendly piece of equipment. It can take some fiddling to get a Blackbird set up just right, but once you do, you will be able to lounge in it with ease.
The tradeoff, however, is that this is far from the cheapest hammock out there. Its host of handy features comes at a price. There are other popular hammock models on the market that cost less than half the price of this one. So, yes, the Warbonnet Blackbird is certainly an investment.
One thing that you do not get for that price, of course, is ultralight construction. All of the features in the world do not mean much if the unit puts you over your acceptable weight limit. However, if the size and weight of the Blackbird meet your needs, you will be hard-pressed to find another hammock with so many built-in benefits. If you can work a Blackbird into your budget, you may find that it makes your camping adventures more comfortable, more compact, and more convenient.
Technical Specifications
Single Layer 1.1
double layer 1.1
single layer 1.7
double layer 1.7
| | |
| --- | --- |
| Color: | Olive Green |
| Weight capacity: | 200 Lbs |
| Item weight (webbing/buckles): | 1 lb. 5oz. |
| Item weight (whoopies): | 1lb 2oz. |
| Fabric: | 1.1oz/30D Nylon |
| Price: | $170 |
| | |
| --- | --- |
| Color: | Olive Green |
| Weight capacity: | 275 Lbs |
| Item weight (webbing/buckles): | 1 lb. 11oz. |
| Item weight (whoopies): | 1lb 8oz. |
| Fabric: | 1.1oz/30D Nylon (x2) |
| Price: | $185 |
| | |
| --- | --- |
| Color: | Olive Green |
| Weight capacity: | 250 Lbs |
| Item weight (webbing/buckles): | 1 lb. 9oz. |
| Item weight (whoopies): | 1lb 6oz. |
| Fabric: | 1.7oz/70D Nylon |
| Price: | $170 |
| | |
| --- | --- |
| Color: | Olive Green |
| Weight capacity: | 400 Lbs |
| Item weight (webbing/buckles): | 2 lb. 2oz. |
| Item weight (whoopies): | 1lb 15oz. |
| Fabric: | 1.7oz/70D Nylon (x2) |
| Price: | $185 |
Alternatives
BEST ULTRALIGHT HAMMOCK
Hummingbird Ultralight Single
A Blackbird is not heavy, but it also is not the lightest camping hammock on the market. If you require ultralight gear, then look to another hammock.
The Hummingbird Ultralight Single is one of the lightest hammocks on the market. Using parachute technology, it weighs only 5.2 ounces yet holds up to 300 pounds. Tree straps are sold separately, but Hummingbird's Ultralight Tree Straps add only another 2.1 ounces.
BEST BUDGET HAMMOCK
Grand Trunk Ultralight
No products found.
Warbonnet's Blackbird is also far from the cheapest hammock available to campers. While it is certainly worth its price tag, infrequent campers or those who are new to hammock camping might be wary of making the investment. Lower-priced options could be a better choice for these folks. Look into the Grand Trunk Ultralight Hammock. It is not as feature-rich as the Blackbird and is made of polyester, not nylon, but it costs just over a tenth of the price of the Blackbird. For those looking to save money, the tradeoff may be worth it.
BEST DOUBLE HAMMOCK
ENO DoubleNest Hammock
You should not use a Blackbird if you require company while you sleep. This hammock is designed for one person, so it won't fit a couple. If you want your loved one right by your side for nighttime snuggles, check out the DoubleNest Hammock from Eagles Nest Outfitters. This double hammock holds up to 400 pounds.