Located in the American Midwest, South Dakota boasts a spectacular diversity of landscapes. From the prairie grasslands of the Great Plains to the buttes and spires of the Badlands, the Mount Rushmore state offers acres of unique terrain and beautiful scenery to explore.
With its vast expanses of untamed wilderness to uncover and abundant wildlife to see, South Dakota is home to miles of incredible hiking trails for every interest and ability level. This state's hikes offer an opportunity to connect with nature in a way few other states can.
In this guide to the best hiking in the Mount Rushmore State, we're covering everything you need to know about this state's top trails, including unique features, difficulty levels, and lengths.
1. Notch Trail, Badlands National Park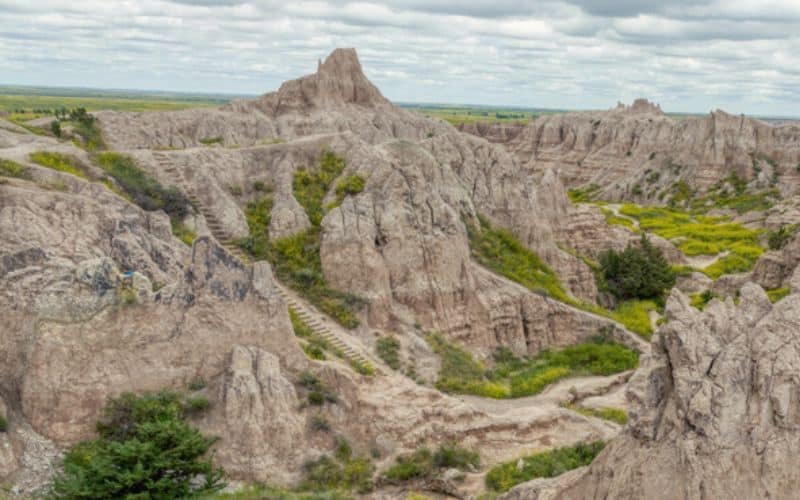 Type: Out and back
Length: 1.5 miles
Difficulty: Moderate
Visiting Badlands National Park in the southwestern part of the state is a journey into one of the world's richest fossil beds. The park has 244,000 acres filled with rugged beauty and unique rock formations where ancient horses and rhinos once roamed. The park also has areas of mixed-grass prairie where you can see bison, prairie dogs, black-footed ferrets, and bighorn sheep.
Notch Trail is the most popular of all the trails in Badlands National Park. It's a thrilling short hike leading up to breathtaking vistas.
This 1.5-mile walking path begins at the trailhead on the southern side of the Door and Window Trail parking area. From here, the trail travels through a canyon before transforming into a log ladder, then follows a ledge until it reaches "the Notch". This spot offers jaw-dropping views of the White River Valley and the surrounding Badlands.
This is an adventurous and fun hike, but it's not recommended for anyone with a fear of heights.
2. Door Trail, Badlands NP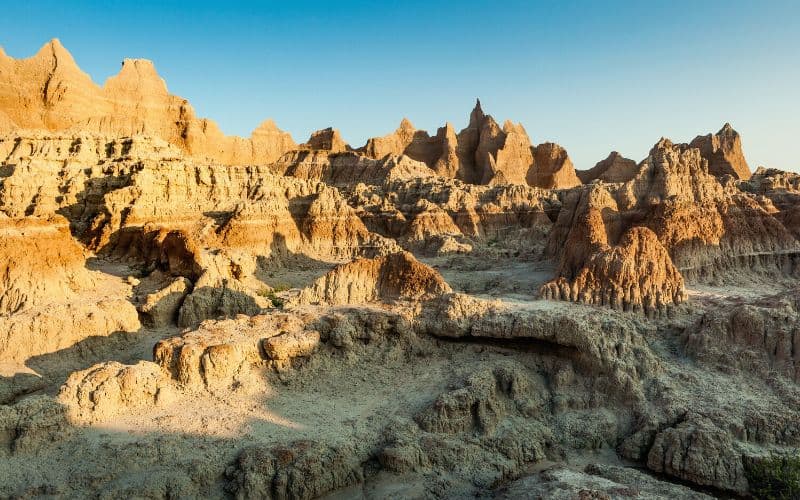 Type: Out and back
Length: 0.75 miles
Difficulty: Easy
The Door Trail is an easy 0.75-mile stroll through Badlands National Park. It begins along a wheelchair-accessible boardwalk for the first quarter mile, then travels through an opening in the Badlands Wall known as "the Door" and leads to breathtaking vistas of the park.
The maintained path comes to an end soon after the break in the wall and turns into bedrock. You can continue exploring this unique terrain by following the yellow posts that mark the primitive portion of the path, or create your own. Take note that while exploring off the trail is permitted in the Badlands, it comes at your own risk.
3. Castle Trail, Badlands National Park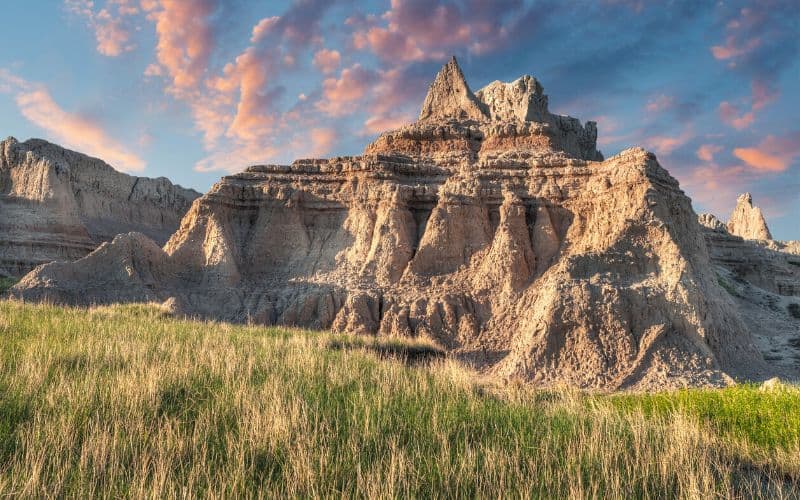 Type: Out and back
Length: 10 miles
Difficulty: Moderate
For a more challenging hike in Badlands National Park, head to the Castle Trailhead. At 10 miles round-trip, Castle Trail is the longest trek in this national park.
The path stretches from the Door and Window parking area to the Fossil Exhibit Trail. While it's a fairly level trail with a few steep ascents, the backcountry ruggedness makes it more challenging than most.
It will take you past areas with incredible rock formations on one side and sprawling prairie on the other side. Wildlife viewing opportunities here include pronghorn, bighorn sheep, and the mighty bison.
Start your hike early and carry more than enough water because this is a very exposed trail with minimal shade. Those looking for a backpacking adventure in the Badlands can register to stay overnight at the backcountry camping kiosks located at the trailhead.
4. Black Elk Peak Trail (aka Harney Peak Trail)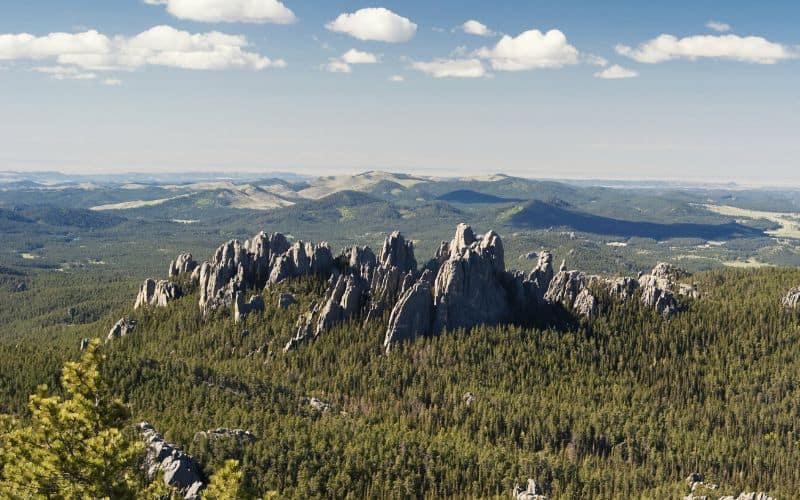 Type: Out and back
Length: 7 miles
Difficulty: Moderate
Custer State Park in the Black Hills is considered to be one of the best parks in South Dakota. Encompassing 71,000 acres, it's also one of the largest state parks in the entire United States.
A popular hiking path in Custer State Park, Black Elk Peak Trail is also known as Harney Peak. Trail 9 is the most used and less-demanding way to reach the 7,242 feet summit at Black Elk Peak. It also connects with the entire Black Elk Range Trail System.
The trailhead for Black Elk Peak Trail 9 is located at the Sylvan Lake Day Use Area north of Highway 87. Look for the blue diamonds within the state park which become blazes once inside the wilderness area.
This steep trail winds through several switchbacks before arriving at the summit with spectacular vistas of the Black Hills.
5. Sunday Gulch Trail, Custer State Park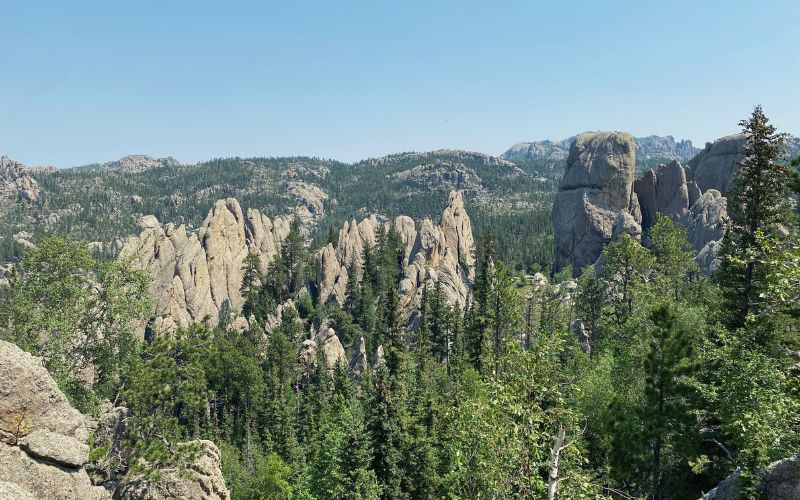 Type: Loop
Length: 4 miles
Difficulty: Hard
Custer State Park is blessed with several awesome trails – Lover's Leap Trail, Little Devil's Tower Trail, and Black Elk Peak are just a few. If you only have time for one, however, and want a stiff workout, this is the pick of the bunch! Download the Custer State Park Trails Guide for a map and more details.
Sunday Gulch Loop is a four-mile out-and-back, rewarding yet strenuous hike. It starts along the Sylvan Lake Shore Trail. From here, hikers climb over colossal boulders in a similar style to the mountain goats that inhabit the area. Be careful and use the handrails for support if the boulders are slippery.
Multiple sets of stairs lead down into Sunday Gulch and its unique ecosystem with rare plants. The path passes by multiple waterfalls and follows a bubbling creek that flows through the gulch. This section provides scenic views of the moss-covered walls and towering rock formations.
Be prepared for the strenuous climb on the return hike out of the gulch!
6. Cathedral Spires Trail, Custer State Park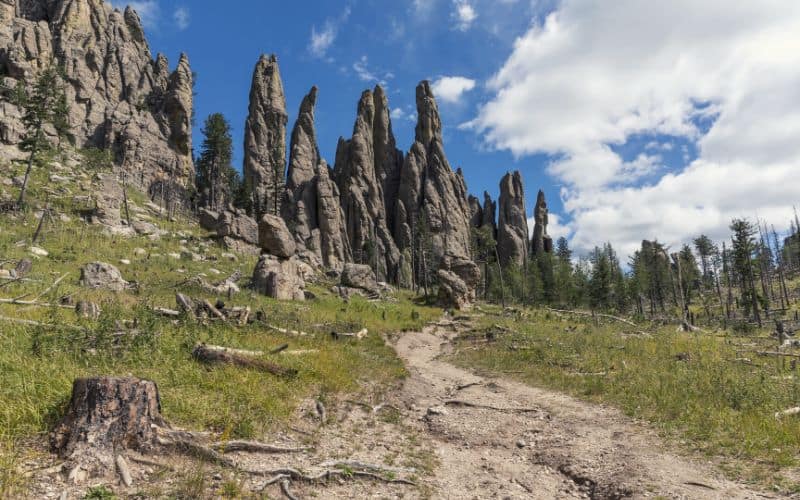 Type: Out and back
Length: 2.3 miles
Difficulty: Hard
Another gem in Custer State Park, Cathedral Spires Trail is a top choice amongst geology enthusiasts. The Cathedral Spires are towering columns of granite that are so named due to their similarity to a cathedral's organ pipes. These magical rock pillars along Needles Highway formed millions of years ago and are a National Natural Landmark.
The trail starts at the Cathedral Spires trailhead at the parking area off Highway 87, then winds gently through a forest filled with spruce, aspen, and ponderosa trees on its way toward the spires (the sections of scrambling over boulders are what make it more strenuous). The path ends at a flat area with a wall of spires jutting out from the earth in the background.
Bring a picnic to enjoy while you take in these unforgettable views.
7. Roughlock Falls Trail, Black Hills National Forest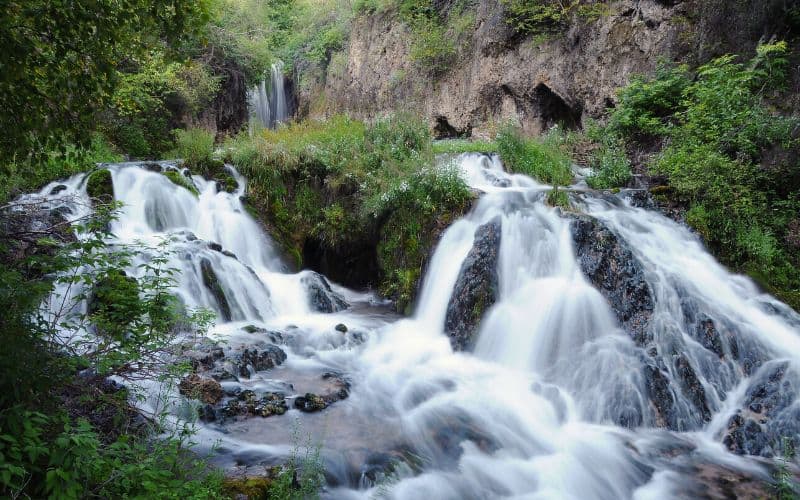 Type: Out and back
Length: 2.2 miles
Difficulty: Easy
The Black Hills National Forest spans almost 1.25 million acres across western South Dakota and northeastern Wyoming. Caves, lakes, creeks, canyons, grasslands, and unique rock formations are all found within this incredible national forest.
Roughlock Falls Trail is a family-friendly hike to a gorgeous waterfall in the forest. The trailhead is located near the Spearfish Canyon Lodge parking lot. It's an easy, handicap-accessible path that follows Little Spearfish Creek through the alpine forest to Roughlock Falls.
This area has some of the most beautiful fall foliage in the state. It's also home to a variety of wildlife like elk, white-tailed deer, and bald eagles.
8. Lookout Point Loop, Wind Cave National Park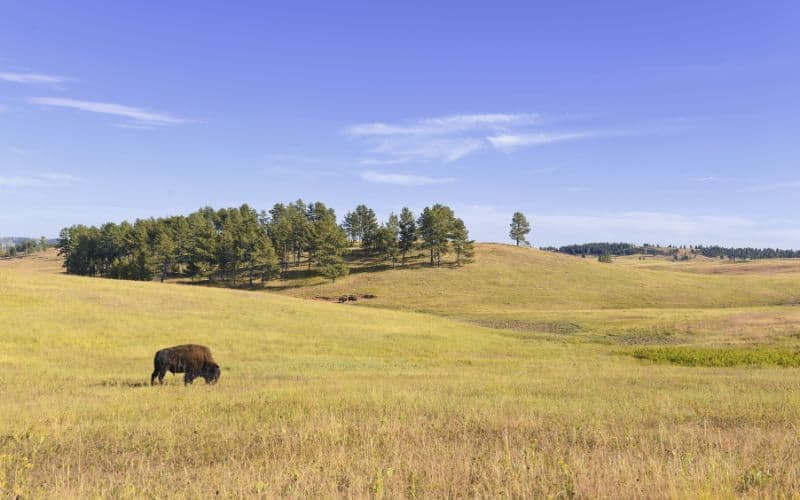 Type: Loop
Length: 1.2 miles
Difficulty: Moderate
Wind Cave National Park is a unique national park located in South Dakota's southwestern corner. There are two parts to this park: an underground cave system and the rolling prairies on the ground above it. Wind Cave is known as one of the planet's longest and most complex caves.
Lookout Point Loop is a popular, moderate hike that takes you across the prairie grasslands through Lookout Point to Beaver Creek. Hikers can take a quick side trail to Lookout Point to take in the views.
9. Devil's Bathtub Trail, Spearfish Canyon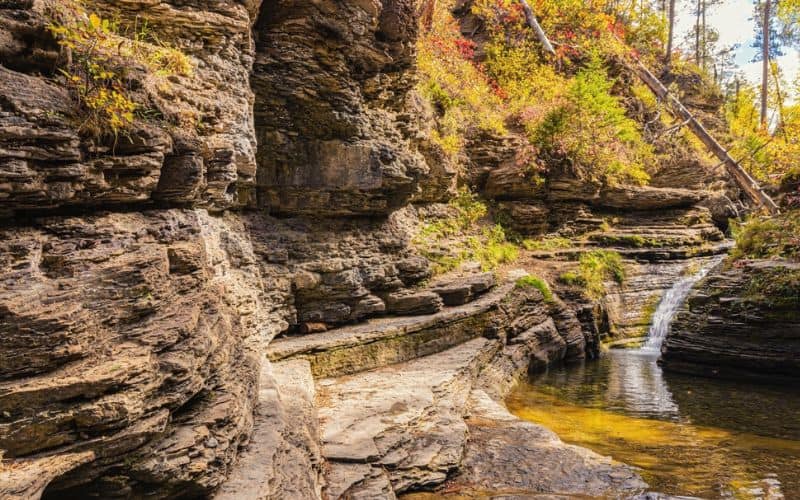 Type: Out and back
Length: 1.6 miles
Difficulty: Moderate
Spearfish Canyon is the crown jewel of the state's Northern Hills. It's a narrow gorge with stunning views and 1,000-foot-high walls formed by a creek. The canyon hosts a diversity of plants and wildlife, including mountain goats, porcupines, bobcats, and deer.
Devil's Bathtub Trail offers a brief yet immersive trek into the wilderness. Wear waterproof hiking shoes with grippy soles because you'll be crossing creeks and scrambling over boulders on the way. Once that's over, you'll find yourself at a gorgeous waterfall surrounded by layered rock formations.
Happy Hiking!
From the gentle peaks of the Black Hills to the sprawling prairies of the High Plains, the Mount Rushmore State offers incredible trails to explore.
No matter if you're a beginner or a seasoned hiker, you're bound to find the perfect South Dakota hiking trail for you on this list.
What are your top treks in the Mount Rushmore State? Feel free to share them in the comments below. If you enjoyed this article, please send it to your hiking buddies!