Tucked away in a small coastal neighborhood, only 20 minutes from "America's Finest City" of San Diego, is a community surrounded by open space: Torrey Pines.
It's home to Torrey Pines State Natural Reserve, a natural sanctuary in urban Southern California.
Development has not touched this stretch of coastal wilderness. The area showcases maritime chaparral vegetation and Torrey pines, the rarest pine tree in America. These trees are an endangered species in the U.S.
Almost 2,000 acres of land make up the natural reserve. It protects threatened plants and wildlife, fragile coastal habitats, and unique geological formations.
The hiking trails here entice visitors with sweeping seascape views, beautiful beaches, steep ravines, and dramatic cliffs along the Pacific Ocean. Most hikes are easy to moderate and achievable by hikers of any experience level.
Find your favorite below!
1. Torrey Pines Beach Trail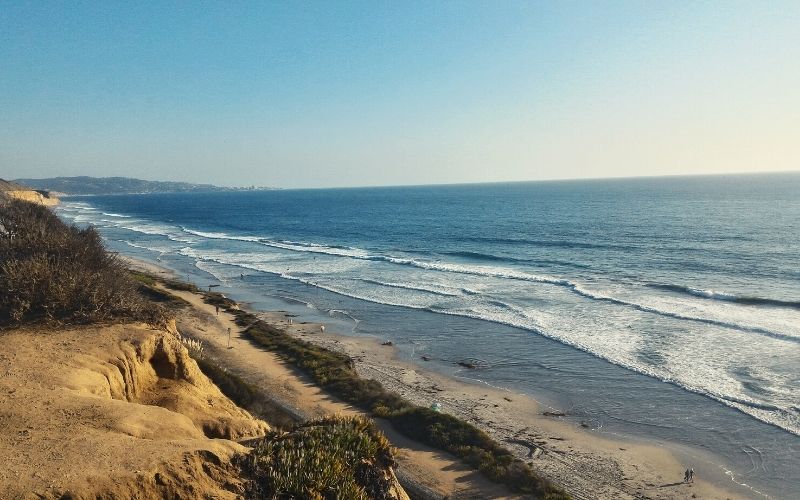 Type: Out and back
Length: 1.5 miles
Difficulty: Moderate
This popular beach trail starts high above the coastal bluffs and winds 300 feet down to provide access to Torrey Pines State Beach. Steep stairs descend about 300 feet to the sand.
Intertidal sea life that you might observe include hermit crabs, mussels, and sea anemones. Looking out to the ocean, you might catch a glimpse of sea lions, dolphins, or even a gray whale during migration.
Shorebirds seen in the area include brown and American white pelicans, black-bellied and snowy plovers, western sandpipers, great egrets, and long-billed curlews.
Enjoy the sea breeze, build a sandcastle, and have fun in the sun before heading back up. Be sure to save some energy for the hike back up, which is a bit steep in spots.
Make it an interesting loop back to the visitor's center via Yucca Point Trail and Razor Point Trail. One of the reserve's most beautiful sweeping views is along this route at the Yucca Point Overlook. If you feel up to another side jaunt, check out the nearby Red Butte.
2. Razor Point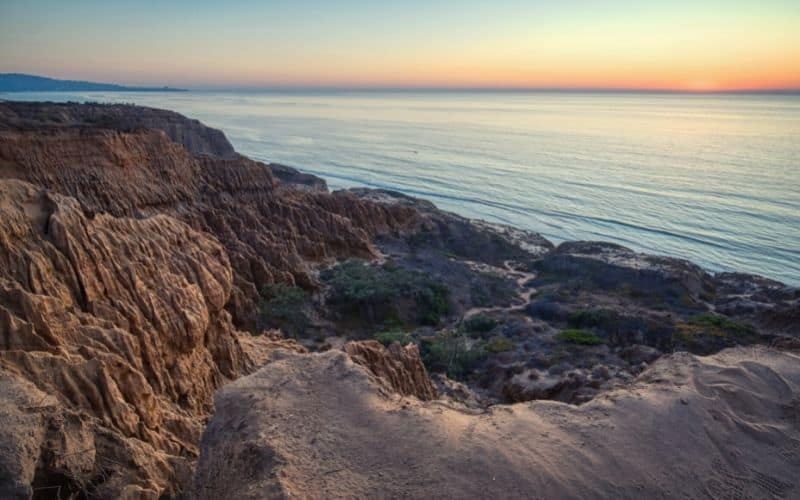 Type: Out and back
Length: 1.2 miles
Difficulty: Easy
Geology buffs get excited about this one! Razor Point Trail is ideal for viewing rock formations. Along this route, you will see badlands, sandstone structures, and Red Butte.
You can also explore some unique geological patterns caused by erosion called tafoni, also known as honeycomb weathering, or swiss-cheese rock. Tafoni are tiny, rounded caverns occurring in sponge-like clusters in porous rock. You can see this interesting geological feature quite a bit along Razor Point Trail.
You will also enjoy spectacular gorge and ocean views, including from the trail's endpoint at Razor Point Overlook. You will walk along coastal sage scrub and see blooming yucca and wildflowers in the spring.
Razor Point Trail can also connect to other trails for a customized combination hike. A quick quarter mile off Razor Point Trail you can see an awesome panoramic landscape at Yucca Point Overlook.
Turn it into a loop by heading back on Beach Trail. Or join Broken Hill Trail for a slightly longer trek back up the bluffs and then walk north along TP Park Road back to the parking lot.
3. Parry Grove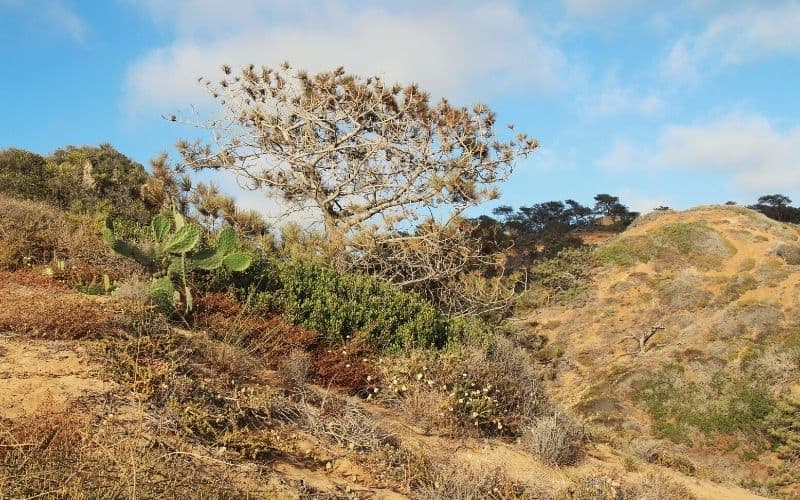 Type: Lollipop
Length: 0.5 mile
Difficulty: Easy
Parry Grove Trail is private compared to some of the more popular trails in the reserve. The entry/exit includes a section of more than 100 moderately steep and rugged stone steps, but it's worth the workout for the stunning ocean views.
It's also a great trail to view the rare Torrey pine trees, some of which are more than 200 years old. The trail features a dense grove of the gnarled trees.
Did You Know? Parry Grove Trail's namesake is botanist Charles C. Parry. He was the first scientist to study and catalog the Torrey pine tree, which he named after his friend and fellow botanist, John Torrey.
The trees are recovering after drought and a bark beetle infestation that devastated the grove in the 1990s. It is now monitored by ecologists using beetle traps on downed trees.
As the rarest pine tree in America, you can only find Torrey pine here at TPSNR and off the coast of California on the Channel Islands.
Hikers on Parry Grove Trail will also appreciate stopping by Scripps Overlook, another scenic viewpoint. On the way in or out, stroll through Whitaker Garden, which features native plants.
4. Guy Fleming Trail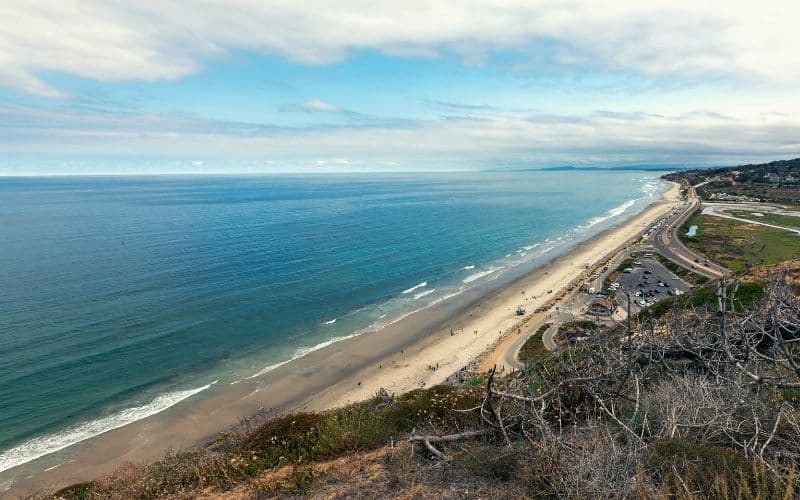 Type: Loop
Length: 0.8 miles
Difficulty: Easy
Guy Fleming Trail is another popular Torrey Pines State Reserve hike. It's relatively flat and a great introduction to the park.
Educational signage along the family-friendly path will help you learn more about the native vegetation.
Some of the best viewpoints of the striking seascape are along the Guy Fleming Trail. There are two main scenic overlook stops with benches and breathtaking ocean views. Whales (during migration) or dolphins are sometimes spotted here, so bring your binoculars!
Guy Fleming Trail has the reserve's greatest variety of plant life. This easy walk is ideal for springtime wildflower viewing. Other greenery along the trail includes ferns, cacti, and pine trees. You will also see some interesting sandstone formations along this route.
5. Broken Hill Trail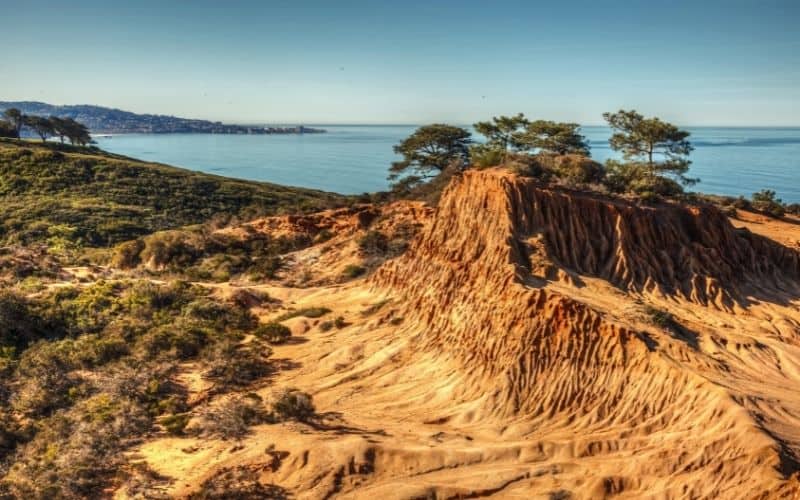 Type: Loop
Length: 2.5 miles
Difficulty: Moderate
Broken Hill Trail, via either North fork or South fork, is the longest hike in the reserve. From the bluffs to the beach, and back, there are about 300 feet in elevation gain. 
You start high up on the bluffs along TP Park Road. Broken Hill Trail winds all the way down to the sand for beach access. It is a well-maintained trail and is accessible for all skill levels. It joins Beach Trail just above Flat Rock. There are some steep steps that lead down onto the sand.
Did You Know? TP State Natural Reserve features geological formations that are millions of years old, some as ancient as 45 million years.
A lot of scenic views along this trail are worth checking out. Broken Hill Overlook and South Fork Overlook are both great places to stop and take in the view.
Up on the bluffs, you might also spot some wildlife including foxes, bobcats, coyotes, and deer.
At beach level, you will be in awe at the rugged cliffs. Years of rising and falling seas, heavy rains, and erosion carved the sandstone into the unusual ridges you see today.
6. High Point Trail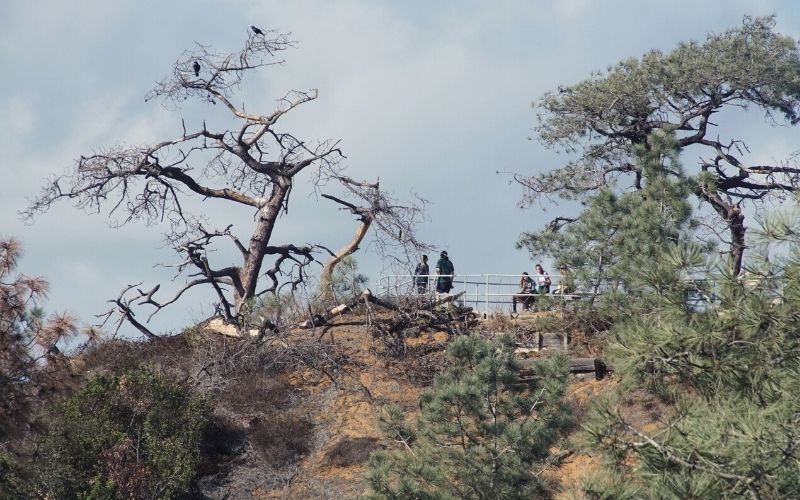 Type: Out and back
Length: 0.1 miles
Difficulty: Easy
Climb up this short but fairly steep hill to the highest point in the park, hence the name High Point Trail.
Once you get your steps in, you will enjoy jaw-dropping, 360-degree views of the entire area. You will see expansive views of the Pacific Ocean, the lagoon, coastal canyons, and inland city views of La Jolla and Del Mar.
Cross the road and add on Parry Grove Trail to extend your hike a short distance.
7. Marsh Trail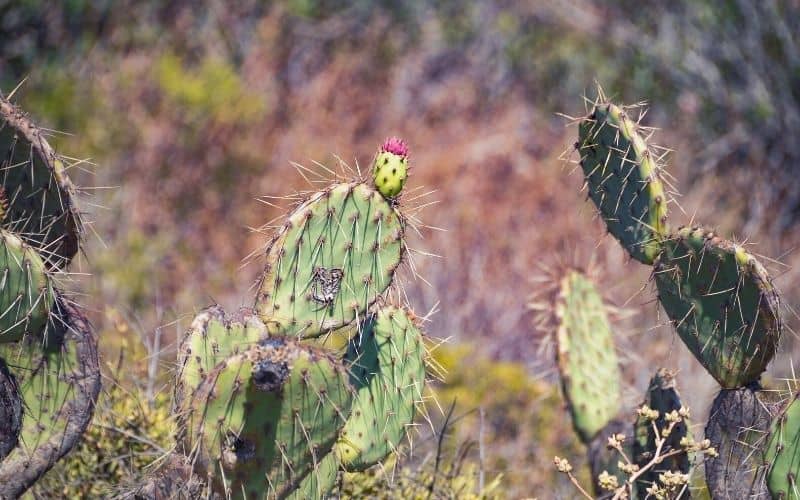 Type: Out and back
Length: 3.8 miles
Difficulty: Easy
The Marsh Trail is an easily overlooked hike in the reserve. Drivers can blink and miss the trailhead on North Torrey Pines Road. It starts near the reserve's main entrance and connects to the end of Flintkote Avenue. It is sometimes referred to as the Flintkote Trail.
The path is very flat and follows the border of the 574-acre coastal estuary, Los Peñasquitos Salt Marsh Preserve. Sections of the trail may be underwater at high tide. You can ask a park ranger about conditions before you head out.
It morphs into a wetlands habitat as you walk further into the marsh. Keep an eye out for coastal birds, including the majestic blue heron and egrets.
The reserve protects about 200 species of birds. Migrating seabirds use the lagoon as a refuge along the Pacific Flyway.
8. Red Ridge Loop Trail
Type: Lollipop
Length: 0.7 miles
Difficulty: Easy
Check out the inland TPSNR extension for some more hiking gems. It's located just north of the main park, across Carmel Valley Road.
The extension is the hidden gem of TP State Reserve. After several years of work by conservation groups, the extra land was officially acquired by the park in 1970. It added almost 200 acres of wilderness to explore.
There are a handful of short but fun hiking trails to choose from at the extension area. The Mar Scenic Trail and Margaret Fleming Nature Trail are some of our favorites.
But the best views are along Red Ridge Trail. Located on the extension's northeastern edge, access this trail from Mira Montana Drive in Del Mar.
You will start your hike under the shade of Torrey pines. It soon opens up with fantastic wide views of the area. At the top of the ridge, you will see Los Penasquitos Lagoon, sculpted sandstone canyons, dense vegetation, and the nearby cityscape.
Tips for Hiking in TPSR
Not dog-friendly and no food is allowed in the reserve above the beach
Be careful around cliff edges and avoid hanging around the base of the cliffs. Rock slides and cliff collapses are frequent and often occur without notice
Watch for high tides when you visit the beach
Some trails close after heavy weather, so be sure to check out the official website before heading out for your TP adventure
For guests wanting more information on the area, check out the visitor center, a 1923 pueblo-style building next to the park entrance parking lot. TPSNR also offers docent-led hikes and programs.
Other SoCal Hiking Guides
Torrey Pines Hiking: Time to Explore!
With so much to see at Torrey Pines State Beach and Natural Reserve, your adventure can be whatever you make it.
You can focus on the beach trail and playing in the sand. Maybe you want to explore the hiking trails under the shade of America's rarest pine tree. Or you can delve into the geological wonders of the unique sandstone formations.
Hopefully, this guide to Torrey Pines hiking helps you find your own wilderness refuge in Southern California! Comment below and let us know about your experiences out on the TPSNR trails. And if you'd like to share this article with your friends, family, or hiking friends, please feel free to share away!