Your Camping Outfit and The Seasons
Before we get down to the nitty-gritty of seasonal variations required in your camping outfit, let's start with a few universal, year-round rules of thumb to observe.
First up, comfort reigns supreme at all times. Bearing this in mind when buying your backcountry couture is the basis for success.
Secondly, each season is unique and can throw different kinda curveballs into the meteorological mix. With significant nighttime-daytime temperature variations and fickle weather conditions to contend with at any time of year in the outdoors, it's always wise to be prepared for the worst.
Thirdly, how high you go is almost as important as when you go. Huh? Yep, you read right. Temps when camping at lower elevations can differ significantly from temps at higher elevations. This being so, be sure to take area forecasts with a pinch of salt and pack an extra layer or two if heading on high.
Finally, the great outdoors is no place for flimsy fabrics. To ensure your camping outfits are in serviceable condition for more than one season, always place durability near the top of your pre-purchase priorities.
Got all that? Great! Then let's get down to our short season-to-season overview of suitable camping clothes.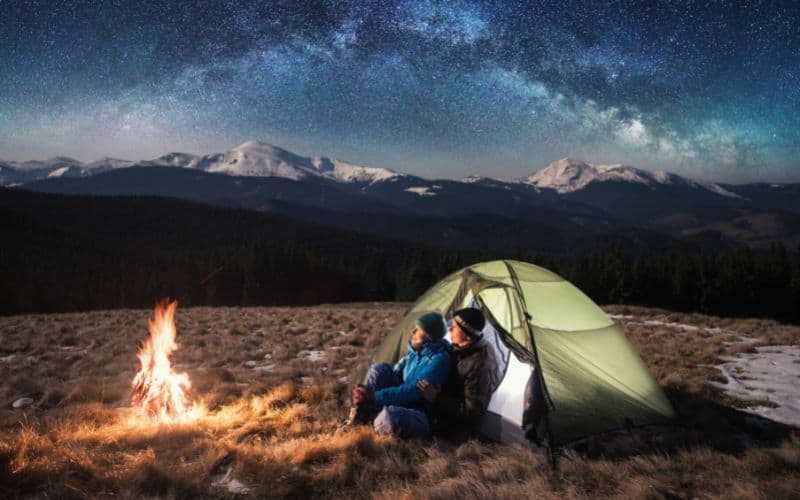 Summer
During the summer camping season, the sun's rays hit the earth more directly than at any other time. As such, apparel with sun protection is needed to avoid sunburn caused by exposure to ultraviolet (UV) light.
Long-sleeved shirts, sun hats, neck buffs, and Kool Ties are all great options. These will be labeled with UPF ratings that inform you how much UV radiation a fabric allows to reach your skin. In sunny conditions, the higher the UPF rating, the better.
Other winning attributes to look for in summer camping clothing include lightweight fabric, vents to allow for cooling and breathability, and, to keep bugs away, permethrin treatments.
If you're wearing shoes, you'll want them to be as ventilated as possible while wearing a breathable sock to maximize wicking and keep your tootsies cool. Sandals are an excellent alternative to shoes and socks and models with trail-ready treads such as Chaco or Teva offer ample support and are awesome for use around the campsite.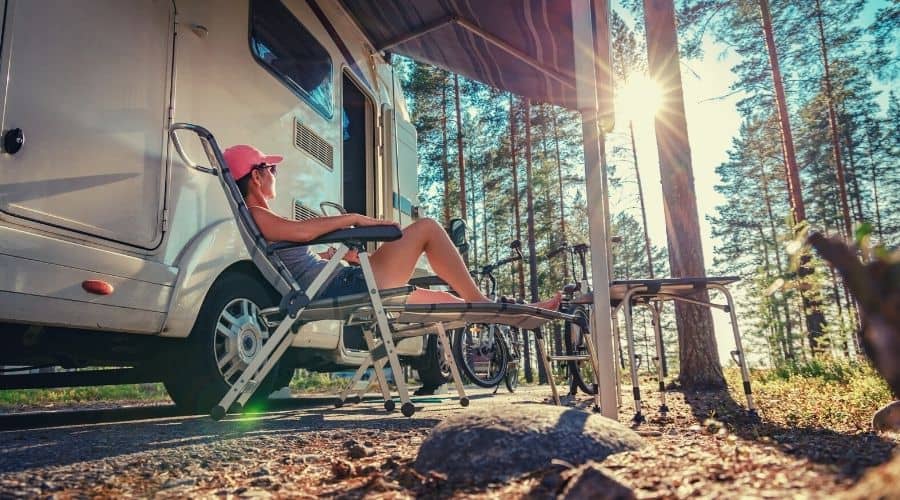 Spring/Fall
During the spring and fall seasons, it's wise to be fully prepared for variable conditions. While daytime temperatures can be moderate, nighttime temps can often plummet close to freezing and seeing snowfall, scorching sun, and biblical downpours in a single day is not unheard of in certain locations (we're looking at you, Scotland/Oregon/Maine!).
Given this, you should pack clothing capable of protecting you from both the sun and the cold. This means a combo of beefy insulating layers with slightly cozier under-layers, tops, socks, and mid-layers than those recommended above for summer.
Winter
Camping in the cold winter months is definitely worth doing. And this is when the layering system really comes into its own. Layering creates small "pockets" between items of clothing, thereby bolstering your defenses against the frigid air.
For your baselayers, we recommend opting for chunkier (200-350 weight) wool fabrics. For mid-layers, down or synthetic downs are the coziest options, though fleece is also a solid lower-cost alternative and performs far better when damp. On your feet, heavyweight woolen socks and 3-season or 4-season hiking boots are all but essential.
Top these off with a warm beanie, gloves, and a pair of gaiters to help keep your feet dry, and you're good to go!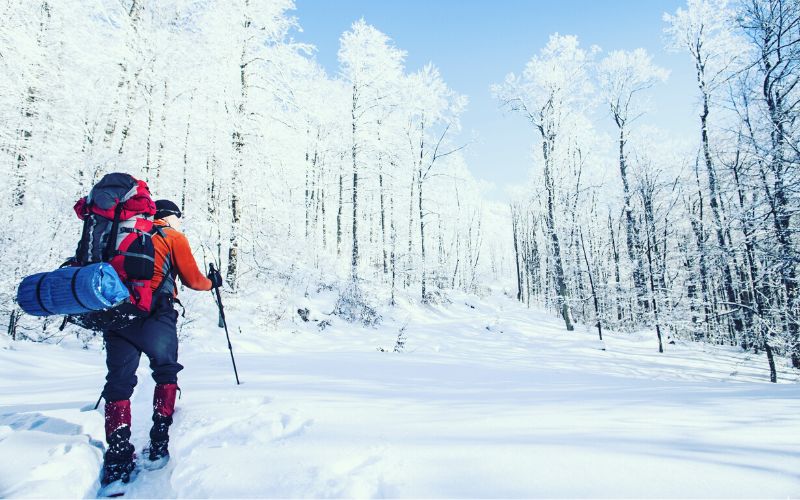 All Seasons
No matter what the season, a dependable set of waterproofs should always make its way into your duffle or backpack when you go camping. Even if precipitation is not in the forecast, you'll be glad you brought them along for the trip if the forecasters—as they are prone to—get their predictions wrong.
What to Wear Camping: Layers 
The layering system is, essentially, the gold standard of suitable, safe, and sound outdoor attire. It allows you to shed a layer when you're hot and add one when cold, all with the minimum of fuss. Here's how to use it with your camp clothing, from underwear right through to your shell layer.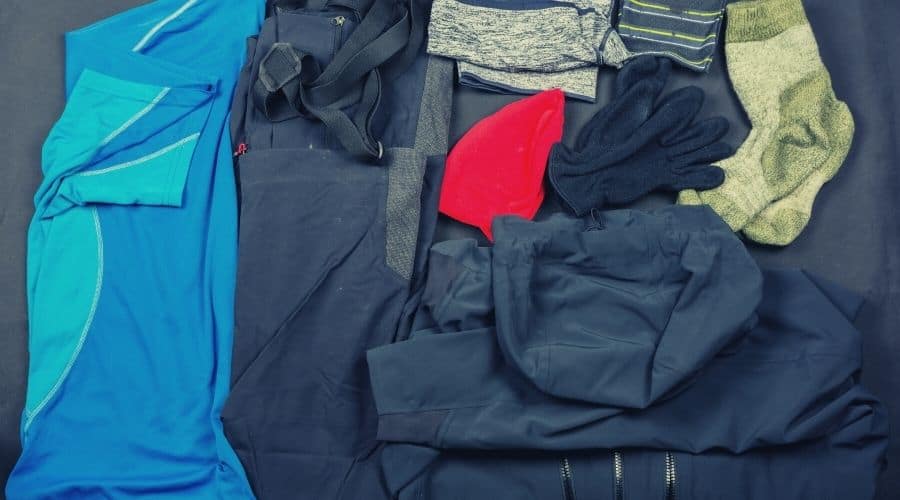 Baselayer
The base layer is the layer you wear directly against your skin. This layer is meant to be snug fitting, as you want less space between your skin and the article of clothing. This lets the layer wick your sweat away from your body and prevents cold air pockets from forming in the gap.
The ideal base layer fabrics are polyester and merino-based blends, both of which allow your skin to breathe and wick perspiration, and are available in varying "weights" or thicknesses for different conditions.
Pro-Tip: Baselayers are tops and bottoms that are usually labeled as:
Microweight (perfect for summer)
Lightweight (perfect in late spring and early summer conditions)
Midweight (perfect for spring and fall)
Heavyweight (perfect for winter conditions)
Mid-Layer
The mid-layer is the layer tasked with ensuring you stay warm by providing insulation.
As with base layers, wool and fleece mid-layers are available in varying "weights" and thicknesses. Quarter, half, or full-zip pullovers and hoodies are all good choices for kicking around camp at night.
Down mid-layers insulating capacities, on the other hand, are measured using fill power and fill weight. Fill power usually ranges from 300-900 and is calculated by measuring how many cubic inches an ounce of down creates at the maximum loft. A down fill rating of 700, for instance, means that one ounce of down can cover 700 cubic inches.
Fill weight, on the other hand, refers to the total weight of the down used in the mid-layer. If it has a down weight of 16 ounces, this means that 16 ounces of down material were used to make it. Generally speaking, the higher the fill weight and fill power, the warmer a mid-layer will be.
Vests are often also a great choice for mid-layers because they keep your core warm without impeding your upper body mobility (making it all the easier to reach for that last-remaining beer before your camp buddy does!).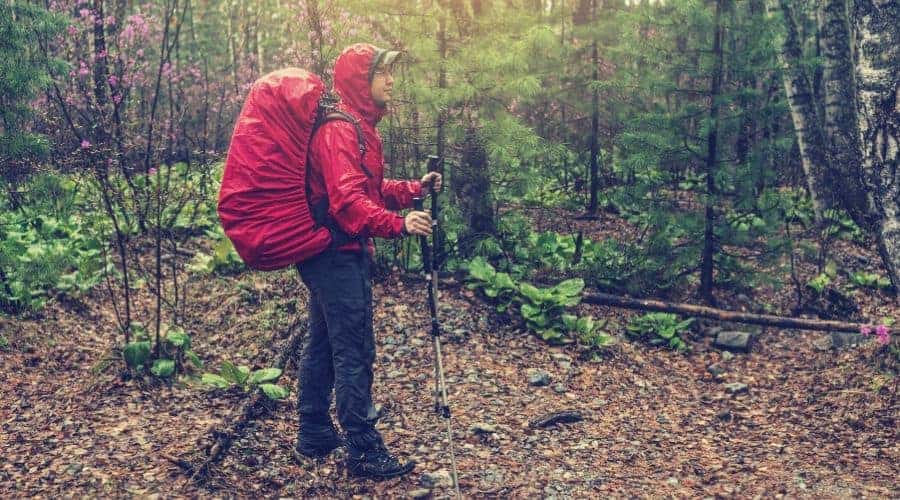 Shell Layer
The top layer of your layering system should be a hard or softshell jacket that will help trap the heat in from your other two layers and protect you from wind and rain. When buying, ensure your would-be shell layer has a decent hydrostatic head rating, sealed seams, and is big enough to fit over your other clothing.
Breaking it Down Garment by Garment
Tops
Polyester, nylon, or woolen tops are the best tops to take camping, whether you choose to wear a t-shirt, long-sleeve shirt, or a tank top.
Woolen tops are generally regarded as the "top" picks because wool contains natural antimicrobial and antibacterial properties. This means they will not retain odors as much as most synthetic materials. Wool's also a great insulator, dries quickly, and allows your body to breathe while keeping you warm.
Bottoms
Quick-drying pants, convertible pants, and shorts are the perfect options for camping. Shorts are great for spring and summer, but depending on where you're camping, you might want to cover up to avoid bug bites.
To be on the safe side, we recommend always packing a pair of waterproof or water-resistant pants, too.
Socks
As with other items of clothing worn against your skin, your hosiery should be breathable and high-wicking. However, because you're likely to spend more time stationary when camping than when hiking, we recommend opting for slightly thicker, warmer models than you'd wear on the trail.
Heavier merino wool is great for colder conditions, while lighter merino, bamboo, and synthetics like COOLMAX polyester are great for warmer temperatures.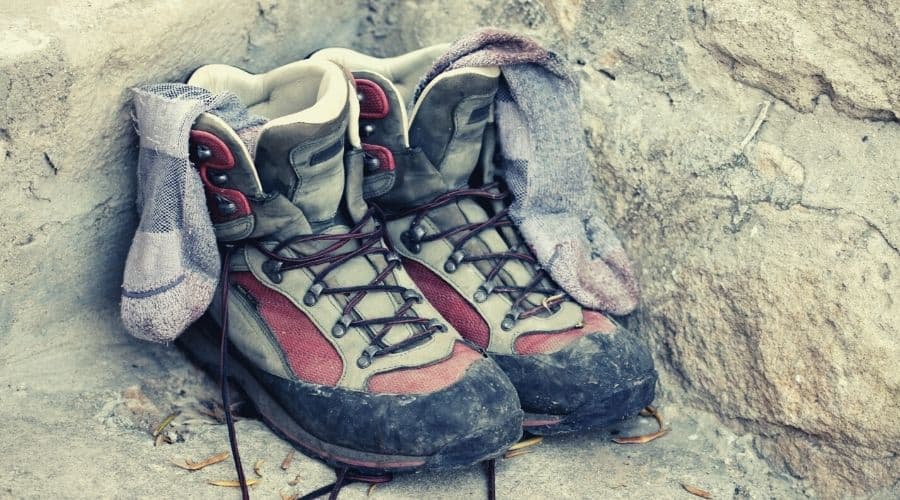 Footwear
When camping, the ideal choice of footwear will depend on the terrain and time of year. Regardless, you always want to have footwear that is sticky and grippy (Vibram and Contagrip are great options!) with decently sized lugs.
Head Gear
Always make sure to wear a beanie during the evening to avoid losing heat through your head. And it's safe to say that, in summer months, you shouldn't leave home without a baseball cap or sun hat. If in doubt, pack a buff—these weigh next to nothing and can be used as a hat, neck warmer, face mask, or sweatband.
Nightwear
Many newbie campers will miss their PJs at night, but a pair of joggers or top-and-bottom long johns will be suitable enough for a good night of sleep.
Camp slippers are useful to wear for easy slip-on/off purposes in case you run out of your tent for a midnight snack or a quick bathroom break.
Extra Accessories
The Ten Essentials should always be first on your list of things to pack.
But also don't forget:
Sunglasses
Sunblock
Wet-weather gear
Gloves
Insect repellent bandana
Buffs / Kool Ties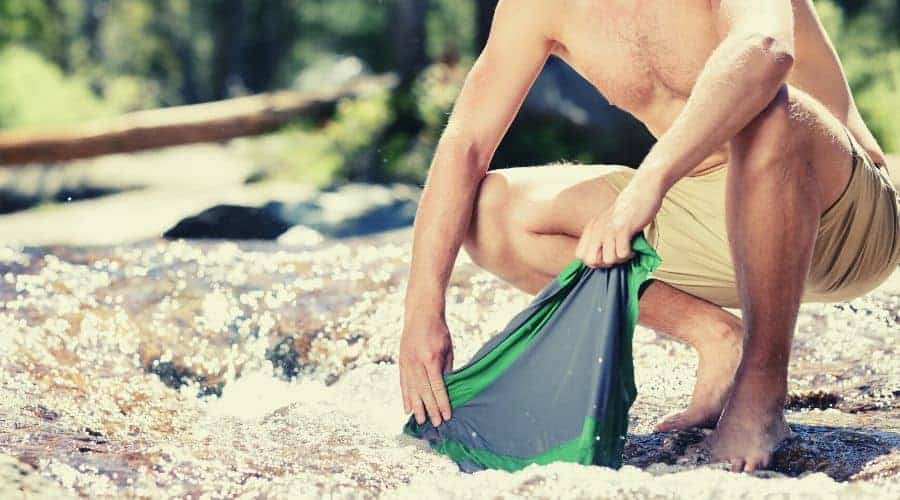 Laundry
On longer trips, you're going to want to keep things hygienic. Keep dirty clothes separate from clean clothes, especially if there is poison oak lurking around camp, and carry a few stuff sacks to separate dry from wet clothing.
Don't wash camping clothes with detergents that have sweet odors, because these tend to attract bugs. Also, be sure to use technical washes or detergents as required for different fabrics.
Woolen clothing should be washed with mild detergents in a front-loading machine and hang-dried only. Get yourself a specialized wool wash and your yarn threads will also stay in top shape for years to come.
Specialized technical detergents are also available for waterproof clothing, down garments, and DWR-treated garments.
Most hiking gear is made with quick-drying fabric, meaning you can hang it out to dry after washing and skip using a machine.
Camping Couture…Check!
Heading into the wilds for a few days is something that should never be underestimated. But by packing the right apparel for your trips, you'll already have taken the biggest step towards ensuring your future camping adventures are a success.
Was our list helpful? If so, or if you have any questions on what to wear camping, we would love to hear from you! Please drop a note in the comment box below and please share this article with a friend if you think they benefit from reading our tips! 
Further reading: If you plan on hitting the hiking trails while on your camping trip, then take a look at our guide to what to wear hiking.