These days, choosing a backpack ain't easy. With so many different designs flooding the market, the decision seems to be harder than ever before. While the features, design, material, and style of pack you need will depend on multiple variables (and, of course, personal choice), the size of pack you need is far clearer cut. And that's where we come in!
We will take you through all the things you need to take into consideration to find the perfect size of backpack for you, whether you're a day hiker, weekend camper, or long-distance thru-hiker.
Key Takeaways
Fit is fundamental – If possible, head into a store to try on multiple packs
Get your gear out – Measure your gear in trash bags to gauge the capacity you require
Remember the variables – In addition to trip duration, gear requirements and the season you're hiking in will affect the required capacity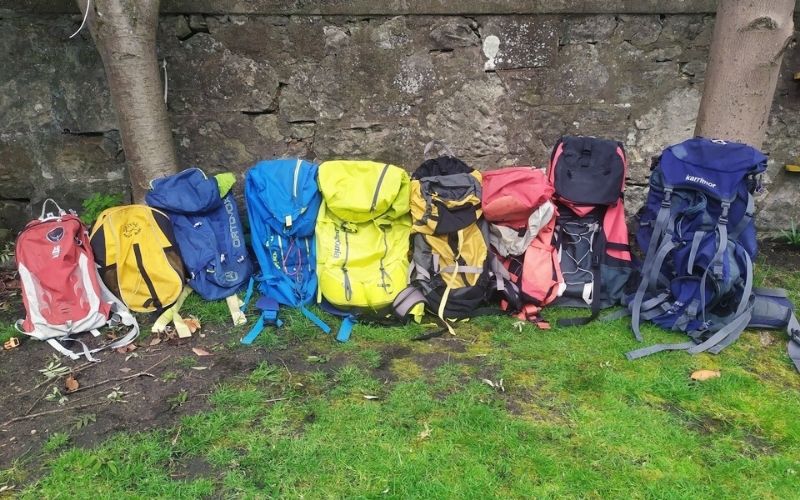 Backpacks Sizes Per Trip Duration
Daypacks (8-25 Liters)
A daypack is for shorter trips (day hikes) and assumes you're not bringing camping gear for an overnight stay. However, the size of the pack itself ultimately depends on a few variables. These include the season you're hiking in, whether you're alone or not, which activity you're doing, and whether you're in a remote location or traveling in crowded places.
Smaller backpacks between 8-20 liters don't normally come with chest straps or hip belts, which is a hint that they are best used for packing light. Shoulder straps are thinner, too, which means that if you're carrying too much weight, they'll dig into you.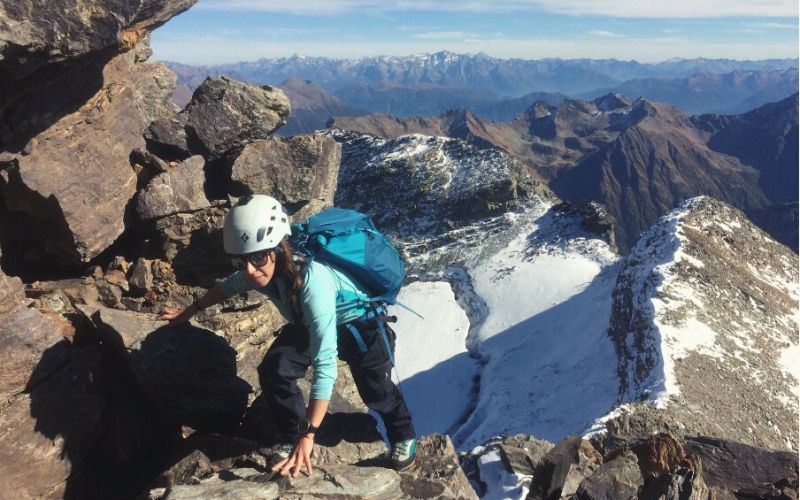 If you're out with a group in the summer and you can split the contents you're carrying (water bottles, snacks, lunch, camera, an extra layer), then small backpacks between 8-15 liters will be fine. If you're trail-running, then you'll be fine on the smaller side, too.
However, if you're hiking alone or you'll be out for a long period of time, then you'll want to aim for medium backpacks between 20-25 liters. Medium bags will have chest straps, more solid shoulder straps, a thin hip belt, and will provide better back support.
Many backpacks now come with a whistle built into the clip on the sternum strap. This is important if you're hiking alone. Some of these backpacks come with hiking pole loops on the side. Additionally, if you like to be on the move and use hydration packs, then this is a feature most trail-running and 25-liter backpacks will have.
The winter presents new challenges. Snowshoeing, skating, skiing, snowmobiling: winter activities are fantastic, but to stay warm, they require carrying more bulky gear. Consider your extra food and liquids, your clothing, mittens, ski goggles, emergency shelter, crampons, water bottles . . . the list adds up fast, and the total volume needed does, too.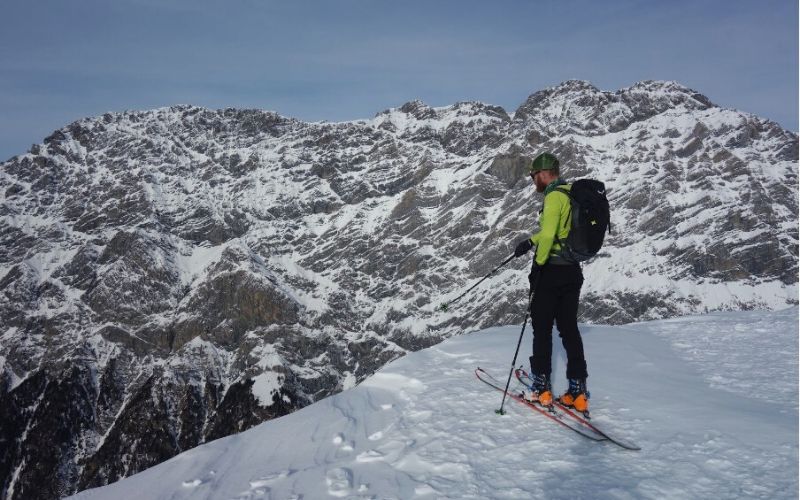 There are many great ski-oriented backpacks between 15-30 liters. They often have two main compartments. One is accessible from the top, where you can stuff your safety gear. The other is accessible from the back, where you can stuff your puffy, extra clothing, food, and water bottle.
These backpacks have a daisy chain to clip things onto, and all the features you'll need: ice axe loops, mesh pockets for your helmet, a goggle-specific pocket, and side straps for your ski or snowboard.
Our favorite pack in this category is the Osprey Talon (women's version: Tempest). This 22-liter/20-liter pack isn't the lightest option available, but it's supremely comfortable and far more user-friendly than the closest competition.
Weekend Backpacks (35-50 Liters)
For overnight trips and weekend backpacking trips, you'll need to carry your camping gear in your pack. This includes your sleeping bag and pad, tent, cooking kit, food, water, and extra clothing.
Regardless of whether you're a minimalist hiker or someone who likes luxuries, you'll need a larger backpack than required for a day hike. But, as with planning your camping trip, this can be a lot of fun!
Many of the principles involved in selecting a weekend bag (35-50 liters) will also apply to selecting multi-day (45-70) and expedition (70+) bags.
First, the backpack frame. The younger generation of backpackers might be asking themselves what this is, but, if you've seen an external frame pack, then you know what we're on about. Backpack frames help properly transfer the load to your hips.
Internal frames are more popular. They're lighter, framed with either a hard sheet of plastic (minimalist backpack) or metal inside the backpack. Contrarily, external frames are exactly what they sound like – metal on the outside. This may look like you're carrying a bed frame, but if you're someone who likes to have everything dangling for easy access, this is a good option.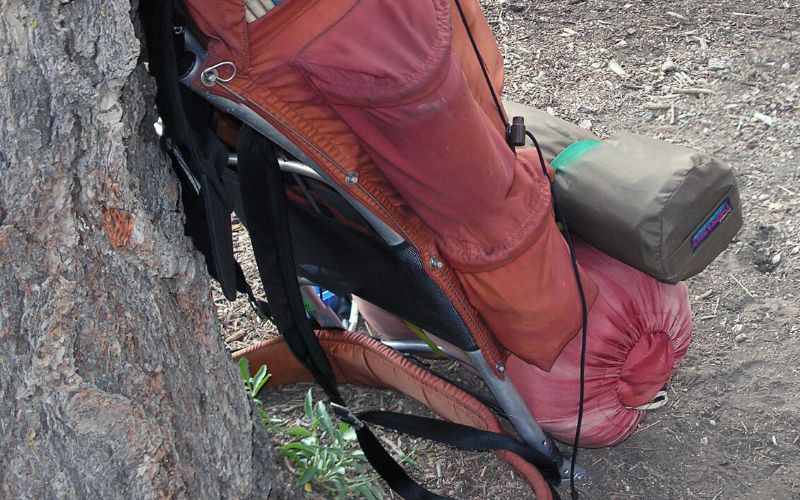 These days, ultralight frameless packs are also gaining in popularity. While these are lighter than the alternatives, they are far less supportive and often uncomfortable to wear for long periods of time.
Next: accessibility. Are there multiple compartments, or just the main compartment? There are pros and cons to backpacks with multiple compartments. However, generally speaking, they can really help you organize your kit. Most backpacks have top access, but those that have bottom and side access points are favored by many for their convenience.
What about hip belts and shoulder straps? Since you'll be carrying a lot, you want these straps to be adjustable, padded, and wide enough to remain comfortable all day long. You might not feel the weight in your pack on your first mile, but trust us, by mile five you'll know whether your backpack is properly load-bearing or not!
Shoulder straps can be very thick and padded, while others have a minimalist design. Everyone has their own preference. The same goes for hip belts. Some are thick, extending from the "skeleton" – the back panel – of the backpack, and are pre-shaped to fit your hips, while other hip belts are much flimsier.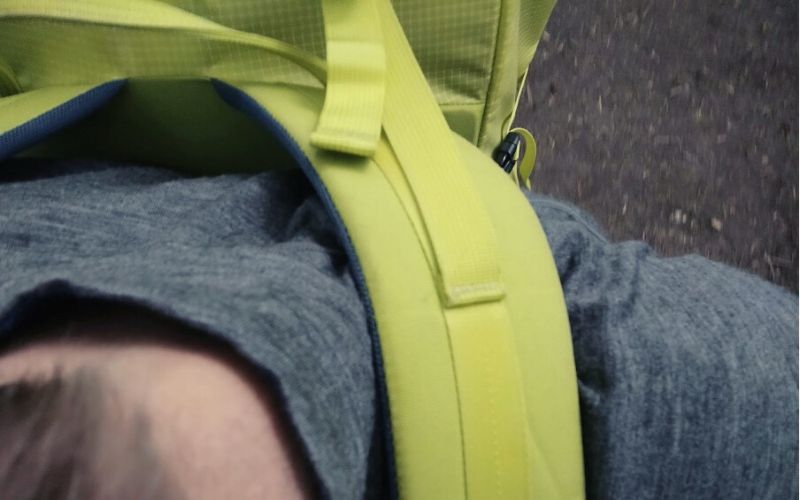 There are pros and cons to both; however, what is important is that you find what works best for you. In most cases, this will entail compromise – beefier straps will add weight but boost comfort, while skinnier ones will shave off a few ounces but will be prone to digging into your skin (aka "cheese-wiring") with heavy loads.
More technical backpacks provide an adjustable suspension system to slightly lift the bag up or down to fit your torso, as well as an adjustable harness. These are small features, but make a big difference, especially when it comes to getting a more dialed-in fit.
One last note. If you're tired of lugging around a suitcase, weekend backpacks make excellent travel backpacks. The smaller ones will easily fit as a carry-on when flying.
Our top pick in this size category is the Hyperlite Mountain Gear 2400 Southwest.
If you're looking for something more affordable, check out the Gregory Optic and Octal (women's).
Multi-Day Backpacks (45-70 Liters)
Whether it's the John Muir Trail, the Appalachian Trail, or a 5-day backpacking trip in your local hills, these large backpacking packs are perfect for an extended trip into the wilds.
These larger packs are similar to those needed for weekend trips, but they have a sturdier frame, better padding, higher capacity, and extra pockets, allowing you to pack more essentials and carry more weight.
Before selecting your backpack volume, focus on the essentials you need to pack. The more space you allow yourself, the more likely you are to fill it with things you don't actually need. And, of course, a larger pack will weigh more empty than a smaller one. Trust us, every ounce you carry makes a huge difference when you're on the trail.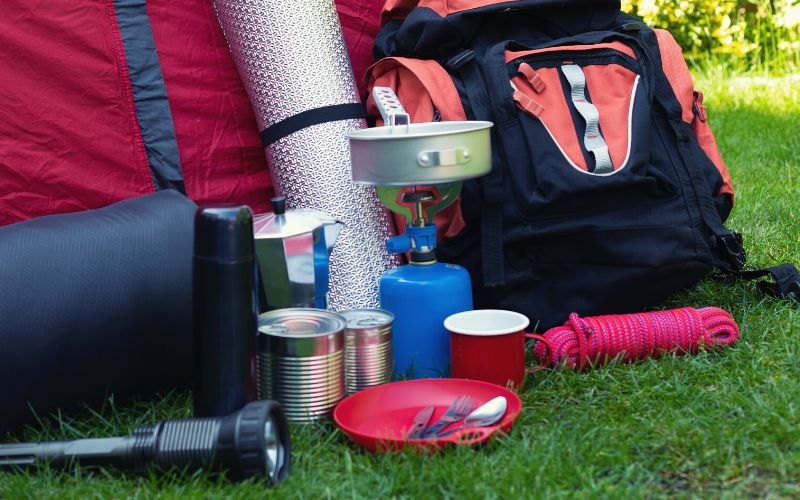 Finding the sweet spot of backpack volumes and what to fit inside them takes time and experience, but you'll be so much happier with a lighter and smaller backpack. 
Two important features to consider are pack accessibility and a top lid. When comparing a top-loading backpack vs one that has a u-zipper, the latter is more convenient by far. The u-zipper gives you front and side access, meaning you can access gear anywhere in your pack without having to empty out the rest.
Lids are great storage features for small essentials, and can also be used to cinch more items to your bag, like a sweater or jacket. Many lids can also be transformed into daypacks, which is great if you want to base yourself somewhere and explore for the day.
Our favorite packs in this category are the Osprey Atmos and Aura (women's) AG 65.
Expedition Backpacks (70+ Liters)
These large backpacks are for mega adventures, if you're guiding and need to carry loads of gear, or if you're the one stuck carrying everything!
Like weekend and multi-day backpacks, the key components of these large backpacks are the same. Consider the frame, the hipbelt, storage accessibility, weight capacity, pockets, and hydration capabilities.
Our favorite pack in this category? The Osprey Aether Pro 70. This pack ain't a lightweight, but its internal and external storage is perfect for long-term trail travel.
Other Backpack Sizing Tips
Something we hear all the time from backpackers is: 'Are women's backpacks necessary? Do womens' fit differently?'
There are a few things to consider here. Since women have a lower center of gravity, women's backpacks are built to help spread the load better.
However, the biggest difference is that a women's backpack is designed to fit differently. They have a shorter torso range, and the hip belts and shoulder straps are both narrower and shorter.
Our advice on this question is simple: go to a store and try on loads of different backpacks. Many women wear men's backpacks, and we know several men who wear backpacks designed for women. There's a best backpack for every different body, and finding the ideal option for you requires spending some time trying out the options.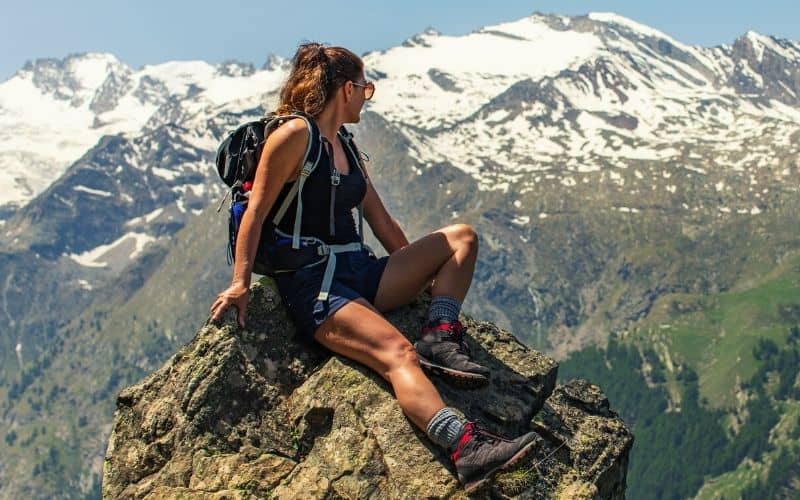 Frequently Asked Questions on…
How much weight can a backpack carry?
The short answer: much more than you can carry! Backpacks are tough, and can often carry far more than you would ever wish to burden them with. A pack that is too heavy, however, is unsafe and could cause various types of injuries. If not, it will at least make your time on the trail highly uncomfortable.
For day hiking, we recommend your pack doesn't exceed 10% of your body weight. For backpacking, 20%.
How is the exact volume of a backpack measured?
The total capacity of a pack is expressed in volume, though this can sometimes be tricky to visualize.
Companies measure volume by adding up all of the usable, closed storage space. Note that this can also include side pockets, hip belt pockets, mesh pockets, the lid compartment – basically, anywhere you can pack something. This can be misleading when buying a pack, as the central compartment might be much smaller or larger than you expect.
Want to know what pack capacity you need? Get a few trash bags (10, 20, or 30-liter), fill these with all of your usual hiking or backpacking gear, make allowances for food, and use the trash bag capacity to measure what backpack capacity you need. When doing so, bear in mind that your pack will also have external storage, too.
How many cubic inches is 1L?
1L is roughly 61 cubic inches. So, if you wanted a 25L travel backpack, then you're looking at 1525.59 cubic inches.
What are some accessories to look out for?
Sometimes, the small details are a make or break. Check for whistles on the buckle of the sternum strap, attachment points on the outside of your pack for ice axes, hiking poles or helmets, a laptop compartment, goggle-specific pockets, key clips, a back ventilation system, as well as multiple access points.
Surprisingly, many backpacks do not come with water bottle pockets, which are so useful, so be sure to check these are there!
Backpack Size Guide: Let's Get Hiking!
Whether you're a well-seasoned backpacker or are getting ready to tackle your first trip, choosing the right backpack is key to enjoying the trail. We hope our backpack size guide has ushered you in the right direction and helped you find the perfect pack for you!
If you liked this post, feel free to share it with your friends or anyone looking for a new backpack! Drop a comment or questions in the box below.