Kentucky is home to one-of-a-kind scenery and landscapes, including the longest cave system in the world, the largest waterfalls in the south, and a wealth of unique rock formations. To experience the best of this state, we recommend full immersion, which means skipping the hotel and heading to one of its many awesome campgrounds.
Use this guide to find the perfect outpost for exploring the Bluegrass State. We'll cover our favorite 11 campgrounds, their amenities, facilities, and reservation policies, and give you an inside look at what to do while you're there.
1. Zilpo Campground, Cave Run Lake (Daniel Boone National Forest)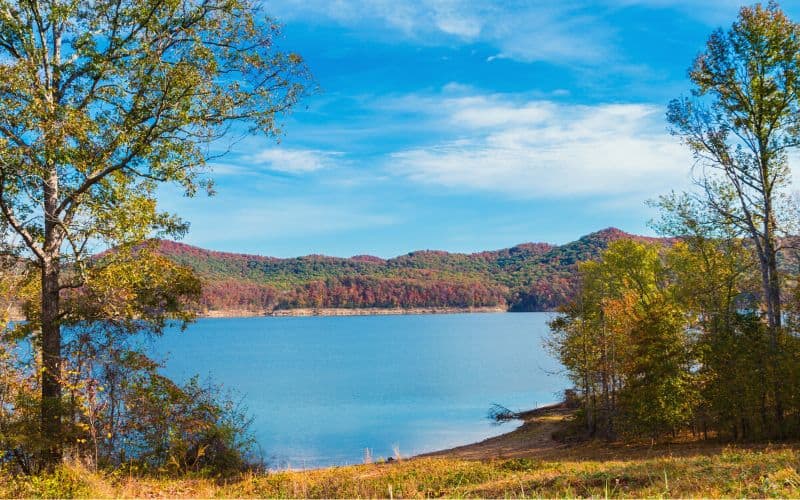 There are many places to stay in Daniel Boone National Forest, but the best is Zilpo Campground. Located on a peninsula in Cave Run Lake, Zilpo Campground offers shady sites and access to premier outdoor recreation.
There are 172 sites available, including spots with sewer and electric hookups. Tent campers are welcome at sites with level tent pads, picnic tables, and fire rings. All sites are within walking distance of showers, flush toilets, and, most importantly, the lake.
Known for its exceptional muskie fishing, Cave Run Lake is also perfect for water skiing, paddle boating, and swimming. Enjoy the lake from the water, or use the Zilpo Mountain Loop Trail to see the lake from above.
Reservations are required and must be made at least four days before arrival.
2. Big Bone Lick State Historic Site
Children (and your inner child) will love Big Bone Lick State Historic Site. Named for the megafauna fossils in the area, this historic site is home to many fun and interactive exhibits and displays.
At the Visitor Center, learn about the Wooly Mammoths, ground sloths, and mastodons that used to roam the area. Then use the park's hiking trails to see the Megafauna Diorama pit, where massive Ice Age fossils were first found.
To immerse yourself in all this fascinating history, stay at the spacious campground. There are 62 sites with utility hookups for RV or tent camping, showers, toilets, and a laundry facility. Campers can take advantage of miniature golf and tennis courts and have exclusive access to a swimming pool. Don't forget to make a reservation at least one day in advance.
3. Axtel Campground, Rough River Lake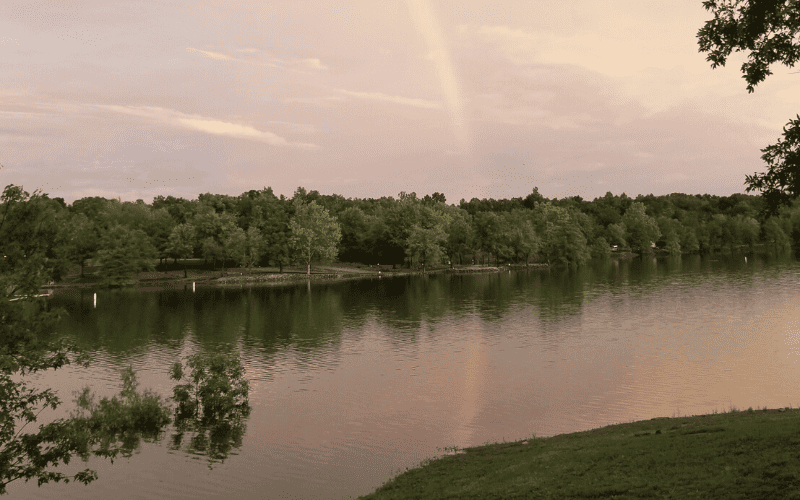 Rough River Lake is a nature lover's paradise. This Kentucky lake is surrounded by sandstone and limestone cliffs and provides a place to fish, boat, swim, hike, or simply reconnect with the outdoors.
With over 150 lakefront campsites, the Axtel Campground is one of the top campgrounds in Kentucky. Electric, full hook-up, and tent sites accommodate any camper. Amenities include showers, flush toilets, and a dump station. For recreation, use the playgrounds, boat ramp, and fish cleaning station.
Axtel Campground is a popular destination. Whether you plan to say for one or a few nights, book in advance to ensure you get a spot.
4. Koomer Ridge Campground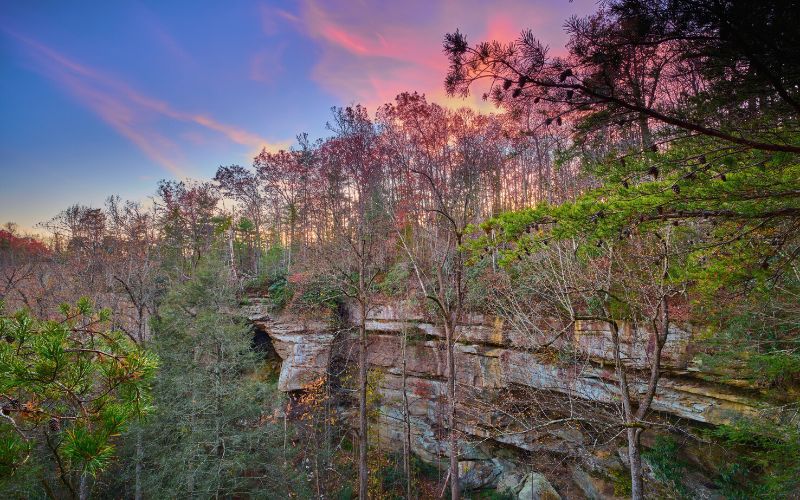 Koomer Ridge Campground is the place to be if you're looking for a peaceful basecamp for hiking in the wonderful Red River Gorge. Fifty-four semi-primitive sites are dispersed throughout a forest for a quiet camping experience.
Each site features a fire ring and a picnic table. The campground maintains a shower and toilet facility, drinking water spigots, and a dump station. During the summer months, look for events and educational programs happening near the amphitheater. However, the main attraction is the hiking and rock climbing.
From your campsite, you can access miles of trails that lead to hidden arches, dramatic sandstone cliffs, and stunning views of the Red River Gorge. Campsites are first come, first serve only. The entrance bulletin board has check-in instructions and information on using pay envelopes.
5. Natural Bridge State Resort Park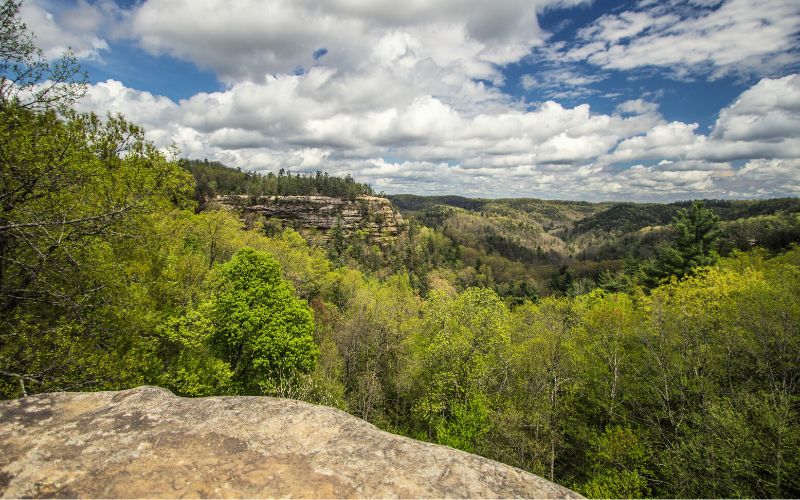 Natural Bridge State Resort Park is a Ketuckian favorite. Three hundred thousand visitors each year come to explore the park's many scenic hiking trails, ride the skylift, and walk across the natural bridge. The resort park offers two campgrounds for extended stays.
The Middle Fork and Whittleton Campgrounds have 57 tent spots and 69 standard electric sites for RVs and travel trailers. Whichever campground you choose, you can make yourself feel right at home with the park's many amenities. For example, there are laundry facilities, bathhouses, and cable/satellite service.
Take advantage of the canoe rentals, putt-putt course, and nature center. There is also a playground, restaurant, and a camp store if you forget any essentials. Of course, you have to check out the natural bridge and the petroglyphs while you're there. Because it is one of the most popular parks in Kentucky, make your reservations well in advance.
6. Nolin Lake State Park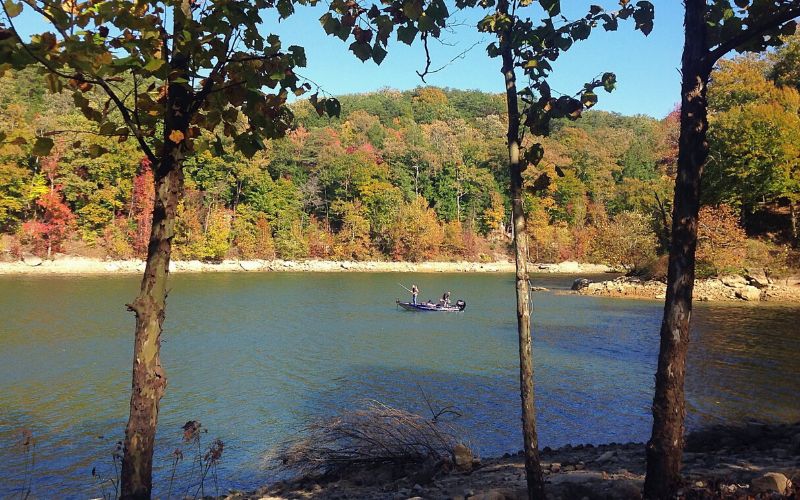 A few miles from Mammoth Cave National Park, Nolin Lake State Park provides visitors with a perfect peaceful escape from the hustle and bustle of daily life. The state park is nestled along the undeveloped shoreline of Nolin Lake, where you can fish, boat, and unwind.
Set up camp at electric and primitive campsites. There are showers, toilets, and a laundry facility. While there are no full hookups, the area has a playground, a sandy beach for swimming and sunning, and a boat ramp.
Aside from swimming, Nolin State Park has some of the best fishing in Kentucky. Bring your tackle and catch catfish, bass, walleye, and crappie. For non-anglers, check out the park's 9.2 miles of single-track mountain biking trails or try bird watching along the Waterfall Loop Trail.
Although less busy than other state parks, you still need to make a reservation a day before you arrive.
7. Mammoth Cave Campground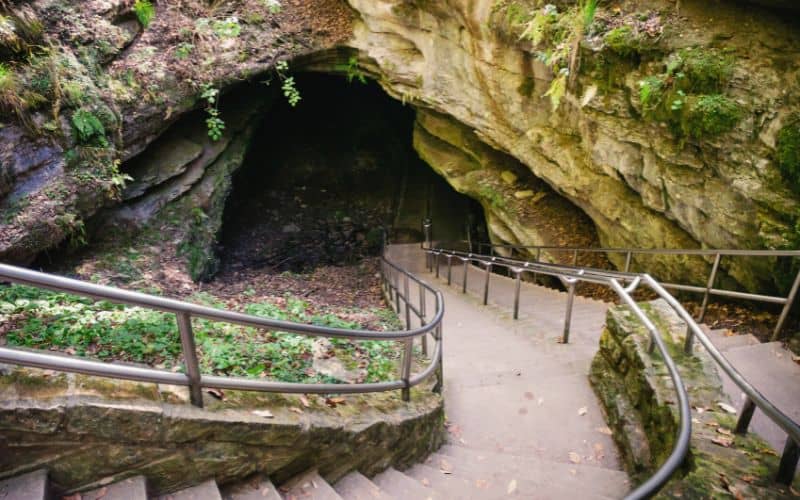 Discover the longest cave system in the world at Mammoth Cave National Park. The 400-mile cave demands more than one day of exploration. Luckily, the National Park is equipped with a sizable campground.
With over 100 camp spots less than five minutes from the Visitor Center, the Mammoth Cave Campground makes the perfect adventure headquarters. Primitive and full hookup RV sites are open all year round, but the flush toilets, showers, and camp store are only available seasonally. If you need more extensive supplies Park City and Cave City are just a short drive away.
For a less luxurious camping experience, there are thirteen backcountry sights along the picturesque Green River. The backcountry sites require a permit and are accessible via boat, horseback, or foot. Reservations are not required but are highly recommended.
8. Yogi Bear's Jellystone Park
Yogi Bear's Jellystone Park at Mammoth Cave is more than a place to stay. It's an experience. This resort-like campground caters to everyone from big rigs to vans to tent campers. The park features full-hookup sites, four comfort stations, cable, WIFI, and a laundry room.
You don't have to leave the campground to enjoy jump pillows, splash pads, or swimming pools with waterslides. The park also hosts events throughout the season, including karaoke and bingo nights, carnivals, and luaus.
There are fun things to do in the park and many must-see attractions in the area. Within a few minutes, you can visit Mammoth Cave or check out the American Cave Museum at Hidden River. Remember that you must have a reservation, and RV sites require at least a two-night stay.
9. Green River Lake State Park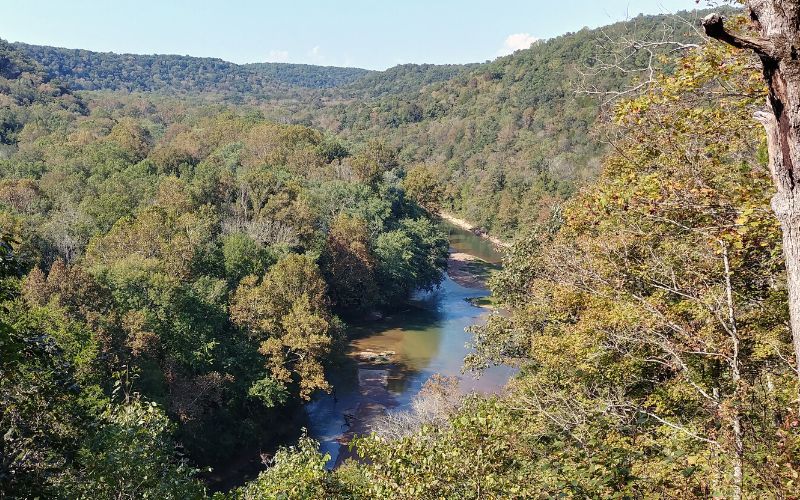 Green River Lake State Park is home to spectacular views and a bounty of awesome, secluded hiking trails. Outdoor enthusiasts, families, and bird watchers alike flock to the area for fresh air and a chance to get away.
Even with over 200 sites, the riverside campground still feels private and spacious. Water and electric RV sites and 60 tent sites are available. Amenities include showers, restrooms, laundry, and a grocery store.
Once you set up camp, make the most of the park's many recreational activities, from horseback riding to jet skiing. The lake provides great fishing, swimming, and boating opportunities. There are 28 miles of hiking trails, mini-golf, and several playgrounds near the camping area.
You'll want to stay for a while, and so does everyone else. The earlier you can make reservations, the better.
10. Cumberland Falls State Park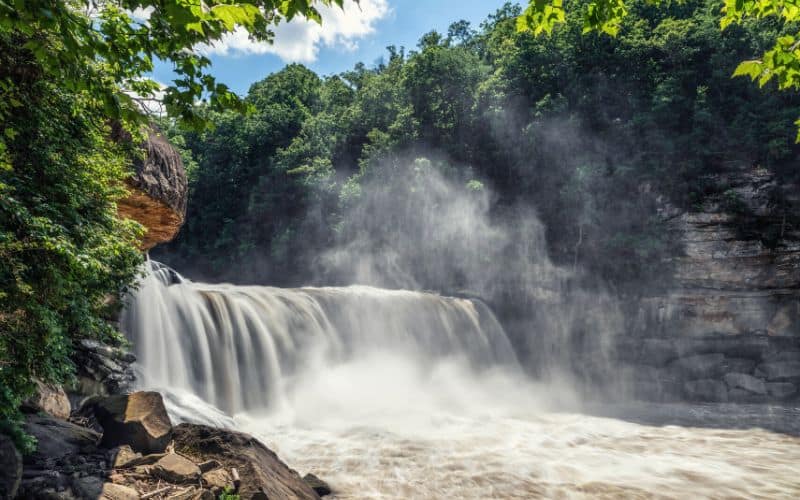 The Niagra Falls of the south are waiting to be discovered at Cumberland Falls State Park. The 125-foot-wide waterfall and surrounding land provide days worth of entertainment and fun.
This campground will feel like a second home thanks to its 50 tent and RV hookups, a shower house, a laundry room, picnic pavilions, a restaurant, and a grocery store. From your site, you can access fishing, boat rentals, tennis courts, and of course, the waterfall. Use the park's many hiking trails to see the waterfall from various angles.
Plan your trip around a full moon to see a rare moonbow. Also known as a lunar rainbow, this phenomenon is caused by moonlight refracting through water particles. As with all Kentucky State Parks, reservations are mandatory.
11. Barren River Lake State Resort Park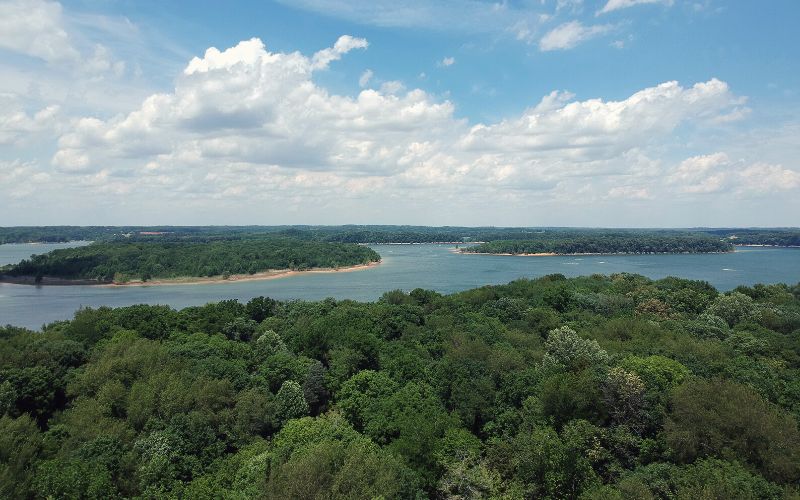 Don't let the name fool you. Barren River Lake is alive with natural beauty and things to do. For example, the 10,000-acre lake is full of fish; even beginner anglers can catch bluegill, crappie, channel catfish, rough fish, and largemouth bass.
The best place to stay is right in the state resort park campground. One hundred and one sites can accommodate RVs and tent or car campers. You will find comfort stations with toilets and showers throughout the campground. You will also find so many activities.
The recreation center rents gear and boats for a day on the lake. There is a swimming beach, an 18-hole golf course, a floodlit basketball court, and a playground. You can play tennis or volleyball, or go biking, hiking, or water skiing. Do all this and more from the comfort of your campsite. But don't forget to make a reservation!
Other Kentucky Campgrounds We Recommend
Kentucky Horse Park Campground, Lexington
Holly Bay Campground, Laurel River Lake
Kentucky River Campground & RV Camping Park, Frankfort
Wolf River Resort & Marina Park, Dales Hollow Lake, Albany
Lake Cumberland State Resort Park, Jamestown
Elkhorn Campground, Frankfort
Taylorsville Lake State Park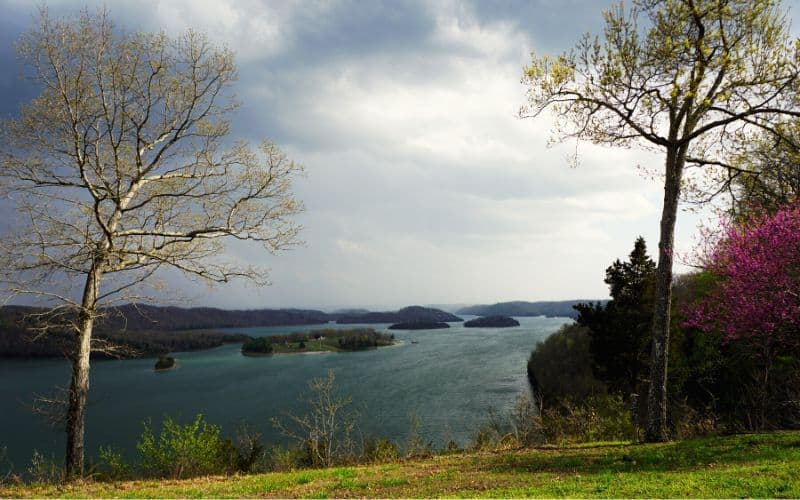 Best Camping in Kentucky!
In Kentucky, you can wander through majestic caves, walk over a natural bridge, and learn about Ice Age mammals from your campsite. Whether traveling in an RV or with your backpack, the Bluegrass State has something for you!
Did our guide to the best camping in Kentucky help you find the campground for you? Let us know in the comments box, and don't forget to share this article with your camping crew.