Best Hiking Trails in Nevada
Looking for the best Nevada hiking trails?
You're in the right place! In this guide, we will be covering the following:
A detailed list of the 13 best Nevada hikes
Highlights from every hike with descriptions of the area
Information about each trek, including trail type, difficulty, length, and parking info
Leave Las Vegas behind and place your bets on Nevada's amazing outdoor scene instead.
Even though it's the driest state in the US, many people forget Nevada is also home to pine-filled shoreline along the east side of Lake Tahoe, canyons galore, sumptuous stretches of the Colorado River, and many other wonders besides.
From sprawling deserts to alpine lakes, the Silver State has plenty of trails for everyone, from beginners to expert hikers.
This guide to the best hiking in Nevada has everything you need to know to hit these trails, including highlights from each trek, difficulty level, and other important details.
Best Hikes in Nevada: Our 13 Favorite Hikes
1. Mount Rose Trail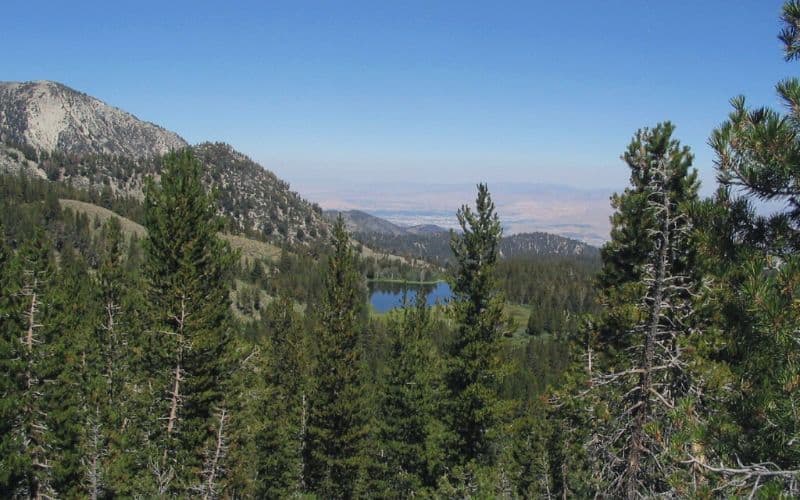 Type: Loop
Difficulty: Strenuous
Length: 10.7 miles
Mount Rose, near Incline Village, is the third-highest peak in Nevada's Tahoe Basin. Although it has over 2,000 in elevation gain, the hike to the summit is rewarding and offers spectacular views.
The Mount Rose Trail winds through Mount Rose Wilderness and features stunning views of the area's waterfalls and alpine lakes. This 10.7-mile loop trail to its summit is a popular route for hiking, horseback riding, and snowshoeing in the winter.
The trailhead begins at the Mount Rose Summit Trailhead off of Mount Rose Highway. The trek passes by Tamarack Peak, Galena Creek, Galena Falls, and the Mount Rose summit.
The best time to visit is from May to October when the weather is warmer. It takes most hikers an average of 5.5 hours to complete this trek.
2. Calico Tanks Trail, Red Rock Canyon, Las Vegas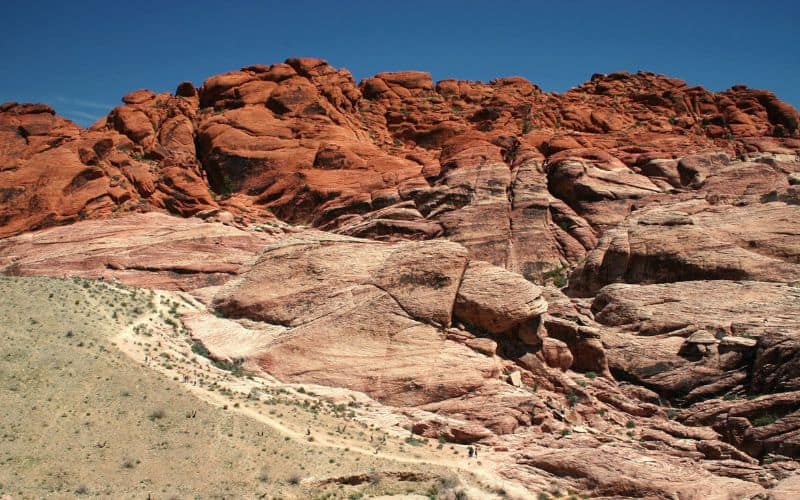 Type: Out-and-back
Difficulty: Moderate
Length: 2.2 miles
Calico Tanks Trail is a 2.2-mile route with lovely views of Las Vegas, interesting rock formations, and a watering hole. It's only about 35 minutes from the Las Vegas strip, making it the perfect outdoor escape from the city's neon lights and slot machines.
The trail is located in the Red Rock Canyon National Conservation Area and you may need to make an online reservation to enter.
Once at the parking lot, follow the marked trail to begin the walk. The trek passes by a historical agave roasting pit, through gravel washes, and over sandstone steps. Calico Tank is a watering hole at the end of the trail where you can stop for a break and take in the views before heading back to the trailhead.
It takes most hikers an hour to finish this trail. The best time to visit is October to April when the weather is cool enough to hike comfortably.
3. Historic Railroad Trail, Lake Mead National Recreation Area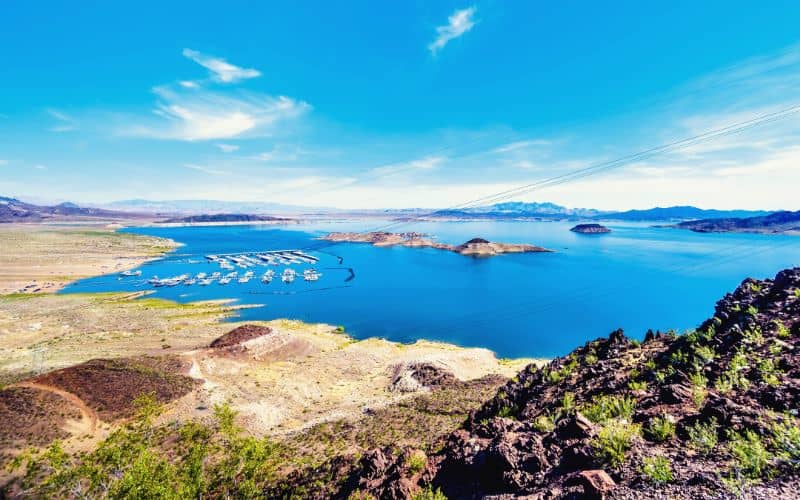 Type: Out-and-back
Difficulty: Easy
Length: 7.6 miles
The Historic Railroad Trail is an unforgettable walk along old railroad tracks and tunnels. This is the same railroad bed that was used when Hoover Dam and Lake Mead were constructed. The trail is part of the over 30-mile-long trek around Lake Mead, but this specific section on the southern shoreline of the lake is designated as a National Historic Trail.
The trail begins near the Lake Mead Alan Bible Visitor Center. The path's terrain is gravel and mostly flat as it travels through five railroad tunnels toward Hoover Dam. This easy 7.6-mile rail-trail route features unparalleled vistas of Lake Mead and the South Virgin Mountains, especially at sunset.
If you're visiting from May to October, keep an eye out for the bats which migrate annually to "hang out" inside the first three tunnels.
4. Wheeler Peak Trail, Great Basin National Park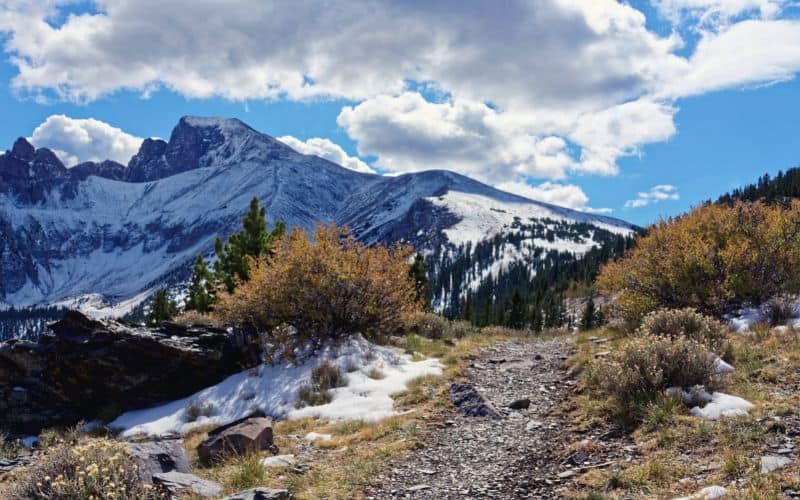 Type: Out-and-back
Difficulty: Strenuous
Length: 8.6 miles
Discover Nevada's second-highest peak on this trek to the 13,062-foot summit near Baker. This trek offers incredible views of Great Basin National Park and the surrounding valleys in neighboring Utah.
Wheeler Peak Trail is a challenging hike with a 3,100 feet elevation gain which takes most visitors about 5.5 hours to complete. The trailhead is located at the Wheeler Peak Campground. The hiking path follows the ridge up to Wheeler Peak summit for most of the route.
Start this hike early in the morning to snag a parking spot and avoid the risk of getting caught in mid-afternoon thunderstorms on the mountain.
5. Marlette Lake Trail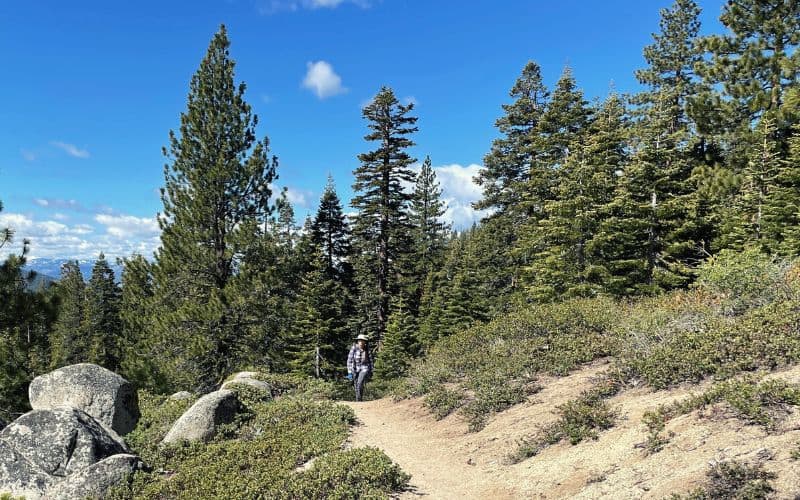 Type: Out-and-back
Difficulty: Moderate
Length: 10.2 miles
Enjoy an invigorating high-elevation adventure on this 10.2-mile trek through the Sierra Nevada's alpine wildflowers, aspen groves, and creeks. This trail is located only 20 minutes away from Heavenly Village.
The high Marlette Lake Trail features jaw-dropping vistas of Lake Tahoe, the Spooner Backcountry, and Marlette Lake. This tranquil and pristine alpine lake can only be reached by hiking, biking, or horseback riding.
With 1,140 feet of elevation gain, this trek is considered moderate to difficult. It typically takes hikers about 4–5 hours to complete this route. If you're looking for a longer adventure, take this trail to the Tahoe Rim Trail or Flume Trail.
6. Fire Wave Trail, Valley of Fire State Park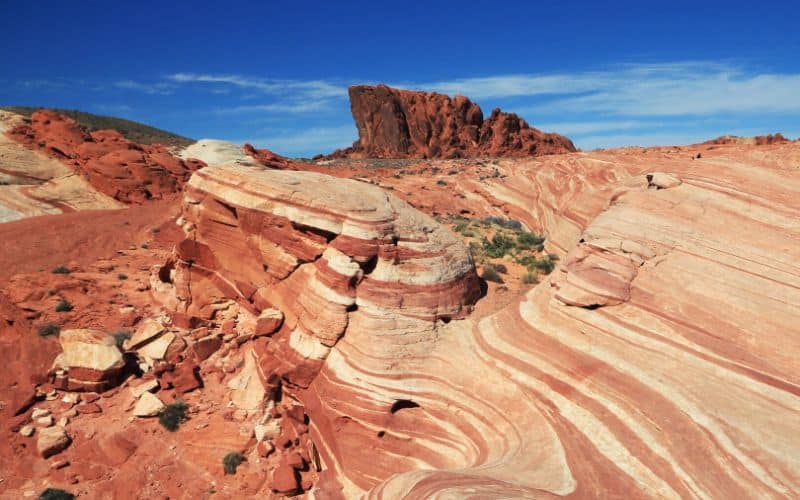 Type: Out-and-back
Difficulty: Easy
Length: 1.5 miles
The Fire Wave Trail, near Overton, Nevada is a hike unlike any other on this list. This trek takes you to an astonishing red, white, and pink sandstone rock formation in the shape of a wave.
This is an easy, yet extremely rewarding 1.5-mile trail in the Valley of Fire State Park, about an hour's drive from Las Vegas. The hiking path starts as sand and eventually becomes sandstone. Follow the rock cairns along the trail to reach Fire Wave, a jaw-droppingly unique rock formation.
It takes most hikers about 40 minutes to finish this trek. The Fire Wave Trail is open year-round, but it's best to avoid visiting in the summer due to the risk of heat stroke.
7. Tahoe Rim Trail
Type: Loop
Difficulty: Strenuous
Length: 165 miles
The epic Tahoe Rim Trail is a challenging loop around Lake Tahoe, the largest alpine lake in North America. This lake has gorgeous blue and turquoise water surrounded by pine trees and the Sierra Nevada's snowcapped peaks.
This hike has eight sections totaling 165 miles with 24,400 feet of elevation gain. 96 moles of the trail are designated as a National Recreation Trail. It typically takes about 2 weeks to complete the loop, but backpackers can resupply in Tahoe City.
Many people prefer to do this strenuous trek in segments or day-hike to the tallest mountains around the lake, Sonora Peak, Freel Peak, and Rose Peak.
8. Sierra Canyon Trail, Lake Tahoe-Nevada State Park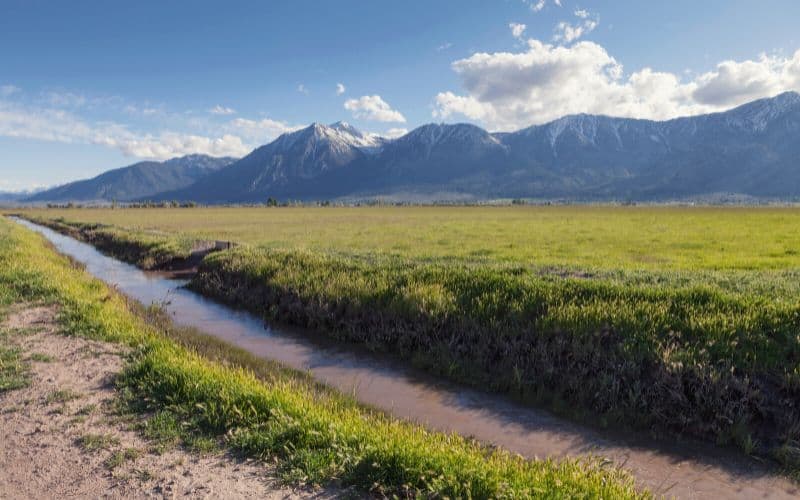 Type: Out-and-back
Difficulty: Moderate
Length: 3.9 miles
The Sierra Canyon Trail is a 3.9-mile out-and-back near the historic town of Genoa.
It's part of the 16-mile Genoa Trail System with multi-use trails for hiking, biking, and horseback riding. These paths have stunning views of Carson Valley and cross through ridges, canyons, and streams surrounded by Jeffrey pine and white fir trees.
There are plenty of opportunities for wildlife viewing in the area, including bears, deer, and foxes.
It takes an average of 2 hours to complete this hike and the best time to visit is April through October.
9. Turtlehead Peak, Red Rock Canyon National Conservation Area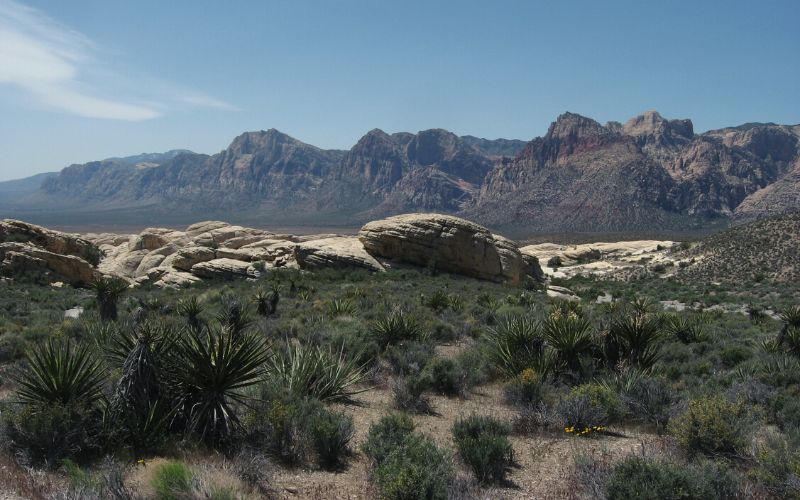 Type: Out-and-back
Difficulty: Strenuous
Length: 4.6 miles
This hike through Red Rock Canyon is a challenging 4.6-mile out-and-back trail about 17 miles west of Las Vegas.
Turtlehead Peak offers panoramic vistas of Red Rock Canyon National Conservation Area and its magnificent rock formations. The conservation area is home to a 13-mile scenic drive and countless outdoor activities including rock climbing, hiking, and biking.
The trek to the top is difficult but doable for anyone with reasonable fitness levels. Turtlehead is, in fact, one of the most accessible peaks in the area. It takes an average of around 3.5 hours to complete the hike.
The trail is open year-round, but it's best to avoid visiting in the summer when temperatures can soar above 100F. In the shoulder seasons, bring a windbreaker for the sometimes unexpected gusts of chilly winds.
10. Cathedral Gorge Trail, Cathedral Gorge State Park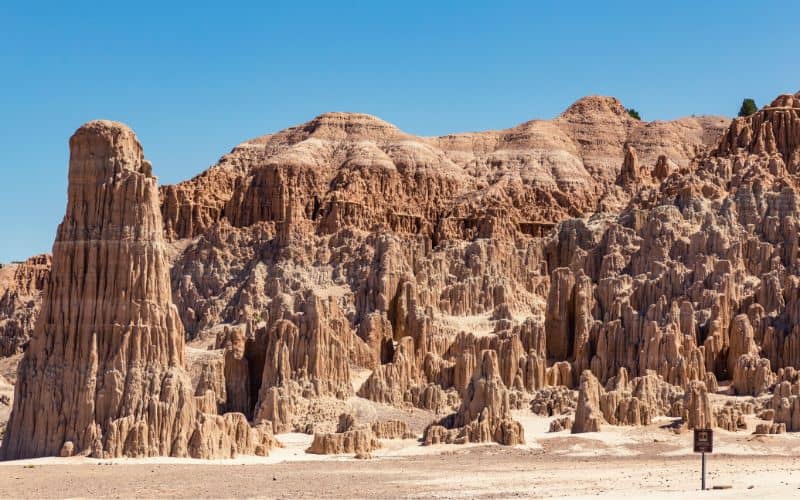 Type: Loop
Difficulty: Easy
Length: 0.6 miles
Cathedral Gorge State Park is home to cathedral-like spires and caves formed tens of millions of years ago in southeastern Nevada. The park has unique patterns etched into the soft bentonite clay and amazing views of the canyon.
The Cathedral Gorge Nature Loop trail takes about 10 minutes to complete, so it's great for families with toddlers. It's a short nature loop near the campground with informational signs about the state park's wildlife and plants. Along the way, you'll pass by the old CCC water tower and a few cathedral badlands rock formations.
For a longer hike, continue to the Juniper Draw loop or head to Cathedral Caves.
11. Goldstrike Hot Springs Trail, Boulder City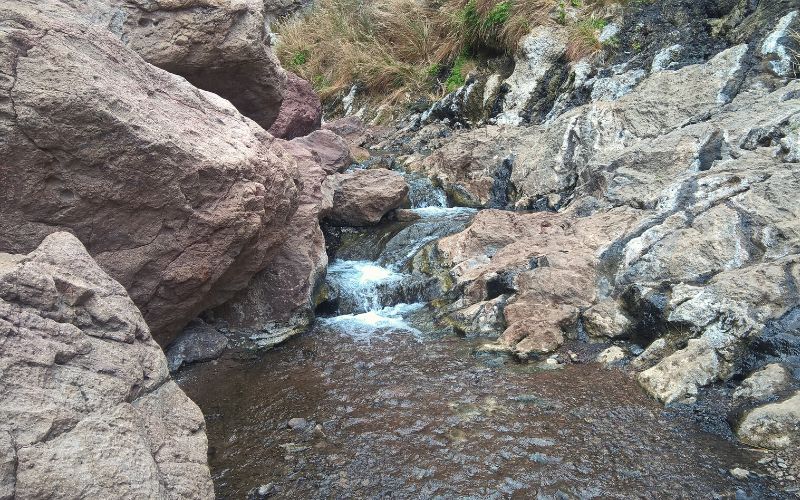 Type: Out-and-back
Difficulty: Strenuous
Length: 6 miles
Goldstrike Hot Springs Trail is a difficult trek to hot spring pools in the Lake Mead National Recreation Area near Boulder City.
This is an adventurous and unique hike down a canyon with several fixed ropes to climb along the path. Other challenges include scrambling over boulders and crossing over washes and dry waterfalls.
Unfortunately, the first set of hot spring pools are now dry, but there are still a few pools farther along to splash around in.
The 6-mile round-trip trail takes most hikers over 3 hours to complete. It's best to do this hike in the cooler months from October through May.
12. White Domes, Valley of Fire State Park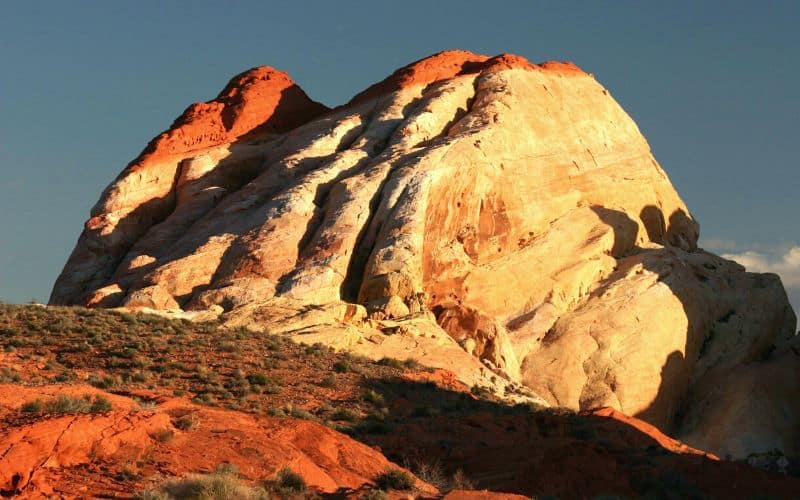 Type: Loop
Difficulty: Easy
Length: 1.1 miles
This mellow, short hike is one of the most enjoyable day hikes in Nevada, period.
The highlight of the hike is the stroll through the sandy basin of a tall, narrow slot canyon, but along the way you'll be treated to several other spectacles of note. The most impressive are multicolored rocks all around you, intriguing rock formations, boulders the size of houses, and awesome views of sweeping desert landscapes and mountains in the distance.
While sandy, this trail is easy from start to finish. The only section that makes it less accessible is a small series of stairs near the start.
Warning: Slot canyons are prone to flash flooding, so don't undertake this hike during or immediately after heavy rainfall.
13. Hunter Creek Trail, Humboldt-Toiyabe National Forest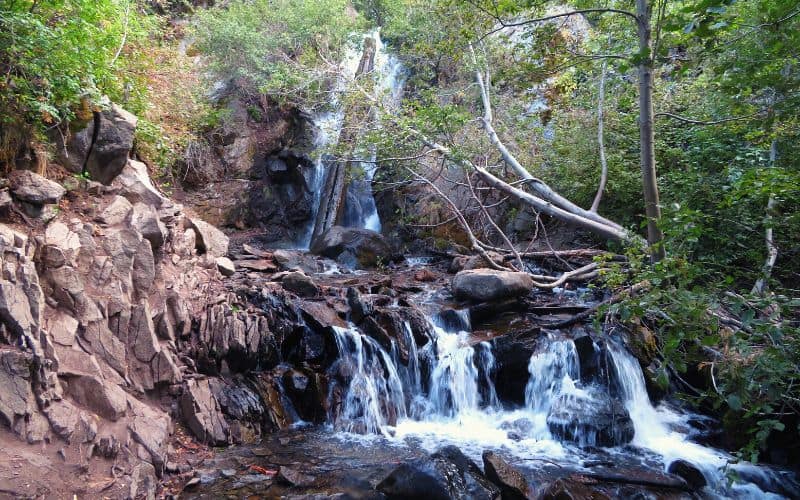 Type: Out-and-back
Difficulty: Easy
Length: 5.7 miles
This hike in Humboldt-Toiyabe National Forest, near Reno, serves up plenty of highlights over a relatively short distance, including a 30-foot waterfall, surprising greenery, wildflowers, and the creek itself.
The Hunter Creek Trail begins at the Lower Hunter Creek Trailhead off Lone Pine Road. After setting off on the Lower Hunter Creek Trail, you soon veer right and take the Hunter Valley Trail. On this, you'll enjoy great views of the surrounding mountains before joining the North Hunter Valley Creek Trail, which takes you through a stretch of wetlands to the end of the trail.
While kid- and dog-friendly, this hike involves over 1,200 feet of elevation gain, so be prepared for a good workout!
Happy Hiking!
Whether it's hiking to the top of the second tallest peak in the state or exploring otherworldly red rock formations in the Las Vegas area desert, the best hiking trails in Nevada have something for everyone.
What are your favorite Nevada hiking trails? Let us know in the comments below! And if you enjoyed this article, feel free to share it with your friends.