Sure, you've walked through the streets of the Windy City, but have you walked amongst the "Giant City Streets"? These 12,000-year-old towering sandstone bluffs are only one of many incredible hiking destinations in Illinois.
So don't overlook the Land of Lincoln when it comes to hiking! From its rolling hills to its towering bluffs, the Prairie State boasts a surprising variety of stunning treks for everyone from beginners to expert hikers.
This guide has everything you need to know to hit the trail including highlights from each hike, difficulty level, and other crucial details.
1. Little Grand Canyon Trail, Shawnee National Forest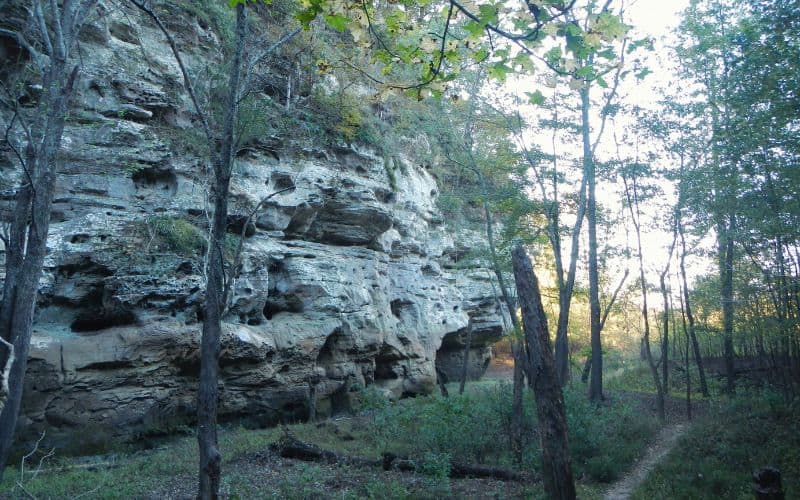 Type: Loop
Length: 3.4 miles
Difficulty: Moderate
With more than 30 cities within a six-hour drive and nearly 1 million annual visitors, Shawnee National Forest provides the ideal nature escape from the city. It's great for hiking and one of our favorite destinations for camping in Illinois.
Shawnee National Forest encompasses 289,000 acres of the Shawnee Hills, located between the Ohio River and Mississippi River in Southern Illinois.
This stunning national forest is home to a variety of landscapes like oak-hickory forests, verdant canyons, grassy wetlands, and razorback ridges. Six distinct ecological zones combine here, resulting in an incredible variety of flora and fauna.
Little Grand Canyon Trail is a 3.4-mile loop with interpretive signs in the upper section where you can learn about the region's diverse environment. The path then winds down into the canyon and follows along the bottom of 300-foot-tall bluffs. From there, the trek traverses a bottomland forest and then exits the canyon via a rock-strewn creekbed.
Since this trek involves negotiating a rocky creek bed, it's best to do this hike during the dry season and wear sturdy hiking shoes. The path can get extremely slippery, muddy, and challenging once the creek is flowing.
2. Waterfall Glen Trail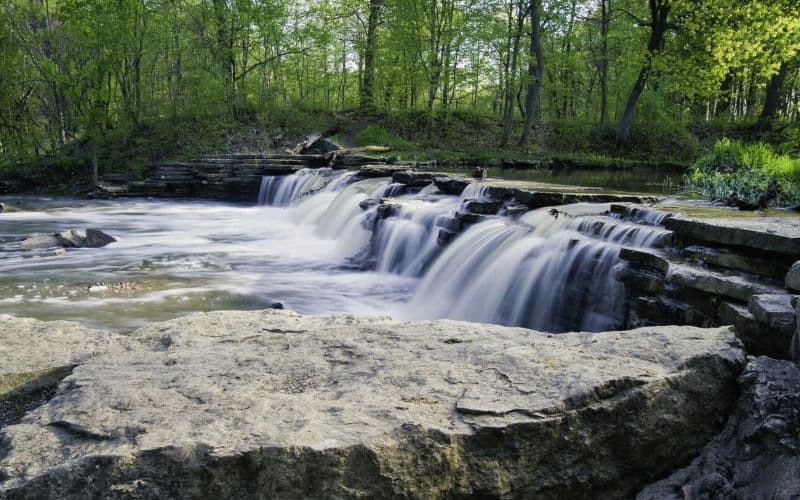 Type: Loop
Length: 9.5 miles
Difficulty: Easy
Waterfall Glen Forest Preserve is located about a 30-minute drive from downtown Chicago, making it one of the most-visited forest preserves in DuPage County.
This 2,503-acre forest preserve's main attractions include Rocky Glen Waterfall and Sawmill Creek Bluff Overlook. The rolling hills in Waterfall Glen are also home to 11 miles of limestone and turf paths for hiking, biking, cross-country skiing, and horseback riding.
The Waterfall Glen Trail is an easy 9.5-mile loop with a wide gravel-paved path, making it perfect for hikers of all skill levels. Bring lunch, throw off your hiking shoes, and enjoy a relaxing picnic while you dip your feet in the refreshing water.
The counter-clockwise circuit begins at the Trailhead Parking Lot off Interstate 55, where you'll also find restrooms and drinking water. Once on the path, you'll pass by several small fishing quarries and multiple benches for breaks.
Make sure to stop and take in the beautiful views from the scenic overlooks above DesPlaines River and Sawmill Creek. You'll also get the chance to see the remnants of historical buildings from the early 1900s at the Old Lincoln Park Nursery.
Rocky Glen Trail is situated a little less than 6.5 miles from the trailhead. Take this path to reach the man-made Rocky Glen Waterfall. This serene water feature was built during the Civilian Conservation Corps era. Continue back on the main trail and through the Old Glen woods to return to the parking lot.
3. Illinois Canyon Trail, Starved Rock State Park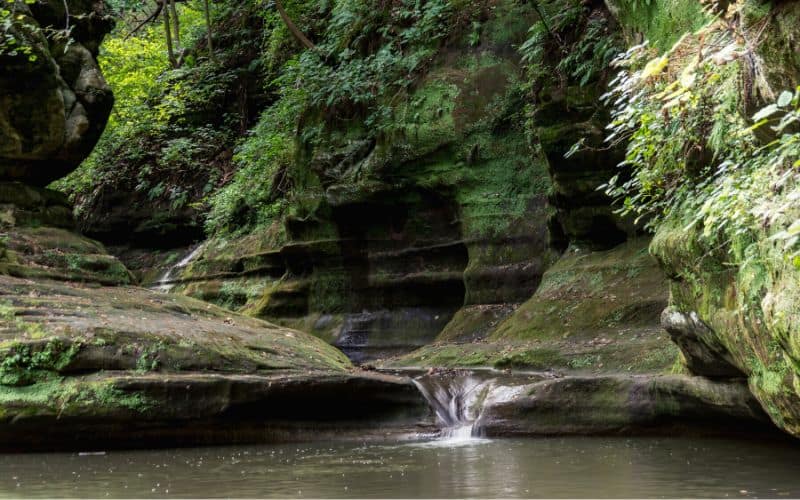 Type: Out-and-Back
Length: 0.9 miles
Difficulty: Easy
Starved Rock State Park is like a visit to another world! It's a rugged landscape filled with canyons, towering bluffs, and seasonal waterfalls located less than 100 miles southwest of Chicago.
This scenic state park features 13 miles of hiking paths with gorges, stately trees, and overlooks along the Illinois River. Camping, paddling, boating, fishing, picnicking, and observing the local wildlife, especially eagles, are just a few of the things to do in this recreation area.
Illinois Canyon Trail is an easy 0.9-mile out-and-back trail into a gorge with a waterfall at the end. The seasonal waterfall tumbles down the mossy rocks into a pool below that it's carved out over the years. Unlike other more developed hiking paths in the area with man-made features like stairs and bridges, this is a more primitive path with a natural feel.
Starved Rock has multiple canyons with waterfalls to explore along the Green Interior Canyon Trails including French, Wildcat, LaSalle, Ottawa, Kaskaskia, Aurora, and St. Louis.
The best time to visit to see the seasonal waterfalls is following heavy rainfall or just after the snow melts, usually between March and May. The spring is also when the Virginia Bluebells bloom and cover the landscape with a brilliant shade of blue.
4. Garden of the Gods Observation Trail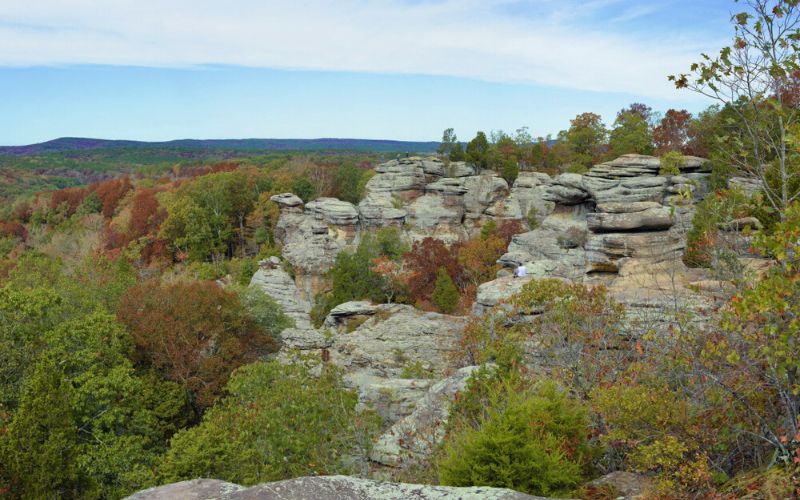 Type: Loop
Length: 0.5 miles
Difficulty: Easy
Situated within the Shawnee National Forest in Southern Illinois, the Garden of the Gods Recreation Area has one of the most picturesque landscapes in the Prairie State. It's a scenic region with otherworldly rock formations and limestone cliffs from millions of years ago jutting out from a dense forest.
Popular outdoor activities include trekking through the unique environment, sleeping under the stars at the Pharaoh Campground, enjoying lunch at the Pharaoh Picnic Ground, and simply observing the flora and fauna.
The Garden of the Gods Observation Trail is an easy quarter-mile walk with spectacular vistas of the surrounding Garden of the Gods Wilderness. Interpretive signs with information on the area's geology and rest benches line the hiking path. The path is paved and has some steep and narrow sections, and takes most hikers about an hour to complete.
5. Giant City Nature Trail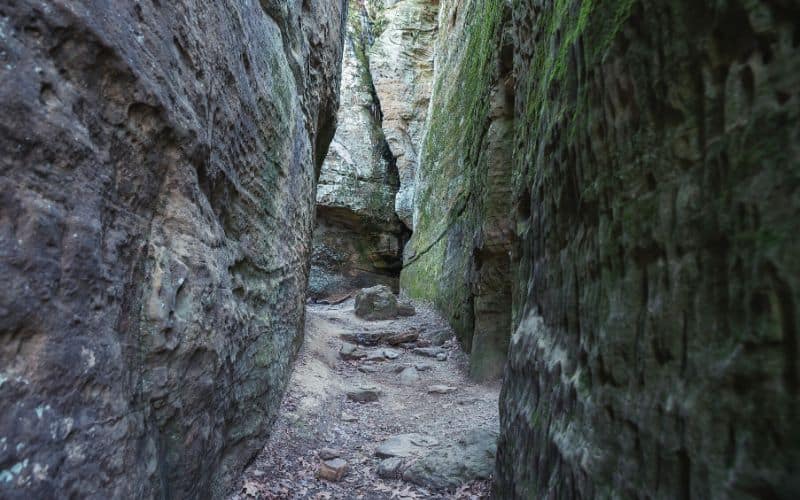 Type: Loop
Length: 1 mile
Difficulty: Easy
Giant City State Park is located about a 15-minute drive south of Carbondale and about 2 hours from East St. Louis, Illinois. This gorgeous state park is part of Shawnee National Forest and has endless opportunities for outdoor fun, including hiking, camping, horseback riding, and even rappelling.
The Giant City Nature Trail is one of the top hikes in Illinois for everyone from kids to beginners to experts. It is named after the park's giant 12,000-year-old sandstone bluffs, known as the "Giant City Streets". These tall rock formations are thought to resemble a cityscape's towering buildings.
The giant stone blocks are covered in moss and surrounded by a variety of greenery like ferns, flowering mints, wildflowers, and more than 75 types of trees.
The route begins at the trailhead parking lot off Route 51. From here, it crosses a bridge as it enters the oak-hickory forest.
You'll get your first view of the towering sandstone bluffs after crossing a long wooden walkway. Continue to walk between the "City Streets" and under the Balanced Rock. After this, you'll come across some benches near a transition woodland which is a blend of prairie with young trees.
Once you cross the prairie, you'll descend next to a massive sandstone shelf. Native Americans once used this shelter cave to protect themselves from the elements. Look closely at the ground, you may see tiny gray or pink flakes from their flint tools.
6. Dells Canyon and Bluff Trail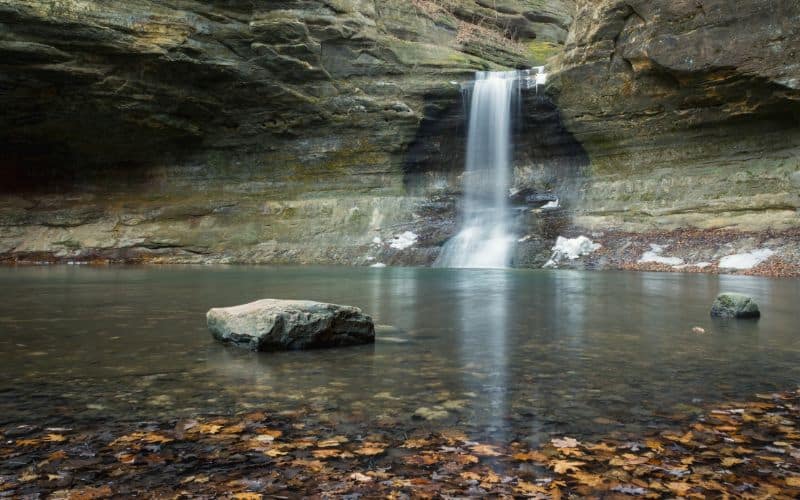 Type: Loop
Length: 2 miles
Difficulty: Moderate
Matthiessen State Park is home to mesmerizing geological formations with layers of earth stacked high amongst the towering trees and trickling streams. This stunning Illinois state park is located about four miles south of Utica in LaSalle County.
There are two main recreational areas with a total of five miles of trails within the park: Dells Area in the north and Vermilion River Area to the south. Dell Area provides access to several interesting water and rock features like Matthiessen Lake, Lake Falls, Giant's Bathtub, Cascade Falls, and Strawberry Rock.
The Dells Canyon and Bluff Trail is a popular 2-mile loop through the lush canyons and over multiple creeks. The upper portion along the top of the bluffs is easy, but the interior segment through the lower dells is a bit harder to navigate.
Depending on the weather, hiking conditions can get wet, icy, or muddy. The path is usually worse during the spring and early summer. Be sure to wear sturdy hiking shoes to prevent falls. Always stay on the marked paths and away from the hazardous cliffs and canyons.
7. Pierce Lake Trail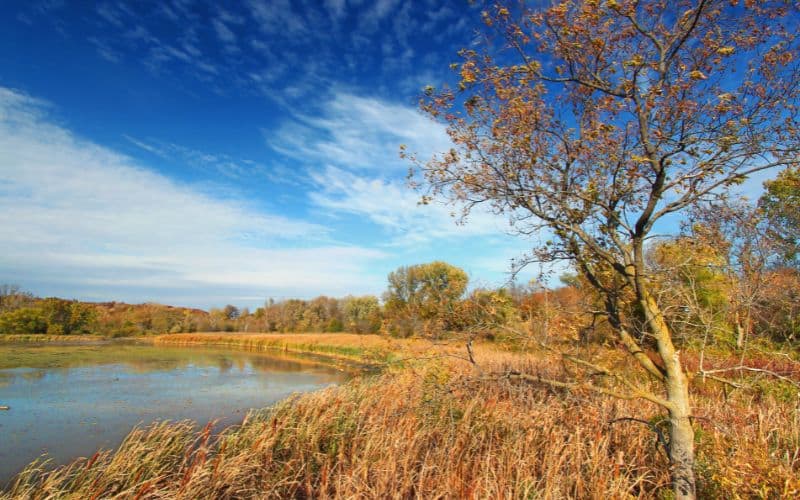 Type: Loop
Length: 3.7 miles
Difficulty: Moderate
At 3,092 acres, Rock Cut State Park is the largest state park in Northern Illinois. It's an outdoor haven in the Stateline Area, just 10 miles northeast of downtown Rockford and less than a 15-minute drive south of the Wisconsin border.
The park is named after the rocky outcrop that was blasted open in 1859 to construct a railroad bed. The landscape here is mostly rolling plains, but the area has an interesting history and plenty of opportunities for outdoor recreation.
There are a variety of things to do in this park, including hiking and biking paths, cross-country skiing and snowshoeing routes, two lakes for fishing and paddling, a swimming area at Olson Beach, day-use picnic areas, and a campground to pitch your tent.
Wildlife observation and birding are also popular here. Deer, foxes, muskrats, beavers, and woodchucks all live in the area.
Rock Cut's trail system has 40 miles of hiking routes, 23 miles of mountain biking paths, and 14 miles of equestrian trails. Pierce Lake Trail is a moderate difficulty, 3.7-mile loop around the 162-acre Pierce Lake.
It's best to do this hike in the spring or summer when there are over 100 varieties of wildflowers blooming, or in the fall when the leaves are turning fiery red and orange.
8. Jackson Falls Trail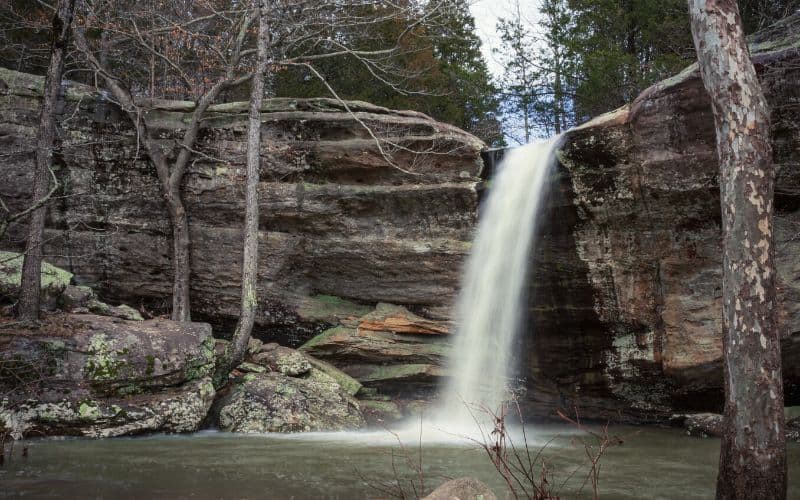 Type: Loop
Length: 4.2 miles
Difficulty: Moderate
No visit to Shawnee National Forest is complete without a hike to the towering Jackson Falls. This striking waterfall is situated on the eastern side of the national forest, about a 40-minute drive southwest of Harrisburg, IL.
The landscape here is predominantly rocky, moss-covered bluffs surrounded by lush woodland and flowing streams. These cliffs and rock walls are ideal for technical rock climbing and bouldering, making this area a rock climber's dream. But the stunning scenery and waterfalls also make Jackson Falls a popular area for hiking and horseback riding.
Jackson Falls Trail is a 4.2-mile circuit along the high bluff to the top of the waterfall and into the canyon. You must be extremely cautious at the top of the falls because the rocks are very slippery during wet or icy seasons.
Continue across the creek to reach a wooden bridge with another waterfall beneath it. After this, you'll descend into the ravine. Depending on the water level, you may be able to see at least three waterfalls on this wonderful hike.
Parking for this trek is available at the Jackson Falls Trailhead at the end of a narrow gravel road called Glen Street Falls, off Ozark Road. High-clearance vehicles are recommended, but not necessary. The parking lot is on the right just after the creek crossing. Weekends and summers can get crowded, so show up early in the morning to nab a good parking spot.
9. Ferne Clyffe – Waterfall Trail, Lake Trail, and Big Rocky Hollow Trail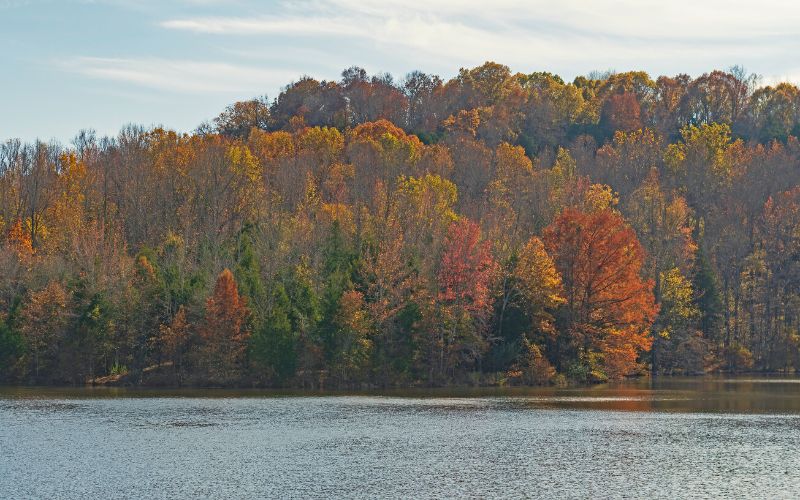 Type: Various
Length: 0.75 to 1 mile
Difficulty: Easy to Moderate
For some of the most scenic hikes in Illinois, head to Ferne Clyffe State Park at the state's southern tip. This 2,430-acre park in Johnson County has been known for its incredible natural beauty for over a century. 
The limestone bluffs, cliff caves, seasonal waterfalls, lush woodlands, and cascading ferns all contribute to the unique appeal of this truly magical landscape. With 18 hiking paths snaking through the seasonal streams and enchanting forest, this is a must-visit state park for any outdoor lover.
Waterfall Trail, Big Rocky Hollow Trail, and Lake Trail are three of the most scenic Ferne Clyffe Trails.
Waterfall Trail is a short, 1-mile trek beginning from Deer Ridge Campground. This moderately difficult hike leads to a massive 100-foot-tall intermittent waterfall.
The 0.75-mile round trip Big Rocky Hollow Trail is the easier route to reach the same 100-foot waterfall.
Ferne Clyffe Lake Trail is an easy 1-mile walk around the 16-acre man-made lake which is popular for bank fishing.
10. Salt Lick and Johnson Trail Loop
Type: Loop
Length: 2.9 miles
Difficulty: Moderate
The Salt Lick Point Land and Water Reserve covers 600 acres of land owned by the Village of Valmeyer in Monroe County. The site protects fluff land forests, an important habitat for hill prairies and limestone glades.
It also features one of the highest points in the county, the 810-foot-high Salt Lick Point. Salt production was one of the area's first major sources of income and the point is named after the region's salt wells.
The trailhead for the Salt Lick and Johnson Trail Loop is found at the main parking lot. From here the hiking trail climbs steadily uphill along the bluffs. Soon after, the path becomes less steep until it reaches Salt Lick Point. Stop to take in the jaw-dropping views of the surrounding landscape before descending towards Limestone Lane and back to the parking area.
11. Busse Woods Loop Trail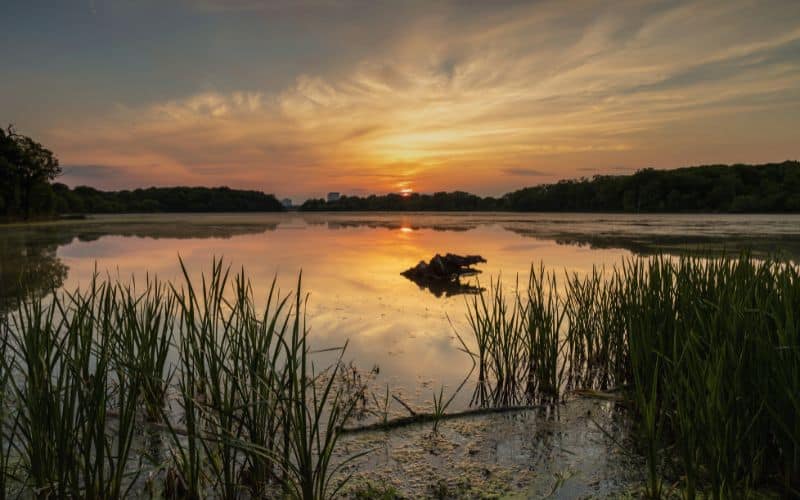 Type: Loop
Length: 7.5 miles
Difficulty: Easy
Commonly known as Busse Woods, the Ned Brown Forest Preserve encompasses 3,700 acres of protected natural area in the northwestern suburbs of Chicago.
Busse Woods is one of the largest Forest Preserves in the Prairie State and one of the most diverse. Amongst other things, it's home to upland forests, 13 miles of paved paths, an elk pasture, and a lake for fishing and boating.
Busse Woods Loop Trail is a paved path encircling Busse Reservoir with multiple short spurs branching out from the main loop. This is a family-friendly multi-use path for walking, hiking, biking, and cross-country skiing. Keep an eye out for the local elk herd!
The Best Hiking in Illinois!
There's a lot more to Illinois than the Windy City and Lake Michigan!
Whether it's climbing to the top of a glittering waterfall or exploring otherworldly rock formations in the forests, the best Illinois hiking trails have something for everyone.
Where do you think the best hiking in Illinois is? Let us know in the comments below! If you enjoyed this article, feel free to share it with your hiking buddies.