Always stuck deciding if a cot is the right choice for your camping adventure or if the air mattress brings more to the party? If so, you've come to the right place.
In this post, we'll take you through all of the important advantages and disadvantages of each option so that you can make an informed decision when selecting the sleeping solution that's the best fit for you!
We'll also throw in a few recommendations of our favorite cots and mattresses for side sleepers, back sleepers, and front sleepers, and offer tips on how to tweak your sleep setup to suit your sleeping style.
Ready to put the debate to rest? Let's do it!
Key Takeaways
Front Sleeper? – An air mattress with a memory foam top is your best bet.
Side Sleeper? – Choose between a partially deflated mattress and a cot with less taut fabric.
Back Sleeper? – A fully inflated mattress or stiff cot is the way to go.
On a Budget? – You'll have more options if you plump for a mattress.
Air Beds or Camping Cots: All You Need to Know
What Are Camping Cots?
A camping cot (aka "camp bed") is a portable, relatively lightweight bed made with a fabric stretched between a foldable metal frame.
In most cases, the frame is made from aluminum or steel, and the sleep surface might be made from either polyester, nylon, or canvas.
Pros
Portable and easy to store
Cots with aluminum frames are lightweight
Moonlight as seats or loungers
More durable than an inflatable mattress
Storage space underneath
Cons
Some models don't feel overly sturdy
Cold air circulates underneath the cot, so you might need to use a layer of insulation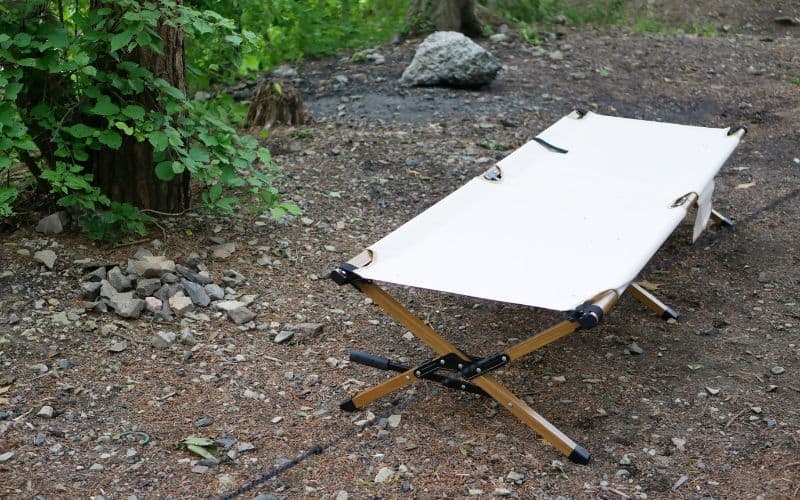 What Are Air Mattresses?
Air mattresses (aka "air beds") are inflatable mattresses made with either rubber or PVC. Most have a flock or microfleece sleeping surface for comfort and to prevent you from slipping off during the night, though some premium models use memory foam.
Both self-inflating and manually-inflated models are available. Self-inflating models are inflated with a portable compressor or electric pump, while others are, you guessed it, manually inflated using a hand or foot pump.
Pros
Portable
Lightweight options available
Adjustable firmness
Very comfortable
Cons
Take time (and effort!) to inflate
Can be punctured
Bulky once inflated
Can deflate during the night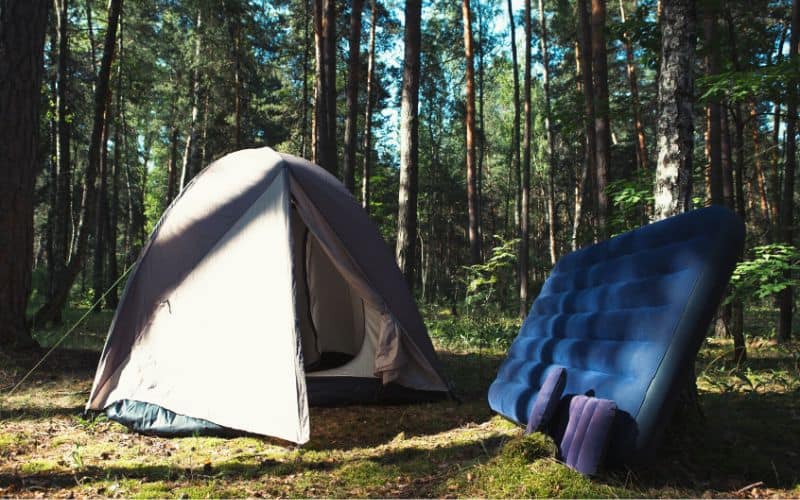 Cot Vs. Air Mattress: Performance Comparison
Comfort
Comfort is highly subjective, whether we're talking about hiking shoes, camp chairs, or your sleeping system. However, there are a few more general points we can make about cots and inflatable mattresses that will help you determine which will feel more comfortable for you.
The most important factors in the comfort metric are sleeping surface, firmness, and your sleeping style.
Sleeping Style & Firmness
Are you a side sleeper, back sleeper, or front sleeper? Whatever your preferred sleeping position may be, matching this with your sleep system is the key to getting a good night's sleep.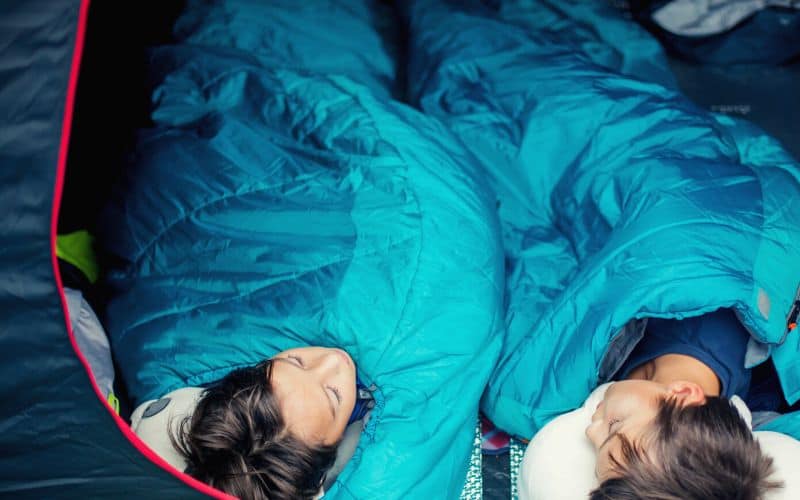 For side sleepers, the ideal sleeping surface will have medium firmness. This will remove strain from your shoulders and hips and conform better to the more concentrated weight that is placed on the surface by a sideways (rather than flat) load.
So, cot or mattress? In this case, an air bed is the better choice. No matter which type of mattress you buy, you can simply leave it less than fully inflated to reduce firmness. If you plump for a camping cot, you'll need to find one that uses fabric with a little bit of "give" or stretch, and such models are rare.
Back sleeper? If so, then you're in luck! Back sleepers need a firmer sleeping surface to prevent misalignment of the butt/hip and shoulders and neck, so both air beds and camping cots are suitable options. If you buy an air mattress or sleeping pad, just make sure it's fully inflated. If you choose a camping cot, make sure the fabric doesn't sag.
Front or stomach sleepers need a sleep system that will conform more to the shape of their body, otherwise, they risk placing too much strain on their spine and waking up with a sore back. Given this, your best option is an air bed with a memory foam top.
Sleeping Surface
'Sleeping surface' refers to the fabric or material on the top side of the mattress or cot. If you sleep in a sleeping bag, this isn't so much of a concern as the bag will provide a layer of comfort between you and the cot or mattress's surface. If you're using a quilt or zipped-open sleeping bag, however, it's an important consideration.
Most air mattresses are topped with either "flock" (essentially roughed up polyester fibers), memory foam, or PVC, both of which are used to prevent your sleeping bag from slipping off while you sleep.
Camping cots go one of two ways: they're either plushly padded, quilted affairs like the REI Kingdom 3 cot, which is supremely comfortable, or consist of plain fabric suspended between an external frame, as with the Coleman Trailhead II.
Which style wins in the comfort stakes?
Again, this is a matter of personal preference. If you like a little padding, then a cot with a quilted topper or an air bed with a memory foam topper is the way to go. If you're using a quilt, duvet, or open sleeping bag, then a flock-topped air bed is likely to feel more comfortable than a PVC air bed or unpadded cot.
The downside to all of the more comfortable options, as you might have guessed, is that they are typically much more expensive.
Finally, if you'd rather have a little luxury without breaking the bank, you could simply bring a basic microfleece blanket on your camping trip to use as a bottom sheet whichever bed type you choose. This might add weight and bulk to your sleep system, but it will also feel fantastic!
Convenience
In terms of user-friendliness, foldable camping cots are the hands-down winner. When you get to camp, all you have to do is unfold them, lock the frame in place, and you're good to go. Easy! All told, the process should take you between 30 seconds and a minute.
With air mattresses, it ain't quite so simple.
First of all, you need to remember the air pump (!). This is pretty much the crux if you're camping with an air bed, but something that has spelled disaster for many a camping trip (including one for the author of this post!).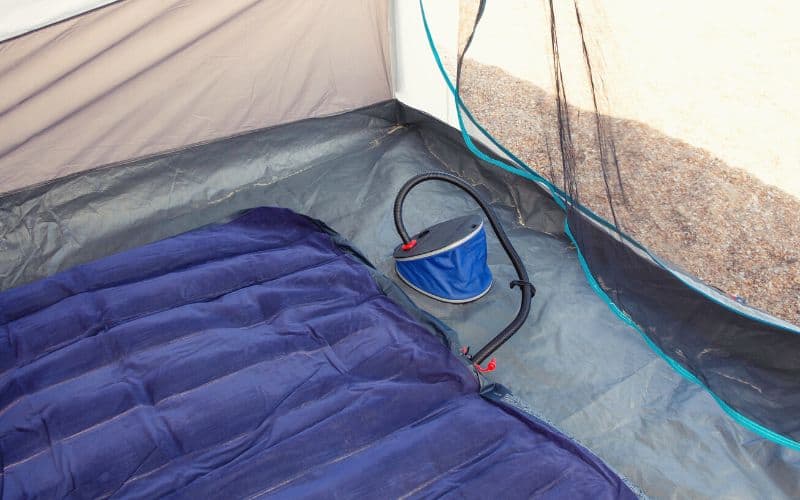 If you have a self-inflating mattress, then the amount of elbow work required once you get to camp is minimal. All you have to do is unpack and lay out the mattress, then wait while the pump does its thing. It's worth noting, however, that pumps can be loud and often take up to 15 minutes to inflate the mattress. Self-inflating air mattresses are also pricey.
If you have a regular air mattress with a hand pump or foot pump, the time it will take you to inflate your bed for the night hinges entirely on your stamina! On the plus side, getting the job done will give you a good workout!
Another factor that makes camping cots more convenient is that they take up less space inside your tent. Two cots side by side will, of course, take up just as much square footage as a mattress. However, you'll have plenty of storage space underneath them for all your camping gear.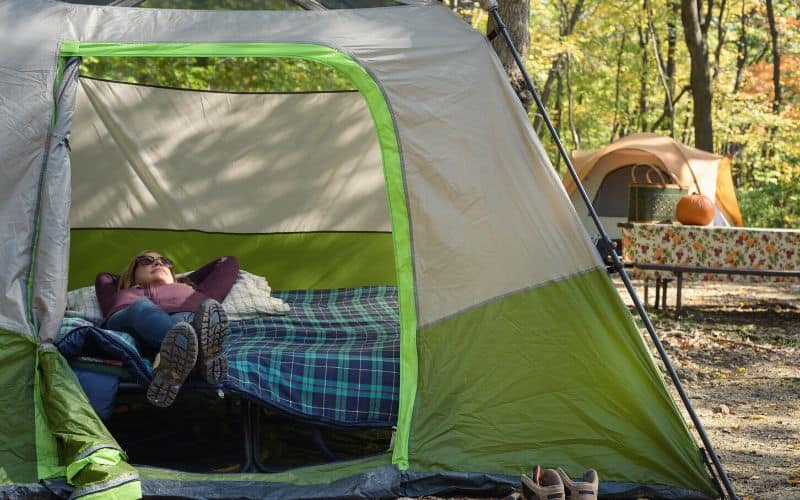 Cost
Camping cots tend to be more expensive than air mattresses. A high-quality, double camping cot can cost up to four times as much as a good air mattress. However, it's important to note that the price difference between camping cots and inflatable mattresses can vary greatly depending on the specific brand and model.
One reason that camping cots tend to be more expensive is that they are made with more durable materials and are built to withstand rough outdoor conditions.
It's also with bearing in mind that most camping cots only accommodate one sleeper, while your typical car camping mattress is big enough for two. This means, of course, that the price gap between the two is even more significant if you're a camping couple or family. Double camping cots do exist (see: the KingCamp Double), but their price tag is often eye-watering!
If you're looking for a budget camping cot, we recommend the Coleman Converta. For something a little more luxurious, our top pick is the awesome (but pricey) REI Kingdom 3.
Our favorite low-cost mattress is the Coleman Quickbed Airbed. And your recommendation if you're happy to pay top dollar for home-like comfort is the SoundAsleep Dream Series Air Mattress.
Durability
As with all camping gear, durability is a key metric when it comes to choosing a camping bed. Whether it's rough treatment around camp, sharp objects in your tent, or damage caused during transportation or storage, there are several ways in which your cot or mattress could come to harm.
Generally speaking, camping cots are the most durable option. This is because most have a tough, aluminum frame and a sleep surface made with heavy-duty and/or ripstop fabric. You also have the option of choosing a steel-framed model if you want something even more durable.
Air mattresses, however, are relatively easy to puncture with sharp objects, even if made with thick PVC. Over time, moreover, many develop leaks from seam splits or faulty valves.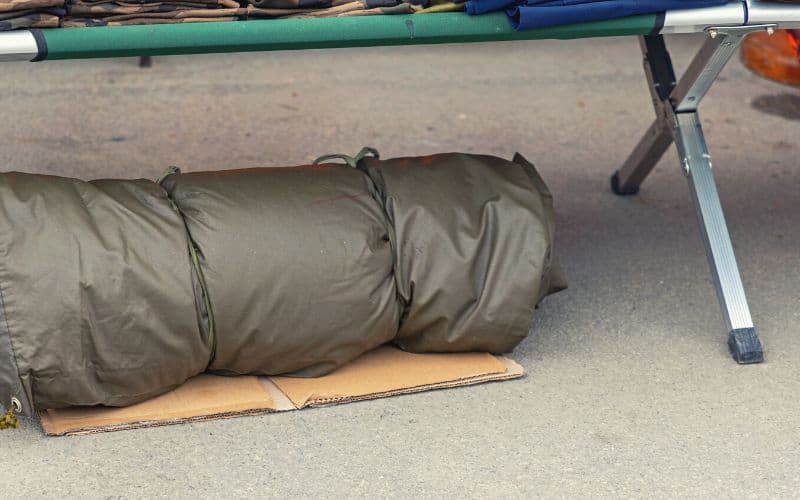 Insulation
Sleeping pads, air mattresses, and camping cots all help you retain body heat by suspending your body above the cold ground. Of the three options, however, sleeping pads and air mattresses do a better job.
The reason for this is simple: cots leave a large gap between the tent floor and the sleep surface in which cold air can circulate, whereas pads and mattresses don't. Sure, the air inside a mattress or pad won't be balmy, but it won't be as cold as the ambient air once warmed by the heat from your body. Both also place two layers of fabric between you and the ground instead of one.
All of this means that mattresses are your best bet in cold weather. On the flip side, if you're camping in hot weather, cots' lack of insulation will become a 'pro' rather than a 'con'.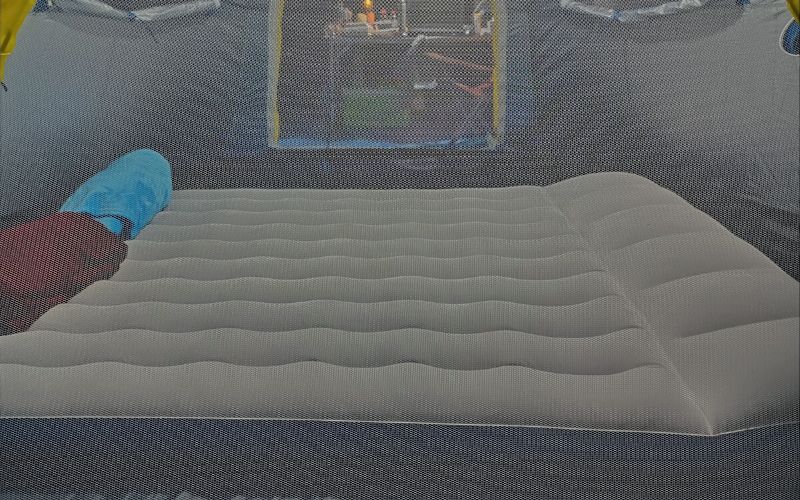 The Verdict
Ultimately, choosing between a camping cot vs. air mattress isn't as straightforward as many are apt to think, nor is it an exact science. Finding the best option for you requires taking a few variables into account, most importantly your sleeping style, budget, and how much effort you're willing to put in to get a good night's sleep!
We hope the above tips have pointed you in the right direction and help you choose the right fit for your future camping adventures.
If you enjoyed this article or have any questions, let us know in the comments box below. And if you'd like to share it with your friends, please do!