Can you imagine the dismay of finishing a long day backpacking and realizing your food has been pilfered by some mischievous critters?
Apart from feeling "hangry", this can have more serious consequences. Animals tampering with your grub can affect both their and your own health and safety. That's why it's essential you put some forethought into how you store your food for any backpacking adventure.
The type of storage you use will depend on a variety of factors, including any park or wilderness area regulations, the terrain, climate, and the wildlife present in the area you are backpacking in.
In this guide, we've covered the best tools and methods you can use to keep your eats secure. We've discussed their various pros and cons, and provided tips on how and when to use each one.
Soon you can look forward to enjoying your backpacking without worrying about animals raiding your food supply!
Key Takeaways
Always pack properly! – This will protect the health and safety of yourself and the local wildlife.
Plan ahead for bears – This is essential both to follow regulations and for more obvious reasons. (i.e., avoiding bear encounters!)
Choose the most appropriate storage tool – Consider regulations, terrain, climate, and endemic wildlife to make an informed decision.
Keep Your Eats Clear Of Critters On Your Backpacking Trips
Before we delve into the various ways to store your edibles, let's take a quick look at why it's wise to store them carefully and how that's done.
Why It's Important to Store Food Properly
When backpacking, there is always the risk of animals being attracted by and getting their teeth into your grub. This can have negative consequences for yourself and the local wildlife.
Wild animals can become reliant on human food items. This means they are less likely to get the nutrients that they would obtain by following a natural diet.
This reliance can hinder their foraging skills. It also means that animals may become less wary of humans and put themselves in dangerous situations, such as crossing roads or even having to be euthanized if they are deemed a threat. It's a backpacker's responsibility to ensure that animals cannot access their grub.
Animals coming into contact with your foodstuffs poses a risk to your health. Wild animals carry various pathogens that can be passed onto humans, resulting in illness.
You also need to consider your safety. The last thing you want is to unexpectedly run out of grub when miles away from the nearest store. Nor do you want to be attracting potentially dangerous animals, like bears, into your camp.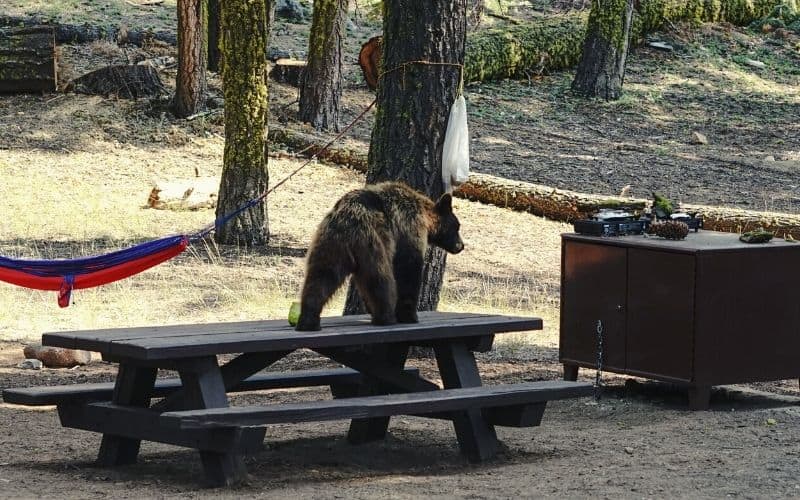 How to Store Food in Bear Country
If you are planning on backpacking in areas where bears are present, there are extra precautions you need to consider.
Before you head out, check if there are any regulations in place on how you should safely store your food in the area you intend to backpack. Most National Parks have regulations they expect visitors to follow and you can face hefty fines if you aren't prepared.
There are three methods that are typically used to keep your edibles safe from bears.
The first is to use metal food lockers or "bear boxes" that are provided at campgrounds and designed to be bear-proof. If these are available, use them, as they're the most reliable deterrent available.
If you aren't intending to visit designated campgrounds, then you can alternatively use a bear canister or bear bag. More information on these products below.
Finally, you can hang your food bag to prevent bears from accessing it. If you are using a tree, hanging food from a tree branch between 10-15 ft high and a minimum of 4ft from the tree trunk is recommended.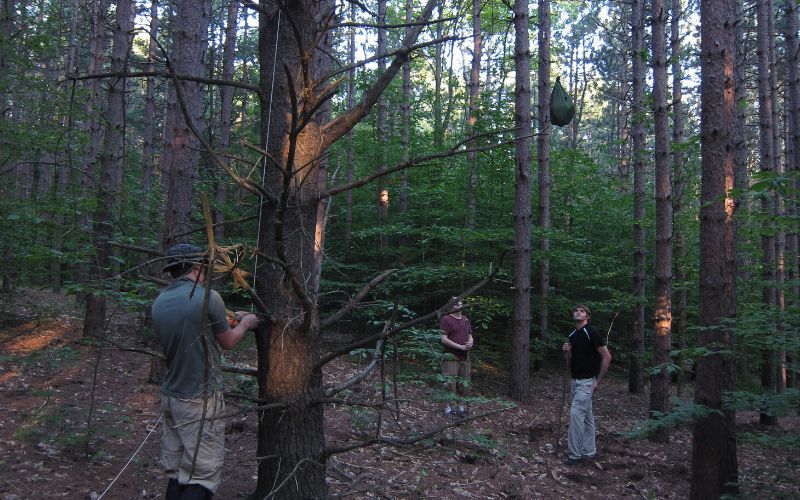 If you are camping in areas without tall trees available, then you can bring a pole to suit this purpose and many campgrounds provide their own bear poles. You can hang your grub in a purpose-made bear bag as an extra precaution – these typically seal in the scent of your grub and are made with bear-resistant materials.
Each of these methods has its pros and cons, so you need to carefully consider what is the most appropriate method to keep you and your edibles safe from bears when backpacking.
In addition to these methods, it's important that you follow other campsite safety measures when backpacking. These include:
Never leave food unattended without proper storage tools
Never keep it (or other scented items) inside your tent
Keep campsites tidy and carefully store trash
Make sure your cooking area is at least 100 yards from your campsite
Only take foodstuffs out from storage when you need them i.e., to cook food or eat it
Wash your hands regularly to remove odors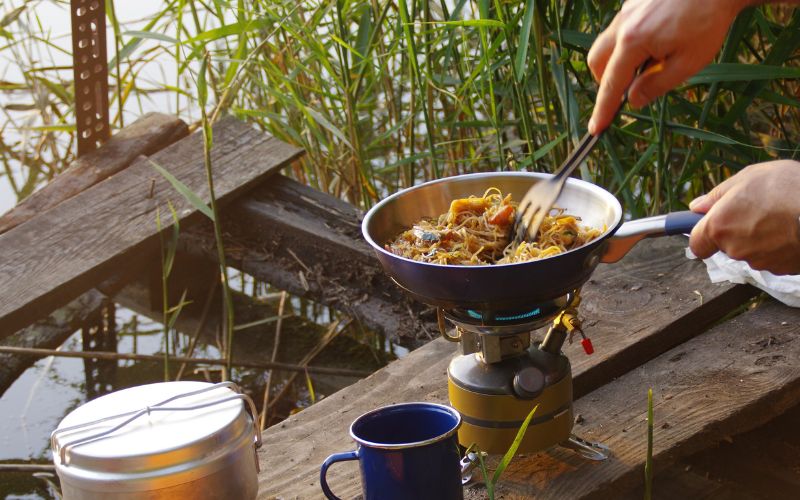 7 Backpacking Food Storage Ideas and Tools
1. Food Lockers
If you are staying at a campground on your backpacking trip, food lockers may be available. These are large, metal containers that have specifically been designed to keep human edibles away from animals, especially bears.
Not all campsites offer lockers and these are often communal, which means there can be limited space. Therefore, it's best to be prepared with a backup plan.
If you do choose to use these containers, make sure to follow locking instructions closely, in order to protect all campers' eats. You don't want to be responsible for another camper's trail mix being raided!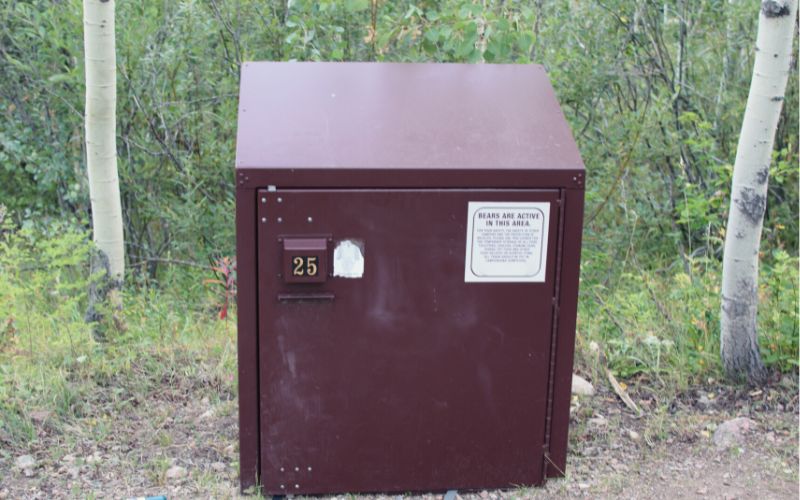 2. BearVault BV500
Hard-sided bear canisters are one of the safest and most reliable methods to store your grub whilst backpacking.
Many national parks with bear populations (Yosemite National Park and Yellowstone National Park, for example), require bear canisters for storing food, whether you're car camping or backpacking. If you are caught without an approved canister, you risk being fined. 
Some areas offer the option to rent bear canisters, but these can be in short supply in busy seasons, so it's safer to bring your own.
The BearVault BV500 is a popular bear canister used by backpackers. With 700 cubic inches of volume, this hard-sided bear canister can carry up to seven days' worth of grub for one person.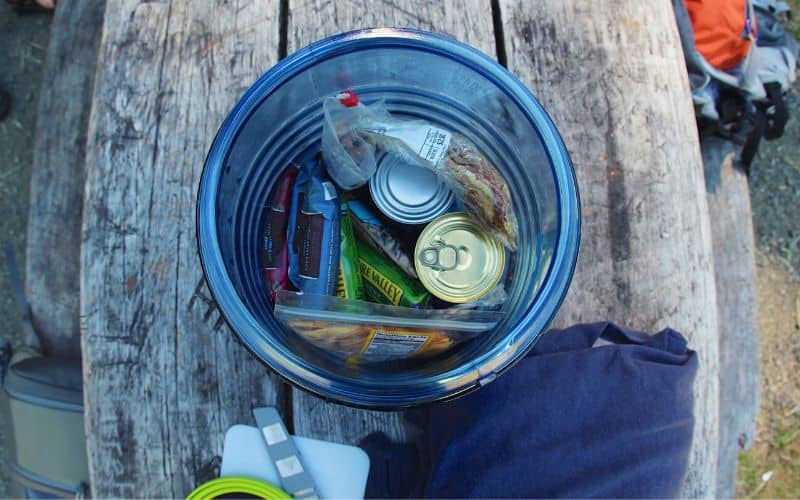 This canister's round shape and slippery surface has been designed to make it more difficult for bears to break in and access your eats. Its clear plastic and wide opening, however, make it straightforward for you to see and access the contents.
Like most bear canisters, these are relatively heavy (2.5 lbs) – something you will need to take into account when packing your gear. You can strap this canister to the outside of your backpack, using the strap guides on the canister. Its large size means that this bear canister can also be used as a camping seat, which is a bonus!
This bear canister is the only camping and backpacking food storage solution that is approved by all national parks. 
If you don't require as much storage, you could opt for the smaller BV450 bear canister, which has 440 cubic inches of volume and weighs 2.1 lbs.
3. Ursack Major Bear Bag
Bear bags offer a lightweight alternative to a bear canister. These are made from tough polyethylene that is resistant to tearing and chewing, and they are often designed to be hung.
Most brands offer the option of pairing bear bags with aluminum liners to prevent crushing or puncturing your eats. You can also put edibles in an odor-proof bag or trash bag first as an extra precaution.
Make sure you secure the bag following manufacturer instructions and label them to identify your grub.
The Ursack Major Bear Bag offers 650 cubic inches of storage, which is approximately five days' worth for one person. This lightweight (7.6 oz) bag is collapsible and already has a cord attached, so it is easily hung.
This bear bag is approved by the Interagency Grizzly Bear Committee (IGBC). However, it is not classed as acceptable in all areas, with some still requiring a bear canister or bear box, so make sure you check regulations before you travel.
This bag comes in XL (915 cubic inches at 8.8 oz) and XXL (1830 cubic inches at 15.7 oz) for longer trips. If you're looking for a bag to be resistant to bears and rodents, Ursack also offers the AllMitey for this purpose.
4. Ratsack
Ratsacks are a good option to keep your food safe from smaller animals, specifically rodents.
These bags are made from flexible, rust-resistant, woven stainless steel that cannot be chewed through. It closes with a wide velcro strap with a hole large enough to be hung with carabiners.
They come in a range of sizes, including XS, S, M & L, and there's also an 'ultralight' model that weighs 4 oz and offers 427 cubic inches of storage space. The largest size is still lightweight at 12.5 oz and has a maximum of 2500 cubic inches of storage space.
These bags hold more food per ounce of weight than the Ursack, but they aren't bear-safe so should only be used in areas where bears aren't an issue and there are no bear regulations in place.
We recommend placing Ratsacks inside another bag (large ziplock bags do the trick!), as the abrasive metal can damage gear and there is the possibility of leaks.
5. Sea to Summit eVAC Dry Sack
Dry bags are a cheap and lightweight storage option. These sacks can be hung like bear bags and keep edibles and other kit off the floor.
The Sea to Summit eVAC Dry Sack is made of strong and lightweight nylon fabric with an air-permeable waterproof fabric on the base. All seams are double stitched and tape sealed to protect contents from rain, although not designed to perform when completely submerged.
These sacks range from 3–65 liters with a maximum weight of 5.2 oz. Their oval shape makes them easier to pack into most backpacks.
Dry sacks are not as effective for storing food as a bear canister, bear bag, or Ratsacks, however. And although they can be hung, they have not been designed to prevent tampering from animals, so this is still a risk.
Most areas that have bear regulations do not classify this as a safe option for storing food and still require backpackers to use approved bear canisters or bear bags. 
6. Loksak Opsak (Odor Resistant Ziploc Bags)
Bears and other animals have a very keen sense of smell. Storing food within odorless bags can lessen the risk of animals intruding on your campsite looking for a snack.
Loksak Opsak Odor Resistant Ziplock Bags have an air-tight seal to lock in odor and prevent microorganisms and microscopic particles (e.g., dust or sand) from escaping or re-entering bags.
These odor-proof bags are made from transparent, patented, high-tenacity polymer, which makes them flexible and shatterproof. They have an easy-to-use, double-hermetic zipper closure system to keep bags watertight. You can even use them to rehydrate freeze-dried meals safely.
They come in a range of sizes, from 7" x 7" to 28" x 20". As the largest size only weighs 8 oz, this is a very lightweight option.
You can pair these bags with other backpacking storage options, such as a bear canister or bear bags, as an extra precaution.
7. Cord and Carabiners
If you intend to hang your grub, then flexible cord and carabiners can be useful kit to pack in your backpack.
It is recommended that you hang food 10-15 ft high and a minimum of 4 ft from the trunk to prevent animals from reaching it. This can be on a sturdy tree or a dedicated hanging pole. This can be achieved with about 30′ – 50′ of cord.
These are multi-use items. Cord can also be used to tie off gear and hang items to dry while carabiners can be used to clip gear to your backpack or hang a hammock.
Although this is a lightweight and cheap option, it won't be suitable in all areas, especially those with bear regulations. You also need to consider the terrain in which you will be backpacking – if you are above the tree line then there will be fewer natural hanging options.
You're All Set!
We hope this guide has demonstrated the importance of properly storing your food stash and helped you find the best option for your backpacking adventures.
Did you enjoy this guide? If you have any questions or comments, please feel free to post them in the comment box below. If you'd like to share this post with your friends, share away!