Alabama might not be on your 'places to camp' list. But it should be! This state has lakeside, oceanfront, and cavern-adjacent camping opportunities that rival anything elsewhere in the nation.
Use this guide to the top camping in the Heart of Dixie to find the perfect place to stay as you visit the Gulf Shores' white sand beaches, sprawling wetlands, or epic caverns. Whether you're looking for glamorous RV parks or a quiet backcountry site, we've got you covered!
1. Gulf State Park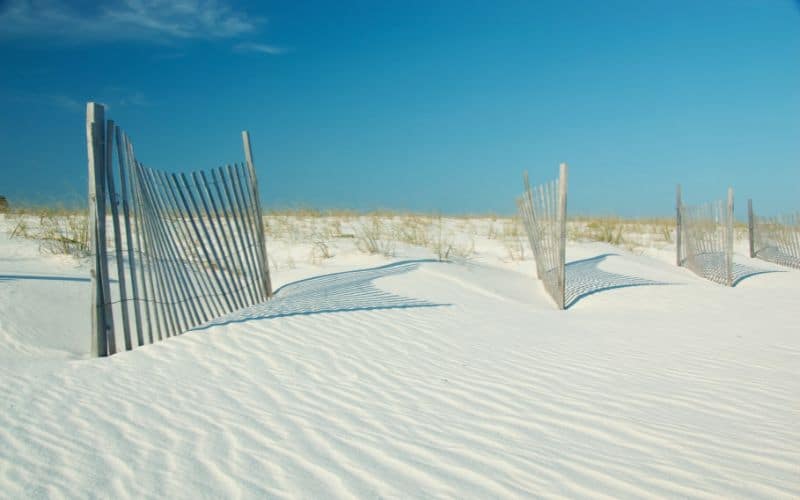 Set your umbrella on pristine white sand beaches, go salt and freshwater fishing, and explore miles of hiking and biking trails in the same place. Gulf State Park is overflowing with beauty and fun, and the best way to enjoy it is from the park's campground.
With over 500 sites, the Gulf State Park Campground can accommodate any camper. For RV campers, the park provides full hookup pull-through and back-in sites. There are primitive sites for tent camping, and most spots have picnic tables and grills. If you didn't bring your camping gear, don't worry. The state park also offers cozy cabins, cottages, and a lodge.
Amenities include eleven bathhouses, laundry facilities, and a camp store. For recreation, there are volleyball, pickleball, and tennis courts, a swimming pool and splash pad, and a nature center. The beautiful Lake Shelby is also nearby.
The Gulf State Park Campground fills up fast, so make your reservations well in advance.
2. Oak Mountain State Park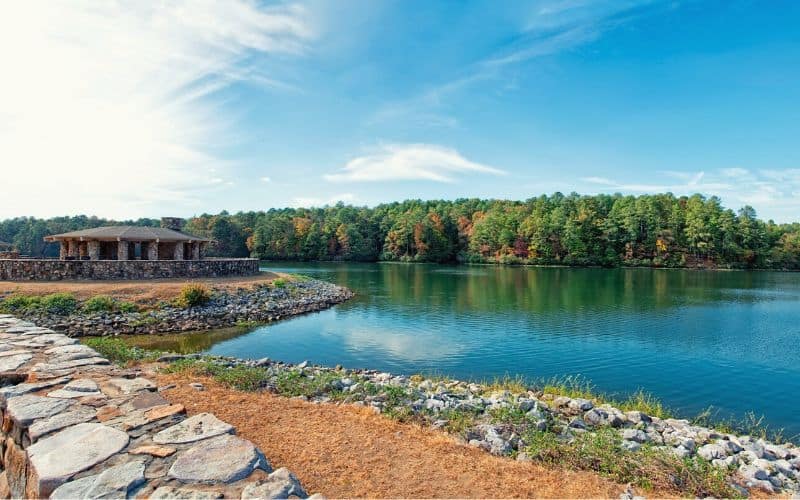 Oak Mountain State Park encompasses 11,632 acres and is home to rolling hills, longleaf pine tree forests, and the picturesque Beaver Lake. The best part is all this natural beauty is only 20 minutes from Birmingham.
The park is home to the Alabama Wildlife Center, where visitors can see falcons, bald eagles, and owls. If you'd rather look for wildlife outside, the park has over 50 miles of hiking and biking trails, including the Tree Top Nature Trail, an elevated boardwalk in a quiet woodland valley.
To enjoy Alabama's largest state park, stay at the campground. The Oak Mountain State Park Campground has 150 sites for RVs, tent campers, and everyone in between.
Although there are only a few sites with electric and water hookups, the campground has seven different bathhouses and a dump station. There is a laundromat and a country store if you forget camping essentials like sewer hoses, adapters, or firewood.
Reservations are not required but are highly recommended.
3. Meaher State Park
Meaher State Park is situated on the Mobile-Tensaw Delta, the second-largest delta in the contiguous United States. The delta landscape has created an abundant wetland that makes the state park the perfect place for fishing, birding, and wildlife viewing.
For overnighting, the park has a spacious and shaded campground with 61 full hookup sites. Primitive sites are also available and come with a fire pit and picnic table. There are bathrooms, a heated/air-conditioned shower house, and laundry facilities for all campers.
The state park features a 300-ft pier for anglers and a boat ramp for paddlers. For hikers and walkers, Meaher State Park is stop #26 on the 200-mile AL Coastal Birding Trail. In other words, don't forget your rods and your binoculars!
4. Desoto State Park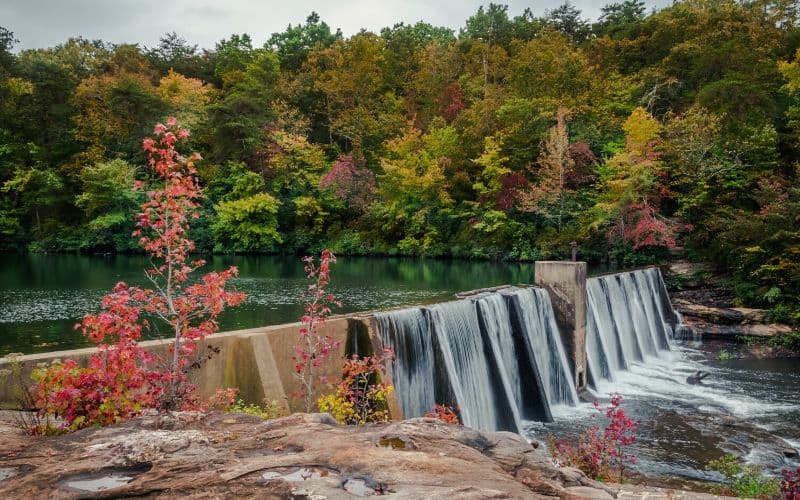 Desoto State Park has it all, idyllic waterfalls, canyon hikes, and fields of wildflowers.
There are many ways to stay at the state park, starting with the improved and primitive campsites.
The improved Desoto State Park campground includes 94 full-hookup sites large enough for slideouts. If you're pitching a tent, choose a back-in site. Each site has picnic tables and grills. All campers can use the comfort stations with bathrooms, showers, laundry, and Wi-Fi.
You can also stay in a mountain chalet, rustic and log cabins, or the motel. Try one of Desoto State Park's backcountry campsites for more extreme adventures.
Use your campsite as a base for hiking, kayaking, rock climbing, and rappelling. Or you can access the park's Olympic-size swimming pool, mountain biking trails, the Benefield Interpretive Center, a Civilian Conservation Corps museum, and more.
Pro-Tip: Don't follow your GPS to the campground, especially if you have a bigger rig. Follow these directions instead.
5. Frank Jackson State Park
World-class fishing combined with vivid lake scenery makes Frank Jackson State Park one of the best places for camping in Alabama. The park's 32 RV sites are available for tent camping and include free cable, water, electrical, and sewer hookups. The park maintains a bathroom, a shower house, and a dump station.
Frank Jackson Lake is stocked with crappie, bream, and catfish. There are many ways to fish. Use a boat ramp, the ADA-accessible fishing pier, or cast from shore.
Although most campers stay for the fishing, the park also has terrific hiking trails.
An elevated boardwalk and pedestrian bridge leading out into the lake and surrounding wetland allow hikers to view wildlife and birds. In the fall, the park lines the walking trails with scarecrows for Halloween. Frank Jackson State Park is open all year round, and the mild weather makes it an excellent place for winter camping.
6. Cheaha State Park, Talladega National Forest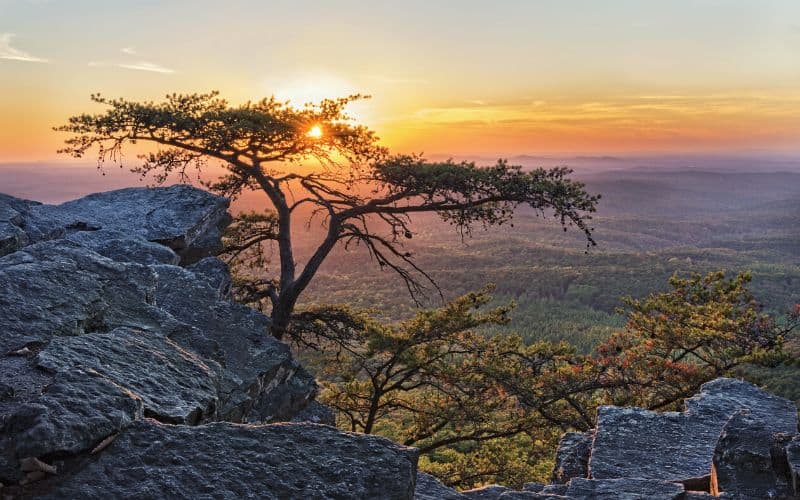 Cheaha State Park is home to the highest point in Alabama, Cheaha Mountain, and some of the state's best hiking trails. Make this beautiful state park your home for a night at one of five different campgrounds.
For RV campers, the park provides 77 sites, all of which have sewer, water, and up to 50-amp electricity. Four of the improved sites are ADA-accessible. There are even more options when it comes to tent camping.
Cheaha State Park has some of the best tent camping in Alabama as a whole. The Upper Primitive Campground has 26 spots at 2,400 feet in elevation. Imagine opening your tent door and realizing you're camped above the clouds! All tent campers have access to toilets and water spigots, but showers cost a bit more.
Other lodging options include A-frames, motel rooms, rustic cabins, and a group lodge.
The park boasts five mountain bike trails and six hiking trails, some of which serve up incredible views of the surrounding mountainous terrain.
7. Island Retreat RV Park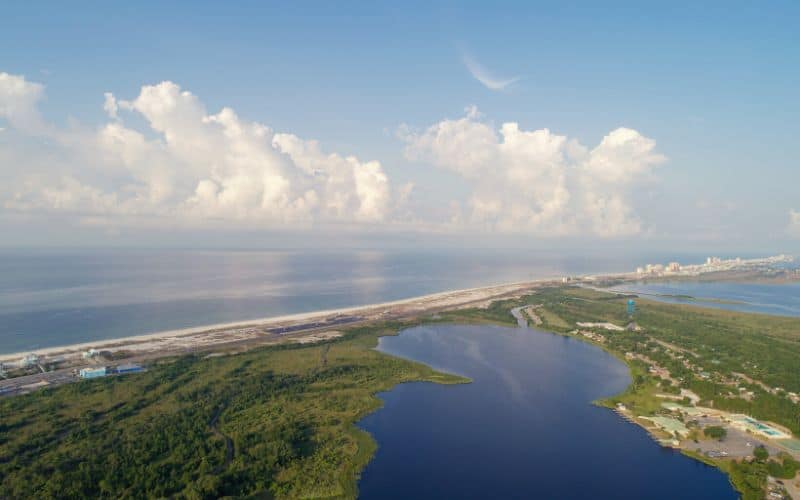 Just three miles from the Gulf Shores and stunning white-sand beaches, Island Retreat RV Park is the best campground for beach vacations in the state. All 173 sites are full hookups with plenty of room for slide-outs and complimentary cable TV.
Without leaving the campground, you can splash around in the saltwater pool, take the kids to the on-site playground, or play horseshoes and cornhole. The park has a little library, a brand-new fitness center, and fishing pole rentals.
As if that's not enough, the campground connects to Gulf Shores State Park via a paved trail system. Everything you need for the perfect family vacation is right in the park or just a few miles away.
8. Lake Guntersville State Park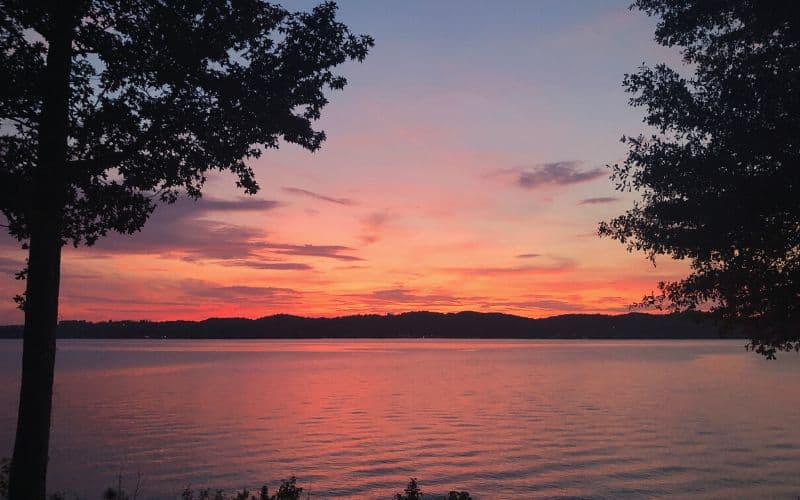 Whether you're a golfer, hiker, bird watcher, or adrenaline junkie, you'll find something to do at Lake Guntersville State Park. Even the campground has a little of everything, including 295 RV sites, primitive tent sites, bathhouses, and a laundry room.
Once you've set up camp, go fishing in Alabama's largest lake, hike over 30 miles of trails, or try your hand on the 18-hole championship golf course. There is also a zipline, an outdoor nature center, a playground with a splash pad, and a swimming beach complex.
One big attraction in the park is a population of nesting bald eagles. Check the events page for upcoming Eagle Awareness Weeks and a chance to learn about our national bird. You can plan your trip around this or any other event, but reserve your spot as soon as possible.
9. Blue Springs State Park
Blue Springs is one of the lesser-known state parks in Alabama and provides a relaxing atmosphere and an uncrowded experience for campers. The park has 47 RV and tent sites located in a rural forest setting.
Sites can accommodate 30-amp usage, and most don't have sewer hookups. There is a comfort station with toilets and showers and water hookups on each site. What the campground lacks in RV amenities, it makes up for in natural beauty and recreational opportunities.
The park is known for its spring-fed swimming pools, an excellent place to cool off during hot Alabama summers. There is a playground and picnic areas for warming up after your dip, and don't forget about the park's many hiking trails.
10. Cathedral Caverns State Park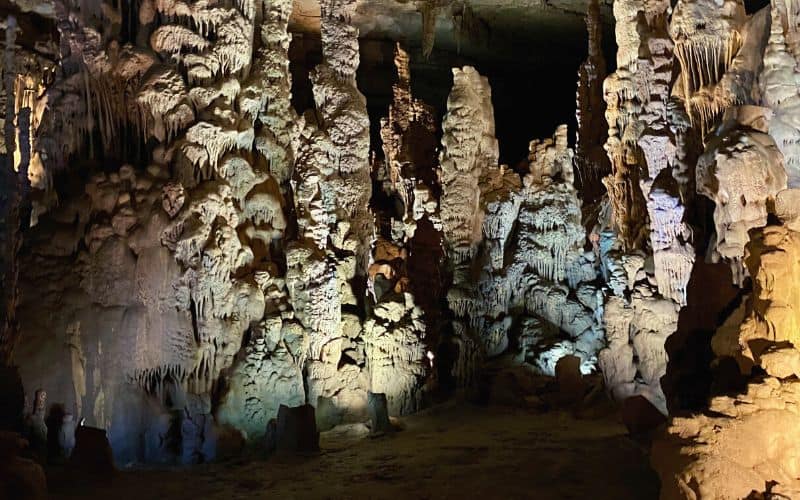 The campground at Cathedral Caverns is small, with only 43 sites. However, staying overnight is the best way to experience one of the most interesting places in Alabama. The Cathedral Caverns are breathtaking, starting with the 126-foot high by 25-foot wide 'Grand Entrance'.
You can join a guided tour of the different stalagmite and stalactite formations or explore the caves on paved and unpaved trails. Don't miss "Goliath," a 45-foot stalagmite, or the large stalagmite forest.
Regarding camping, choose from modern, basic, primitive, or backcountry sites. Basic sites can use the dump station and showers for no extra charge. Backcountry and primitive tent campsites require a reservation.
11. A-Okay RV Park
For a uniquely Alabaman experience, check out the A-Okay RV Park, a combination campground and Texas Longhorn ranch. When you make your reservation, you can ask for the 'Campfire Special,' a two-night stay with two pounds of grass-fed hamburger.
Besides delicious Texas Longhorn meat, the campground has large lots with plenty of parking space. The sites at A-Okay RV Park are all full-hookup and can accommodate up to 72-foot rigs. Amenities include bath and shower houses, wifi, and laundry facilities.
A quiet spring-fed pond allows for fishing and relaxing right in the park. You can also check out the Longhorns on a tour of the ranch. Within a few miles of the park, you can visit the Dothan Area Botanical Gardens, hike the Forever Wild Nature Trail, and get lost in the Marianna Caverns.
A-Okay RV park offers daily, weekly, and monthly rates, but you need a reservation.
12. Deerlick Creek Campground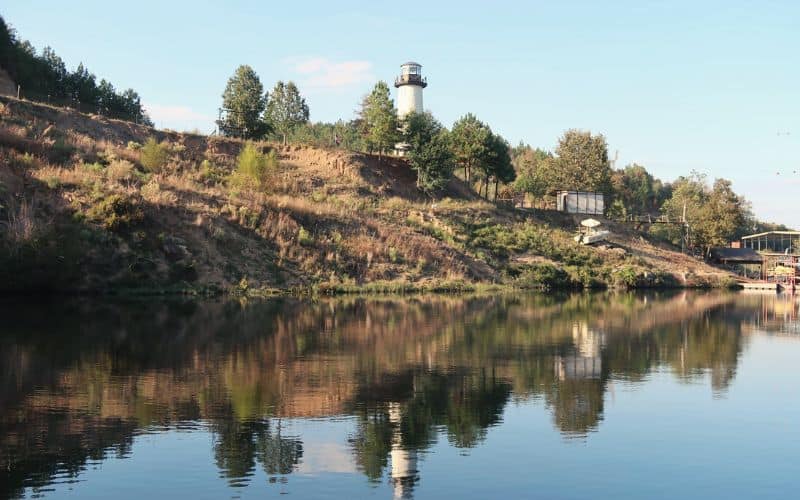 Lakeside camping doesn't get better than at Deerlick Creek Campground. The campground is located on the shores of Holt Lake, just outside Tuscaloosa, making it the ideal place for a weekend getaway.
Choose from 46 water and electric sites (no full hookups). Six sites are reserved for tent campers with access to showers, fire pits/grills, and electric picnic shelters.
Whichever site you choose, you won't be far from fun. The campground is surrounded by water where anglers can catch catfish, crappie, bass, and bream. If you don't want to fish, the water is also perfect for swimming and boating. Hikers will find miles of shoreline trail and a paved path for strolling or biking.
There are no first come, first serve sites at Deerlick Creek Campground. You must have a reservation.
13. Chickasaw State Park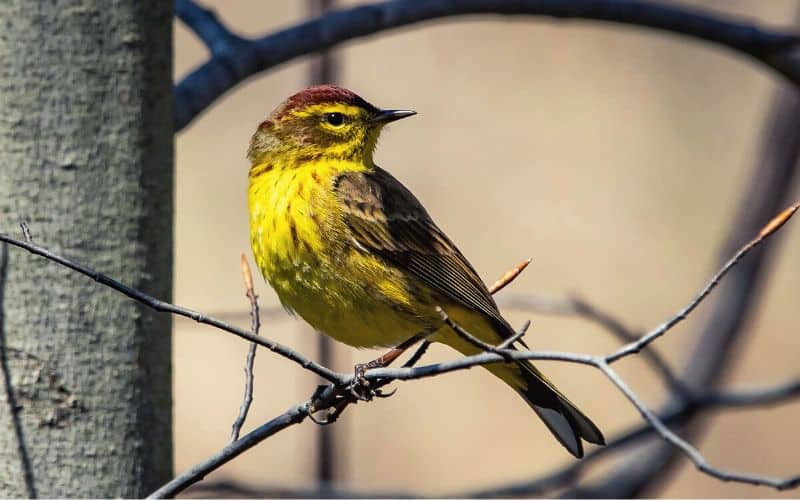 Chickasaw State Park is a nature lover's paradise. The 520-acre park is packed with wildlife and various bird species, including white-eyed vireos, palm warblers, indigo buntings, and northern flickers, to name a few.
Kids and adults can splash around in the wading pool, use the playground equipment, and hike along the Black Belt Birding Trail. When it's time to eat, use the campground's pavilions and grills to make food. For dessert, roast marshmallows on your site's private fire pit.
Within the campground, you will find three RV sites and several primitive sites. There are bathrooms for all campers but no showers. Chickasaw State Park operates the campground with Marengo County. Call the park manager to make reservations.
Best Camping in Alabama!
Alabama is like a giant amusement park, from the Gulf Coast to the Cathedral Caverns and all the natural beauty in between. To truly appreciate the state, you have to camp there. Luckily, there's primitive tent camping as well as luxurious RV camping, so it accommodates campers of all inclinations.
We hope this guide to the best camping in Alabama made it easier to find somewhere to stay in the South. What are your favorite Alabama campgrounds? Let us know in the comments, and share this guide with your camping buddies.