Whether you're year-round backcountry blazers or first-time campers, on your first date or celebrating a wedding anniversary, camping is a great opportunity to relax and spend quality time with your partner.
Play a game, hang string lights, go for a wild swim, nestle in a sleeping bag, cook a three-course meal – regardless of what is on our list of camping ideas for couples, they all have one thing in common: the ability to make your camping experience all the more intimate.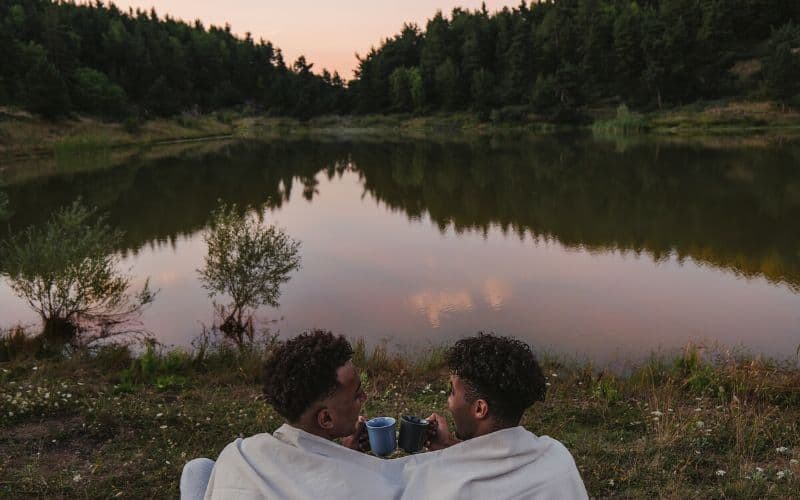 1. Choose a Secluded Campsite
A camping date should be about spending alone time with your partner – not other campers. A secluded campsite is one of the best ways to ensure intimacy.
If backcountry camping is your thing, then a secluded romantic weekend is almost guaranteed. However, if you're bringing blankets, extra food, drinks, and maybe even board games, then finding a spot to pitch your tent close to the car – but away from everyone else – can require a bit more planning.
We recommend looking at the map of your chosen campground to find the most secluded sites. In the summer months, reserve in advance. During the off-season, finding a secluded campsite is easier.
Secluded sites are often by a body of water or are deep in the woods, which is sure to add to the ambiance as well as provide a little more privacy.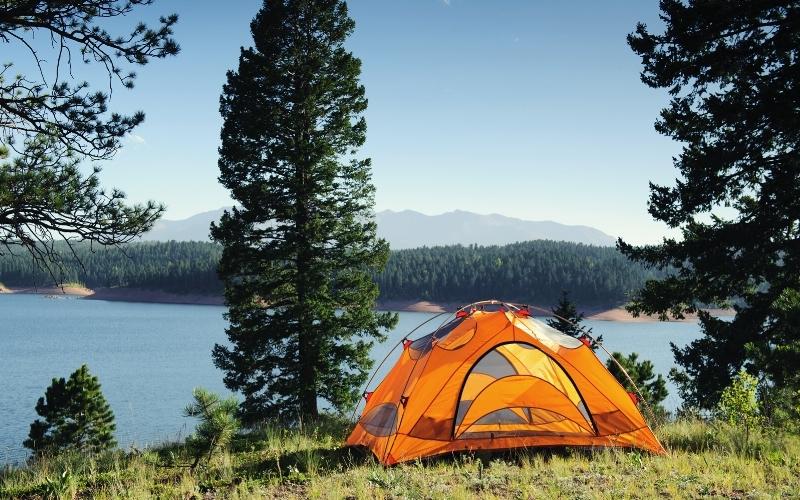 2. All About the Ambiance
Evidently, making a camping trip more romantic will involve avoiding the hullabaloo of surrounding campers, it is also about finding a beautiful place to set up for the evening.
One of the fundamental things to make a camping trip special is to find a nice spot. Whether you're by a waterfall, the seashore, a deep valley surrounded by mountains, in dense woodland, or by a river, a natural and secluded area will help you both connect.
To increase the romantic atmosphere, before night arrives, hang LED string lights in the trees over your camp chairs. This will cast beautiful shadows and create a cozy little nook.
Last thing – romantic ambiance isn't only about outside the tent. For an extra-romantic atmosphere inside, go for a bigger camping tent to ensure you have enough room for the night and hang up fairy lights. You can set up a big mattress, line the tent floor with extra blankets, and have music playing in the background.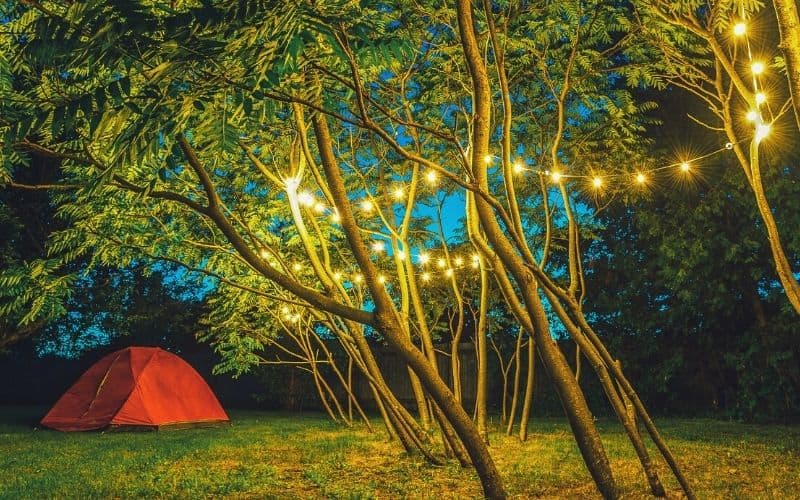 3. Get a Double Sleeping Bag
If the best source of warmth is body heat, why not get close to your partner in a double sleeping bag?
There's nothing better than bundling up close together to stay warm. Whether it's spring, summer, autumn, or winter, being close together in the confines of your tent is a perfect way to feel connected. And if you want to be elevated off the ground you can even get a double camping cot.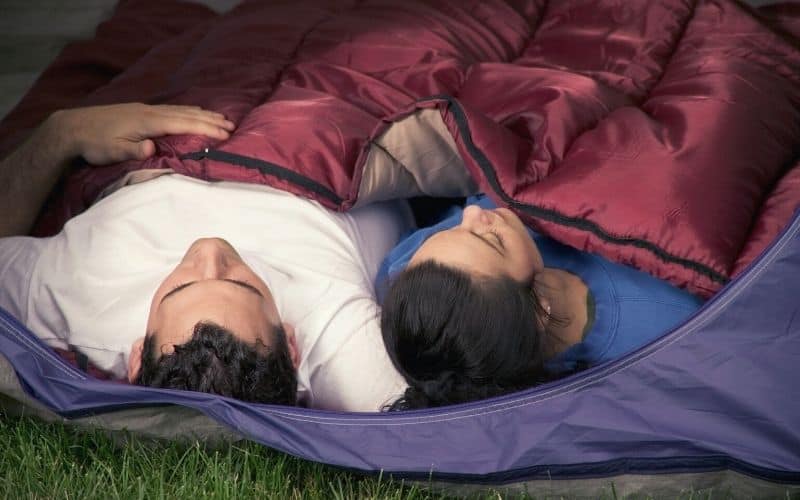 4. Catch Those Sunsets
The light in the sky slowly shifts; gold, orange, pink, purple. When you look over at your partner, they're bathed in that golden light. You see every color in their eyes . . .
Sometimes, the most romantic ideas are the simplest. Watching the sunset while basking in the other's company is the most romantic of all experiences.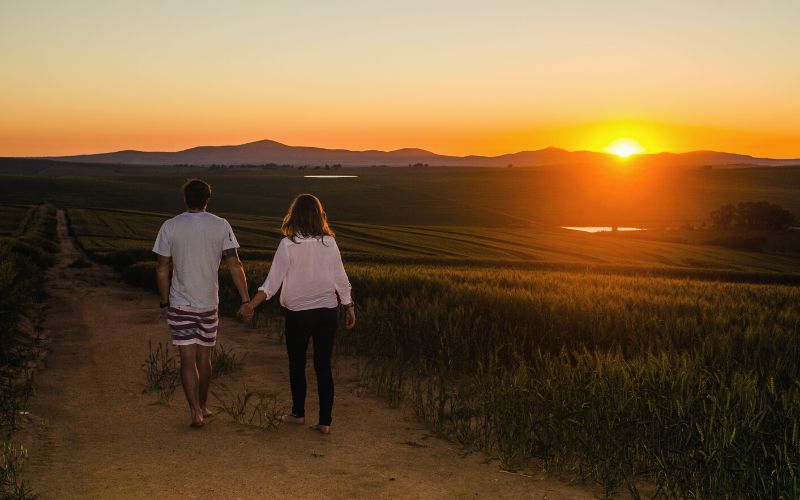 5. Make a Campfire
A good campfire can set the mood for a truly romantic evening.
Share a wine bottle or warm drinks, play silly games, roast marshmallows (and disagree on how you like them roasted!), make s'mores, let your philosophical musings follow the campfire smoke into the night sky, or simply bundle up and have fun with each other.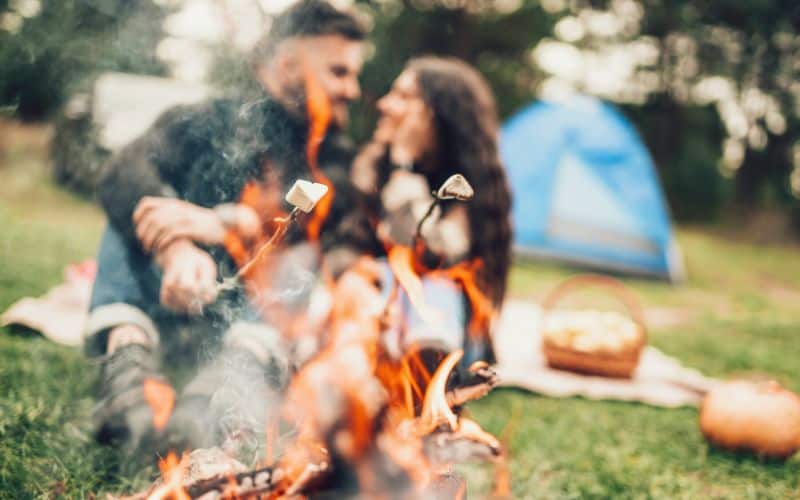 6. Consider Glamping
If you've never been camping before, or you and your partner mostly spend time in that same old battered tent, then consider glamping.
Nowadays, there are so many glamping options: cabins, yurts, renovated containers, shielings, caves . . . the list goes on. Each camping experience is different, but what they all have in common are stunning views, warmth, isolation, a sense of the rustic, and maximum comfort!
Want the most romantic camping date? Consider glamping during winter. Bundled up in the warmth of your camp, watch the snow fall, and let the romance begin!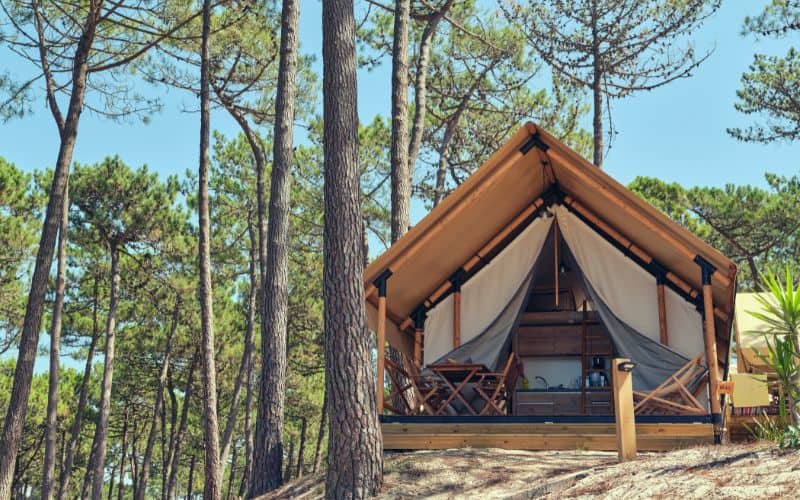 7. Cook a Romantic Meal
If you're trying to impress your date, then you'll have to leave the granola, oatmeal, and frozen dinners back home. Cooking a warm, hearty meal is a great way to create a romantic vibe at camp.
If you want to really make things romantic, consider a multi-course meal.
For a starter, you can prepare a delicious salad in advance. However, we recommend bringing a few blocks of cheese, your favorite meats, olives, biscuits, and spreads, and building an antipasto board together. For an added bonus, enjoy your starter as the sun is setting.
For the main course, use your fire. You can use a pie iron to cook a sandwich. You can grill a nice cut of meat or grill vegetables. Perhaps you're feeling fancy and want a cheese fondue. Whatever you do for dinner, up the romance and fun by using the campfire!
Lastly, dessert – sweet and salty. A savory pie in the pie iron is always a good hit, but the most classic are the old-fashioned s'mores. Bring different chocolates and crackers, make them on a rock, and enjoy.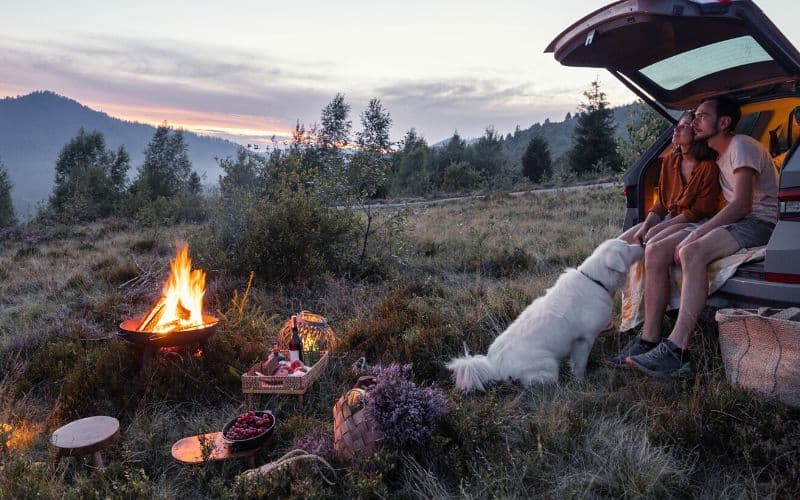 8. Take a Dip
It's featured in almost every romantic movie, but swimming is a classic way to get up close and intimate with your date.
If your romantic campsite is by the sea, a river, or a lake, you can spend a day going in and out of the water, lounging by the shore reading, talking, and playing games.
If your campsite is secluded and it's nighttime, why not take your clothes off and go in together, holding hands?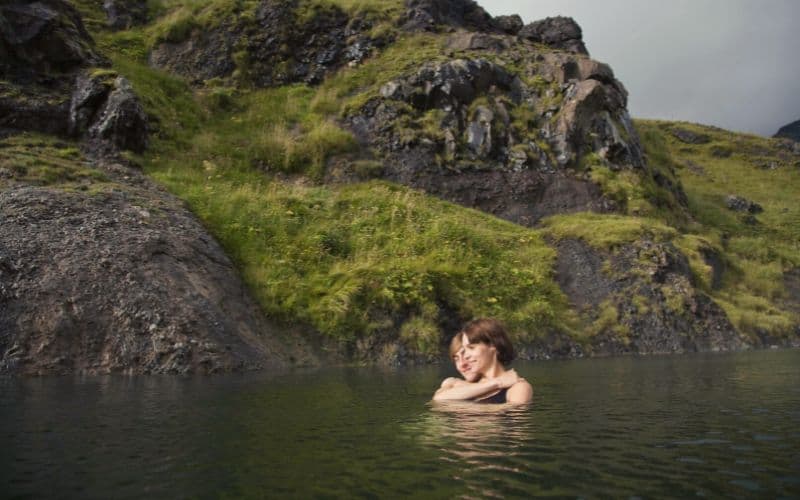 9. Go for an Evening Walk & Stargaze
Sometimes, the best conversations between couples happen in the dark beneath a night sky full of stars. Identify constellations, hold hands, listen to the sounds of nature, and get close.
If you're lucky, you might even see a shooting star!
We recommend finding a campsite that is located where there is very minimal light pollution. National parks are great for this. Not only will this provide the chance to see constellations and the Milky Way, but you might also be able to see the silhouettes of mountains, trees in the distance, and waves crashing onto the seashore.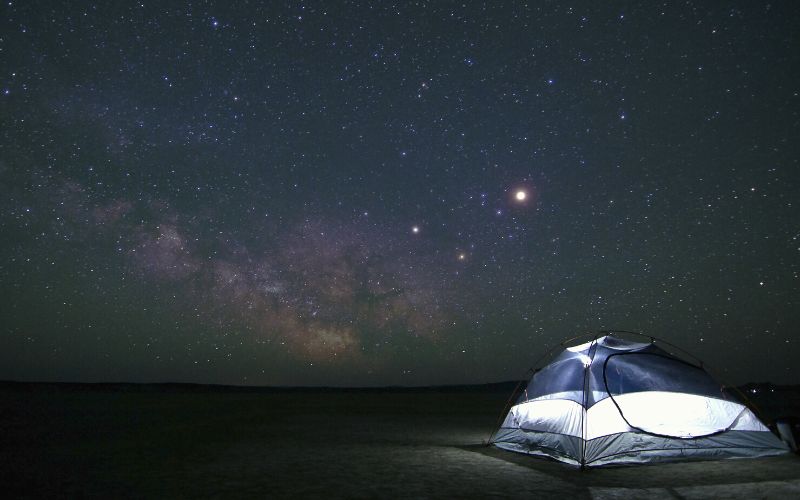 10. Play Games
A great way to get to know each other without the 'seriousness' of questions is to play a game or two. Whether they're nostalgic childhood board games or more physical games that require moving around the campsite, a game is a great way to laugh together, bond, and show your intellect.
Our tip – whatever game you play, we recommend it's not on a phone! Phone games are restricted to your screen, whereas physical games force you to think outside the box and embrace the romantic space around you.
Note, you don't have to stay inside your tent! Play as the sun sets or by the fire, too.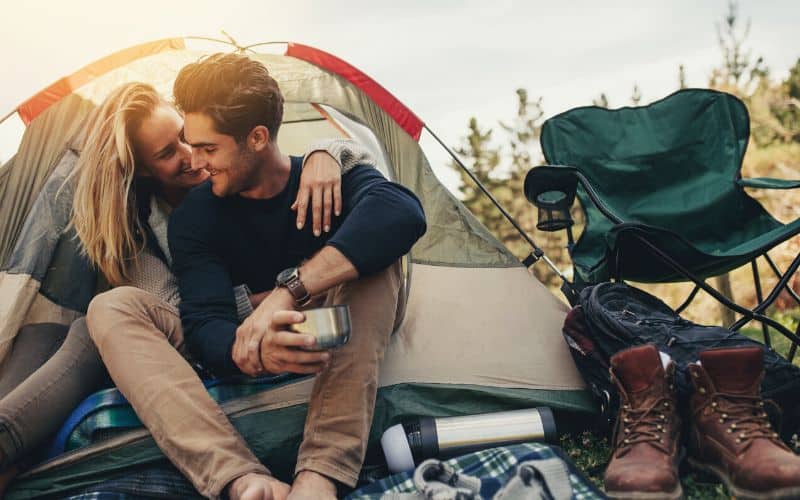 11. Serenade You Camping Companion (or Bring a Speaker!)
If you can play an instrument, bring it along to play by the campfire. You'll score bonus points if you learned how to play your partner's favorite song already. Maybe start playing one song and slowly merge into their favorite one, looking at them, smiling, and then singing along together!
If you can't play an instrument, don't worry! Bring a speaker and listen to your favorite tunes. You can even bring the speaker on your stargazing walk.
12. Bring a Hammock
Double hammocks are getting more popular now, and with good reason.
Whether you're both seeking respite from the sun beneath your favorite trees or you want to snuggle up in a sleeping bag when it's cold, there's something special about laying together in a cocoon high off the ground.
Relax, share stories, read, and play music – hammocking is romance at its finest.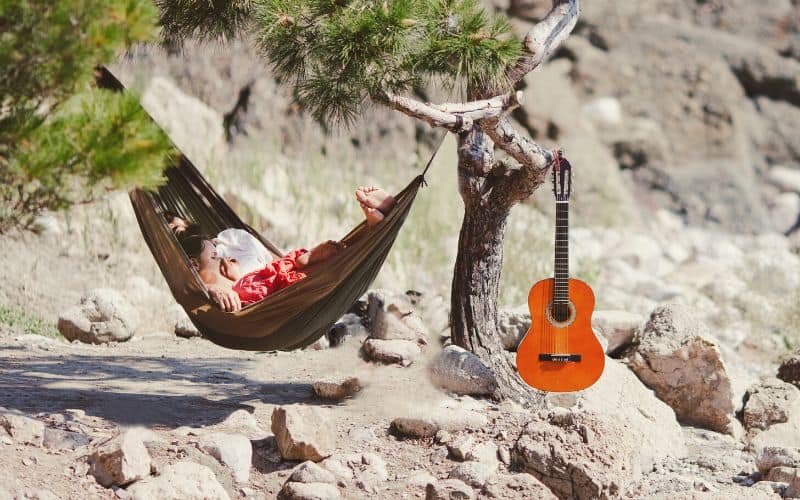 13. Ditch the Phones
Leave social media, and your friends and family behind – this camping trip is for the two of you, not them!
14. Bring a Little Booze
Whether you've had a stressful week at work or this is your first date, having a few adult beverages is a great way to brush away the nerves and enjoy each other's company.
Each drink will add a different vibe to your romantic evening, too. Boozy hot chocolate, a bottle of wine, cold beer, a cocktail – you can even enjoy these all over the course of a romantic weekend!
We're sure you've heard the term 'liquid courage' before. Drink responsibly, but having a few good drinks will surely boost your confidence. You'll share more secrets, make each other laugh, and who knows, perhaps you'll muster up the courage to finally . . . well, we'll let you decide on that one!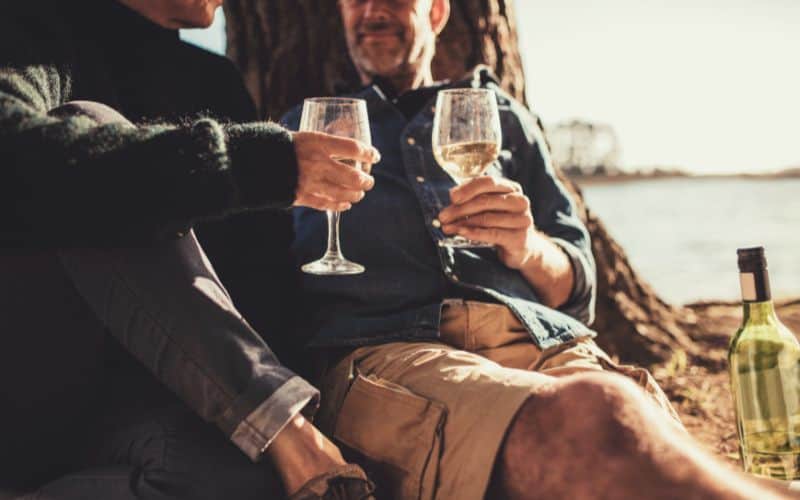 15. Find a Hot Spring
Hot springs might be nature's greatest gift. If you don't know what they are, imagine a natural hot tub in a beautiful and often remote setting. They are fantastic places to unwind, detox, and alleviate any pains or ailments.
Hot springs are also a great way to change the fast pace of road trips and multi-day backpacking treks into something a little more conducive to romance.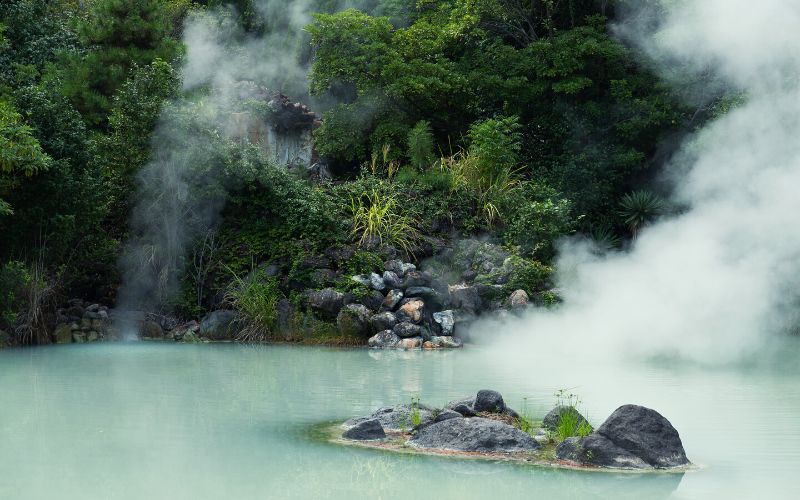 Happy, romantic Camping!
There are so many great ways to enjoy time with your significant other, but there's nothing like going on a camping trip together. Whether it's sitting by the campfire and roasting marshmallows, going for a cheeky skinny dip, or watching the sunset from your tent porch, days and nights at camp can be full of romance.
If you enjoyed this article or you know a couple who camps, please feel free to share this article! If you have any questions or comments, drop them in the box below.