A true trekker's paradise, the rugged trails and fantastic rock formations of Bryce Canyon National Park are sure to impress on your next trip to the desert southwest.
But with so many superb Bryce Canyon hikes to choose from, it can be hard to know which one is right for your adventure style.
The good news? We're here to help.
In this article, we'll walk you through our list of the 10 best hikes in Bryce Canyon.
We'll clue you into everything you need to know about Bryce Canyon, from trail stats to must-see viewpoints within the park. That way, your expedition to southern Utah's gorgeous desert will be as magical as you've always imagined.
RELATED: Check out our guides to the best hiking trails in Utah and the top camping sites in Utah
The 10 Top Trails In Bryce Canyon National Park
1. Queen's Garden/Navajo Loop Combination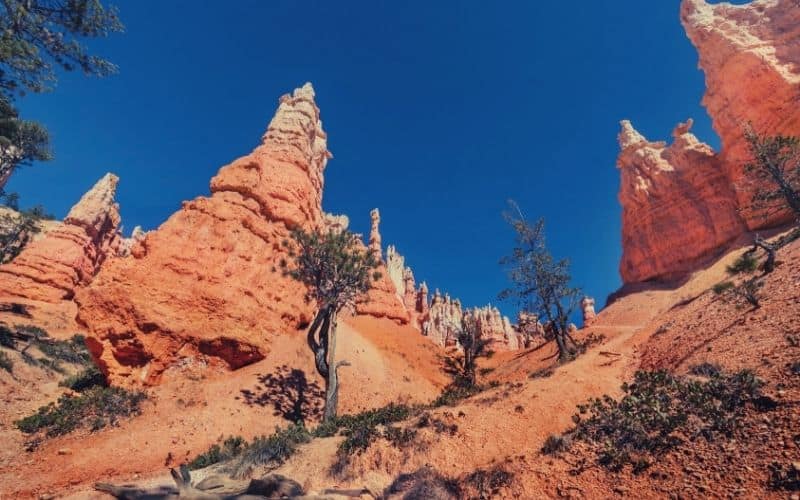 Type: Loop
Length: 2.9 miles (600ft ascent)
Difficulty: Moderate
Access: Sunset Point or Sunrise Point Trailheads
Easily the national park's most popular trail, the Bryce Canyon Queens Garden Trail and Navajo Loop combo is one trek you won't want to miss.
This 2.9-mile loop has trailheads at Sunrise and Sunset Points and is best hiked in a clockwise direction. Doing so provides you with stunning views of the Bryce Amphitheater as you hike.
As you begin hiking down the Queens Garden Trail, you'll make your way past jagged rock formations like the Queen Victoria hoodoo. Eventually, you'll reach the Navajo Loop Trail. On this path, you'll hike past vistas of Bryce Canyon icons like Wall Street, the Thor's Hammer hoodoo, and the Two Bridges.
Soon enough, you'll find yourself on the Rim Trail between Sunrise and Sunset Points. As you meander your way back to your starting point, you'll be treated to superb views over the entire park – a sea of peach-colored spires, hoodoos and desert entirely unlike any other landscape anywhere.
2. Sunset Point to Sunrise Point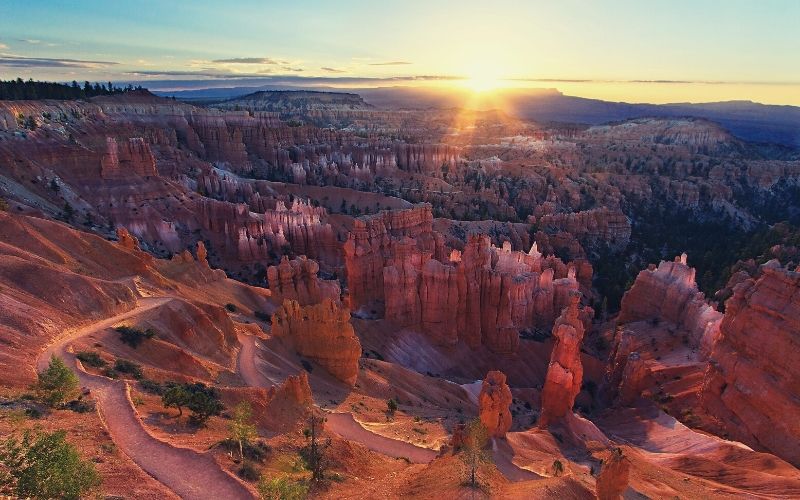 Type: Out-and-back
Length: 1 mile (82ft ascent)
Difficulty: Easy
Access: Sunset Point or Sunrise Point Trailheads near Bryce Canyon Lodge
Covering a short section of the Rim Trail, the trek from Sunset Point to Sunrise Point is a fantastic choice for hikers of all ability levels.
As one of the best hikes in the National Park for new hikers, this 1 mile paved out-and-back path is a must-do. Plus, it's also the only section of the Rim Trail where you can bring your pets. So, feel free to take Fido along for the adventure!
To access this trek, you'll start out at the trailhead for the viewpoint at either Sunrise or Sunset Point Point. From there, you'll head down a mostly level path toward the other viewpoint. Along the way, you'll get a chance to see some of the most iconic scenery in Bryce Canyon, including sweeping views of the canyon itself.
Do note that this hike can get hot during the summer months. So, either plan to do this hike in the early morning or evening, or come prepared with lots of water for the journey.
3. Fairyland Loop Trail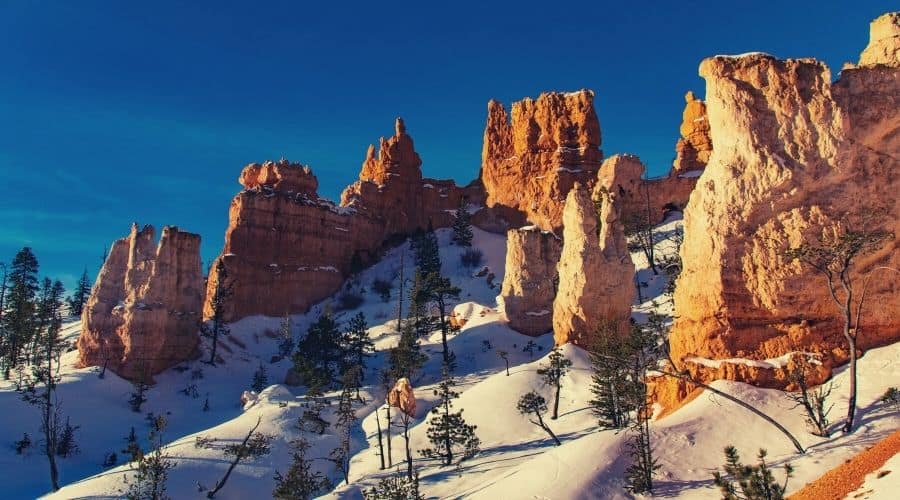 Type: Loop
Length: 8 miles (2,309ft ascent)
Difficulty: Hard
Access: Fairyland Point Trailhead on Fairyland Point Road off of Highway 63
A fantastic hike for the more adventurous among us, the Fairyland Loop offers a chance to see spectacular vistas that you can't find anywhere else in the world.
Starting off from Fairyland Point, this rugged trek takes you through the heart of Bryce Canyon. You'll go up steep switchbacks and reach some high elevation locales that offer views of Tower Bridge, China Wall, and hundreds of beautiful hoodoos.
However, in addition to being less crowded than some of the other treks in the Bryce Canyon, the Fairyland Loop Trail is also one of the most strenuous. Indeed, the over 2,300 feet of elevation gain on this path is enough to make anyone break a sweat. So be sure to pack plenty of water if visiting during the summer months!
4. Peek-A-Boo Loop Trail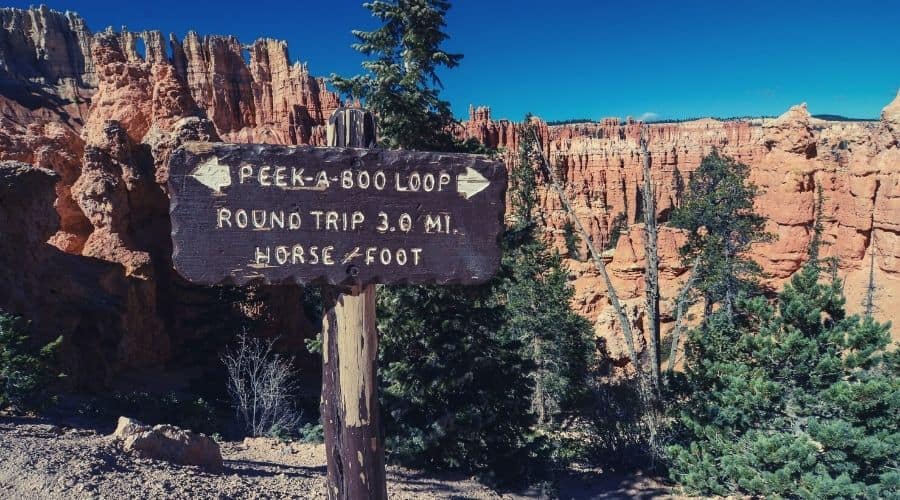 Type: Loop
Length: 5.5 miles (1,555ft ascent)
Difficulty: Moderate
Access: Peek-A-Boo Trailhead on Bryce Point Road
If you've dreamed of hiking from the Bryce Canyon rim all the way down to the canyon floor, the Peekaboo Loop Trail is the trek for you.
This uber-popular trail begins at Bryce Point and charts a steep path down to the floor of the canyon. Bryce Canyon's Peek-a-Boo Loop isn't the easiest of day hikes, though. So, be sure to come prepared with hiking boots and plenty of water for your time on the trail.
After you depart from the trailhead, you'll immediately get excellent views of the many nearby hoodoos. You'll also be treated to views of the Wall of Windows, the Cathedral, and the Hindu Temples rock formations.
As you make your way around the "Peekaboo" Loop, you'll also have the opportunity to make a few side trips to other notable destinations. In fact, this loop links up well to the Rim Trail, which can take you over to Sunset and Sunrise Point.
However, do remember that you'll have quite a bit of elevation gain on your way back to the parking area. So, don't burn all your energy early in the day!
5. Queen's Garden Trail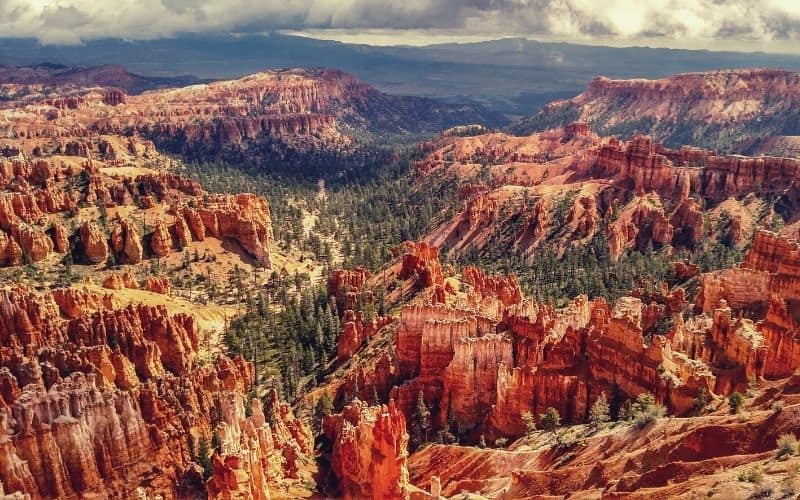 Type: Out-and-back
Length: 1.8 miles (320ft ascent)
Difficulty: Moderate
Access: Sunrise Point Trailhead near the Visitor Center
Considered to be an easy day hike in Bryce Canyon, the Queens Garden Trail offers a fun way to see some of the best views that the US national parks have to offer.
Departing from Sunrise Point Trailhead, the Queen's Garden hike provides vistas of towering hoodoos without excessive elevation gain. This quick walk from the canyon rim takes most trekkers around 3 hours or less, so it's a nice choice if you're short on time.
Plus, if you're feeling particularly adventurous, you can also use this path to link up to one of the other great hikes in the park. In fact, with your Bryce Canyon trail map in tow, you can use the Queen's Garden path to access either the Navajo or Peekaboo Loop treks for extra fun.
6. Navajo Loop Trail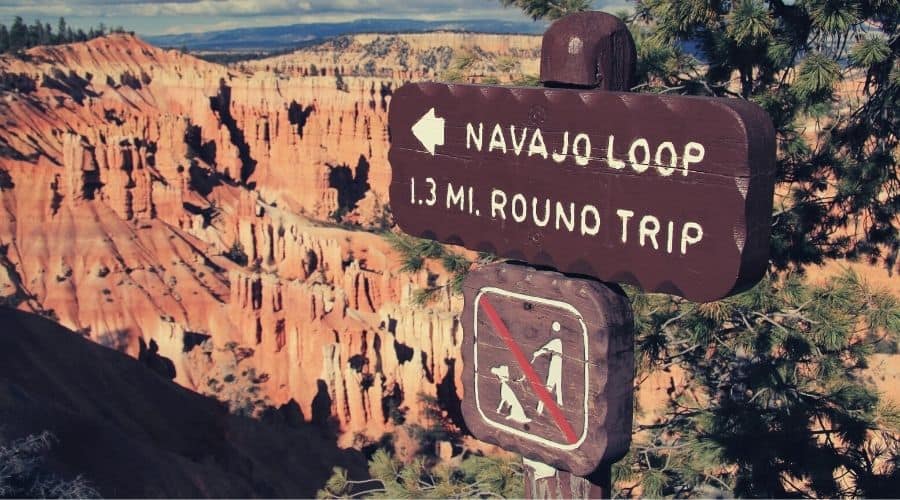 Type: Loop
Length: 1.3 miles (550ft ascent)
Difficulty: Moderate
Access: Sunset Point Trailhead
Arguably one of the most iconic Bryce Canyon hikes, the Navajo Loop Trail provides endless views of colorful hoodoos.
Once you leave behind the trailhead at Sunset Point, this 1.3-mile trek takes you up and down a series of switchbacks along the valley rim. You'll get to see huge Douglas fir trees and even Thor's Hammer, the most famous hoodoo in Bryce Canyon National Park.
As an added bonus, you can easily link up this path with nearby hikes to create the Queens Garden/Navajo Loop. Do keep in mind, though, that the section of the trail near Wall Street usually closes during the winter months. As such, this day hike is best taken on during the summer months, late spring, or early fall.
7. Bristlecone Loop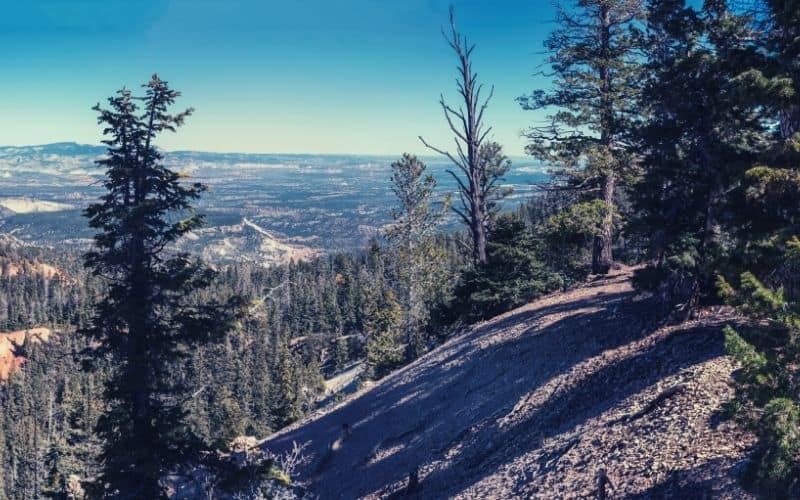 Type: Loop
Length: 1 mile (195ft ascent)
Difficulty: Easy
Access: Rainbow Point Trailhead off of Highway 63
Offering a chance to see some truly marvelous bristlecone pines, the Bristlecone Loop is one trek that should be on everyone's bucket list.
A quick and easy hike, the Bristlecone Loop travels into the high elevation regions of the park. It departs from the scenic Rainbow Point and meanders its way through forests of Douglas fir, blue spruce, and white fir—not exactly what you'd expect in the heart of the desert.
The highlight of this hike is easily its views of the Four Corners area about a half mile from the trailhead. Here, you can gaze out over a stand of ancient bristlecone pines, some of which are nearly 2,000 years old! How's that for cool?
If you happen to have spare time after your trek to the bristlecone pines, consider venturing over to Yovimpa Point for great vistas. Or, if you want a longer trip, consider hiking a section of the Under the Rim Trail for added fun.
8. Tower Bridge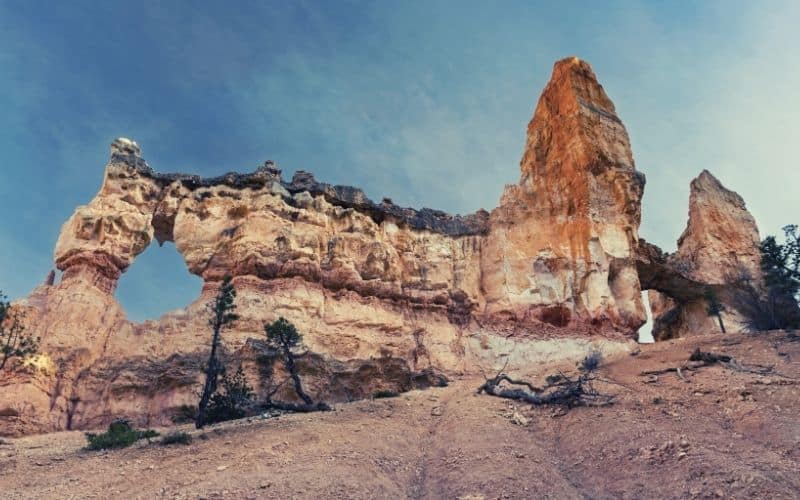 Type: Out-and-back
Length: 3 miles (950ft ascent)
Difficulty: Moderate
Access: Sunrise Point Trailhead
Looking for Bryce's best day hikes? The Tower Bridge Trail is a sure bet.
Beginning at Sunrise Point, this iconic hike is scenic, yet steep, so don't forget your hiking boots. You'll immediately be treated to awesome views of the Sinking Ship and China Wall as you leave the trailhead, which are great starters for the vistas to come.
After descending down quite a bit of elevation, you'll eventually make it to Tower Bridge itself. This fantastic rock formation is one of the most prominent in the park, so it's a great place to stop and snap some photos.
Depending on your energy levels, you have a number of hiking options after reaching Tower Bridge. You can either return the way you came or you can venture down the Fairyland Loop for better views of the park's many hoodoos.
9. Mossy Cave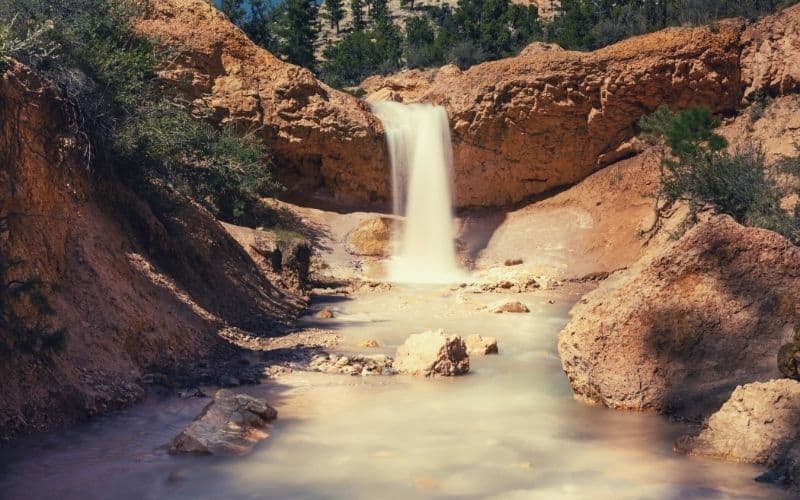 Type: Out-and-back
Length: 0.8 miles (300ft ascent)
Difficulty: Easy
Access: Mossy Cave Trailhead on Highway 12
Located to the north of the Bryce Canyon's visitor center, the trek to Mossy Cave is an easy hike that's suitable for the whole family.
This short hike provides a chance to see one of the park's few reliable water sources, even if you're short on time. After about 0.4 miles of walking over mostly flat ground, this trail arrives at a large overhanging cave with hanging tendrils of moss. If you visit during the wintertime, you may even get to see some beautiful icicles hanging down from the roof of Mossy Cave.
It is worth noting, however, that Mossy Cave has become exceptionally popular in recent years. As a result, the best time to visit Mossy Cave to beat the crowds is early in the morning or later in the evening. Doing so also leaves the rest of your day free to explore other areas of the park, such as the nearby Shakespeare Point.
10. Hat Shop Trail
Type: Out-and-back
Length: 4.0 miles (1,436ft ascent)
Difficulty: Moderate
Access: Bryce Point & Peekaboo Trailhead off of Highway 63
If you're looking for solitude while hiking amongst the hoodoos, the Hat Shop Trail is the place to be.
This wonderful day hike departs from the canyon rim at Bryce Point and immediately offers magnificent views of the region's colorful cliffs. Some of the most notable vistas include those of the Grand Staircase, as well as those of some balanced-rock-style hoodoos.
That being said, this trail is quite steep. So, folks that don't quite enjoy steep descents should be cautious on this hike and take their time on the downhill.
If steep downhill walking is your jam, though, then you may consider extending your Hat Shop adventure onto the Under the Rim Trail. Here, you can venture deep into the park's backcountry and access a whole slew of trails that you can hike to your heart's content. Just be sure to snag a backcountry permit before heading out if you'd like to spend the night under the stars.
Hiking Bryce Canyon National Park: An Adventure Like No Other
Boasting majestic scenery and out-of-this-world geological formations, it's hard to imagine a more suitable adventure location than Bryce Canyon National Park.
With that in mind, we hope that our guide to the best Bryce Canyon National Park hikes helped you find the perfect trail for your next trip.
If you were lucky enough to hike any of these amazing trails during your visit to the park, please let us know in the comments below! We'd love to hear about your travels.
Also, don't forget to share our trail guide with your friends and family so they, too, can get out and explore this magnificent park. See you out there!