Whether you're a history buff in search of Revolutionary War sites or a nature lover on the hunt for waterfalls, the Keystone State has tons of great hiking trails for everyone.
With its lush forests, abundant water sources, and majestic mountains, there are so many awesome opportunities for hiking in this state that it's hard to narrow down the options.
To help you choose, we've put together this list for every hiking level, from beginners to experts. For each hike, we've also included detailed trail descriptions and important information such as parking info, elevation gain, distance, and the best time of year to visit.
1. Canyon Vista Trail, Worlds End State Park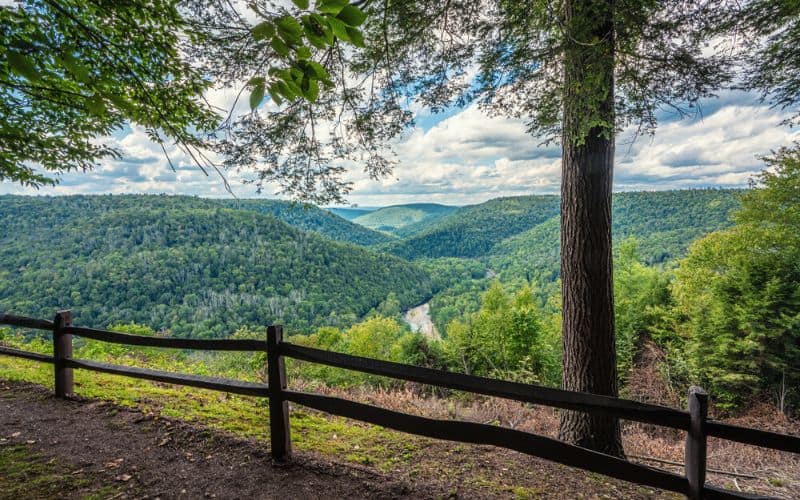 Type: Loop
Difficulty: Moderate
Length: 3.9 miles
Take in the breathtaking views of the Canyon Vista valley from multiple outlooks along this 3.9-mile loop. This trek takes you through and past rivers, cliffs, and valleys in Worlds End State Park, near Forksville. Worlds End is only about a 45-minute drive from nearby Ricketts Glen State Park, yet offers similar spectacular landscapes with fewer crowds.
Canyon Vista Trail has 754 ft of elevation gain with steep sections that lead to the park's main attraction: the Canyon Vista Outlook. The panoramic views of the Endless Mountains and the Pennsylvania Wilds are why this is thought to be one of the best hiking trails in Pennsylvania.
The trail starts at the park's campground and is a top spot for outdoor photography, bird-watching, hiking, and snowshoeing. It takes most hikers an average of about 2 hours to complete this well-marked trail which is open year-round.
2. Golden Eagle Trail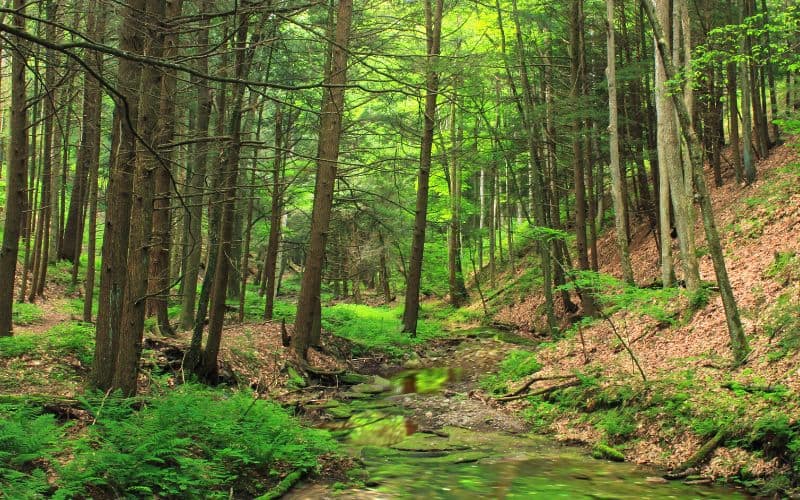 Type: Loop
Difficulty: Hard
Length: 10.6 miles
As one of the best hikes in Pennsylvania, the Golden Eagle Trail offers a challenging trek with incredibly rewarding vistas of the Pine Creek valley. It's located in the North Central part of the Keystone State, between Slate Run and Cammal. The trailhead is at the Utceter Station Recreational Parking Area, about 2.7 miles north of Cammal.
The hiking path meanders through Bonnell and Wolf Runs in the Wolf Run Wild Area, along old logging and quarryman's trails. On this hike, you'll encounter rushing waterfalls, towering pine trees, dams, quarries, and abandoned logging camps. Don't miss the jaw-dropping views at Raven's Horn!
This is a 10.6-mile loop trail with 2,559 feet of elevation gain, and takes a little under 6 hours to complete. The area is popular for hiking and birding and is best visited during the less-busy hours from April through October.
3. Falls Trail, Ricketts Glen State Park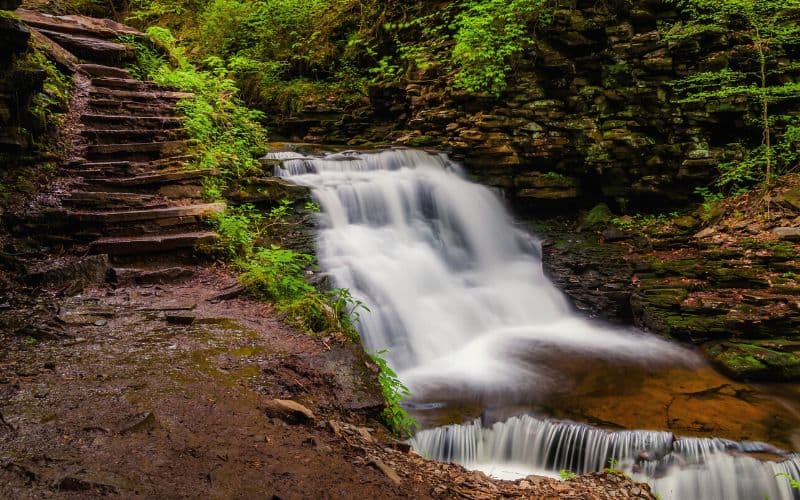 Type: Loop
Difficulty: Moderate
Length: 8 miles
Ricketts Glen State Park is a must-visit outdoor recreation area encompassing 13,193 acres of land about 30 miles north of Bloomsburg in eastern Pennsylvania.
Inside the park you'll find Glens Natural Area, a National Natural Landmark with breathtaking waterfalls and streams in a relict eastern deciduous forest. Within this natural area is an 8-mile loop called Falls Trail or Ricketts Glen Falls Loop. This hike is considered by many to be the best hike in Pennsylvania and possibly the best waterfall hike in the eastern United States.
On this unforgettable trail, you get to see 21 waterfalls on a single hike! The path winds through Ganoga Glen and Glen Leigh with waterfalls ranging from 11 feet to the 94-foot-tall Ganoga Falls.
This hike is open year-round and is extremely popular with hikers and runners. It takes most hikers about 3.5 hours to complete.
4. Appalachian Trail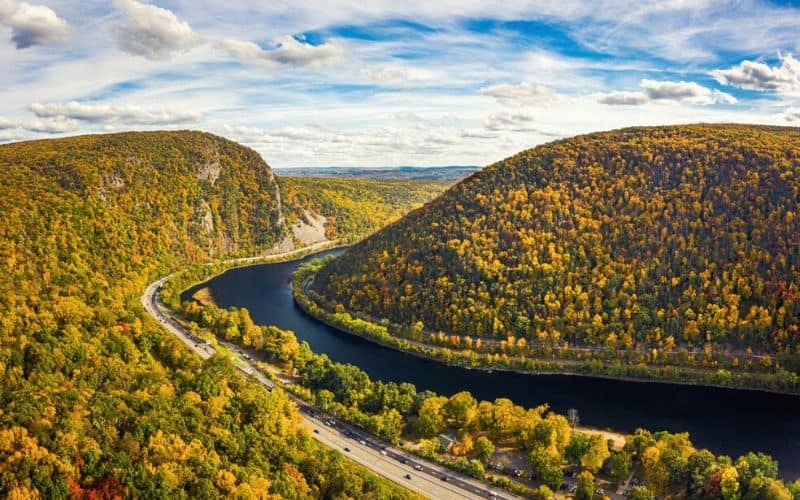 Type: Point-to-point
Difficulty: Strenuous
Length: 229 miles
Since its creation in 1937, the Appalachian Trail has been at the top of many hikers' bucket lists! This famous 2,190-mile trail passes through 14 eastern U.S. states from Maine to Georgia.
The Keystone State hosts 229 miles of it, starting in Waynesboro and ending at the Delaware Water Gap.
The Pennsylvania portion of the AT has 1,760 feet of elevation gain and serves up stunning vistas and mostly rocky terrain. The 13-mile-long segment of trail located in the Cumberland Valley is one of the easiest parts of the hike due to its semi-flat terrain and lower elevation. The AT passes along a number of historic landmarks as it makes its way across the state.
Looking for something less challenging? There are many options for hiking smaller sections of the Appalachian Trail as a day hike or a shorter section hike.
5. Mount Joy Trail to Mount Misery Trail Loop, Valley Forge National Park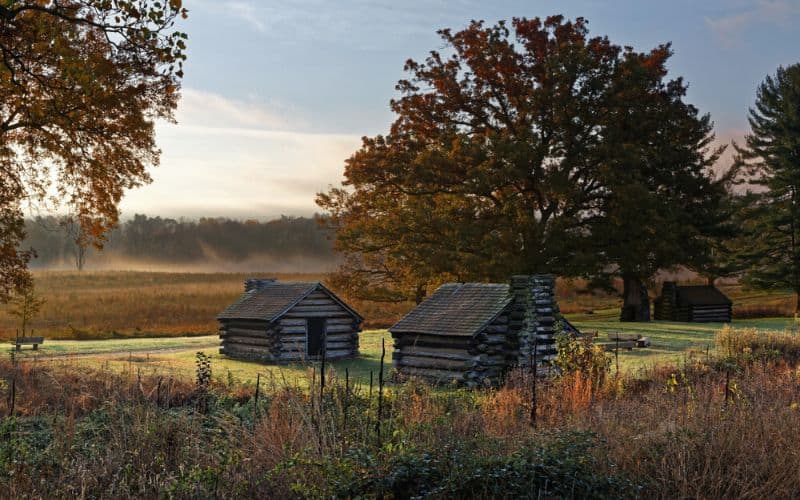 Type: Loop
Difficulty: Moderate
Length: 3.8 miles
Thought to be one of the most important historic trails in the state, history buffs will love hiking along the Mount Joy Trail to Mount Misery Trail.
This 3.8-mile loop near Berwyn is located in Valley Forge National Park just outside Philadelphia. This national park is where George Washington and the Continental Army endured the difficult 1777–78 winter during the Revolutionary War. In total, the park has over 35 miles of trails connecting the area's important historic and interpretive sites.
The trail traverses forests and has views of the valley's old buildings and rolling green hills. The trailhead is located at the Yellow Springs Trail parking area. It takes most visitors a little less than 2 hours to finish the loop, which is also popular for running and biking.
6. Thousand Steps Trail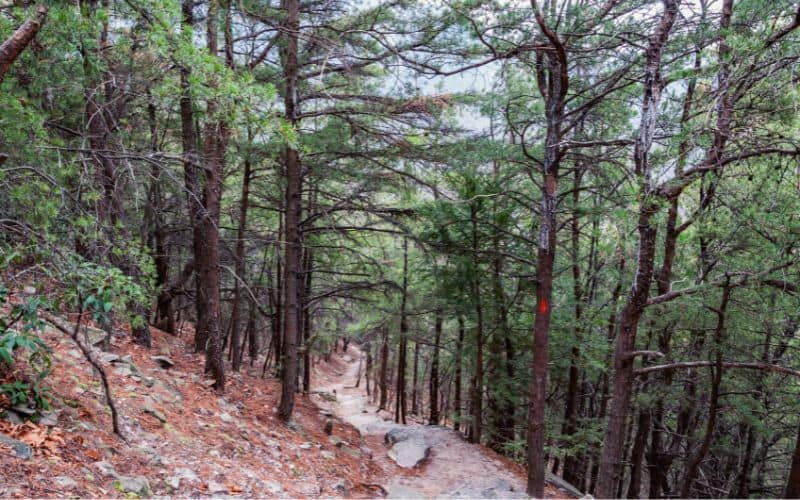 Type: Out-and-back
Difficulty: Moderate
Length: 1.5 miles
If you're looking for a short, high-intensity hike, head over to Thousand Steps Trail near Mill Creek, Pennsylvania. The trail is actually the mid-section of the 84-mile-long Standing Stone Trail (also on this list).
This 1.5-mile hike is an intense workout up 1,000 steps on the side of Jacks Mountain. The trail has breathtaking views the entire way up the staircase and there are several areas to stop, rest, and take it all in.
It takes most hikers a little under an hour and a half to complete this out-and-back trail.
7. Turkey Path Trail, Pine Creek Gorge, Leonard Harrison State Park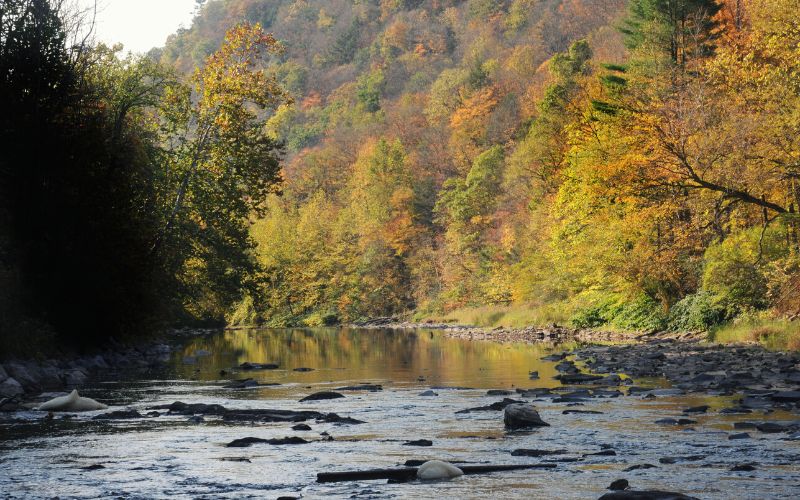 Type: Out-and-back
Difficulty: Moderate
Length:1.8 miles
Discover Pine Creek Gorge, also known as Pennsylvania's Grand Canyon, on this scenic hike in Leonard Harrison State Park near Wellsboro.
Turkey Path Trail is a moderate to difficult hike which takes most hikers around an hour and 20 minutes to complete. It's a rugged, rocky trail with some of the most impressive views of the PA Grand Canyon.
This short hike travels about a mile down into the canyon before climbing directly back out. The path showcases and takes you through spectacular vistas, beautiful waterfalls, and wooden bridges in a National Natural Landmark.
8. Standing Stone Trail (SST)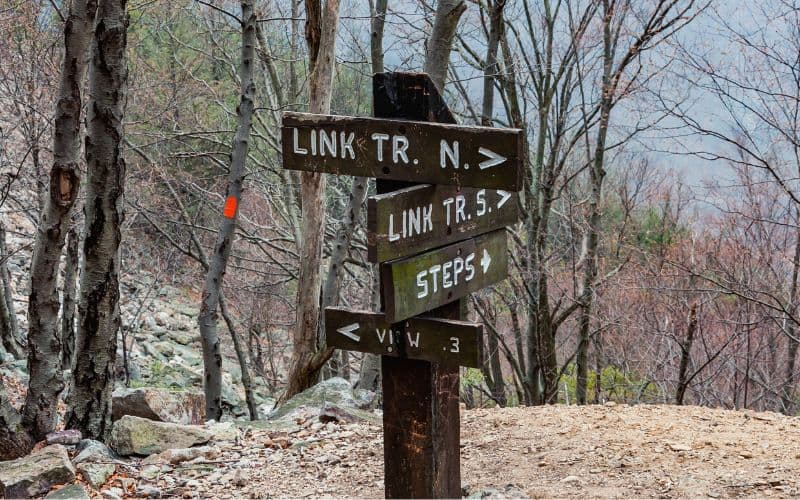 Type: Point-to-point
Difficulty: Strenuous
Length: 84 miles
The 84-mile-long Standing Stone Trail was previously called the "Link Trail" because it connects the Tuscarora Trail in southern Pennsylvania to the Mid State Trail in the north. It's also a segment of the Great Eastern Trail (GET), a 1,800-mile trek from the Florida-Alabama state line to New York.
The SST traverses the center of the Appalachian Range's ridge and valley section across public and private lands in Pennsylvania's Tiltrock Country.
From south to north, the route travels through several of the state's protected areas including Cowans Gap State Park, Rocky Ridge Natural Area, Greenwood Furnace State Park, Alan Seeger Natural Area, and Detweiler Run Natural Area.
This trail takes you past a variety of historical sites from the 1700s and through loads of gorgeous and rugged mountain scenery.
9. Shades of Death Trail, Hickory Run State Park
Type: Out-and-back
Difficulty: Moderate
Length: 2.2 miles
Shades of Death Trail sounds terrifying but it's actually a peaceful and enchanting hike near Lake Harmony, Pennsylvania. It's located within Hickory Run State Park, a 15,990-acre protected area in the Pocono Mountains' western foothills. The park is home to trout streams, a boulder field, and more than 40 miles of hiking trails.
Shades of Death is one of the most scenic hiking paths in the park, providing a picturesque, stream-side stroll inside a gorgeous rhododendron forest. Along the way, you'll also encounter the old logging mills and dams from the early 1800s. The trailhead is located by the visitor center near a stunning waterfall.
It takes most visitors about an hour to complete this moderate difficulty out-and-back hike. The best time to visit is from March through October, but parking can get busy, so arrive early to make sure you get a spot.
10. Wolf Rocks Loop Trail, Forbes State Forest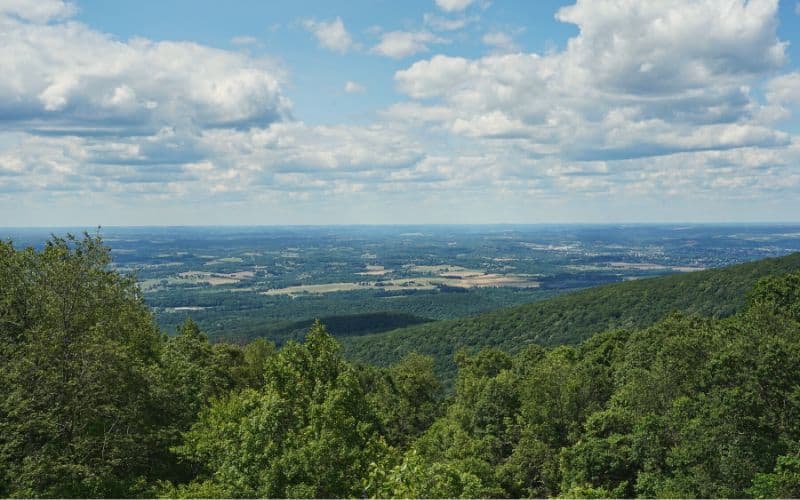 Type: Loop
Difficulty: Moderate
Length: 4.3 miles
Forbes State Forest spans 60,000 acres of land in the Laurel Highlands. It's home to Mt. Davis, the highest point in Pennsylvania, along with other incredible natural areas like Laurel Summit State Park.
Wolf Rocks Loop Trail is a 4.3-mile hike that begins at Laurel Summit near Ligonier. The trailhead has a picnic area for grabbing lunch after your hike.
On this hike, you'll see the Laurel Highlands' typical flora and fauna, including hardwood trees, rhododendron, and mountain laurel (the area's namesake), as well as several impressive sandstone boulders. Wolf Rocks and Beam Rocks, the highlights, are large sandstone overlooks with awesome panoramic vistas of the valleys and streams below.
11. Thunder Swamp Trail System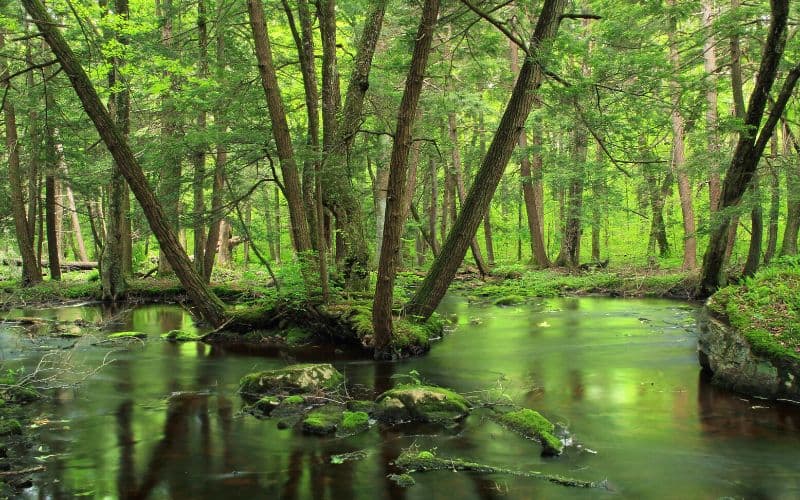 Type: Loop
Difficulty: 34 miles
Length: Strenuous
The Thunder Swamp Trail System has over 40 miles of trails in Pennsylvania's Delaware State Forest near Dingmans Ferry. These interconnected trails have over 2,500 feet of elevation gain.
While each trail has its own character, each winds through the rocky terrain and dense hemlock woods characteristic of the area.
The Thunder Swamp Trail Loop is a 34-mile epic that any visitor with backpacking experience should try. This hike traverses a less-visited area that is perfect for getting away from it all for a night or two (it takes around 12.5 hours to complete!).
12. Rhododendron Trail, Cook Forest State Park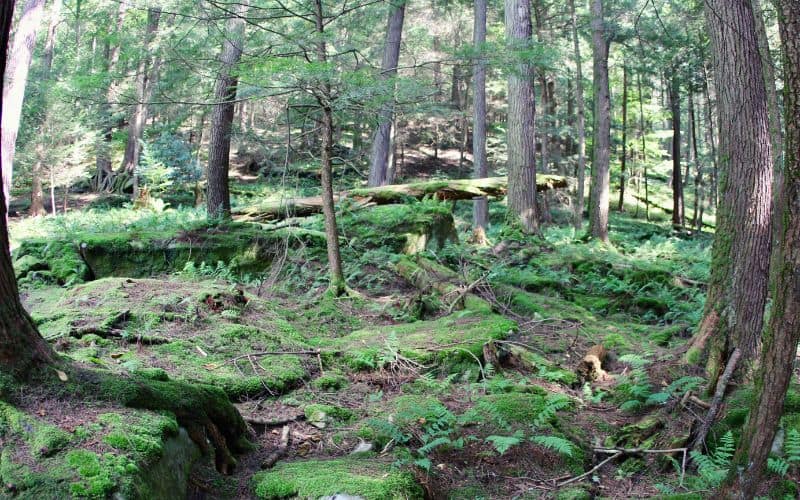 Type: Loop
Difficulty: Moderate
Length: 4.1 miles
Cook Forest State Park's 8,500 acres of land are home to a 12-mile portion of the Clarion River and some of the prettiest old-growth forest in the east. The part of the park known as the Forest Cathedral is also a designated National Natural Landmark.
The Longfellow Trail, Joyce Kilmer Trail, and Rhododendron Trail Loop is a 4.1-mile loop that lets you experience the best the park has to offer. It's a moderately difficult route that takes most hikers about 2 hours to complete. It passes through the Forest Cathedral and meanders by ancient hemlocks, white pines, and large boulders.
Other Worthwhile PA Hikes
The North Country National Scenic Trail, Allegheny National Forest
Presque Isle Loop, Presque Isle State Park
Laurel Highlands Hiking Trail
Meadow Run Trail, Ohiopyle State Park
Jonathan Run Trail, Ohiopyle State
D&H Trail, Lehigh Gorge State Park
Grand View Trail, Red Rock Mountain, Ricketts Glen State Park
Quehanna Trail Moshannon State Forest and Elk State Forest
Green Trail or Blue Trail to Bushkill Falls, Pocono Mountains
Kinzua Bridge Trail, Kinzua Bridge State Park
Cole Run Trail, Forbes State Forest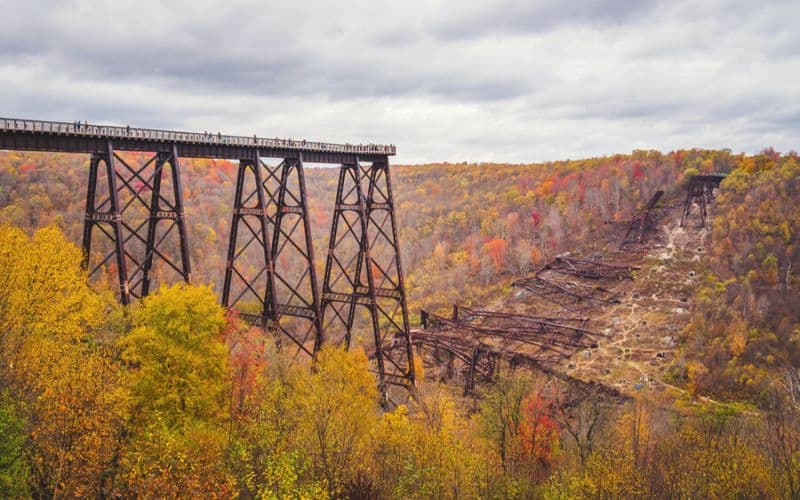 Best Hikes in Pennsylvania: Happy Hiking!
Whether it's hiking down a mile into Pine Creek Gorge for a few hours or spending weeks thru-hiking the famous Appalachian Trail, the Keystone State has trails for every type of hiker!
What are your favorite Pennsylvania hikes? Let us know in the comments below! And if you enjoyed this article, feel free to share it with your friends.